Best PC Building Simulator Mods (All Free To Download)
This post may contain affiliate links. If you buy something we may get a small commission at no extra cost to you. (Learn more).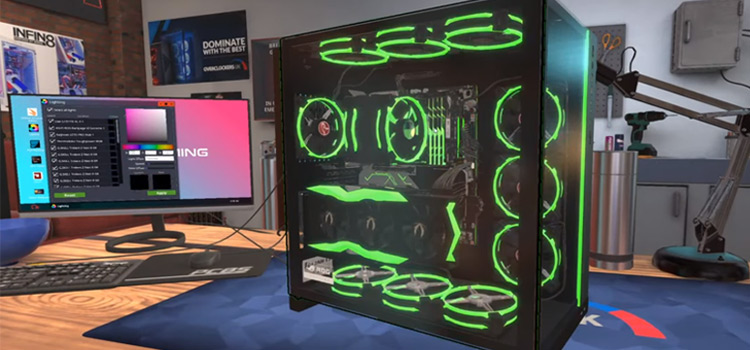 PC enthusiasts know all too well that there's a lot of fun in starting a new build.
And that's where PC Building Simulator comes in.
Simulate the entire process from start to finish, test possible build combinations, and even run your very own computer repair shop – all from whatever system you already have.
Loads of DLC's have been released since the game launched back in 2018, providing more content with each update – and for everything else, there's mods.
15.

Alternative Sounds
In-game sounds are often overlooked. But what we hear plays a huge role in immersion.
Changing the sound files of a game can make a huge difference, even in a game like PC Building Simulator.
This Alternative Sounds mod does exactly that, replacing environmental sounds like doors and fans, and even mouse clicks, OS startup sounds, and email notifications.
14.

Faster 3DMark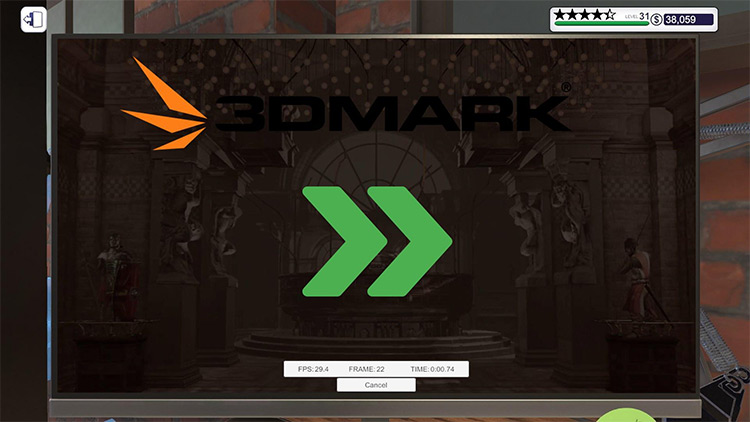 Benchmarking is crucial, as it's the best means to tell if you're getting what can be expected out of your components.
With it being an important diagnostic tool for PC troubleshooting, 3DMark is going to be your best friend here.
When the work piles up though, running 3DMark on multiple systems can get pretty tedious. Especially considering how long one run takes to complete.
Faster 3DMark helps speed things along a bit, so you're not spending most of your time simply waiting for the tests to end.
13.

Free Same Day Delivery
With so many professionals working from home nowadays, it's hard to get your hands on the parts you need.
On top of the time it takes to find the parts you're looking for, actually getting the parts takes time as well.
Slow service usually means dissatisfied customers, but not everyone's willing to pay for priority mail either.
This next mod will help make sure your clients get what they want as soon as they want it, removing same day delivery costs for instant gratification.
12.

Fast Auction
PC Building Simulator includes a clever feature called PCBay, which acts as your go-to online marketplace for everything PC-related.
Not only is it a great way to get some good deals on used parts, but it also offers a way to get rid of the junk taking up your shelf space.
You you could even turn a profit selling some of your spare parts on PCBay, though it may take some time to do so.
Fast Auction is perfect for when you're looking to dump old parts quickly, and allows you to completely skip through the entire process.
You'll instantly get five days' worth of bids without having to wait.
11.

Seba Fixes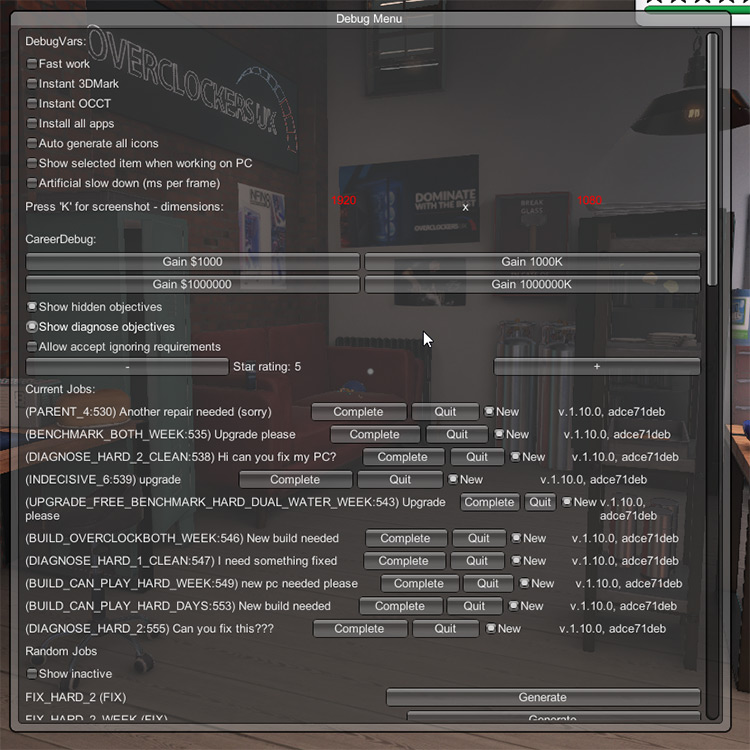 When it comes to overall quality of life fixes, there's no better option than Vastined's Seba Fixes mudpack.
The mod doesn't really introduce any new features to the game, but rather aims to make the overall experience much more enjoyable by smoothing out some of its rough edges.
A few of the changes included are faster dust cleaning, software installation/removal without the need to reboot, and no longer needing a USB drive for an OS/software install.
10.

Cheat Menu
If you're looking for complete control over every aspect of the game, you might be better off with castix's Cheat Menu mod.
Just like cheat menus for every other game, the mod gives you access to a host of new commands that allow you to do pretty much anything you want with no restrictions.
With the Cheat Menu installed, you'll be able to get yourself cash, EXP, work faster, and even manually increase star ratings at the push of a button.
9.

Real Prices Mod
There's always players that want the game as realistic as possible, no matter how much more difficult it gets.
If realism's what you're after, you might want to check it this cool mod.
Real Prices replaces the vanilla component prices with real life prices, reflecting price hikes due to supply and demand.
What's even better is that the mod was just updated this February, so everything reflected here should be exactly as you would see online.
8.

Random Job Budgets
With PC Building Simulator's limited campaign, things get quite repetitive pretty quickly.
If you're looking for a way to keep things interesting, look no further than castix's Random Job Budgets.
This mod encourages you to play closer attention to which jobs you decide to take on, randomly assigning different budgets to different jobs you're offered.
Some clients might be stingier than others, so things could get quite tricky depending on how much you have to work with.
7.

G.SKILL Ripjaws V (32GB 64GB 128 GB)
PC Building Simulator exists in the virtual space. So real world restrictions no longer apply.
With that, some add-ons allow us to jump forward in time and see what PC tech might look like a few years down the line.
And this mod adds in G.SKILL's popular line of RAM modules, the Ripjaws, except you'll now have access to 32GB, 64GB, and 128GB variants.
There's no telling when you'll actually need that much RAM in your system. But with these options, you'll be able to future proof the hell out of your builds.
6.

PCBS RAM Creator
More RAM = faster system.
This seems like a PC building myth that still seems to be a common misconception to this day.
Though such a simple fix won't always work, seeing as PC systems are much more complicated than that… but that doesn't stop people from overloading their systems with RAM they won't even end up using.
If the 128GB Ripjaws still weren't enough to feed your memory hunger, the PCBS RAM Creator allows you to create completely customized RAM modules for whatever sizes and speeds you may think you need.
5.

NVIDIA GeForce RTX 3080
Nvidia's GeForce 30 series is the latest craze in the PC building market, offering unrivaled price for performance ratios among current gen GPU's.
As with most newly released PC components, the high demand has made it difficult for enthusiasts to get their shiny new graphics cards.
With this next mod, you'll easily be able to get your hands on an RTX 3080 for your virtual builds. Which should tide you over until the real thing becomes available.
4.

NVIDIA GeForce RTX 3080 Ti
Modder anonymus637 even takes it a step further here by throwing in an unreleased concept variant of the RTX 3080 for you to play around with.
For those who aren't familiar, Nvidia's Ti graphics cards include titanium components and offer boosted performance compared to their non-Ti counterparts.
The RTX 3080 Ti isn't anything more than a rumor at this point… but with this mod installed, you'll be able to be one of the first to try one out.
3.

AM3 Mod Updated
While the tech industry is all about staying up to date and moving forward, there's a whole different world dedicated to retro PC builds.
Going back in time and seeing how far you can push some older components is only part of the fun. And hunting down the actual parts can be quite challenging in itself.
This next mod gives you access to some of the older AM3 components to play around with, making it much easier to get a retro build going.
2.

GIGABYTE Aorus RGB 16GB
If the 3080's 10GB of VRAM just doesn't cut it, this Aorus GPU should be more than enough.
HairlessMonkey's Gigabyte Aorus card comes with a whopping 16GB of VRAM running at 4800Mhz, blowing the default 8GB 3200Mhz vanilla version completely out of the water.
The 16GB will be available at level 14 at the same time as the 8GB version, giving you a much more powerful option for those higher-end builds.
Of course, the card comes with RGB capability as well, for that added gamer aesthetic.
1.

Hardware Expansion Mod
Building multiple systems is really only as fun as the amount of different combinations of components available to play around with.
And this Hardware Expansion Mod is currently the most expansive pack you can get for PC Building Simulator.
How expansive?
It adds in over 900 parts that weren't included in the base game.
You'll have access to new components including CPUs, GPUs, motherboards, storage pieces, and even casings.
The possibilities are endless here, so if there's one mod I'd have to recommend, it's this one.
Browse:
Lists
PC Gaming
Steam
Video Games