Best Alpha CC Curly Hair for The Sims 4 (Guys + Girls)
This post may contain affiliate links. If you buy something we may get a small commission at no extra cost to you. (Learn more).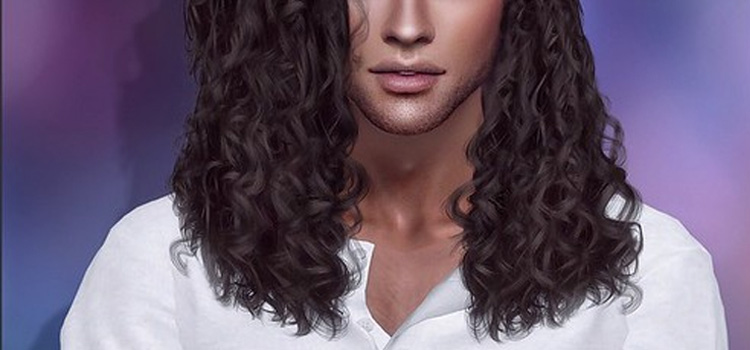 As someone who's gone through several perms, I know that curly hair is tough to maintain. Whether your hair's naturally curly or you've treated it to look that way, the amount of time and effort it takes to keep curls crisp, neat, and defined is pretty crazy.
Luckily, Sims don't have to go through all that. They can have all the volume and the bounce without the upkeep.
Unfair, I know, but what are you gonna do?
Enjoy it, that's what!
Here's our collection of gorgeous alpha curly hairstyles for The Sims 4.
1.

Iris by Anto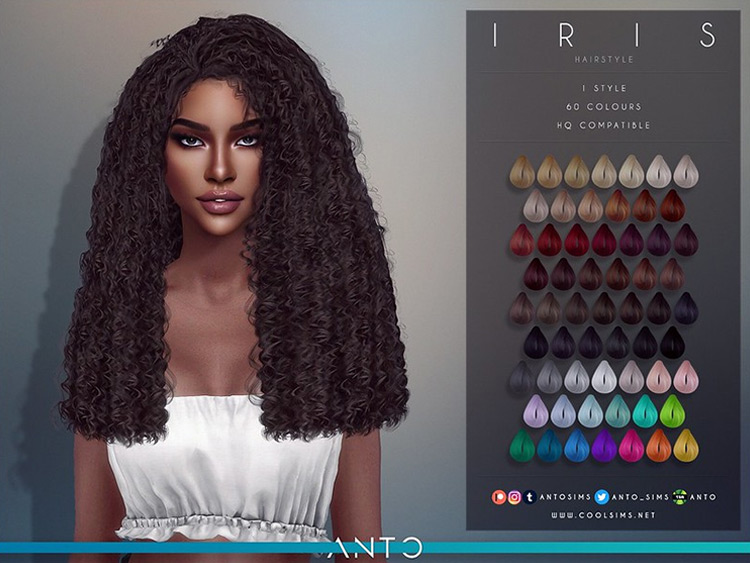 Anto is hands-down one of the best creators Alpha CC creators — especially when it comes to hair!
They do a lot of unique POC styles that always look accurate. Plus their texture and details? So on-point!
This lovely Iris hairstyle is a stunning example.
2.

Diara Hair by Simpliacity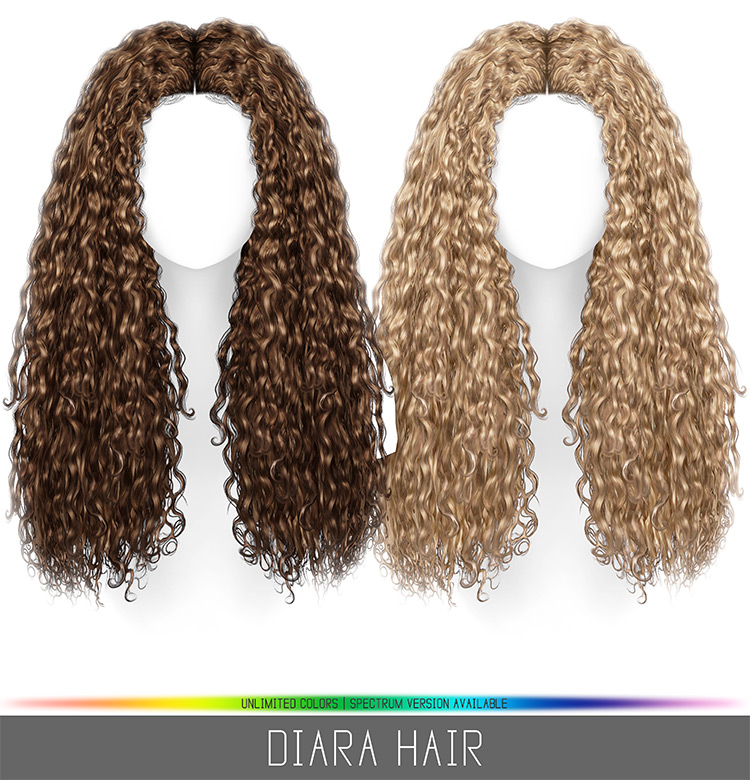 Simpliacity's also a well-known creator, and the quality of their custom stuff never disappoints. I'm a big fan of this long, middle-parted hairstyle myself.
Those curls and that volume? Chef's kiss.
3.

Wings-TZ0912 by wingssims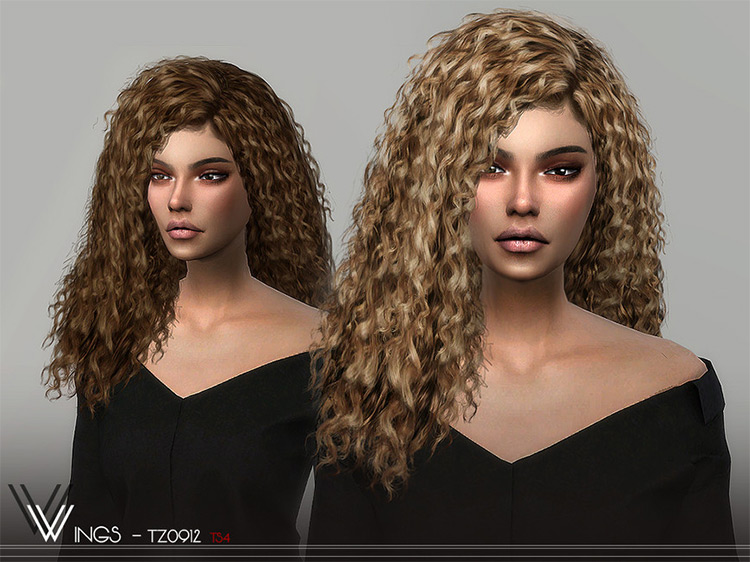 Curly-haired Sims never have to worry about volume. Seriously; look how thick and luscious this TZ0912 hairstyle is.
The glam is super effortless when you've got hair this long and this curly.
It comes in 20 unique colors, too!
4.

Layla Hair by Simpliacity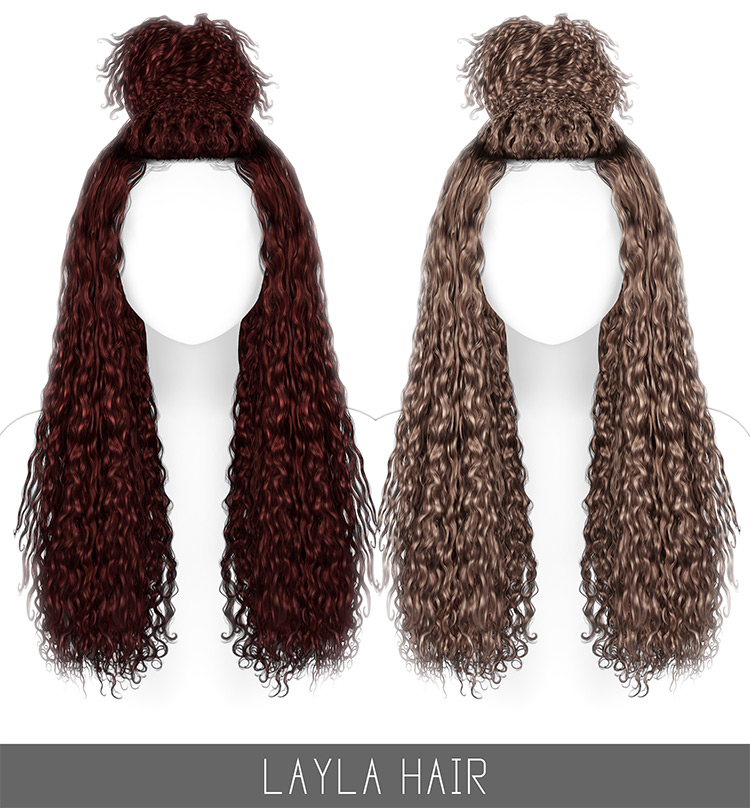 A half-up, half-down hairstyle always looks super cute.
Throw in some loose curls and lots of stray strands and you've got yourself a very fetching (and very eye-catching) 'do!
It helps that Simpliacity's hair textures are so realistic, too. Seriously; look at those ringlets. Look at that shine!
5.

Fluffy Male Curly Hair ER0714 by wingssims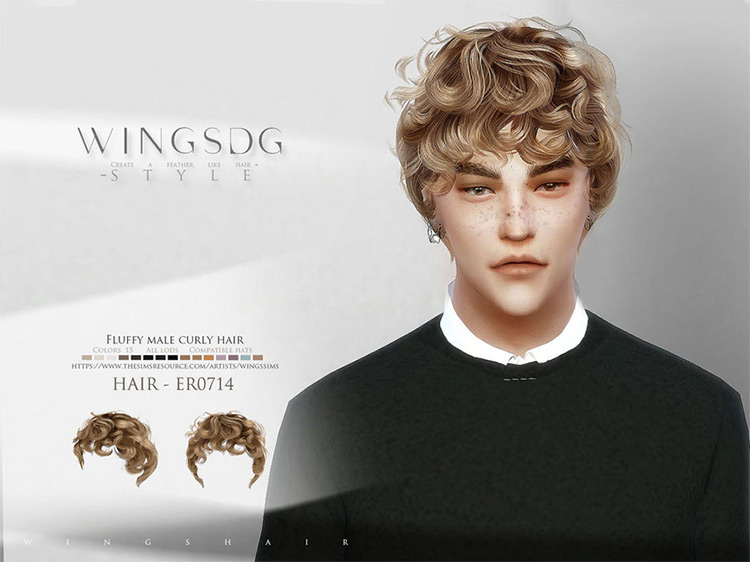 This hair is, indeed, fluffy and curly!
It comes in fifteen colors and, trust me; the colors change the vibe a ton.
Right now, the blonde swatch is giving innocent, cherubic vibes, right? In black or brown, the curls feel totally different!
The versatility is pretty cool.
6.

Jessica Hair by SonyaSims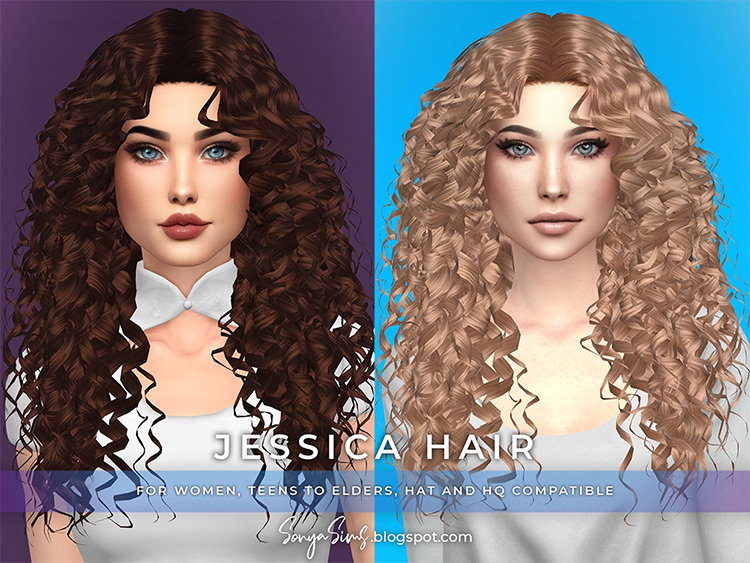 Thick, voluminous ringlets that work for Children to Elders? Yes, please!
SonyaSims' Jessica hair is a total vision—one that you never get tired of looking at.
I mean, look how crisp and defined all the locks are. They frame your Sims face perfectly. And don't get me started on the ombre swatches, otherwise we'll be here all night. Long story short, get this hair.
7.

Irati Hair by NoNvme Studios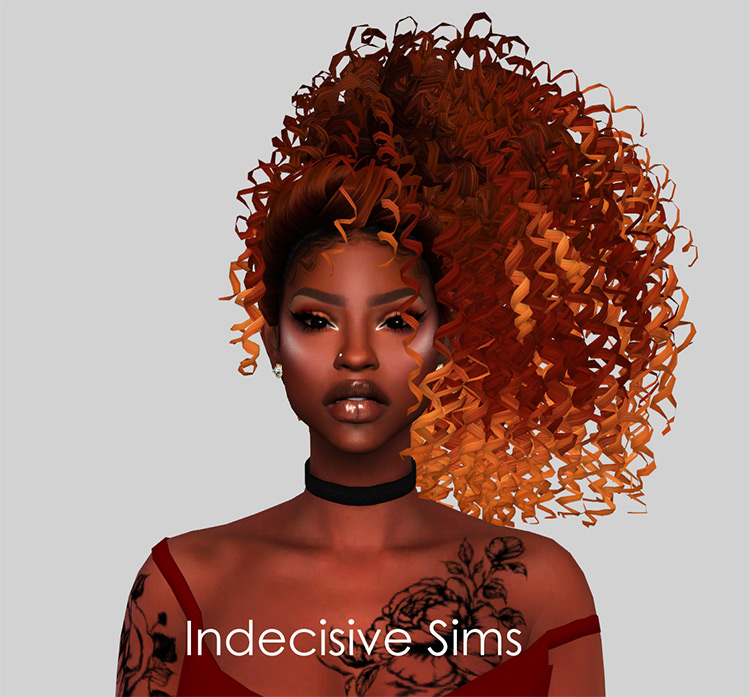 At first glance, this hair may seem like a bit much. I don't blame you; the height and volume alone is intimidating.
But once you try it on your own Sims?
Trust me; they'll look regal AF.
It comes in 60 colors, so I'm confident you'll find a shade you like.
8.

Liberty Hair by SonyaSimsCC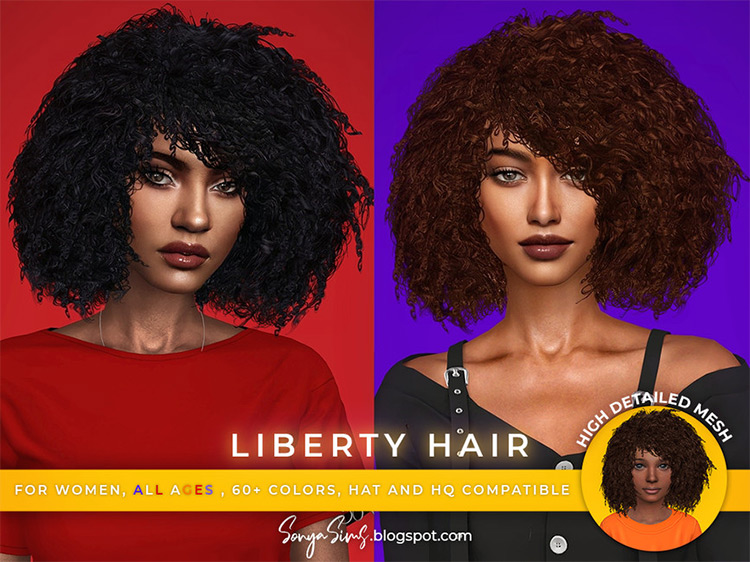 Came for the drop-dead gorgeous Sim model in the preview photos, stayed for the equally-as-drop-dead-gorgeous hair.
Seriously; the length plus the wild curls coupled with the side part creates just the most fantastic visual.
9.

Curly High Top (For All Ages) by XxBlacksims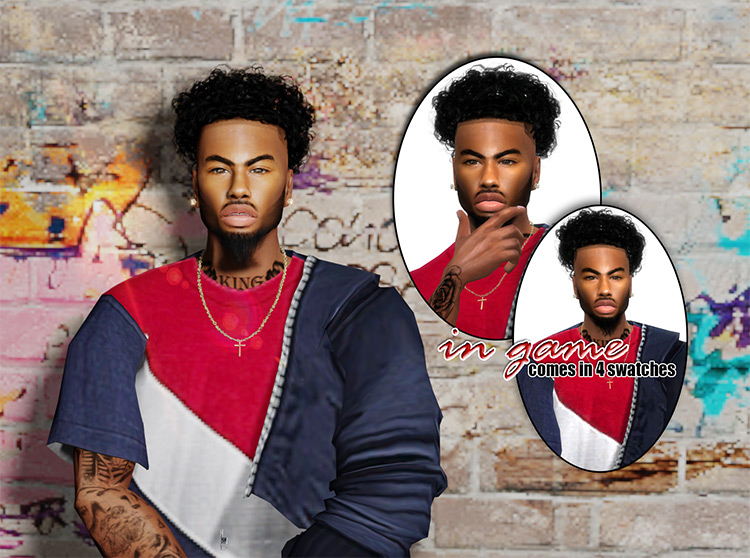 XxBlacksims is one of the go-to content creators for POC (or SOC, I guess) items.
This distinctive hairstyle just speaks of their talent and quality.
The kinks and curls look nice and defined, even from a distance. Gotta love the photoskinned texture, too.
10.

Canna Hairstyle by DarkNighTt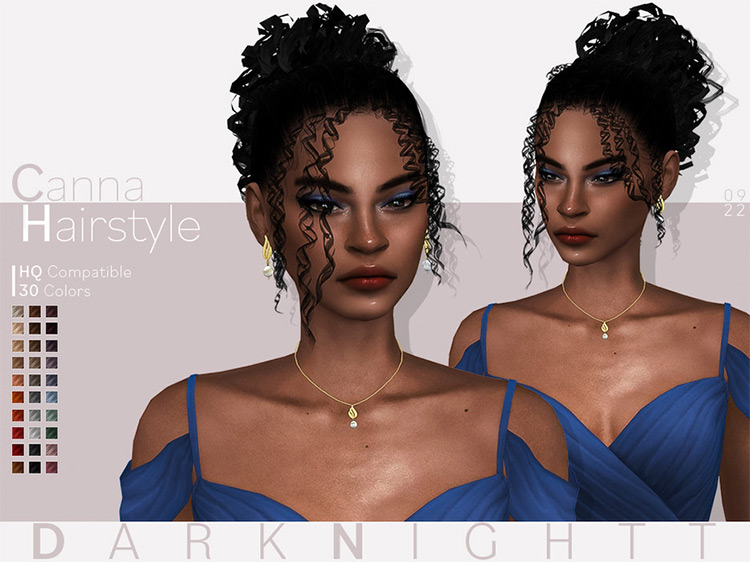 I remember downloading a bunch of custom dreadlock 'dos from DarkNighTt, so I'm happy to see that they've got a number of curly styles lying around, too!
The quality of their hair is always on-point, and this Canna hairstyle is no different.
I'm loving the face-framing curls!
11.

Noelia Hairstyle by Anto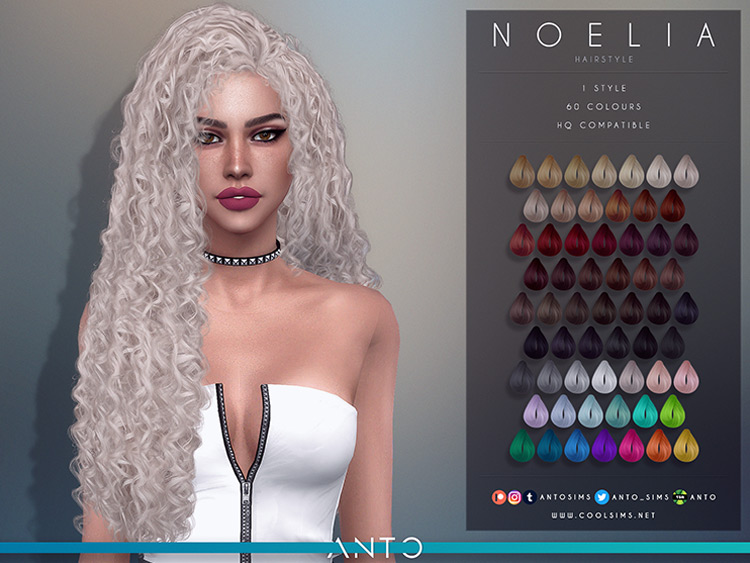 Will I ever stop singing Anto's praises? Probably not.
It's hard not to be awestruck when literally every item in their portfolio is stunning.
Noelia's a pretty and slightly poofy 'do that's side-parted and super curly.
12.

Male Split Curly Hair – TO1223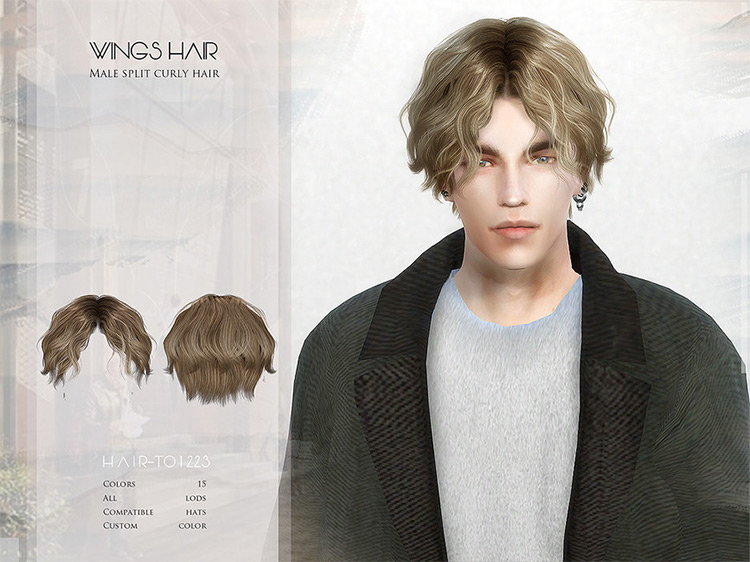 This hairstyle feels like it belongs on a 80s Hollywood heartthrob.
No idea if perms were a thing back then, but this kind of 'do looks like something the classic "Boy Next Door" would sport when he's run out of hair product or decided to keep things casual.
Basically, I love it. It's adorable. Highly recommend!
13.

Isabel by Anto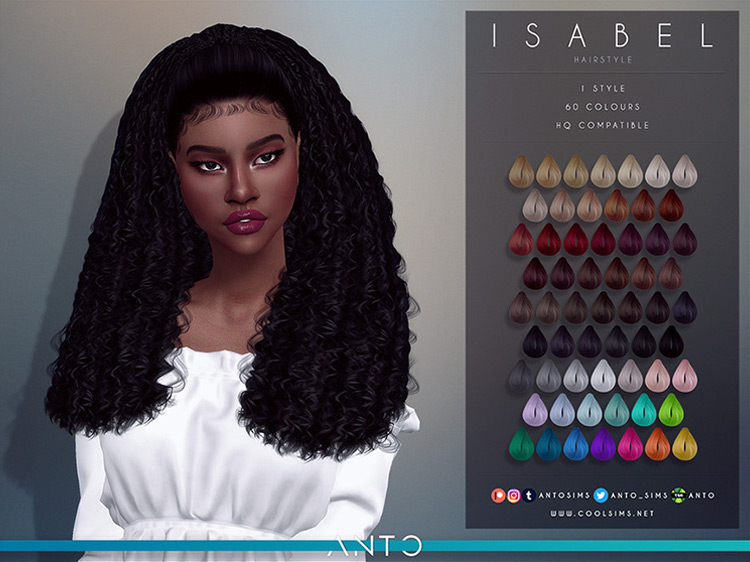 A long, curly ponytail with neat edges and a couple stray hairs poking out.
This is Isabel by Anto, and it's a striking, luxurious-looking 'do that makes me want to weep in jealousy.
It also comes in – get this – 60 colors. That's a lotta hair dye!
14.

Ximena Hair Conversion by NoNvme Studios
Tangled hair, don't care! Ximena is a short, curly, and bouffant bob for boss babes. I love how crisp all the curls look, and the color options (58 total) are all so stunning.
If you like curly hair on your Sims, this alpha CC is a must-have in your CAS folder.
15.

Lala Hair by Leah Lillith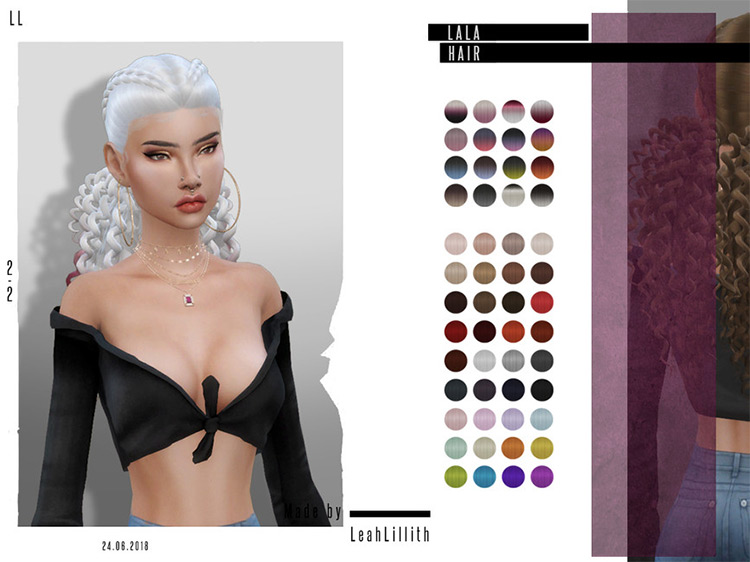 You can't tell me this hairstyle isn't unique, because I don't think I saw anything similar as I was combing the community.
It's definitely unusual, but hey; Sims can pull off literally anything.
These pigtails are a perfect mix of sweet and edgy. And I love the little accessory braids up top!
16.

Yara Hair by Simpliacity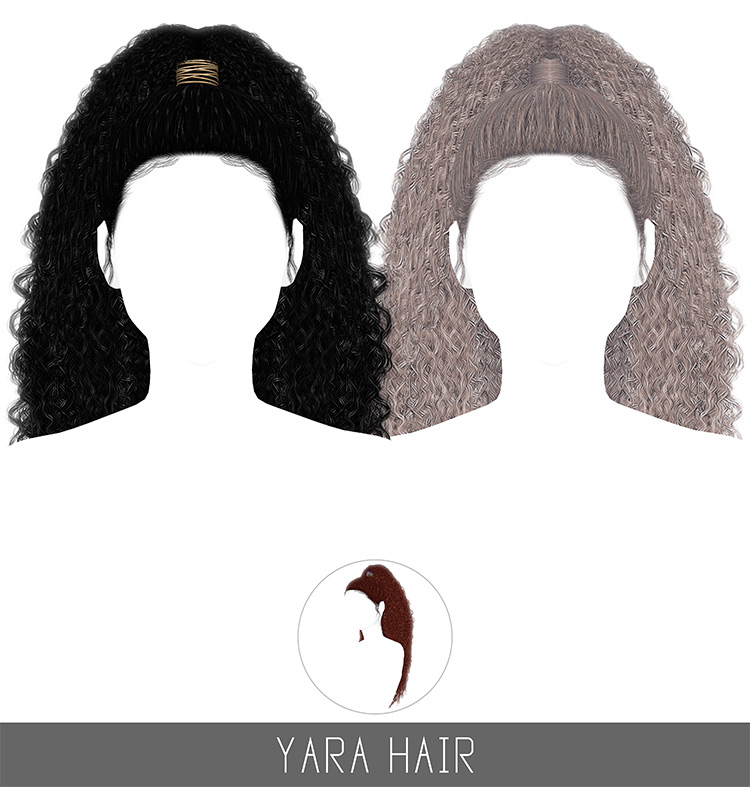 How's this fluffy high ponytail looking?
I don't know if the term, "thicker than a Snicker" applies to hair, but that's definitely the best way I can describe Simpliacity's Yara hair. It's long, curly, and has crazy volume. It's also available in 54 different colors!
17.

ER0115 Fluffy Long Curly Hair by wingssims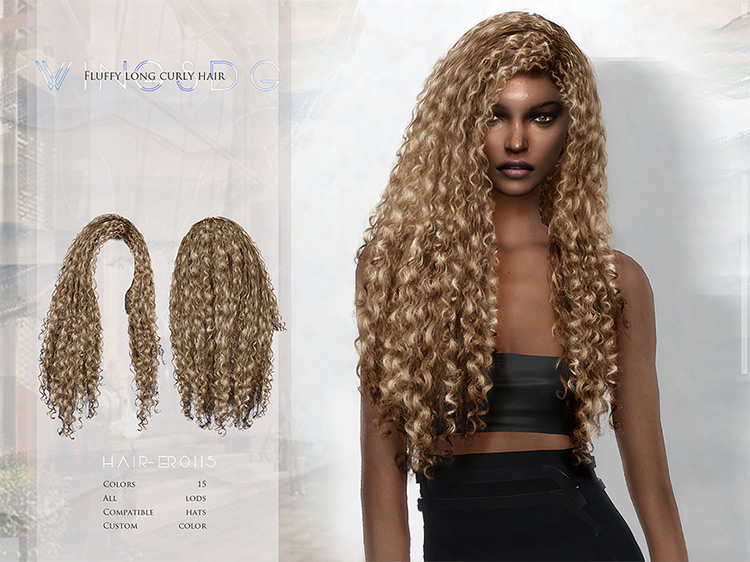 Oh, yeah. It's this hair again.
You best believe I'm going to recommend it every chance I get.
It's long, it's fluffy, and it's got volume (and attitude) for days. It comes in fifteen unique colors, too.
18.

Curly Hair with Double Buns ER1008 by wingssims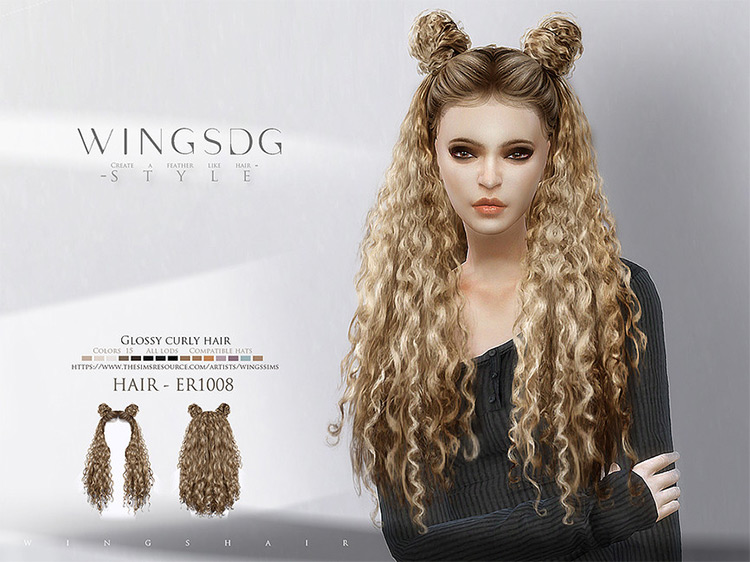 How cute is this hairstyle?
I know very few people IRL who can pull off space buns (me included), which is why I feel like only the effortlessly cool can rock that specific style.
The fact that the creator combined space buns with a classic half-up, half-down 'do just makes this hair even more novel.
19.

Avery Hairstyle by SonyaSims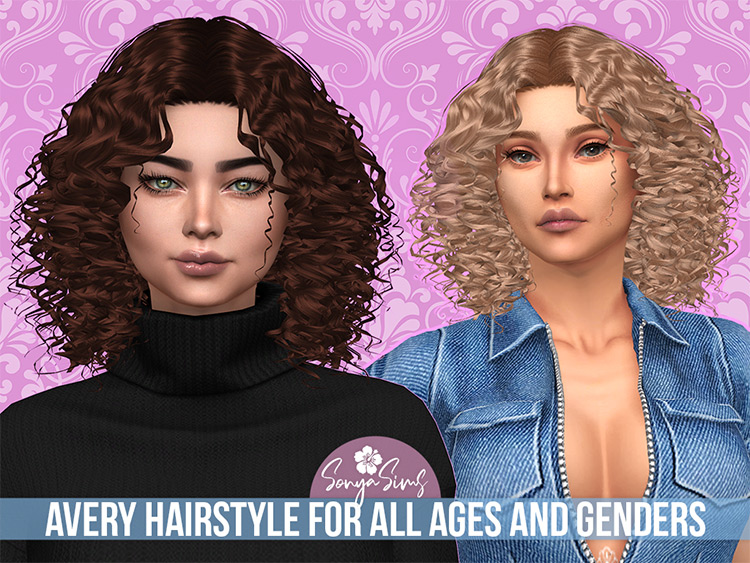 I dunno who Avery is, but their hair is so stunning.
It's short, simple, and stylishly frizzy. Plus, it's unisex and age-inclusive.
Yep; it even works for Toddlers!
20.

David by Anto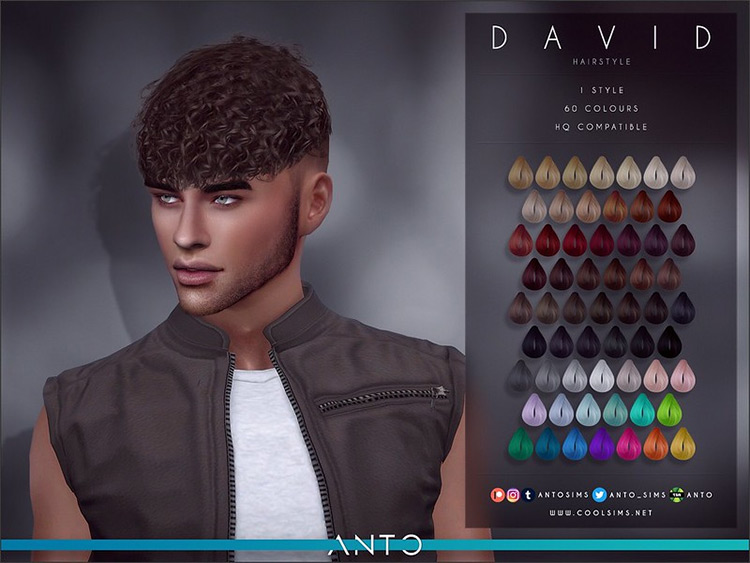 You have no idea how hard it is to find decent curly hair for Male Sims — for both Maxis Match and Alpha CC textures!
This is why creators like Anto are a godsend.
They totally get inclusivity and they've got the talent to back-up their vision. This David hair? Literally one of the best in the community.
21.

Ciara Curls by XxBlacksims
Here's another masterpiece from XxBlacksims.
These Ciara Curls are super textured in a way that works with the cut's volume and length.
Sure, there are stray strands poking every which way, but it doesn't detract from the overall visuals. It's the kind of 'do that looks artfully tousled, not messy.
22.

Jael Hairstyle by DarkNighTt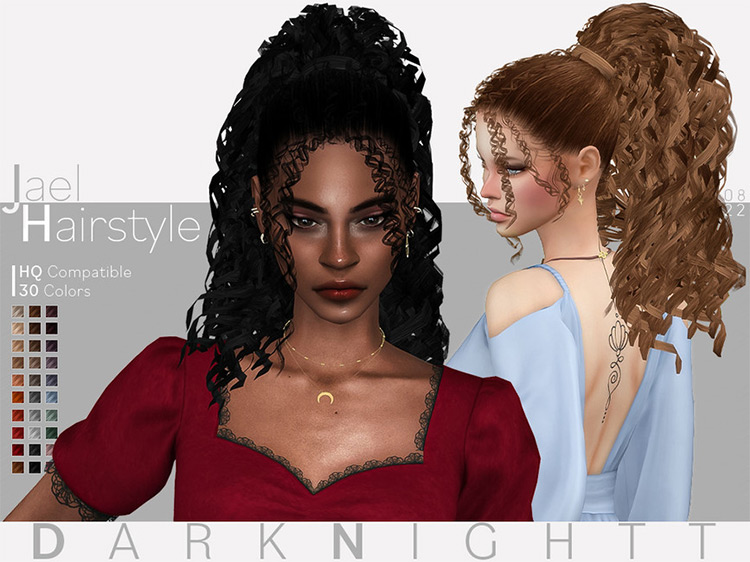 Curls that frame the face will be the death of me.
I honestly think they look good on everyone, regardless of facial features and bone structures. And when you combine that with an elegant updo? All bets are off.
This Jael Hairstyle is the definition of classy.
23.

Yazmine Hair by BADDIESIMS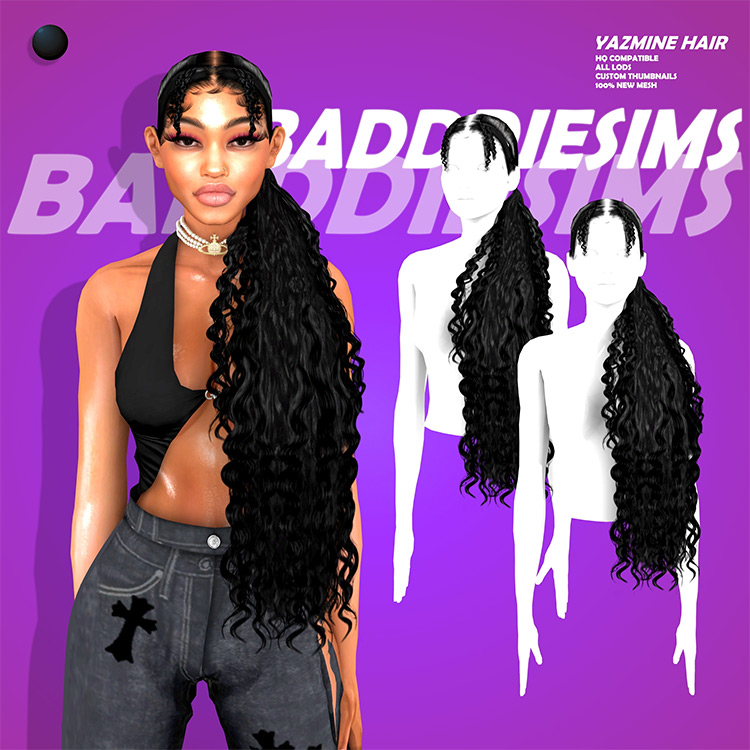 A rocking side-pony with snatched edges and some cute, curly bangs. This Yazmine hair is definitely one-of-a-kind.
It translates so beautifully in-game too!
24.

TO0708 – Naturally Curly Hair by wingssims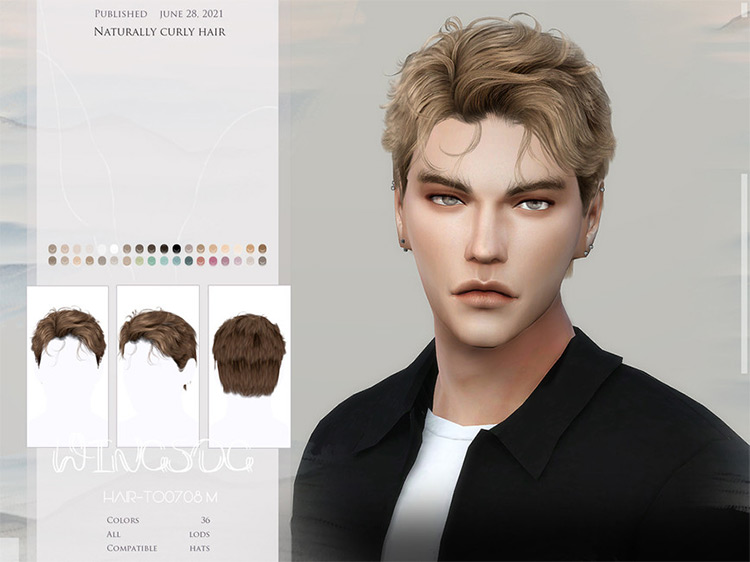 As the name suggests, this hairstyle is "naturally curly".
It's definitely not as wild or as tightly wound as some of the other hairs on this list, but it's got enough curls and whorls to not be defined as "wavy" either. It also comes in 36 beautiful colors.
25.

Luna Hair by Simpliacity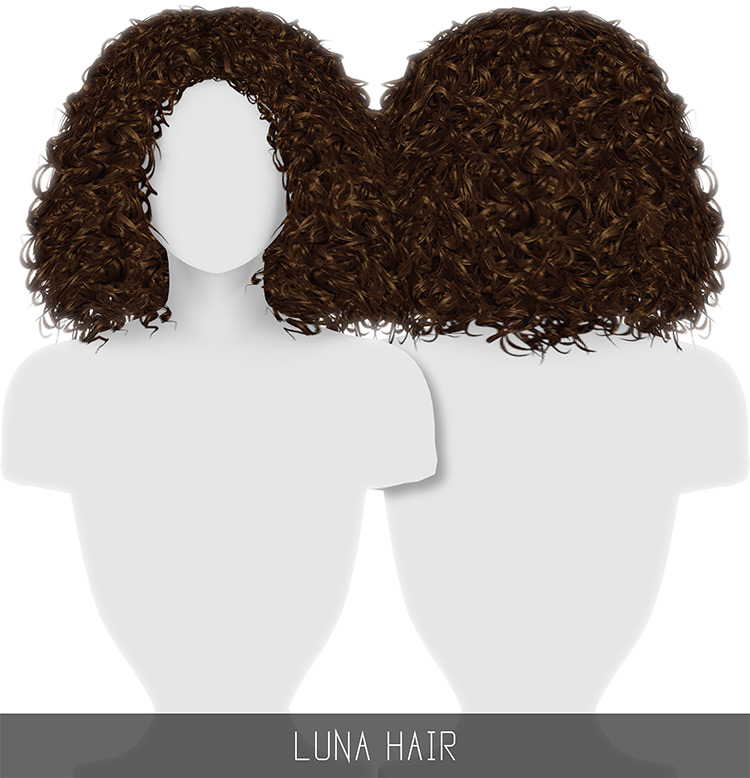 Big, bold, and bouncy – these curls look like the kind I'd want to touch all the time.
Simpliacity's Luna hair just looks so healthy and full of life!
Again, Alpha CC texture is great for emphasizing tiny details, and that's exactly what's happening here. You can practically see every twist and ringlet.
26.

Raniyah Curls by XxBlacksims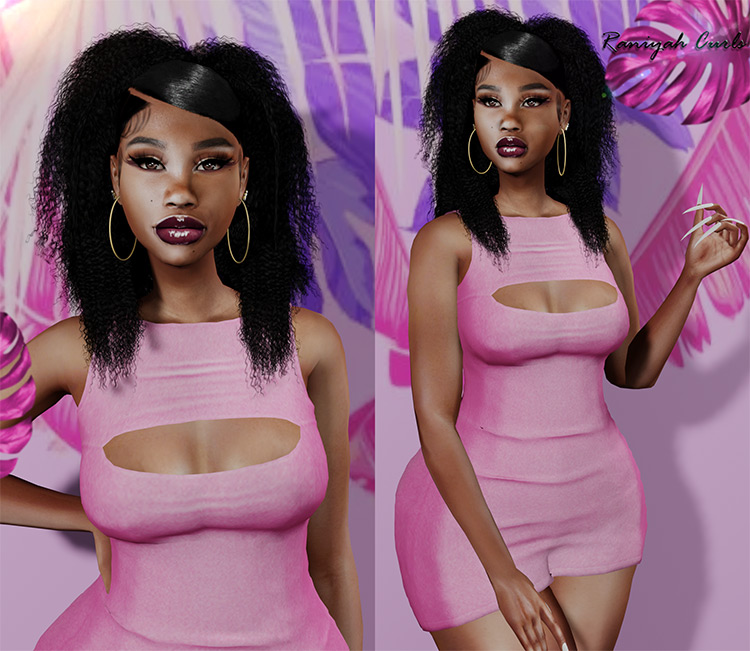 Look at this sassy and chic hairdo! You can feel the attitude through the screen, and I am here for it.
Meticulously styled curls in an asymmetrical 'do are a lot more appealing than you'd think, and the overall silhouette looks fantastic!
27.

Amunet by Anto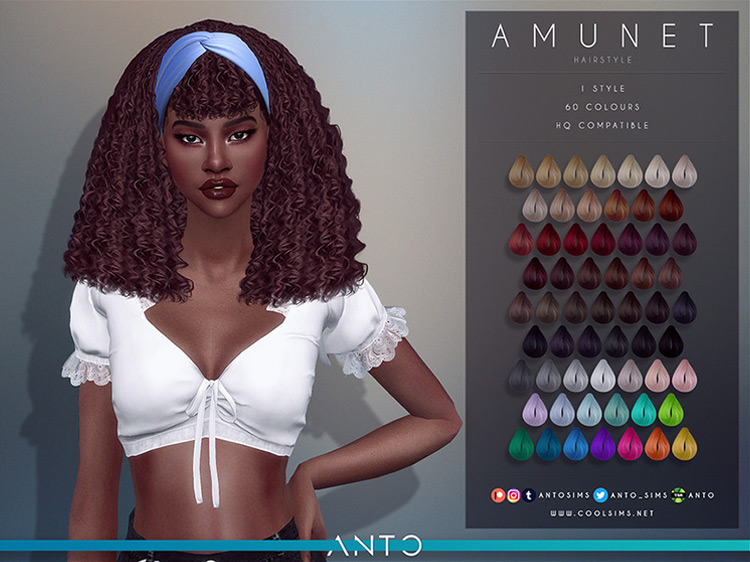 Have your Sim looking like a sweet Southern belle with blunt-cut curls wrapped up in a pretty bandana.
It's a cute 'do that suits a variety of styles, from country comfort to modishly urban. Plus it's hard to turn down 60 hair color options—especially when a lot of soft, dainty pastels are part of the swatches!
28.

Dignified Long Curly Hair – ER0725 by wingssims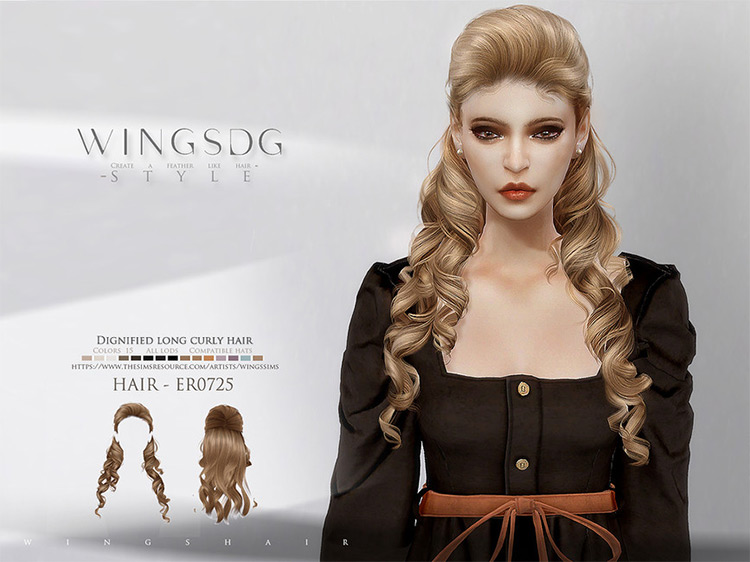 Dignified, indeed!
This is the kind of hairstyle you see on elegant, refined ladies of the 60s and 70s.
The kind who live exclusively in perfectly pressed dresses and aced their etiquette classes.
29.

ER0620 – Frizzled Updo Hair by wingssims
Proof that a little frizzle never hurt anyone.
In fact, when properly styled, it can become the most amazing updo. And a crazily classy one, at that!
Look at those bouffant curls and crisp curlicues. This custom hair is equal parts stylish, sophisticated, and oh-so lovely!
30.

Strong Hair CC03 by SonyaSims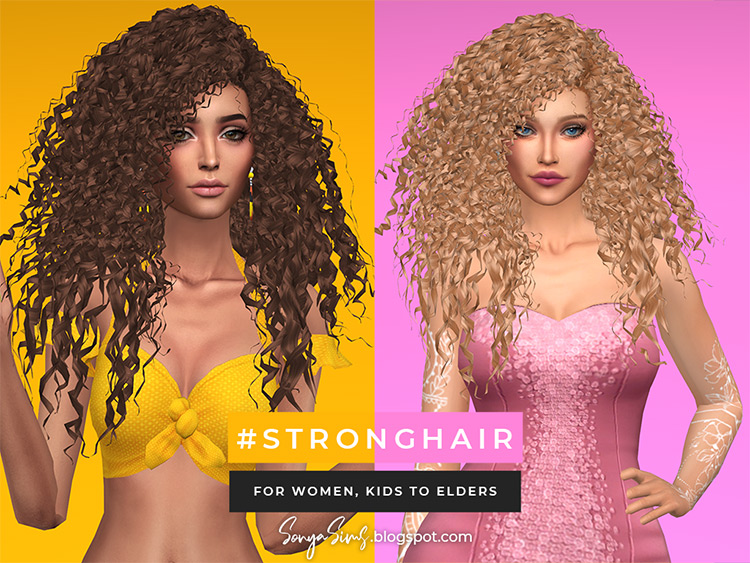 Yessir, these are indeed some strong curls.
Just look at all that definition. Plus the volume up top is no joke.
I also love that this hair is pretty inclusive, age-wise. It's rare to find custom 'dos that work for Children to Elders (as the typical range is Teens to Elders), so that's definitely another point in SonyaSims' Strong Hair CC03 favor. Available in EA's default colors!
31.

Janae Hair by Simpliacity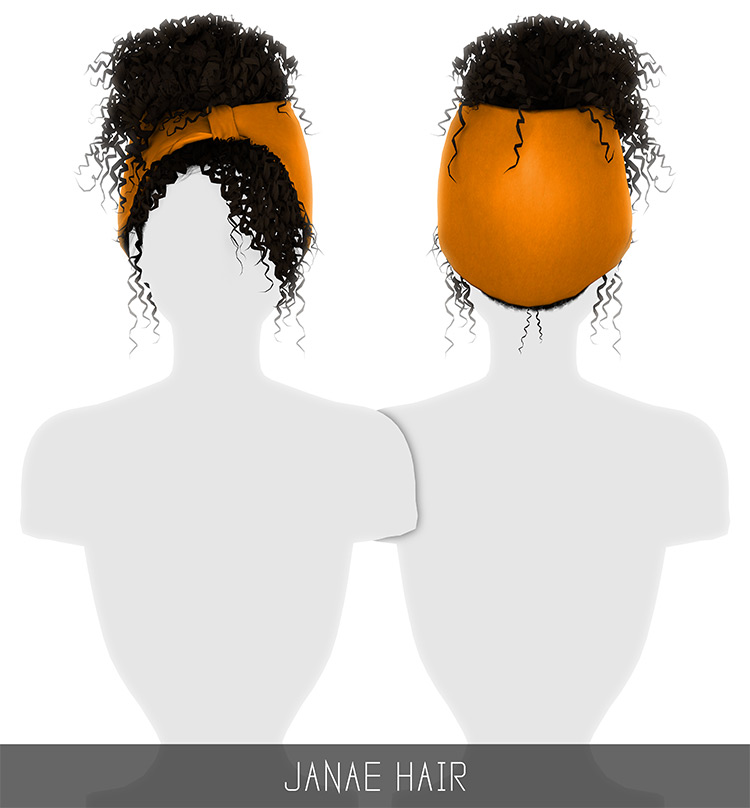 A curly updo wrapped in a brightly-colored headscarf? Sign me up!
Simpliacity's Janae hair is a pretty classic affair.
Fine curls gathered on top of the head and secured with a soft bandana or scarf. It's so pretty.
Plus, the headscarf's colors are separate from the hair colors, so you can mix and match the shades (36 for the hair, 30 for the wrap) as you so please.
32.

TO0929 – Male Curly Hair by wingssims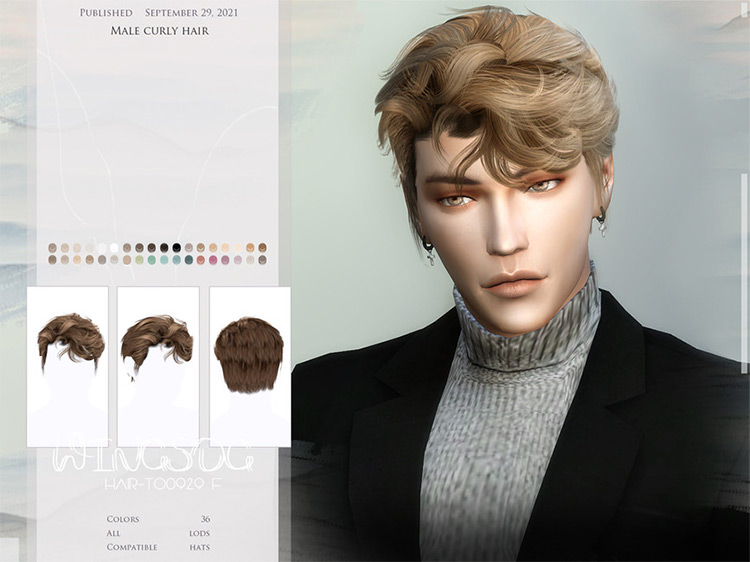 Here's a simple, straightforward name for a simple, straightforward 'do.
Wingssims' TO0929 hair is a classic side-swept cut with beautiful curls 'round the forehead and a bit of a tousled mess (the artistic, trendy kind!) up top. It looks absolutely gorgeous in-game. And the color options (36 in total) are fairly extensive, too!
33.

Irene by Anto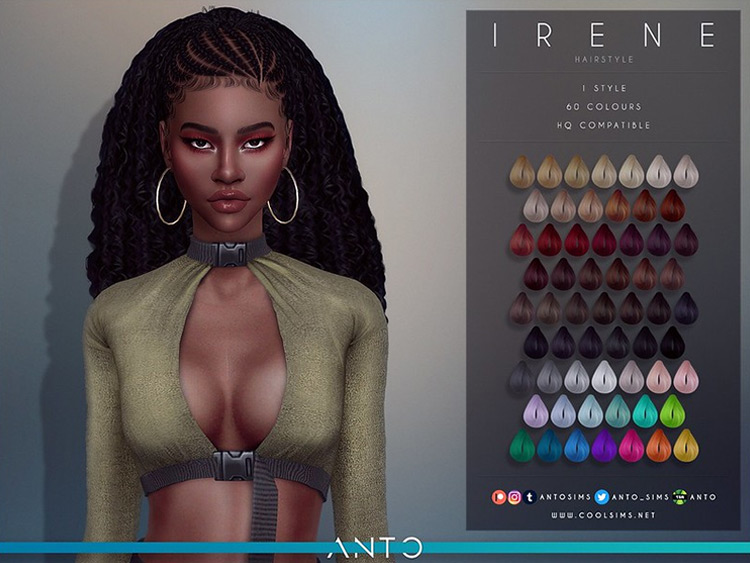 This is another personal favorite from Anto that I wish I could use for all my Sims.
It's a thick, voluminous 'do with luscious, meticulously curled locks, snatched edges, and neat cornrows up top.
It comes in 60 gorgeous colors, most of which are beautifully warm, earthy shades.
34.

Curly Updo Hairstyle (Joan) by S-Club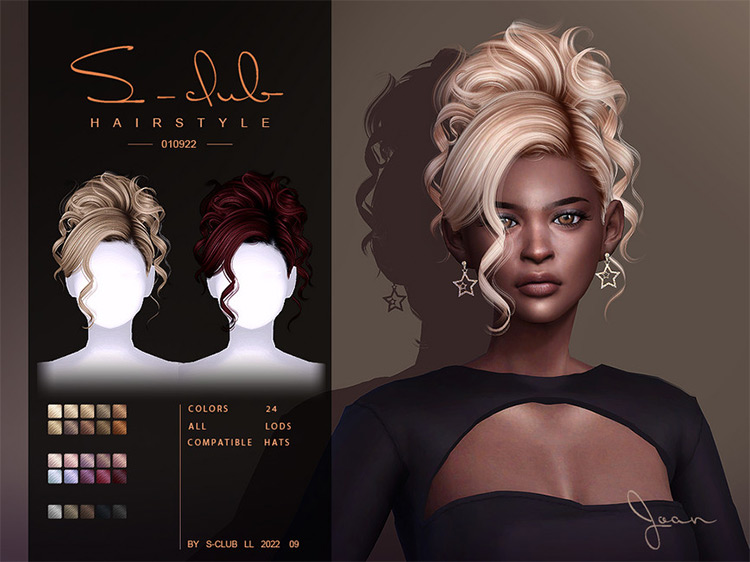 I know this is probably the third or fourth curly updo on this list but, come on; curly updos are so cool.
They're elegant, they're refined, and they're just effortlessly classy. And if there are curly strands framing the face? All bets are off.
S-Club's Joan hairstyle is modish-chic and oh-so gorgeous!
35.

Kim Butterfly Locs by brandysims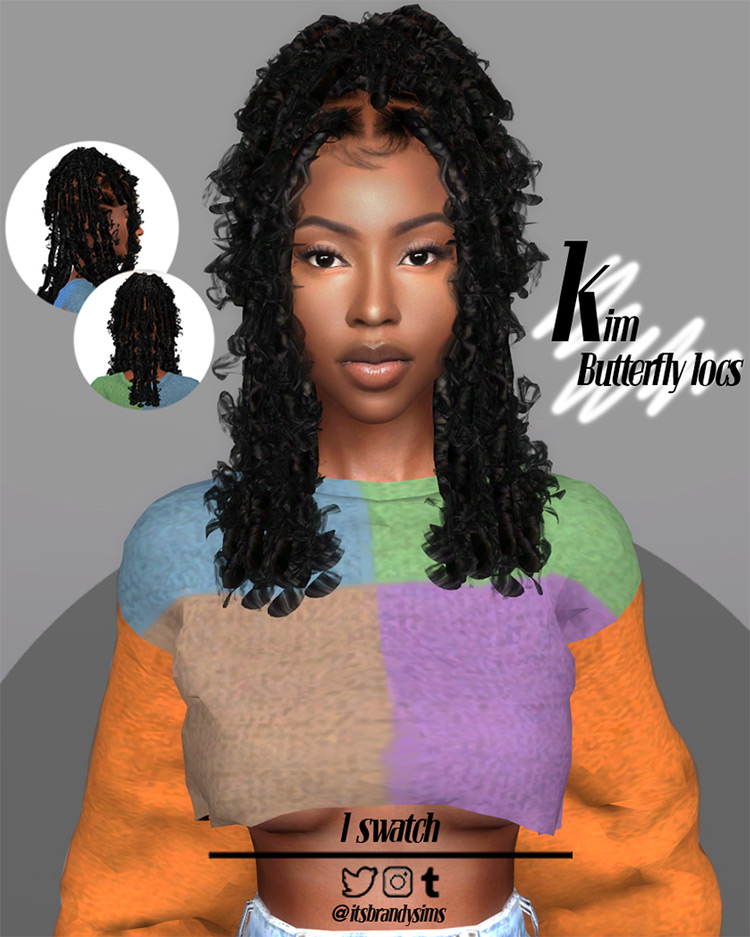 I have no idea whether these are curled dreads or braided curls.
Either way, this hairdo is bold, interesting, and effortlessly cool.
It's not as voluminous as the other styles on this list but, boy, is it eye-catching!
36.

TZ1028 by wingssims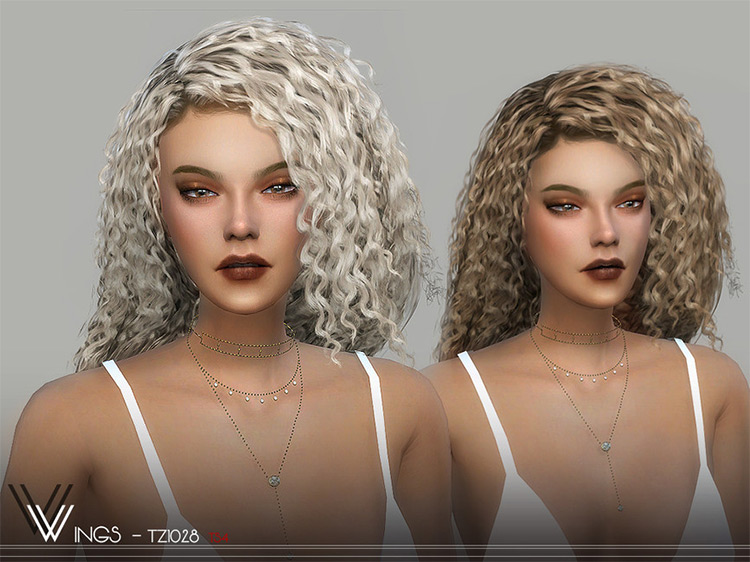 This is another long, fluffy, and curly 'do that's quite thick.
Unlike the other custom hairs that share this texture, this TZ1028 hair is designed to drape behind your Sim's shoulders (rather than at the front). It's a minute detail change that really makes a difference with how the hair looks overall.
37.

Kinky Curly Hair by xxBlacksims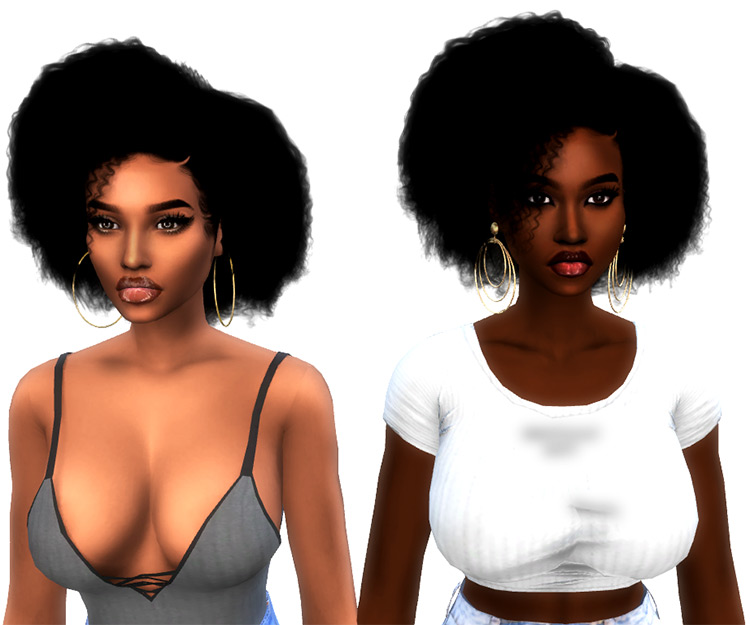 This afro looks so soft and so fuzzy, it's practically a cotton ball! I mean that in the best way—I think the hair looks bomb!
The slight side part, asymmetrical silhouette, and stray wisps of curly strands really add character.
38.

Amma Hair Conversion by NoNvme Studios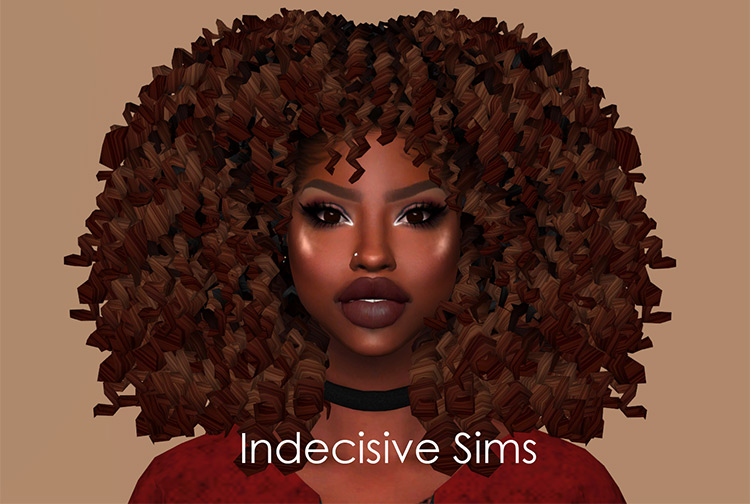 Here's another classic afro that's just fantastically full and fluffy.
Seeing highly-defined, uniquely-styled hairs like this just makes me so happy.
The CC's smooth quality and considerable variety (57 custom hair colors, total) are just cherries on top of the already delicious sundae.
39.

Craig by Anto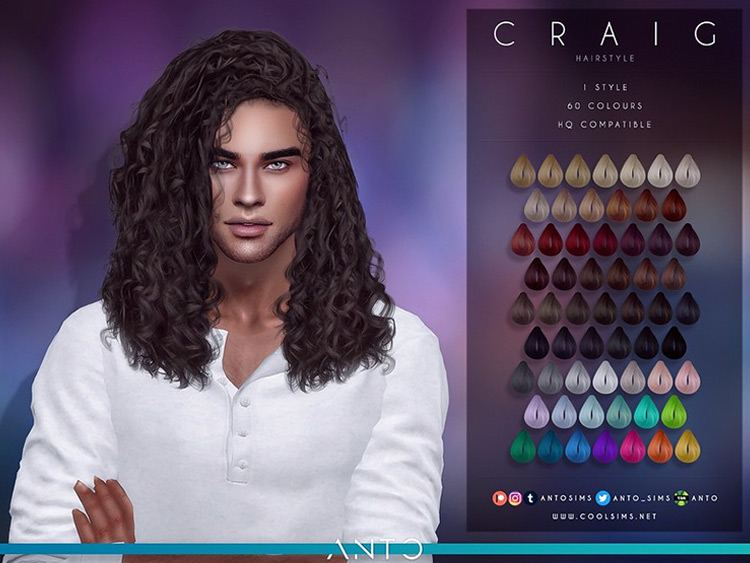 Ignore the Sims model with the smolder that could kill you.
Focus on the hair.
It's an incredibly attractive custom piece featuring mid-length curls, wispy, face-framing strands, and tons of visual appeal.
The vibes are a bit different when you change colors (say, from a warm coffee brown to a bright pastel peach), but overall? This hair can make any Sim look hot.
40.

Ainhoa by Anto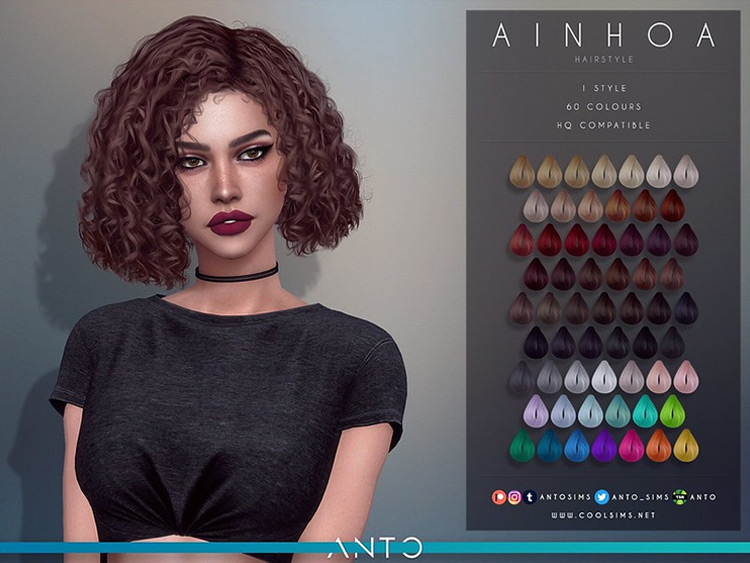 We're wrapping up this list with yet another masterpiece from Anto.
Ainhoa is a soft, stunning affair with short curls and plenty of character. I'm obsessed with the length and the volume of the curls.
It creates such an assured, independent vibe that's incredibly appealing.
And this CC comes with 60 color options for plenty of variety.
Browse:
Lists
The Sims 4
Video Games