Sims 4 Alpha CC Jeans (Guys + Girls)
This post may contain affiliate links. If you buy something we may get a small commission at no extra cost to you. (Learn more).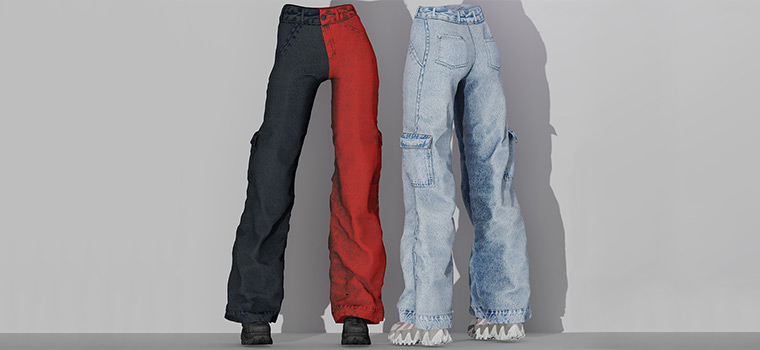 Honestly speaking, there must be several thousand custom Alpha CC jeans floating around the community.
And as fun as it can be to browse Pinterest boards and dedicated TS4 CC blogs, the options do need to be narrowed down—otherwise the sheer selection can get overwhelming.
I haven't scratched the surface yet, but I think this curated list of high-quality CC jeans is a decent start. So let's check out some fine alpha-style denim!
1.

Button Fly Bootcut Jeans by Gorilla Gorilla Gorilla
I don't care whether boot-cut jeans are trendy or not—I love them.
Always have, always will.
So you best believe my Sims practically live in flared/boot-cut/semi-bell-bottom bottoms. Trust me; these sweet Button Fly Bootcut pants from Gorillax3 make an awesome addition to your Sims' closet.
2.

ICONIC – Passada Pants by ICONIC
Jeans so baggy, they're practically defying gravity?
Sure, why not.
ICONIC's Vadia Grunge set contains super edgy fashion pieces that are somehow so over-the-top, they're cool.
I'm here for the Passada pants, which are basically oversized denim cargos that work with literally any shoe. But feel free to check out the other clothing items in the set—they're pretty urban-modish too!
3.

Summer Love Jeans by Pinkzombiecupcakes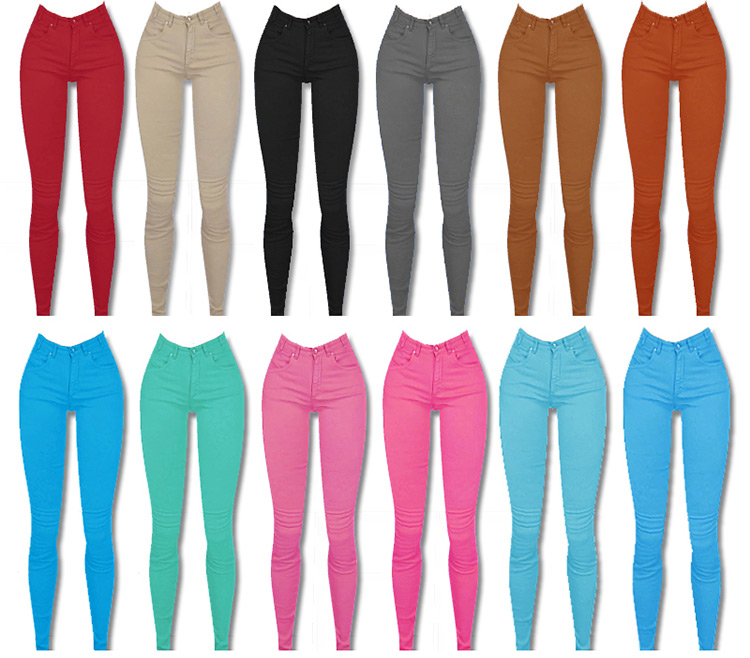 These pants may be named Summer Love, but your Sims can totally wear bright candy colors year 'round.
And when I say candy, I mean candy.
Bubblegum pink, cotton candy pink, candy-apple red… these skinny jeans are the definition of eye-catching (but in the best way).
4.

Hourglass Jeans by BADDIESIMS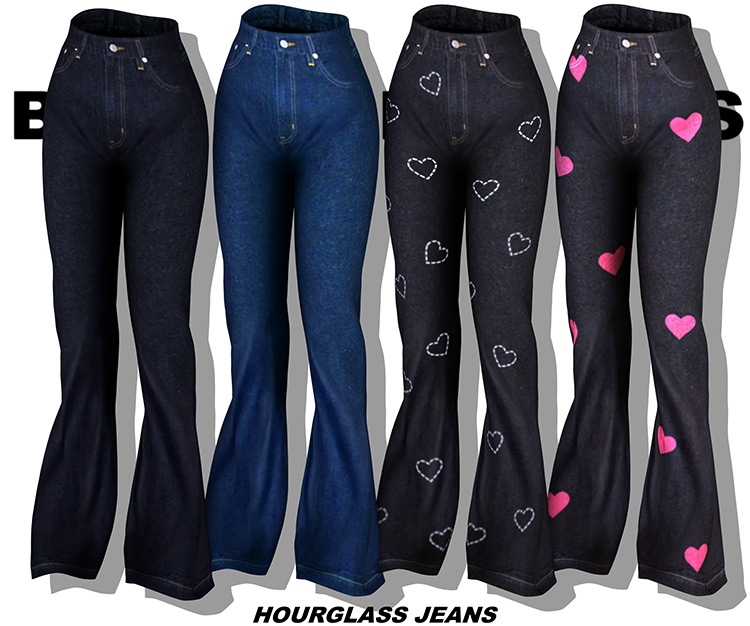 First of all, the little twist these bad boys have to their calves is so cute.
Second of all, the little heart outlines are giving me mad 2000s vibes, and I'm here for it. Third of all, the name is hella clever. Long story short, get this pants ASAP!
5.

Midwash Mom Jeans by Bill Sims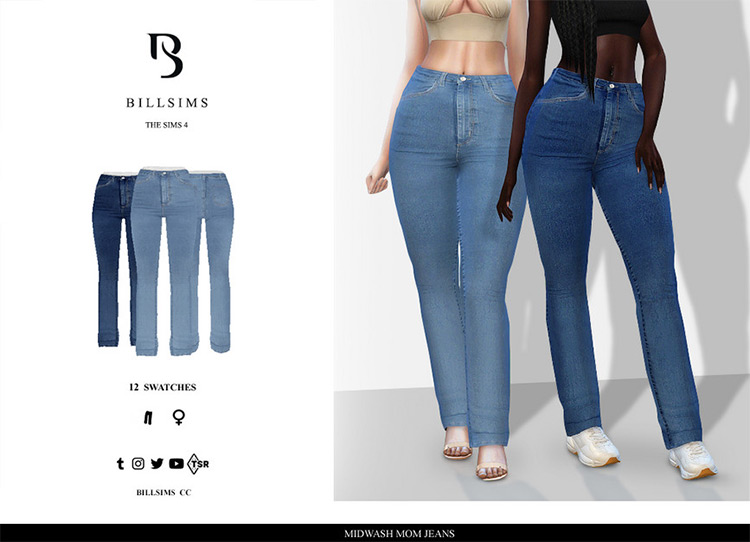 Mom jeans are the ultimate comfort jeans.
They also work on a wide variety of body shapes and sizes, so it's easy to see why they're so popular.
These alpha jeans by Bill Sims aren't quite as baggy or as wide-legged as some styles are, but they're still quite flattering. Definitely feels like a dependable closet staple.
6.

StreetWear Jeans 90s by Valenttina Muniz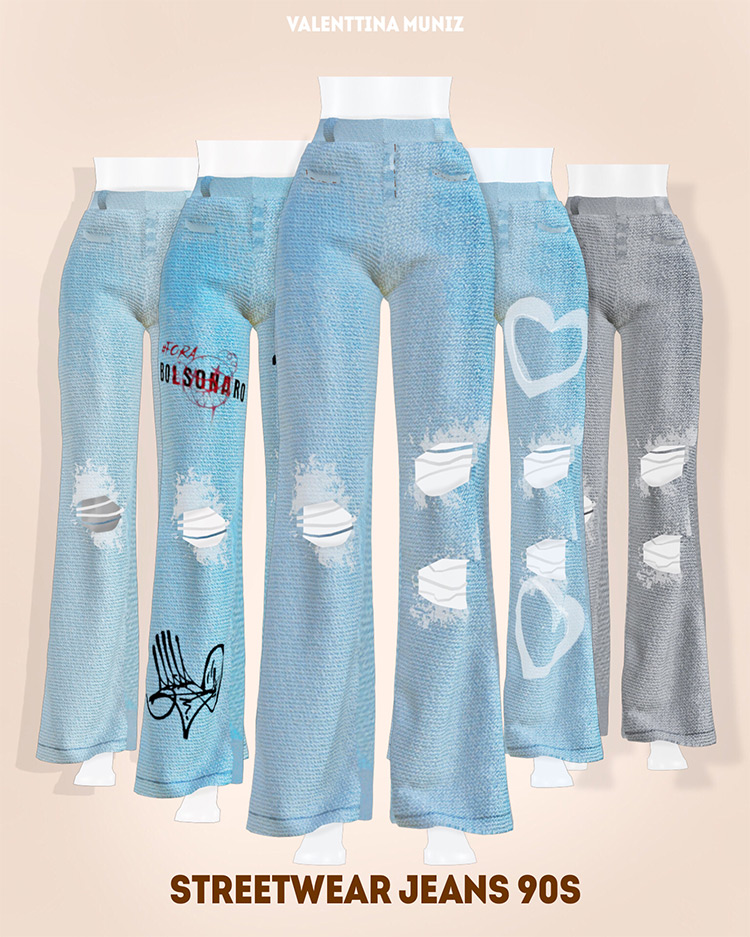 New vintage is all the rage right now.
And these 90s-inspired jeans are definitely TikTok-outfit-worthy. They've got the rips, the patches, and the graffiti print.
What more could stylishly-urban 90s-lovin' Sims need?
7.

Cargo Pocket Jeans by sadgirlsclub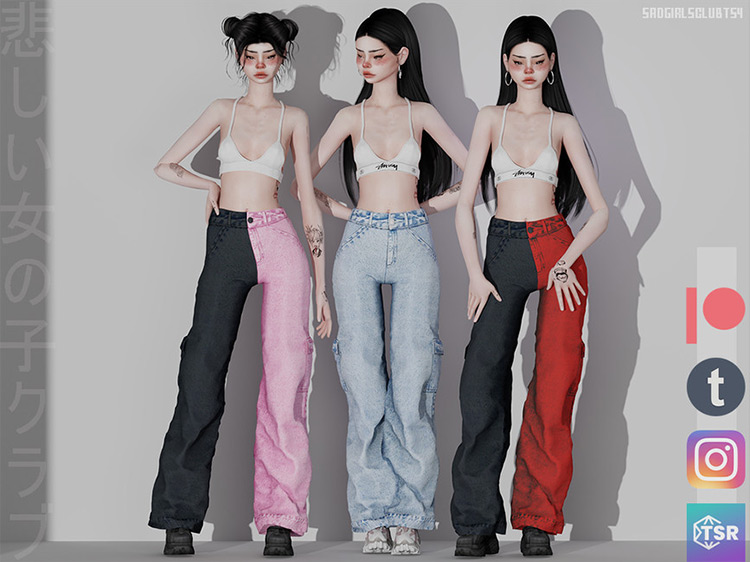 Listen; cargo pants are pretty and practical.
Don't let anyone convince you (or your Sims) otherwise.
These baggy little numbers definitely have a Harley Quinn/Two-Faced vibe to them, what with the two-tone swatches. I think it's cute!
8.

Men Denim Jeans by elliesimple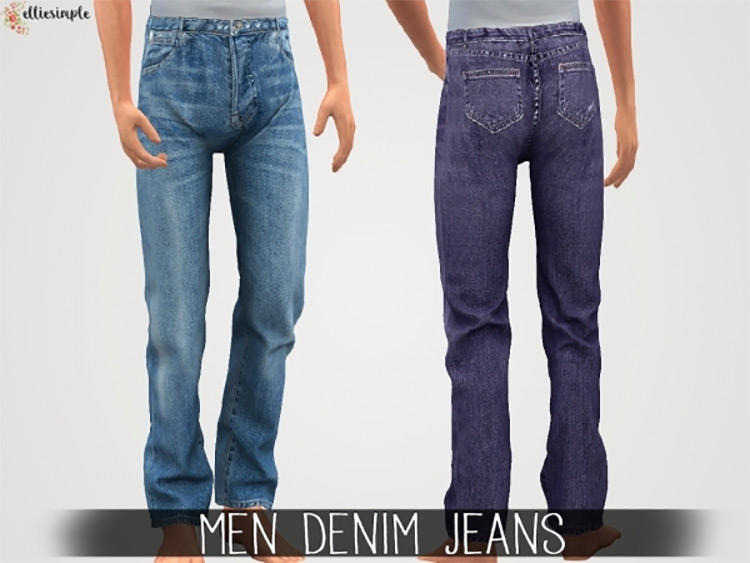 Who says basic is boring? Don't knock ol' reliable 'til you've got to get dressed in two minutes and you just need to throw something comfortable on real quick.
Elliesimple's Men Denim Jeans is a closet staple that you can incorporate in virtually any style.
9.

Skinny Jeans Rockstar_Female by helgatisha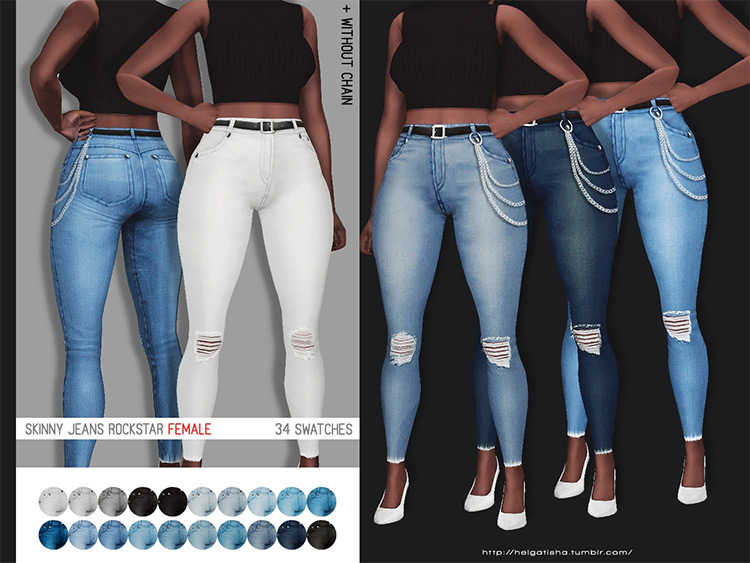 Skinny jeans may not be trendy right now. But that doesn't make them obsolete!
The right pair of high-waisted skinnies can still take an outfit from blah to bomb.
Case in point: helgatisha's Rockstar jeans CC. They're bold and beautiful, and the bonus chain accessory packs a punch.
10.

Springbreak Jeans by Atomiclight
Don't let the bright colors and acid-neon patterns blind you; we're here for the pants!
Specifically Atomiclight's Springbreak Jeans—these super baggy and decently low-rise pants with 20 variations. Some have chains, some have graphic patches, and they all look hella edgy.
11.

Jeans – MBT01 by laupipi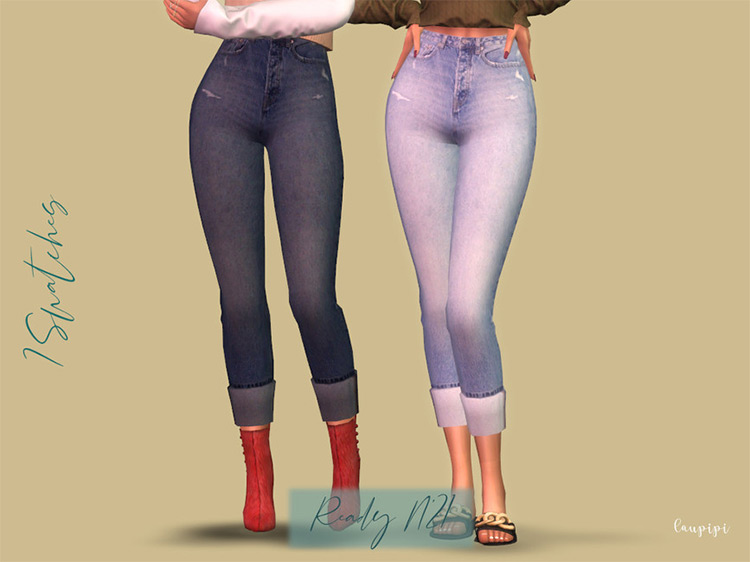 If your Sims prefer the clean, collected, and casual look, no worries. These MBT01 jeans by laupipi are a pair of perfectly pressed and neatly cuffed capris denims.
Very tame and tasteful, these are for the Sims who just want to keep it low-key.
12.

Modern Jeans – MBT21 by laupipi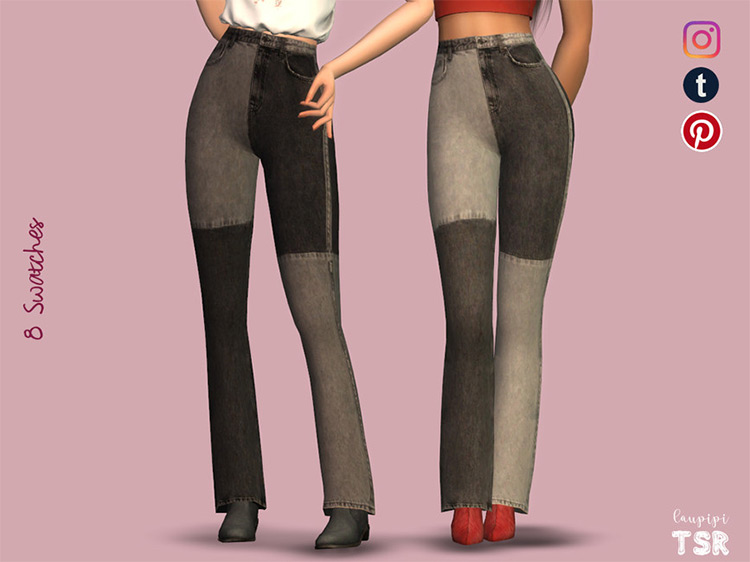 Classic denims meet contemporary color blocks to create – drumroll please – modern jeans!
Specifically, laupipi's Modern Jeans.
These high-rise trousers come with eight swatches, and all follow this distinctive geometric pattern. It's a look, for sure!
13.

PZC_Chic Black Jeans by Pinkzombiecupcakes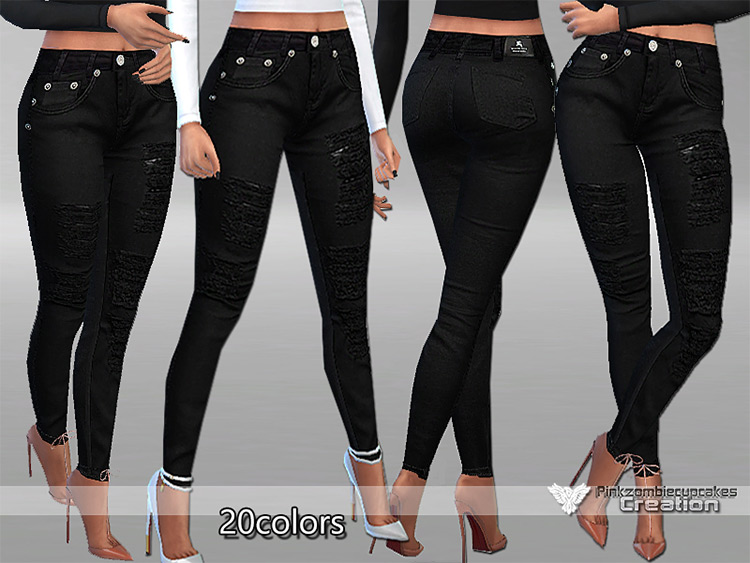 Black jeans are, indeed, chic.
Plus these ones have cool silver detailing 'round the waistline and distressing up the thighs. It's kind of grunge-meets-casual-Friday, but in a good way.
14.

JNCO Jeans Recolor by Squaresverse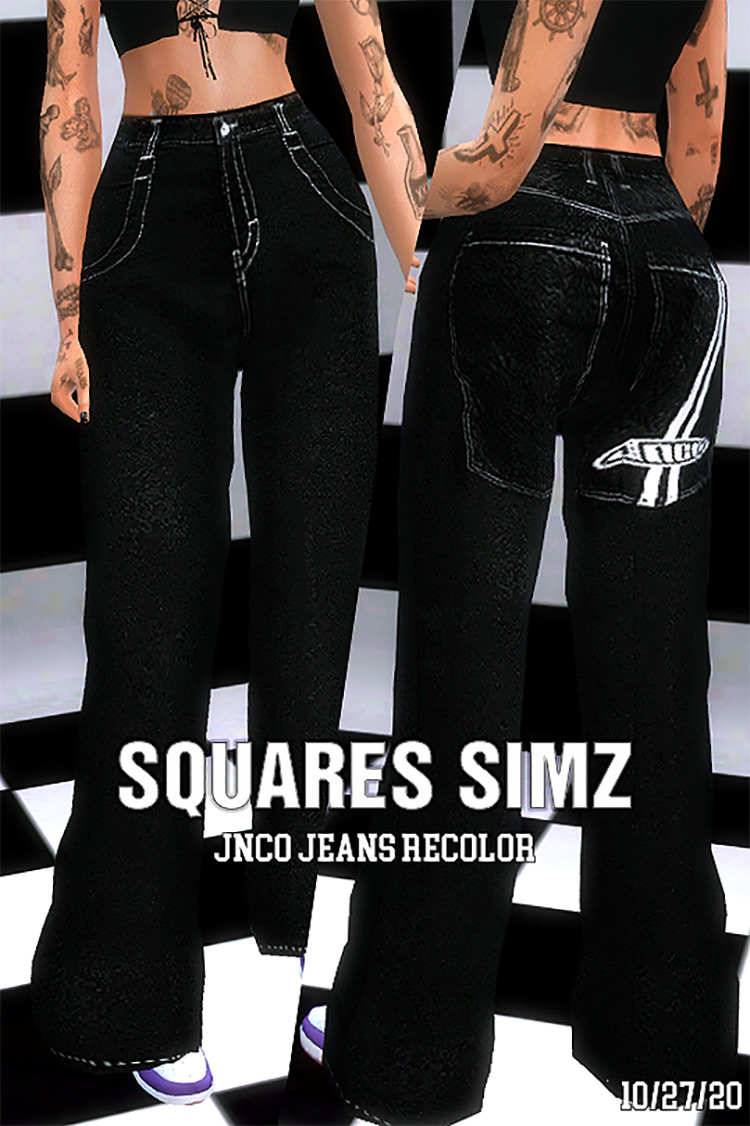 These are actually a pair of Maxis Match pants from mossylane that Squaresverse retextured – and recolored – Alpha CC enthusiasts.
Although this CC only comes in one color, black is a basic that never goes out of style.
15.

Skinny Jeans Rockstar – Male by HelgaTisha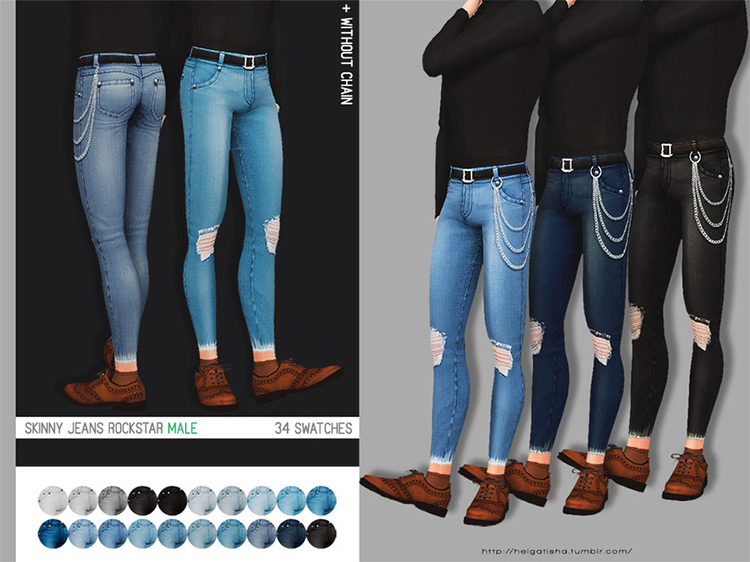 Here are some ripped skinny denims exclusively for Male frames.
They're sleek, they're simple, and you have the option to get them with or without the 2000s urban-style side chain!
16.

Giruto77 Multi Pocket Pant by KARZALEE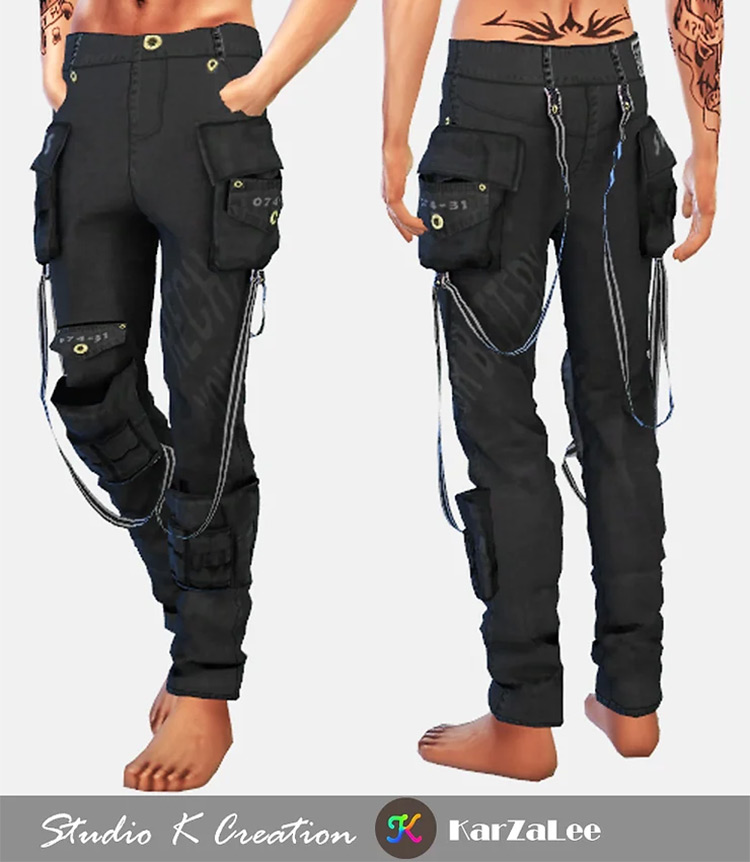 This is a lovely pair of unisex cargos—with a ton of detailing.
I'm talking pockets, chains, straps, and some patterns (depending on the swatch) to boot!
They're pretty eye-catching in that sense, but nothing over-the-top. Plus they make for cute couple outfits, not gonna lie.
17.

Another Set of Jeans by puresims
These are, as the name suggests, another set of jeans! This time by puresims.
And, yes; "set" of jeans is right.
This file contains a pair of high-waist skinny jeans in five colors and a pair of ripped-knee skinny jeans (also high-waisted) with three swatches total. It's basically a pretty casual pack of some pretty casual jeans.
18.

Mom Jeans by Senmoe
More mom jeans? No problem.
Senmoe's Mom Jeans are wonderfully baggy high-rise denims with cool pocket details and realistic folds 'round the calves.
They end a little higher than the ankle, in a sort of long capris cut that's actually kinda cute.
19.

Diesel Slim Fit Realistic Jeans by Saliwa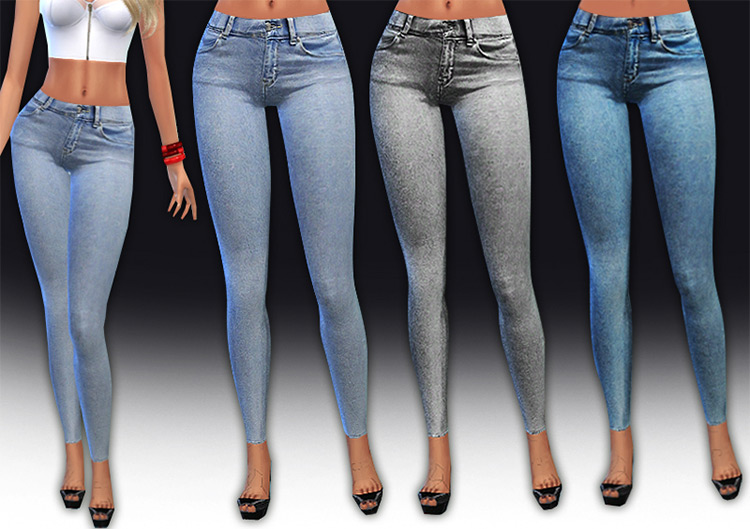 I don't remember much of the furnishings from The Sims 3: DIESEL Stuff pack, but I do remember that the clothes basically became my go-to for a while.
Couldn't help it; the pieces were edgy, urban, and kinda grunge-y.
These jeans, though they look like basic denim skinnies, pretty much carry the same vibe.
20.

HURI – Harem Pants by Helsoseira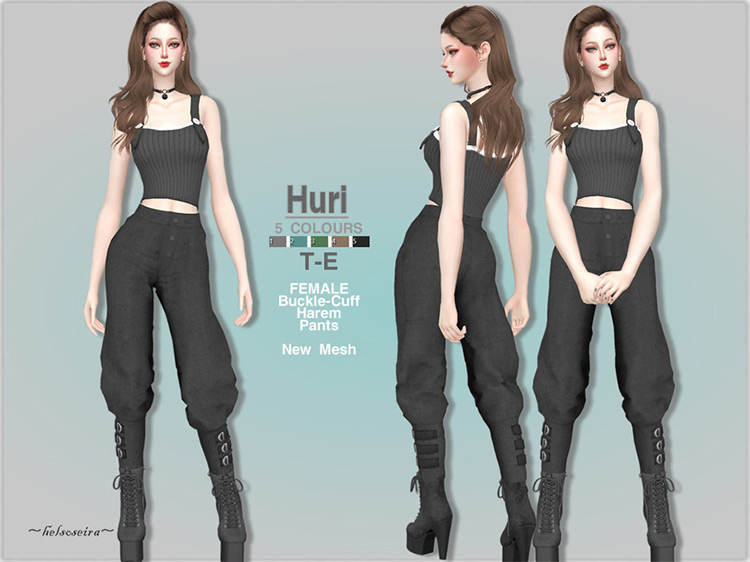 Not what one would consider typical, everyday fashion but, hey; Sims can wear whatever they wanna wear!
These HURI – Harem Pants are giving mad combat-fatigues-meet-post-apocalyptic-fashion vibes.
21.

Jeans – BT402 by laupipi
Solid, simple, and flared.
Can't ask for more from a pair of denim pants, really.
Plus laupipi's CC quality is always top-notch! So definitely give these a try if you like the look.
22.

The Beauty Black Pants by ISLAY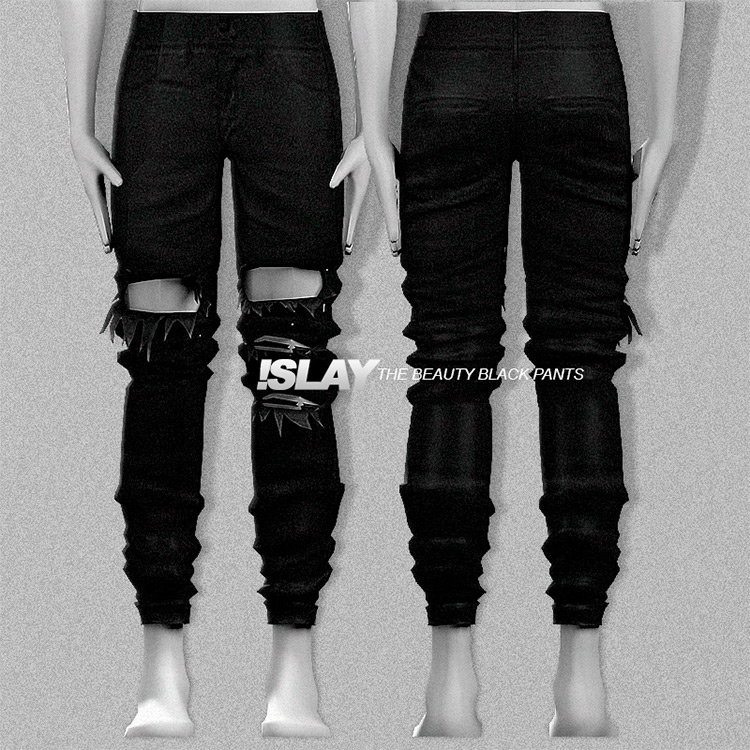 I feel like we've had our fair share of ripped jeans and black jeans on this list, so what's one more?
ISLAY's The Beauty Black Pants is, indeed, a thing of beauty.
It's got incredible texture, lots of details, and a decent amount of exaggerated distressing. It's like fashionable urban streetwear.
23.

High Rise Mom Jeans by elliesimple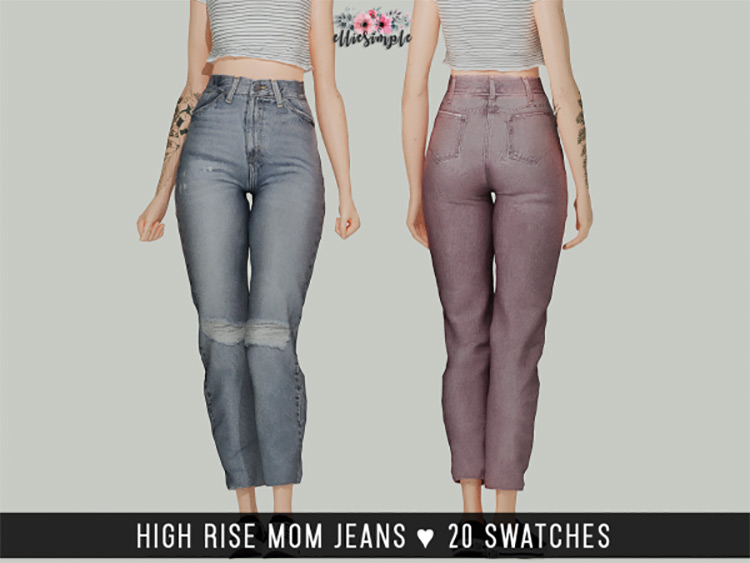 Last of the mom jeans (I think)!
These are perhaps the baggiest iteration of that cut on this list—and the trendiest. They're comfortably loose, high-rise, and have minute details that add good texture without going overboard. Overall, highly recommend!
24.

Denim Original Male Jeans by Pinkzombiecupcakes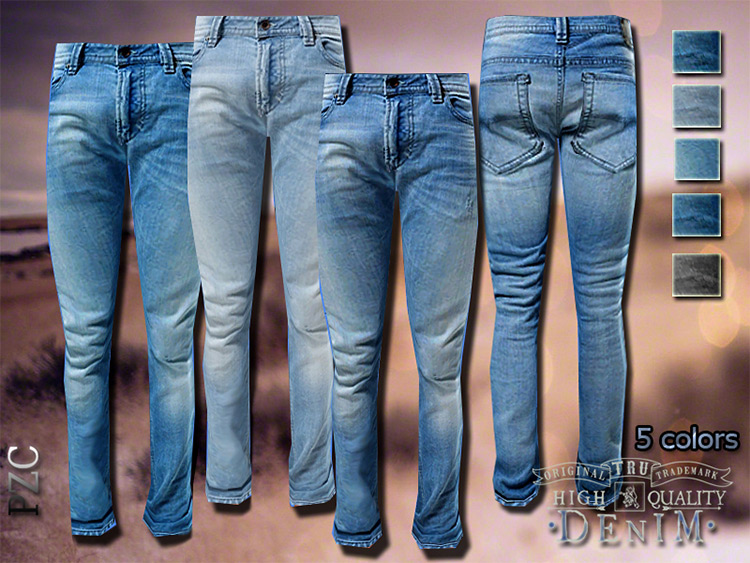 Denim textures typically look great when they're photoskinned, and these jeans are proof.
Pinkzombiecupcakes' Denim Original Male Jeans are chill, fairly-fitted trousers with plenty of folds and wrinkles.
I also think the level of detail around the waistline and pockets is insane. It makes the pants look so realistic.
25.

Reckless Jeans by serenity-cc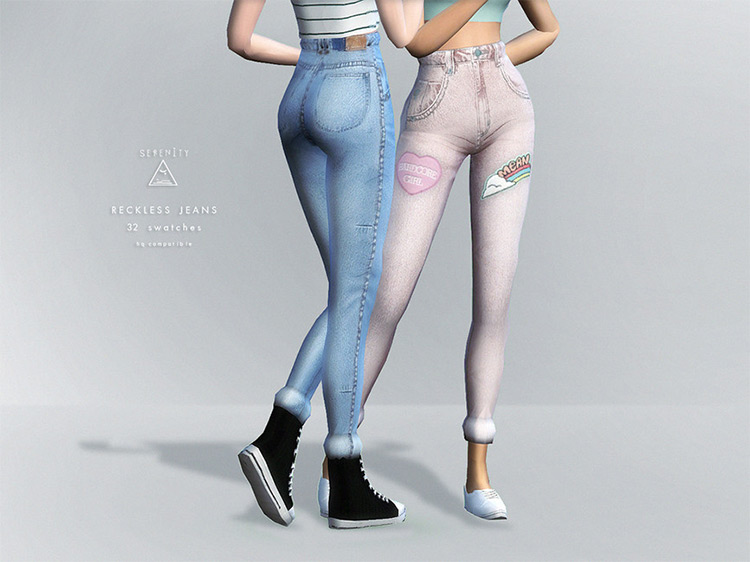 This is a pair of lovely, smooth denim skinny jeans with rolled cuffs and some decal detailing (on certain swatches). They're also giving distinct jeggings vibes. I may be wrong, but the waistline looks fairly elastic and the details look painted on, so.
That could just be me, though.
Either way, they're cute!
26.

Aloise Jeans by laupipi
Here are some high-rise jeans with a decent number of rips at the front.
Nothing too crazy (I know we've all seen crazier), but still enough to be distinctive.
It's the right blend of practical and distressed.
Rolled cuffs is still a trend that I'm not sure I can get behind, but the straight-leg cut always looks effortlessly cool.
And this CC comes in eight colors!
27.

Straight Fit Wide Denim by euno sims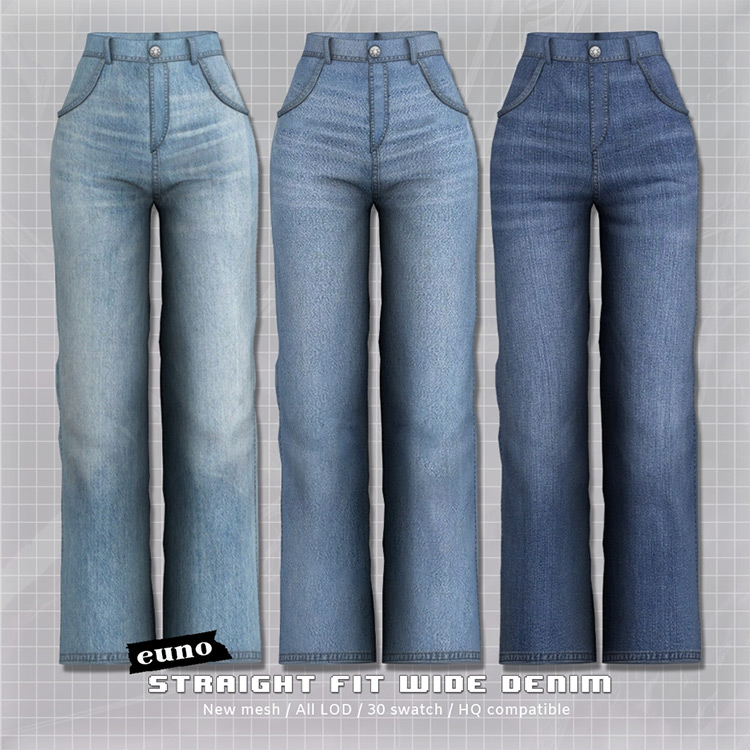 Speaking of straight-leg cuts, euno sims' Straight Fit Wide Denim is definitely a fit right out of TikTok.
Pair it with teeny crop tops or oversized vintage tees, and you've basically got something from a Gen Z-ers closet.
It looks hella comfy, though. And it's got plenty of color variations (30, to be exact!)
28.

Bell-Bottom Jeans by euno sims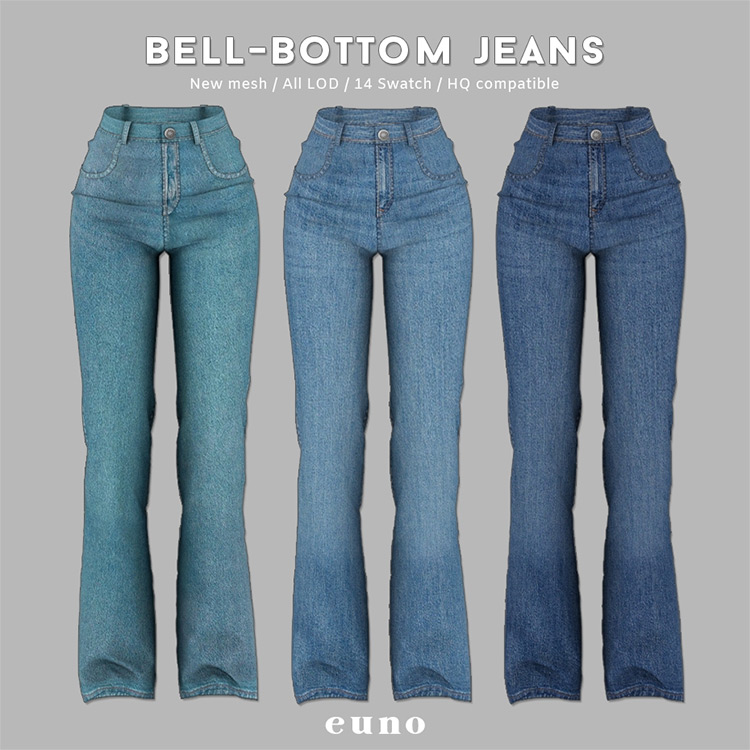 It's true—fashion is cyclical.
Terms like "new vintage" basically means we're right back where we started.
And these Bell-Bottom Jeans by euno-sims? They're apparently cool again.
Time to make it look like your Sims raided their parents' closets.
29.

Boyfriend Jeans by RIMINGS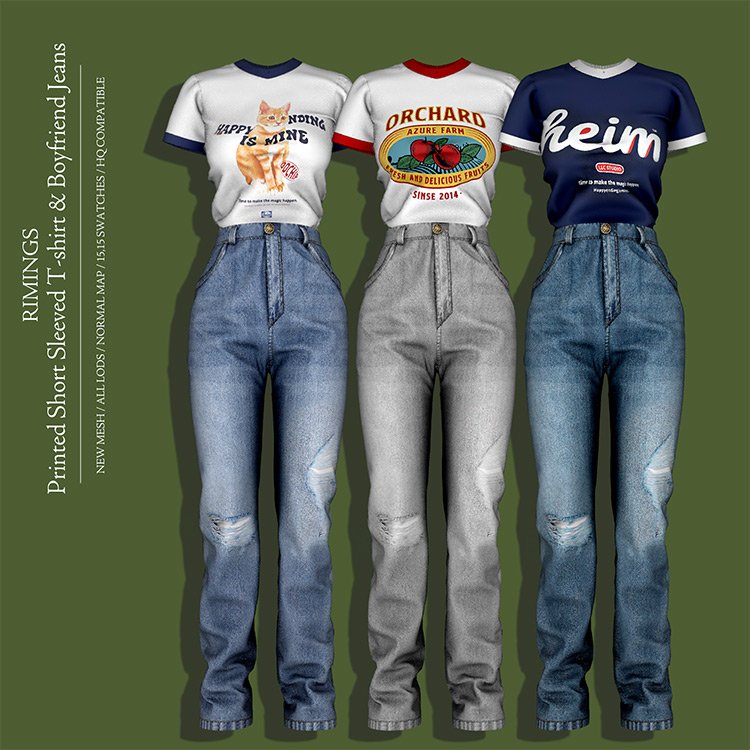 So I never really got the difference between mom jeans and boyfriend jeans.
Checking the labels at Forever 21 didn't help much either.
But CC creator RIMINGS says these are boyfriend jeans, so. There you go. Comfortably high-rise and stylishly baggy denims for your Sims to happily stomp around in!
30.

Kourt Jeans by Simpliacity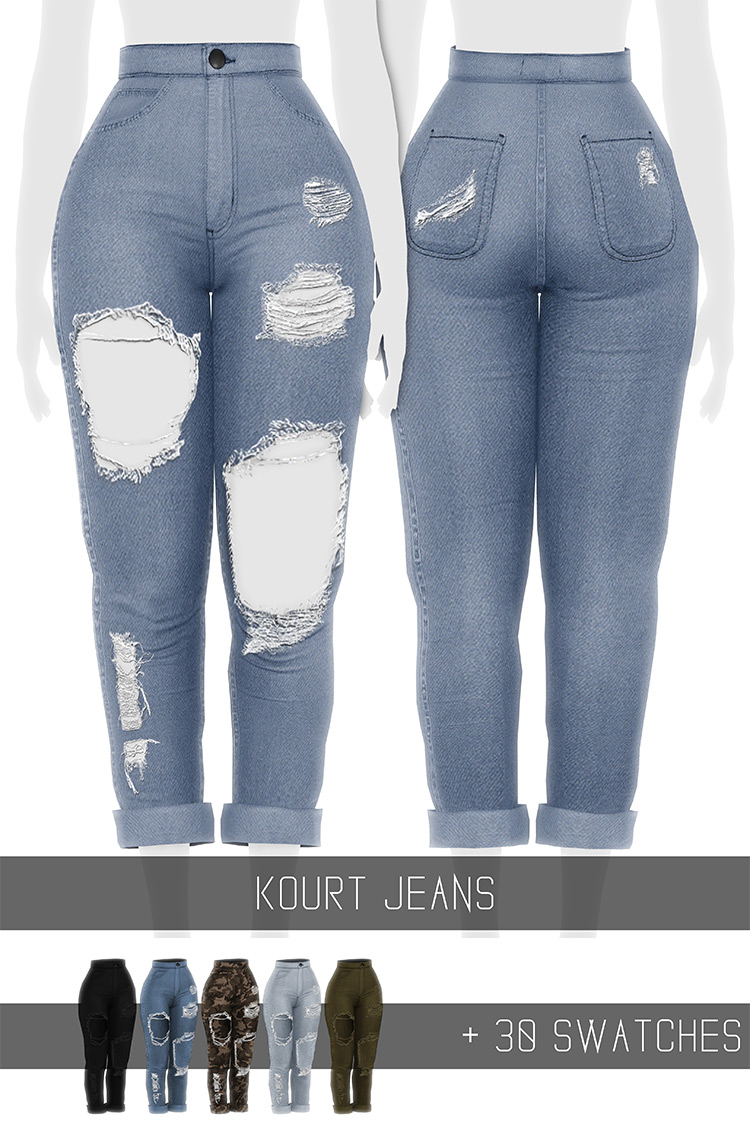 My bad; got one more pair of mom jeans for ya.
Here's Kourt by Simpliacity.
It's got a cinched waist, high-rise cut, rolled cuffs, and some very visible distressing. It also comes in 35 unique swatches!
Pair these with casual tops to create some pretty solid street outfits.
Browse:
Lists
The Sims 4
Video Games