Best Sims 4 Ballet CC, Mods & Poses (All Free)
This post may contain affiliate links. If you buy something we may get a small commission at no extra cost to you. (Learn more).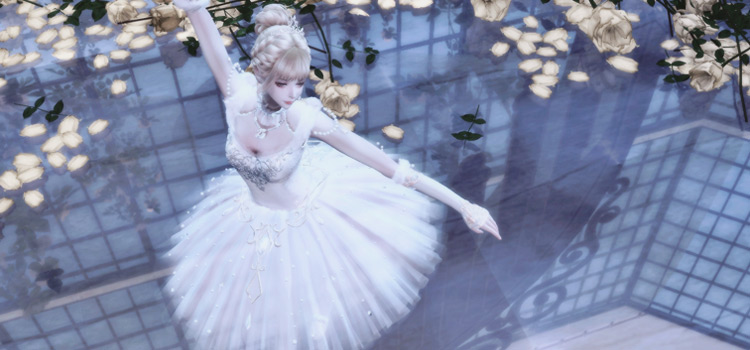 The Sims 4 has taken stock of many passion jobs, from teaching to being a social media influencer to writing.
But dancing is a career they've left to the wayside, despite its popularity and the many different forms that it can take.
Ballet, for example, encompasses much of what people love about dancing!
And as far as dancing styles go, it's one of the most well-known for being a dream job. There's something about ballet that is enchanting and enticing, for people both young and old.
So why not experience that in The Sims 4?
Even though it's excluded from the base game, it's still plenty accessible in the forms of mods and user created content – all of which I've gathered here for you, so you can spend your time dancing instead of surfing the web!
1.

Ultimate Dancer Career Mod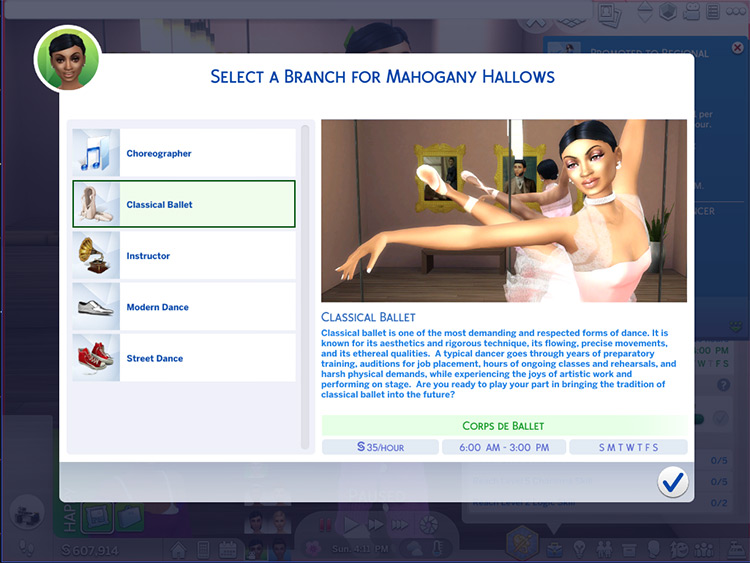 Before you can start surrounding your sim in everything related to ballet, your sim needs the option to actually pursue ballet as a career.
The Ultimate Dancer career isn't one of your trivial career mods with nothing but a simple singular path.
Although it's a rabbithole career, it has 10 levels and an impressive 5 different pathways. These options include:
– Classical Ballet
– Modern Dance
– Street Dance
– Choreographer
– Instructor
It's also pretty realistic to the experience of a professional dancer.
There's heaps of work to be done, and nowhere near as much pay. It's enough to get by, but unless you make it to the top, you're not going to be rich.
2.

Toddler Ballet Poses
I think many of us (although not everyone, of course) have memories of a children's ballet class or knew someone who went to them.
Because of the difficulties of pursuing ballet as a full-time career, it's often regulated to the ranks of just another childhood hobby – possibly even one that you were coerced into participating in by your parents.
This toddler's ballet pose pack can be used for basic classes like that, but where your sim child goes from there is up to fate (AKA you).
Wherever their path may take them, this 10-piece pose pack will give them a leaping start.
3.

Dance Studio Stuff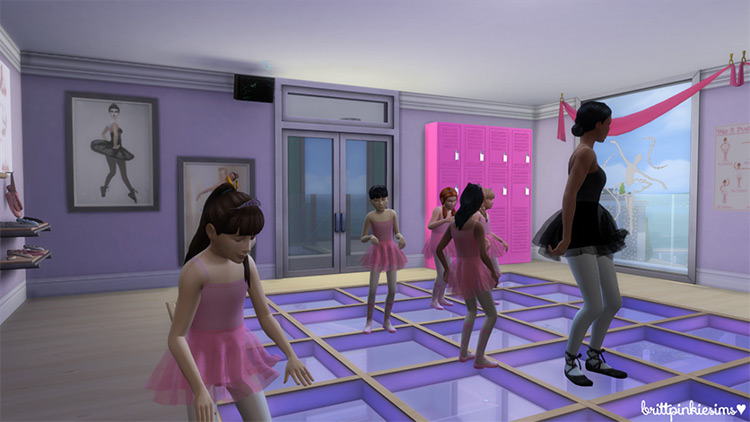 Every up-and-coming ballet dancer, no matter the age, is in dire need of a proper dance studio.
There's simply no way to hone your skills without one.
Brittpinkiesims created this dance studio set with youths in mind, but the props included aren't aged at all. There are also a ton to pick from, most of which are decorations (think wall decorations like posters and prints).
If you're not up for the challenge of putting together a studio room yourself, this pack comes with 2 ready-made rooms:
One for a ballet class, and one for hip hop.
If your ballerina ever goes through an urban dancing phase, they'll know exactly where to go!
4.

Black Ballet Set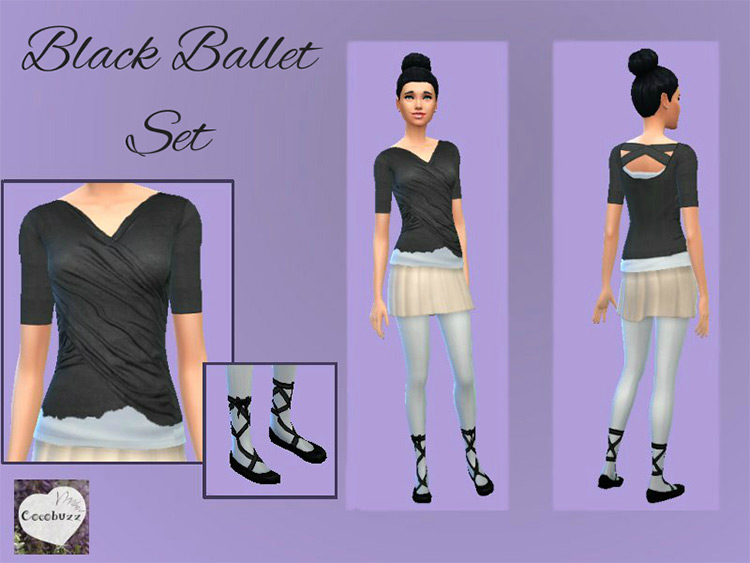 As fun as the stereotypical leotard, tights, and tutu getup is, it's just not realistic to get that dressed up every time you go to ballet practice.
This straightforward two-piece set (ballet shoes plus a breathable ballet top) is far more practical.
It only comes in black, but that's okay – the point is functionality, not aesthetics!
But swatches aside, it actually wins out in aesthetics, too.
The wrap top is chic, the ballet shoes have an adorable bow on them, and both of them can easily be paired with other clothes like a loose skirt and tights/leggings.
Who says utility can't also be fashionable?
5.

Ballet Flats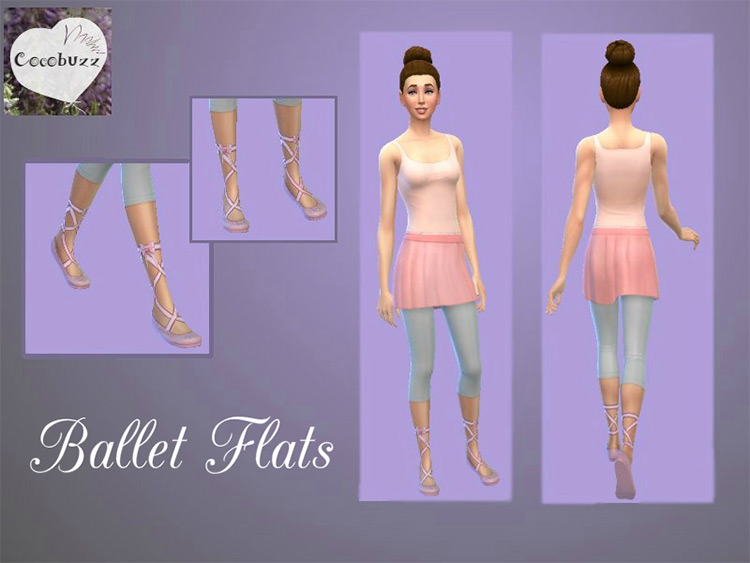 At the end of the day, you don't really need anything but a pair of nice ballet flats to start dancing.
These ballet flats were made by the same creator as the black ballet set (Cocobuzz), but they're in a slightly different style than the ones featured in that set.
Plus these are also a standalone download, so there's nothing tagging along with these silk slippers!
And the best part about them is that you'll never have to worry about not getting the ribbon tied on right, or having it slip down.
Thank you, digital reality.
6.

Ribbon Ballet Shoes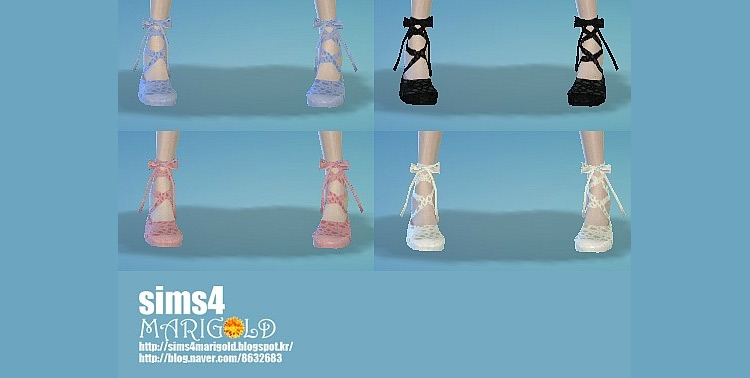 This is a cutesy alternative to some of the more "professional-looking" shoes on the list.
Although they're still usable for ballet dancing, they're designed so that you can wear them with normal clothes. That's anything but a downside!
It just means your ballet-obsessed sims can incorporate their love for ballet in their day to day life, too.
These shoes come in 4 dainty swatches (black, white, baby blue, and pale pink), which is more than enough to match them with some simple outfits.
And they have the cutest leather texture!
7.

Ballet Dance Pose Set
If you or your sim's love for ballet transcends childhood, then you'll probably have to ditch the cheaper dance studios, outgrown ballet outfits, and even some of the things that you've learned.
Maybe you won't have to leave behind your past experiences entirely, but they were only the foundation.
Now we're ascending the tower!
Flowerchamber's ballet dance set has 15 next level ballet poses so your sim can keep practicing long after they're grown.
The only question is, how far they will go?
8.

Freetime Ballet Leotards Collection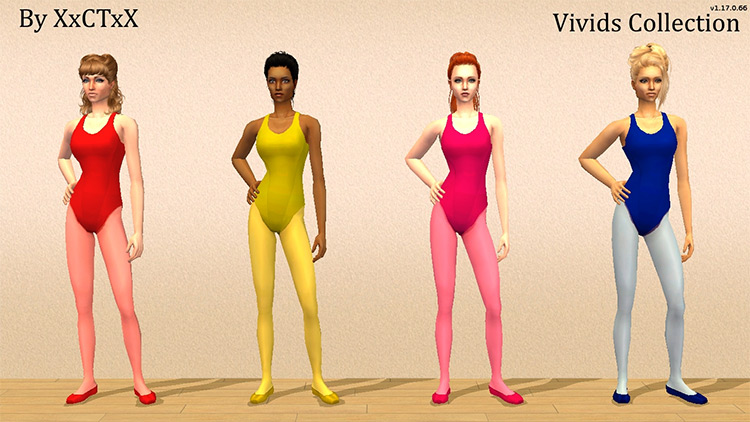 1 mesh.
30 different color swatches.
Endless possibilities!
The Freetime gamepack conveniently features a leotard, for ballet uses and beyond.
But colors are always an issue with The Sims 4, so XxCTxX generously created this CC to add way, way more options.
There are 3 different sets: pastels, neons, and vivids.
Together, they contain pretty much every colorful color you could possibly want.
The only weakness of this collection is that they don't include non-colors, like black, gray, and white.
But if colors are what you're looking for, then colors are what you get!
9.

Ballet Dress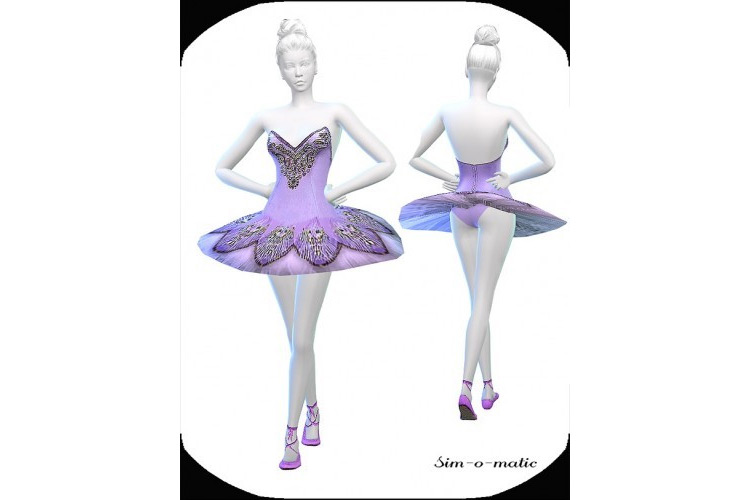 You can wear whatever works for practice.
But once you're on the stage, you'll need something a little nicer to impress an audience.
This dress is an undeniably perfect costume for the sugar plum fairy, but don't let that discourage you from using it as a stand-in for other ballet performances.
There are actually 2 other colors (black and white) which completely remove the similarity to the Nutcracker fairy.
The white one in particular would be great for Swan Lake!
10.

Ballet Suit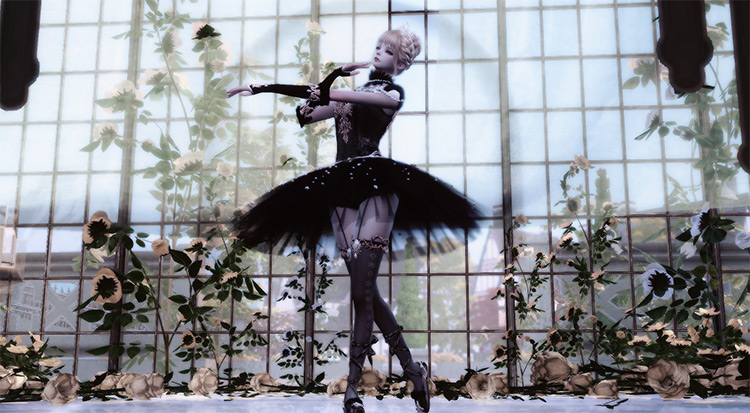 It's time to drop the pretenses and cut to the chase.
Ballet is beautiful. You want your sims to be able to do ballet beautifully.
Sure, it's a hobby, and enjoyment is important.
But as a performer, ballerinas need to be able to captivate the audience.
Part of that is through stunning costumes like this one.
It's not hyperrealistic, but its distance from the Maxis-match style means it can capture the elegance and charm of ballet far better than a Maxis ballet suit could.
And it comes with not only the dress, but also with the gloves, necklace, stockings, and shoes.
It doesn't get better than this show-stopper!
Browse:
Lists
The Sims 4
Video Games