Sims 4 Blankets & Comforters: The Best CC For Keeping Cozy
This post may contain affiliate links. If you buy something we may get a small commission at no extra cost to you. (Learn more).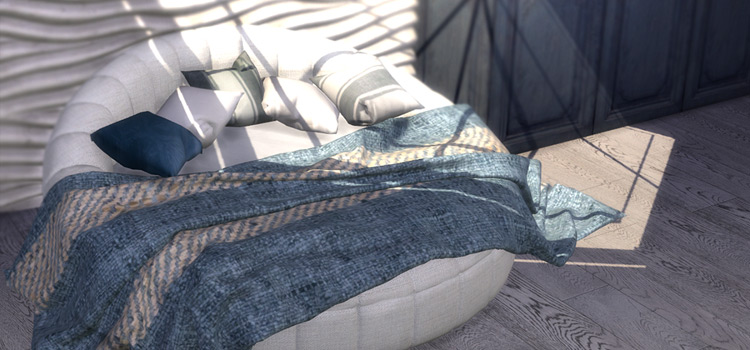 Some people get a little sad by the end of summer, and I get where you guys are coming from.
But me on the other hand? I can't help but get excited for Fall!
There are a couple of staples that always get me in the fall spirit: throwback Halloween movies, chai tea, cable-knit sweaters, and of course some cozy blankets!
Nothing is more fall than snuggling up in a blanket on the couch and enjoying all the finer things that the seasons have to offer. And there's no reason why your Sim can't do that as well.
Let's take a look together at some of the coziest blankets & comforter custom content options out there, perfect for all seasons and styles. These are sure to step up to the plate when your Sim is in the mood to snuggle up.
10.

Oltorf Teen Bedroom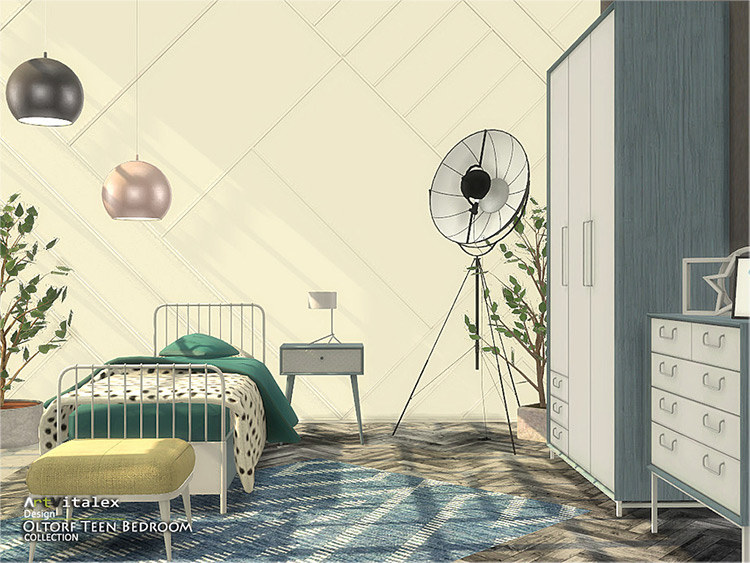 The Oltorf Teen Bedroom has a comforter option that makes sure your teen's room can be trendy and modern, but not have to sacrifice the coziness a bedroom is supposed to bring.
There are 12 unique designs to choose from in here, all with different patterns.
And a combination of neutrals and statement colors to make sure your Sim has a functional bedroom that incorporates any style perfectly.
9.

The Comfy Collection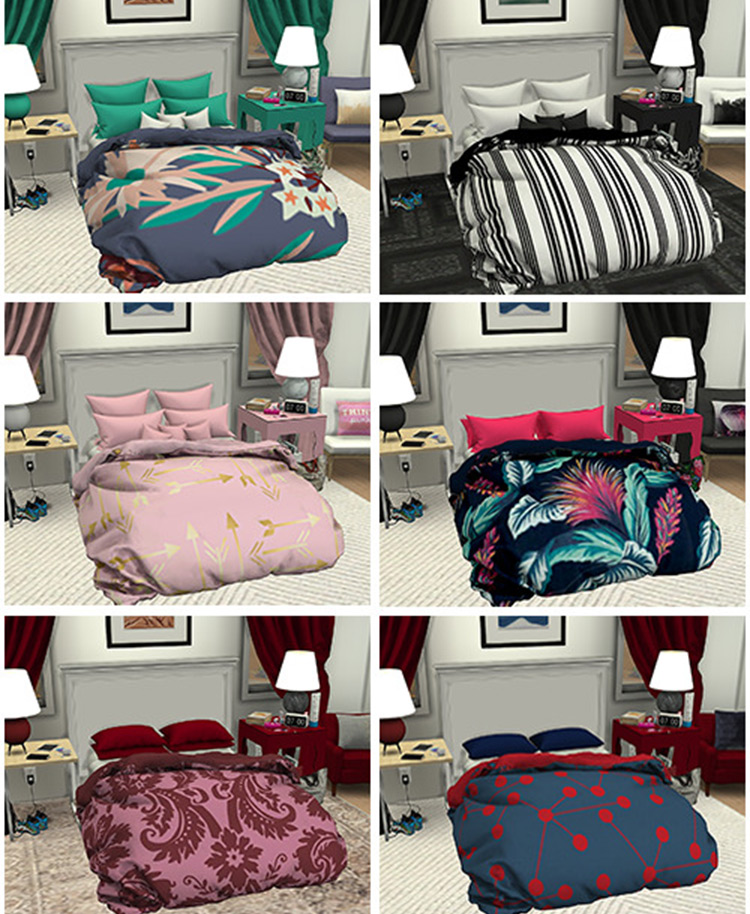 With this kinda name, you know it's gotta be good!
Why choose the comfy collection, you may ask?
Because this comforter CC has not only 7 different styles of comforters, but also features 212 patterns with 6 pillow sets!
Here's your one-stop-shop for all of your cozy bedding needs.
Great for Sims of any age with any sense of style.
8.

Single Mattress Recolors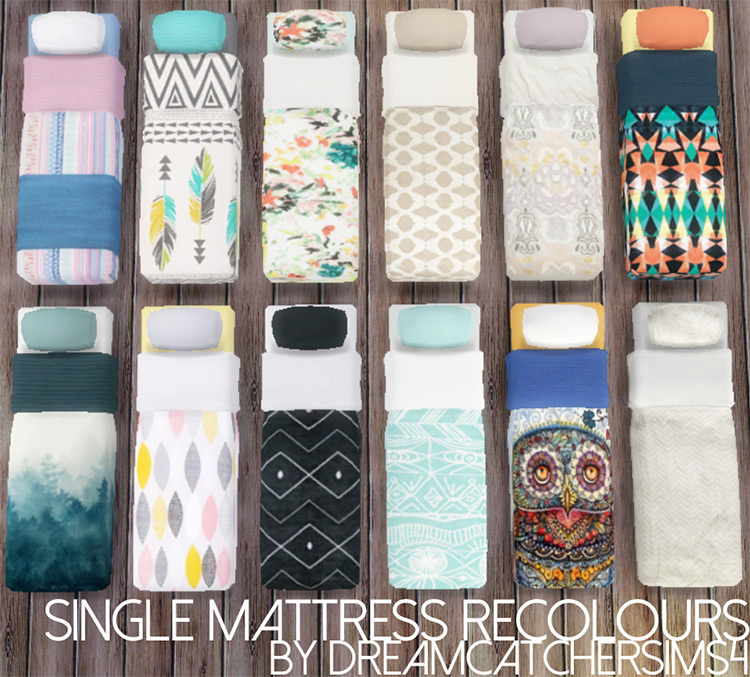 Cute and comfy options for your Sim's bedrooms shouldn't just be for those with a double bed.
Your younger Sims with a twin-sized mattress don't have to go for boring, dated bedding anymore.
Here we have some CC for both our girls and boys in the household. A genuinely versatile staple to add to your rotation of custom content that's sure to be used often!
7.

Sue's Toddler Bedding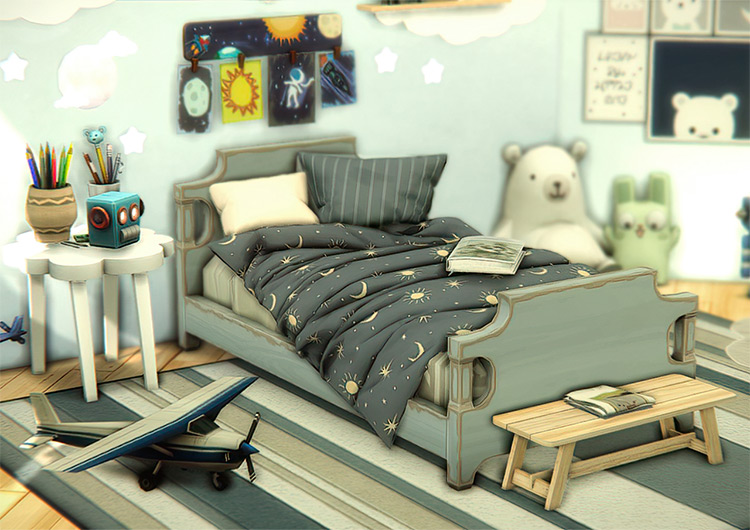 What I love about Sue's Toddler Bedding CC is that it breaks the traditional standards of what a toddler's bedroom should look like.
Sure, dinosaurs can be cute and all. But haven't we all seen that over a thousand times by now?
Now your toddler's room can stand out from all of the other kid's rooms with peaches, pineapples, stars, and more!
Sue's Toddler Bedding also features fun exciting pillow options that stray from what we've come to think when we hear "kids pillows".
Just another reason to download and enjoy this CC in your home.
6.

Blanket Collection #6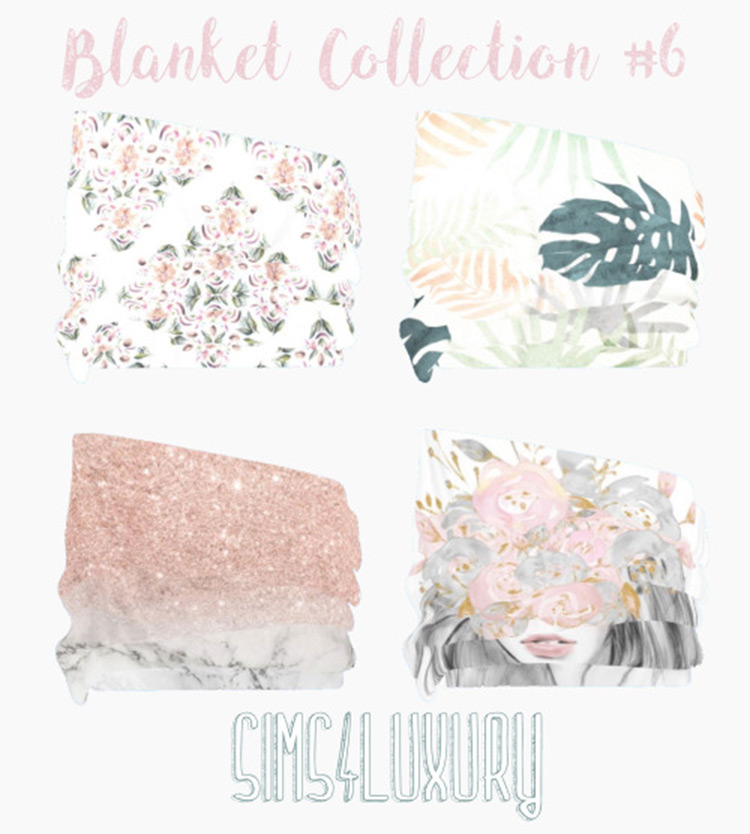 One of my favorite ways to add flair to my living room is to add extra throw blankets.
This blanket collection stands out from the rest with its use of pastel colors, botanical prints, and even shiny sequin-like textures, which mimic a lot of the blankets that are out there in stores today.
These throws are also great for a house that's on the girly side of things.
Lots of pinks, flowers, and pretty accent pieces, all tied together with a blanket that's sure to keep your Sim cozy for ages.
5.

Golden Green Marbel Bedroom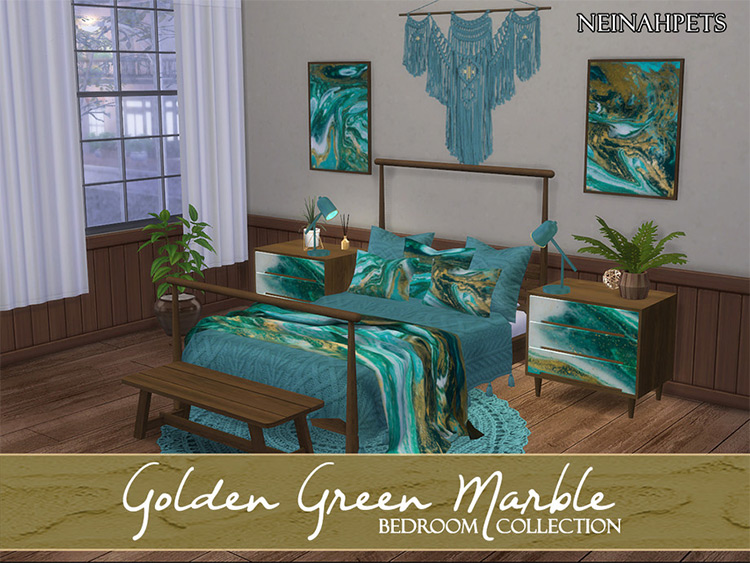 Bedroom sets can often make you feel like you need to make a bigger commitment than you do.
In reality, some of the most impressive bedrooms out there come from bits and pieces of different collections, all being picked apart and put together again.
In the Golden Green Marbel Bedroom, there are some beautiful throw blanket options and comforter sets to choose from.
These would look stunning in a room for your boho Sim, your traveler/adventurer Sim, and well, all Sims in between!
4.

Chromium Bedroom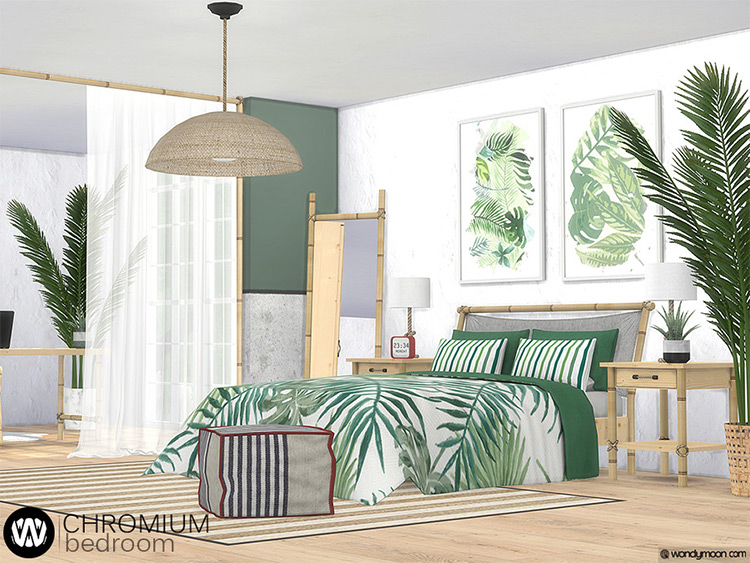 Have you ever wished that your Sim could take their love for the jungle home with them?
With the Chromium bedroom CC, they can!
The blankets in this set are stunning. Clean white backgrounds paired with lush green leaves are sure to bring your Sim back to some of their favorite jungle adventures, all from the comfort of their bed.
3.

Juneda Set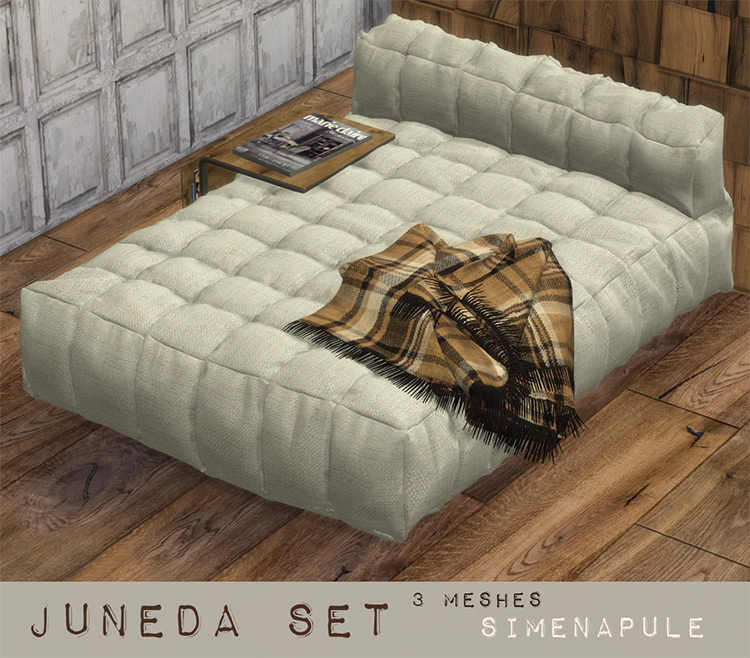 The throw blanket featured in the Juneda Set is a classic.
One of the coziest, most comfy-looking prints out there for a blanket has to be plaid.
Anyone else crave cabin vibes for their dream lot?
If you were looking for a throw that's going to make your Sim look and feel cozy, plus bring the feeling of the colder months with it, the Juneda throw CC is a must-have!
2.

Anthropologie Inspired Collection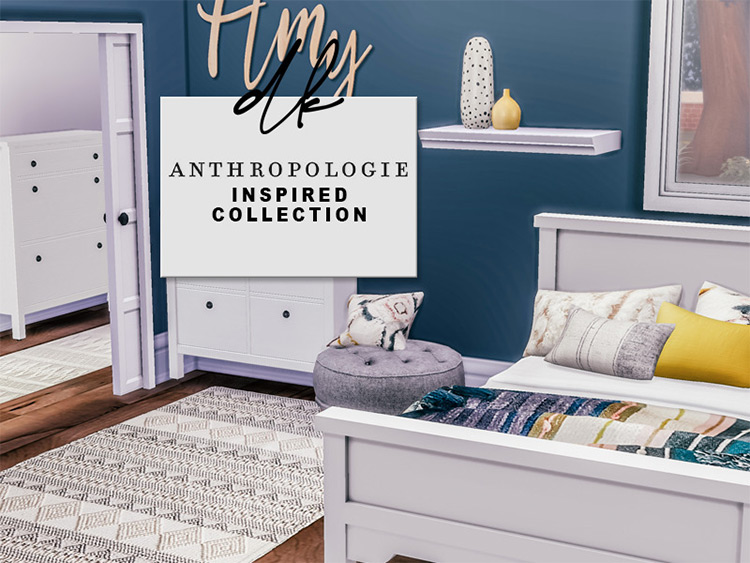 What can I say? I have a designer taste on a budget that can barely afford to buy ramen.
'Tis the life of a college kid.
I think I speak for a lot of my fellow Simmers when I say that The Sims is a way to redesign your life, and have everything you've wanted(and more).
And a bedding set that looks like it came from one of the most high-end decor shops sounds like a great deal to me! Especially if I don't have to foot the bill.
If you find yourself in the same shoes, I'd recommend the addition of these blankets and comforters into your Sim's life.
Live out all of your wildest home design fantasies!
1.

Langon Set Bed
This blanket CC is probably one of the coziest blankets shown in this list!
There are a variety of colors and patterns here (24 to be exact) so you can switch it up whenever you feel like your room needs a bit of a refresh.
The Langon Set Bed has downloads for the blanket, and for one of the most unique beds I think I've ever seen.
It looks like it would offer the comfiest sleep of your Sim's life!
All the more reasons to fall head over heels for this CC set.
Browse:
Lists
The Sims 4
Video Games