Best Sims 4 Bookcases & Bookshelves: Free CC & Mods
This post may contain affiliate links. If you buy something we may get a small commission at no extra cost to you. (Learn more).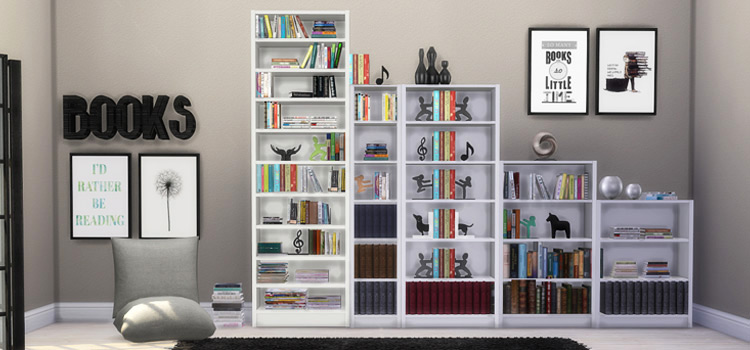 When you think about it, bookshelves are kind of underappreciated. Every house has at least one, but there usually isn't much focus.
All you need is something with a few slats to pile stuff on, after all.
But they really are an important piece of furniture when it comes to setting the mood and tone. I didn't realize until I started looking into CC how much the bookcase really does matter.
Maybe you want your bookshelves to stand out. Maybe you don't. Either way, whichever one you decide to place in your Sim's home will say something about them and add to the decor.
In this list, you will find a little bit of everything. So let's get into the best of the best Simmer-created bookcases, and you can decide for yourself which way to go!
1.

Nordic Style Bookshelf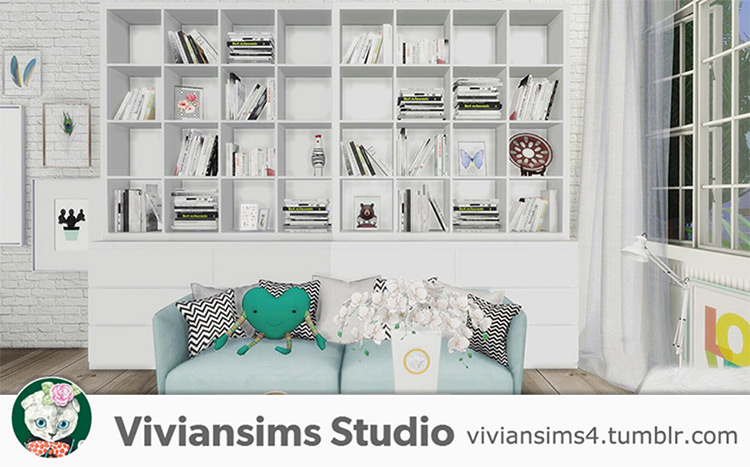 Anything with 'nordic' in the name is bound to be cool. I don't make the rules.
This large bookshelf will fit well into any modern home. The shelves are nice and symmetrical, which I know doesn't matter to everyone, but I appreciate it a lot.
It also comes with some clutter for you to place in those wonderful, perfectly aligned shelves as you wish. And as much as I enjoy symmetry when it comes to furniture itself, I think it's fitting that the books aren't all straight.
Some are leaning to the left, some are leaning to the right, some are in a stack.
Just like my own chaotic book collection.
2.

Vertically Challenged Bookcase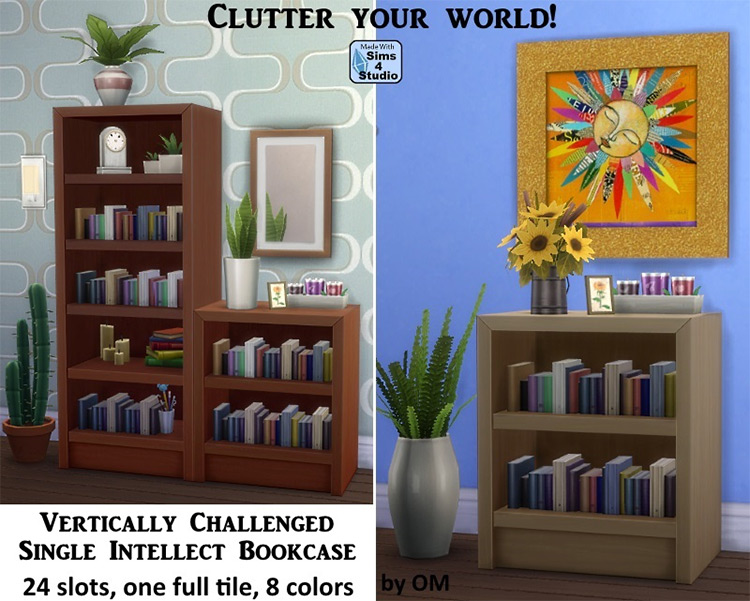 As a person who actually is vertically challenged, I LOVE this.
I know it doesn't really matter in The Sims, but why are all their shelves so tall?! It's a good thing adult Sims are all the same height, because personally there's not a single thing I could reach in their houses without a stepstool.
My favorite part about this CC is that you can actually turn it into an entertainment center!
That's right: by combining the different height bookcases, your Sims can have bookshelves in their living room without them being terribly out of place. They'll actually mesh with the rest of the furniture.
Besides, entertainment centers always just look so nice and organized.
3.

IKEA Billy Bookcases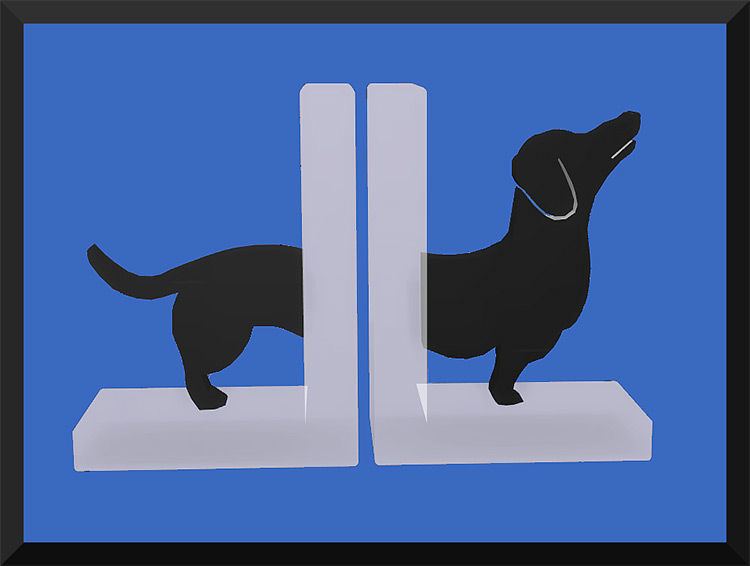 Here we have several sizes and shapes of bookcases to choose from – at least five, from what I can see.
My favorite part of these shelves are actually the bookend decor that comes with them. The weiner dog one is particularly genius, but all of the little extras included here will aid in making your Sim's bookshelf integrate seamlessly with the rest of the room.
The books even have detailed Simlish covers, which I think is another awesome touch.
4.

Absolutely Crate Bookshelves
The trend of repurposing wood pallets and crates is something I can really get behind.
And I'm glad it has now come into The Sims.
You can pretty much do anything you want with this one. Use however many individual crates you want to create tall bookshelves, short ones, line the walls with them.
There are plenty of rough wood swatches for those of you who want to keep that rustic recycling look, as well as several cleaner colored ones in case you want something a little more up to date.
5.

Asian Bookshelf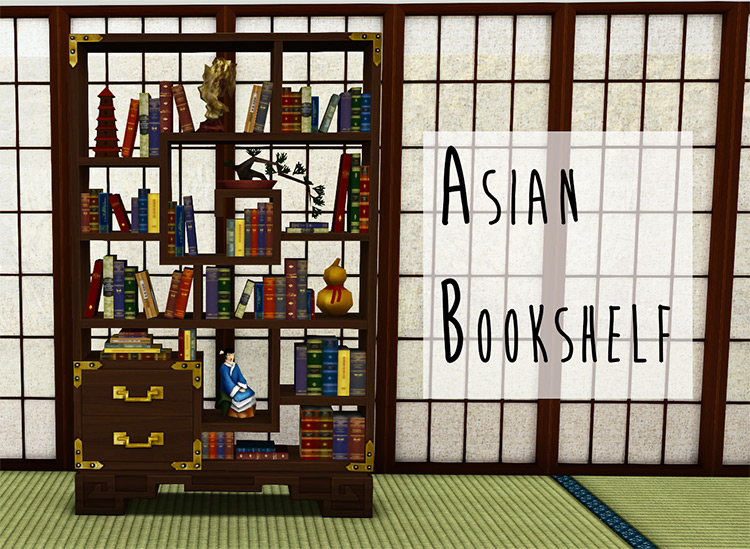 If you're looking to add a cool cultural flair to your Sim's home, you have to check out this bookshelf from teanmoon.
This one has a really cool design, from the unique shelving situation to the gold details. There are several Asian deco items that I really love.
I may not know what they're called, but they are all very familiar and pleasing to the eye.
Any time I can add some culture to my Sim's homes is a win in my book.
6.

Hanabira Bookcase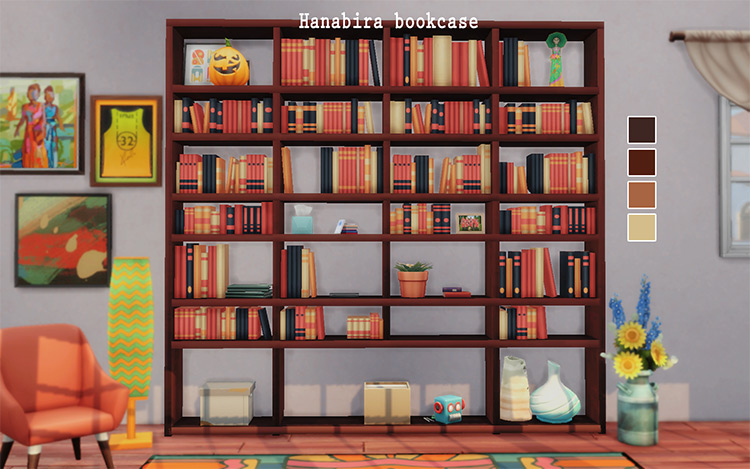 Bookcases like this never fail to make me want to climb them. I think it's Home Alone induced or something.
At least you can rest assured this one will never collapse and release a tarantula.
Many of the shelves are different heights here, which works really well for these larger bookcases. The words 'sturdy' and 'clean' come to mind here.
This Hanabira Bookcase CC by vroshii is simply pleasing to the eye, coming in four different wood swatches.
7.

Queen Anne Library Bookshelves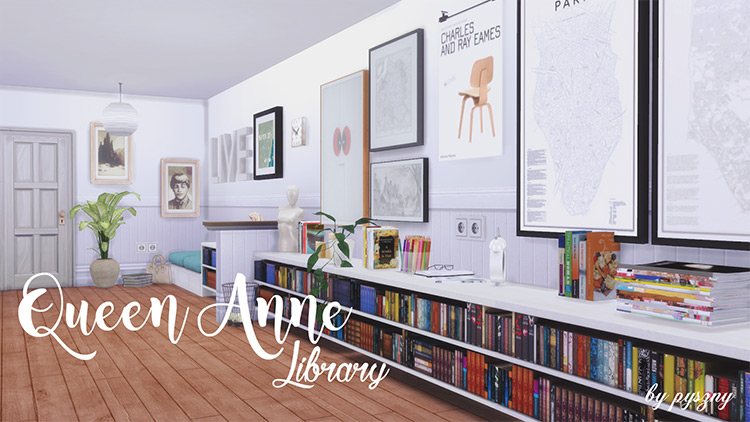 A small, compact bookshelf is just as good as a big, wide one. As evidenced by these shelves from pyszny.
No matter how many you use, these will be a great addition to any living room, bedroom, or home office.
Or you could always build your own library – that would be fun. That Willow Creek one definitely gets old after a while.
There's plenty of room on top as well, which is always something I enjoy because you can add your Sim's own personal decorating tastes.
The books within these shelves seem really different from the ones in the game to me.
Maybe it's because there are a lot, and they're close together, but all the different colors and designs really makes it look like the owner of these shelves would be an avid reader.
8.

Solatium Bookcase 2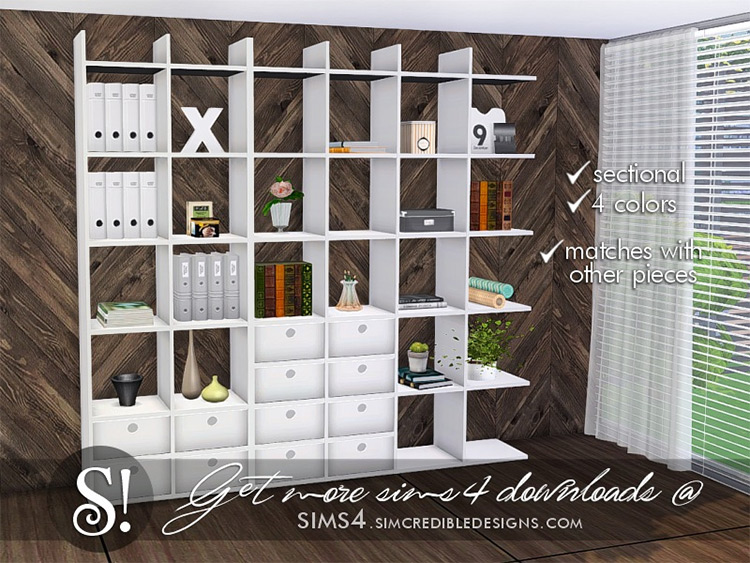 Here we have another highly customizable bookshelf. Don't you just love when your Sim's furniture is completely at your mercy?
You can mix and match these in various ways.
Use just one section for a simple, narrow shelf. Pair up two for something a little wider, opening up more storage slots.
Place four or five for a big shelf to hold every book and knick-knack your Sim owns.
So many shelves. So many possibilities.
9.

Mediterraneo Bookshelf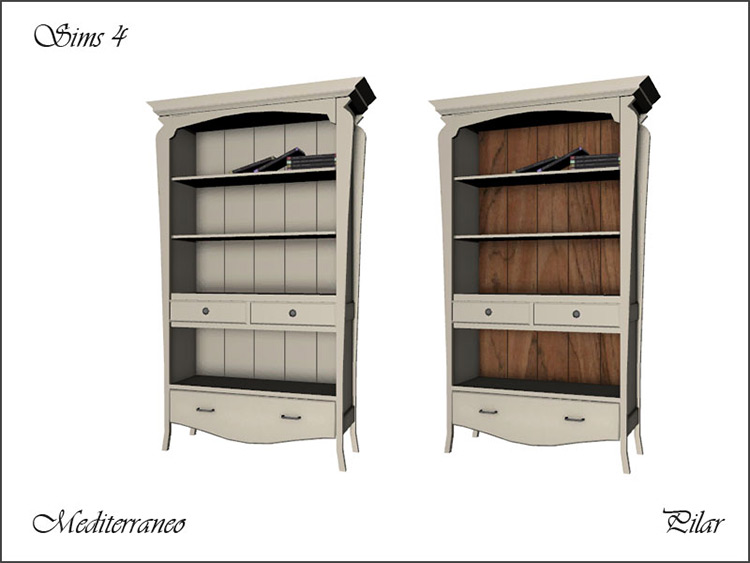 Maybe I'm just being influenced by the name, but this reminds me of pirates.
This would totally fit on an old ship. If Sims had antique shops, they would for sure be able to find this in one.
Since you tragically cannot live on a pirate ship yet in The Sims 4, you'll have to settle for putting this in a house. Which really isn't settling at all, since it's still quite a nice shelf.
It will look great in a bedroom, even if it's not a Captain's bedroom.
10.

Longford Bookshelf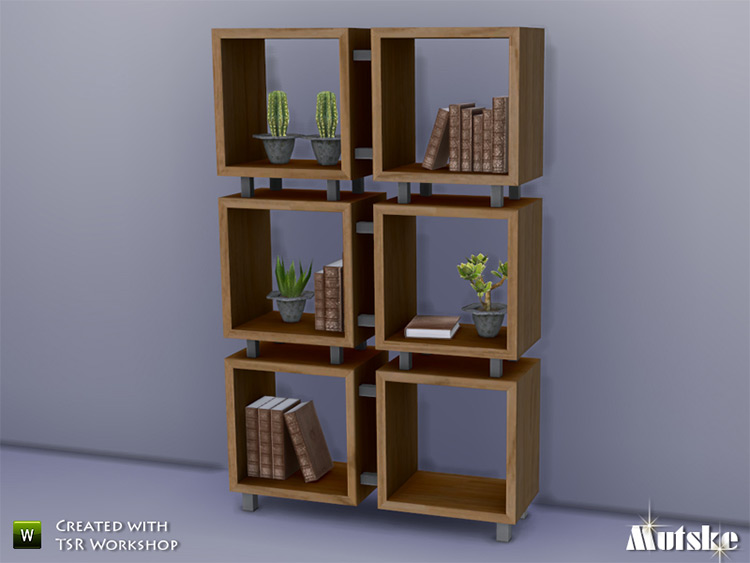 Now this CC is rather unique. Separate, yet together.
Reminiscent of the crate shelves, actually, but this is already assembled.
Fortunately your Sim's houses don't get dusty, because this one would be so difficult to clean.
Instead, this Longford Bookshelf will get to just stand there and look good, as we all wish we could.
Browse:
Lists
The Sims 4
Video Games