Sims 4 Britney Spears CC: Hair, Clothes & More (All Free)
This post may contain affiliate links. If you buy something we may get a small commission at no extra cost to you. (Learn more).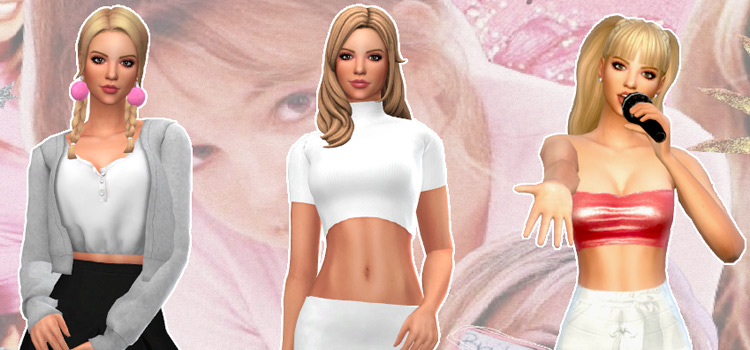 It's hard to imagine what pop would sound like today without Britney Spears.
Could you imagine having karaoke nights without "Toxic," "Baby One More Time," and "Gimme More"? What a nightmare.
Since 1999, Britney has been serving non-stop hits that swiftly redefined the pop genre.
With a discography like hers, there's no doubt that she's a true icon, a national treasure that deserved more than a nasty conservatorship.
Operation #FreeBritney is over, but there are still more creative ways to show your love for Britney, b*tch.
And now you can bring her to life in The Sims 4 with some of this incredible custom content.
1.

Scream and Shout Hair
Do you remember when everyone thought the world was going to end in 2012?
I do, and it wasn't my proudest moment to believe an ancient Mayan prophecy.
While the supposed doomsday is hard to forget, people have to appreciate this banger more from will.i.am and Britney Spears.
If Brit says you've got to turn this sh*t up, then who are we to disobey?
Cop Britney's hairstyle from the "Scream & Shout" music video with this highly-detailed CC from TsminhSims.
2.

Crystal Bodysuit
Britney has a lot of legendary songs under her rhinestone-studded belt, but "Toxic" was way ahead of its time.
As a testament to its greatness, "Toxic" has been hailed as one of the best songs of the 2000s, catapulting its sure slot into Rolling Stone's 500 Greatest Songs of All Time.
But it's not just the music that was unforgettable almost two decades later.
The "Toxic" music video alone had three of Britney's most iconic looks: the blue flight attendant costume, the Black Widow-esque ensemble, and of course, the nude bodysuit bedazzled only by crystals.
That last one isn't really child-friendly attire, but that didn't stop me from wanting to catch it on MTV back in the day.
And now you can give it to your Sims with this CC created by alin2.
3.

Oops!… I Did It Again Costume
There's only one thing I have to say about this costume…
Britney did it again.
After cementing her pop royalty status with "…Baby One More Time" at the turn of the century, Britney greeted the 2000s with a hit that would forever be a karaoke favorite.
"Oops!… I Did It Again" still endures well into the age of streaming, partly because Britney's red latex jumpsuit is still a beloved Halloween costume for those brave enough to slip it on.
Bring back the ultimate Y2K look with this set (plus lots of other 2000s-era CC!).
4.

Britney Spears Dress CC
Not every red carpet appearance requires a Michael Cinco gown or a Balenciaga avant-garde piece, and Brit knows it.
When you've reached the star power she holds, nothing will ever go wrong simply by wearing a little black dress.
Whether it's at a Grammy event or just a regular attendance at the MTV VMAs, this Britney Spears custom dress will get your Sim a nod of approval from fashion critics.
5.

Britney Spears BMA Outfit 2016
When it comes to epic comebacks, Britney is a certified expert.
She kicked off the 2016 Billboard Music Awards with a medley of her greatest hits, rigorous choreography, and a red sparkly ensemble.
However, with everything that Brit was going through at the time, it's a wonder that she could still perform at the level that she did.
Britney may be the undisputed Princess of Pop – but she's an undeniable queen at this moment.
And now your Sims can look just like Billboard's 2016 Millennium Awardee with this custom ensemble.
6.

Snake Acc
How can I write about Britney Spears without mentioning her 2001 MTV VMA performance?
You know, the one where she had a massive python around her neck?
Well, that's Britney for you, and she doesn't ssssettle with mediocre acts.
Wrap your Sim in something exotic with this CC set, and you can even get Brit's complete MTV VMA-inspired right here.
7.

Cascade Belly Piercing
Throughout the late 1990s and the early 2000s, Britney Spears had a signature style:
Low-rise jeans, crop tops, and a navel piercing.
This omnipresent look defined the trend of that era, and it helped pave the way to freeing the belly.
So let's get nostalgic for one of the most popular fashion trends of the '90s by adding this cute belly piercing onto your cutest female Sim.
8.

Britney Spears Tattoo Set
Britney once said, "You want a hot body? Look hot in a bikini? You better work, b*tch".
And work she did.
Although well into her late 30s, Britney still has killer abs and loves showing it off, including her hip tattoos.
We barely see ink below the navel – but knowing the pop star, she'll probably find a way to make low-rise bottoms a thing again.
Let's treat your female Sims to the same tattoos as Britney by downloading this tattoo set from Overkill Simmer.
9.

Britney Spears Face Mask & Sim
Starting a celebrity club in The Sims 4?
Why not invite one of the most recognizable artists in the world?
Everyone will forever remember Britney Spears in pop culture, and it's about damn time to have her immortalized in TS4 too.
This is the CC you'll want to get the job done.
Now you can transform your regular Sim into a pop superstar overnight.
10.

Britney Spears CAS
Before the whole fiasco revolving around her conservatorship, Britney was a free, healthy human being with a fiery passion for performing.
Now that that's behind her, the world's waiting for Brit to grace the stage once more.
The years have been cruel to her – but fans are ever-supportive to help her get the confidence she once had.
And now you can play with your very own Sim in honor of the one and only Britney Spears.
Note: this creator does have the majority of TS4 expansion packs, and most of them will be required to capture the exact look in the photos. But you can always try installing this CC without any expansions to see how it looks.
Browse:
Lists
The Sims 4
Video Games