Sims 4 CC: Best '80s Style Hair, Clothes & More
This post may contain affiliate links. If you buy something we may get a small commission at no extra cost to you. (Learn more).
Ah, the '80s. Has any other decade's pop culture ever a resurgence like this?
Be it fashion or hair or music, it seems like everyone – especially young people – are eating up anything and everything they can find.
The stars of the time are being discovered by a whole new generation of fans. And there are more television shows set in the '80s than any other era could ever hope for. No matter where you look, you're sure to find something.
I am not at all exempt from this phenomenon. As a matter of fact, I understand it completely. The '80s were a pivotal time in the world, where people all over were more empowered than ever to express themselves.
And boy, the results sure were interesting.
So of course it comes as no surprise that many Simmers have brought so much '80s content to the game.
Who knew you could have nostalgia for a time you never experienced?
1.

Cool as Ice Hair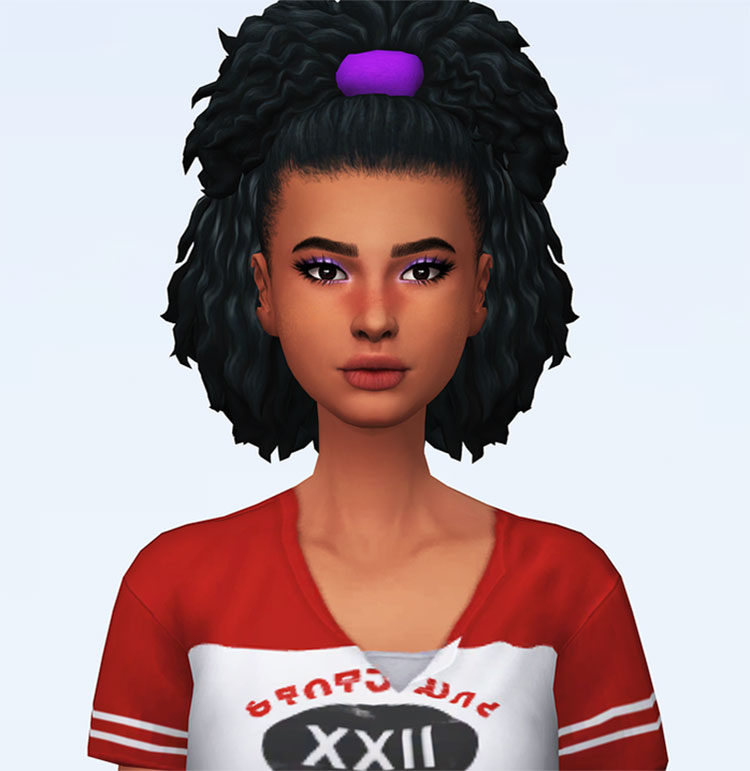 Creator Cooper322 has discovered the perfect balance of '80s CC with this half-updo.
It's notably retro, especially with the scrunchie, but not so much that it's super outdated.
You can still use it for modern Sims indulging in current trends as well as the Decades Challenge or things of that nature.
Simply put: this hair is just really cute. I adore it.
I can't be the only one who was born well after the '80s but grew up wearing scrunchies anyway, right? I don't think they ever really went out of style for a lot of people, they just went out of production.
Thankfully, that will never be a problem for your Sims.
2.

Vintage Jacket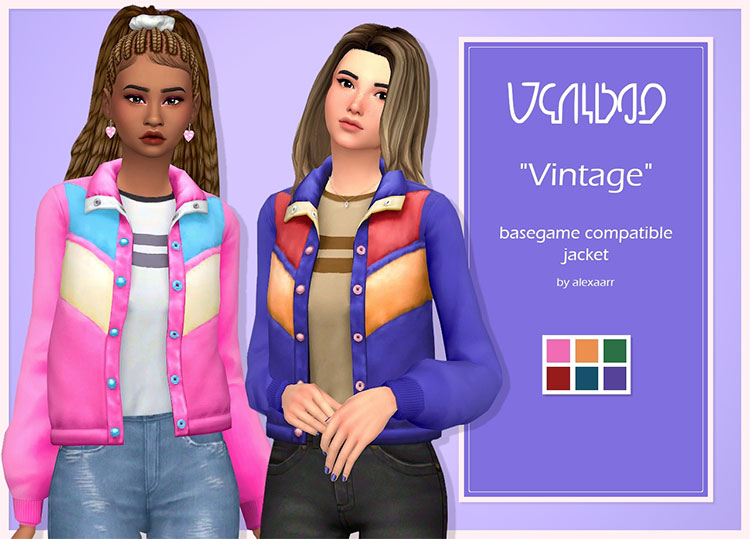 One word comes to mind here: cool.
I have actually been trying to find a jacket like this for my real self, not my Sim-self, for years now.
I think all the other thrifters beat me to it.
Your Sim, however, can choose from six radically retro swatches courtesy of creator alexaarr. This is one of those things that I honestly use for almost every single female Sim I make.
Because everyone looks good in a vintage jacket.
3.

80's Riot Mini Pack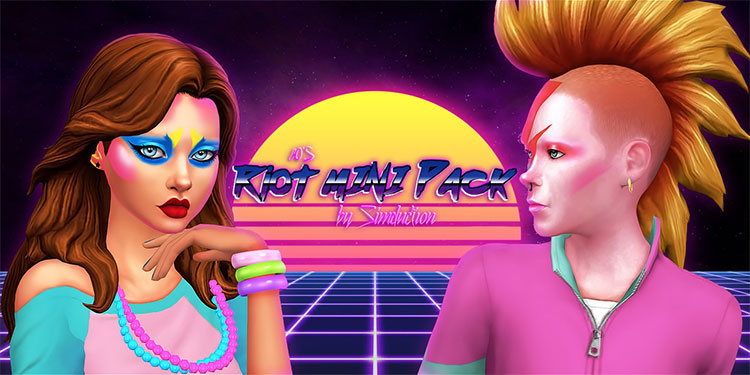 Just like any other decade, the '80s held a broad spectrum of styles.
You had the preppy folks with polo shirts and khaki pants.
You had the glam rockers with animal prints and leather pants.
And then you had one of the most long-enduring styles of all time, the punks.
This little pack from creator Simduction has everything you need to get your Sim all punked up, with tall mohawks, bright and bold face paint, and of course the peak of 80's fashion: legwarmers.
4.

80's Style Athletic Outfit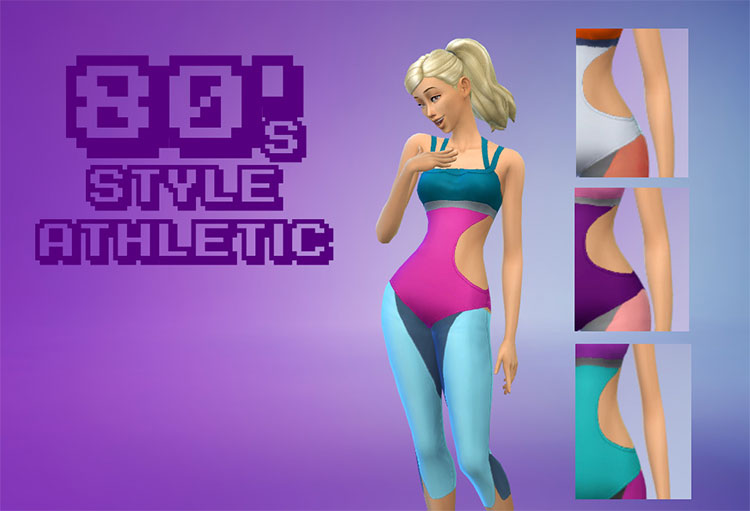 80's athletic wear is an iconic look all on its own.
Aerobics became a big deal around this time. And apparently to do that you needed a crazy colorful leotard and legwarmers.
That may have come off as snarky, but I actually love it.
If I could get away with wearing an outfit like this one from teamsimfox, I totally would.
Your Sim is sure to stand out as the most stylin' one at the gym or on the jogging path in a blue and pink leotard, showing up all those other Sims in tank tops and track pants. Bleh!
5.

Rhiannon Hair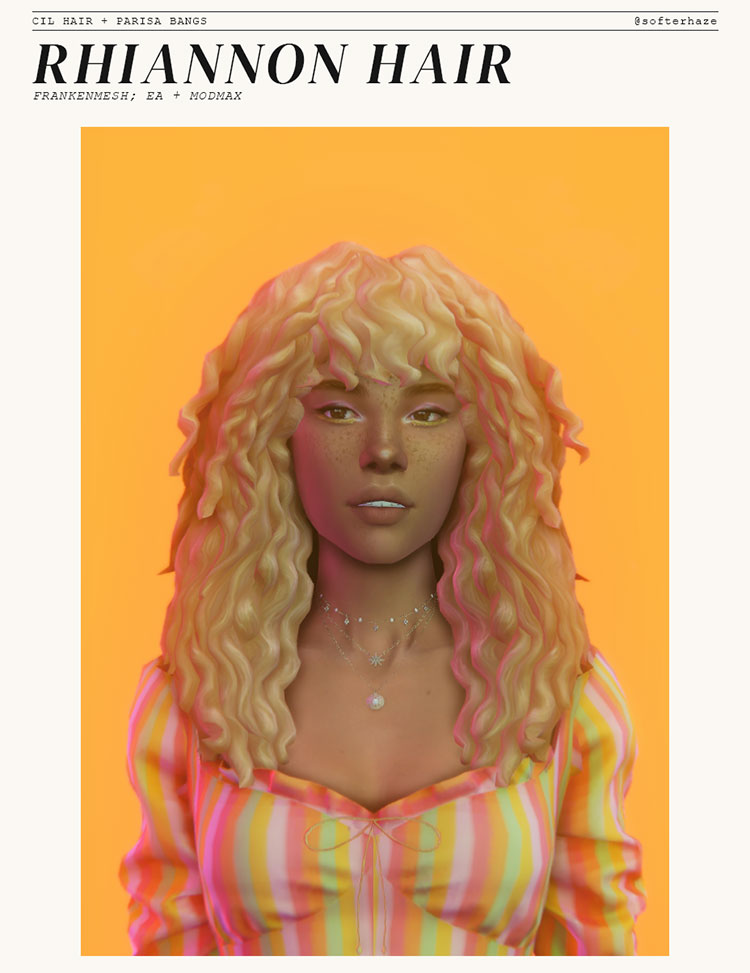 I've downloaded a lot of CC hair in my day.
The wheezing of my poor laptop when I boot the game up will attest to that.
But this hair CC is one of the most beautiful I've ever seen, hands down. It's actually kind of angelic.
The game is often lacking in wavy and curly hair in my opinion, which are kind of a necessity if you're trying to make an '80s Sim.
This is perfectly textured, and works as a signature 'big' hairstyle for this era, where I'm sure hairspray sales were at their highest.
6.

80's Throw Pillow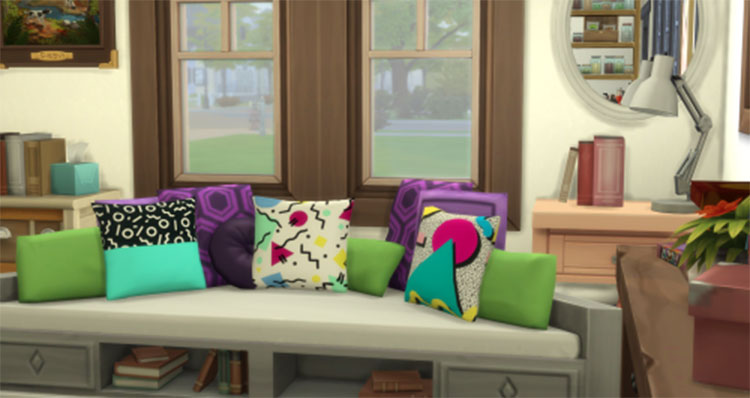 Stepping away from hair and clothes for a moment, I'd like to throw something new your way: throw pillows. Ha!
Could you even have a couch in the 80's without at least three pillows on it?
If the pictures I've seen are any indication, the answer is no. And that's a beautiful thing.
Creator suspiciouslypinklady has blessed us with 25 wonderfully retrowave, triangle-covered, pastel striped swatches to fit all your 'blast from the past' decorating needs.
7.

80's Posters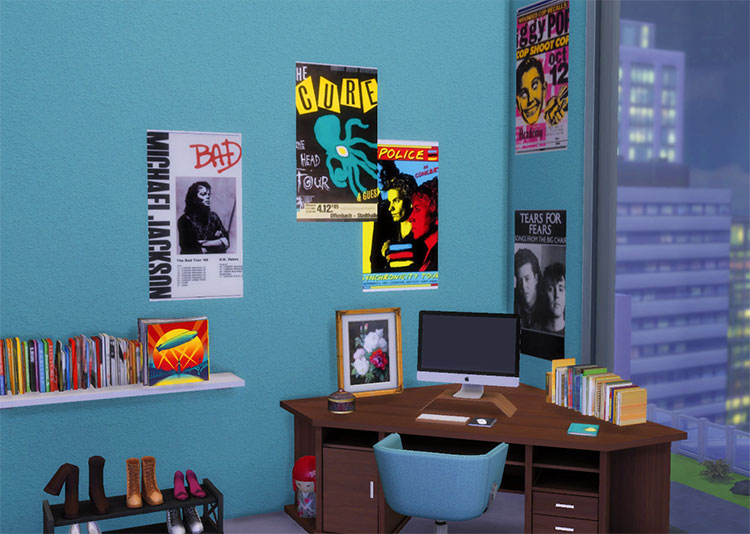 No matter the time, no matter the age, people want posters.
And is it any wonder the '80s were such a big time for posters, given all of the now cult classic movies and iconic songs that came out back then?
Madeofcc covers all the bases here, giving us the opportunity to cover our Sim's walls with our favorites.
Some of the ones that stand out to me are The Breakfast Club, Michael Jackson, and Sixteen Candles. But there are many, many more.
If you've got a beloved movie or musician from this area, it's probably here.
8.

Arcade Games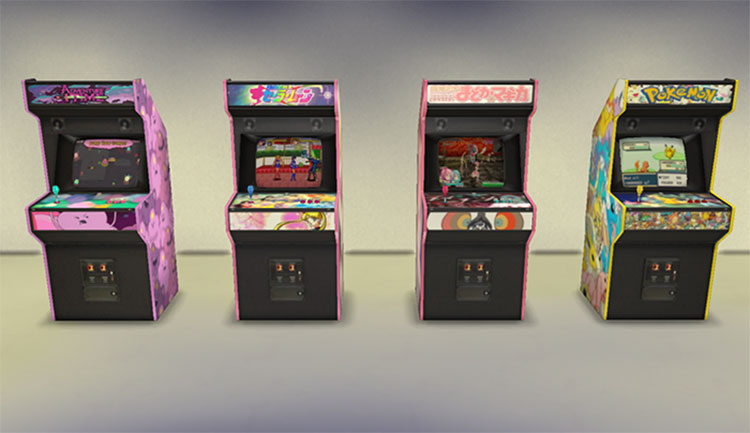 If television has taught me anything, it's that arcades were the place to be back in the day.
Well, do your Sims one better than that and bring the arcade to them!
Although these machines are strictly decorative, your Sim kid will still be the raddest one in town if they have a wall of these in their basement.
9.

Mini 80's Set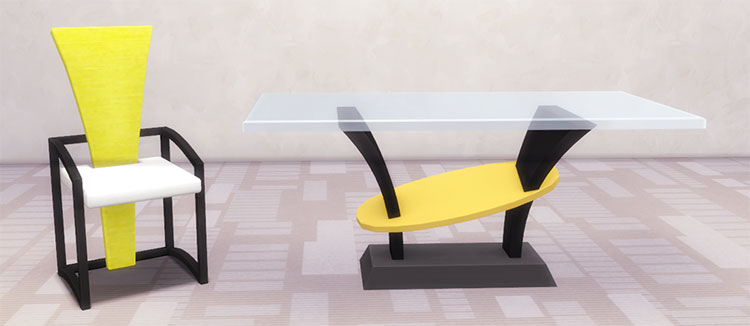 Does your Sim's home have at least three pieces of neon wall art or furniture?
If you said no, then this is the set for you!
Sevthe's Sims 3 to Sims 4 conversion gives us a neon wall hanging and a table and chairs set, all available in the same blue/pink color scheme that's so popular throughout this list.
To complete your Sim's retro interior design spree, there are also two more pieces of wall art that just make sense.
A picture of a sassy-looking woman laying on her stomach, with an abundance of pinks and purples…it just fits so well, though I don't know why.
10.

80's Oversized Glasses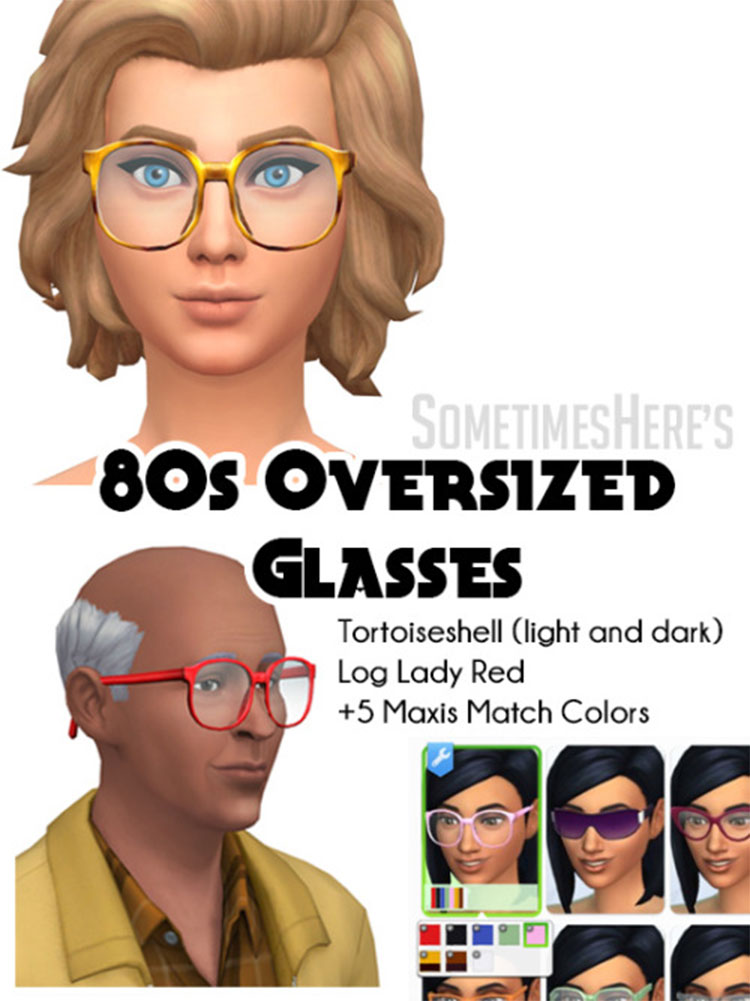 We all know everything was big in the 80's. Hair. Movies. Malls.
Glasses are no exception.
Those sensible, stylish glasses we get in the game just don't cut it sometimes.
If you're gonna go retro, you've got to go with these oversized glasses from CC creator SometimesHere.
Young or old or somewhere inbetween, there's a swatch here for your Sim.
11.

80's Dress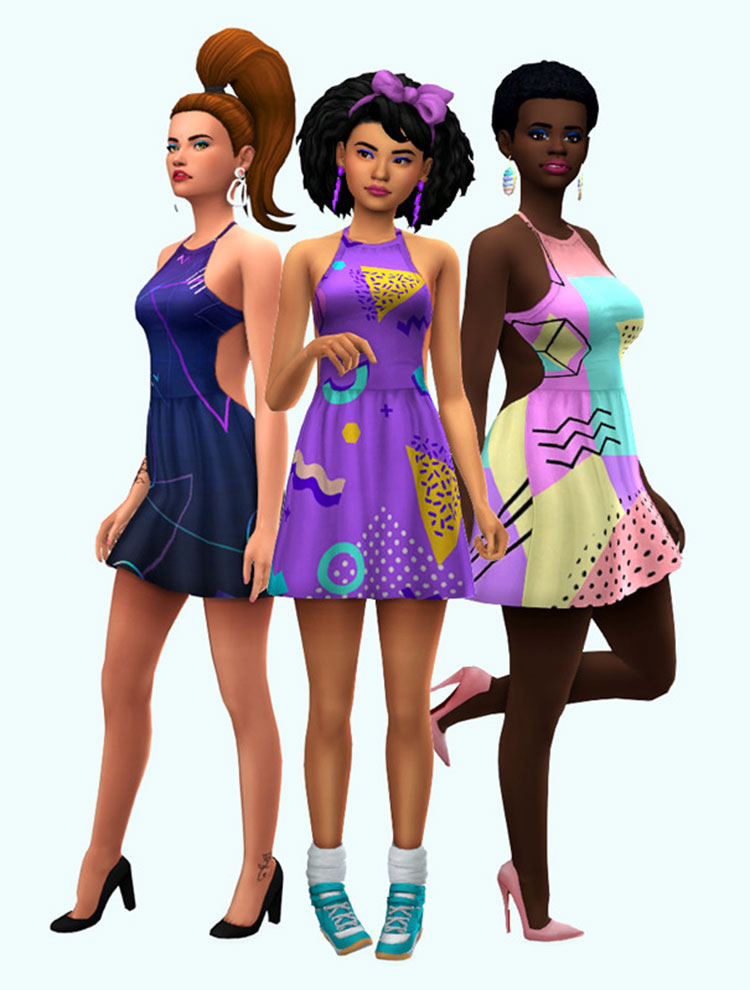 Here are some more of those bright and ridiculously (in a good way) '80s patterns we all love, this time on a chic dress from CC creator someone-elsa.
One look at these conjures images of house parties like in the movies, where no one's parents are ever around.
Is it just me who already has a whole pop rock soundtrack playing in their head?
I think this is the perfect party dress. Fun, a really cool cut, and some swatches that might be a little too bold for casual wear. There's really no way to go wrong with footwear and accessories, either.
Go crazy, your Sim probably won't remember it anyway… unless it's captured on a Polaroid pic their kids will find in thirty years.
12.

Vintage Dresses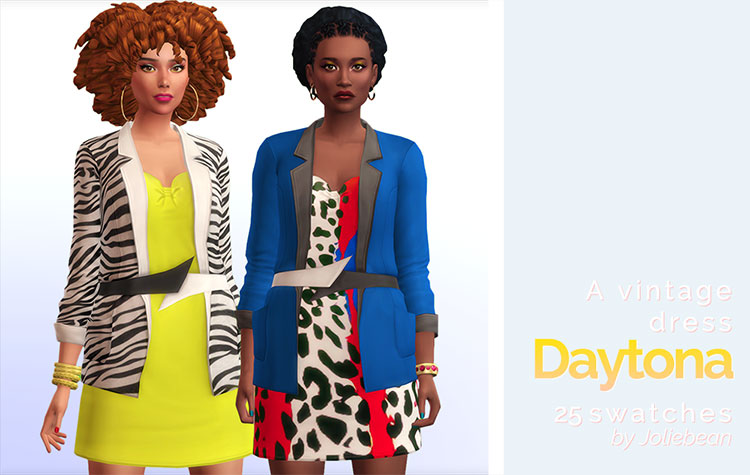 For as many of the trends from the '80s we treasure, everyone has also seen pictures from that era and said, "holy crap, what are they wearing?!"
Yeah, that's what we've got here.
This is in no way an insult. Creator joliebean did an awesome job. Making any CC, let alone a conversion, is way beyond my skill set. And these dresses look downright fantastic.
But the clashing patterns, sharp collars, and huge waist belt are so brilliantly, garishly '80s, I had to smile.
I'm pretty sure Blanche on The Golden Girls wore all four of these.
13.

Pastel Patterns Sweatshirt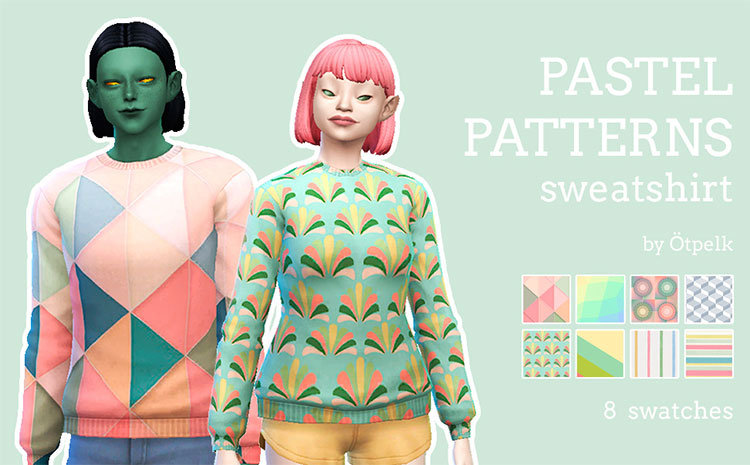 You can't have a list of 80's CC and not include a sweater. It just isn't right.
This is the closest I could find to the oversized flamboyant sweaters I had in mind. And I think they're pretty great.
Simmer Otpelk recolored the base game sweater with eight swatches of busy, pastel goodness.
I'm gonna use this as the guy's equivalent of the '80s dress, but it will work nicely as everyday wear too!
14.

Rewind 80's Clothes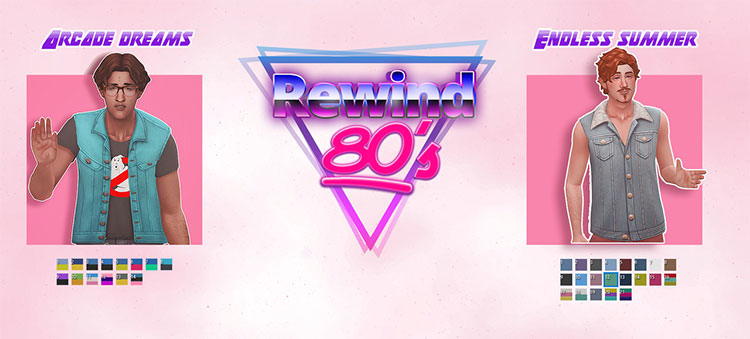 At last, the denim vests and unbuttoned shirts have arrived.
While most of the CC I've found tends to be made for the gals, guy's fashion can't be overlooked. And this set from saartje77 gives it the attention it deserves.
There are a lot of options and swatches here, enough to fit any aesthetic you want.
And let's be honest: this is all about the aesthetic.
The vests are actually my favorite part. It takes a certain kind of person – or Sim – to wear a denim vest with nothing underneath, and that's the kind of confidence I want to manifest for my Sims.
15.

Totally 80's Pose Pack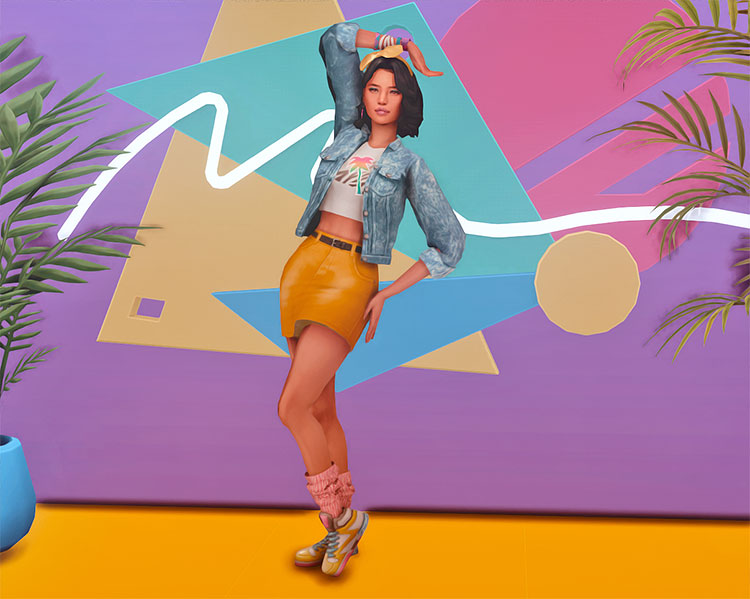 Once you've got your Sim all decked out in the '80s gear listed above, you can treat them to an '80s style photoshoot!
Yes, there's a whole posepack out there made specifically for this purpose, created by slythersim.
If that's not a testament to the love for this decade, I don't know what is.
Can you imagine any better way for your Sim to spend the day than immortalizing these fashion blunders and marvels through photographs?
Browse:
1980s
Lists
The Sims 4
Video Games