Sims 4 Samurai CC: Clothes, Hair & More
This post may contain affiliate links. If you buy something we may get a small commission at no extra cost to you. (Learn more).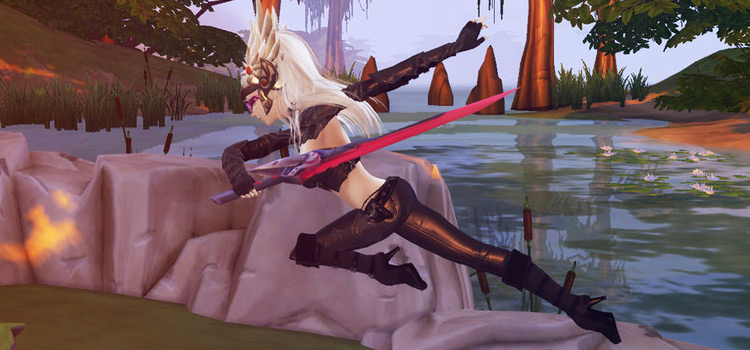 Samurais are traditional warriors in Japanese culture. Always sporting a unique look, with robes and wicked swords, I think we all recognize these master swordsmen.
And samurais have always stood out as some of the most badass warriors.
So as we check out some of this awesome samurai-themed CC, we ask you to get as Zen as possible, respect the code of honor, and get ready for a true battle of customizing your TS4 game to match the way of the sword.
10.

ZYZJ Hair 1
Slicing into the starting spot here is a unique Samurai hairdo done by Reminsims, who will make various appearances on this list.
This hairdo CC features a messy look with short bangs across the front of the face, which balls up into a large arching Samurai man-bun across the back of the head.
A classic Samurai look blended with a messy finish, a different take that also comes with 3 base colors and appropriate for both genders.
9.

Samurai Tattoo Sleeve
Next up we move into some sweet Samurai inspired ink.
SneilerT2 does an amazing job including many aspects of Samurai and Japanese culture as a whole on this design.
The tattoo includes brittle dragon scales, and is topped with an old Samurai wearing a kabuto.
A cool look to modernize your current Sim with some ink before sword training.
8.

Kabuto Hat
Speaking of kabutos…
We get an awesome take on one here by Reminisims.
No Samurai is complete without this headpiece.
And this iron plated cap does the job just right.
Polished in a hard black with a dark gold finish, this is the perfect kabuto to walk into battle with.
This CC also comes with specific hair under it, and in 2 other unique swatches.
7.

Chanter Robe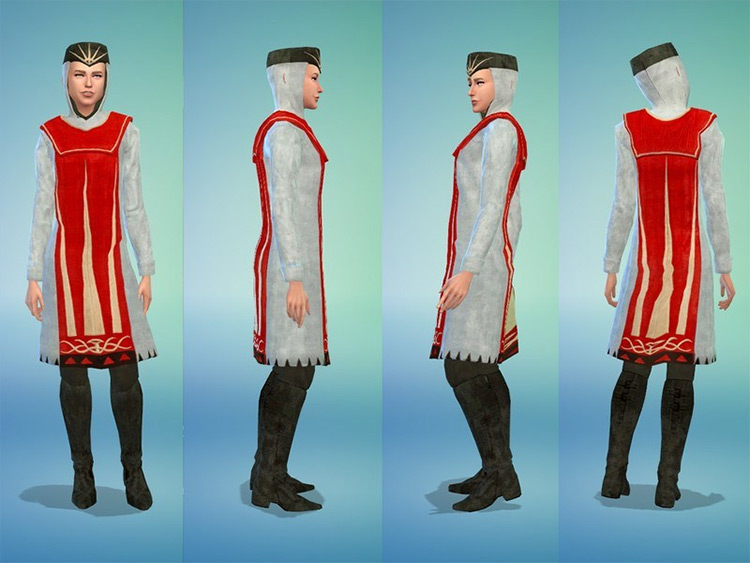 And here we have this Chanter Robe CC by Proud Rose.
This robe is lengthy in size and is draped in red with a white-greyish long sleeve worn under it. It also features an armored helmet to help complete the look.
The robe references an outfit in Dragon Age: Inquisition, but fits perfectly into the Samurai style and look for The Sims 4 (weird crossover, I know).
And I feel like Dragon Age may have added some Japanese flair into that game which mostly represents medieval Europe, so it's a good fit.
6.

Guijan Hair
Next we take a look at another hair piece by Reminisims.
This specific hairstyle depicts (in my opinion) the perfect Samurai hair.
Two braids latch to form a long ponytail which reaches all the way to your Sims knees.
The cut also features two golden braces keeping the ponytail intact, and comes in 12 unique colors.
If I were building a Samurai Sim from scratch, this is the hairstyle I would go with.
5.

Afra K Ninja Outfit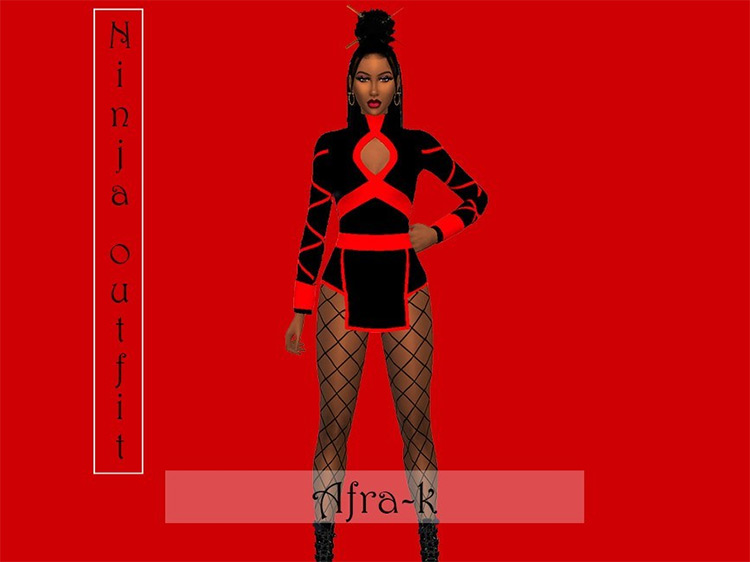 Now this is an outfit that definitely would not be classified as traditional Samurai wear.
Instead, creator AKaySims takes classic Samurai schemes and styles and dolls it up for a more modern, tighter look.
Think of it like Samurai Jack meets Charlie's Angels.
The outfit starts off with a top-bun hairstyle kept together by Binyeos (hair sticks).
We move on to a hybrid between a robe and a skirt, which absolutely pops with it's gorgeous red and black color scheme.
This is followed by netted leggings and heels, which represent the modern look of this outfit.
If your Sim likes to go out on the town, but also knows their way around a Samurai Sword, this is definitely your outfit of choice.
4.

Male Half Hakama Costume
Now here's an interesting CC piece: these half hakama's by Cosplay Simmer.
These robes are cut out from one side of the torso, and is one of the more known outfits for Samurai fighters.
This costume also comes in 15 unique swatches, the best of the bunch being an all-red floral outfit with a black belt.
If you open a Dojo, this collection of hakama's could be a great starter outfit for your students.
3.

Fiora Sword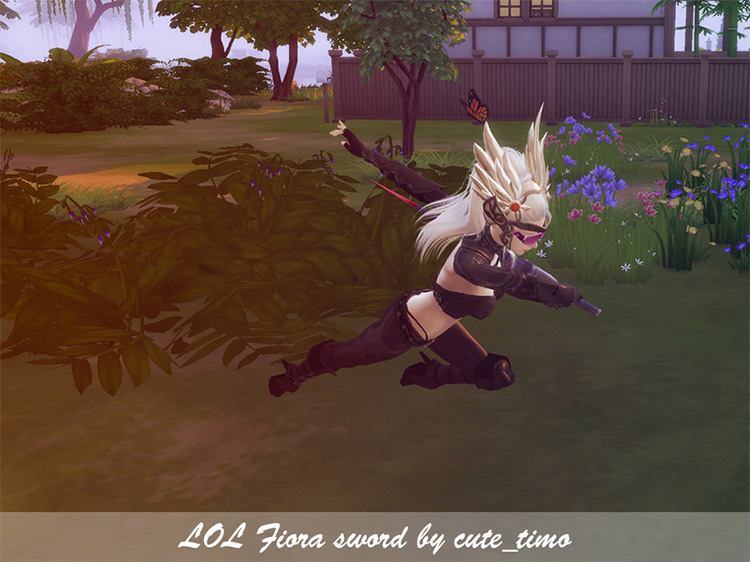 The first of two swords to appear on this list, and it's a fierce one.
We've talked about robes, hats, tattoos, but realistically none of these describe Samurais more than…
A sword.
And this CC pick is the Fiora sword created by cute_timo.
The actual sword itself is a unique violet color near the staff area, and becomes a vibrant pink as we get to the actual steel blade.
This particular sword definitely pertains to some fantasy elements, but still fits the aesthetic look of a samurai.
2.

LongQuanJian Sword
Following the Fiora sword, here we have the LQJ Sword CC.
While the Fiora had aspects that fit a Samurai Sword, this sword embraces all aspects of the Samurai.
The is beautifully designed in black and gold, and the blade is polished in traditional silver steel.
It also comes with a sheath (sword cover) to add another element to an already beautiful piece.
1.

Gujian Outfit
And here at the top, we've got the Gujian Outfit.
We go full circle here as CC creator Reminisims both starts and ends this list.
The Gujian Outfit features a sleek shimmering grey robe, finished with both deep sea blue and light blue across different areas of the outfit.
Not only is the design masterful, but it features 6 different sleeve versions varying across open and closed sleeves, depending on how far you want the robe to run.
This is a standard for samurai CC, and is the perfect outfit for a Sim that is becoming (or already is) a Master Samurai.
Browse:
Lists
The Sims 4
Video Games