Sims 4 Capes & Cloaks CC (All Free)
This post may contain affiliate links. If you buy something we may get a small commission at no extra cost to you. (Learn more).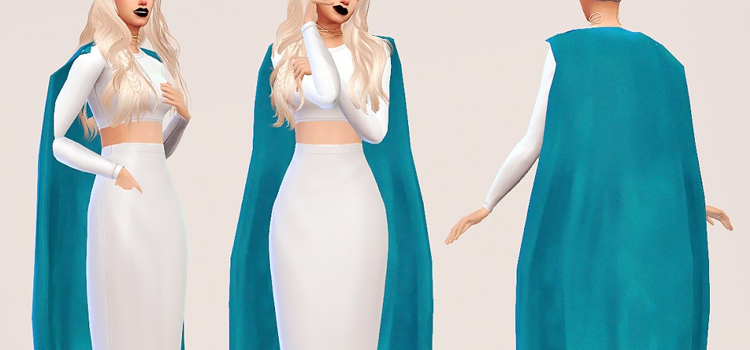 Can capes make or break an outfit?
I have no idea.
What I do know is that they're incredibly fun to play around with.
I, myself, don't wear them out in public. But if the opportunity were to arise (say, it's attached to a costume and it just happens to be Halloween), I wouldn't shy away.
Fortunately our Sims have a lot more fashion freedom than we do.
They're also a lot less self-conscious.
So check out these custom capes for your Sims – plenty of variety to be found here!
1.

Kiro_Hogwarts Uniform Set (Remaster) + Kids Version by thisiskiro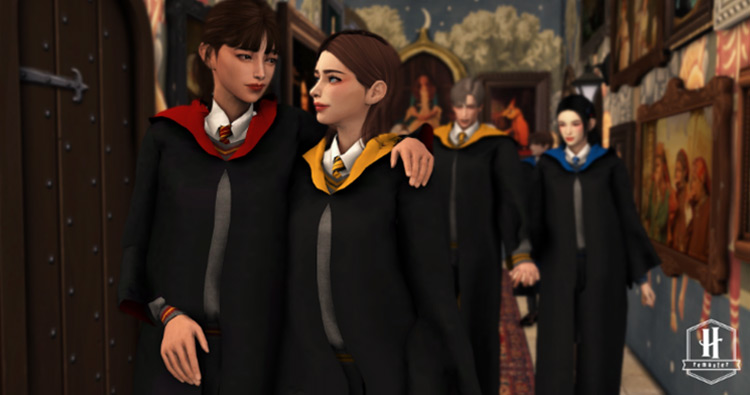 You want capes? I'll do you one better.
I'll give you capes and a whole darn outfit to match.
Plus if you're a Harry Potter fan? This'll be a real treat.
As you can probably guess by the name of the pack (and the preview photos), content creator thisiskiro has created wearable Hogwarts uniforms—hooded capes and all!
Awesome concept and execution aside, this creator goes above and beyond expectations.
The original version of this set came with two different meshes for Male and Female frames. The recent remastered version (which is the one linked above) comes with two extra uniform meshes:
Male Child and Female Child frames.
Each mesh has four different style variations (sweater, tidy, loose ver. 1 and loose ver. 2) and five different color swatches.
Four of the swatches represent the four Hogwarts Houses (so red and gold, silver and green, grey and blue, black and yellow) and the fifth one is a neutral black (if your Sim doesn't feel like cosplaying a Hogwarts student, I guess).
The cloaks are black, but the color of the inner lining also follows the same color swatches; red, green, blue, and yellow for the houses, and a neutral grey.
The texture of the cloak is pretty fantastic, and they look great on Sims.
Very wearable, and they look terrific in-game.
Sadly, I did encounter an issue with the hood. It was too small for most of my Sims and ended up clipping through their hair.
I didn't mind that so much though, since the "hood down" version of the cloak still looks awesome.
2.

DSF Accessories Enchanting Cloak by DanSimsFantasy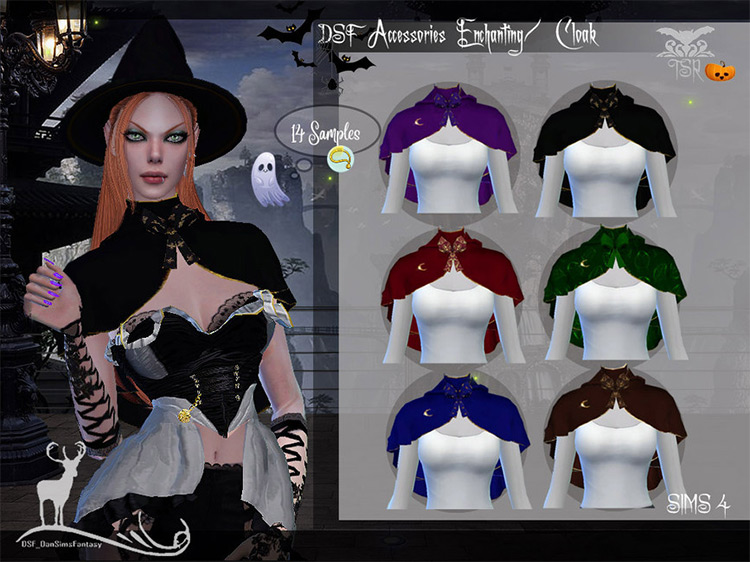 If you're not looking for something loose and billowy, let me introduce you to DanSimsFantasy's enchanting little number.
It's a short, sleek, and bewitchingly stylish cape-style accessory that covers just the tops of the shoulders and falls to about the small of the back.
It comes in 14 swatches; some are solid colors, others have a slight pattern on them.
This cloak is definitely not swooshy or dramatic like some other items on this list, but I think that feature makes it stand out.
In a room full of sweeping cloaks and capes, here's this saucy little number.
Pair it with witch-y or gothic outfits to create a real eye-catching ensemble!
3.

Child Cloak with Hood Down by Natalia-Auditore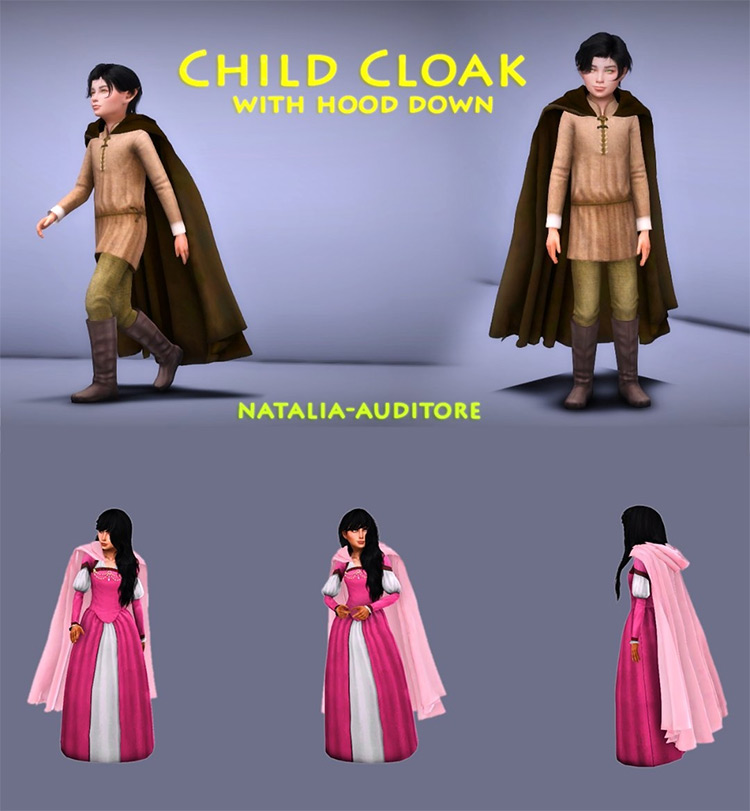 Kids need capes too!
And with Natalia-Auditore's fun-sized fashion, they can look hella adorable in them.
(Seriously, check out the preview photos.)
The capes are big, bulky, and oversized.
So it gives the illusion of the child being bundled up in warm layers. It's too cute.
I also found this Kul Tiran Winter Coat by IvkaSims, and it goes incredibly well with the cape!
Both of them together give off mad fantasy winter-wear vibes, regardless of the color combo.
Plus, since the outfit has nine swatches to add on top of the cape's existing 38, there are definitely a lot of combos to cycle through!
4.

Cloaked in Magic by scoobysnax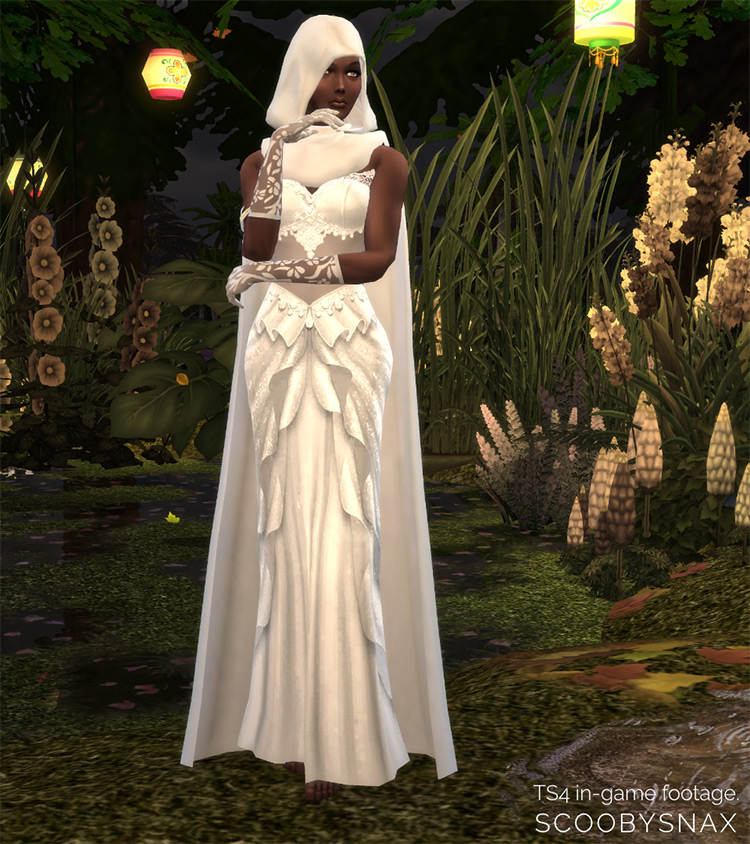 Scoobysnax definitely does a better job with the cloak + hood combo than thisiskiro's Hogwarts ensemble.
Instead of making two different cloak meshes (one with a hood and one without), this creator instead made the hood and the cloak two separate accessories.
The cloak itself (no hood) can be found in Face Accessories.
The hood (no cloak) can be found in Hats.
These two accessories merge together quite seamlessly, so it does end up looking like one whole clothing item.
I think that of all the cloaks and capes on this list, this one is the most generic, and the most versatile.
It suits a number of storylines and concepts:
Medieval, fantasy, historical, modern… as long as the outfit is right, you could make this combination work!
There are six swatches for each accessory.
I guess this means you could technically mix and match colors if you wanted to (white clock with a blue hood, red cloak with a brown hood, etc.).
But I find this set to be more visually appealing when it's all one color.
5.

Warmth: A Cloak Conversion by Valhallan
This custom cloak from Valhallan feels more like a quick no-fuss sort of clothing item — the kind you just yank from the hook and shrug on as you're rushing out the door.
It's a lot more billowy and shapeless than scoobysnax's Cloaked in Magic number, and it's definitely bigger than DanSimsFantasy's Enchanting Cloak.
But just like those CC items, this cloak fulfills a narrative quite nicely.
It's got 26 color options, most of which are deep and velvet, and it has mad medieval-fantasy vibes.
It feels like the kind of cloak a fair maiden would shrug on to hide her finery or something.
Fair warning though: this cloak isn't great for broad-shouldered Sims.
It can be unisex, but the Male Sim would have to be pretty thin or lithe.
It fits my Female Sims just fine, but there was too much noticeable clipping on my Male Sims.
6.

Momominuo's Cloak by momominuo, posted by kotehoksims
Add a dash of Japanese-anime-themed-color to your outfits with this hopelessly adorable rabbit cloak by momominuo.
It's a thick, layered, fur-lined cloak topped with a hood and (yes, you guessed it!) bunny ears.
How cute? Very.
Especially if that's your preferred style.
It definitely suits cutesy Lolita-type characters (the fashion style, not the book) who favor big, frilly skirts, ruffles, lace trims, and lots of pastels.
The hood is big, roomy, and fits perfectly over EA hair and CC hair, which I can appreciate.
You'll also find 13 color swatches for this cloak.
The color combination options contain primarily red, white, and black, but there are pops of color here and there.
7.

Elven Cloak Accs by Natalia-Auditore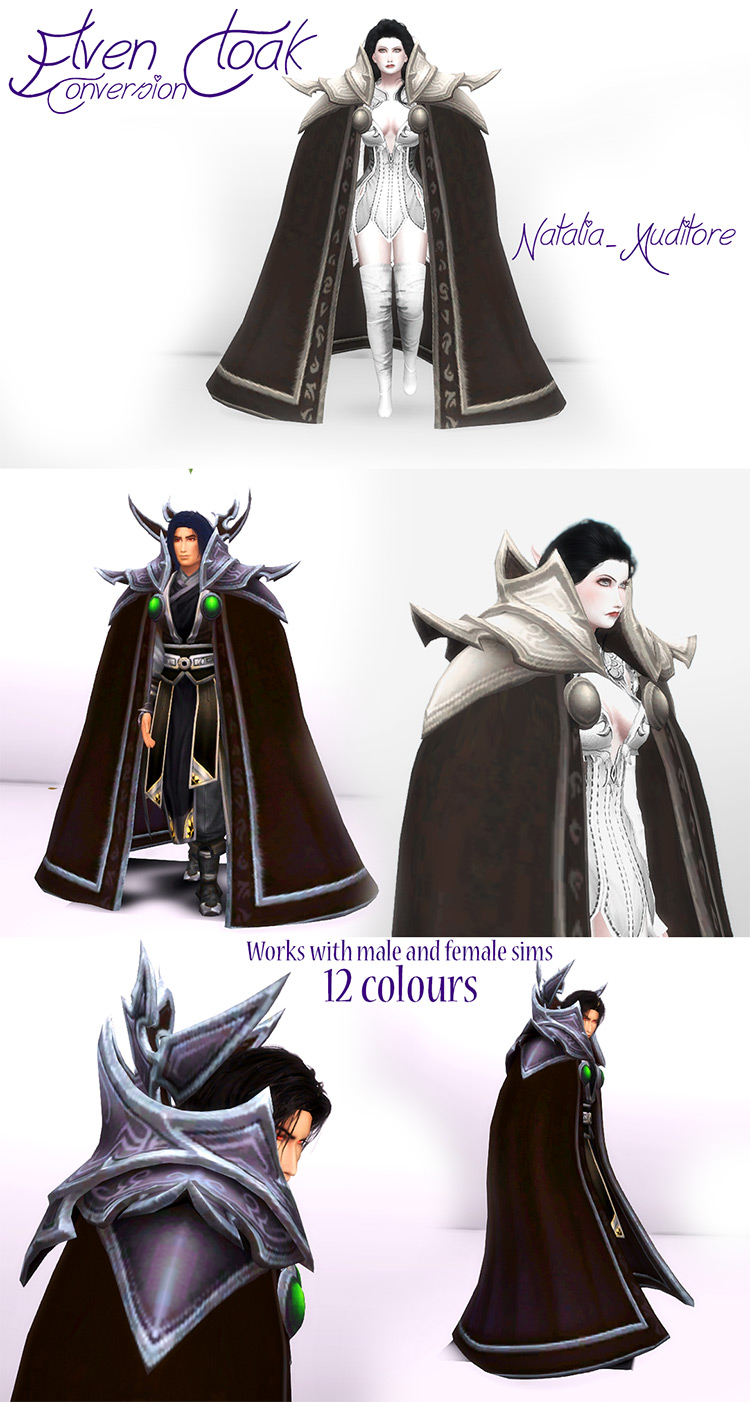 I'll be honest: this is the kind of cloak that begs an, "okay, now you're just showing off," remark.
Listen; it's so big and ostentatious, it's borderline ridiculous.
But! I'm not gonna deny that it also looks hella regal.
And really intimidating.
If your Sim is some sort of warlord or warrior king, this cloak would be absolutely perfect. They're not winning any fashion awards, but they're definitely ready to stomp across battlefields like a badass.
Regarding context, this cloak fits solely in the Fantasy category.
It's a bit too flashy and pointy for medieval or historical fits, unfortunately. So I would have to say the versatility isn't all there.
But according to the creator, the design is based off of actual items in the World of Warcraft game, so. I guess the "go big or go home" vibe makes sense.
It's got two versions; one with an extra set of "horns" poking out from the back, and one without.
Each version also comes with 12 color swatches.
8.

Accessory Fur Cape by sims4sue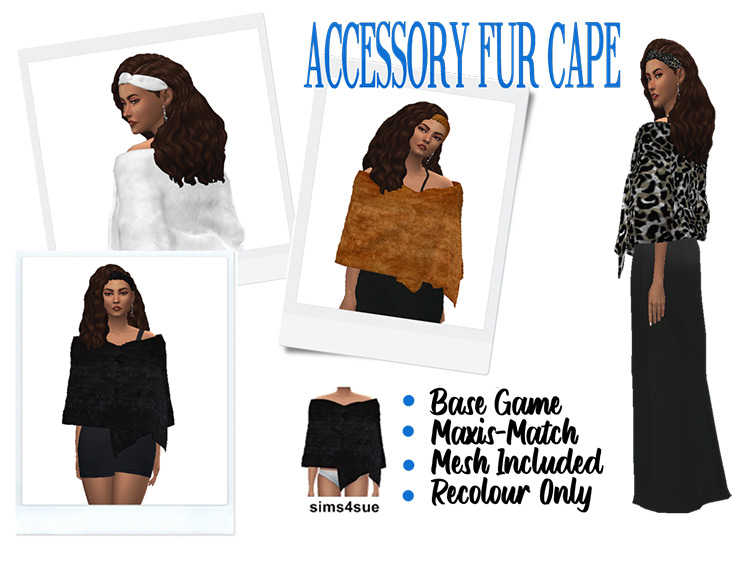 Edna Mode, fictitious world-renowned fashion designer in Pixar's smash hit, The Incredibles, makes a strong case for her "no capes!" policy. They're wieldy, impractical, and can cause way too many accidents.
I get it.
But I think she'll let these faux-fur custom capes slide.
Sleek, fashionable, and beautifully-textured, these fur capes by sims4sue are the exact opposite of what I just described.
They're short, practical, and fitted to the body.
There are 8 color swatches in total, and they smoothly combine form and function into one chic piece.
For outfit combinations, I think they look great with off-shoulder, spaghetti-strap, or strapless dresses and tops that are form-fitting.
For the bottom? Anything goes!
I do have to point out that these capes weren't made for Female Sim models with larger chests.
I tried it with my generously busty gal and some serious clipping happened at the front.
Other than that, the cape fit all my other models just fine!
9.

Warriors: a Telltale Game of Thrones Cloak Conversion by Valhallan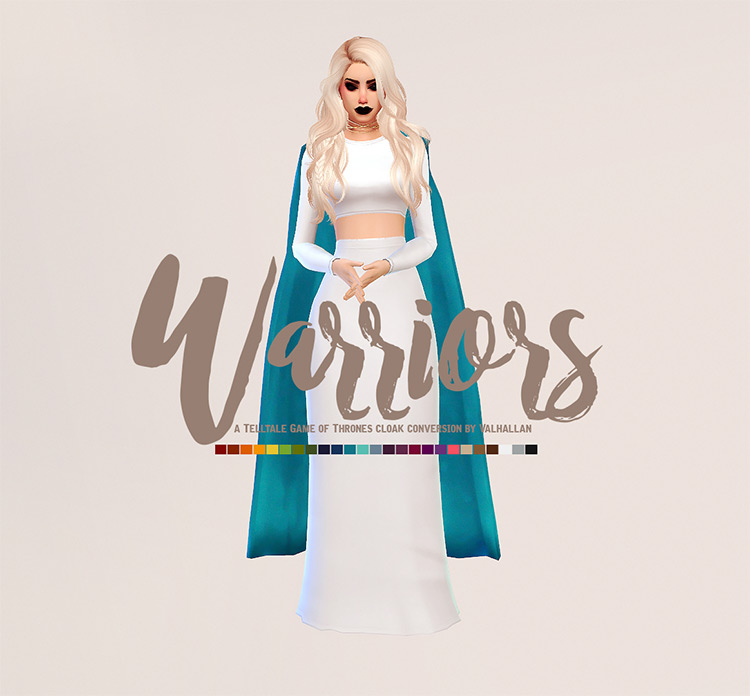 If you're keen to give your Sim the same sort of elegant regality that Daenerys Targaryen (of Game of Thrones fame) embodies with all her badass outfits, this Warriors cloak by Valhallan might do the trick.
It comes in 28 beautiful colors of varying tones.
Want cooler colors? Not a problem.
Feeling autumnal? Plenty of warm shades, too.
It fits very much like a cape rather than a cloak in the sense that it sits on the shoulders and hangs down the back.
There's barely any material up front.
I also need to point out that there are no visible ties or clasps on this cloak, so I do recommend pairing it with tops or outfits whose sleeves cover the shoulders.
Otherwise, it'll look like it's sewn on your Sim's skin (which isn't as fashionable as one might think).
But all that aside, it's a fantastic cape/cloak accessory to pair with sleek, dramatic medieval-fantasy outfits.
It's also unisex, which is always a bonus.
10.

Dracula + Cape (Netflix Version) by Natalia-Auditore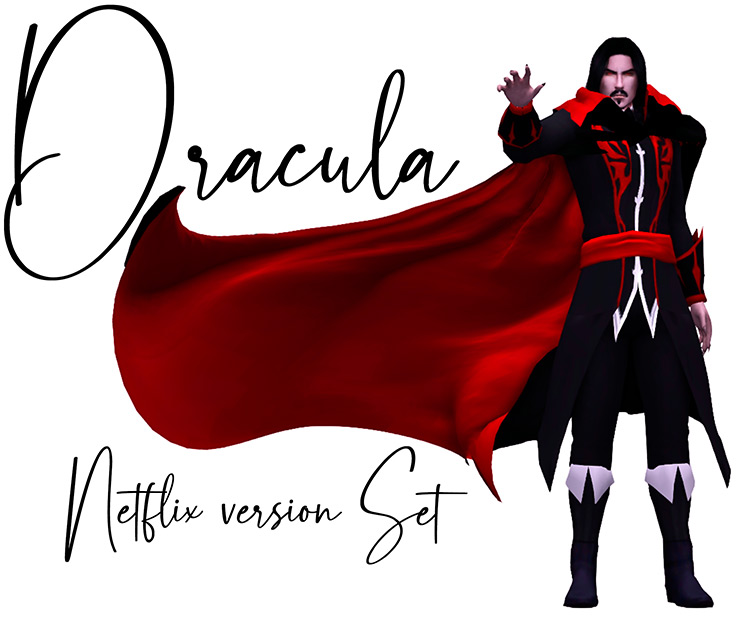 I saved my favorite CC for last.
I haven't seen Netflix's Dracula so I have no idea how accurate the creator's Sims version is, but the cape…
Guys, the cape.
It's got probably one of the best textures out of all the capes/cloaks on this list.
It sits on the shoulders well, it's got plenty of color variations (38 to be exact), and it looks excellent in-game.
Need something dramatic, majestic, and/or regal? This cape is the one.
It can fly in the wind, billow out around you, or swoosh with your movements.
I mean, that's because there are three variations of it, but still.
I think it was awesome of the creator to give us three different versions.
It certainly looks great with the creator's Dracula outfit, which you can download from the same link above.
But if you want something a little less gothic and a little more royal, may I recommend Strange Storyteller Sims's recolor of this outfit by plazasims?
Trust me; the combination is divine.
Browse:
Lists
The Sims 4
Video Games