Sims 4 Royal CC: Gowns, Furniture & More
This post may contain affiliate links. If you buy something we may get a small commission at no extra cost to you. (Learn more).
When Princess Diaries came out in 2001, every girl hoped to be a long-lost royal of some faraway kingdom.
The idea of wearing pretty gowns, owning precious tiaras, and meeting a real-life Prince Charming obviously sounds way better than week-long homework.
Indeed, Princess Amelia Mignonette Thermopolis Renaldi showcased the best of what it means to be born royal. But that's what we get from fiction.
In reality, monarchies are as antiquated as your newly updated Internet Explorer. But it's still as fascinating as ever.
And now you can give your Sims the royal treatment with some of this incredible CC.
10.

The Crown-inspired Pose Pack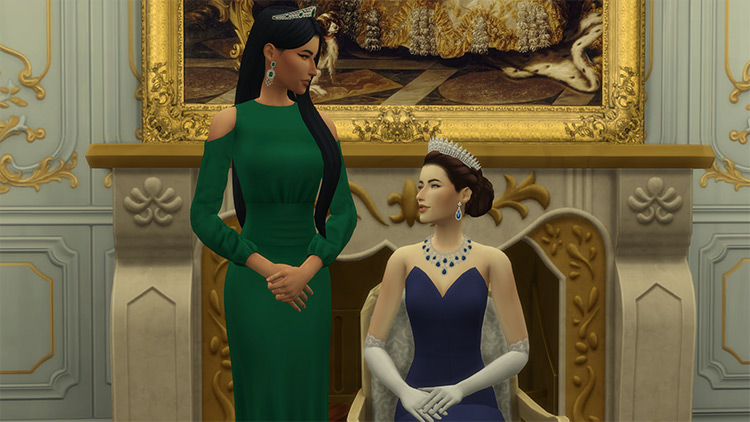 I didn't realize how old Queen Elizabeth II was until The Crown came out in 2016.
The fact that the writers have multi-seasonal content about Her Majesty is a testament to her legacy (and immortality).
And who knows, maybe in season 7 we'll get to find out if the queen really drank the elixir of life.
But for now we'll have to settle with your your Sims emulating the poise and grace of history's longest-reigning monarch, courtesy of this CC pose set.
9.

Princess Margaret Pack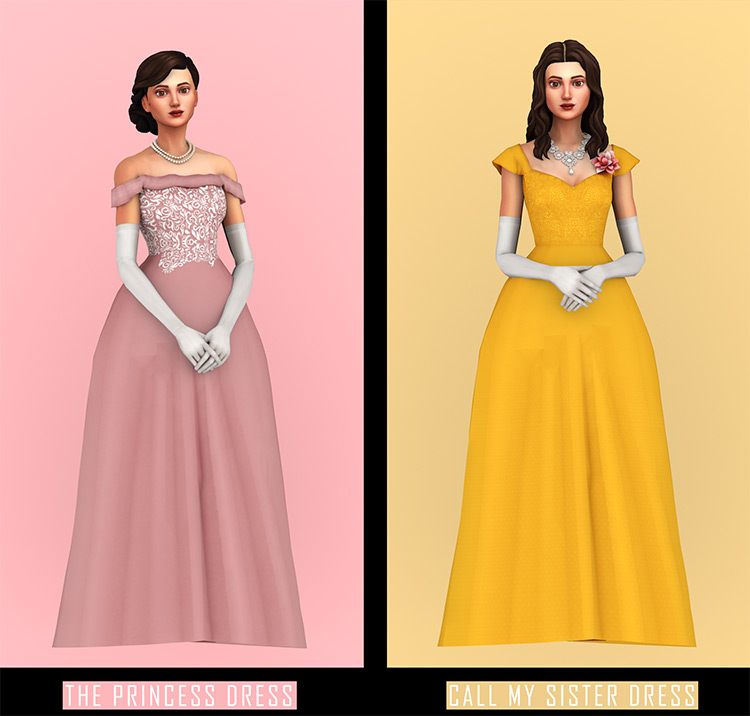 Before Princess Diana became the 20th century's royal rebel, there was Princess Margaret.
The royal had her fair share of scandals, failed love affairs, and wild party habits – you know, usual royal stuff.
But if I were in her shoes and ended up being Queen Elizabeth II's sister, I would've done much worse.
Look as stunning as one of the most beautiful royals in the House of Windsor with this CC pack from BatsFromWesteros which includes gowns, matching jewelry, and lots more!
8.

Ceremonial King Outfit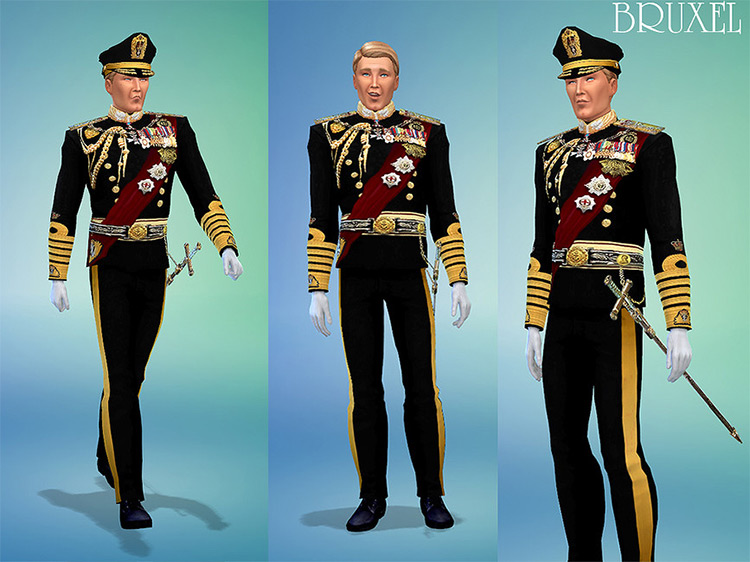 In these modern times, you won't see a king wearing furs, long stockings, and a fancy dress as an #OOTD.
Nowadays it's all about that military-style. And showing off enough medals to make a metal detector go haywire.
And with this CC you can flaunt a more minimalistic approach for your kingly Sim, all with this brilliant outfit from creator Bruxel.
7.

Deco Royal Guards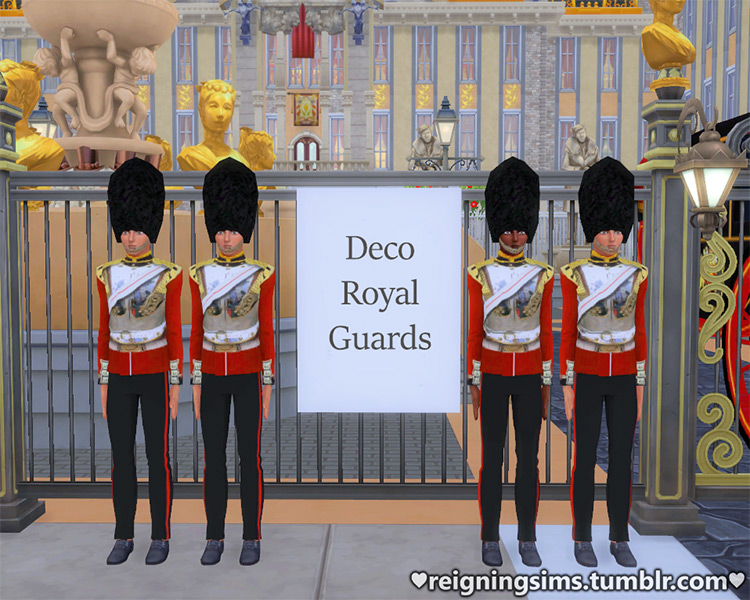 You know those unmoving guards stationed at the Buckingham Palace gates?
The ones in red uniforms with incredible neck strength for holding up bearskin caps the size of a toddler?
You know, those same royal guards who have been popularly hounded by tourists who try to elicit a fraction of emotion from their lifeless faces by twerking.
It's not the best job in the world. But your Sims ain't royalty if they don't have guards to protect them 24/7.
Subject some pitiful souls into a lifelong service of standing at your door with this CC by Reigningsims.
6.

King George Collection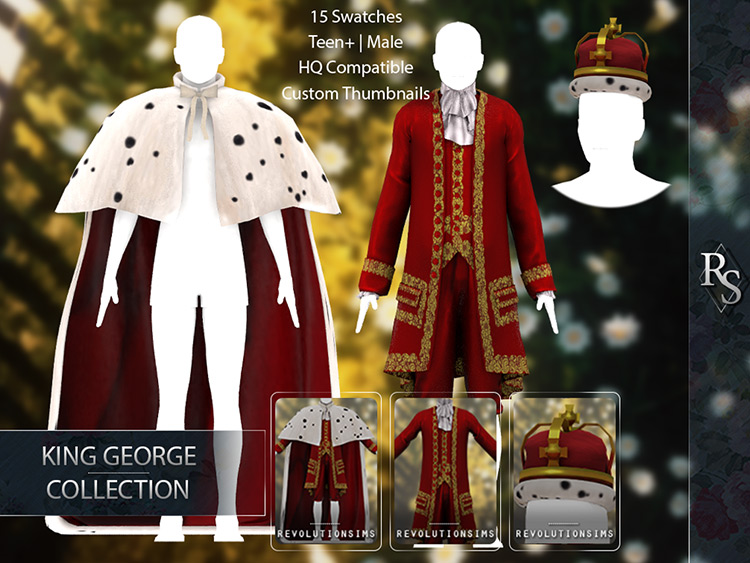 When your Sim needs to look like the most powerful individual in the neighborhood, you'll need the outfit this CC has to offer.
Inspired by King George III's ensemble in the musical Hamilton, this CC has enough pompous flair to anger taxpayers.
Just add in a ridiculously large cape and crown, and your Sim's golden enough to be the target of bitter mobs.
5.

Girls of Great Britain and Ireland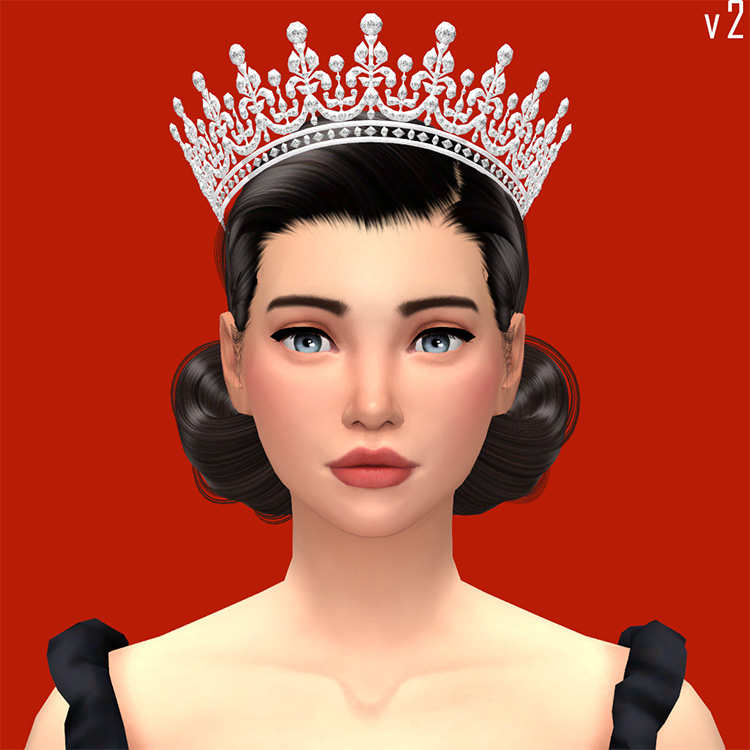 So this crown may have a funny name, but it's one of the most glamorous and cherished tiaras in the Queen's collection.
Originally given to Queen Mary, the Girls of Great Britain and Ireland tiara has been handed down to Queen Elizabeth II – and was a favorite of Princess Diana and Catherine, Duchess of Cambridge.
And who wouldn't love it?
It's got more jewels than our local jewelry store, and it's worth more than me and my family combined!
Shine a spotlight on your Sims by capping off their imperial look right here.
4.

2000 Followers Gift Pack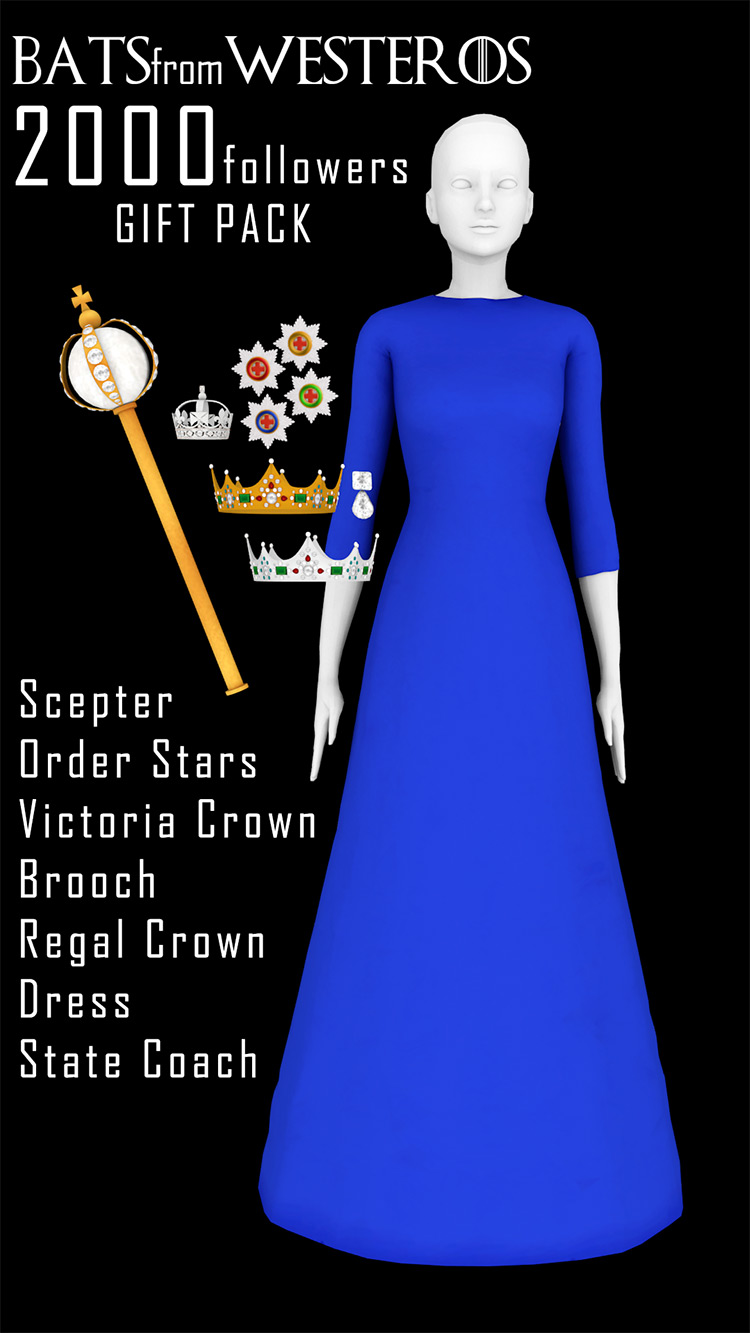 Just like us commoners, royals have essential needs.
It just so happens that those essential needs include a golden scepter, some crowns, shiny brooches, a finely tailored dress, and a golden state coach for 8 horses to pull.
Don't let your Sim rule a kingdom without these royal must-haves.
A brilliant pack for almost any player.
3.

Coronation Pack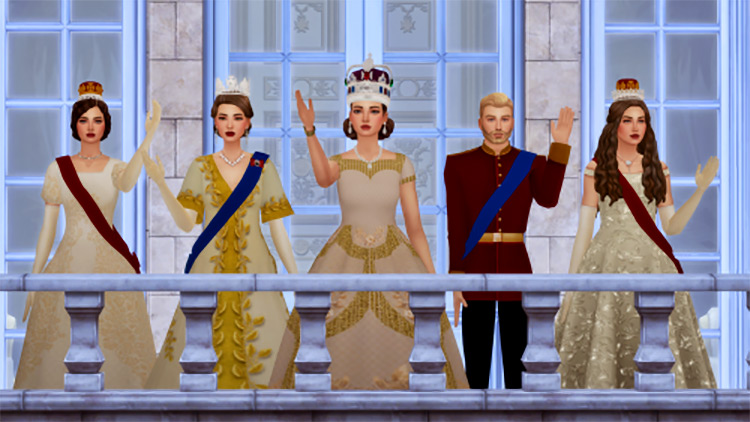 So, your Sim's about to be king or queen?
Sounds like it's time to throw a coronation!
There are a thousand things to prepare when someone's about to ascend to the throne.
But when your Sims are walking down the aisle, all eyes will be on them – not on the freshly polished chairs or the washed drapes.
And now you can create a sight for sore eyes by fitting your Sim and the fam bam in royal regalia, complete with accessories and 21 poses for the commemorative photos.
2.

Baroque Castle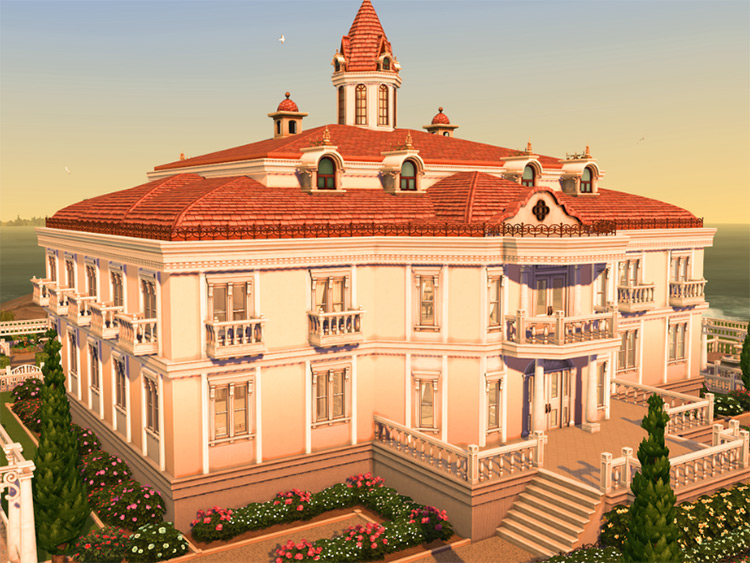 Having the title His or Her Majesty automatically entitles you to a cool new crib: a castle.
A king or queen's castle must be a cut above the rest. It should be a place even Beyoncé would need an invitation to.
There are a lot of good choices out there, but not many as magnificent as this Baroque Castle lot from Sarina_Sims.
It's got everything a typical fairytale castle would have: a garden, huge foyer, extra room for butlers, and a labyrinth to trap helpless guests in.
If you think you could find a better castle than this, then let me know, I'll be waiting in one of the drawing rooms.
1.

Royalty Mod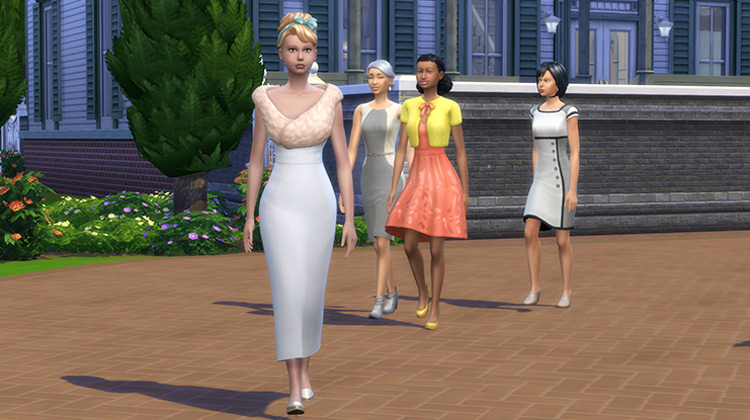 Now that you have the gowns and crowns, it's time to make it official with the Royal Mod.
With this mod enabled, your Sim monarchs can now enjoy royal titles such as Emperor, Empress, Tsar, and more.
These titles can also be easily bestowed to other Sims, ending blood feuds and regicide with just a few clicks.
Other features include hosting a royal banquet, assigning royal nannies, designating court wizards, and of course, banishing Sims from the Royal Family (cough Prince Harry, cough Meghan Markle).
Any Sim can be royalty as long as you have this mod in your arsenal.
Browse:
Lists
The Sims 4
Video Games