Sims 4 Bunny CC: Ears, Tails, Slippers, Outfits & More
This post may contain affiliate links. If you buy something we may get a small commission at no extra cost to you. (Learn more).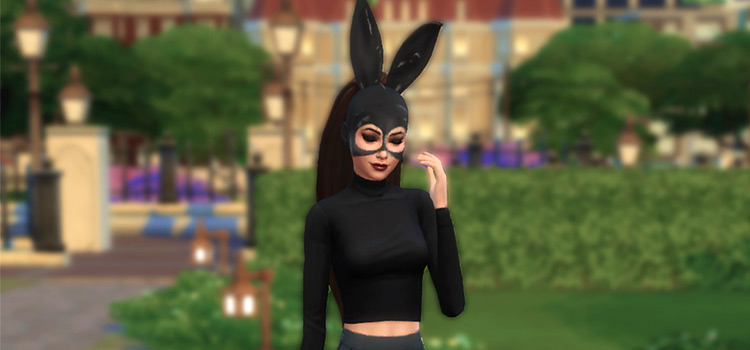 From simple carrot-loving mammals to sex icons, rabbits are one of the most prolific members of the animal kingdom.
We see them everywhere: in memes, movies, cartoons, and that one subreddit that has over 26+ million members craving their daily dose of cuteness.
But as always, it's not enough to simply see these hopping nymphos on screen – there has to be a way to look like them too.
Whether to look cute or sexy or just downright terrifying, a bunny boost can do wonders for your Sim.
And because we want you to look your bunny best, here are some essential CCs to emulate these adorable creatures!
15.

Bunny Slippers

I'm aware that EA has already included bunny slippers in the base game. But it doesn't have the variety we're looking for.
Specifically, it doesn't have 8 vibrant colors that are all within the spectrum of a unicorn's vomit.
From sunshine yellow to meadow green hues, your Bunny Slippers will never again be as sad as it was before.
While you're at it, why not have a matching kitty plushie to stalk your Sim at home?
14.

Animal Panties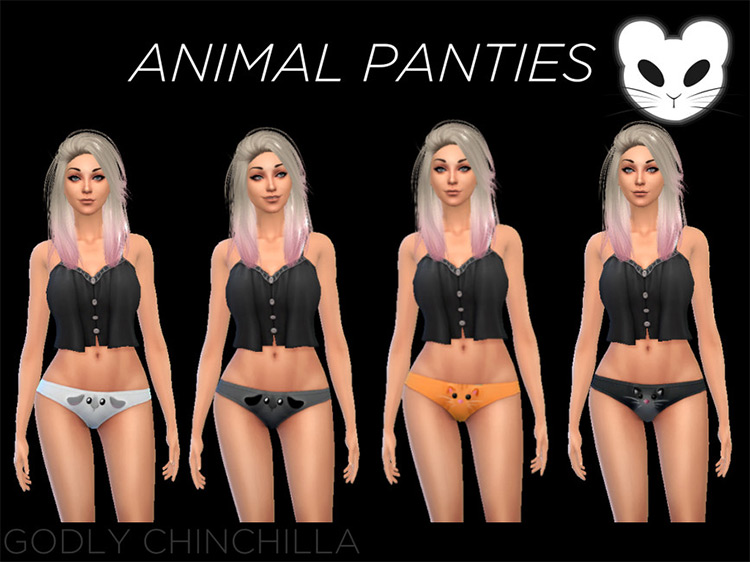 You've got your Bunny Slippers. But does your Sim have the rest of the bare necessities?
A diverse collection of lingerie is an integral part of any Sim's sexy adventures.
Imagine having plans to WooHoo like rabbits, only to strip down into plain white panties? Scandalous!
Don't be a turn off with those boring game defaults.
Give your Sim's butt some justice with these bunny-printed custom animal-themed panties to spice up your future sexy times.
13.

Bunny Hoodie Dress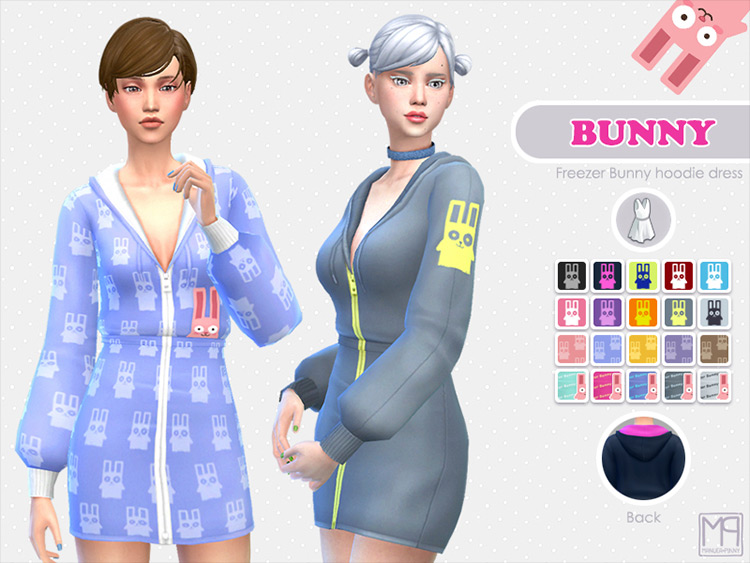 Although this CC doesn't technically have the telltale features of a fluffy rabbit, the Freezer Bunny has become an iconic Easter Egg since its first appearance in The Sims 2.
If you've made it a goal to hunt this pink menace in The Sims 4, then chances are you're obsessed with it just as much as the Grim Reaper.
It's a bit challenging to locate this crazy-eyed bunny, but I'll leave this hoodie dress to keep you motivated.
12.

Bunny Ears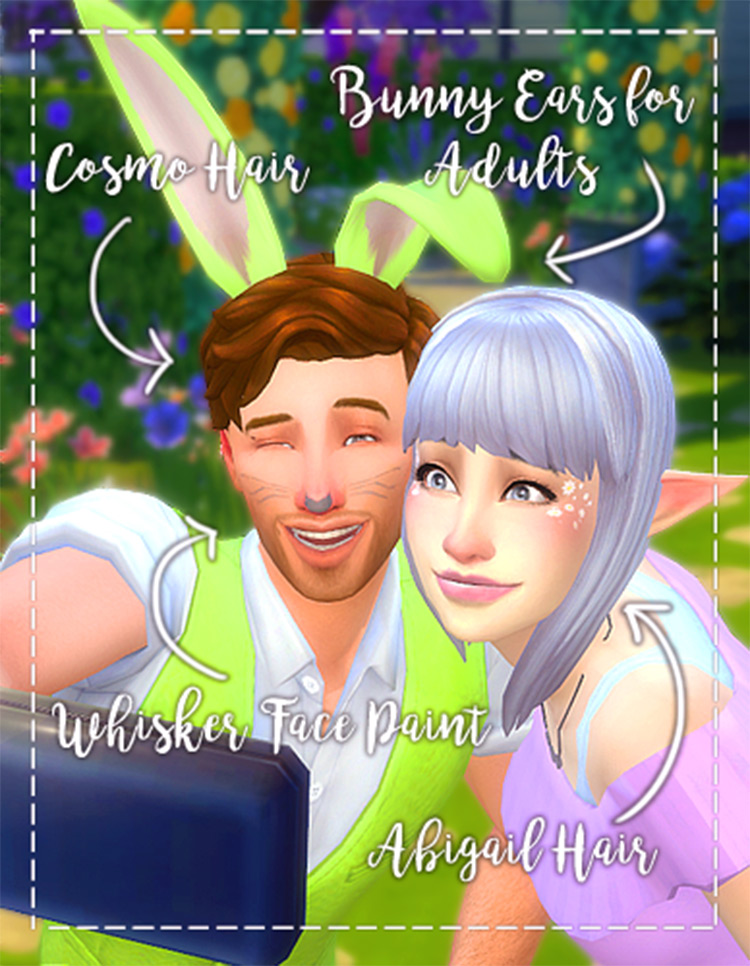 These ears might be included in a Spring Fling Stuff pack, but no one's stopping you from forcing your Sim to wear it all year-long.
This Bugs Bunny-esque accessory is the perfect item for a PG-13 cosplay of our furry little friends.
To embrace that rabbit-like visage, you can add the whisker face paint which is also included in this pack.
11.

Bunny Panties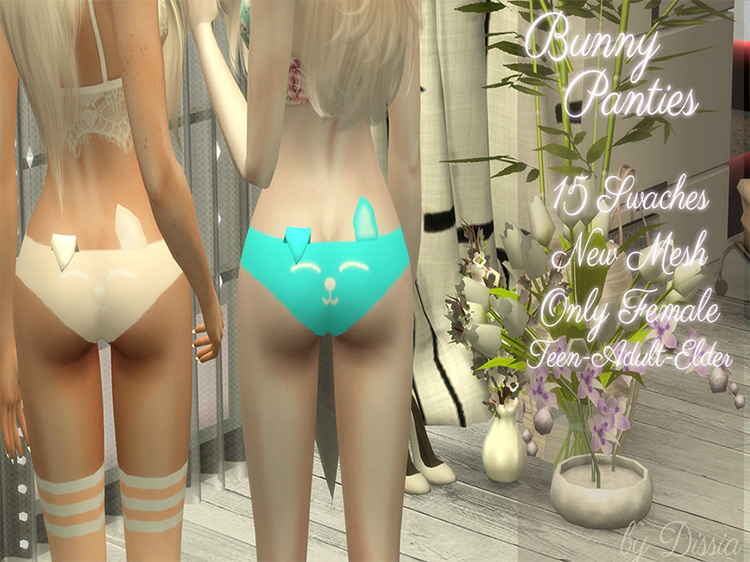 I don't have a love for animal-themed underwear on Sims, but these Bunny Panties are just too cute to pass up.
I already gave my TED Talk on the effects of sticking to boring underwear.
But just in case you're still not convinced: a hop, skip, and a download button is all that stands between you and 15 swatches of bunny-styled panties.
10.

Sugar Headband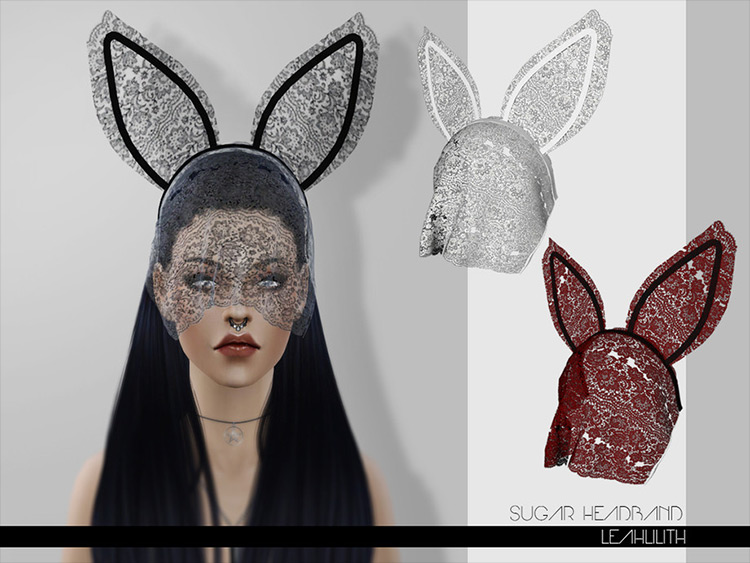 Remember Donnie Darko and that rabbit costume that probably scarred a whole generation for life?
If that nightmare-inducing getup got a feminine makeover, then this is it!
Prettier and definitely less terrifying, this headband can be your next Halloween statement piece.
Crafted to be paired with Nightcrawler's Break Free hair, this CC has all the creepy features to seduce even the Grim Reaper himself.
9.

Dangerous Woman Bunny Mask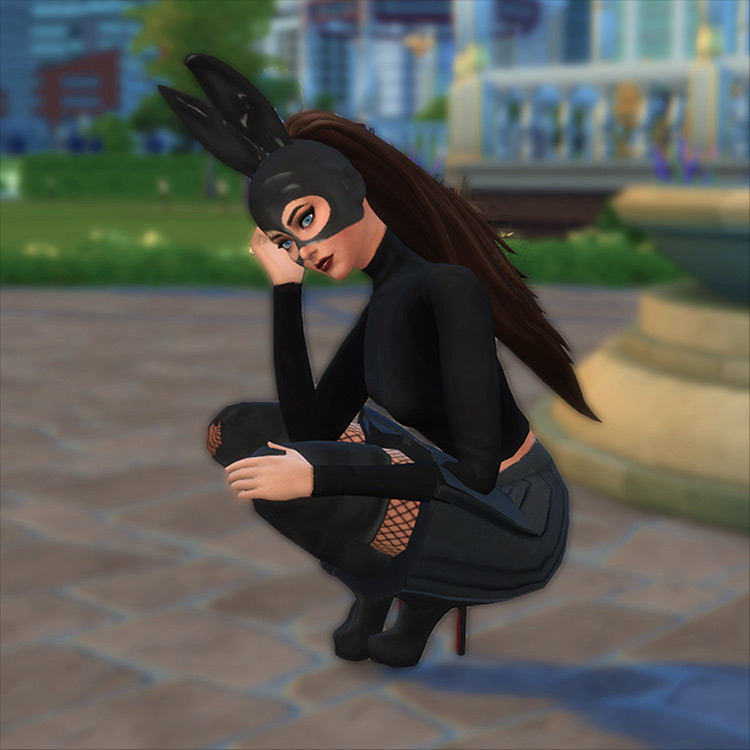 Let's thank Ariana Grande for making latex rabbit masks a thing in the 21st century.
Inspired by the Queen's look in her "Dangerous Woman" music video, this bunny mask can also fit right in on a planet with a regular Purge.
But as long as you style this right, no one's going to ask why the hell your Sim's wearing a bunny ski mask in broad daylight.
8.

Bunny Tights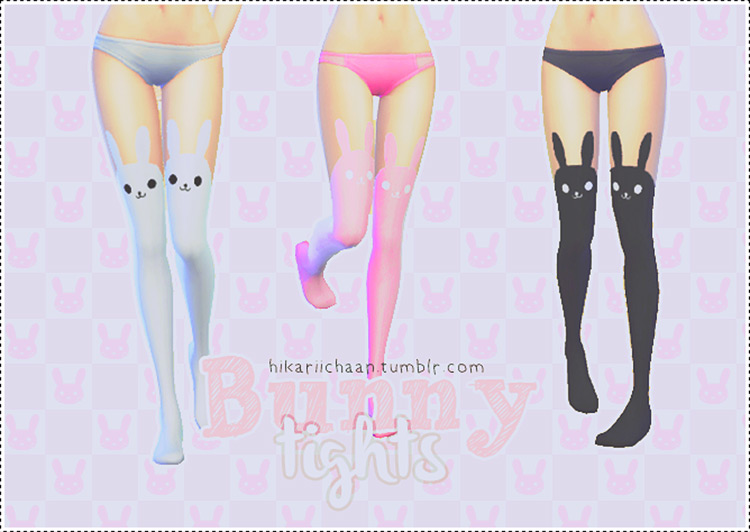 You've likely done various CAS edits throughout your time playing the Sims.
But if you ever want to nail that "kawaii anime school girl" look, I've got the perfect CC for you.
These bunny tights reach mid-thigh thanks to the gravity-defying rabbit ears.
It also has 16 colors available, no doubt all colorful, to add that vibrant anime flavor to your Sim.
7.

Floppy Bunny Ears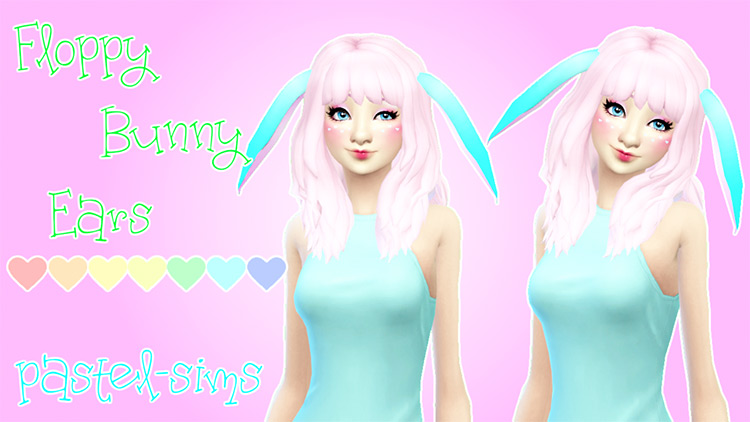 IMO, no one represented rabbits better than Thumper from Bambi.
His constantly thumping foot, small size, and fluffy fur are some of the cutest things to ever give me joy.
Most importantly, it was those floppy ears that can make anyone go "aww!"
I can't guarantee your Sim will have the same reception. But you'll get there starting with this CC from pastel-sims.
6.

Bunny Crop Roll Neck Top & Vinyl Bunny Skirt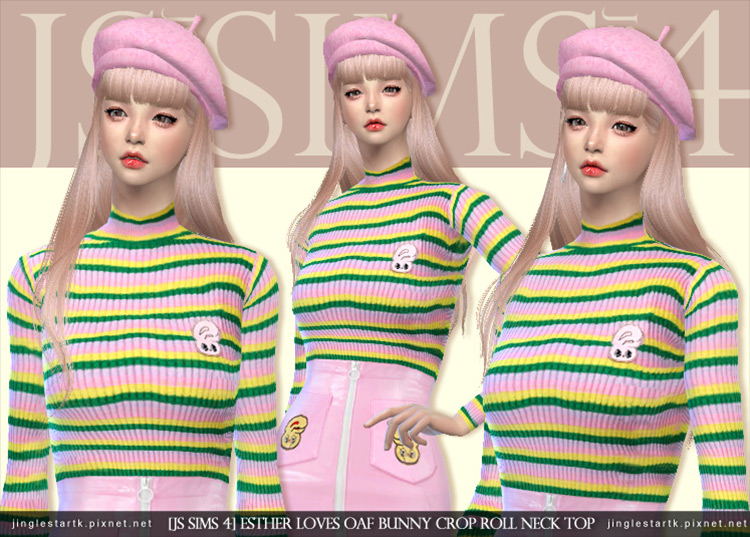 I've always admired how CC creators can accurately render real-life clothes into their TS4 counterparts.
And this CC is no exception.
This outfit is part of the Esther Loves Oaf collection, where it features Esther Kim's iconic bunny. Very cute.
And I know this CC won't have your Sim looking like a human-rabbit hybrid. But it can make you look stylish AF.
5.

Bunny Ears Bow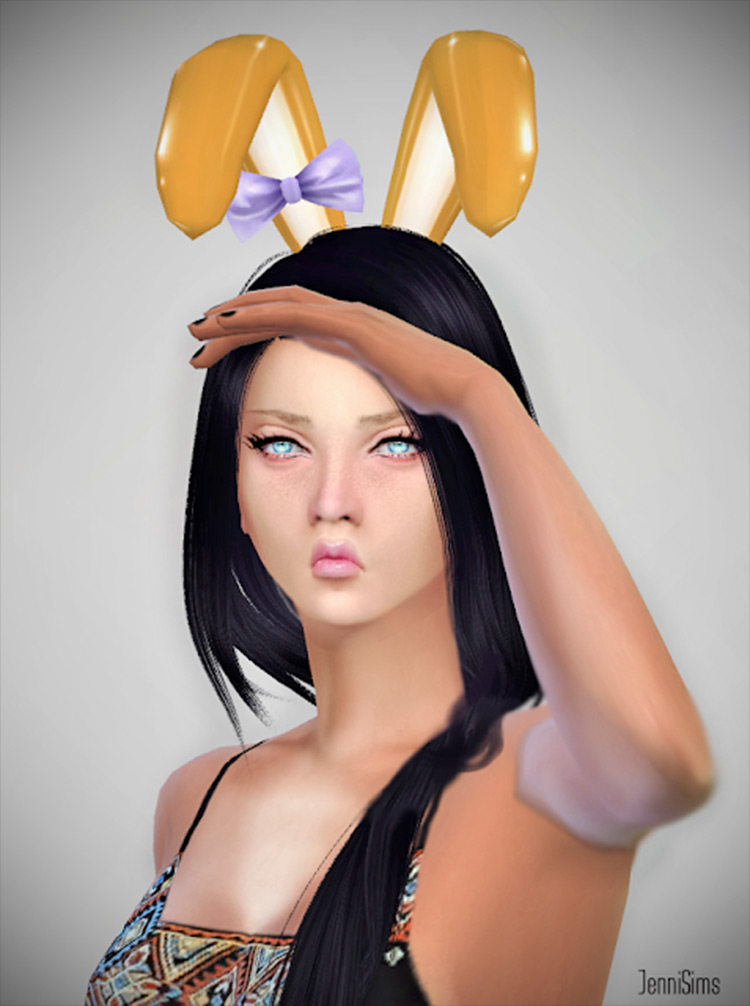 It took millions of years for our human ancestors to evolve into what we are right now.
They must've had a lot of hopes and dreams for our kind, like building the first interstellar transport or colonizing other planets.
But I bet they didn't expect us to scrounge the Internet for jelly bunny ears with bows just for our Simselves to look cute.
Maybe after a million years, humans can actually become rabbits. But for now it's best we stick with CCs for TS4.
4.

Animal Night Wear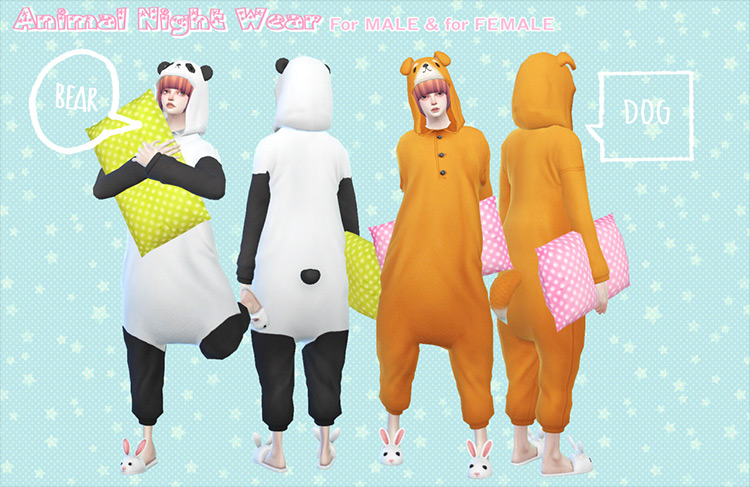 The Animal Night Wear provides the final form of rabbit appreciation: a bunny onesie.
This is the closest thing your Sim can wear to mirror a bunny's features without looking like a mascot or furry.
Although bunnies don't have buttons, this onesie has the other biological features we only cared about from a rabbit: the furry tail and the ears.
This CC is available for all genders, best used to make dull sleepovers more fun and exciting.
3.

Playboy Bunny Halloween Set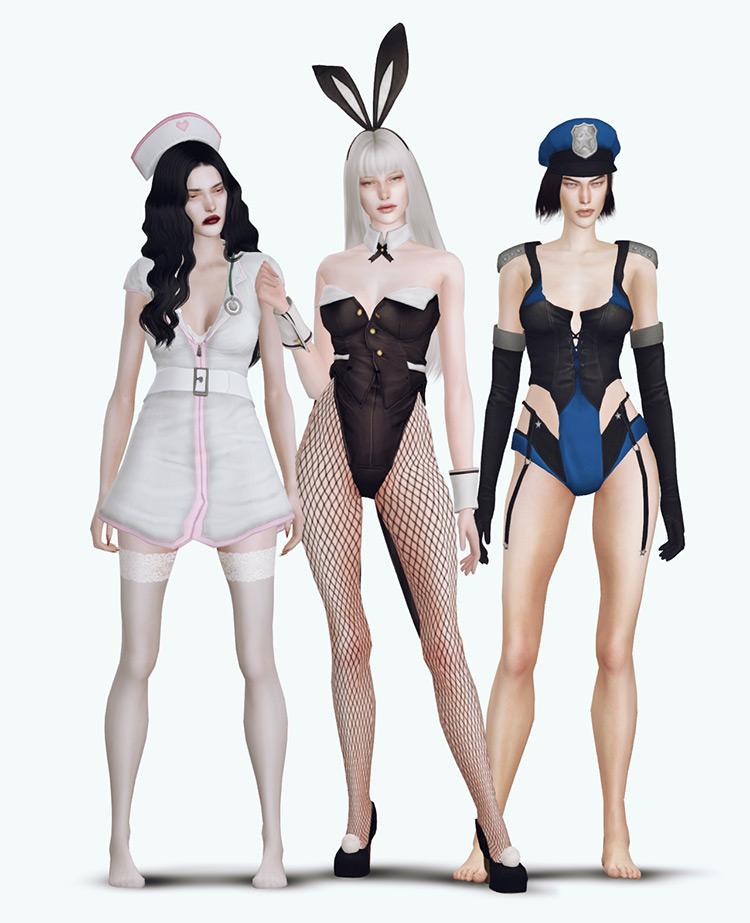 This list wouldn't be complete without the iconic Playboy Bunny ensemble that kickstarted the idea of hott bunnies.
Yes, rabbits are known to be a busy bunch. But it was not until Hugh Hefner thought this was funny that it catapulted their fame to pop culture promiscuity.
From Elle Woods's bunny suit in Legally Blonde to Anna Faris's The Bunny House, rabbits have influenced one of the cutest costumes in existence.
As mainstream as it may be, this CC is your Sim's best bet to become the best-looking bunny in TS4.
2.

Bunny by Xelenn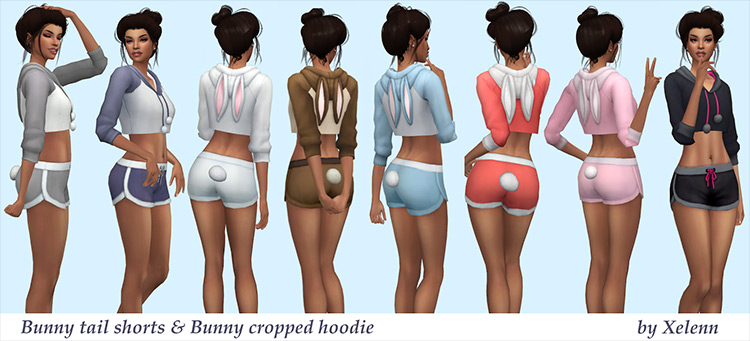 There is (or was) a lot of love for Lola Bunny – the Looney Tunes character that attracted a lot of guys in the '90s.
She was such a cartoon babe that it was easy to forget that she was, technically, a rabbit. And a cartoon.
But you wouldn't have that problem with this Sims 4 bunny CC set by Xelenn.
Containing a cropped hoodie with bunny ears, shorts with a bunny tail, and a bunny sweater, your Sim can be just as adorable as Lola (minus the part about being a fluffy hopping mammal).
1.

Bad Bunny Outfit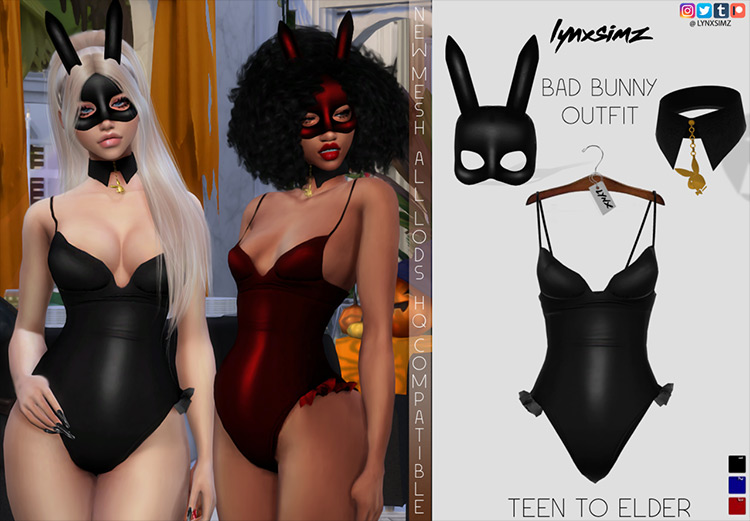 The Bad Bunny Outfit is the ultimate killer bunny look.
You have a wicked rabbit mask, a choker, a figure-hugging bodysuit, and 3 sinful colors to show off your Sim's dominance thrice over.
Whatever occasion you show up to in this outfit, just make sure there are no kids around.
But definitely make sure there's some cute guys around!
Browse:
Lists
The Sims 4
Video Games