Best Circus & Carnival CC For The Sims 4
This post may contain affiliate links. If you buy something we may get a small commission at no extra cost to you. (Learn more).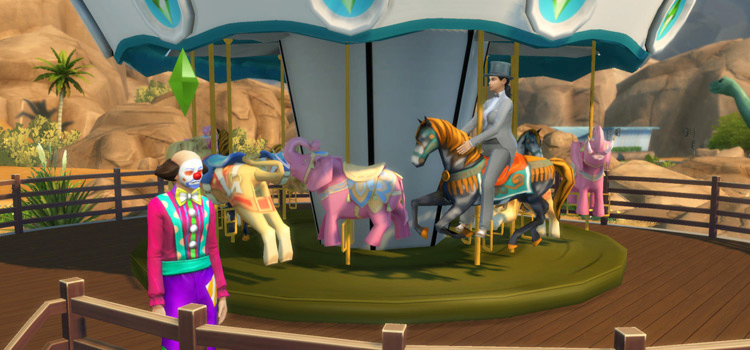 Is there anything more pure and freeing than going to a carnival?
Gatherings like this are one of the few places people of all ages, from the tiniest of toddlers to the eldest of elders, can all come together and have fun.
It's a tradition that's centuries old, getting the whole family for a day of rides, games, food, and gigantic striped tents.
And this love is shared worldwide by many Simmers, who have worked to give us these awesome custom content pieces for carnival designs of your own.
1.

Roller Coaster Set
The biggest attraction at any circus or carnival is always the rides.
For many people, riding the biggest roller coasters is their favorite part.
Young people especially always like to test their limits and egg on their friends, seeing who has the most guts – and who will toss their cookies.
But your Sim's adventures on this incredible roller coaster set from brittpinkiesims will always be joyous occasions. There are twenty separate track pieces included so you can construct your own custom coaster!
With loops, low pieces, high pieces, and flat tracks, as well as some really steep ones and a few that go through water, you can build a coaster that'll rival any amusement park. They all come in various swatches too, so you can go with old-school wooden or modern neon as you please.
And there are roller coaster carts that can be placed on the track and used with the awesome poses that are also part of this set, so your Sims can be 'on the ride'!
This really is as close to a 'functional' rollercoaster I think we'll ever see in The Sims 4. And even more amazing is that it's free, provided to us by a fellow Simmer.
2.

Carousel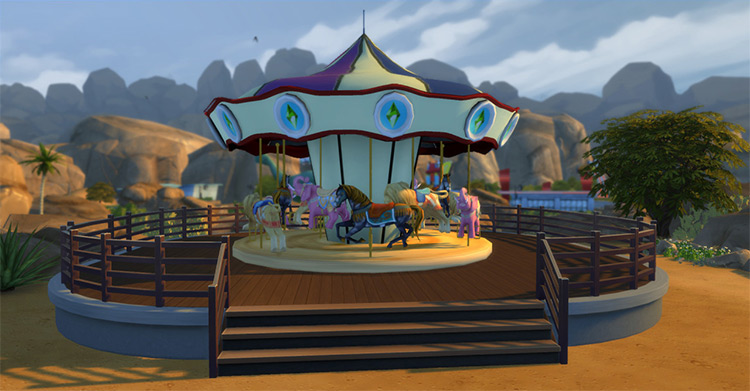 Here we have another carnival staple – the carousel.
This is the ride for those Sim who aren't adrenaline junkies and just want a relaxed glide on a plastic critter.
And get this – it's functional.
Yes, thanks to amazing creator Necrodog, your Sim can actually ride it!
Seriously, how amazing is that? I really didn't expect to find working carnival rides, but the CC makers have again blown me away.
Usually if you do find crazy items like this, they either look really nice or aren't functional, you often can't have both. That's totally understandable, of course – The Sims 4 has many restraints that can make it hard to work with.
But this carousel really does have it all.
It spins, plays music, and just looks exactly as it would at a real circus. There are different horses and elephants to ride, which are all quite cute, and the top has those classic circus stripes.
3.

Ferris Wheel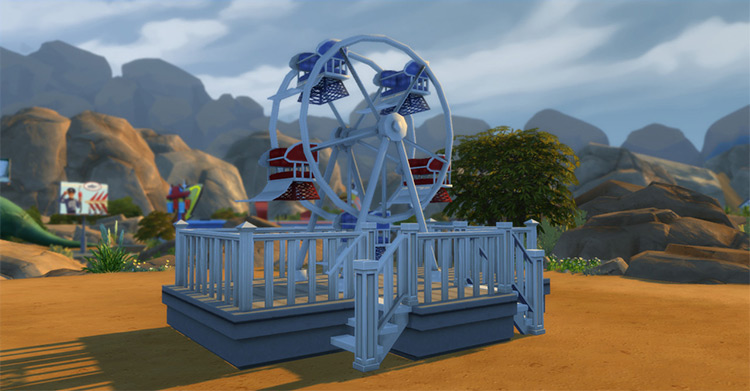 Necrodog has done it again.
As if the carousel wasn't crazy enough, he also has given us a functional ferris wheel!
If you ask me, this is the perfect medium between heart-pumping roller coasters and calming carousels. So with this CC, you'll have all levels of excitement available at your carnival.
Your Sims will be able to see their world in a whole new world as they rotate around and around.
This one comes with audio as well, so they'll always get the full experience.
4.

Carnival Decor Set + Lot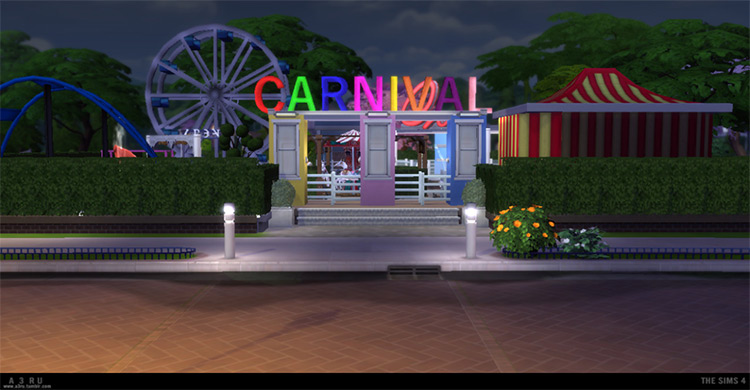 Oh boy, there's so much going on here I hardly know where to start!
I guess the best way is to first give you the options – you can build your own carnival, or download the completed lot consisting of all the fun things included in this set, created by a3ru.
Either way, you'll get some really cool new decor items in your game.
If the functional items above are a little more than what you want, then this is the set for you.
There's a ferris wheel and carousel here, as well as bumper cars and a mini-coaster and they're all decorative. So your Sims can still have some of the carnival experience, without going all-out.
You'll also get a multi-colored carnival entrance sign plus some new circus tent wallpaper and roof tiles, so you can have your own big top tent.
5.

Ice Cream Cart
Let's be honest: for some folks, the main attraction at the carnival is the food.
And there's absolutely nothing wrong with that.
The eats at these events always hit different, and you just can't have a carnival without the smells of fried and sugary things in the air.
That's where this ice cream cart comes in.
It comes in various fitting color schemes, and the ice creams within them all look delicious enough to make me want to buy some myself.
6.

Cotton Candy Machine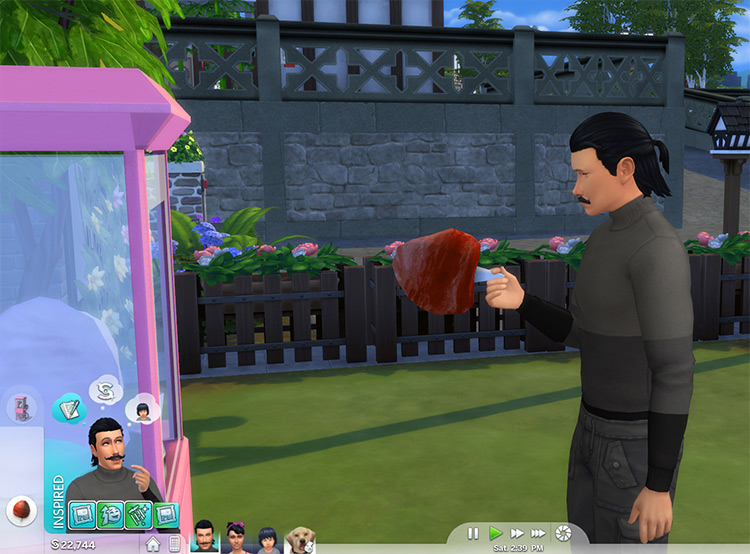 Cotton candy and circuses are a classic combo, and now that tradition is available to your Sims.
This is another functional object, so your Sims really can experience this sugary goodness for themselves. An awesome touch is that it's available to all ages (except infants, of course). So everyone, including toddlers, can join in on the cotton candy featuring.
There are ten different flavors here, and each one will give your Sim a different moodlet and/or buff!
I think this is just so amazing. I mean, one flavor would've been cool enough, but different ones with corresponding colors and moodlets is just next level.
The texture of the cotton candy is pretty stunning, too. It looks just like a cloud, as all good cotton candy does!
7.

Circus Career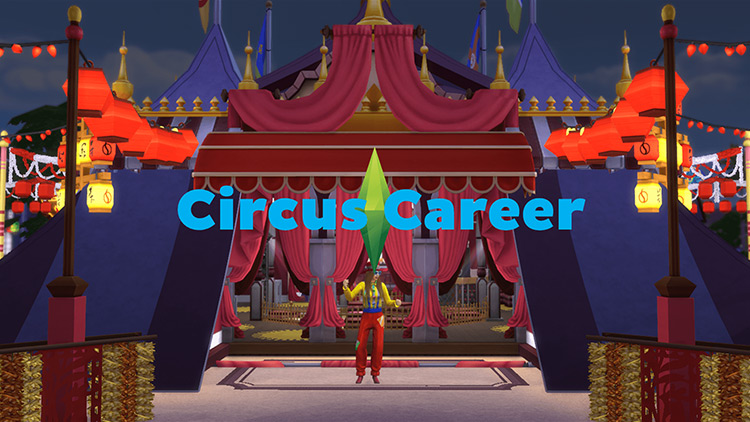 As fun as it is going to the circus, imagine how much fun it must be to make a career out of it.
You might not become a millionaire. But learning the inner workings of these events and being part of it must be pretty cool.
Now your Sim can actually make a career out of being behind the scenes with this mod.
They can start out with some low-level, low pressure positions like popcorn vendor or ticket taker, then work their way up through 'midway carnie', and clown ranks, to reach higher positions like acrobat, trapeze artist, and lion tamer.
If your Sim has the perseverance and skills that it takes, they can eventually become a ringmaster, which will be the peak of their circus career.
8.

Functional High Striker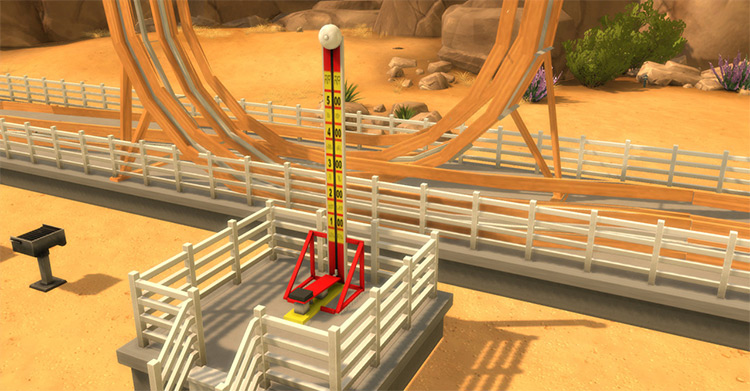 This high striker is an essential part of any carnival.
Where else will people gather to decide who's the strongest and can hit the hardest?
Well, I guess there's always fist fighting.
But this is a much more family-friendly way for Sims to show their stuff.
Best of all, this is yet another functional item. I bet when you clicked this list you never really expected to find everything you need for a completely operational circus, right?
The genius Necrodog even made this item so that your Sims can actually win prizes – if they win.
Your Sim will really have to give it their best shot to win one of those adorable stuffed animals.
9.

Circus Standee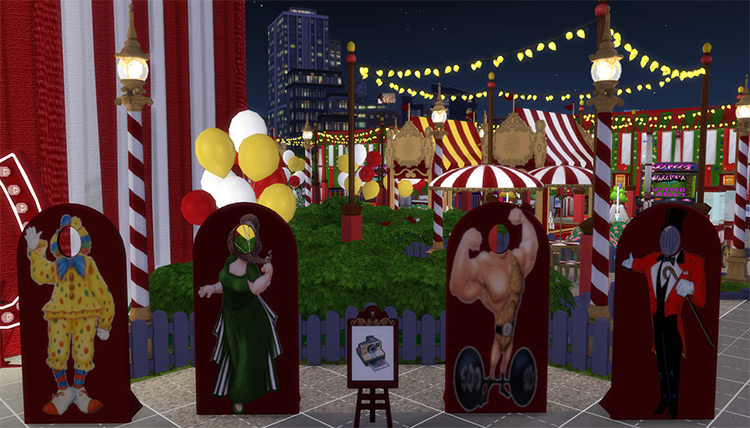 There may be nothing as simple yet entertaining as these cardboard cutout standees, which in real life can always be found at the most random places.
Seriously, I even saw some at the grocery store once.
I see the humor in it, though.
Your face can be on the body of anything from animals to characters, and since these are circus themed, it'll be a small way for your Sims to participate in the fun.
By just having your Sim stand behind the cutout with their face in the proper position, they can momentarily take the form of a clown, ringmaster, bearded lady, or strongman.
10.

Circus Ball Pit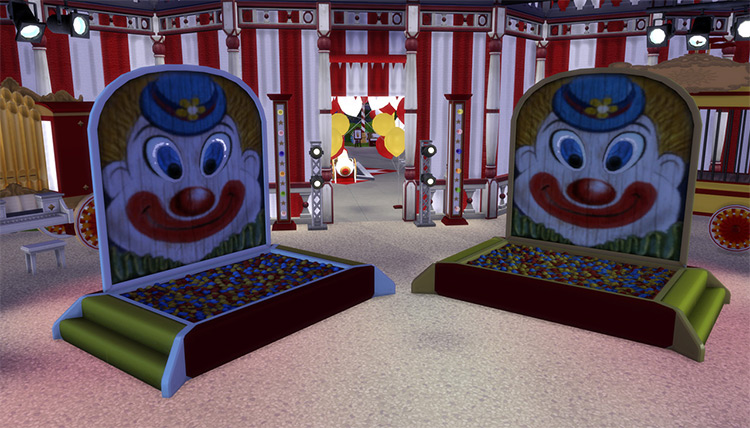 The little ones might not be able to go on roller coasters or carousels, or the ferris wheel, or play games… so what's left aside from leaving them home?
From the same creator who brought us the standees CC, comes this lovely little way to allow your toddlers to have fun at the carnival too.
Any toddler will be pleased as punch to be in a ball pit.
And the clown backdrop that comes with this is a great way to keep those circus vibes.
You could probably just leave them in there while the other Sims go off to play games and go on rides, and your little tykes will never be wise to the fact they've been abandoned.
Cause everyone knows once you enter the ball pit, anything outside the ball pit no longer matters.
Browse:
Lists
The Sims 4
Video Games