Sims 4 Cartoon Network CC (All Free)
This post may contain affiliate links. If you buy something we may get a small commission at no extra cost to you. (Learn more).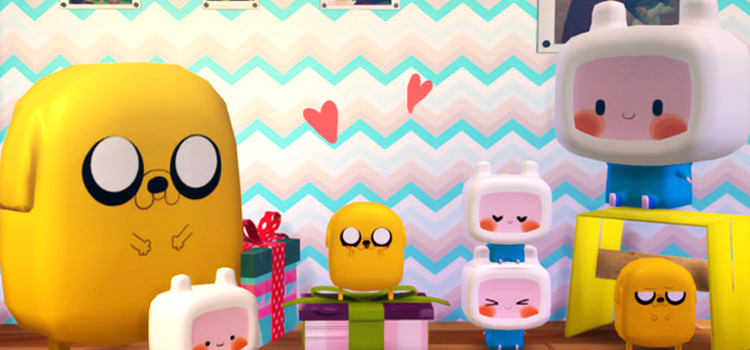 Every kid's grown up watching cartoons, right?
Which means everyone's probably familiar with good ol' CN.
I mean, even if you were more of a Nickelodeon or Disney Channel kid, I'm fairly certain there were one or two Cartoon Network-exclusives that had you switching channels whenever they came on.
So as a nod to your childhood (and animated passions that never die), how about some cute Cartoon Network-themed CC for your Sims?
1.

2000s Nostalgia Cartoon Network Cartoons by Kay-On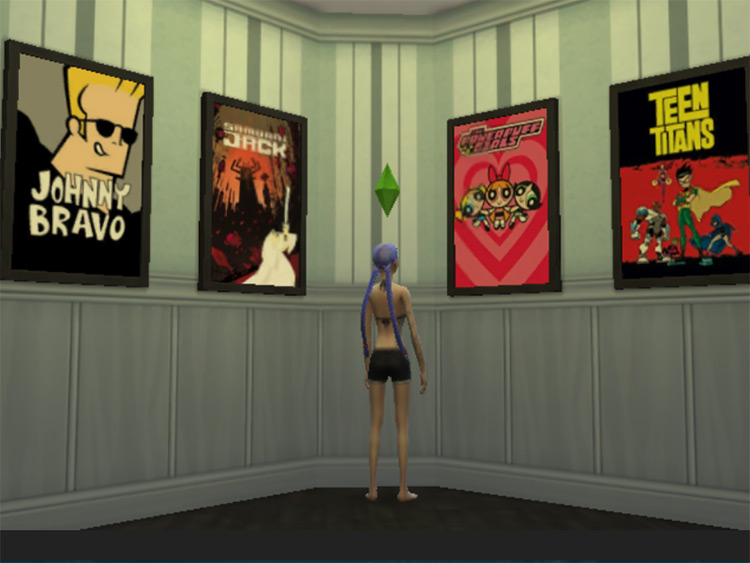 If Cartoon Network was your go-to growing up, then all the posters here must be smacking you with a healthy dose of nostalgia.
They're definitely hitting me!
I mean, come on; Johnny Bravo, Kids Next Door, Dexter's Lab, and Teen Titans? These are bona fide classics. Celebrate simpler times by hanging these pretty prints up in your Sims' living space!
2.

Good Things Come in Threes: Cartoon Edition by SimDoughnut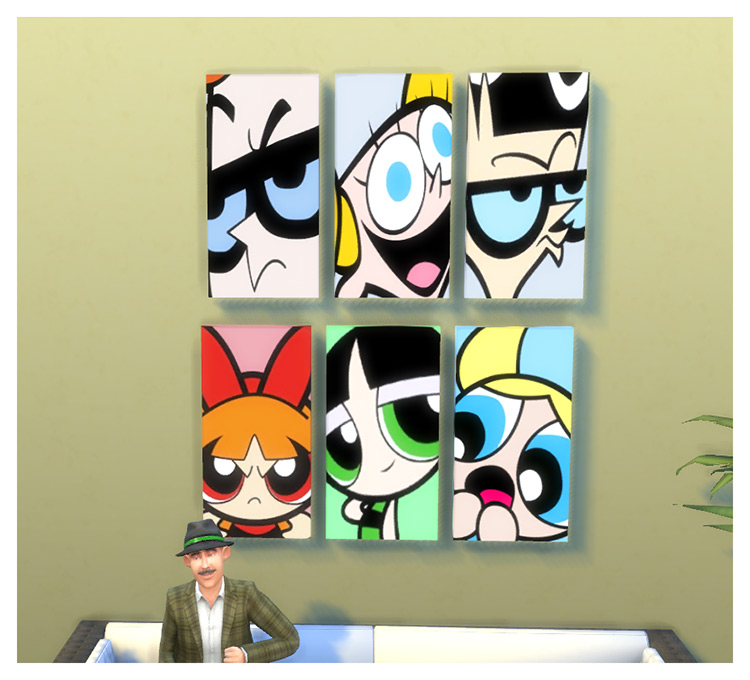 Don't let the SpongeBob prints fool you; most of the other designs in this wall art set are Cartoon Network originals:
Gravity Falls, Courage the Cowardly Dog, Powerpuff Girls, Wacky Racers, and more!
Display your Sims' appreciation of 2D visual storytelling – and a light sprinkling of childhood nostalgia – with these pop-culture prints.
3.

Mystery Inc. Pack by Brianitesims

Whether your Sims are going as the Scooby gang for Halloween or you're creating actual Sims 4 versions of them, you're going to need Brianitesims' fun CAS pack!
It's full of Fred, Daphne, Velma, Shaggy, and Scooby's iconic clothing items (plus accessories)! Daphne's scarf, Velma's baggy orange sweater, Scooby's diamond collar, and a couple other Mystery Inc. goods.
4.

Scooby Doo Movie Poster by simmingwithmyself
I was devastated when I couldn't find a TS4 version of The Mystery Machine (Scooby and That Gang's main mode of transport). Not even a non-functional sculpture! But on the hunt for decorative Scooby-Stuff, I found a cute framed poster for a fictional Scooby-Doo movie.
Good enough for me!
It's creative, it's nostalgic, and the Sim models for the characters are spectacularly spot-on!
5.

Rose Quartz Gem in Tattoo by ladyfancyfeast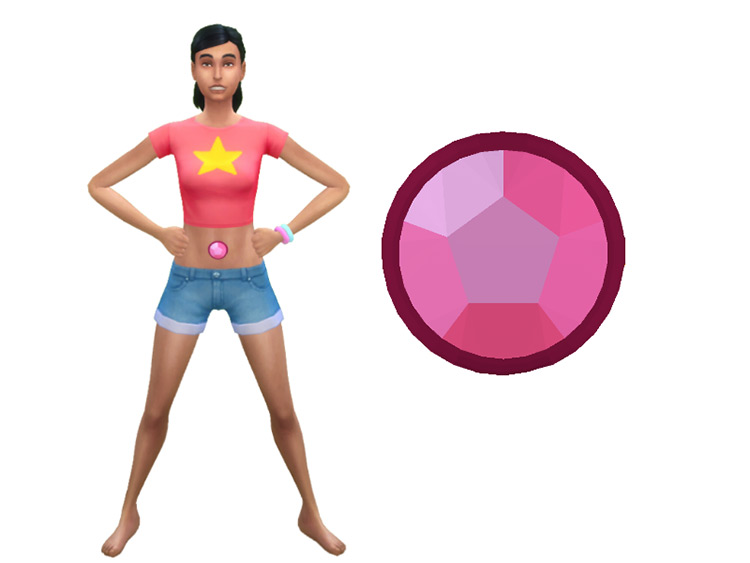 I never watched Steven Universe, but it's popular enough for the uninitiated (me) to at least know the characters.
If your Sim ever feels like cosplaying the ever-beautiful (former) leader of the Crystal Gems – and the mother of this show's titular character – slap this tattoo on them. It works for both Male and Female frames!
6.

Steven Universe Toddler Tees by itsmegamo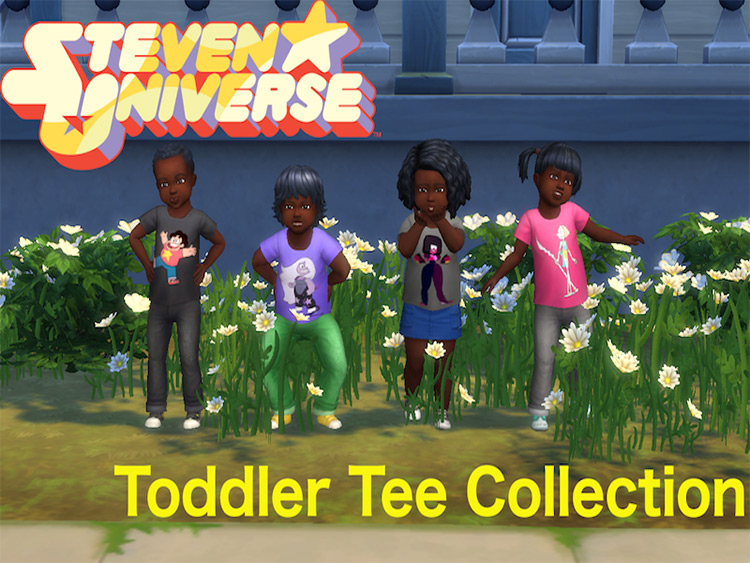 Since Steven Universe can be enjoyed by people (and Sims!) of all ages, this Toddler-sized merch makes sense.
Cute basic crew-neck tees for your teeny tots, all proudly displaying the show's quirky characters.
There are 10 designs in total – each with a different color and character – and the work for both Male and Female Toddlers.
7.

Steven Universe Crop Tops by hikariichaan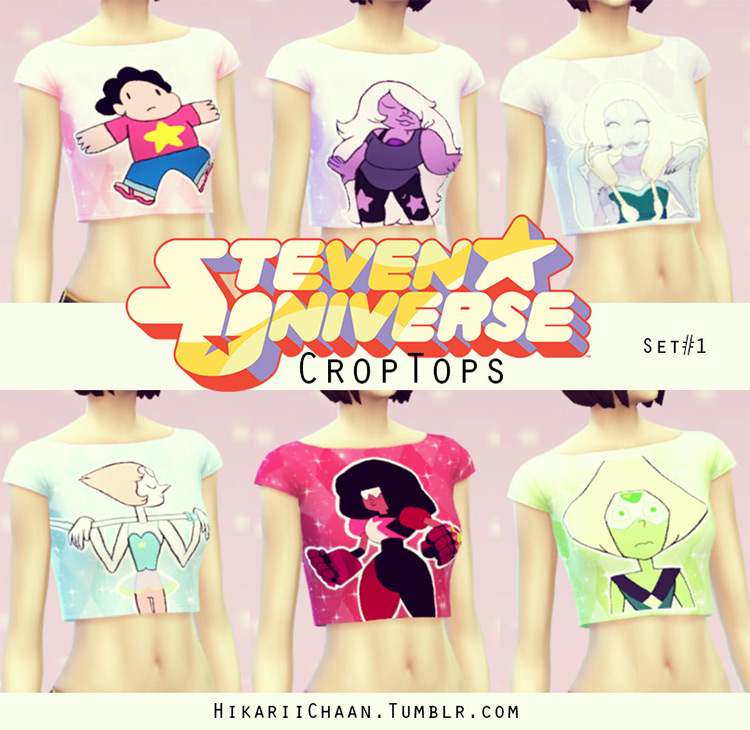 Before crop tops fall out of trend, give your Sims these Steven-Universe-flavored pieces!
They're cute, they're cartoonified, and the color combinations are pretty sweet.
As a non-fan who loves the character designs regardless, these make awesome closet staples. And they're base-game compatible, which is always a plus.
8.

Steven Universe Pictures by Xraitha
Here's some absolutely stunning wall décor for your Steven Universe-loving Sims!
All the designs have this lovely soft light wash to them, balancing out the clean cartoon lines. The vibe is very "aesthetic desktop background," only it's gracing your Sim's wall instead.
9.

Adventure Time Bedroom by kardofe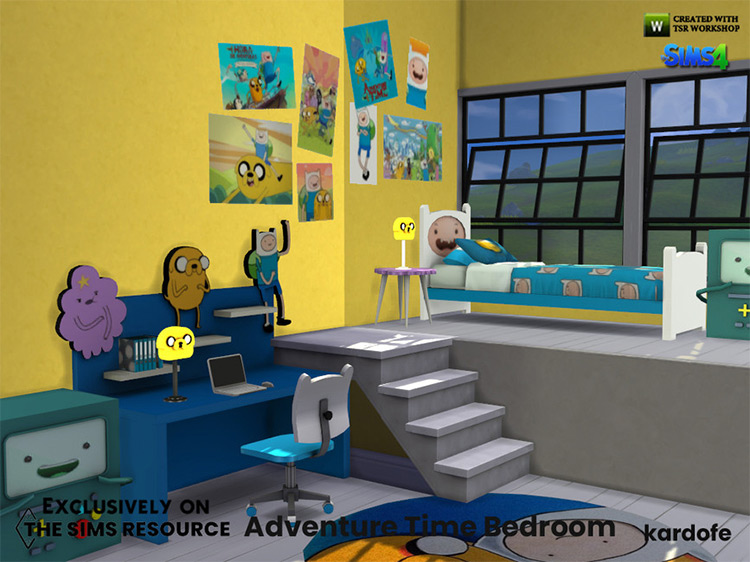 Somewhere out there, there's an actual kid wishing their bedroom looked like this.
And as a mild Adventure Time enthusiast myself, I've gotta admit; this room is pretty freaking genius.
The items in it are the perfect combination of functional, fanatical, and just plain creative! If your Sims' kids need more Finn and Jake (and friends!) in their lives, this room by kardofe definitely delivers.
10.

Adventure Time Hoodies! By cookiemonsterrsims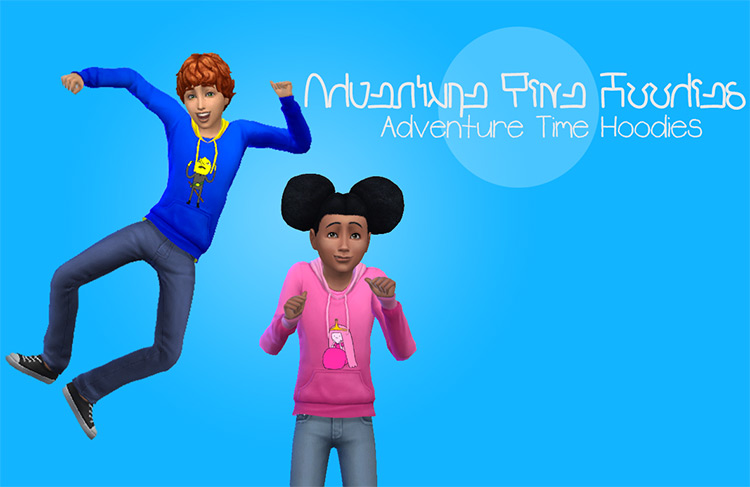 Cartoons are typically marketed towards children (even though adults can fully enjoy and appreciate them as well!)
So it makes sense for cartoon-themed merch to be kid-friendly.
These hoodies for Child frames come in five distinct colors and designs.
There's an overwhelm of blue – I guess to stay true to the main character's main colors – in the swatches, but don't worry; the bright pink and green swatches in there keep it from being completely overrun.
11.

Finn and Jake Plushie + BMO by Meghewlett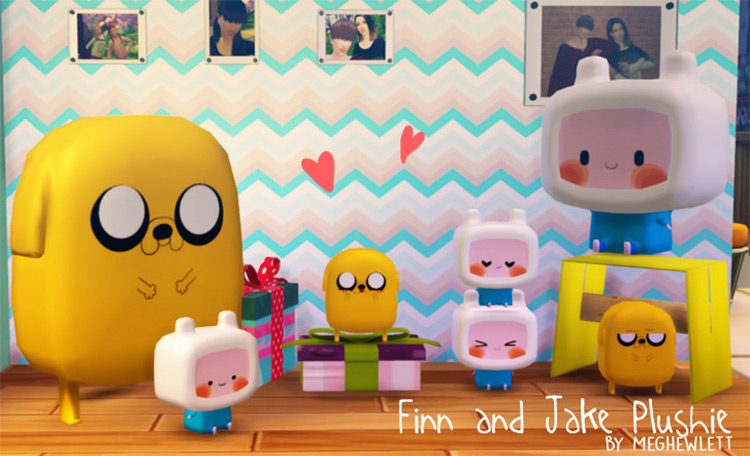 These are so cute, I'm gonna cry.
As you can probably tell from the preview photos, this endearing li'l décor set by Meghewlett gives your Sim four tiny baby Finn plushies and three teeny Jake plushies.
They're small, they're adorable, and I would pay actual money to have them IRL.
Your Sims definitely deserve these cuties!
You can also get their equally-as-adorable gaming-console-pal, BMO! The creator made a plushie of them too, which you can download for free here.
12.

Adventure Time Tops for Male & Female by AvenidaSims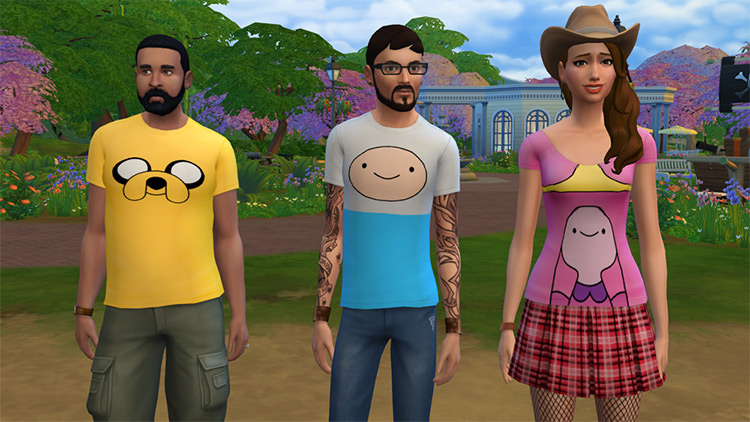 Since the kids get hoodies, the adults get tops!
Simple, straightforward tees with adorned with full face close-ups of beloved Adventure Time characters: Jake the Dog, Finn the Human, Princess Bubblegum, Marceline the Vampire, and more!
These are recolors – not new meshes – so make sure to check the photo in the creator's notes to see which recolor (aka design) went to which top.
13.

Mabel's Sweater Recolor by AsparagusPlaysTheSims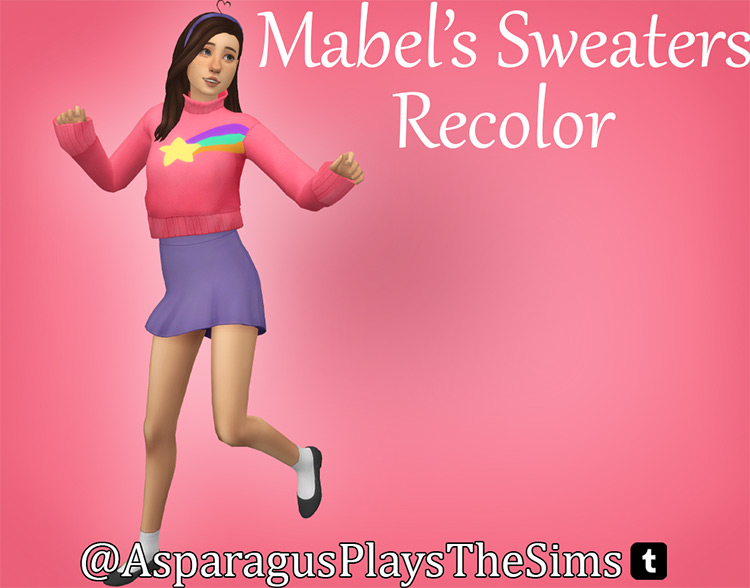 Gravity Falls is another one of those seemingly simple Cartoon Network shows that, in reality, is a lot deeper, a lot richer, and a lot more soulful than one expects. It gets a lot of rave reviews, basically.
If you're a fan, you might be interested in these cute fluffy sweater recolors. The designs are inspired by Mabel Pines' (one of the two protagonists) unique wardrobe.
She's a big fan of fluffy sweaters with cute n' colorful prints.
(Fun fact: she has so many that there's a separate Gravity Falls Wiki page dedicated to just listing them!)
14.

The Mystery Shack – Gravity Falls Home by PlayWithMia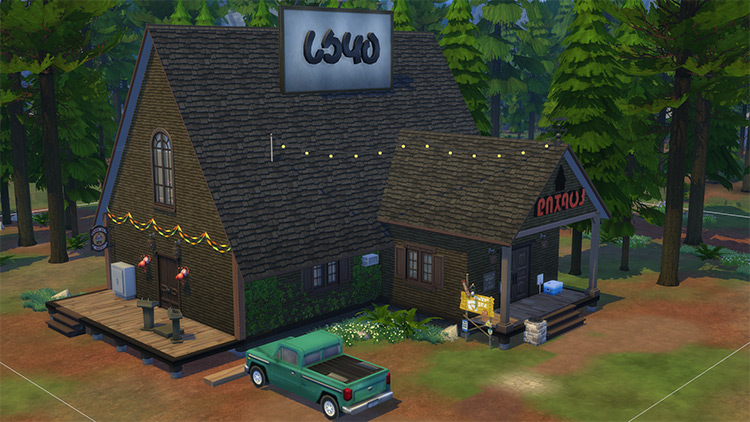 If you're not too adept at Build & Buy mode – like yours truly – then downloadable lots like this are a godsend.
Thanks to PlayWithMia, you can have your own Dipper and Mabel Sims live in an accurate TS4 iteration of their home without having to figure out the floor plan yourself!
As you can see, they did a great job replicating the exterior (especially considering how ridiculous the size of the roof in the cartoon is).
15.

Ben 10 Jacket by Ultimate223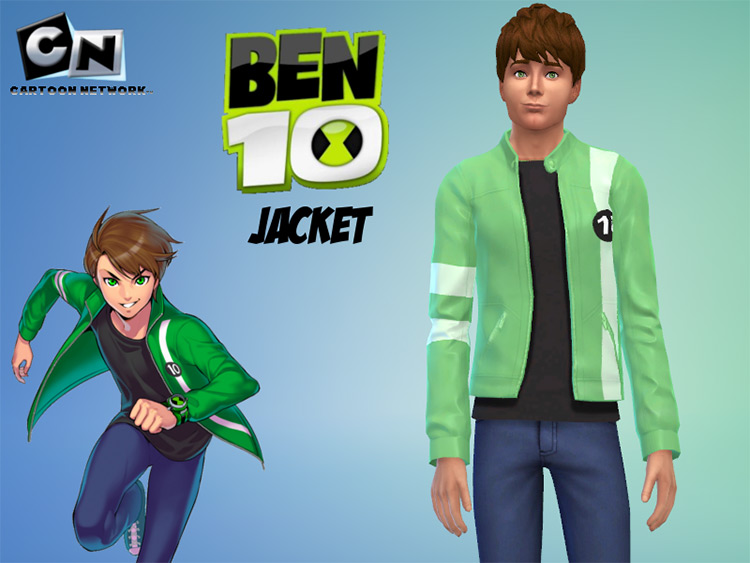 As the sequel/follow-up series to Ben 10, Ben 10: Alien Force sees protagonist Ben Tennyson in a spiffy new set of threads.
He's swapped out his white tee and baggy cargos for a sensible black shirt, comfy denims, and a solid green jacket.
It's the perfect replica of its cartoon counterpart — number 10 chest pocket badge and all!
16.

Ben 10 Omniverse Shirt by Ultimate223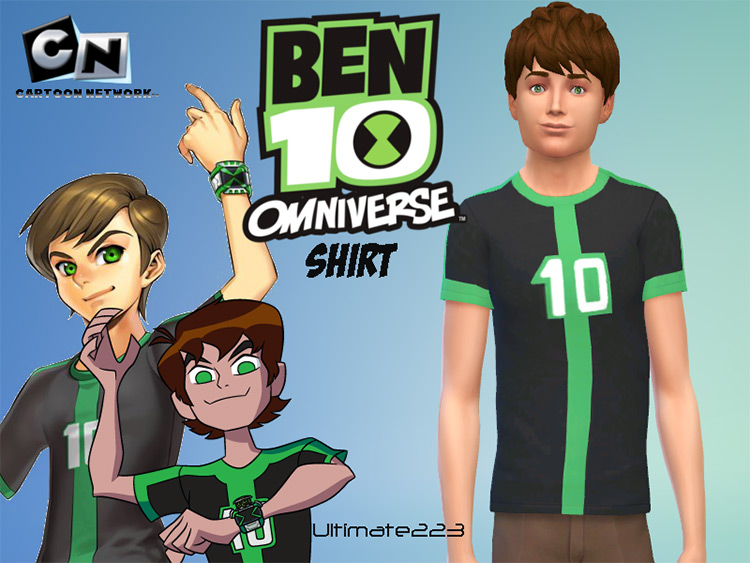 I have no idea of this is a spin-off, a remake, or an alternate universe. It was Ben 10: Omniverse hit Cartoon Network after my time.
Regardless, the creator still did a solid job of replicating Ben's black-and-green shirt, so. I'm putting this here for Simmers who prefer this over the shirt-and-jacket combo.
What's cute is that even though Ben is technically a preteen in this show, this custom shirt works for Teens up to Elders!
17.

Ben 10 Original Omnitrix Children by LEGOSAM321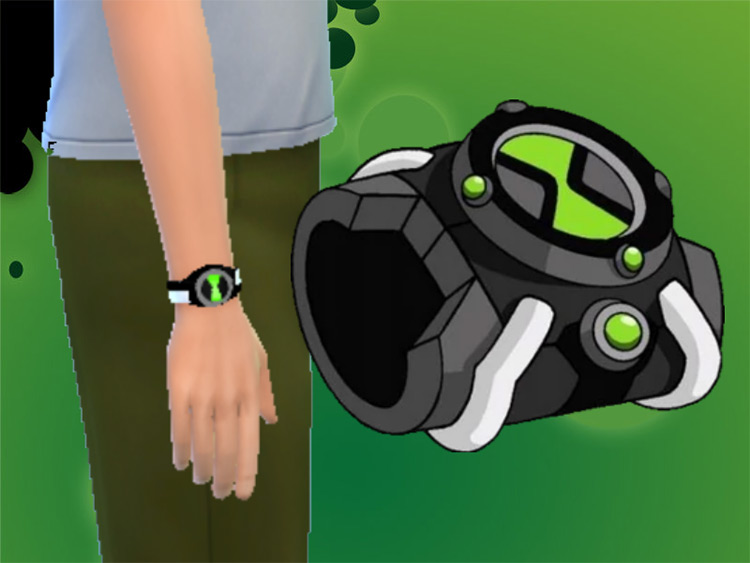 You know what's more iconic than Ben Tennyson's color scheme? His cool alien-tech wristwatch, of course!
This TS4 version of the omnitrix is appropriately designed for Child Sims.
It may not be as big, clunky, and full of extra bells and whistles as the original cartoon version, but it's got the green hourglass design, the white cables, and the overall color combination down pat!
The creator even includes several other color swatches if you want to experiment with different omintrix designs.
18.

Powerpuff Girls Toy Set for Toddlers and Kids by Sanjana Sims Studio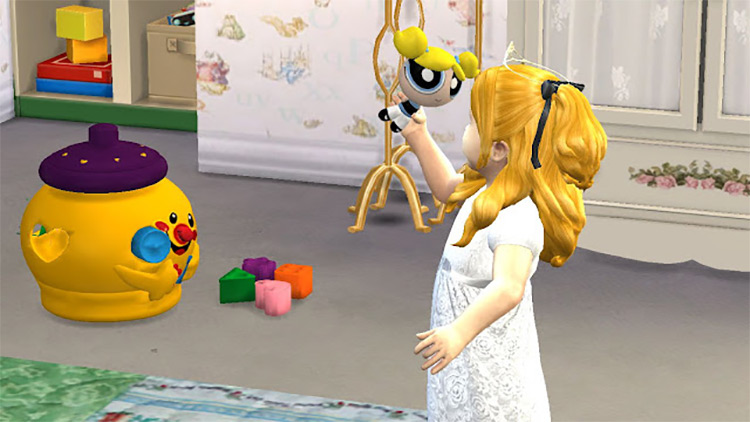 Townsville's favorite pint-sized superheroes can now grace your Sim's kid's toy chest! This cute custom play set by Sanjana features Blossom, Bubbles, and Buttercup in TS4 plushie/figurine format.
Striking classic superhero poses and looking ever-so adorable with their big Bambi eyes and teeny smiles, these (functional!) toys will make any PPG fan feel safe.
19.

Powerpuff Girls: Blossom Double Bed by sandersfan22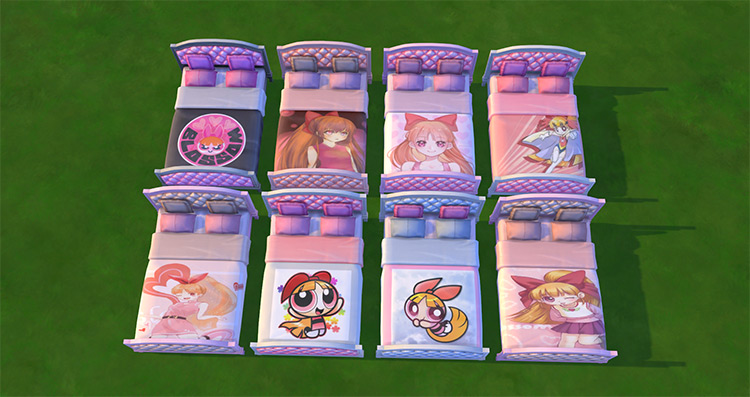 Not sure why Blossom isn't with her sisters for this set, but the bed designs are adorable, so. I'll let this one slide.
Plus if your Sim's favorite Powerpuff Girl is indeed their fearless leader, then these double beds are perfect!
There are eight swatches in total; all depicting different variations of Blossom (even her aged-up version) in varying shades of pink and white!
20.

PowerPuff Girls Dress (Children Version) by sandersfan22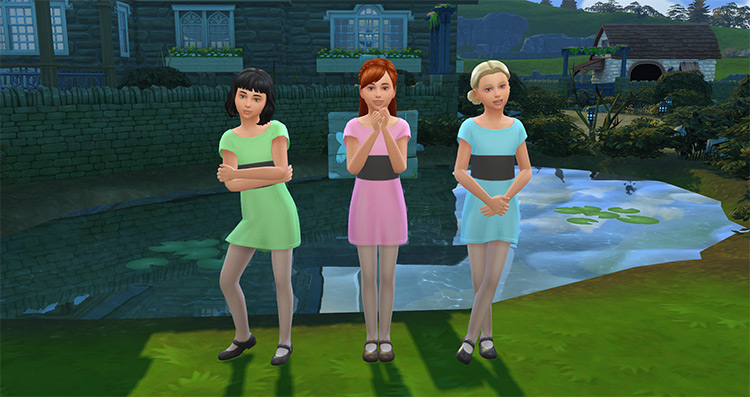 If your Child Sims want to dress up as Cartoon Network's popular crime-fighting kiddie trio, these dresses by sandersfan22 are perfect!
They're simple, they follow the original style to a T (there's no mistaking that wide black stripe), and they're age-appropriate.
They come in several other swatches, too, if you want to use them as regular dresses and not Powerpuff Girl costumes.
And if your Toddler Sims don't want to be left out of the fun, there are toddler-friendly versions of the dress! Check out this PowerPuff Girls Dress set by CC creator KittyluvzCow.
Browse:
Cartoon Network
Lists
The Sims 4
Video Games