Best Cottagecore CC For The Sims 4 (All Free)
This post may contain affiliate links. If you buy something we may get a small commission at no extra cost to you. (Learn more).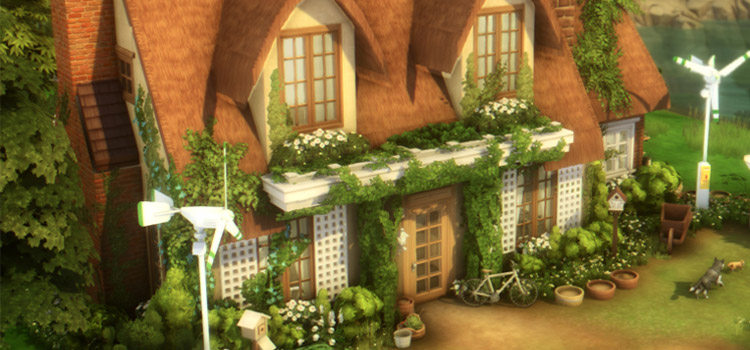 It's not difficult to see why cottagecore, the aesthetic factoring in all facets of rural life with a heavy appreciation of nature, has spread like wildfire.
If we all had the choice between living as we do, or spending our days in a beautiful cottage, wearing pretty dresses and hats… I think it's safe to say, there would be entire cottage communities!
So naturally, with The Sims being a life simulator, this idyllic lifestyle is possible to achieve in the game – and CC makers can offer everything you'll need.
After this list full of beautiful clothes and decor, you may never play the same again.
Bye bye San Myshuno, and hello Brindleton Bay!
1.

Cottage Garden Stuff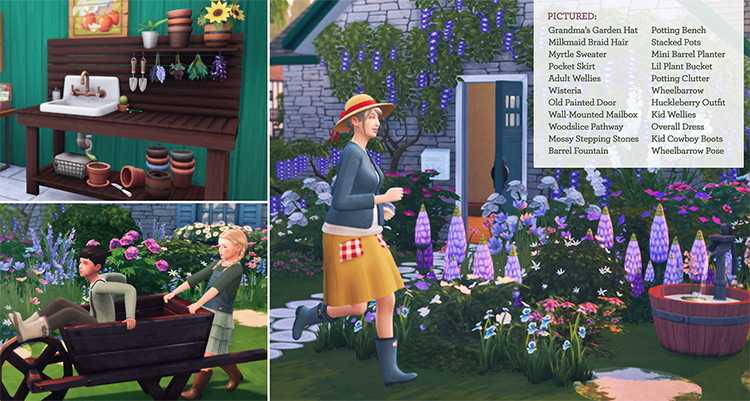 This fan-made Stuff Pack includes everything you'll need to kick off your cottagecore fun in The Sims 4.
It's an amazing & expansive collection that includes everything from build & buy items, to great clothes and hair.
There are 171 items in total.
And every one of them is gorgeous. If you're already a fan of the aesthetic, then these items will just about make you burst.
Even your Sim's yard can get a cottagey upgrade with all new trees and flowers.
2.

Makin' Magic Kitchen Set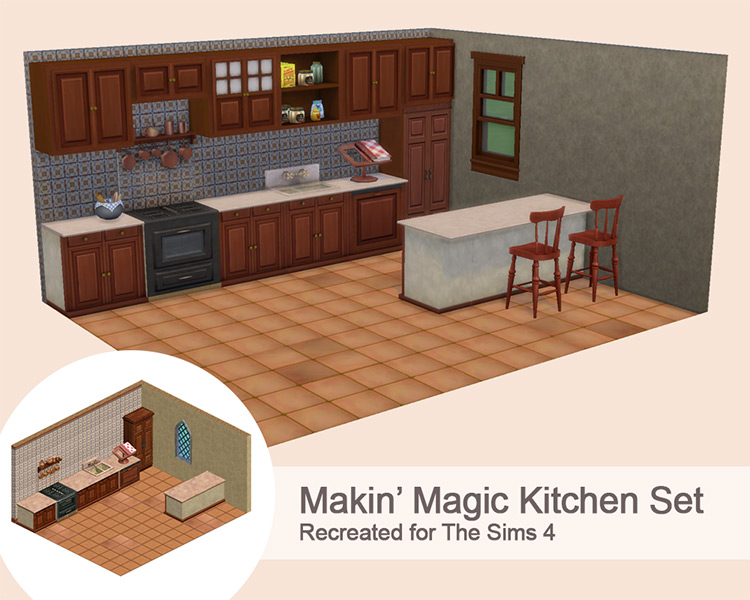 If you have ever tried to build or decorate with a certain theme in mind, then you're probably already familiar with how restrictive it can be – only having three or four swatches for each piece of furniture.
Half the time, they don't match even if they came in the same pack!
But that's never a concern when it comes to CC.
These wood cabinets will add a much-needed country flair to your cottage kitchen, as will the retro stove complete with a backsplash and pot rack.
3.

Apothecary's Chest
The emphasis on nature and plants needed to achieve the cottagecore aesthetic just gets a little… witchy at times.
Whether your Sims is indeed a witch or not, this apothecary's chest will fit right into their cottage home.
It's complete with little bottles and bundles of herbs, plus flowers and a scribbled note in the opened drawer.
There's a candle in it as well, which I personally would not light in a wooden box surrounded by tinder. But I guess sometimes you have to sacrifice.
It does look really cute.
4.

Seasons Deco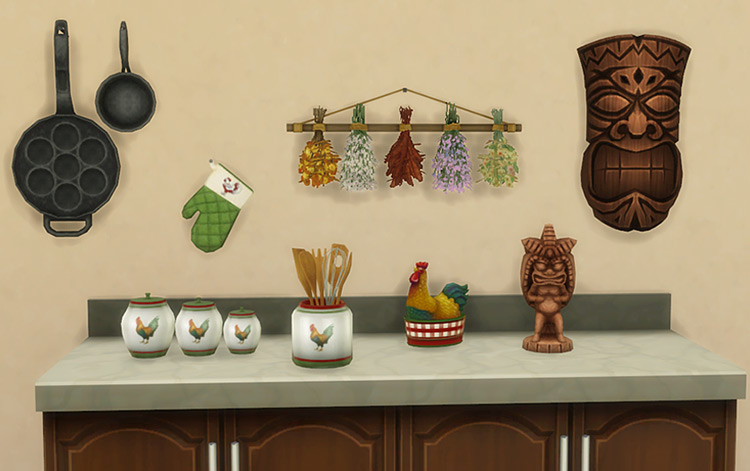 Here are some more items for the kitchen, and they might look familiar since they're conversions from The Sims 2.
Who knew that game had such cozy & wholesome decor that it would be used over a decade later?
The wall-mounted oven mitt, rooster-themed canisters and utensil holder, decorative skillets will all make your kitchen look… well, a lot more kitchen-y.
There's also a rooster sculpture and some flowery decor (see, witchy!).
5.

From Dusk till Dawn Pack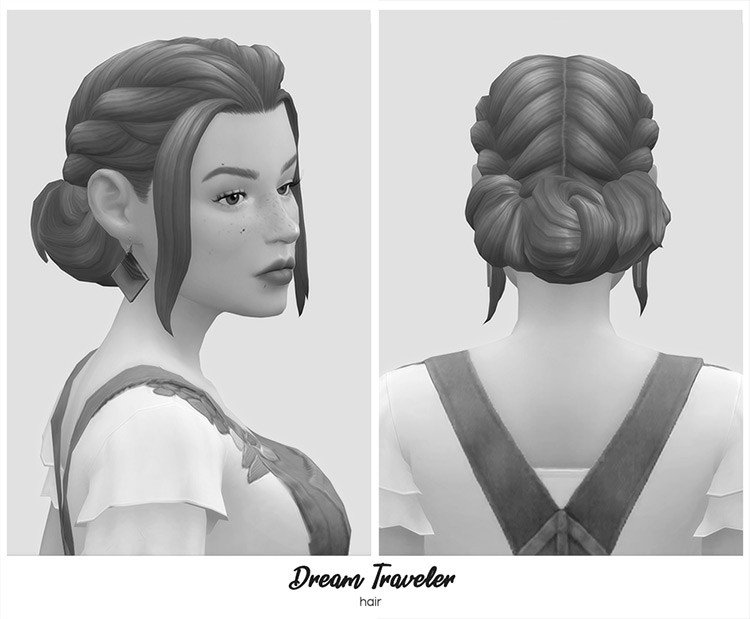 Cottagecore is one of the broadest aesthetics out there.
It not only includes each part of the home, but clothing as well.
Although the creator made these items with Strangerville in mind, I think they will work perfectly for any Sim delving into cottage life.
Lovely, ruffled dresses, knotted blouses, and overalls – all with an abundance of gingham or floral patterns – will really get your Sim looking the part.
Plus, the boots are very fitting for them to be out in their garden. Which is totally mandatory when you've got a cottage.
6.

Flowers and Some Things
Your Sim's cottage will definitely be in need of some calming decor.
And what's nicer or more calming than pastel flowers, wicker baskets, and candles in wooden holders?
Nothing.
Nothing, I say!
These items have a ton of charm, which goes hand-in-hand with cottagecore life.
The candles and flowers will really work from pretty much every room of the house.
Whether it's the fireplace mantle, kitchen shelf, or bedroom nightstand, they'll always have a place.
7.

Tall Order Vintage Kitchen Recolor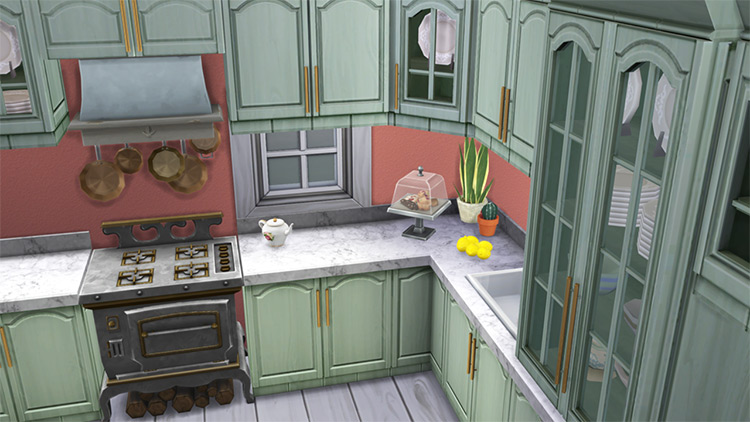 There are plenty of vintage-style items in the game… but it appears they've already gone through a remodel.
Meaning, the colors just aren't quite right.
And if it's cottagecore you're going for, you're not gonna want modern counters.
But Miss Ruby Bird has put the "vintage" in "Tall Order Vintage Cabinets" with these recolors.
The swatches are much more fitting, and there are a lot more of them now, too.
The set includes all parts of the counters as well as the islands, making them now available in a variety of faded pinks, greens, yellows as well as plenty of woods.
8.

Elena Dress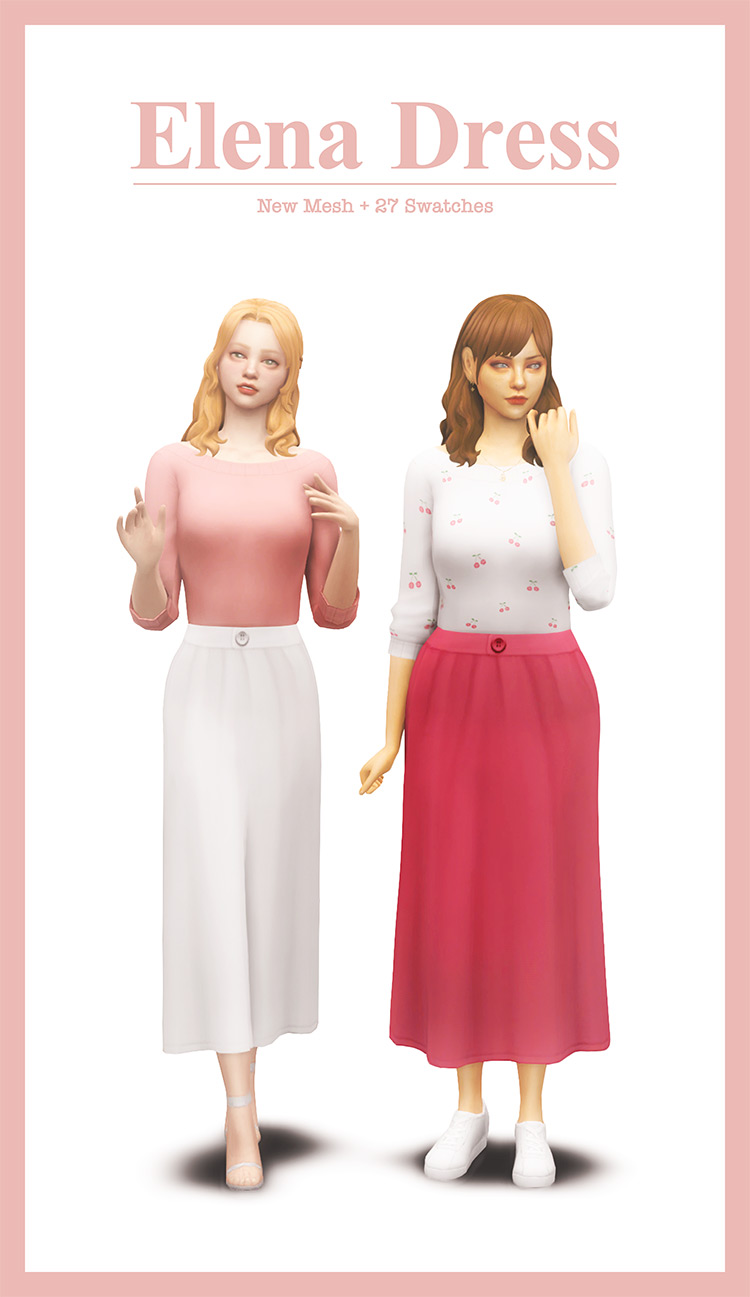 This simple pretty dress will definitely get your Sims in the mood for cottage livin'.
It has a long skirt that's fastened by a button, and shirt-style top portion with elbow-length sleeves.
All around, the creator did a great job.
The textures, shadows, and wrinkles are perfect – making for a dress that looks real, but not too real.
That's the epitome of Maxis Match custom content!
There are 27 swatches in total, offering a variety of beautiful colors and patterns.
9.

A Very Mixed Pack of Cross Stitch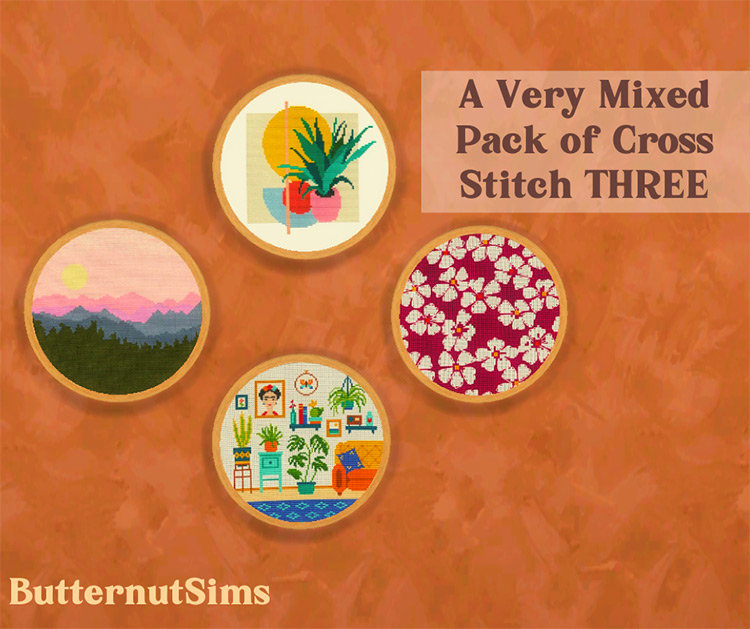 If it's cozy old-timey vibes you seek, you can't get them much faster than by hanging cross stitch on the wall.
That doesn't mean you have to go fully retro, however.
These amazing 62 designs offer tons to fit every taste – or every trait, if you decorate with your Sim's personalities in mind.
Let's be honest, though:
You're the one that's gonna have to look at that house for hours on end. You want to make sure you like it!
This set includes quite a range of images, from scenery to modern artsy displays. Check it out and see what you think!
10.

Helena Apron Skirt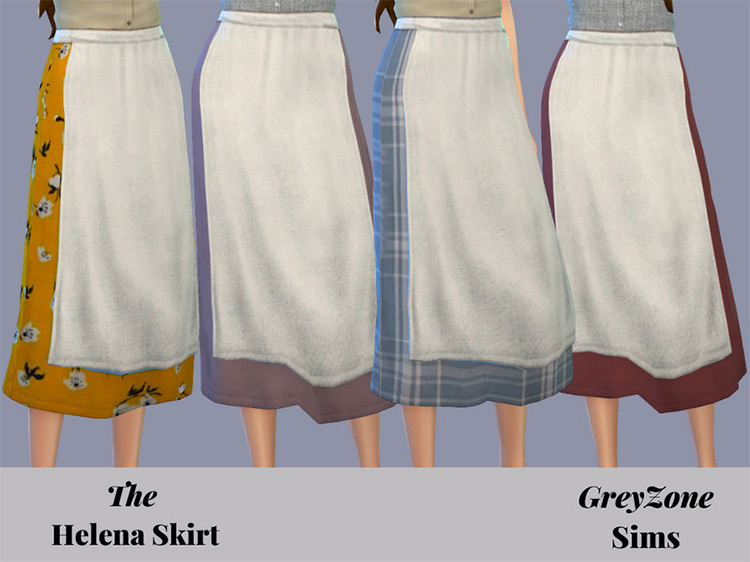 Keeping up with a cottage beyond appearances takes a lot of work, and involves a lot of dirt.
But all the fitting dresses and skirts for this lifestyle are so pretty, that the last thing you'll want is to soil them.
That's where aprons come in!
These custom skirts with built-in aprons will give your Sim the look of a hardworking prairie gal.
Whether she's cleaning, cooking, or tending the crops, she can protect her clothes in style.
Each of these swatches includes a white apron over a pretty skirt. There are solid colors as well as floral or plaid options.
11.

Cottage Core Collection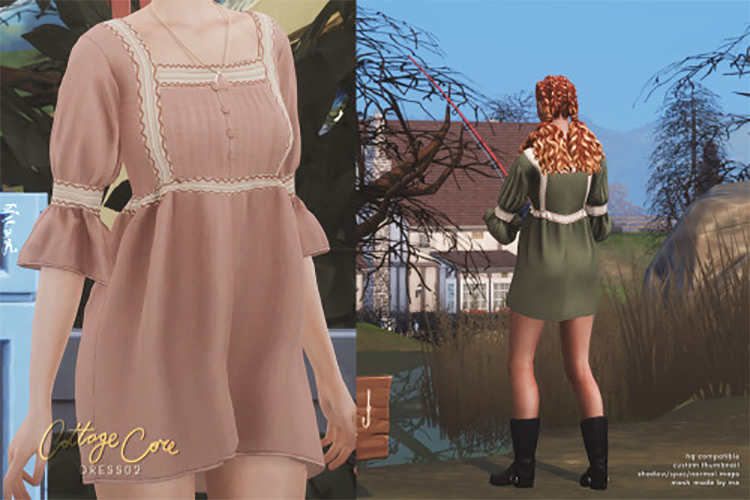 This collection has several great items for you to mix-and-match for creating cottagecore outfits.
First, there's the hat with a ribbon – a cottagecore staple if there ever was one.
It's noticeably different from the base game sunhat, and shouldn't clip your Sim's hair too terribly.
Then there are the dresses, all of which come in lovely, long styles with slightly ruffled sleeves.
Lastly, there are a variety of bulky yet stylish skirts and a gorgeous necklace.
12.

Cottage Core Grandpa Sweater
Nowadays, "grandpa clothes" don't mean they're literally worn by a grandfather.
It's just a quick way of saying something looks like it'd be owned by an elderly person.
You probably knew that, but I thought it was best to clarify.
It's become a bit of a trend to bring back old fashions. They originate from a time of great style and taste, after all.
This sweater from TulipSniper will add a dash of formality to your Sim.
There are three parts to it: a sweater covered in a whimsical animal print, a button-up shirt beneath, and a tie.
13.

Briar Hat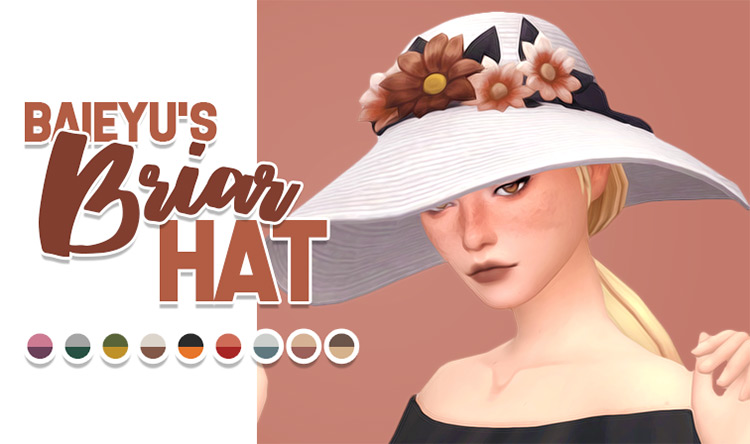 Here we have another hat, just as pretty as the last, but with more flowers!
Since this is such a large accessory, it'll be an independent part of any outfit, standing out all on its own.
You'll easily be able to pair it with any dress, skirt, or other outfit.
And there are not only 9 swatches for the hat, but also different colors for the flowers as well.
So whether your Sim is living their best life out in the cottage garden, or hanging outside their cozy home, they'll have a hat to match their mood.
14.

Modular Hanging Plants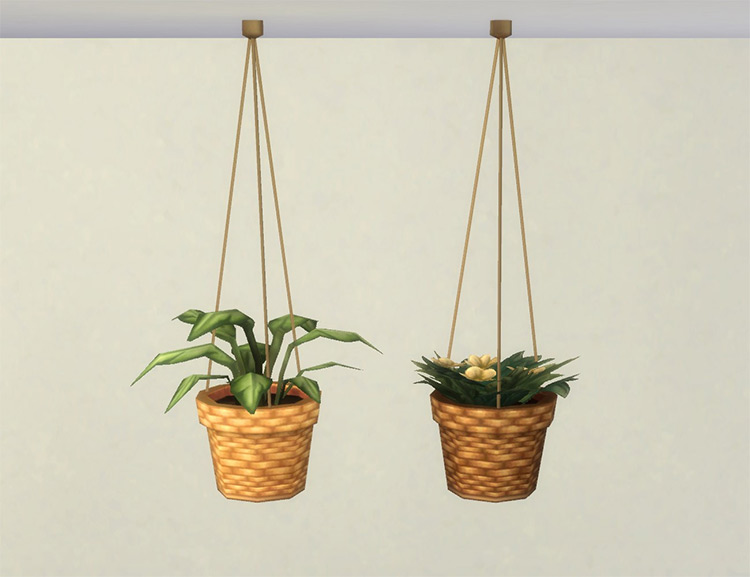 You know what The Sims 4 is lacking?
Plants that hang from the ceiling.
No, really!
They add a fresh look and save table space.
Besides, these wicker, terracotta, and cream swatches will fit right into your cottage.
These are unlike other CC plants, though… because these aren't actually plants at all.
Yes, you've been fooled!
What you get here is actually just the pot, and it has a slot so you yourself can actually choose which plant to place.
15.

Whimsical Animal Portraits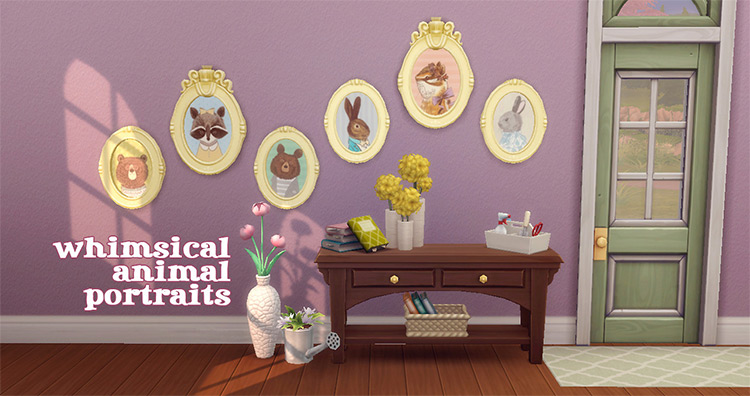 Pretty much any house can benefit from more wall hangings.
But that's especially true for a cottage.
Open spaces and empty walls are just not part of the aesthetic.
And there's a certain appeal to a cluttered look, especially if you do it right.
Well, you're sure to be pleased after using these charming & whimsical animal portraits.
They are so cute, I don't even have words! Gah!
But seriously, from the art style to the frames to the critters themselves, there's nothing not to love.
Some of them are even wearing clothes, and everyone knows an animal in clothes is like, cuteness points times a billion.
Some of the birds are wearing a sweater or a bandana, and the gazelle has a tuxedo. They all look so nice, you'll have trouble deciding which ones to use.
Remember, there's no harm in using them all!
16.

Hunting Cap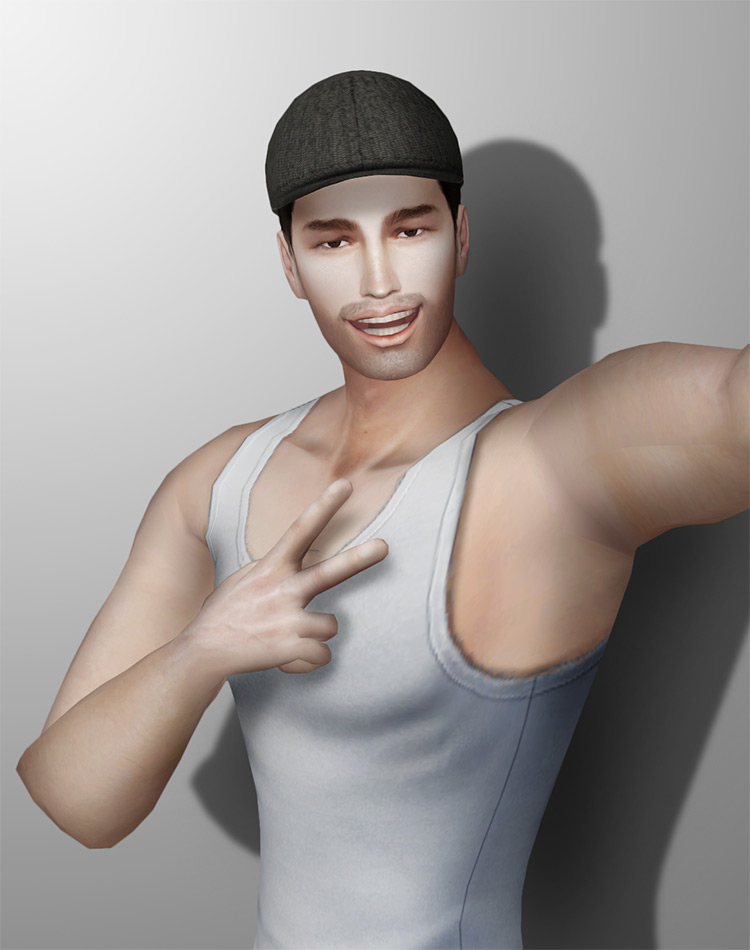 There are plenty of guys who like cottagecore.
It's just that when it comes to clothes, their options are a little limited.
The best and most viable choice is to incorporate some retro pieces into their wardrobe, like this hunting cap.
It's old school, but not so much that it will look out of place.
Just give your Sim some suspenders, overalls, boots, and this hat, and they'll look right at home at the cottage.
This custom hat has 12 swatches in total. Some are the more typical shades like browns, grays, and beiges, but there are some striped options as well.
17.

All Ruffled Up Dress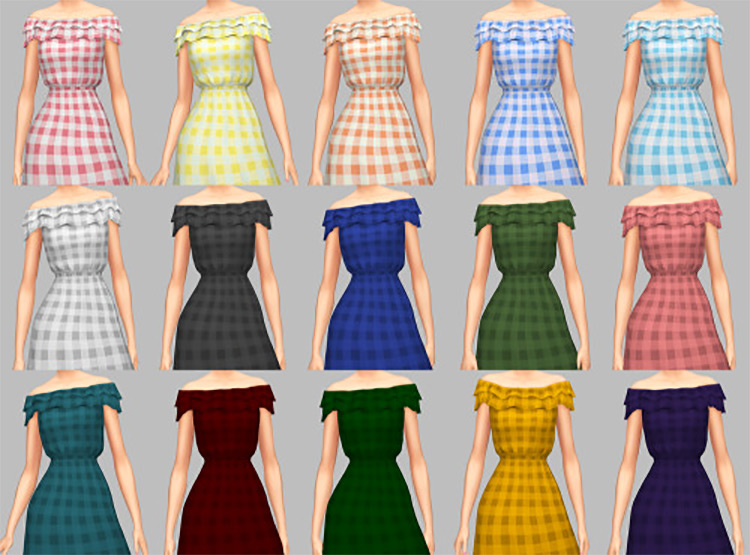 If you want something to have a country feel, just add plaid or florals.
It's simple, but tried and true.
And clearly this creator feels the same!
Saurus recolored another Simmer's dress to give it those sweet, sweet country vibes. And she did a great job.
These dresses, with their ruffled top and cinched waist, will be a perfect choice for your cottage Sims.
Cottages innately have a rural country vibe, if you ask me.
So plaids and florals definitely fit in, right?
Hmm. I sense a connection.
In any case, this dress has 45 swatches in total, all of which look fantastic.
18.

English Cottage Millwork Wallpaper & Appliques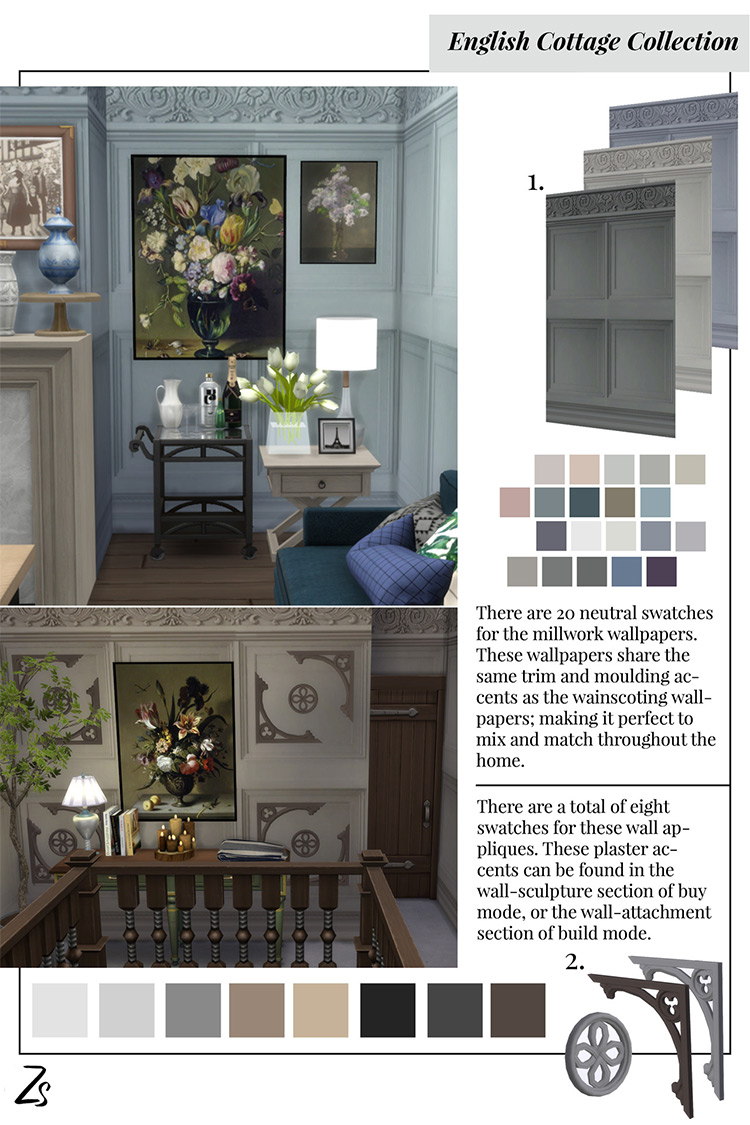 Getting your Sim all dressed up in their cottagecore garb and filling their home with plants is all fine and dandy.
But if you want an authentic cottage look, then you'll have to look at each and every section while you're building.
The walls are very important.
You don't want to just go for modern colors or designs due to a lack of options.
Luckily, this is where CC comes in.
This creator has made a variety of wallpapers and optional appliques to really bring the whole "cottage" interior design theme home.
The paneled wallpaper has fitting ornate designs at the top, and comes in plenty of neutral, soothing colors.
Then if you really want to take things to the next level, you can use the appliques!
They function as wall sculptures. And you can arrange them however you want, just to add some extra detailing.
19.

Cottage Core Paintings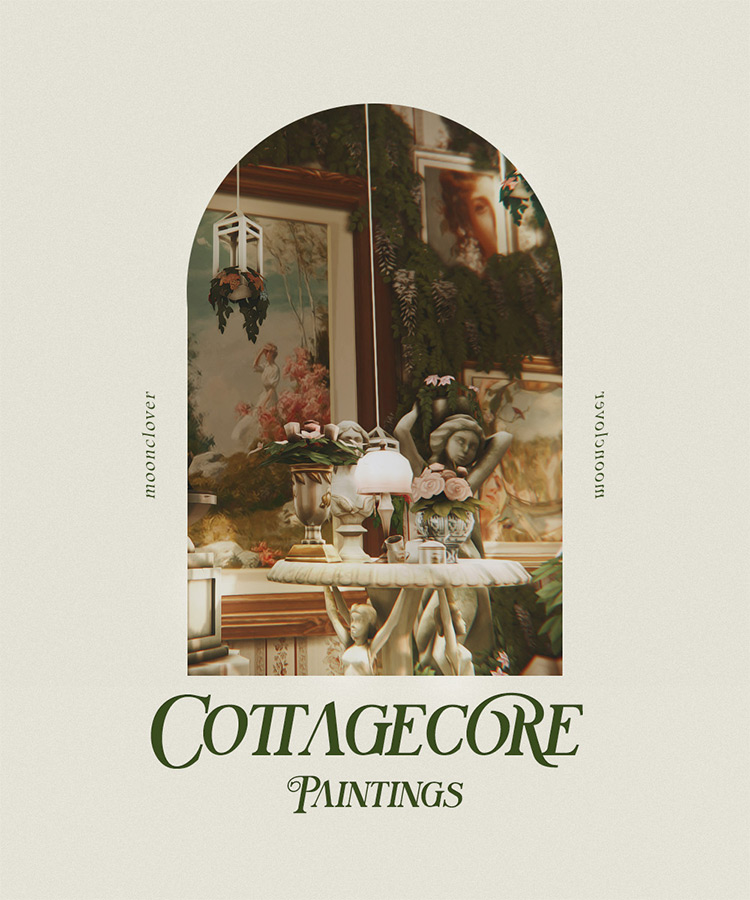 While nature-based decor like plants may seem like a no-brainer, you might want more than that without sacrificing the aesthetic.
These paintings from moonclover are the perfect way to add some more organized decor to your Sim's cottage.
There are 45 swatches here in a rococo style.
If you don't know what that means, don't feel bad, neither did I.
But after a quick Google search, I totally see the connection.
All these pastel colors and the highly detailed style of art really fits right into the cottagecore lifestyle, as do the themes they generally concern: love, myths, youth, and playfulness.
20.

Bamboo Rugs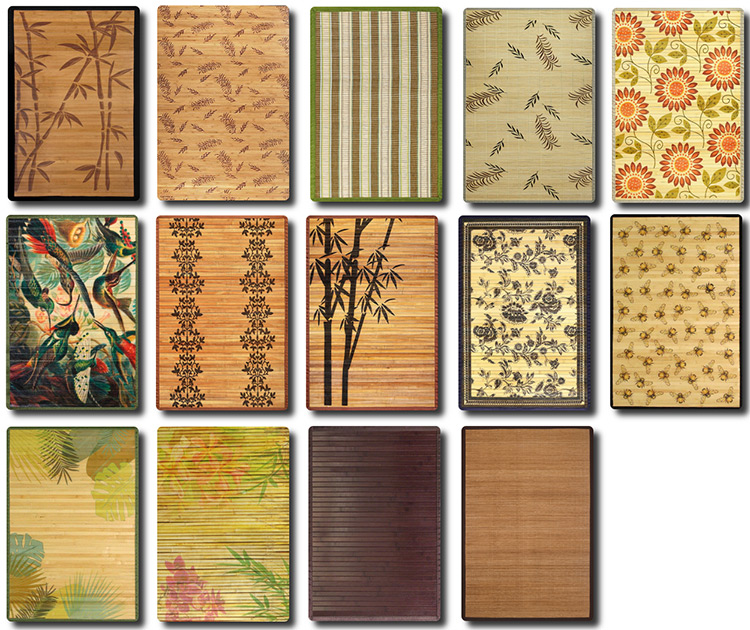 TaTschu may have created these rugs with a jungle theme in mind, but I think they'll be great for a cottage.
They have a slightly worn & faded appearance, and the swatches themselves are very fitting.
Flowers, birds, leaves, plants – nothing says "cottage" more than that stuff!
These rugs are the 4×3 tile size, which makes them ideal for these kinds of builds.
Cottages are generally rather compact with smaller rugs, so massive ones won't work.
You may just need something for when you don't want an entirely bare floor – and these will get the job done in style.
Browse:
Lists
The Sims 4
Video Games