Sims 4 Doctor Who CC: The Ultimate Collection
This post may contain affiliate links. If you buy something we may get a small commission at no extra cost to you. (Learn more).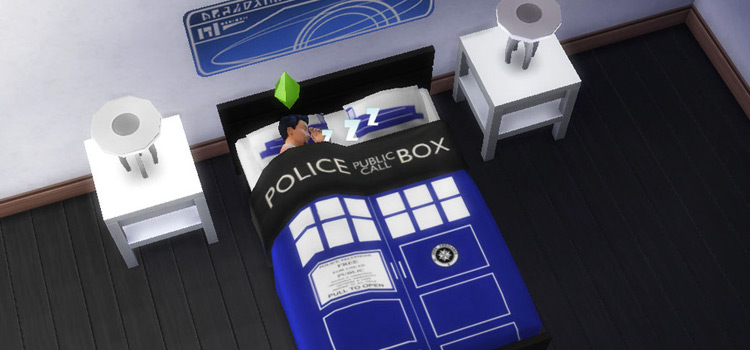 Doctor Who truly has it all.
Time travel.
Space travel.
Police boxes, jelly babies, and all other quirky British things.
I think on some level, all of us Whovians would give anything to get to go on an adventure in the TARDIS.
We all want to fight the Daleks, flirt with Missy, fix Torchwood.
And I don't know about you, but so far, my life has not led me to a place where I'm able to do any of this.
I can make my Sims do it, though. And there's a lot of Doctor Who content out there.
From gorgeous CC to intricately made mods, the options seem endless.
And now your Sims can travel in the TARDIS, while dressed in TARDIS-themed clothes, and use a TARDIS-themed bathroom when you need to.
Sounds great, doesn't it?
Well here's a collection featuring some of the best Doctor Who stuff for The Sims 4. Allons-y!
1.

'Skarobucks' Stuff and Lot by Pixara
It's Starbucks, but make it Doctor Who!
Honestly, if this was a real place, you wouldn't be able to get me out of there.
It's not a real place though. Unfortunately. I know – I want to cry, too.
Luckily, we can all live vicariously through our Sims and go visit this incredible rendition of the famous coffee chain in the game.
There are so many cool items and features in this lot.
Coffee cups with the logo, Skarobucks furniture, Dalek waiters, and vats full of "naked" Daleks.
This is a Whovian's dream – or is it a nightmare?
Hopefully, the Daleks won't exterminate your Sims when they complain about their wrong order.
2.

TARDIS Pajamas by saysims
When people wish me 'sweet dreams', I always hope I'll dream about travelling in the TARDIS.
All of time and space at my disposal – is there anything that could be better?
If you want your Sims to have good Doctor-Who-related dreams as well, maybe you can get them in the right mood just before bed – with these cute pajamas.
They're blue, they have the TARDIS all over them, and they look extra comfy.
Perfect for a good night's sleep.
3.

UNIT Career by Pixara
With this mod, your Sims can channel their inner Martha, Kate, or Osgood.
That's right – you get to work for UNIT.
There are different career paths you can choose from – do you want to be a doctor, or a scientist? –, as well as new cool objects.
There's even a little picture of the Brigadier.
You know that's going on everyone's nightstand from now on.
4.

Doctor Who Posters by PhoenixTsukino
Why not liven up your Sim bedroom with some Doctor Who posters?
This CC set has many posters to choose from, including the 50th anniversary poster.
Now that it has been announced that we're getting a 60th anniversary special by everyone's favorite showrunner, it's definitely the time to get hyped, get your Sims hyped, and stay hyped.
And there's no better way to do that than to remind yourself of the wonderfulness of the last special with this charming virtual poster.
5.

Doctor Who Bathroom Stuff by Pixara
Is this the coolest bathroom I've ever seen?
Yes.
Am I making it the default bathroom for all my Sims from now on?
Possibly.
There's a TARDIS bath, a TARDIS shower, a TARDIS mirror.
And look – the round things!
We love the round things.
Even though we don't know what they are.
6.

Moon Retexture Gallifrey by Pixara
There will be no more Judoon platoon upon the Moon with this mod.
That's because this mod takes the Moon – and transforms it into Gallifrey.
So when your Sims can't sleep at night, they can look at the sky and think about what all the Time Lords are doing up there.
They're probably berating the Master. But what else is new?
7.

Dr Who Wall Art by DragonQueen
This Doctor Who wall art is really beautiful.
There's the famous Clara and the staircase image, as well as some stunning TARDIS imagery.
My favorite of them all has to be the Weeping Angel vs the Silence staring contest poster though.
Put that one in your Sim's bedroom and one of two things will happen:
Either they'll keep staring at the poster so they're not accidentally sent back in time with no memory…
Or they'll spend hours on end trying to figure out if the Silence ever blink.
Because if they don't – that's when the staring contest gets truly interesting.
8.

Doctor Who Bathrobe by Nekros
Bathrobes are the coziest.
We all wish it would be socially acceptable to just live in them forever.
You know what would make a fluffy bathrobe even better, though?
Making it Doctor Who inspired.
And this bathrobe comes in two versions:
There's a blue TARDIS one, and there's a black business-at-the-front, Doctor-Who-logo-at-the-back one.
So whether your Sim is a proud nerd, or a subtle and casual nerd, they're bound to fall in love with these robes all the same.
9.

Sim Who's TARDIS Bed Set by indiaskapie
Once you're in your bathrobe, you're practically ready for bed.
But it would be a bummer to go to sleep in your boring white sheets.
That's why this TARDIS bed set is the perfect choice of bedding.
And with this CC there's both a double bed and single bed available – meaning you could get your whole family involved in this Doctor Who mania.
Also, look at that cushion design. Can you see it?
Yes, it's the top of the TARDIS!
How precious is that?
10.

TARDIS Adventures by Pixara
Yes, I saved the best for last.
This mod is everything a Whovian could ever dream of.
Now your Sims can find their own TARDIS. And when they do, they can go on fun adventures.
Visit alien planets.
Travel through time.
They can also build a strong relationship with their ship – we all know the TARDIS is sentient.
And there are so many other cool features as well.
There's a food generator which lets you make fish fingers and custard, or jelly babies.
Plus there are different rooms inside (including the famous pool).
And if your Sims learn TARDIS Engineering properly (yes, that's a new skill), they could even achieve what the Doctor never has, and fix the Chameleon Circuit.
Finally, if your Sim dies, their ship will mourn for them. Then it will fly itself into a Supernova.
That's how loyal a TARDIS is!
Browse:
Lists
The Sims 4
Video Games