Sims 4 Grill, Cookout & Barbecue CC: The Ultimate Collection
This post may contain affiliate links. If you buy something we may get a small commission at no extra cost to you. (Learn more).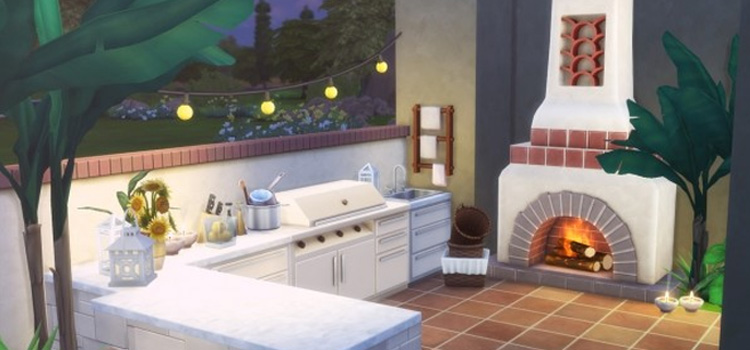 When the weather's good and your Sims are in the mood to throw a little gathering, the possibilities are endless.
You could throw a small party indoors with the air conditioner cranked on high. Or you could let them enjoy the sun by having a cookout.
Whether you want to keep it simple by getting their backyard ready for the occasion or spicing up the park in your town for all the neighbors to get involved, you're going to need the right custom content to set the mood.
We're talking grills, accessories, food clutter, places for your attendees to sit down, the works. So for any and all of your grilling and cookout needs, check out this amazing TS4 CC.
13.

BBQ Cooking Set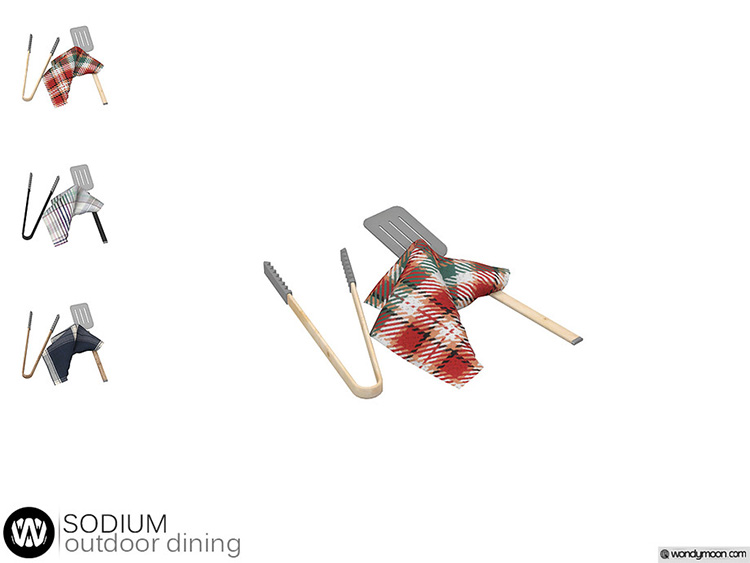 To achieve the best looking BBQ set possible for your Sims' cookout, you need to start with the basics.
Sure, you'll need a grill to get the food started. But how else are you supposed to get cooking without the right equipment handy?
Clutter makes your Sims spaces feel a lot more realistic. Complete with a set of tongs, a spatula, and a rag for when cooking gets messy, this BBQ cooking set helps your gathering come to life like your Sim was born ready to work the grill.
Better yet, you can customize this set to match the theme of your Sims backyard by choosing from the 3 swatches available.
12.

Terrace Barbeque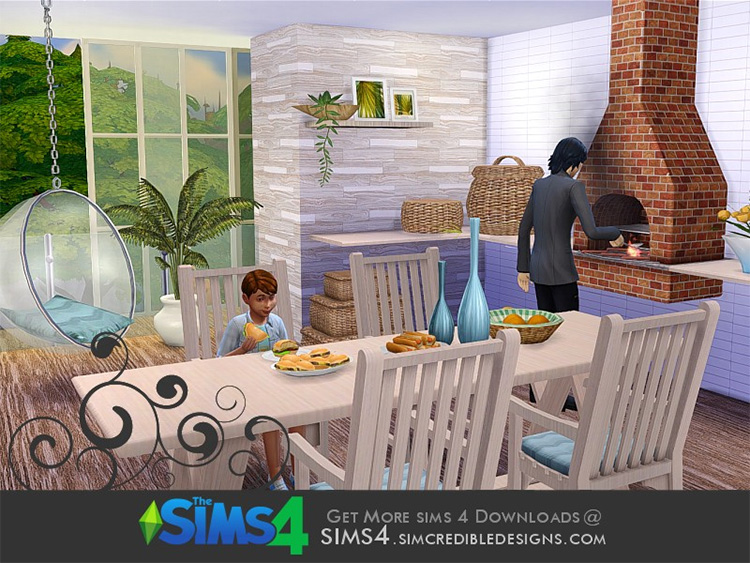 Don't let the weather get in the way of your Sims barbeque!
With the Terrace Barbeque CC, you'll be able to bring all the fun of grilling your Sims family's favorite meals from the comfort of their kitchen – and it looks great too!
These remind me a whole lot of the brick ovens that were a thing of The Sims 3, with the same brick material and arched shape that they once had. But instead of making baked goods that will leave them with a moodlet of their house smelling like a bakery, you'll be left with some tasty looking burgers instead.
Choose between red or white brick, and keep on grilling regardless of rain or snow outside.
11.

Custom Meats – Grilled 4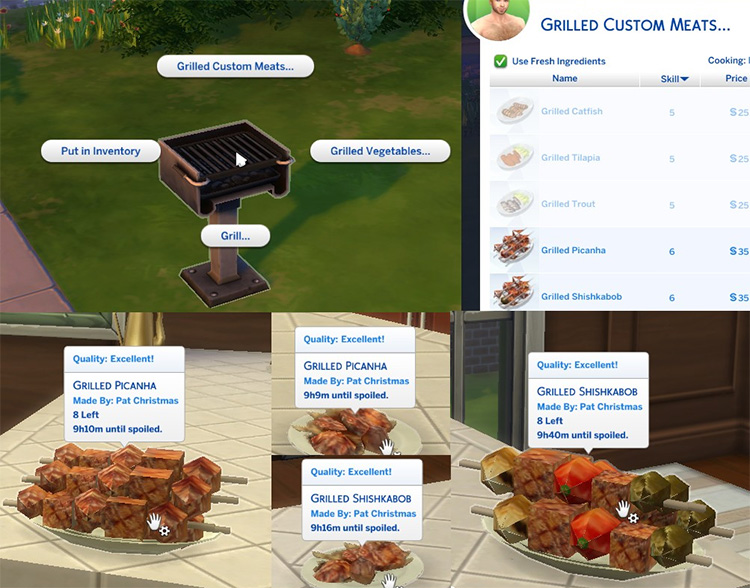 Spice up what your Sim's serving! We've all cooked the same couple dishes over and over for our guests.
Isn't it time to switch up what's on the menu?
With this Custom Meats Grilled CC, you'll see a whole line up of new foods for your Sim to make fresh off the grill to serve at their next backyard cookout!
Some of the new foods you'll find include Grilled Picanha and Grilled Shishkabob and are dishes inspired by Brazillian cuisine. Remember to invite your friends over before you cook these thoug0 – they're only available to be made in the Party Size portion – that's too much for one Sim to eat on their own!
10.

Outdoor Dining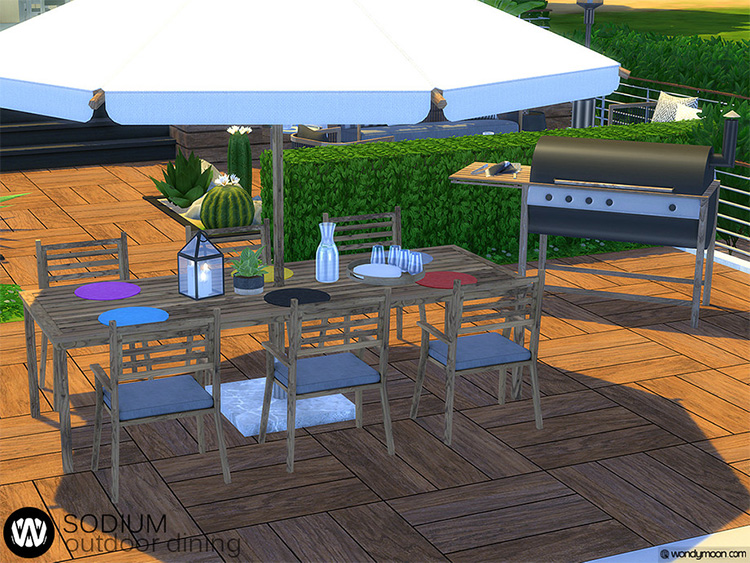 You've got the food picked out, you've got a brand new grill you can't wait to use… so what's missing from your perfect Sims cookout?
You need a place for your guests to sit and eat what you've made for them!
Small tables aren't the most efficient way of handling a big crowd of people. And let's face it, the outdoor tables that the TS4 base game provides are underwhelming, to say the least.
Instead, give your Sim's backyard a fresh new look with this Outdoor Dining set from creator WondyMoon!
This beautiful wooden table is suited for about six people, so if you purchase two before your big event, everyone should easily find a place for them to take a seat. Matched with its big umbrella and fun assortment of placemats, it'll tie the party together.
9.

Barbecue Grill Conversion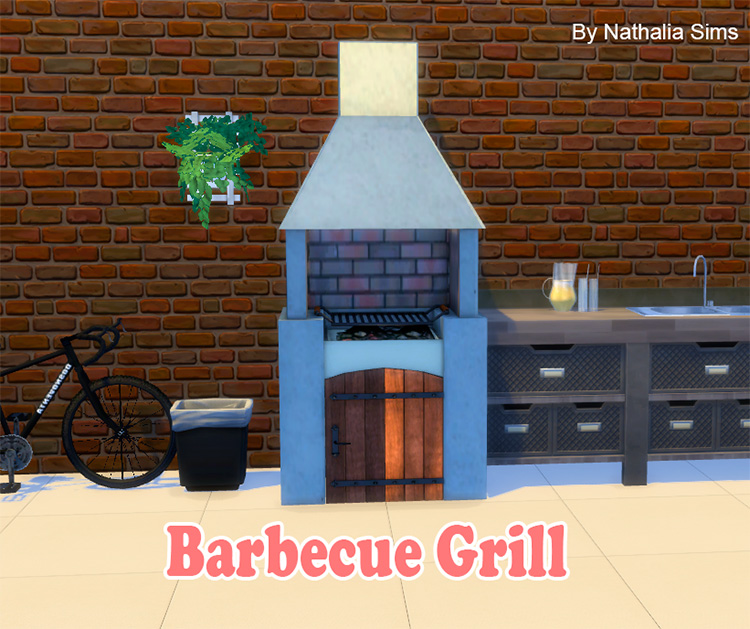 Available in two color options we have the Barbecue Grill Conversion CC, which beings elements of The Sims 2 into The Sims 4.
This grill looks awfully similar to the Terrace Barbeque we looked at earlier… but this time, all the action's going to happen outside!
This brick oven style grill makes your Sim like a pro chef. But whether their skill level actually reflects that or not is a different story.
8.

Outdoor 2016 Bar and Grill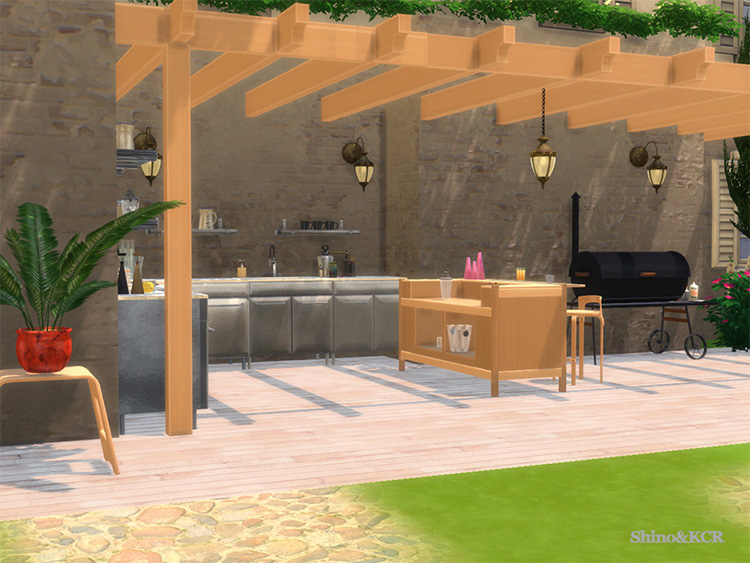 For a lot of us, having an outdoor cookout might be more of a casual thing with our close friends and family.
However if your Sim naturally gravitates towards the kitchen, it might be the perfect opportunity for them to flaunt their skills and blow everyone away with just how well they can prepare a meal.
This Outdoor 2016 Bar and Grill mod brings the kitchen right to your Sims backyard!
Everything they need to whip up the best and most intricate recipes is right at their fingertips, all while they enjoy some fresh air.
Complete with a grill, sink, and even a bar for all of their guest's drink requests – it's just about as over the top as outdoor cooking can get!
7.

Round Charcoal Grill with Recipes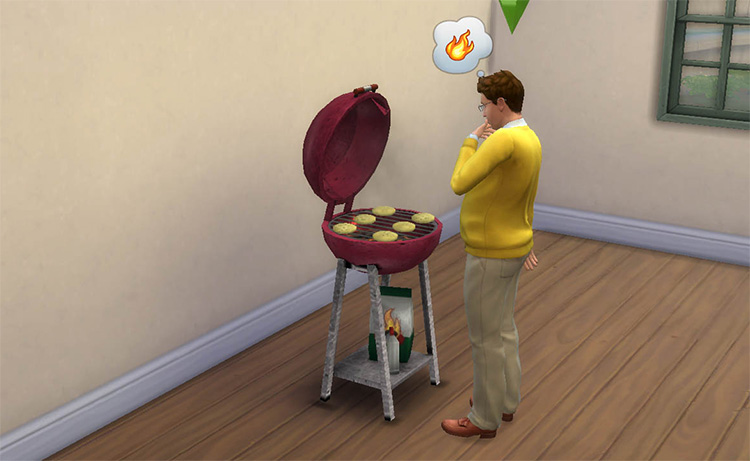 Hey, remember the good old days of The Sims when you could really test what you were capable of doing in the game? Causing chaos in ways you never before thought possible as you laughed at all the sadistic things you could do to your poor Sims?
What does any of that have to do with this Round Charcoal Grill, you may ask?
Because that's one of the biggest features of this piece. You can re-live your younger days as you and your friends found ways to torture everyone in the family by bringing the grilled baby back.
While a little dark, this is probably one of the biggest running jokes amongst long time Simmers. And we've spent a long time without being able to live through the hilarious glitches that we would sometimes find.
If all of this sounds appealing, then this mod is a must.
6.

Mensure BBQ Outdoor Kitchen Set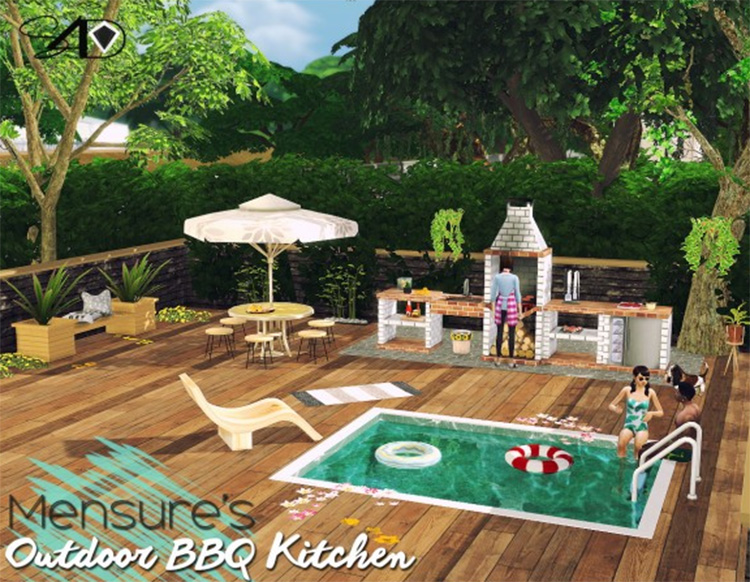 All of your outdoor entertainment needs compiled into one place to make your search for custom content as easy as it is for your Sims to accidentally start fires in their house.
This set comes complete with the essentials like a grill, extra counter space, and an adorable round table for everyone to gather around.
As well as the grill itself, this CC set also comes with some clutter to make it look like skewers and sauce are made and ready to be cooked up. Just to keep the vibe of the party going, even well after everyone's gotten enough to eat for the night.
5.

Home Barbecue CC Set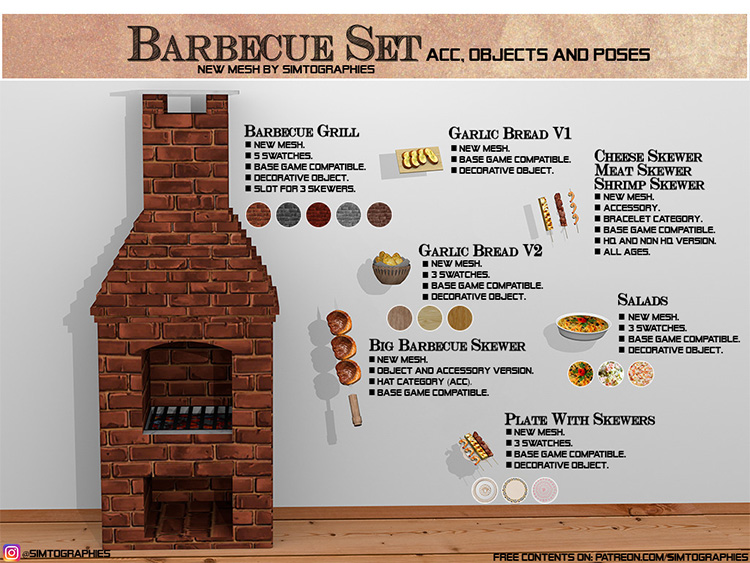 Did anyone say they wanted even more foods to try out for their Sims next barbecue?
With this set, you'll be able to add classics like garlic bread and salad to your event. As well as meat-based grill dishes with a variety of skewers to choose from.
The grill itself comes with 5 swatches, and you can place all of your foods on tables in the backyard to show your guests just what your party has in store for them.
4.

No Ingredients Required
Events, especially those involving food, can become expensive pretty quickly.
Think about it: all of that food needs to come from somewhere. And food doesn't come for free!
But with No Ingredients Required, your Sim can cook to their heart's content without having to cough up the bill.
Perfect for gatherings like cookouts and barbeques, they won't need ingredients to make dishes to feed the crowd. Now your Sims won't have to worry about becoming cash strapped after wanting to get some socialization with their friends over a meal.
3.

Barbecue Time Set (At Pyszny Design)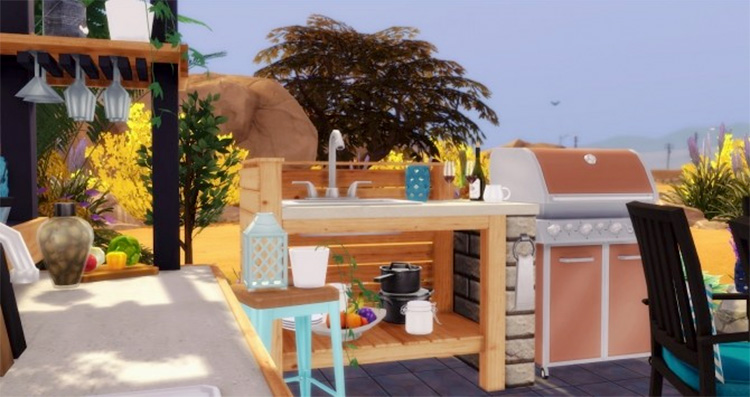 Here's everything you need to max out the decor at your barbecue, including tables, chairs, light fixtures, a bag of charcoal, and of course the grill.
You'll be able to choose from 14 shades of wood for your furniture and make your Sims yard look complete without spending hours looking for everything.
Cozy, simple, and inviting – just how every cookout should be.
2.

BBQ Time (At AroundTheSims)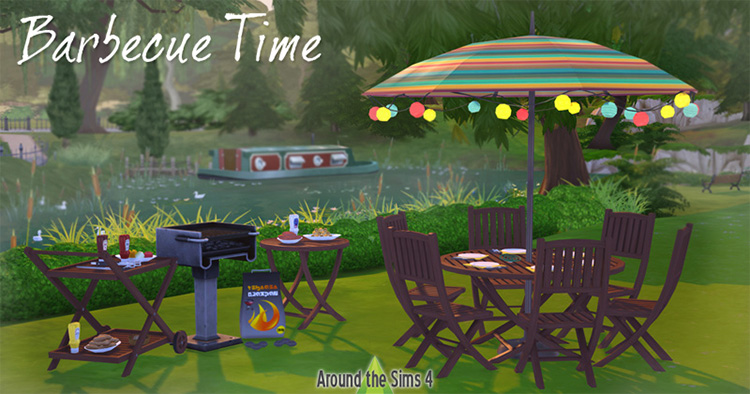 Don't be fooled: even though this has a similar name as the last set, this one's different!
For starters, the decor in this set is much more colorful and comes with string lights around the table's umbrella. But what really sets these two apart, is the amount of clutter that comes with this set.
You'll be able to find everything you need for your Sims barbecue, such as cooking utensils, bags of charcoal, plated foods that are ready to be thrown onto the grill, and even condiments for your guests to dress up their burgers.
You know what they say – the more clutter, the better.
1.

Hot Wind Set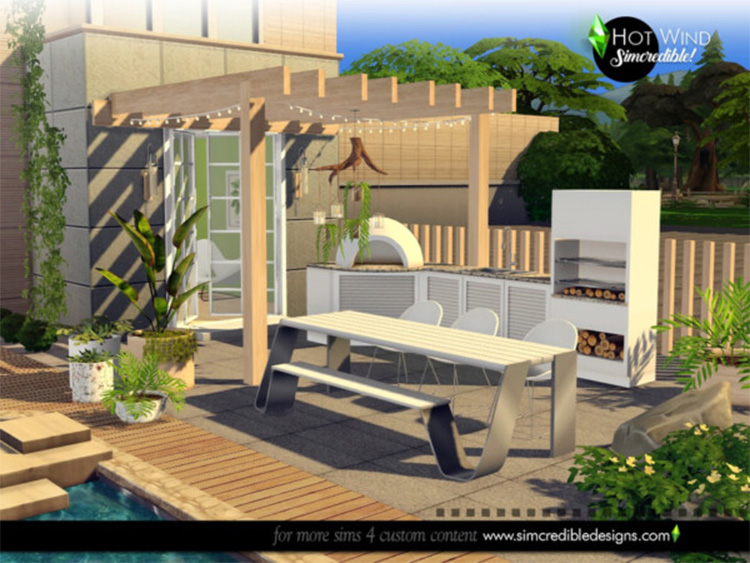 Most of the outdoor furniture sets we've seen for Sims cookouts so far have been laid back and casual.
Don't get me wrong, that's not a bad thing.
But as I like to say, there's always room for improvement. Hot Wind brings the decor for your Sims barbecue to a whole new level.
Sophisticated, modern, and sleek are all words I would use to describe this CC set. Using unique shapes and a muted color palette, it's sure to make your Sims look extra fancy – even if they're just cooking up a couple hot dogs on their grill for the family.
This set comes complete with two options for grills, one of which comes with a fancy looking dome as a top piece.
And the other is such an unconventional design for a grill that at first, it might not look like one at all. Very modern.
If you're looking for something new and exciting for your Sims' outdoor entertainment space, this CC is the best place to start.
Browse:
Lists
The Sims 4
Video Games