Sims 4 Leg & Thigh Tattoos CC (All Free To Download)
This post may contain affiliate links. If you buy something we may get a small commission at no extra cost to you. (Learn more).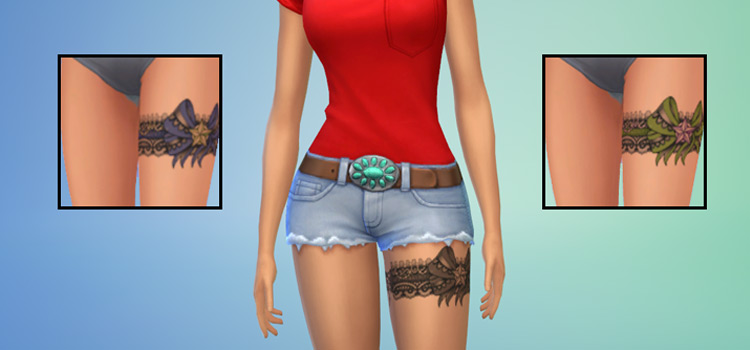 While I may not have any tattoos yet myself, my sims are covered in them.
Although you can place tattoos in lots of different bodily locations, after a while it's easy to get sick of the same old designs that are available. How often can you use the same twenty-six ink options from the base game?
Don't get me wrong, I do get excited every time a new pack has fresh designs. But it never feels like it's enough.
As always, CC is the answer. Below are some awesome leg tattoos for your Sims to define themselves, or to just add some permanent flair.
1.

Asia Tattoos V3 – Lounacutex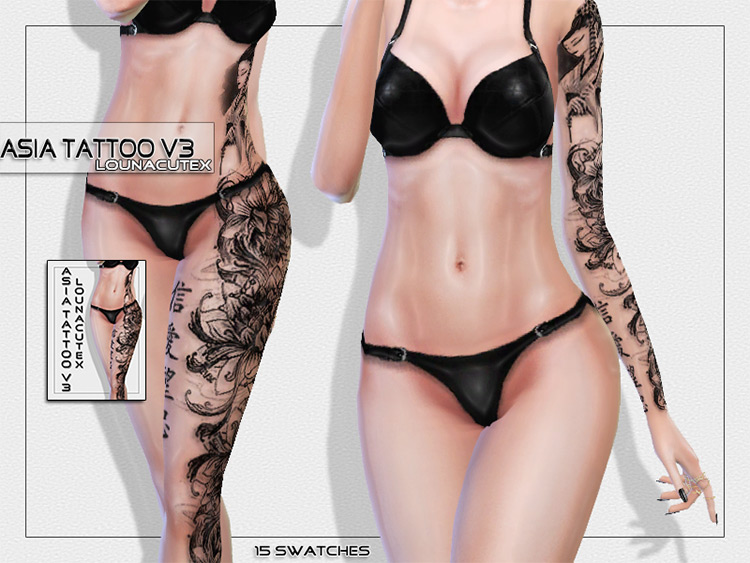 This realistic leg tattoo is just beautiful with its gorgeous flowers and Chinese characters.
There are 15 swatches for this tattoo with different colors, lighter and darker tones, and it can be used on female and male sims.
If you have the Snowy Escape game pack, consider treating your sims that conquer Mt. Komorebi to this killer leg ink. If you don't have the game pack, consider getting it – it's so much fun and the views are breathtaking!
2.

Tattoo – Abstraction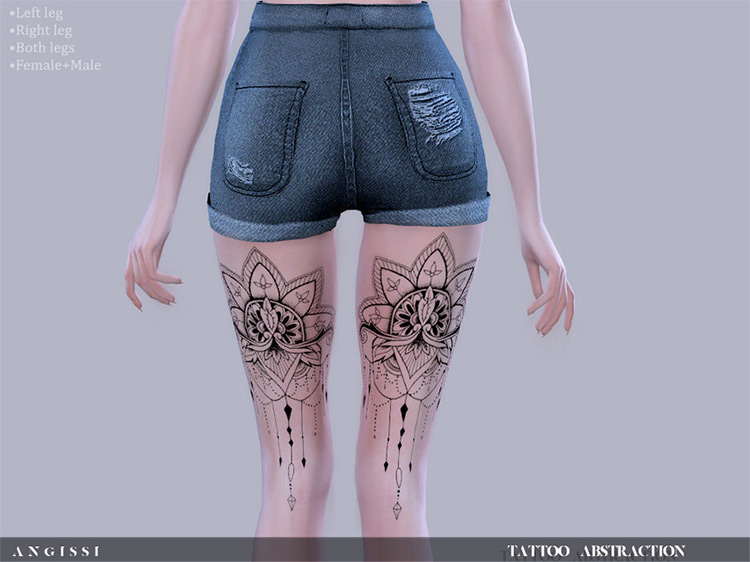 Okay, this tattoo is just too cute.
I remember when these 'back of the thigh' tattoos became super popular, and I always found them so cool. I love the spiritual dreamcatcher vibes and the intricacy of the design.
This ink can be used on female or male sims, and has the option for right leg, left leg, or both.
3.

Mermaid Scales Tattoo
This is the perfect tattoo for your mermaid sims or human sims with mermaid parents.
Just note that this mermaid scales tattoo comes with 5 different swatches & can only be used by female sims.
I absolutely love the design and the color options though; it can be used as a dragon themed tattoo too just as easily.
4.

Perfection Tattoos Set
These tattoos go together seamlessly.
I especially love the fern tattoo that goes up the hip and the tiger that seems as if it's crawling down the calf.
This leg sleeve can be used all together in one swatch or it can also be separated into individual designs.
Not only can any gender can get inked with this, but it's also compatible with all skin tones and overlays.
5.

Tattoo – Fox
I love foxes. They're nimble and curious and fiery red, what's not to love?
This ode to our fleet footed friend is beautiful in its simplicity and realism. The light, soft lines make this a timeless and whimsical piece.
The fox tattoo can be used by both female and male sims, works with all skins, and comes just in black.
6.

Flower Legs N2 Tatoo by ANGISSI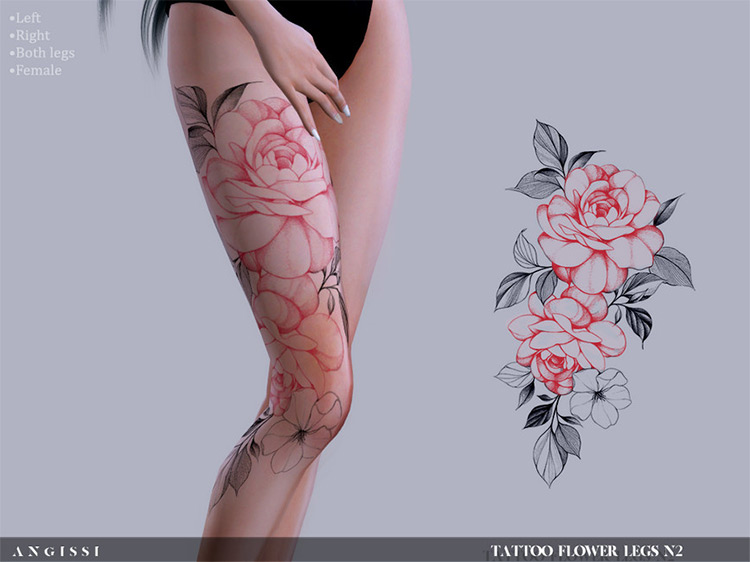 OK, this tattoo is simply gorgeous.
I am absolutely obsessed.
The beautiful colors mixed with the subtle lines and dark leaves just makes this piece an unquestionable must for any inked sim.
There are 3 options for this tattoo: right leg, left leg, and both legs. Honestly you can't go wrong with any of them.
7.

Roses Tattoo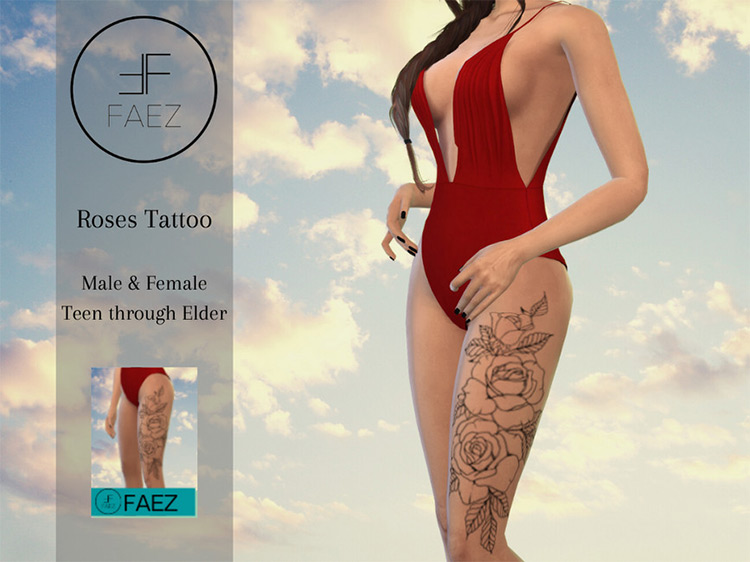 Not a fan of colorful tattoos? Well here's a similar rose tattoo in monotone black.
Roses will always be a timeless favorite. And I don't see flowers ever falling out of being a popular design, especially for a leg tattoo.
This rose tattoo is available for both male and female sims, and will make your sim the most elegant one on the beach.
8.

IMF Tattoo Animals by IzzieMcFire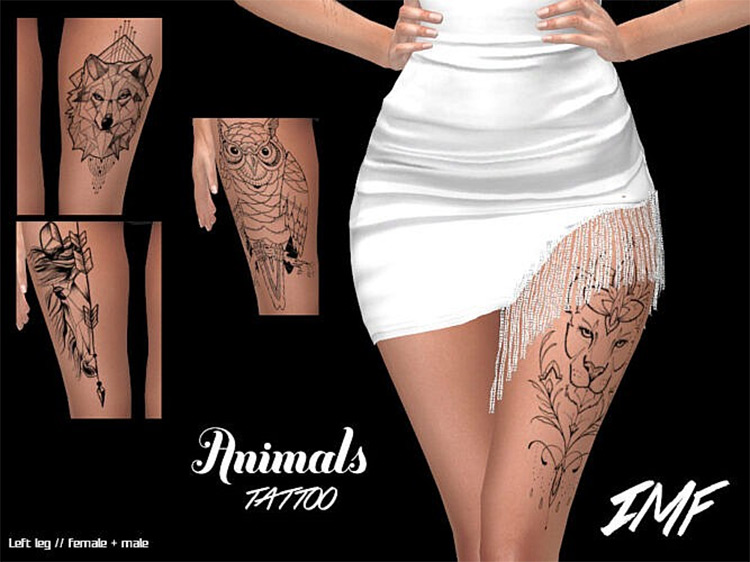 These animal tattoos by IzzieMcFire come with four different designs:
A geometric fox dreamcatcher
A beautiful lion with mandala vibes
A half geometric horse/half arrow
And a spiritual-themed owl
It may only come in one color, black, but you can use it on your female or male sims as long as it's on their left leg.
9.

SimmieV Celtic Left Leg Tattoos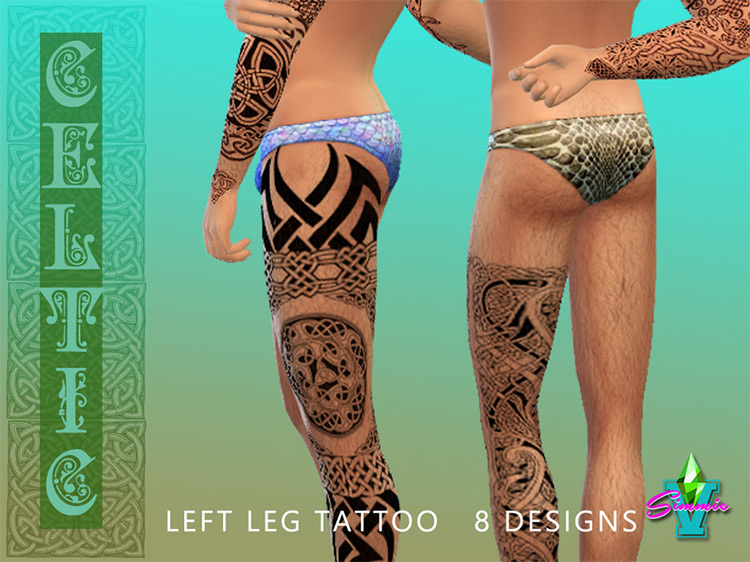 Finally, some leg tattoos aimed at your more masculine sims!
These full leg sleeves come in 8 different Celtic patterns and can be used by any gender.
I've personally used these for a large legacy family of Irish sims, so if you have some sims that are proud of the Irish heritage, these are the tattoos for you.
10.

Male Tattoos 14 (HQ)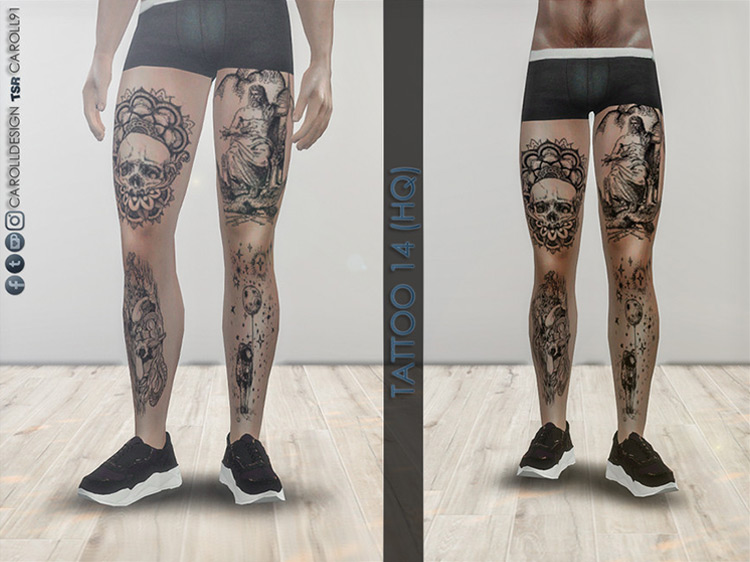 Here's another set of masculine-themed tattoos, available in black for both legs and only for male sims.
This set comes with five different swatches. On the right leg you have the options of an astronaut or Zeus, and on the left leg you can choose between an alien and a skull.
You can also overlay any of the designs to make them darker.
My favorites here are the astronaut with the moon as a balloon and the Greek god Zeus.
Browse:
Lists
The Sims 4
Video Games