Best Male Eyelashes CC for The Sims 4
This post may contain affiliate links. If you buy something we may get a small commission at no extra cost to you. (Learn more).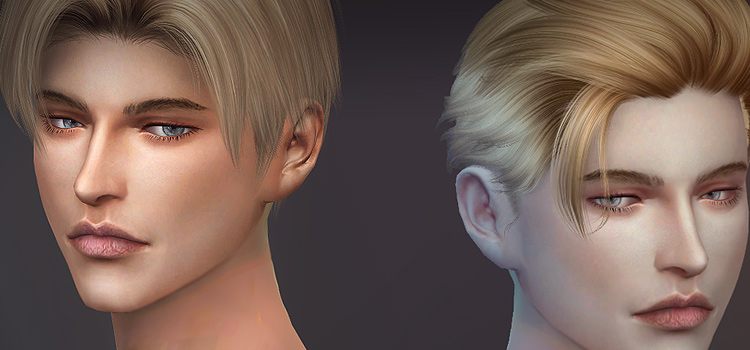 There are a lot of custom falsies and eyelashes out there for Female Sims, and they're pretty easy to find.
But custom lashes for Male Sims? Bit more difficult to hunt down.
So I did the hunting for you! Here are my picks for CC eyelashes that'll work (and look great!) on Male Sim frames.
1.

3D Lashes Uncurled Eyelashes Edition by kijiko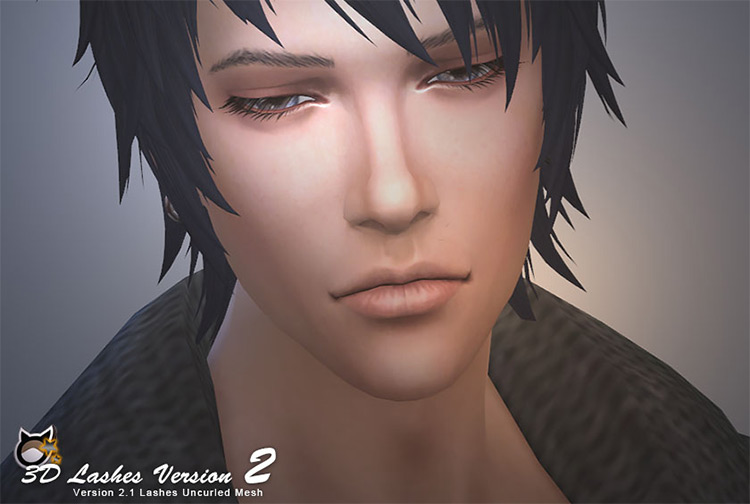 Kijiko's 3D lashes are a well-known custom replacement in the TS4 CC community. They're pretty, they're versatile, and they look great on literally any Sim!
For Male Sim models, I can recommend both the second version of their original 3D lashes or this; the Uncurled Eyelashes Edition. Although this iteration works for all genders, I feel like their length and design suit a Male Sim face better.
2.

WM TS4 Eyelashes 201708 by S-Club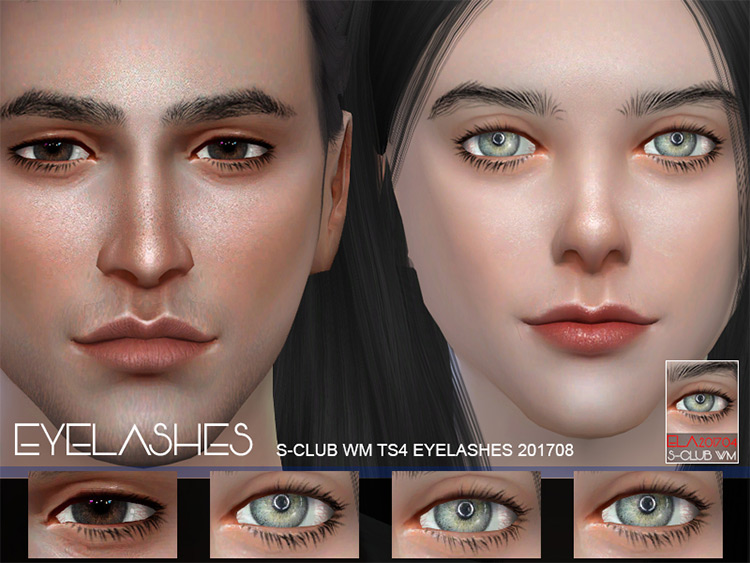 These custom eyelashes by S-Club work for both Male and Female Sim models.
The lashes are heavier on the outer corner of the lower lashline, effectively emphasizing the exterior curve of the eye and highlighting its inner corner. This kind of design is great for softening square eyes, complementing droopy eyes, or evening out doe eyes that tilt downwards.
3.

WM TS4 Eyelashes M 201704 by S-Club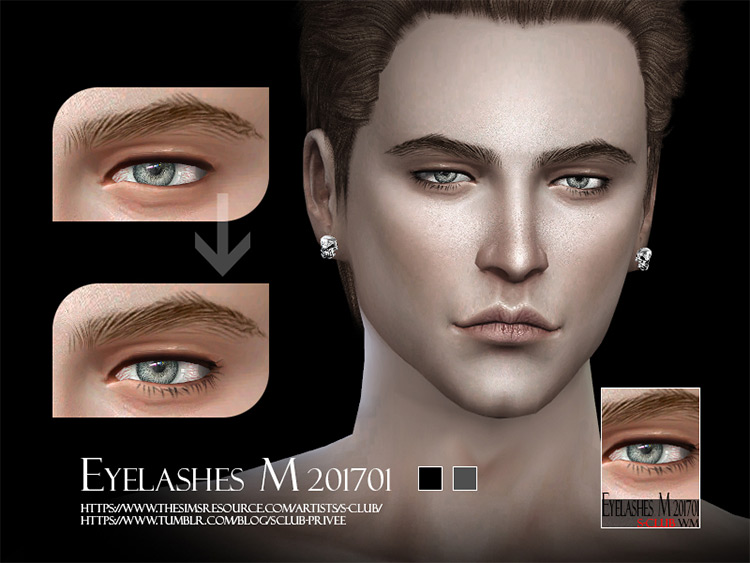 Short, wispy, and perfect for achieving a more natural look — these lashes are a true gem!
They're available in two colors, too: solid black and deep grey.
If you want darker, defined eyes, go for the solid black swatch.
If you prefer something softer and less intense, opt for the deep grey.
Just note that these eyelashes are exclusively for Male Sims!
4.

TS4 3D Eyelashes I M V1 by S-Club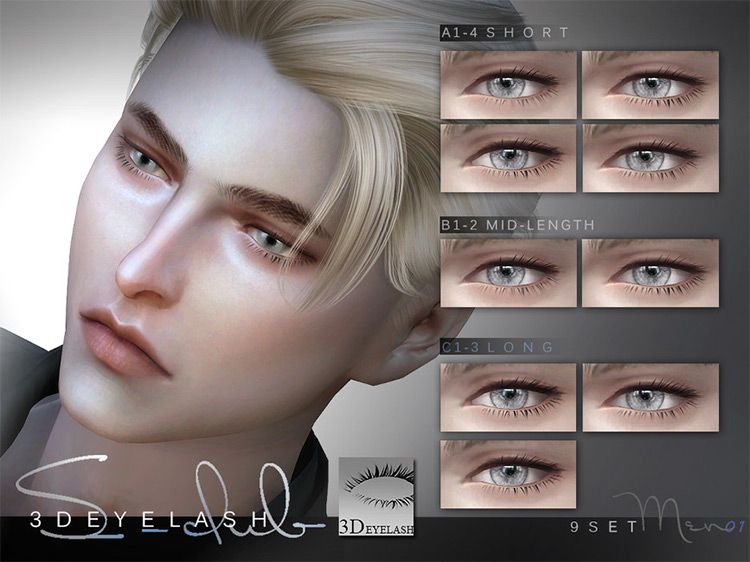 Need a little more variety for your Male Sims' eyelashes? These 3D Eyelashes by S-Club might be just what you're looking for.
There are nine variations in total divided into three categories based on length.
Short lashes have four iterations, and they add just subtle wisps of hair around the outer corners of the upper and lower lashline.
The two mid-length lashes are a little heavier and a bit more spread out.
Lastly, the three long lashes are perfect if you want to add a healthy amount of drama to your Sims' look.
5.

MMSIMS Eyelash v6 by MMSIMS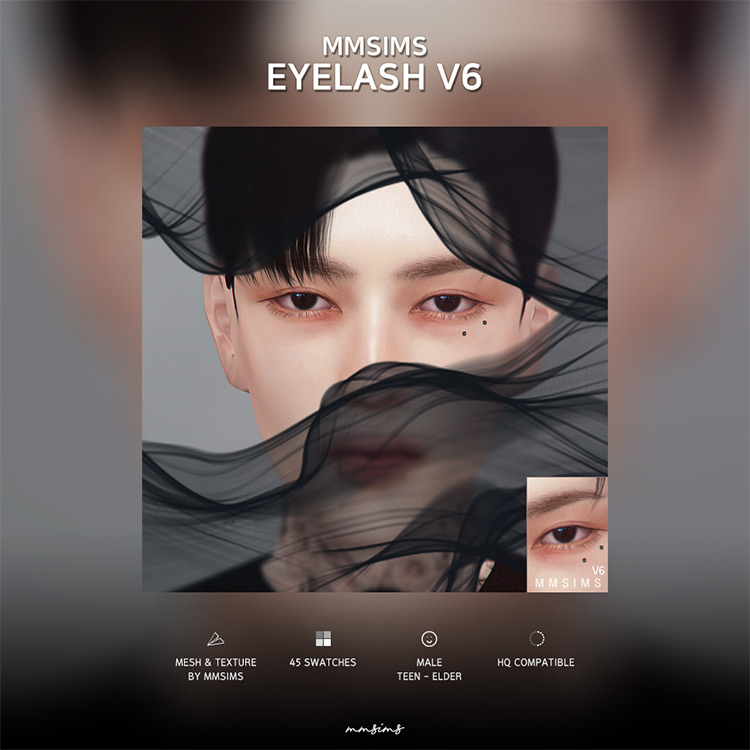 Short, straight, and just a little on the feathery side, these custom eyelashes by MMSIMS are ideal for adding a delicate softness to Male Sims faces.
They come in three different colors: black, white, gray.
As you'd expect, the black swatch adds the most drama. The gray one is the most subtle. The white one, while unusual, is ideal if you're creating an avant-garde makeup look!
6.

2D Lashes – Eyeliner #26 (all genders) by RemusSirion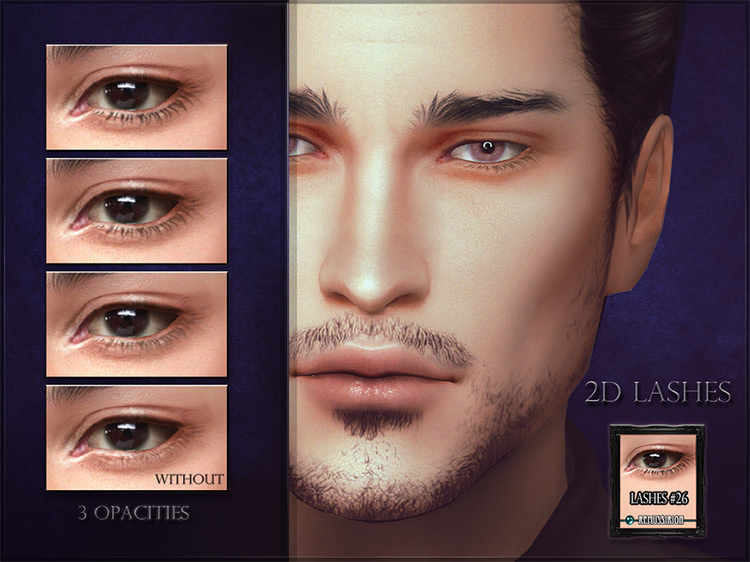 These 2D lashes by RemusSirion add feathery, evenly-spaced lashes to the lower lashline only.
They're categorized as Eyeliner in CAS, so you can definitely layer them with other eyelashes – especially those categorized as Facepaint or Skin Details – to create different looks.
Its three different opacities also add an extra level of customization!
7.

S-Club Eyelash Art 02 by Asteria Sims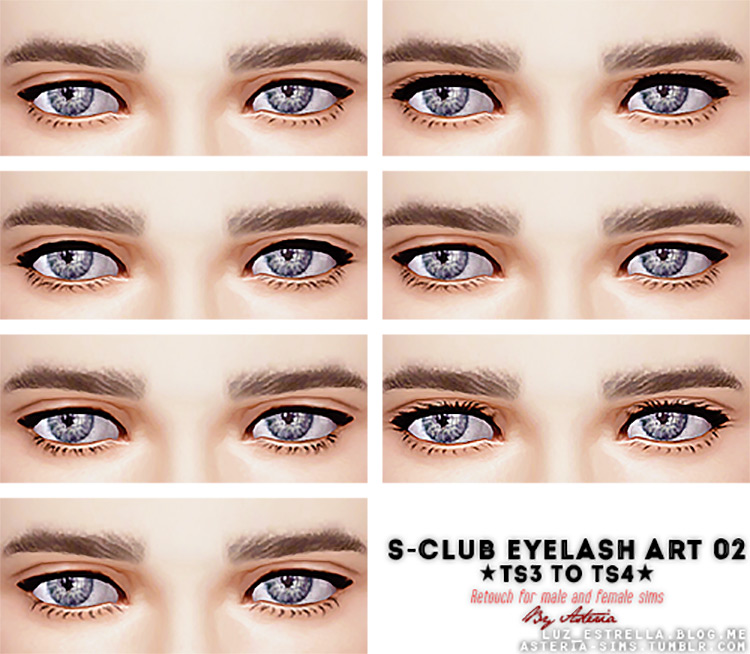 Male Sims, according to the creator, "also need[s] natural eyelashes." I completely agree!
Glam lashes, avant-garde lashes, and lashes lifted to the gods are all well and good, but it pays to have some wearable, every-day eye wisps tucked away in your CAS closet.
You know; just in case.
This TS3 to TS4 eyelash conversion by Asteria Sims contains seven Maxis Match lashes to suit a wide range of eye shapes.
From long and luscious to short, thick, and spidery, there's sure to be a style in this set that complements your Male Sim's peepers!
8.

Thick 3D Eyelashes for Males (All Ages) by coffeemoon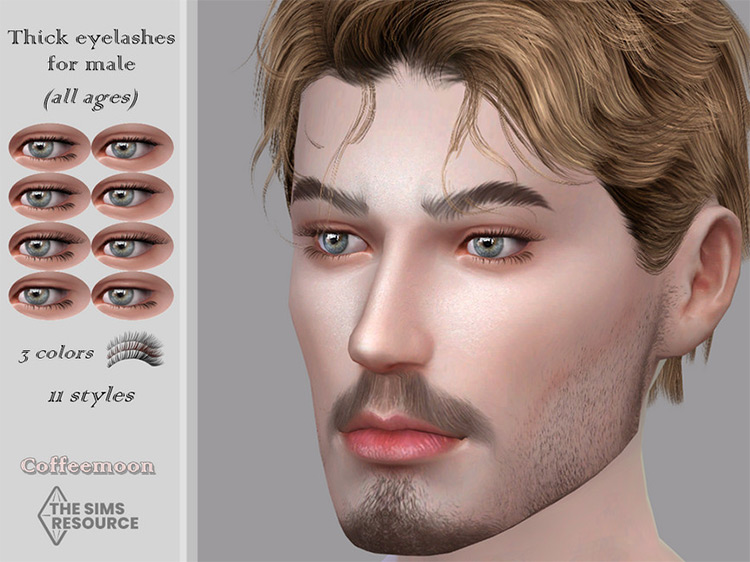 CAS CC items that work for all ages are a godsend — especially since some life stages get a lot more love from EA than others.
(Not pointing any fingers, just stating the facts).
These Thick 3D Eyelashes by coffeemoon are one of those rare gems that'll work for Toddlers, Elders, and all ages in-between.
And the styles are pretty varied, too! Some have both upper and lower lashes, others have wisps coating just the bottom. This gives us Simmers some room to experiment and play around!
9.

Classic Eyelashes for Male 3D (All Ages) by coffeemoon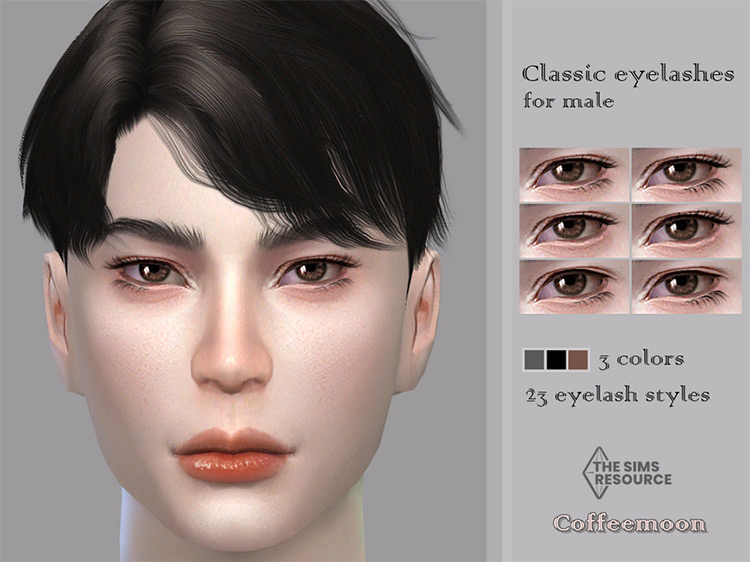 Coffeemoon treats us to another set of luscious 3D lashes that'll work for Male Sims of all ages.
Just like their Thick 3D Eyelashes, these classic lashes come in several different colors and designs.
And since eye shapes and sizes can change dramatically depending on the life stage, coffeemoon's custom lashes also adapt to the Sim's age. For instance, older Sims' lashes have more of a narrowed, cat-eye look to them.
The ones for Children and Toddlers, on the other hand, are shorter and more rounded.
10.

MM (3D) Eyelashes – Skindetail by radeu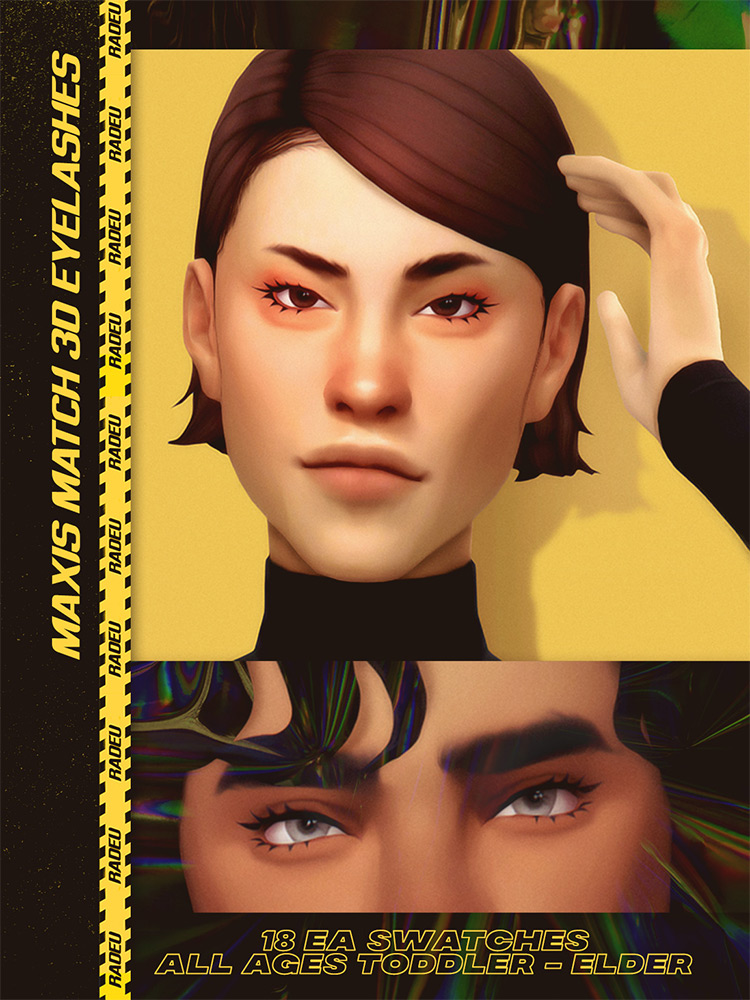 Inspired by pickypikachu's Maxis Match Eyelashes, these custom lashes by radeu are short, sweet, and spiky. They're thick, clumped, and look like they're painted on.
Taking into consideration their more cartoon-y visual, I recommend using these custom eyelashes with pure Maxis Match (or mostly Maxis Match) features.
I can't imagine how they would look with Alpha CC skinblends and eyesets, but I don't think the mix would work too well.
If you prefer Alpha CC textures, stick to kijiko's 3D Lashes Version2 for Skin Detail—which, coincidentally, is the mesh for these eyelashes!
11.

MM Uncurled Lashes but Make it 3D! by landgraabbed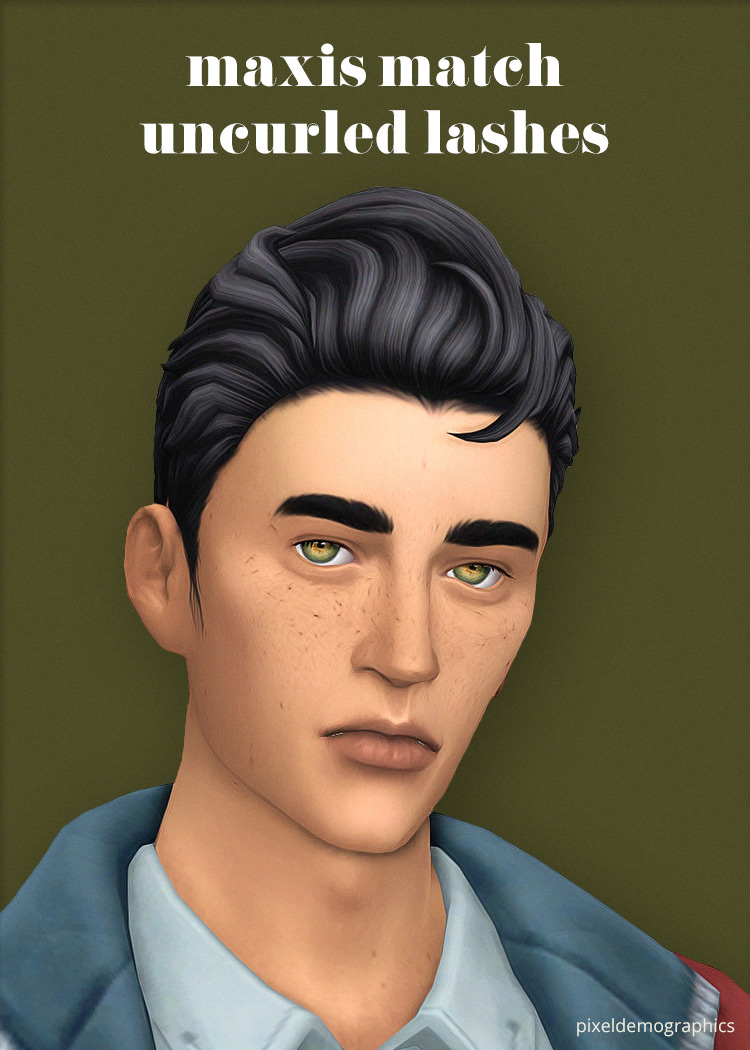 Here's another option if you want your Male Sims to sport lashes of the short, straight, and spiky variety.
These 3D eyelashes by landgraabbed are pretty similar to radeu's MM (3D) Eyelashes in the sense that they're clumped in a fairly cartoonish fashion. But they don't look as painted on as radeu's, which gives you a little more wiggle room to combine different textures.
These MM Uncurled Lashes have three different versions, and each version comes in three swatches.
12.

Male Eyelashes #01 by BAkalia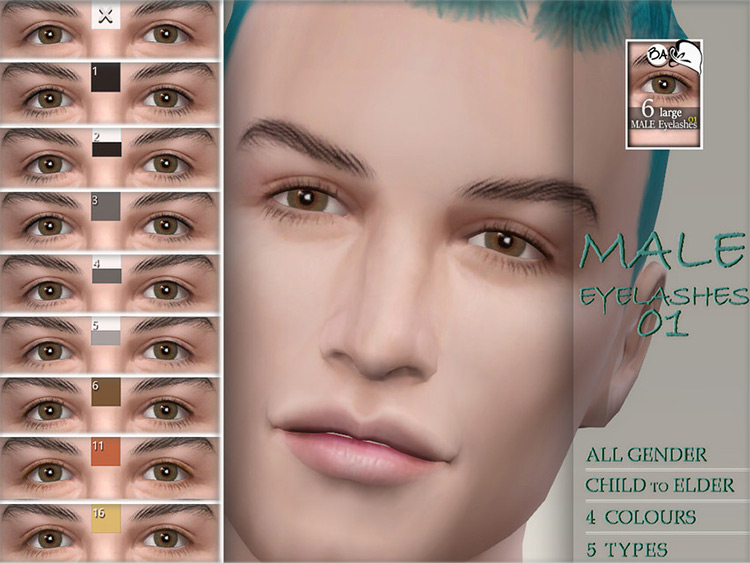 If you're fine with short and straight lashes but you'd prefer to keep them unclumped, these beautifully sparse wisps by BAkalia should suit your expectations.
There are six versions in total, most of which are thin, spaced out, and definitely in need of a good curl. All of them also have longer, more defined lower lashes than top — with the exception of the first swatch. The first swatch or version actually removes your Sims' lashes!
13.

Male Eyelashes #02 by BAkalia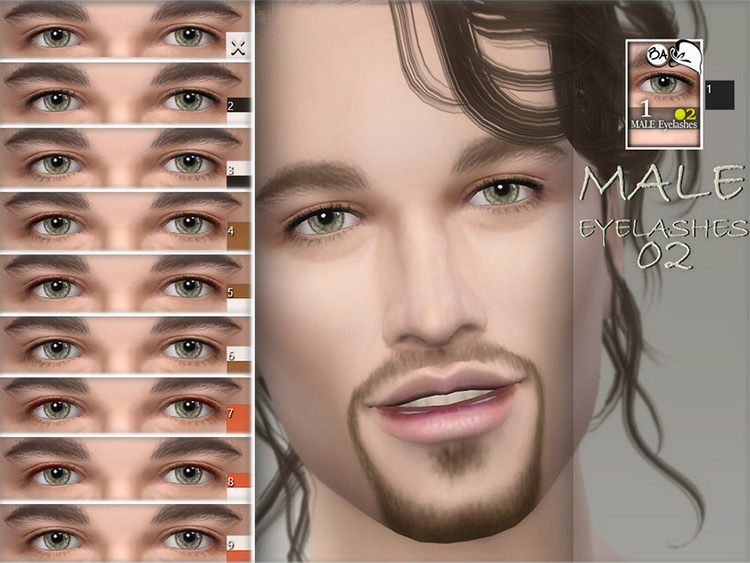 Version 02 of BAkalia's Male Eyelashes are thicker, shorter, and a lot less wispier than the first edition.
There's still quite an emphasis on the lower lashes, but it's safe to say that the individual strands aren't as sparse or as widely spaced-out as they were in the creators Male Eyelashes 01 CC.
There are nine swatches this time around. But like the first iteration, the first swatch removes your Sims' eyelashes (so watch out for that!)
Browse:
Lists
The Sims 4
Video Games