Sims 4 Maxis Match Medieval CC: The Ultimate List
This post may contain affiliate links. If you buy something we may get a small commission at no extra cost to you. (Learn more).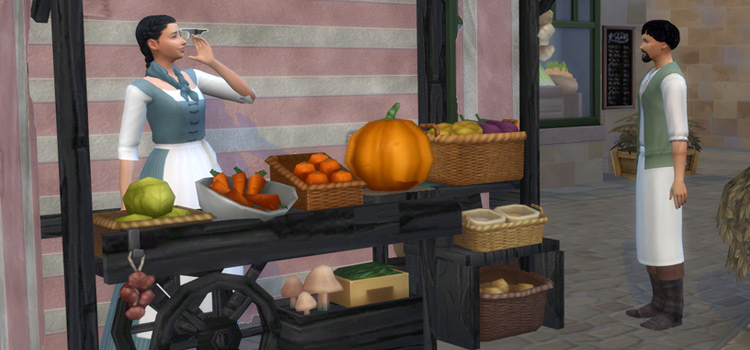 The Sims Medieval is a standalone game that you could play without purchasing The Sims 3, and it received a lot of praise.
Everything about it, from the storylines to the gameplay to the graphics, was generally well received.
Fast forward to today, and we still don't have the equivalent of it for The Sims 4. So no historical costumes, no old-timey intrigues, and no ye olde establishments to keep us entertained.
(Yet)
Thank goodness we've got CC.
1.

Peasant Dress by kennetha_v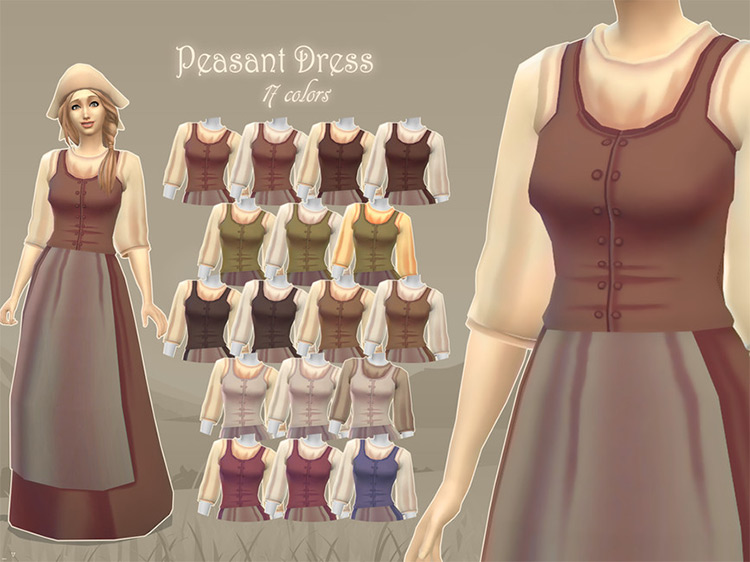 Let's start with something simple and straightforward. If you aren't certain of your Sim's place in the social hierarchy, dress 'em in this cute but common cotton peasant dress to be on the safe side.
Hair scarf not included.
2.

Hermit Outfit Re-Texture by wiccandove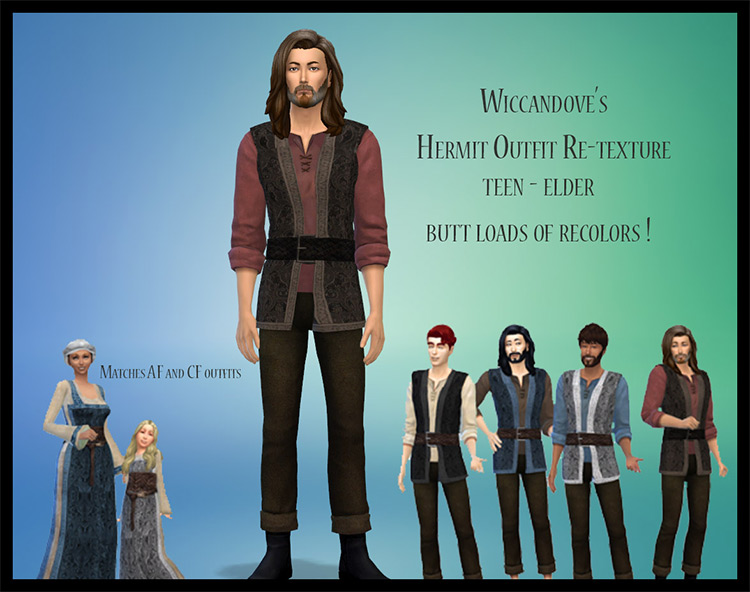 This retexture by wiccandove assures you that the archetypical Wise Old Man of the Mountain (or his associate, the Crazy Old Soldier in the Forest Cottage) is at least stylishly dressed.
The creator also added a bunch of new swatches for the outfit, because even society's pariahs need variety.
3.

Medieval/Plague Doctor Outfit by kennetha_v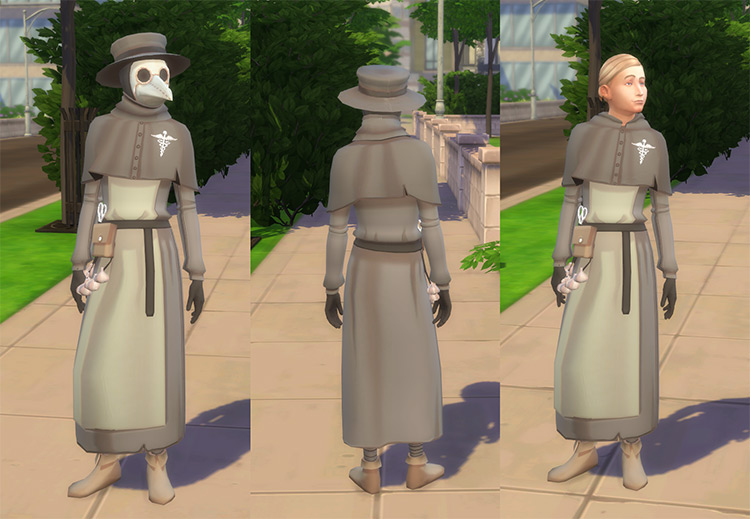 If your Sim is out there tending to smallpox and flu, this incredibly-detailed Medieval Doctor outfit by kennetha_v is proof of their profession.
If, unfortunately, they're dealing with the plague, it doubles as protection.
Head on over to the Hats section of CAS to add the dreaded Plague Doctor mask to their ensemble.
Seriously gotta commend the creator's attention to detail, by the way. This outfit has so much depth to it because of all the little accents and accessories.
4.

Witch Hunter Outfit by kennetha_v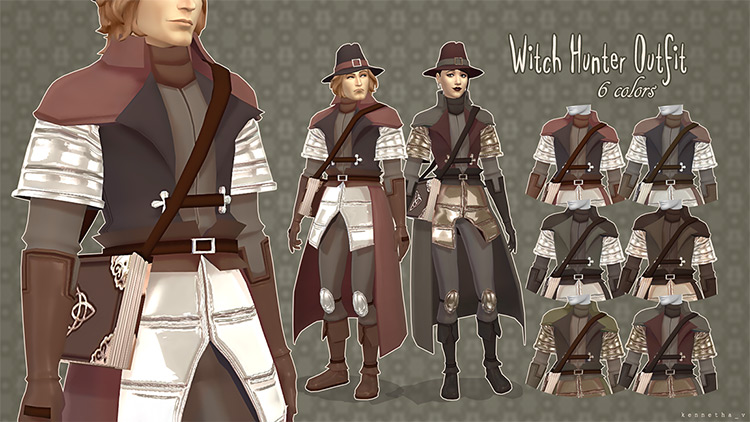 I'm going to consider this outfit medieval fantasy rather than historical fantasy due to the whole witch issue in history.
Those were dark times (literally) and I refuse to let it touch TS4.
It helps that this outfit by kennetha_v looks like something straight out of a fictional fantasy game, what with the stylish use of metal, leather, and layers.
5.

Medieval Vampire Outfit by kennetha_v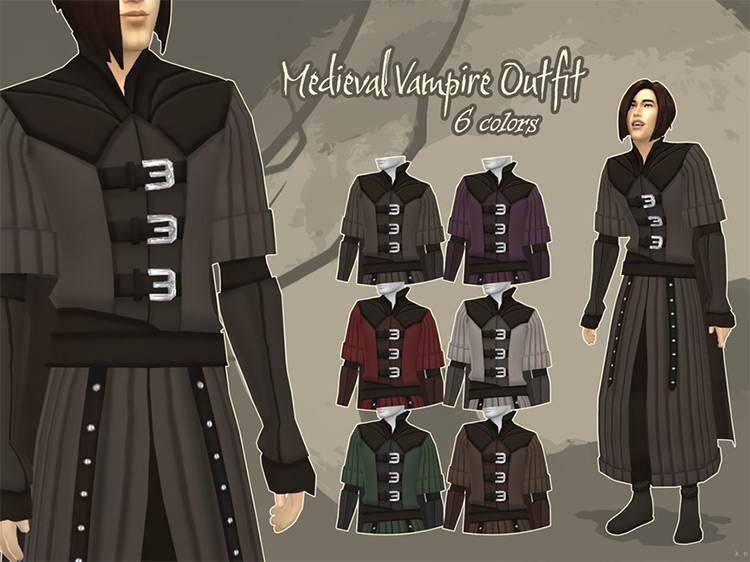 Given that the existence of vampires hasn't been confirmed (yet), I can't say for sure whether this Medieval Vampire outfit is accurate.
I can, however, confirm that it looks excellent both in CAS and in-game.
6.

TSM to TS4: Crowns & Hats & Helmet by HistoricalSimsLife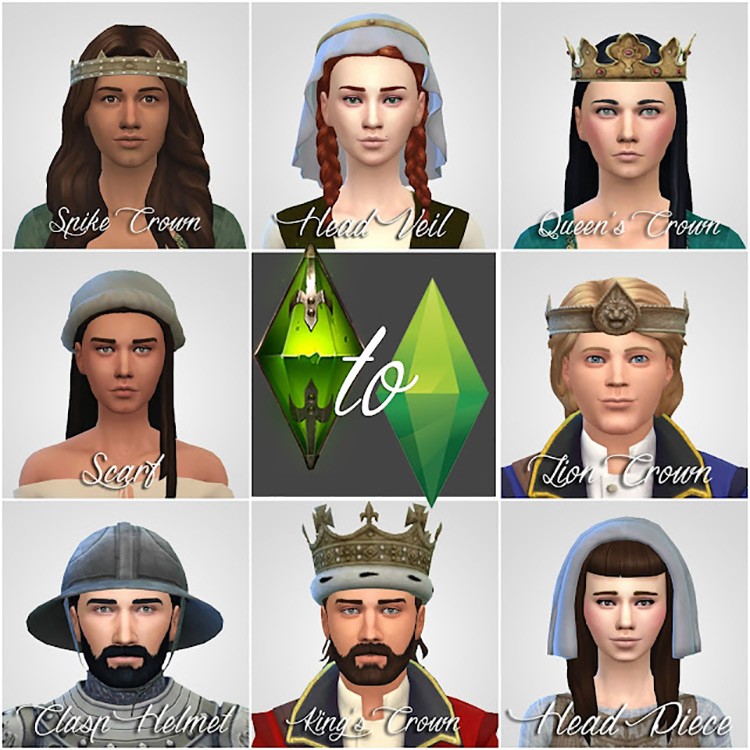 The sheer amount of variation on this download page has made me realize that medieval folk really had a thing for headwear.
I mean, nowadays we just wear hats, caps, headbands, and hair accessories because we feel like it.
Back then, what they placed on their head was a status symbol.
This CAS pack by HistoricalSimsLife introduces eight new meshes to the game. Half of them are varying crown designs.
7.

Reidmar Shoes by Trassel242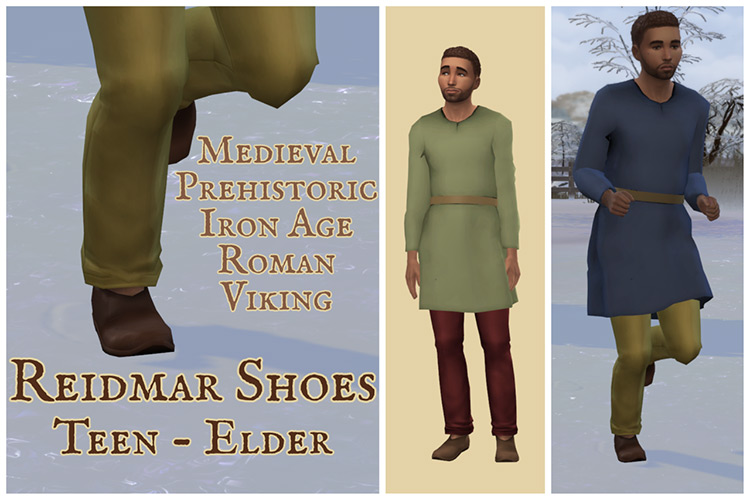 These simple brown shoes are, according to the creator, "suitable for many historic periods."
They're nondescript, simply shaped, and yeah; they actually pair really well with period-typical baggy trousers and tunics.
8.

Infantry by Valhallan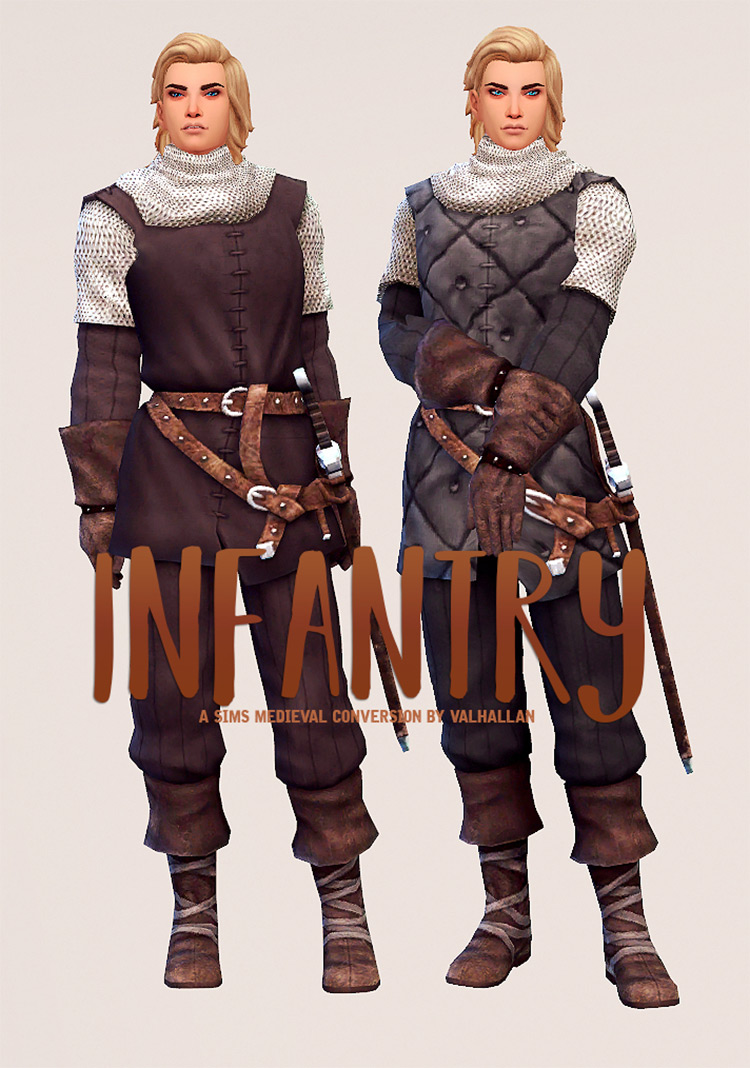 This outfit is a TS4 conversion of an actual outfit from The Sims Medieval, and I'm honestly blown away by the quality.
The details, the accents, the accessories … they all come together into one intimidating, warrior-worthy ensemble.
Honestly, as a melee-class main, chainmail will never not be cool for me.
9.

Rogue by Valhallan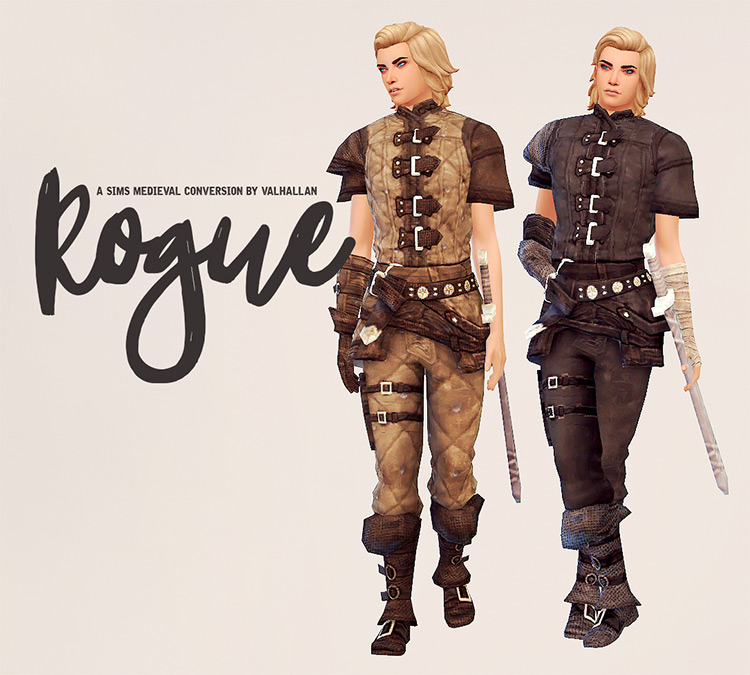 Like the Infantry outfit, this Rogue costume was also extracted from The Sims Medieval and converted by Valhallan into a TS4-friendly version.
And it's every bit as dashing and visually charming as the Infantry getup, too.
The overwhelming amount of buckles and leather here is really selling it to me.
10.

Champion by Valhallan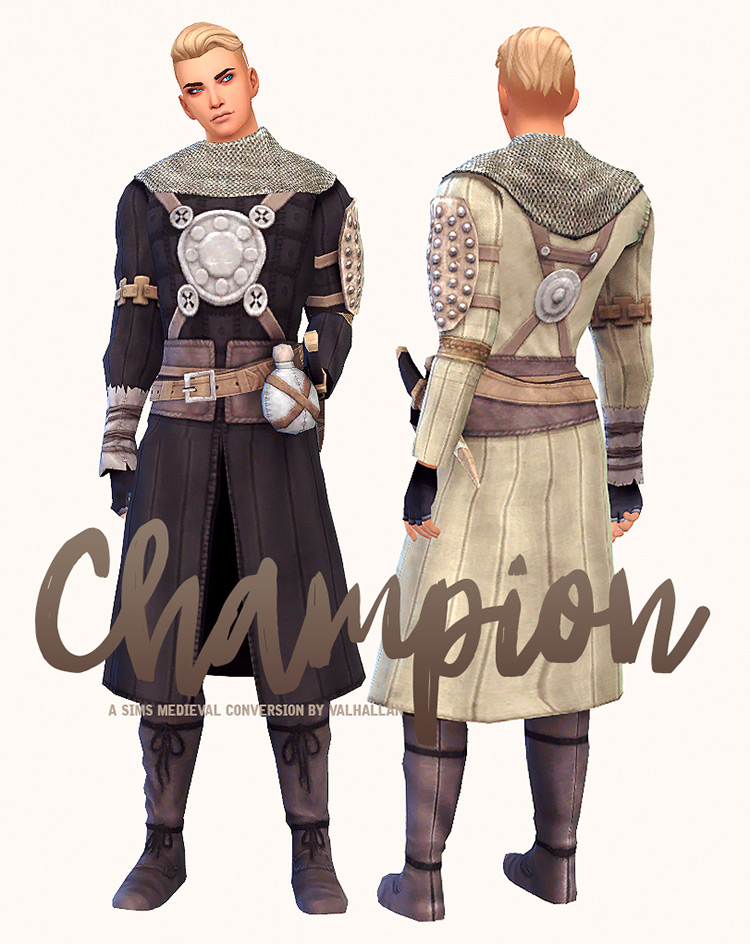 And last (but definitely not the least) of Valhallan's The Sims Medieval conversion project is the Champion outfit.
Hands-down my favorite CC of the set, as I think I already mentioned earlier how enamored I am with chainmail and melee-combatant gear.
There's something about this ensemble that screams righteous warrior, and that's a vibe I am proudly biased towards.
11.

Medieval Long Hair with Buns & Metallic Hairnets Accessory by Mythical Sims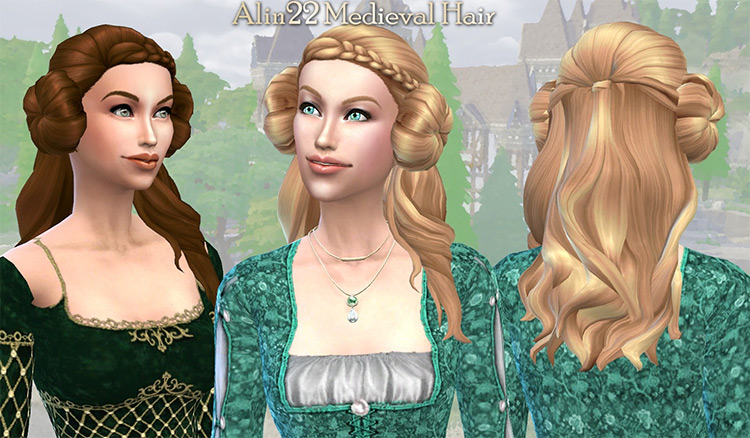 In my mind, those iconic, donut-esque bundles of hair that sit on top of both ears (like a stylish pair of headphones) are more Star Wars than medieval.
Have you seen Leia Organa or Padme Amidala? But it's inherently medieval, so it's staying on this list.
Don't forget the gold and silver brocade hairnets!
12.

Elspeth Medieval/Fantasy Dress by Peebs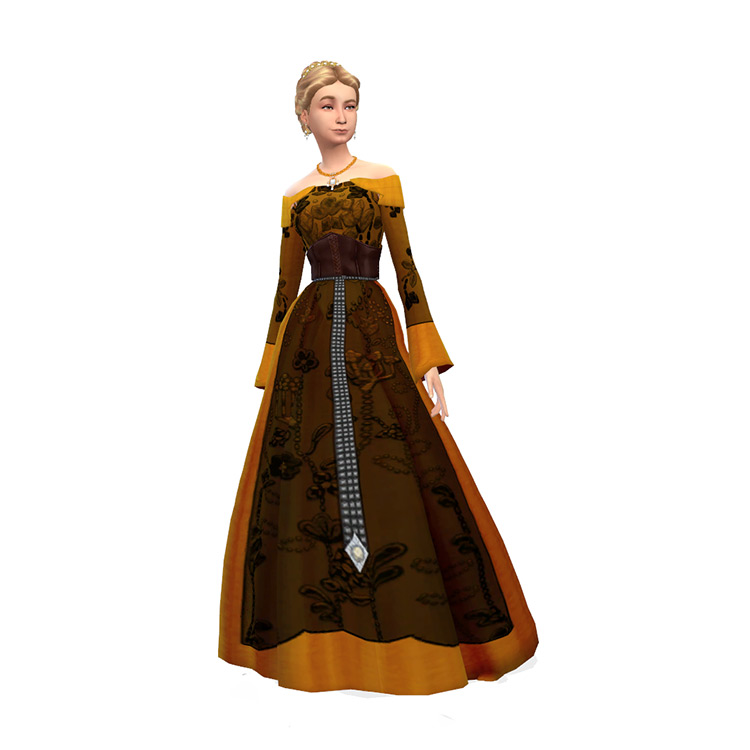 This beautiful medieval/fantasy dress by Peebs is an original design.
It features full skirts, layers, and beautiful little details that add dimension to the outfit—like the half-high waist corset.
It's available in 22 gorgeous colors, too!
13.

Everyday Medieval Dress by HistoricalSimsLife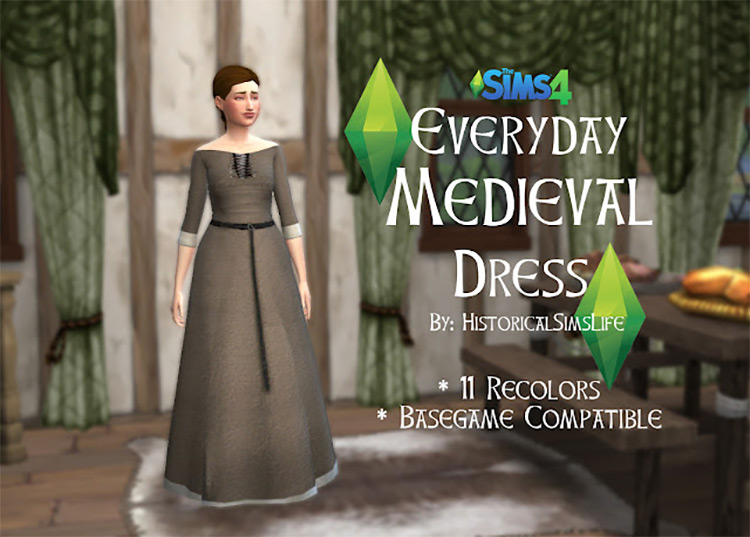 Casual, every day wear—but make it medieval.
I, personally, can't imagine shrugging on a dress every day (give me sweatpants and leggings), but I guess medieval women were stronger than I.
Search "everyday_medieval" in the SimsfileShare folder to download!
14.

Ceridwen Dress by Sifix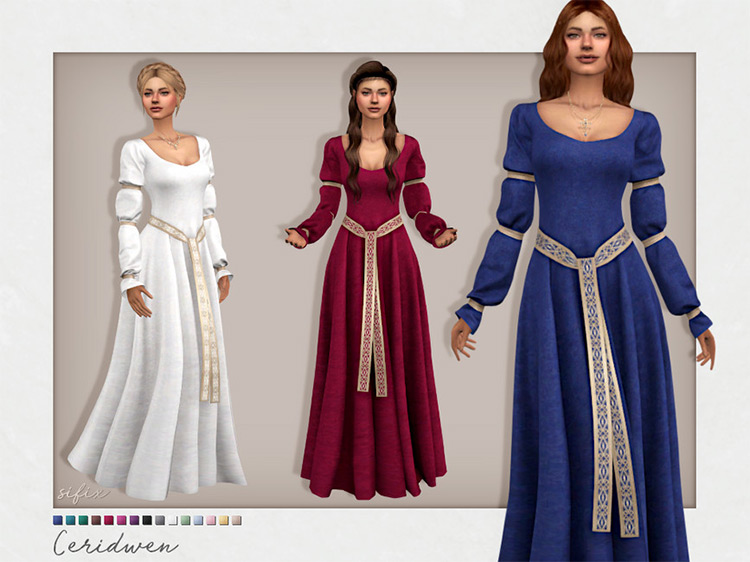 Here's another fairly commonplace dress that we see depicted a lot in media portrayals of medieval times.
It's the multiple bands around the bell sleeves that make this dress so iconic for me. Available in 15 colors.
15.

Lady Marian's Cone Hennin for Girls by Medieval Sim Tailor & Carpenter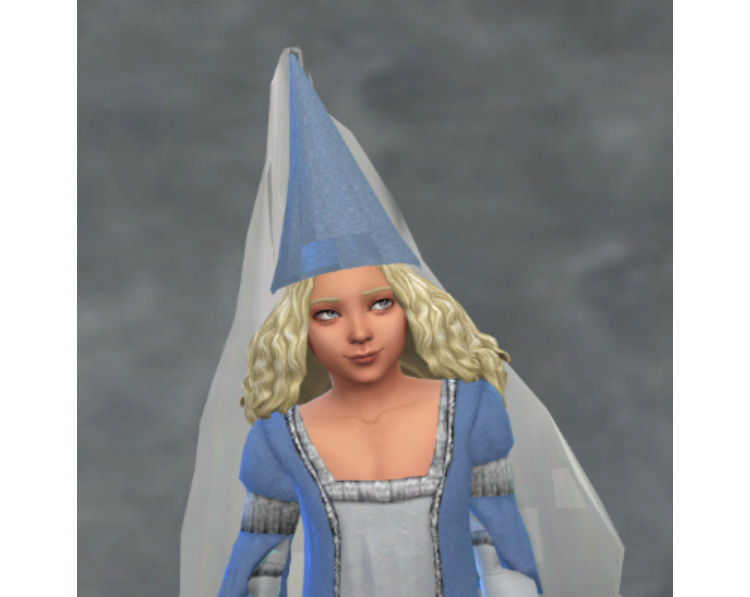 I learned, through a quick Google Search, that those historical party hats (with the veil attached at the back) are apparently called "hennins". And they were commonly worn by noblewomen.
I guess if your Sim's children are feeling particularly noble, you can plop this on their head as a status symbol.
16.

TSM Queen's Net Hair for Little Girls by Medieval Sim Tailor & Carpenter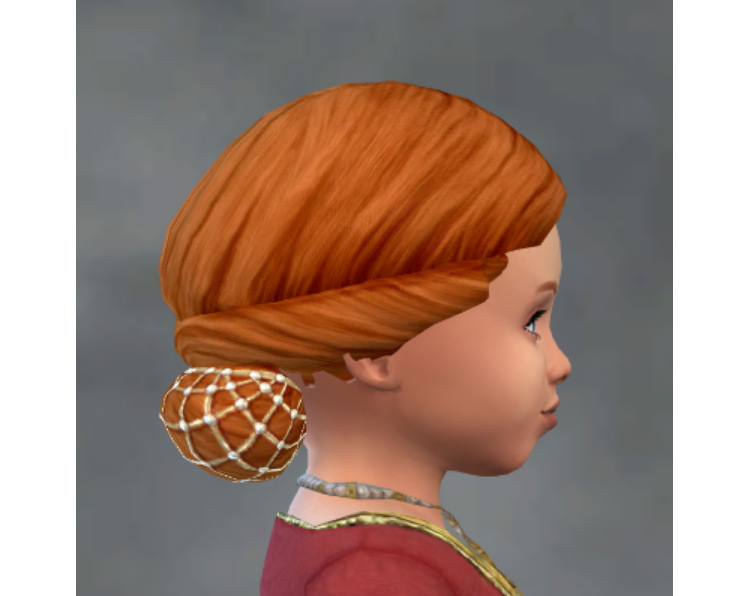 Keep your child's ye olde bun neat and tidy with this golden, pearl-studded hairnet.
It's pretty, it's practical, and it's a great way to accessorize.
17.

Medieval Long Shirt by Natalia-Auditore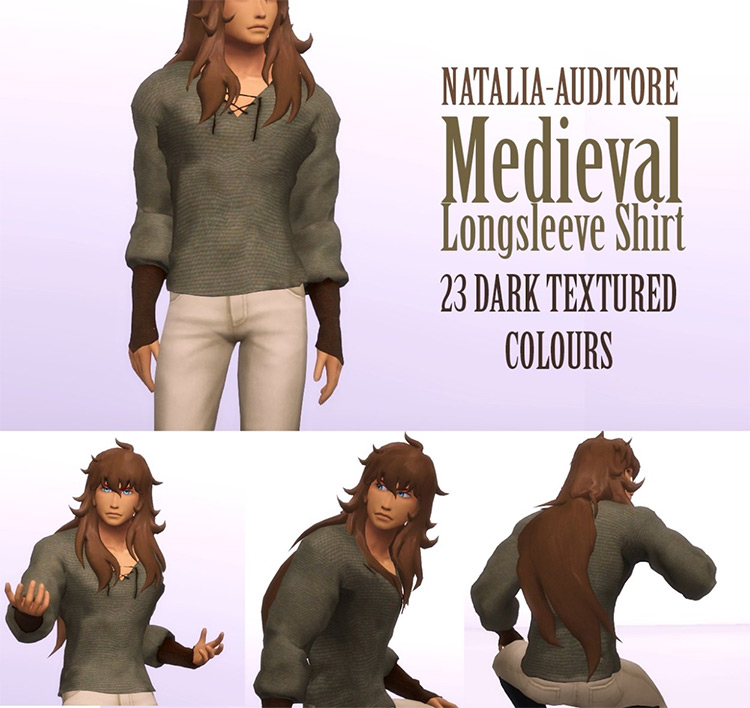 Even back then, men had an easier time with fashion.
Women had to struggle with half a dozen layers of skirts, two different tops, and a corset every day.
Men? Slip on this good ol' cotton shirt and you're all set.
18.

Commoner Dress Corset by zx-ta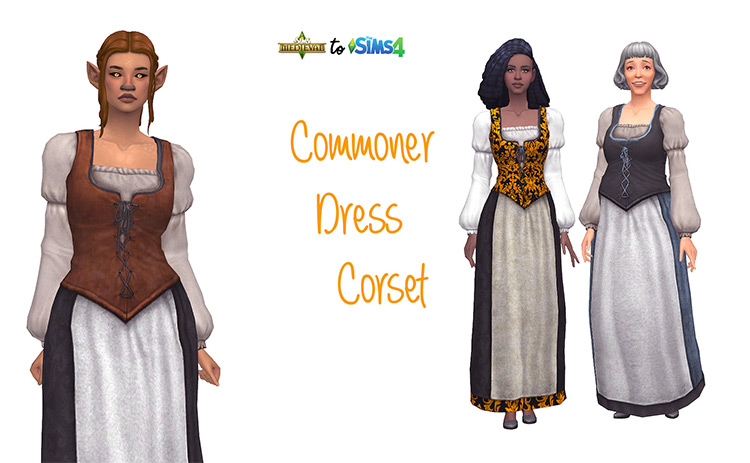 This is, as the creator puts it, a "cute dress" for medieval Sims.
Definitely hits that old village vibe, what with the puffed sleeves and rough cotton texture. It comes in eight styles, and I gotta say; the one with the black and orange pattern really stands out!
19.

TSM Circle Braid by Medieval Sim Tailor & Carpenter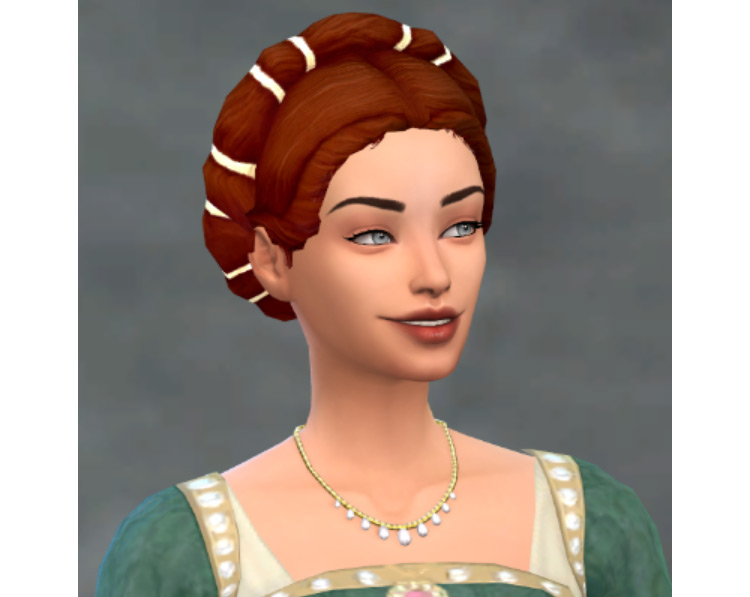 So this hairstyle was definitely a staple in medieval times. It's the old-timey equivalent of today's long bleached hair with beach waves. Everyone wore their hair this way.
The creator added some fun hair accessories that you can layer on, like metal hair bands and roses. More info – and all relevant download links – can be found in the creator's description.
20.

The Sims Medieval Conversions Recolored by Berryconfetti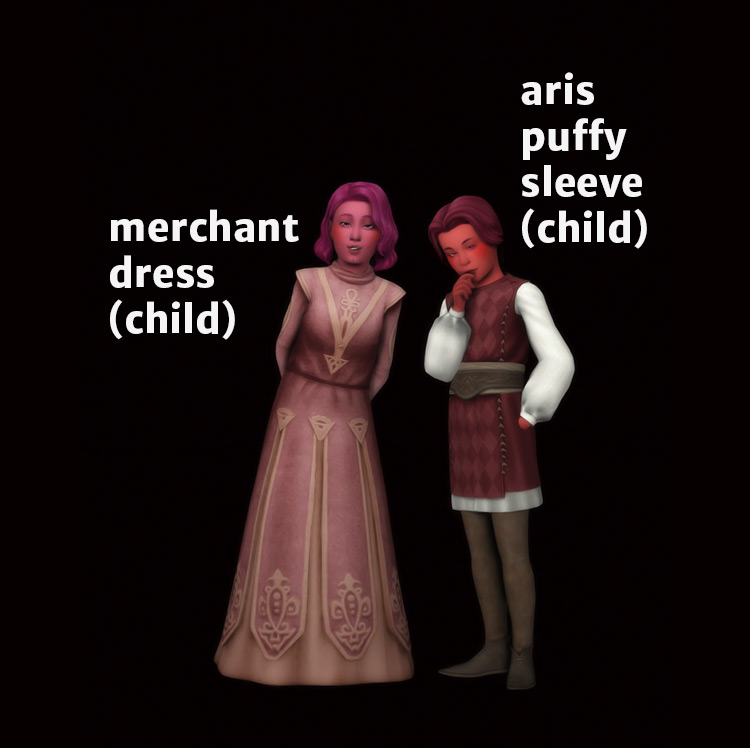 The three items here are part of a bigger Simblreen set from Berryconfetti.
If you want the full shebang, you can visit their Patreon page for all the meshes + recolors. In fact, I highly recommend you do, because there are a lot of medieval outfit options on there!
I'm sticking to the three items pictured here to avoid redundancy: the Merchant Dress and Aris Puffy Sleeve top for Children, and the Tredony Jacket plus Striped Pants ensemble.
Don't forget to download the mesh, otherwise the recolor won't work!
21.

TSM Cook Outfis by Medieval Sim Tailor & Carpenter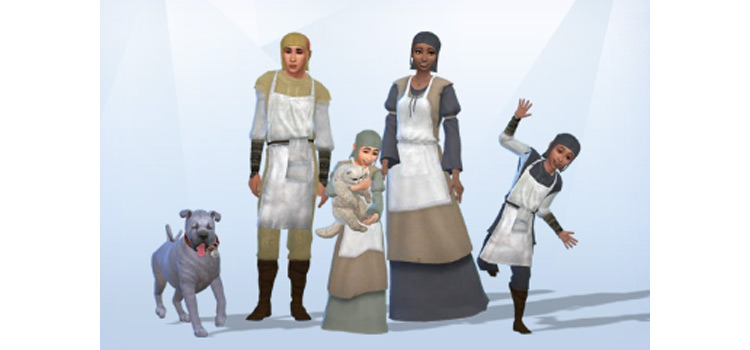 It's a whole family of medieval five-star chefs!
Dress them up as such with this cute CAS pack from Medieval Sim Tailor & Carpenter.
22.

Cottage Living – Henford Default Replacements by Medieval Sim Tailor & Carpenter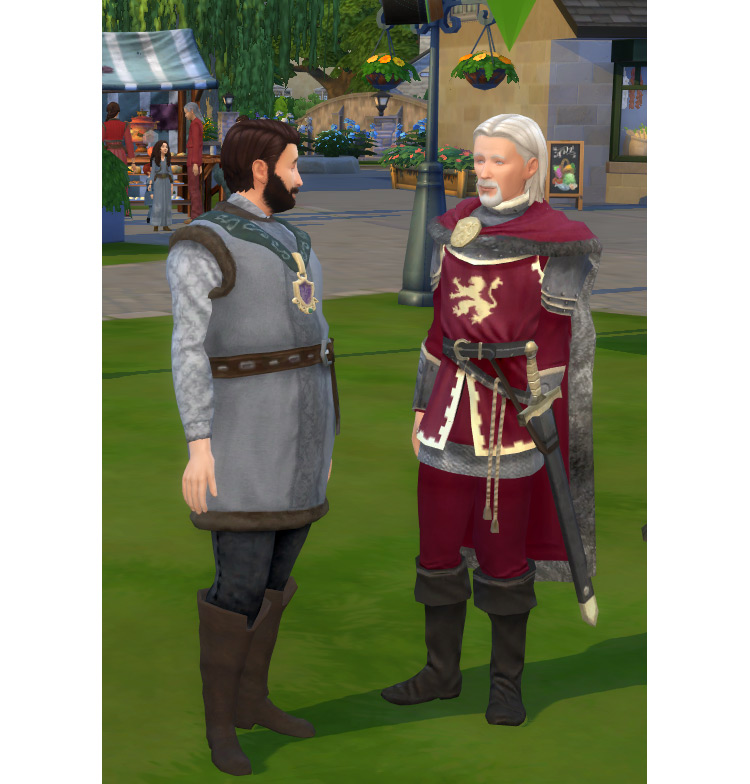 This custom CAS pack is full of default replacements. And the concept behind it is pure genius.
As you can probably tell by the preview photos, this set replaces all the clothing of all the NPCs in Henford-on-Bagley with suitable medieval attire.
Agnes Crumplebottom in a nun outfit? The pub owner in full gathered tunics and leather? The grocery store owners in full skirts and peasant garb?
It's honestly too perfect.
23.

Arcane Illusions – Azenor Dress by Nords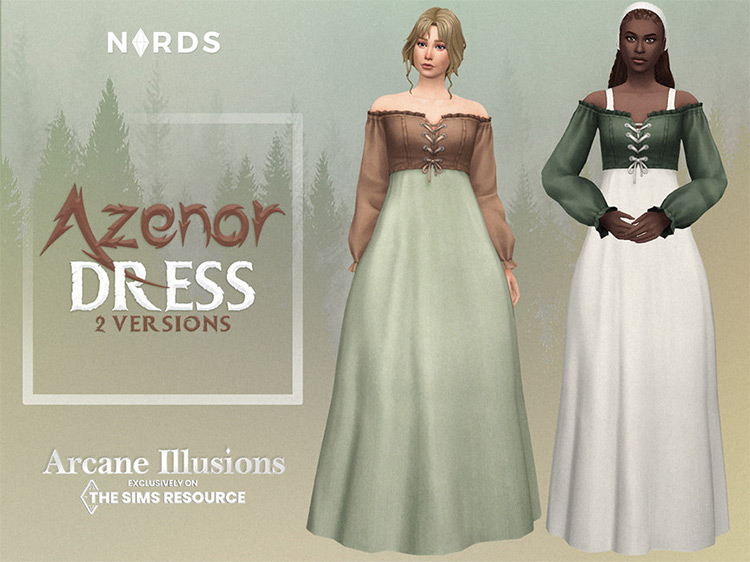 Another simple, every day dress for the simple, every day Sim.
It combines style elements we all pretty much equate to medieval fashion, like the front-laced corset and the full skirt.
And, of course, the texture.
Rough-hewn cotton all the way!
24.

The Wizard's Tower by andrasteisolde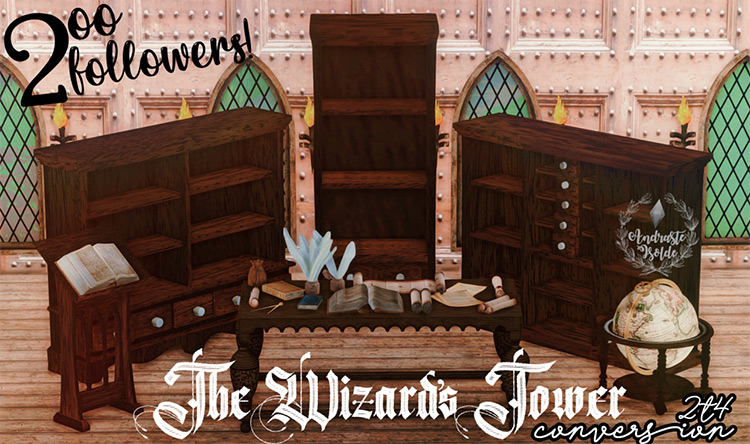 What's in the wizard's tower?
Scrolls, spellbooks, ingredients, and other matters of the arcane.
All dramatics aside, this is a pretty sweet custom stuff pack that you can use to quickly dress up any room in "ye olde medieval" style.
Or, at the very least, medieval fantasy.
The quills and ink alone are enough to confirm the time period of any setting.
25.

Ye Olde Recipe Book by Littlebowbub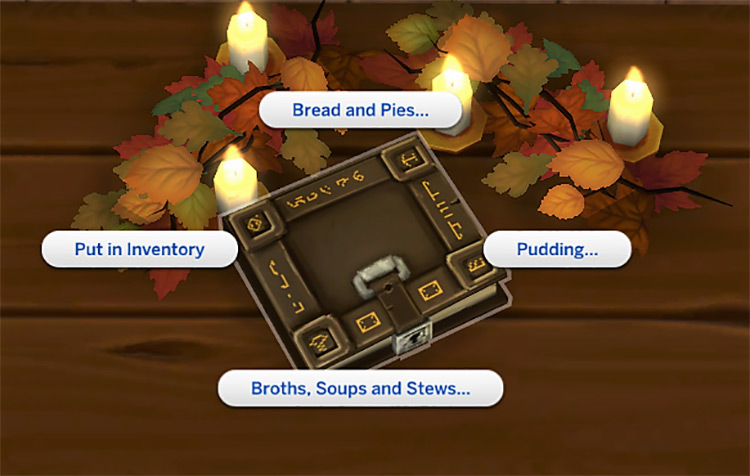 This small CC item is a clever, novel concept that I found pretty entertaining, so I decided to include it.
It's basically a cookbook that allows your Sim to cook ye olde medieval meals like gruel, pottage, and turnip soup. No fettuccine alfredo or truffle-glazed chicken here; no sir!
26.

Medieval Grill by HistoricalSimsLife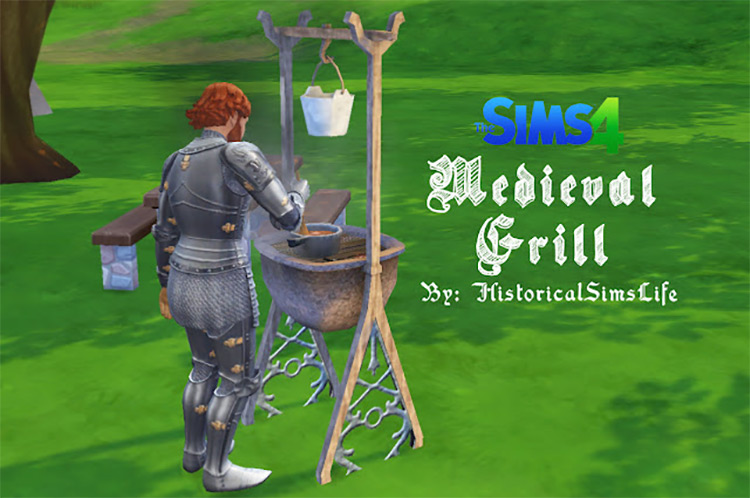 Back before the barbecue set was invented, this is how medieval folk grilled their game; roasted in carefully crafted clay or stone basins.
I don't actually know the grilling mechanisms of the 1000s to 1400s, but I imagine this iteration's pretty close.
To find the right .package file in the creator's download folder, search for the word, "grill."
27.

Medieval Market Stuff by SatiSim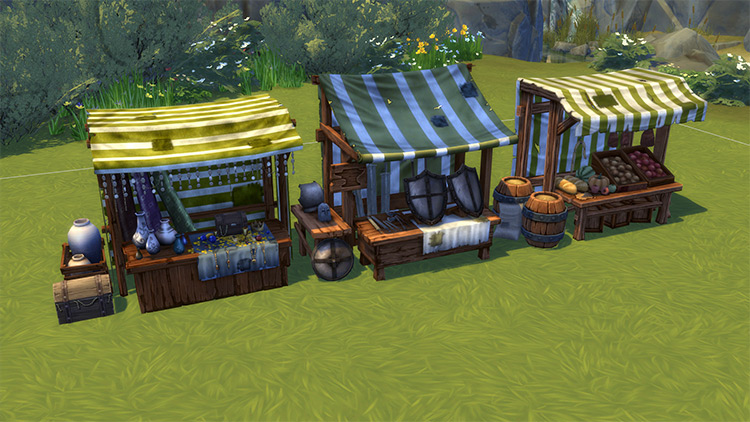 Get your bread, onions, trinkets, gold pieces, heraldic shields, and iron chest plates—now at half-off!
All jokes aside, this decorative market stall looks like it walked off the set of a medieval fantasy movie. Definitely worth downloading.
28.

TSM to TS4 – Medieval Bathtubs

This is another conversion of a TSM item to TS4.
This time, it's for ye olde luxurious washtubs.
Peasants may not have had access to the gold, stone, or copper tubs that royalty and military had, but their solid wooden washtubs did the job just fine.
29.

Odds and Ends by zx-ta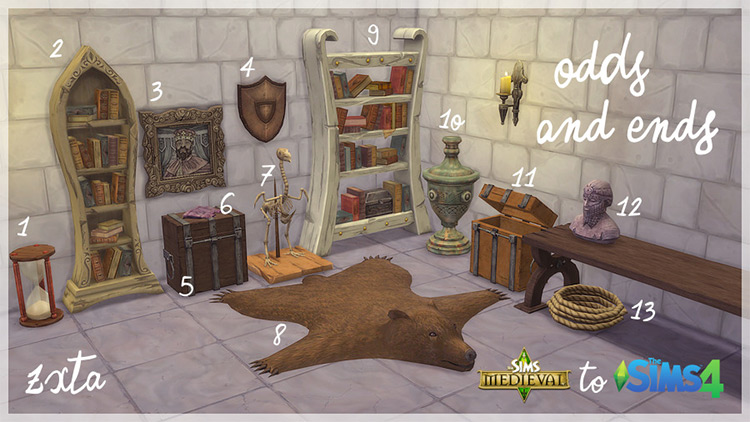 This small stuff pack contains bits n' things that the creator converted from The Sims Medieval—including a rather intimidating bearskin rug and a wall-mounted heraldic shield.
Most – if not all – of the items here are fit for the study of some noble or high-ranked scholar.
30.

Lute (Medieval/Renaissance Guitar) by Esmeralda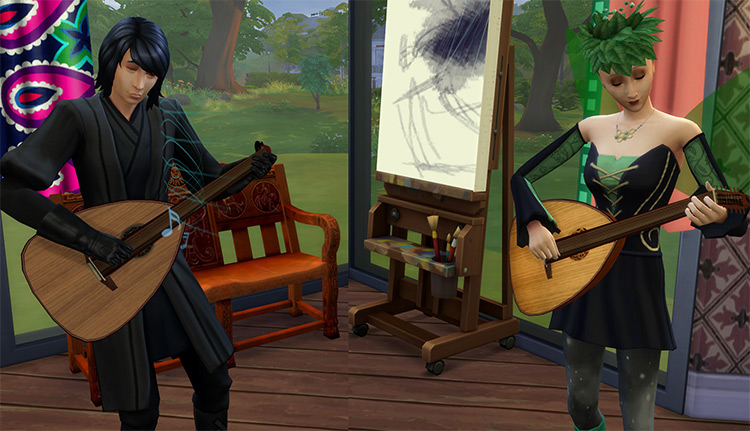 A bard's best friend — the lute.
This CC is basically a functional in-game guitar edited to look like a lute.
So your Sim can definitely use it to make music — and raise their guitar skill, if needed.
Browse:
Lists
Maxis Match
The Sims 4
Video Games