Sims 4 Maxis Match Hoodies CC: The Ultimate List
This post may contain affiliate links. If you buy something we may get a small commission at no extra cost to you. (Learn more).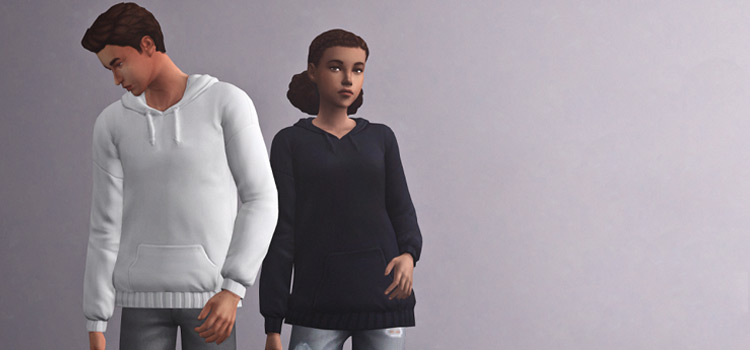 There may not be one article of clothing that's more widely beloved than the hoodie.
This is one item that transcends all boundaries of age and gender. Everyone loves a soft hoodie to keep them warm.
Oversized, fitted, cropped, or any other style you can find – they're all great.
Most people probably don't think much about it when they pull one on, a hoodie just is what it is right? Wrong, at least for our Sims.
Their outfits aren't just outfits. They're more like curated looks most of the time, meant to portray who they are inside or their lifestyle.
So a hoodie can really say a lot – and look great along the way.
And this collection of Maxis Match hoodies should have everything you need for any Sim, and never again shall CAS not have enough hoodie options for you.
1.

Rope's Oversize Hoodie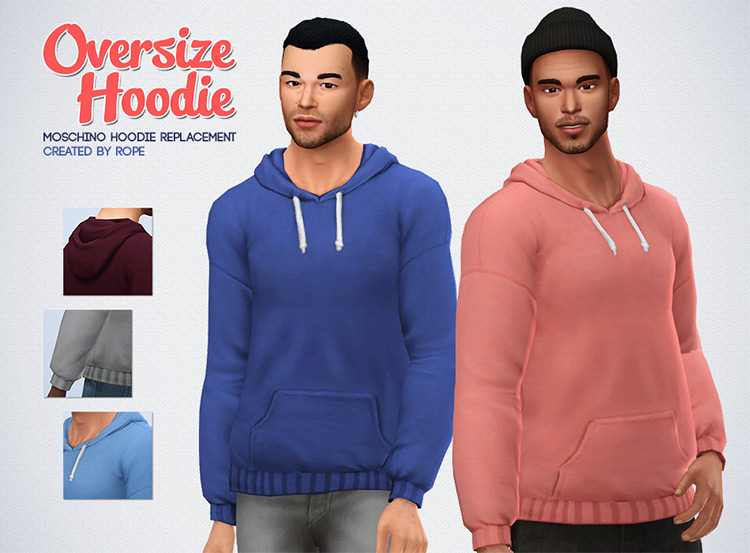 The world's love for hoodies isn't under-represented in CAS, the stuff we've got is just… interesting.
Big logos and Sim symbolism are quite prevalent when most players prefer trendier designs or solids.
CC creator Rope has made the simple tweak that many want, and removed the Moschino logo, leaving us with an average regular-ol' hoodie.
I honestly never had any idea what that was supposed to be, anyway. I guess I was out of the loop when the update ushering this in came through.
In any case, it's nice to get back to the basics. And now there are 30 swatches in total.
2.

Candy Hoodie
Women's hoodies can be a little more flattering than some other similar sweaters.
But not everyone cares about that thing. I'd wager most people aren't thinking about how hot they look when they pull on a hoodie.
But it's still good to look put-together sometimes, even when you want to be casual.
This custom hoodie really offers the best of both worlds, with comfort and style in equal measure.
It's actually an all original CC design from Pixelunivairse. And it's a more fitted hoodie, stopping firmly at the waist, and not a lot of wrinkles.
Plus the 17 swatches are just adorable. They include flowers, cute critters, and some plain options as well.
3.

Unisex San Myshuno Hoodie For Kids
Like I said, hoodies are for all ages.
Kids especially love them though, since with many styles, there are no zippers or buttons for little fingers to have to contend with.
A child can pull on a hoodie all by themselves and feel like a big kid – while simultaneously giving their parents one less thing to do. That's a win-win situation.
Jordihs has proved once again, with these little edits that can practically transform a piece of furniture or clothing. In this CC it's clear that these edits are on the base game kid's hoodie, just to make it even more modern and trendy.
Those Simlish phrases, mysterious as they may be, succeed in looking like something an average kid would wear these days.
4.

Muscle Hoodie
I've never been sure what to call a top like this.
It seems a hoodie should have sleeves to qualify, but I guess it's all a matter of personal opinion.
And this looks cool enough that I won't question it any further.
This is basically a sleeveless hoodie, so your Sim can show off the muscles they worked so hard for. And they certainly do work for them.
The gyms in this game are like the Wild West. There's no law, no order. People can flirt, fight, and almost get yeeted off a treadmill and it's just business as usual.
So it's kinda cruel to cover up a Sim's valiant effort to get fit.
Besides, this is a great edit from a great creator, Peacemaker. It's an edit of the hoodie that came with Spa Day, and all the nice little Maxis-Match details like strings and a defined pocket remain – but this version is base game compatible.
5.

Female Oversized Hoodie
I know I shouldn't generalize, but it's a safe statement that almost all girls are obsessed with big hoodies.
They're super comfortable and make us feel cute. There's nothing bad about them, even if some fuddy duddies would say it's a frumpy look.
OranosTR has crafted the most prime example of a perfect hoodie here. Yes, there is such a thing.
The baggy look isn't easy to achieve in this game, but here it looks great.
You can tell it's thick from the sleeves and the hood, but it's far from over the top.
And the swatches have a great selection of solids, plus a few pictures.
6.

Streetwear Large Hoodie Recolors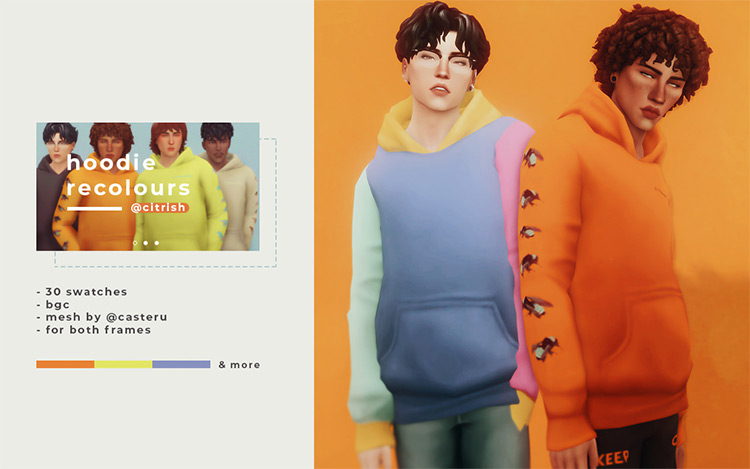 Now here's a great one for the guys, combining the hottest looks from the streetwear sect with Simmer's creative genius.
These hoodies were made by Casteru, and they did a fantastic job to keep them looking Maxis-Match.
These are your typical comfy, cozy, and thick hoodies. The hood sits perfectly at the back, and the big front singular pocket would be big enough to carry a laptop if functional.
There's a whole meme about why girls steal their boyfriend's or brother's hoodies… and that's why. The pockets are superior.
But for our Sims, it's just part of the aesthetic.
And aesthetically speaking, this is one great creation. Citrish expanded upon Casteru's brilliance to give us 30 swatches too.
This CC looks so fashionable too. What's not to love?
This set may have come out in 2020 – but all of the swatches are still really popular today, including cow print, tye die, and the ever-important "save the bees" effort.
7.

Pullover Hoodie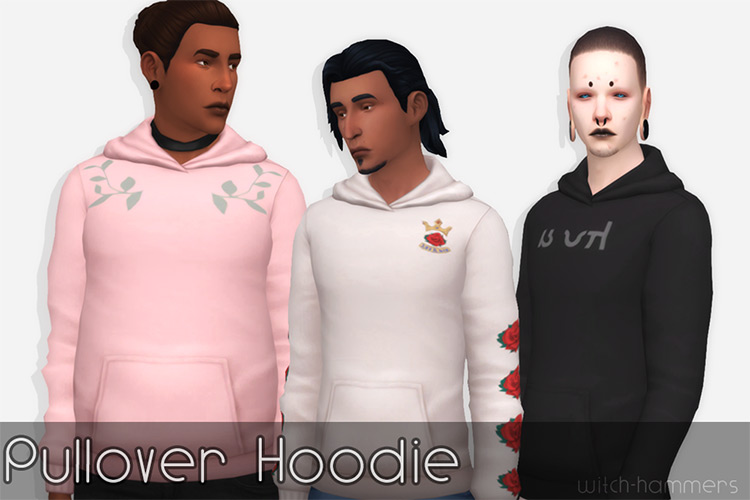 Let's be honest:
There are only so many ways a hoodie can be revamped. Sleeves and hoods may change, the texture may be tweaked, but the overall idea will remain the same.
Well… not really.
Swatches are what make most Sims clothes stand out.
One item can look completely different from one option to the next, and that's why so many Simmers can't play without swatches.
This may seem like a simple hoodie CC on the surface. But the designs are so unique that they definitely set it apart. Most of them are quite subtle, just partially adorning the chest or sleeves, but a little bit goes a long way.
They're bold and beautiful, through and through.
8.

Peach Hoodie
If we all aspired to be sweet as a peach, the world would probably look a lot different.
Idealistic musing aside, they're also a tasty fruit and make a rather cute design for a number of things, including hoodies.
These feminine tops have a unique cut, with 3/4 length sleeves and a slightly cropped hem at the bottom.
They're firmly on the "stylish" side of the spectrum. And you can have a lot of fun incorporating them into different outfits.
But as great as the peachy swatches are, there are several others as well, all in solid colors.
9.

Lilsimsie Merch Hoodie for Adult Sims
Lilsimsie has changed the way I play and enjoy The Sims for the better, full stop.
Her YouTube channel has tons of fun & informative videos on building, customizing, plus many aspects of the game.
There are lots of Simmers out there who have taken to video making. But it's clear Lilsimsie loves this game just as much as the rest of us. She even uses her popularity for good too, and has raised hundreds of thousands of dollars for various charities.
She also has really cute merch. So even if you have no idea who I'm talking about and just want a new hoodie for your Sims, this ain't a bad pick.
These stylish hoodies have a ribbed hem and cuffs, and several swatches have the word "sensitive" on the front.
That definitely sums up most Sims I've ever played, not gonna lie.
10.

Hoodie Bomber Jacket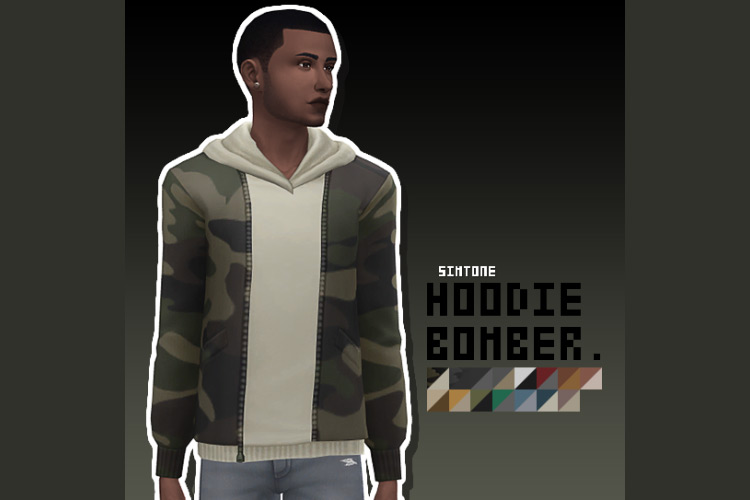 Hoodies can just be one layer of a cool outfit, unless you're a Sim.
CAS just doesn't inherently allow for many options like that, especially if you don't have CC.
But this jacket does it for you.
The hoodie is beneath the jacket – a look as old as hoodies themselves, and equally suave.
It's just another epic Maxis-Match creation that's made even better by the abundance of swatches. Two have a camo jacket, while it's a solid color in the rest, and it'll always compliment the hoodie.
11.

Babe Hoodie
Here's another example of how layering can be done with hoodies, this time involving a sweater.
But not just any sweater. This is the fanciest of them all, a turtleneck!
A hoodie and a turtleneck may not immediately stand out as two things to pair together. But they actually look great in this CC.
The end result is something that looks very casual, with a little bit of class.
As for the hoodie itself, I just love how simple it is. It seems like it'd be super soft and has just one singular pocket, a classic look in and of itself.
This set has 24 swatches total, including 10 solids and 14 plaids.
12.

Cropped Up Hoodie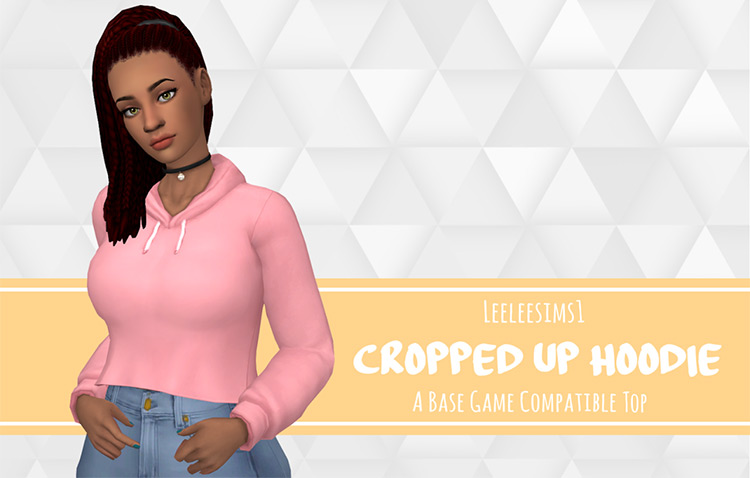 What makes hoodies so comfortable really has a lot to do with how unflattering they are, but not everyone is into that.
And besides, something having a more fashionable cut doesn't necessarily make it a torture device, though I tend to just take the easy route.
This is pretty much your regular hoodie except about half the length. It has been nicely cropped too, for a neater outfit all around.
The great thing about cropped tops, whether they're shirts or hoodies or whatever else, is that your Sim can wear them with almost any bottom and it'll look good.
Whether you give them high-waisted pants and opt for modesty, or fully commit to the cropped look by going with some lower cut bottoms, it'll look intentional.
13.

Proxinge's Accessory Hoodie
No other article of clothing gets tied around somebody's waist more than a hoodie.
This is just the perfect outer layer. You always know you can wear it out on cool mornings, then if it gets warmer as the day goes on, you don't have to worry about finding somewhere to store it.
Besides, it's a casual look for your Sims.
Note that this CC is an accessory, the same as socks or jewelry, which means you can just use it however you want.
Any outfit that you feel would benefit from a hoodie around the waist, you're covered.
Put it with their swimsuit if you want. People might have some questions – but that's the kind of freedom you have in a game like this.
14.

Hoodie Up
There are lots of great hoodies out there, both CC and vanilla.
But, ironically, the one part that's often neglected is the hood itself. Isn't it strange that the defining part is usually just… there?
I guess game mechanics haven't reached a point where functional clothes are a thing. Because it'd be revolutionary if you could actually decide whether your Sim wore their hoodie with the hood up or down, just with a couple clicks.
Alas, that's not the case (yet).
Well this mesh edit of the hoodie from Seasons fully commits to the "hood up" look.
It's really cute, even more so than before, with pretty colorful swatches and little graphics.
15.

Comfy Hoodie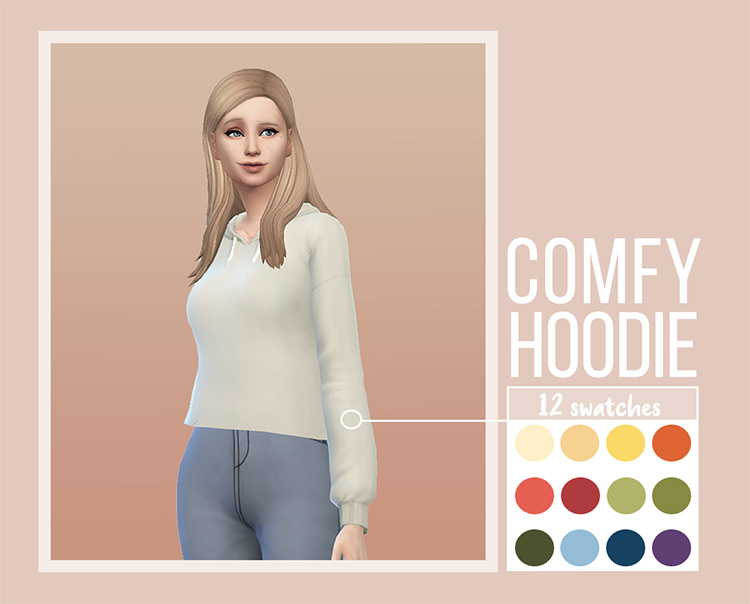 Here's another creation that illustrates how even the simplest changes can make a significant difference.
Even though we've seen a couple cropped versions already, this one has a more flowy and loose appearance.
Creators sure took that Moschino hoodie and ran with it.
This CC isn't as heavy duty as some other hoodies. I think it'll be nice for chilly days and fall mornings, which makes the aptly named "autumn palette" that much more fitting.
The 12 swatches are from that palette, incorporating lovely warm shades of blue, yellow, orange, and more. And it's also totally Maxis-Match as well.
16.

Downtime Hoodie
The best way to spend downtime is certainly in a hoodie.
And considering how little down time most Sims have, they deserve the best.
Well, that's almost always what you get with CC. I'm endlessly impressed with the quality and creativity that comes out of this community.
You can always count on having a good amount of options available too, and this is no exception. Many swatches have "cat lover" or "dog lover" across the chest in Simlish, and you'll have a few solid and patterned ones on hand as well.
17.

Cosmic Hoodies
It may be like beating a dead horse at this point… but seriously, recolors are some of my favorite custom content.
They can totally revamp something that was already good to begin with, but make it more personalized to what you want for your Sims.
I've also attempted to do recolors myself, and I know it's not as easy as it seems. So I can't thank these creators enough.
These are some of the coolest swatches you'll find, all focused on the glorious beauty of the cosmos.
The patterns include clouds, starry skies, and crescent moons.
Bright colors really make them pop too – and the whole hoodie itself looks like a work of art when it's worn by a Sim.
I should add that this CC is for masculine frames only, so the guys are the lucky ones for now, unless you want to work around that weird boob emphasizing thing that happens sometimes when a female Sim wears masculine clothes.
18.

Multicolored Hoodie
Once again, the Moschino hoodie has been revamped into something totally fresh.
I don't think any other singular item from CAS has gotten this much mileage, honestly.
Hoodies are great for self-expression too, since most of the time they're a pretty blank slate.
Out of these 20 custom swatches from Maimouth, each part of each hoodie is a different color. That includes sleeves, hood, and torso – all three.
Some of the color pairings aren't what you'd expect, like green and purple or teal and pink. But they're just the right shade that they look fantastic and complement each other very well.
Thinking outside the box is never a bad thing when it comes to The Sims. Since the whole game is a little outside the box anyways, if you know what I mean.
Never knowing what to expect is part of why it's so fun!
19.

Not So Boring Hoodie
I was really compelled to throw in another cropped hoodie into this list – and here we are.
These have already been trendy for a hot minute, and I don't see them going anywhere soon.
The thing about hoodies is that what is or isn't on them is really the defining factor, by itself as a solid color, it's something anyone can wear at any age.
But there's no sense in not taking an opportunity to give your Sims a bit more personally – and that can absolutely be achieved with their wardrobe (whether you want Maxis-Match or a broader variety).
Demondare-sims packed a lot into a small package here.
Many of the swatches feature bold logos and graphics, just like the kind of stuff you'd find thrifting.
20.

Hogwarts Hoodies
Like The Sims, the Harry Potter fan base isn't going anywhere.
Those movies and books have garnered some of the most loyal fans of all time. And the fun just never ends.
What I really love about these HP-themed hoodies is that they forgo the typical character-focused art and stick to the Houses.
Gryffindor, Ravenclaw, Hufflepuff, Slytherin… if you've ever had any amount of love for this series then chances are, you found out which one of those you belong to many moons ago.
It's akin to a zodiac sign or personality type in this day and age.
The striking colors of each house are displayed beautifully through these hoodies, and the names are on the front in Simlish.
Browse:
Lists
Maxis Match
The Sims 4
Video Games