Sims 4 CC: Maxis Match Rugs For Any Room
This post may contain affiliate links. If you buy something we may get a small commission at no extra cost to you. (Learn more).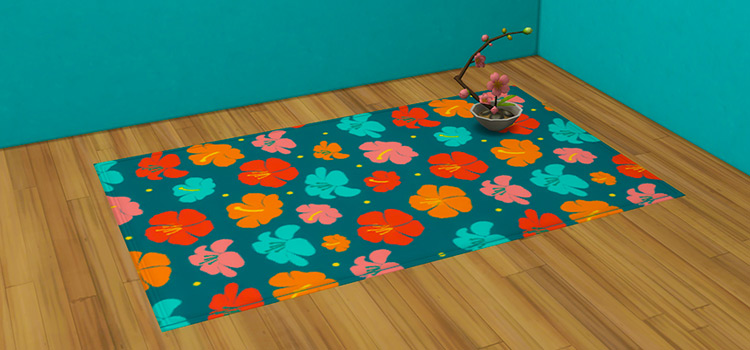 Whether your Sim's floor is wood or carpeted doesn't matter.
A rug might just improve it either way.
Not just any rug, of course. You've got to have the right one to suit each room, and that should be a breeze when custom content provides so many brand new choices.
1.

Flowery Embroidery Rugs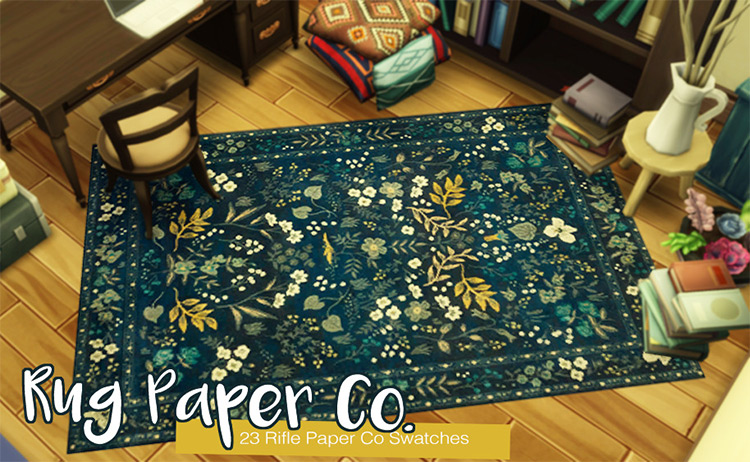 A floral rug won't let you down.
They're a quick and easy way to add some visual excitement to any space, big or small.
This classic design is blended with bold colors in this set, giving you plenty of options. No matter your Sim's style, something here will do just fine.
2.

Modern 3×4 Designer Rug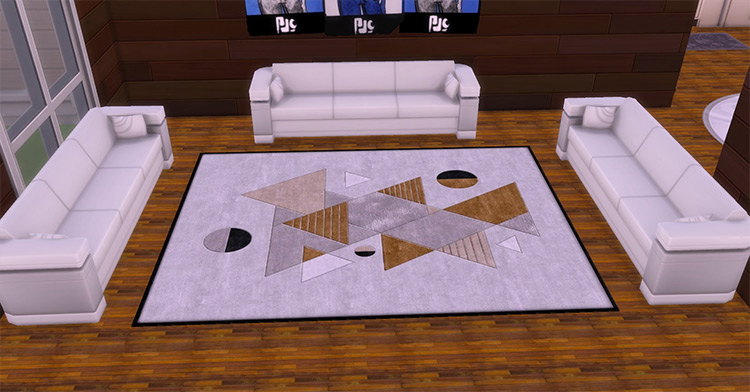 Through these 34 swatches, AdonisPluto proves how key a rug can be to a room's overall vibe.
You can always color coordinate your Sim's furniture to match, or let the rug stand out by opting for more neutral couches and chairs.
In any case, these artsy patterns are very unique.
3.

Roundly and Squarely Plush Rugs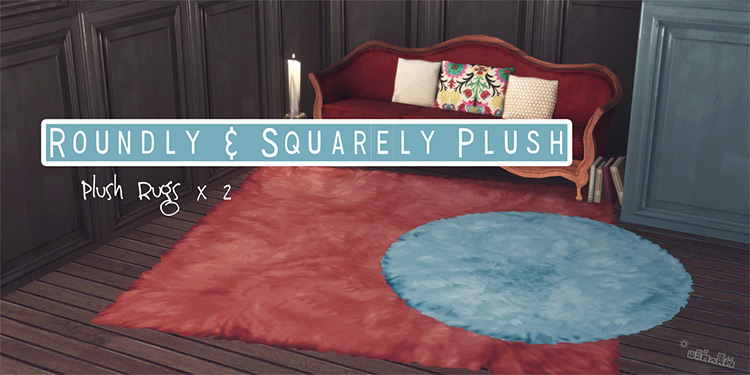 Texture is one aspect that's often overlooked with rugs. There's generally not a whole lot going on.
Well, that's no longer the case. These aren't eye-catching just because of their cool colors and compact size, but the outstanding fluffy texture.
Spoil your Sims by placing this anywhere you can!
4.

Cats & Dogs Woven Rugs Recolors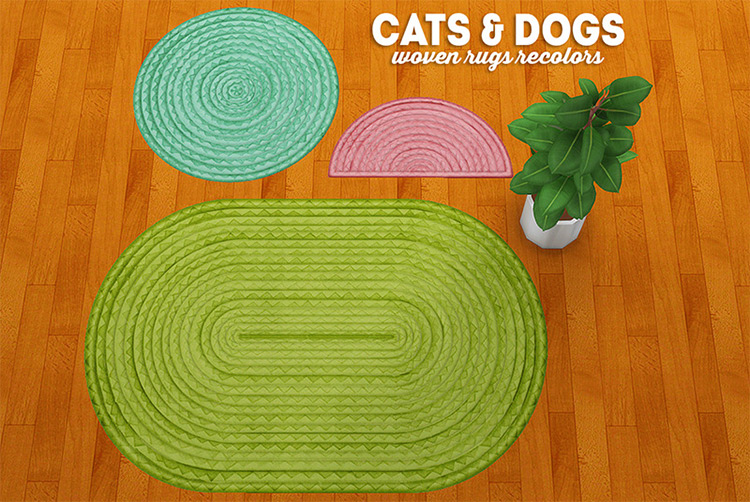 As much as I love the homey, slightly outdated vibe of those rugs from Cats & Dogs (you know the ones), they aren't for everyone.
Lina-Cherie's recolors give them a more modern touch with all sorts of vibrant new shades and pastels.
5.

Fruit Slice Mat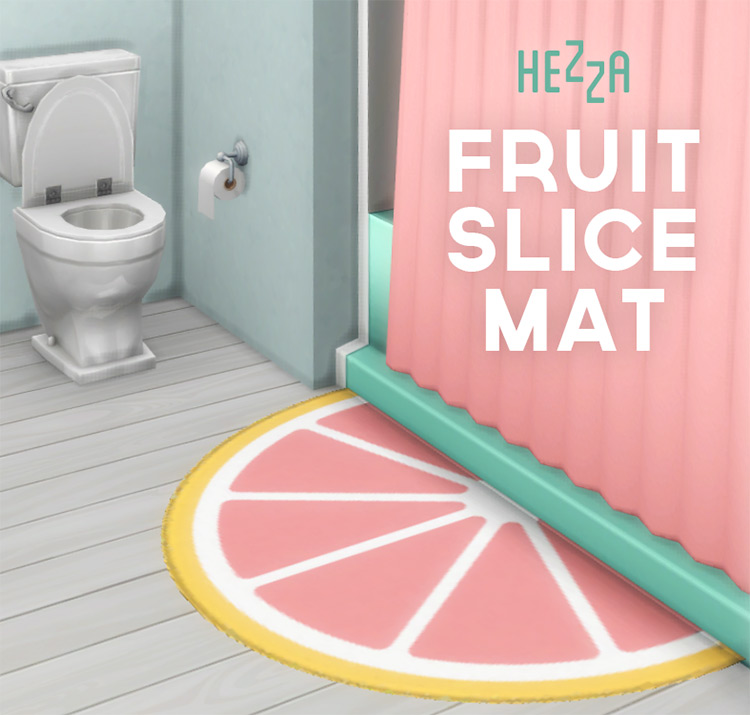 They're bright, fun, and have an inherent Summer feel.
Is there any better way to brighten up a Sim's home? I think not!
The 6 swatches cover the most delicious fruits, including watermelon, kiwi, lemon, lime, orange, and grapefruit. That describes their color schemes pretty accurately as well!
6.

Round Cottage Rug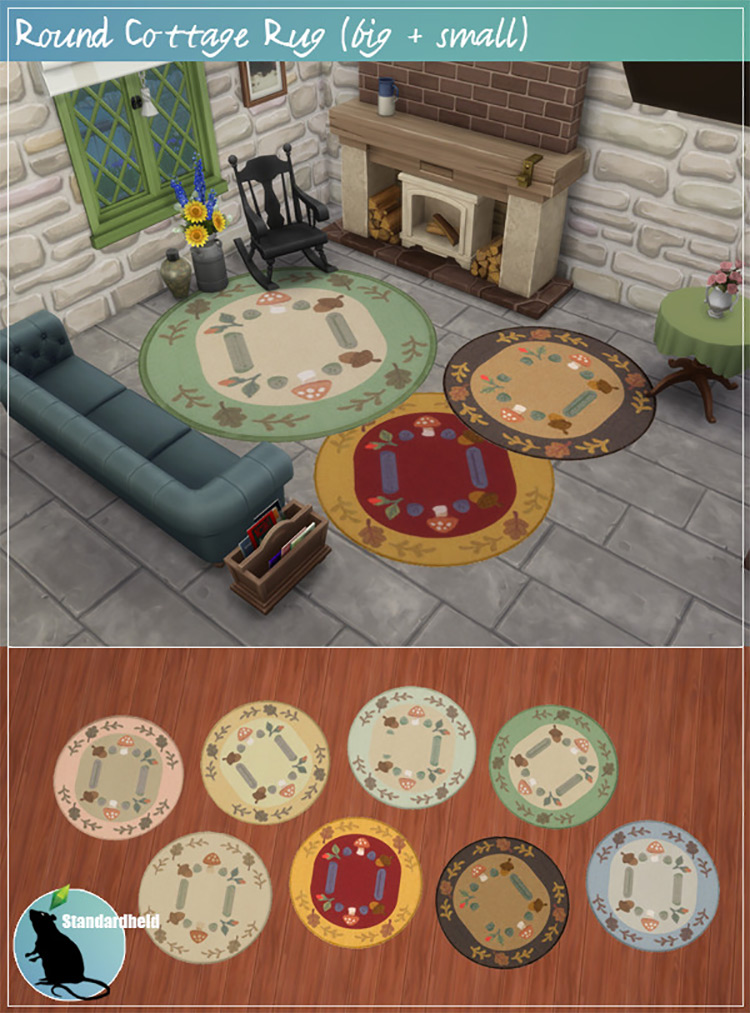 Ever since Cottage Living was released, that type aesthetic has gripped the Sim's community like nothing else.
Anyone who is a fan of it will agree, more content is always welcome!
Here are some little round rugs for the base game. They've got mushrooms and leaves, plus a very relaxing color palette.
7.

Atomic Retro Rug
It's insane how '50s these rugs are.
You can practically hear I Love Lucy and Elvis Presley.
They're awesome just for that reason, since TS4 doesn't see much official content that's in-your-face levels of retro. All 8 swatches just nail that vibe.
These are well worth downloading if that's your thing!
8.

India Rugs
These base game recolors have really got it going on. You'll have no problem weaving them into just about any build… no pun intended.
Each swatch has both vintage and modern influences, which is exactly why they are so versatile.
Size is vital with rugs so thankfully, these are a happy medium in all ways.
9.

Basegame Rug Collection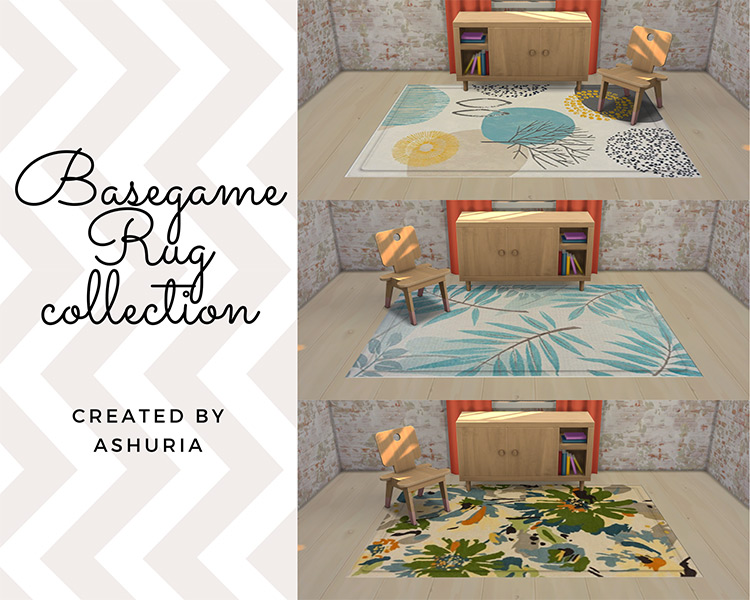 How many times can the same rugs be redone, you ask?
To infinity and beyond!
Base game recolors are worth more than gold to Sims players, because they're available to everyone!
This set is no exception. Ashuria loaded up on beautiful and unique designs that you'll never get tired of.
10.

Turning Tulips Round Rug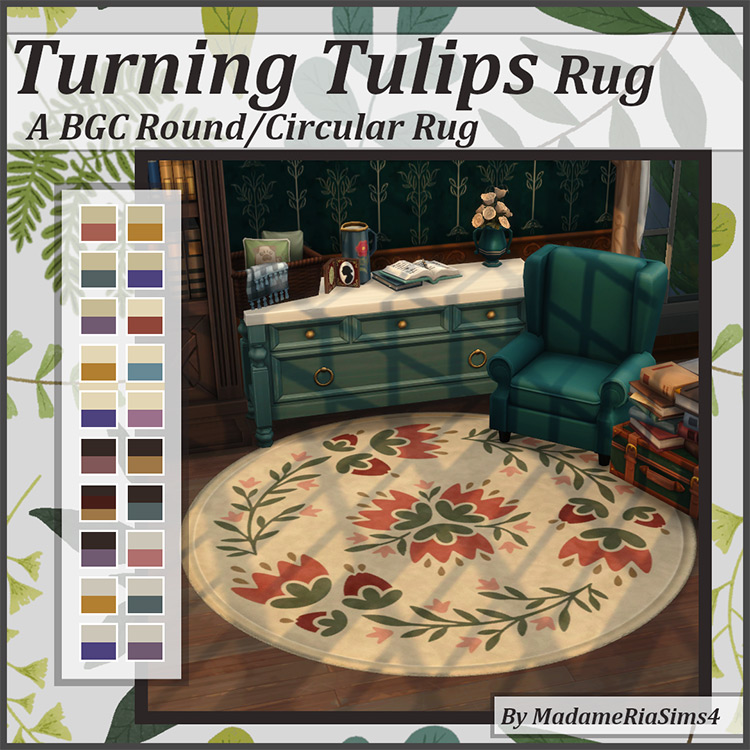 Yep, more Cottage Living inspired designs, because there's nothing more lovely.
Any room will instantly be made about 10 times cozier with the simple addition of this round rug. What's great is that you can use it just about anywhere.
Porches, bedrooms, living rooms, offices…wherever a rug is needed, this one is sure to be perfect.
11.

Mexican Style Rugs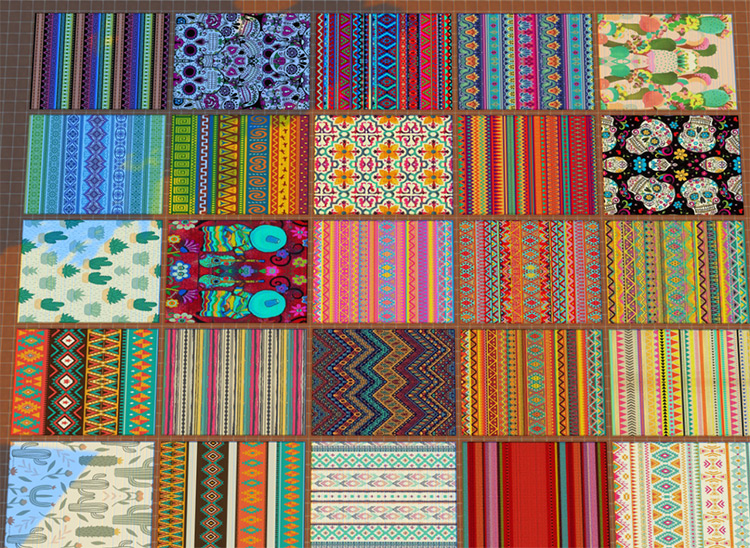 Here's another great way to infuse your Sim's living situation with some culture.
You have seriously got to grab these if you enjoy super bright colors and busy patterns, because it doesn't get much brighter or busier than these Mexican prints.
Aside from that, 12 other gorgeous swatches are also available.
12.

Chic Kids Room Rug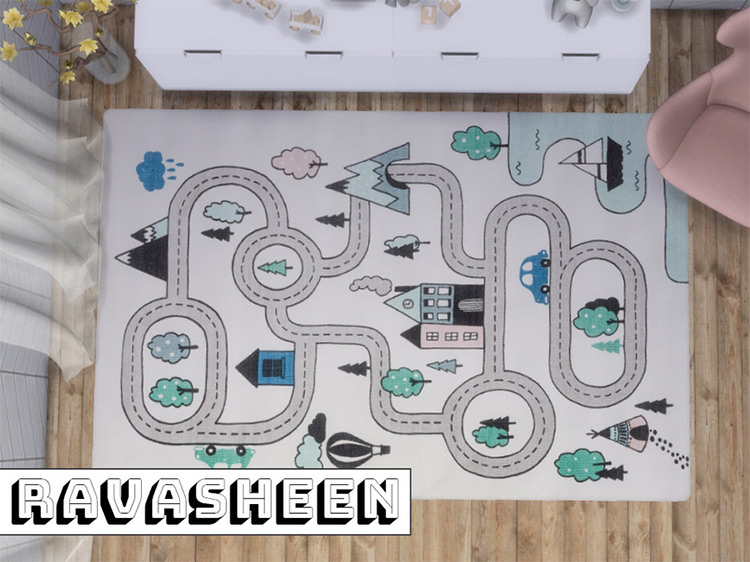 Giving the kiddos a space of their own is a lot easier said than done. It can be so overwhelming trying to actually make it look like somewhere a child would enjoy being.
As far as the floor goes, Ravasheen's got that covered. Literally.
These large rugs come in an assortment of equally busy, cute swatches.
13.

Teen Rugs (Laundry Day Stuff Pack Required)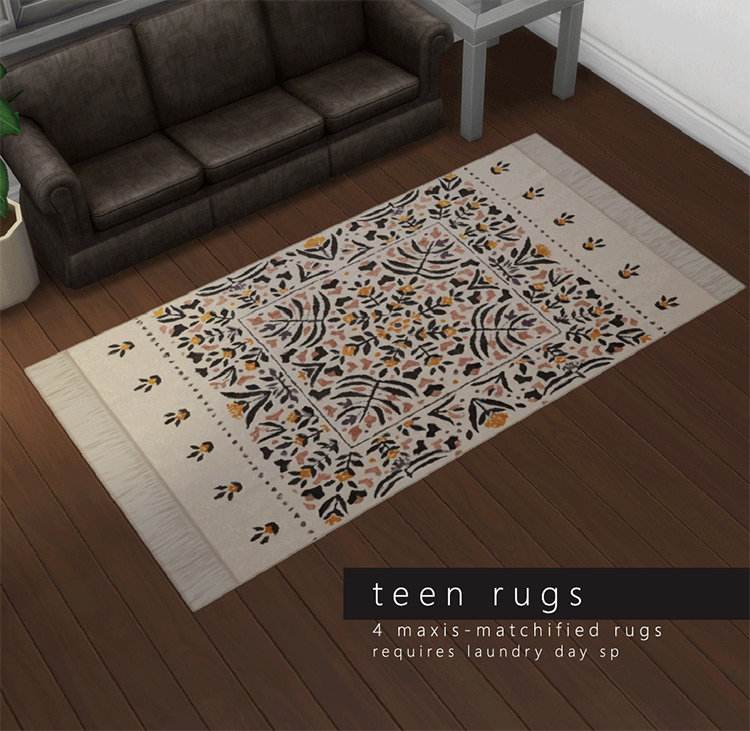 The Laundry Day pack really kills it when it comes to floor coverings, but there's always room for something new.
There may be just four swatches here, but each one stands out in its own way. "Unique" may not even be strong enough of a word. One is a big eye, so… you just don't see that every day!
14.

Show Your Pride Rugs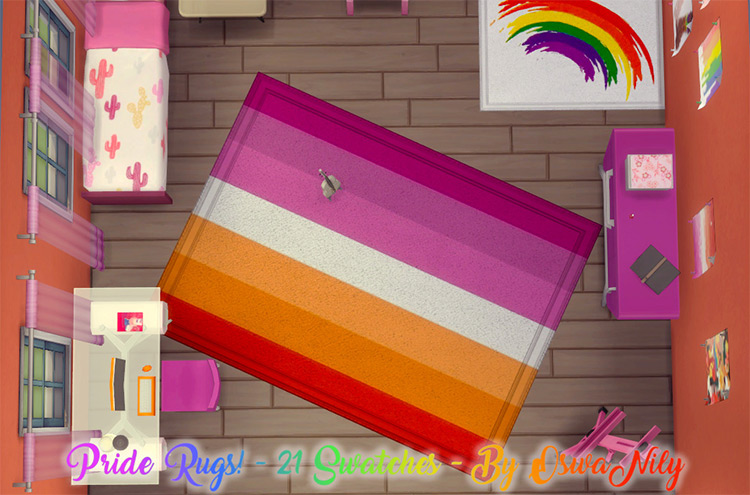 Pride doesn't have to be limited to a single month, it's forever!
To represent that permanence, a rug is the way to go. It's like a massive flag for the floor, is it not?
These 21 swatches cover various orientations and identities, plus there are multiple incorporating the classic rainbow stripes.
Tip: we also have a separate list full of Maxis-matched pride CC for The Sims 4. Be sure to check that out too!
15.

Ronda Rug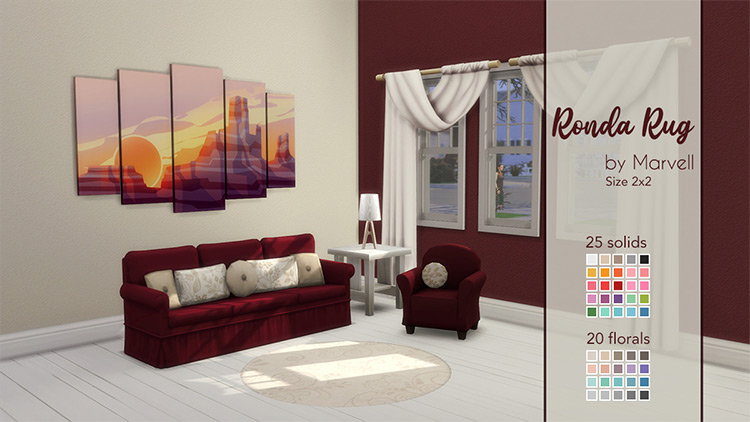 We've seen lots of off-the-wall designs in this collection, but the basics can't be overlooked or forgotten.
Marvell's Ronda Rug keeps things simple with 25 solid colors and 20 florals. There are enough options to last a lifetime, right here in one download.
16.

Gross Rugs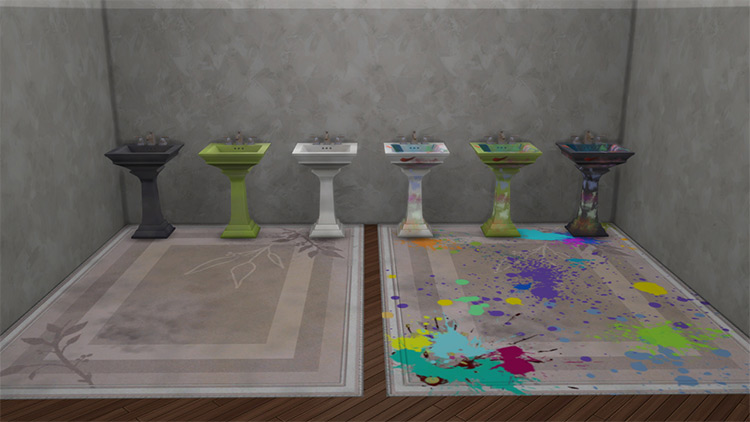 Okay, so… needless to say, these are wildly different from your average rug.
The whole point here is that they're filthy and stained.
It may sound terrible, but stuff like this is actually really fun to have on hand, if you ever find yourself wanting to deliberately make a Sim's home look dirtier.
17.

Sweetheart Rugs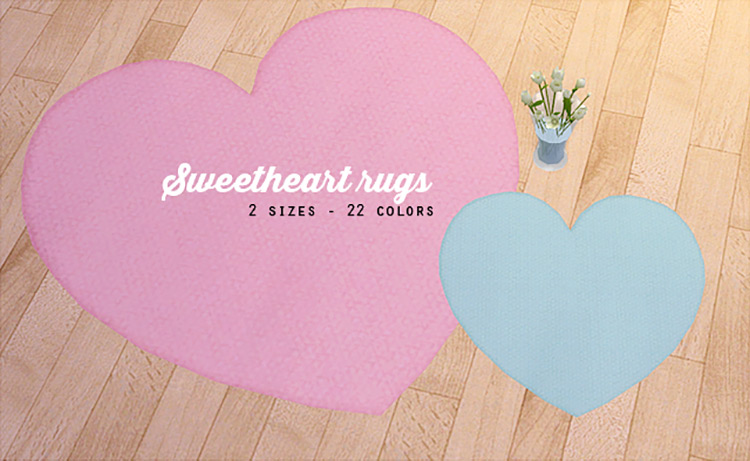 Who says rugs can only come in the shapes of circles or rectangles?
Well, not Lina-Cherie, that's for sure!
Here are two heart rugs to add a little love to your builds. They're just perfect, and made even better by the wide range of colors.
18.

Simple Dotted Rug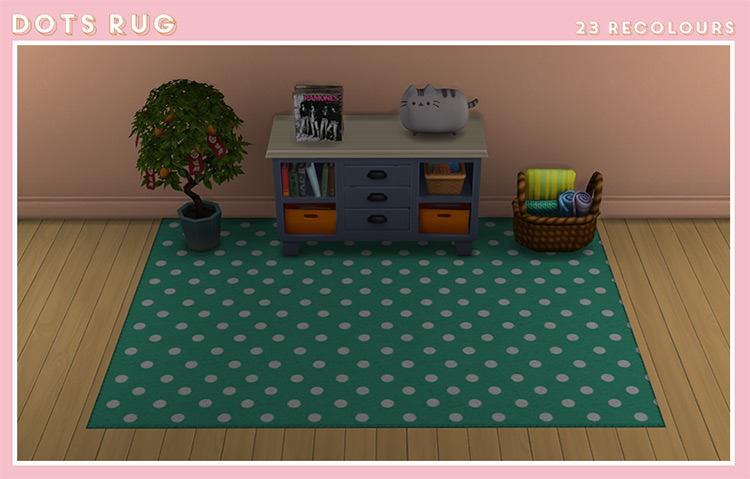 Dots are a nice compromise between solid colors and busier patterns.
They'll add a fun vibe without getting too crazy.
That's a nice way to sum up these 23 recolors. It's one of the base game's most useful rugs too, thanks to the size, so they may look familiar.
19.

Modern Print Rugs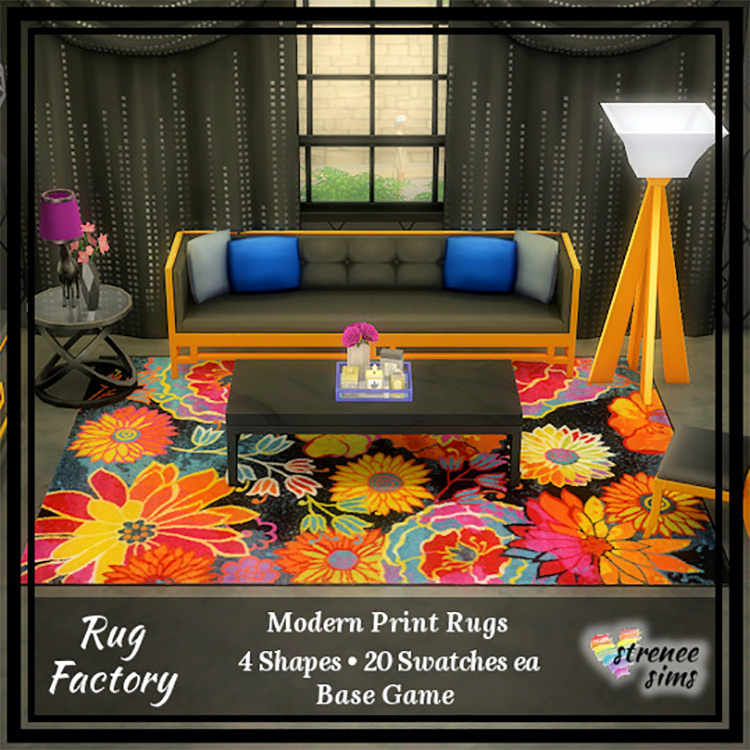 You can expand your CC rug collection in a huge way just with this set alone. Strenee's got 4 different sizes here, including the ever-trusty rectangular and round options.
It's the 20 swatches that really shine, however, with so many original and stunning prints.
20.

Liv Rug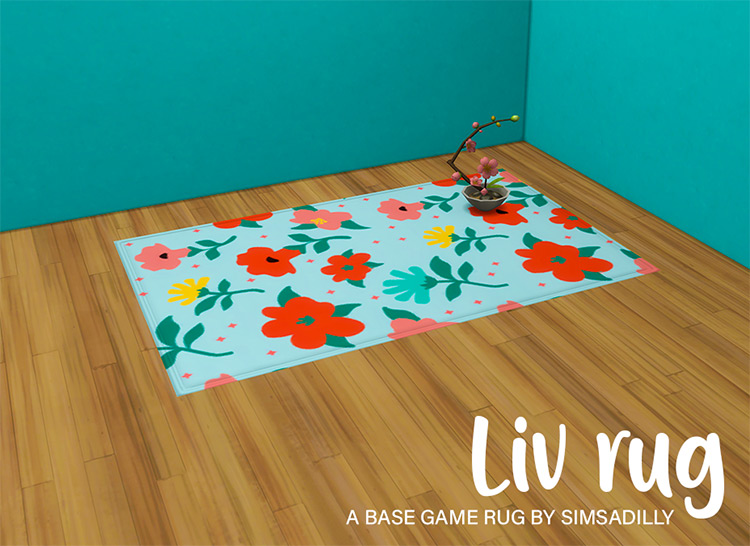 For all my fellow floral-loving Simmers, get ready because these might just rock your world.
This is the epitome of great things coming in small packages. The 2×3 rug may not be one that takes up a lot of space, but these amazing flower patterns will definitely get your attention.
Browse:
Lists
Maxis Match
The Sims 4
Video Games