Sims 4 Maxis Match Pride CC (All Free)
This post may contain affiliate links. If you buy something we may get a small commission at no extra cost to you. (Learn more).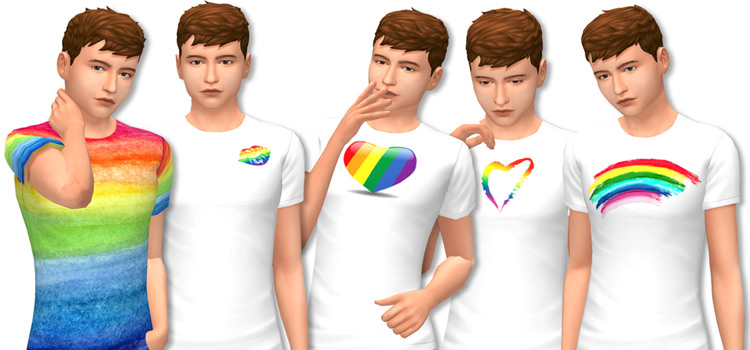 Love is love. Be true to who you are.
For those in the LGBTQ+ community, these words hold special meaning.
Pride is a beautiful thing and it's no wonder Simmers want to bring it into the game.
So, go right ahead! Enrich your Sim's life with this abundance of new additions to both CAS and build/buy.
1.

LGBT Pride Blushes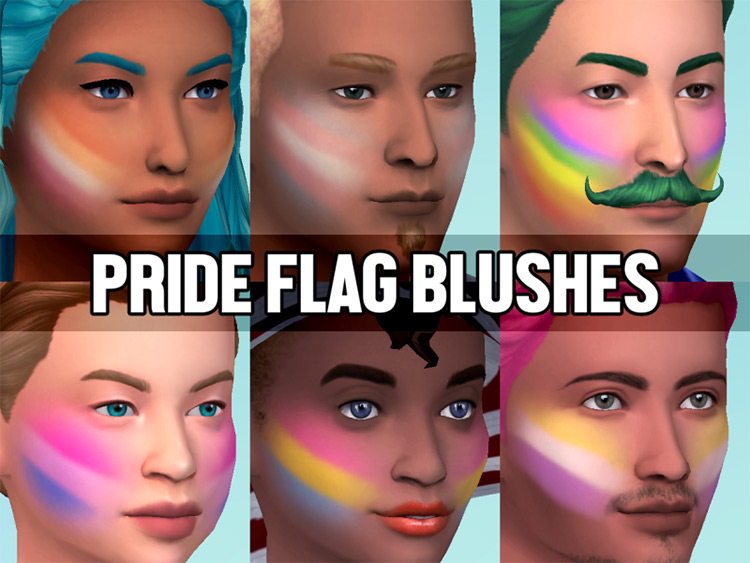 Flying your colors loud and proud is what this is all about and there's no better way than just painting them right on your Sim's face.
I just love these blushes.
They're super colorful and vibrant, as they should be!
2.

Pan Pride Top Recolors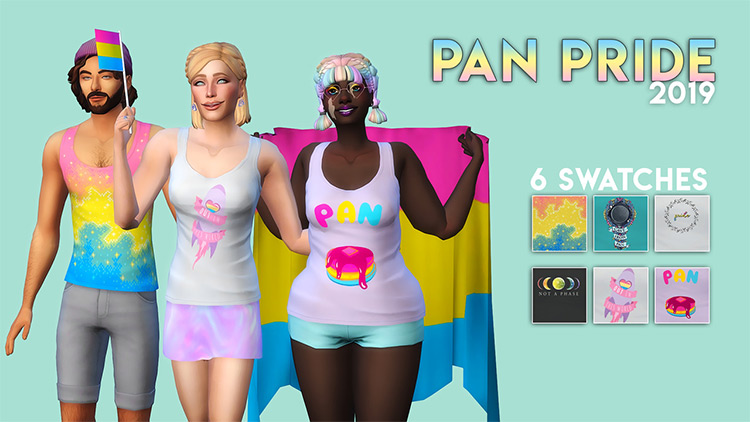 Each of these six tops is honestly a gem in its own right. The creator got pretty clever with it, including imagery of frying pans and pancakes. Ha!
They are just brilliant, plus they make those base game tank tops a lot more fun.
3.

Pride Trooper Set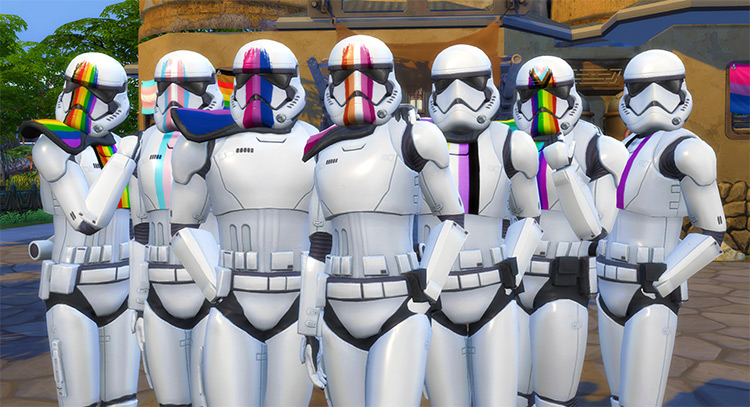 We all know Journey to Batuu is far from the most popular pack, but come on. Pride Stormtroopers? That's too good to miss.
In this set, their helmets and armor can now have the flags.
The three versions vary in intensity but the natural painted design looks fantastic regardless.
4.

Pride Skirts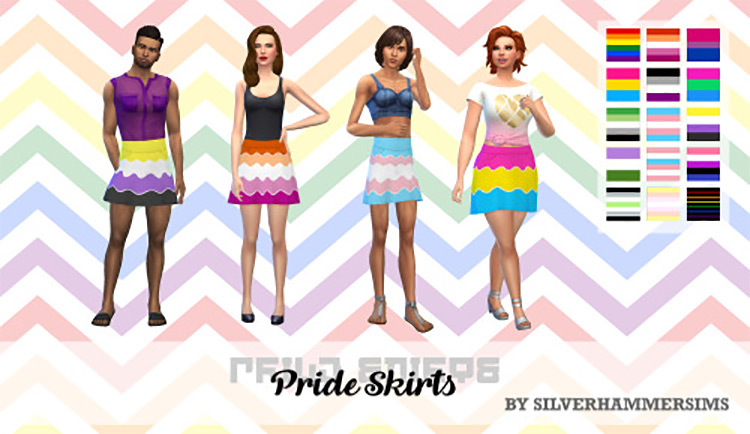 Aside from all of the awesome flags represented in these swatches, something notable is that the creator made this available to both masculine and feminine frames.
The medium length makes this skirt perfect to pair equally festive leggings, tights, or socks. You don't have any, you say? Well, keep scrolling!
5.

Striped Thigh High Pride Socks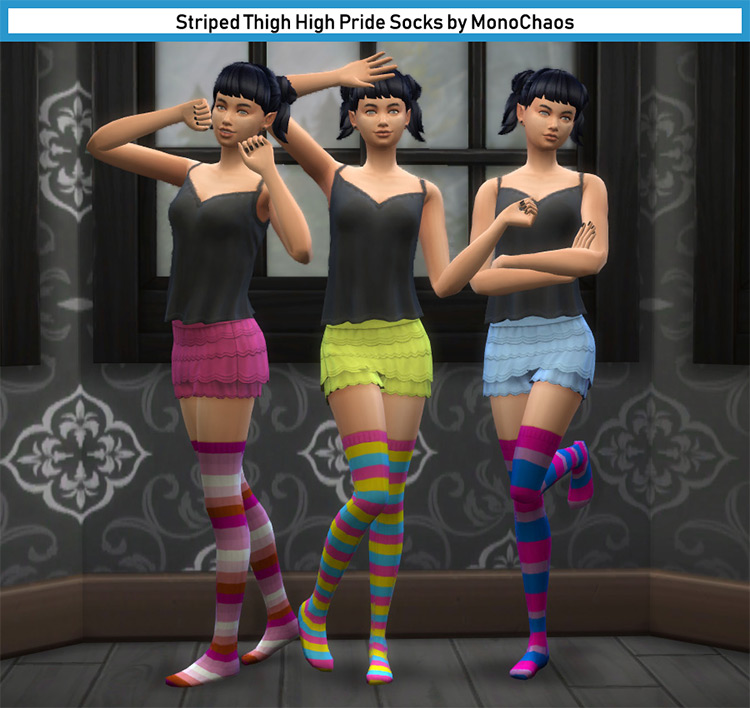 See, these were practically made to be worn with a skirt or shorts.
They are just the right height to give you plenty of opportunities, depending on what else your Sim is wearing. For longer skirts they'll give a playful vibe, while shorter ones are a bit more mature.
6.

Pride Shirts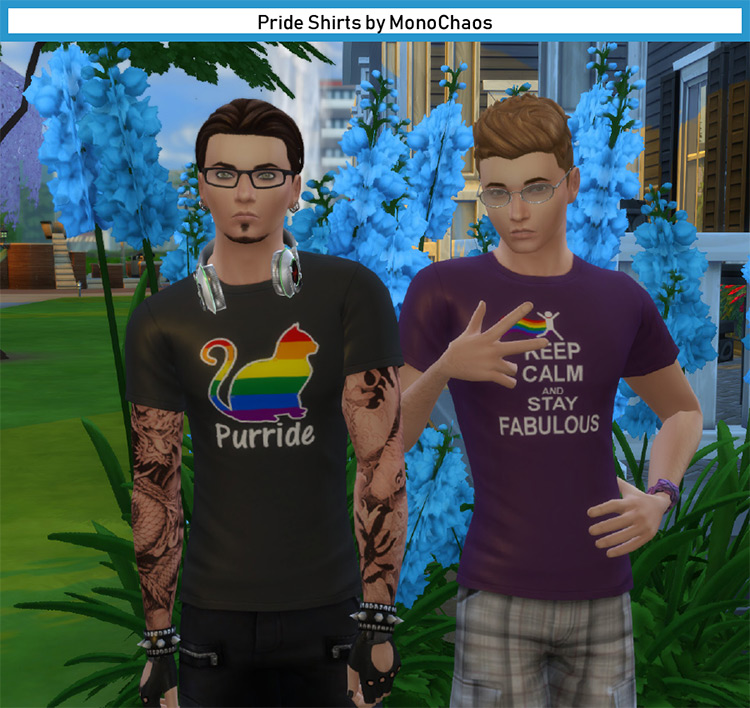 Tees are a standard way to show off anything you love.
Movies, bands, video games… and now Pride!
Sure, we have some base game options already, but do they have rainbow cats? Nope. So, we need more.
Twelve fun phrases and graphics are included in total, so there are plenty.
7.

The Big Gay Wedding Arch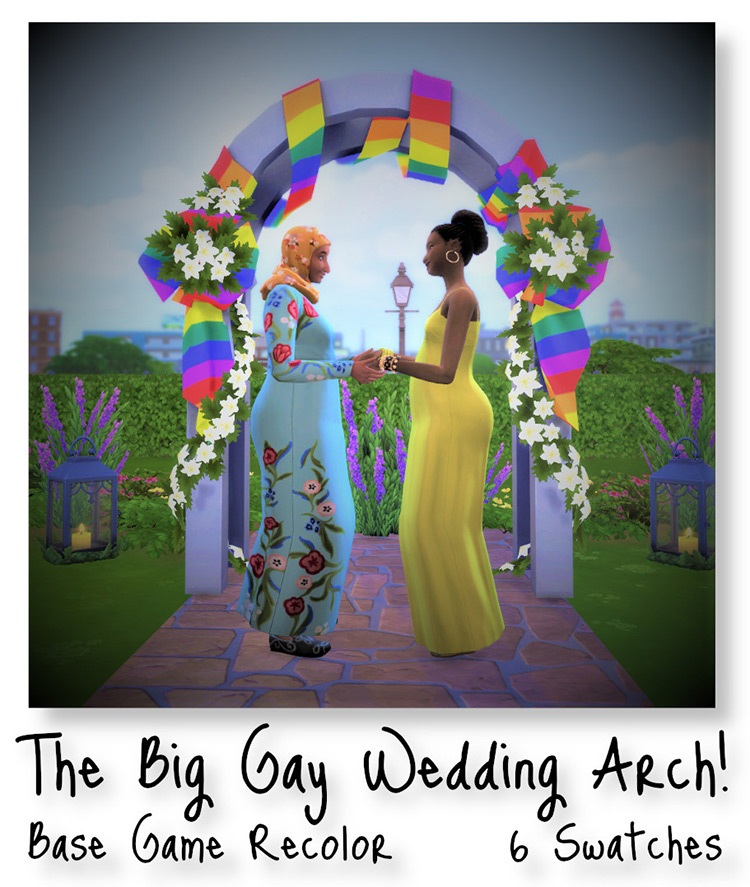 Forget black and white being the main wedding colors, this is way cooler.
The Sims 4 is already pretty inclusive but there's always room for improvement. With this functional wedding arch, you'll be good to go for all future LGBT Sim weddings.
Six swatches are available, and each will change the ribbon color.
8.

Pride Popsicle Earrings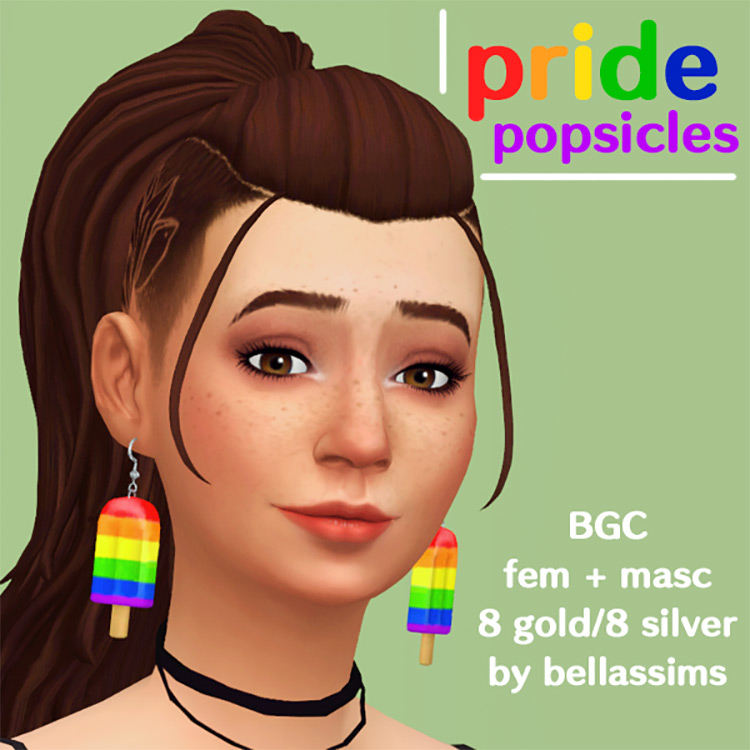 Some fun earrings are basically mandatory.
And as if all of the Pride swatches aren't epic enough, the fact that these are popsicles alone is kind of mindblowing.
They're a great size. Not too small, not too big, just right to compliment any look you're going for.
9.

Punk Pride Stuff Pack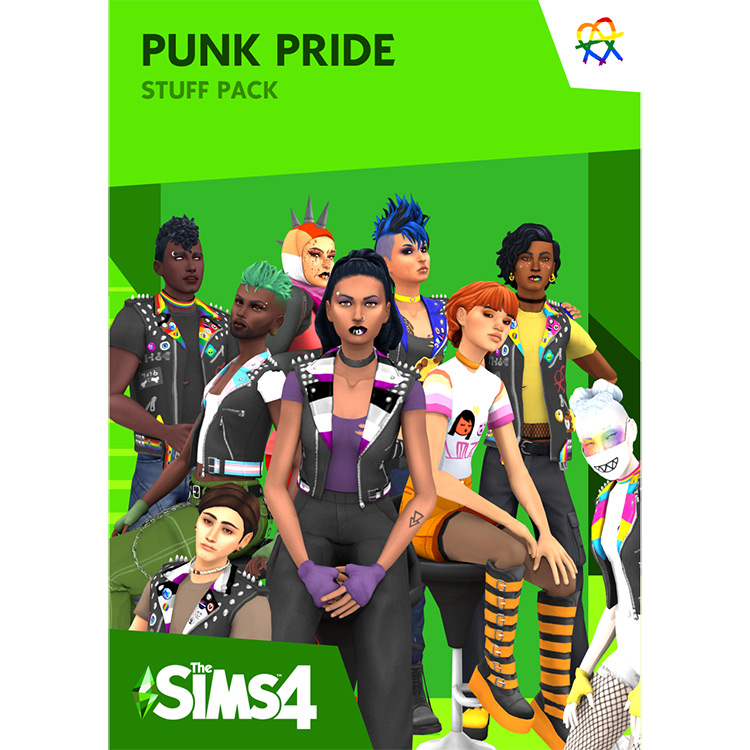 All of the content in this fanmade pack has a little more edge. From leather vests, spiked hijabs, and platform boots to recolored computers and couches, this adds to both CAS and build/buy in a major way.
Seriously, this is some of the most unique content you'll find, down to the makeup.
10.

Pride Palette
Whether we're talking real people or Sims, self expression through makeup is not a new concept.
These brand new eyeshadows will really pop in-game, especially after you play around with the sliders in CAS. Any of the 16 swatches will go right along with a full Pride ensemble.
11.

Pride Socks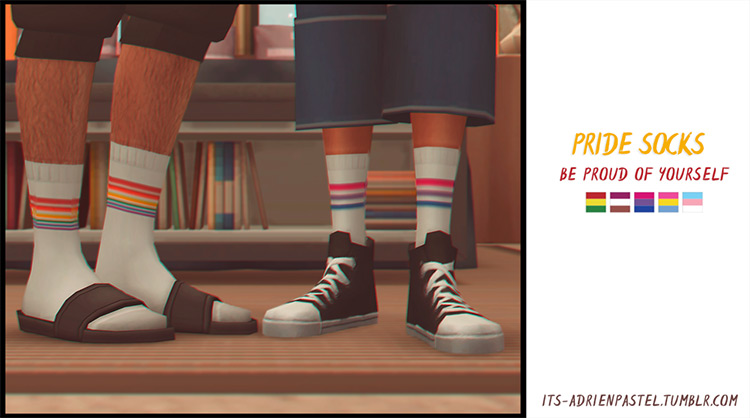 This recolor replaces the typical red stripes on tube socks with the gay, lesbian, bisexual, pansexual, and transgender flags.
What's great about these is that the pride touch is lowkey enough that Sims can wear them with any and all everyday outfits.
12.

Cute Cuddles Bear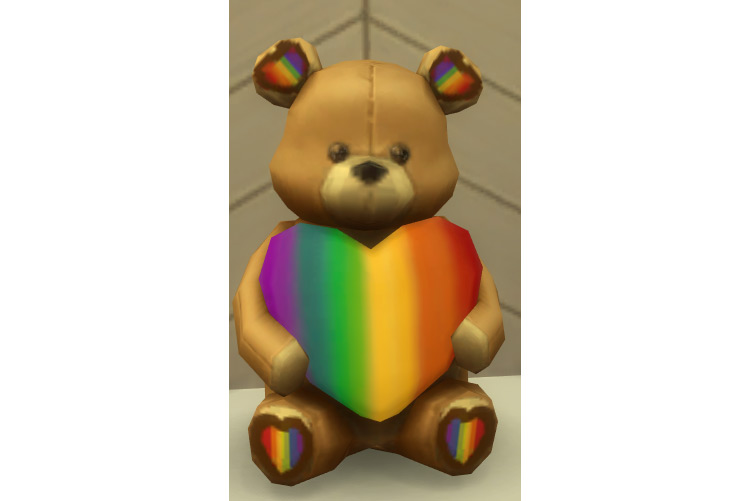 Sprinkling Pride into your Sim's home can be difficult – especially if you just stick to what's offered in the base game.
But a teddy bear never looks out of place. This genius recolor adds the rainbow to this bear's ears, paws, and the big heart he holds.
13.

Pride Tees for Males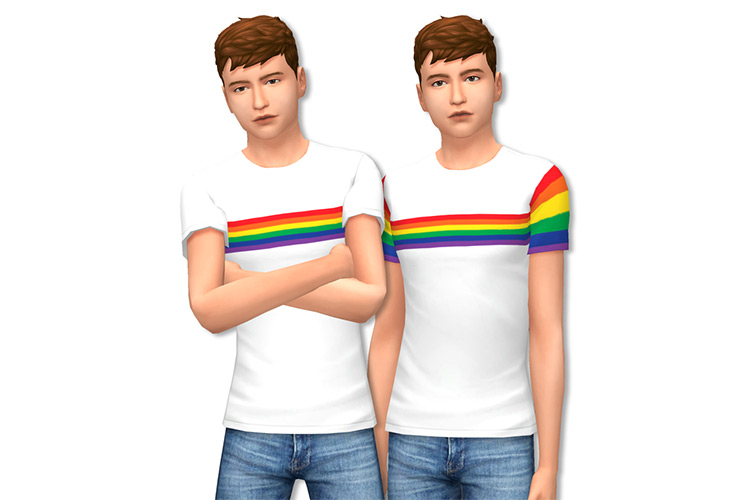 A female version of this tee is also available, but I wanted to include the guys since they're always a bit left out in The Sims 4.
Lots of ways to wear the rainbow flag are included, both big and small. Some of these options have a unique look, almost like they've been tie-dyed.
14.

Pride Earrings Set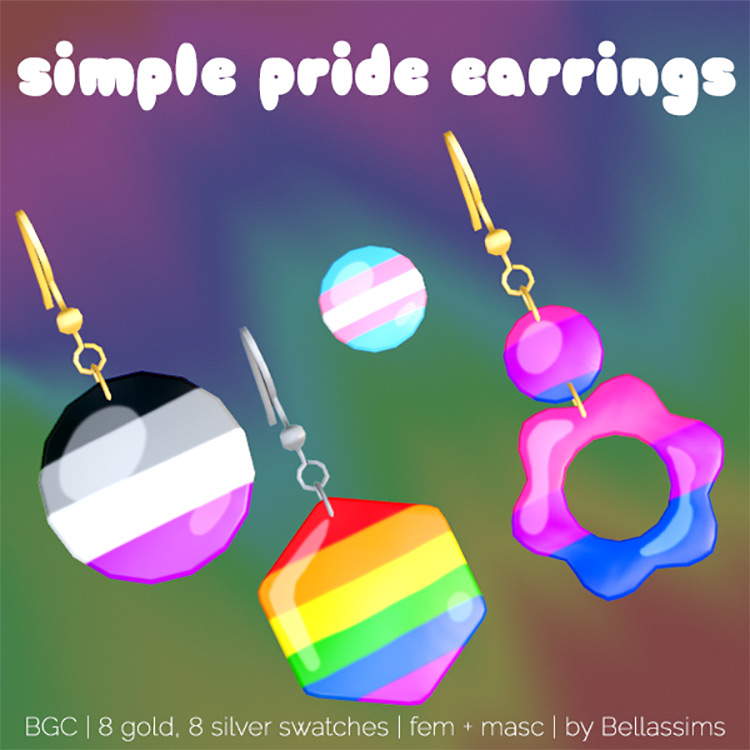 Both masculine and feminine Sims can enjoy this CC set.
Any time you'd like to inject some Pride into your Sim's look, simple accessories are a great way to go about it.
A few different shapes and styles are included here, and the hardware will be silver or old depending on the swatch.
15.

Pride Tattoos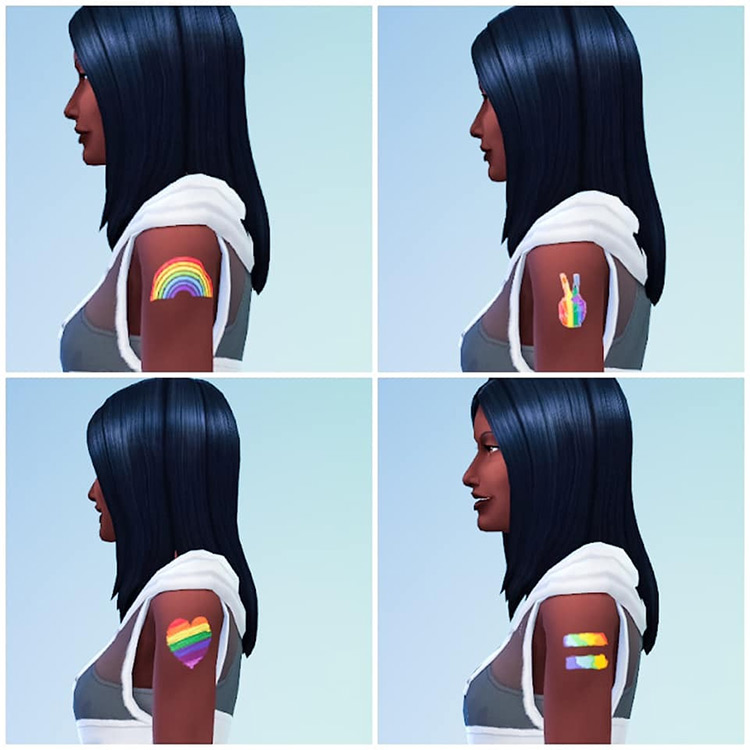 Clothes and accessories are awesome, don't get me wrong.
But how about permanently showing your Pride?
That's exactly what your Sim can do now… assuming you don't accidentally remove their tattoos, since unfortunately they're not quite as eternal as the real thing.
Four rainbow-themed designs are included, with peace signs and hearts.
16.

Pridebob Paintings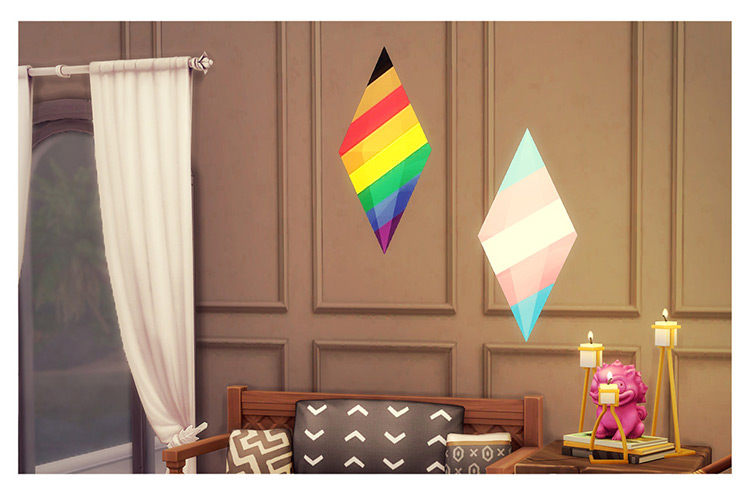 As an iconic symbol of The Sims series, the Plumbob has taken many different forms.
These recolors might just be the coolest yet, though.
You can opt for the framed versions, or the wall stickers. Both still have 14 options, which cover a multitude of sexual and gender orientations.
17.

Pride Beds
Unfortunately, a Sim's bedding options aren't nearly as expansive as ours.
There's something for every fandom and interest nowadays.
At least with these simple recolors, your Sim can fly their pretty Pride colors even at bedtime. The 9 swatches cover a nice range of identities.
18.

LGBTQ+ Chokers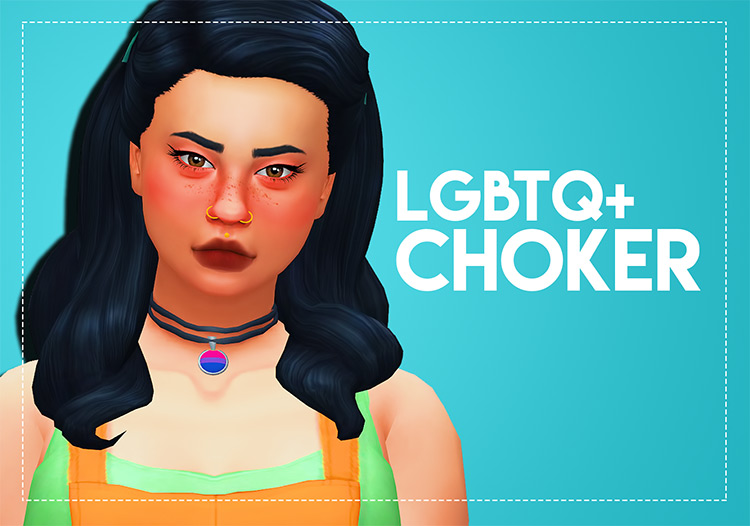 Chokers are such a cool and bold type of necklace. TS4 could use a lot more.
Thankfully, here are 24 brand new swatches to suit all your LGBTQ+ Sim needs.
Although the pendent is quite small, don't worry. Each flag's colors are still very vibrant and visible, even from a distance.
19.

Lesbian Poster Set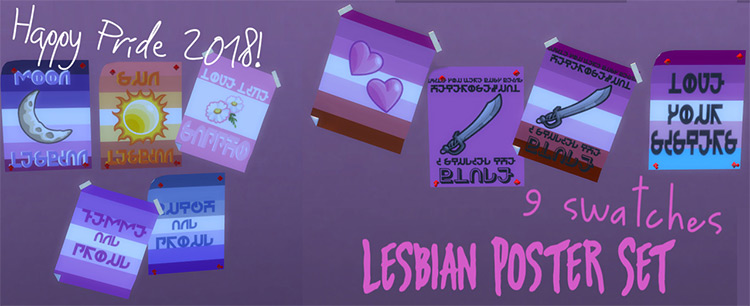 Here's something just for your lesbian households. I just love the look of these posters, attached to the wall with tape and tacks.
Sure, some will argue frames are more "adult" but what fun is that?!
All 9 swatches are Simlish so they'll fit right into your game.
20.

Holi-Gay Christmas Jumpers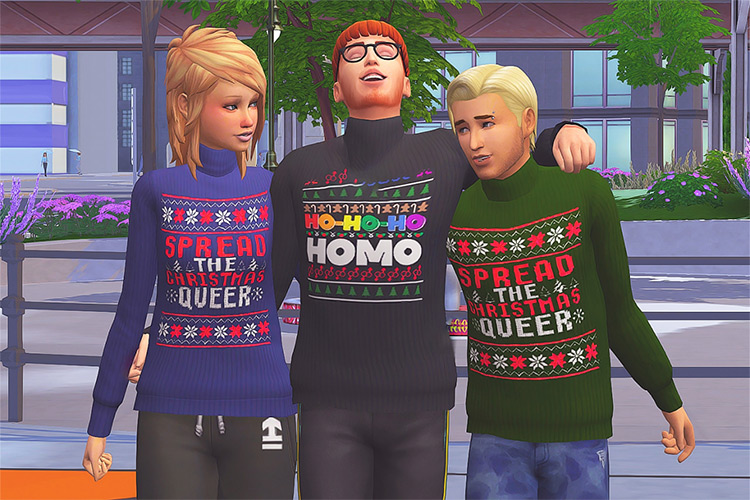 Keep Pride going year round with these festive, cozy sweaters.
It's a really fun blend of classic holiday themes and LGBTQ+ phrases. The 6 swatches, available to male and female Sims alike, will really go a long way. Have the whole family match, or maybe start a tradition!
21.

Baby's First Pride Collection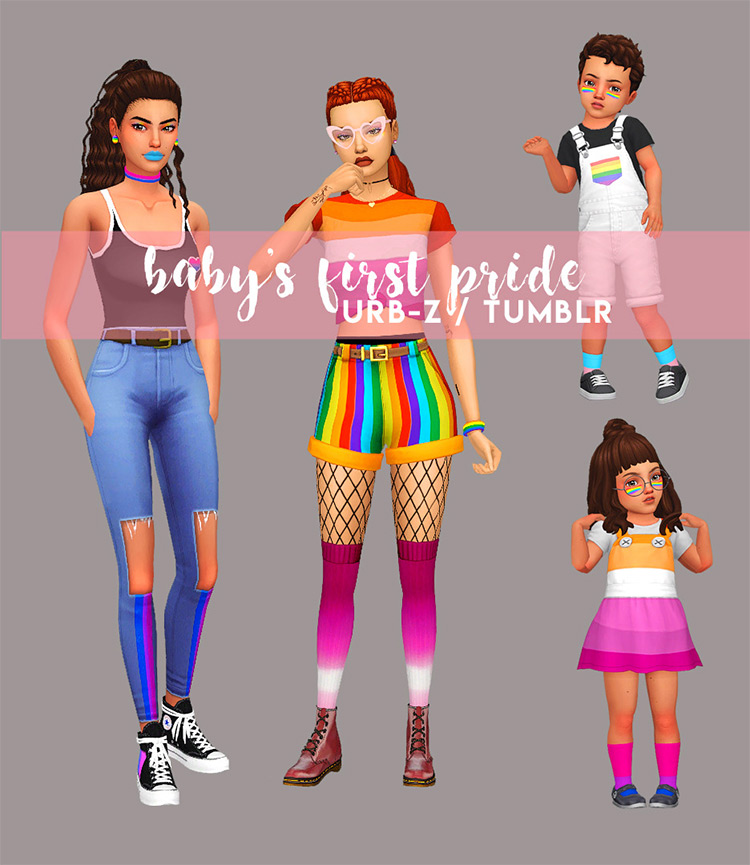 There's a lot going on with this collection. But one of the coolest aspects is the new Pride dresses and overalls for toddlers. It's great to have stuff for all ages!
For adults, we also have some blushes, a stylish knotted tee, and striped jeans.
22.

LGBTQ+ Tees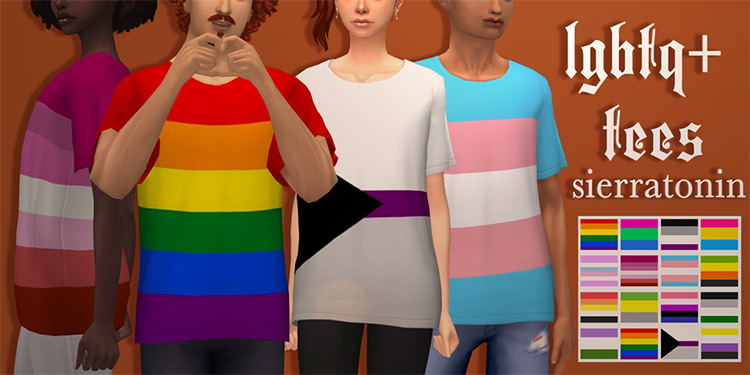 SierratoninSims' set of oversized tees have basically got it all. They aren't just stylish, they're also super inclusive.
As Lady Gaga once said, you were born this way, baby!
And your Sims are created this way, so a t-shirt is a nice way to mix Pride into their everyday attire.
23.

LGBTQ+ Pride Dresses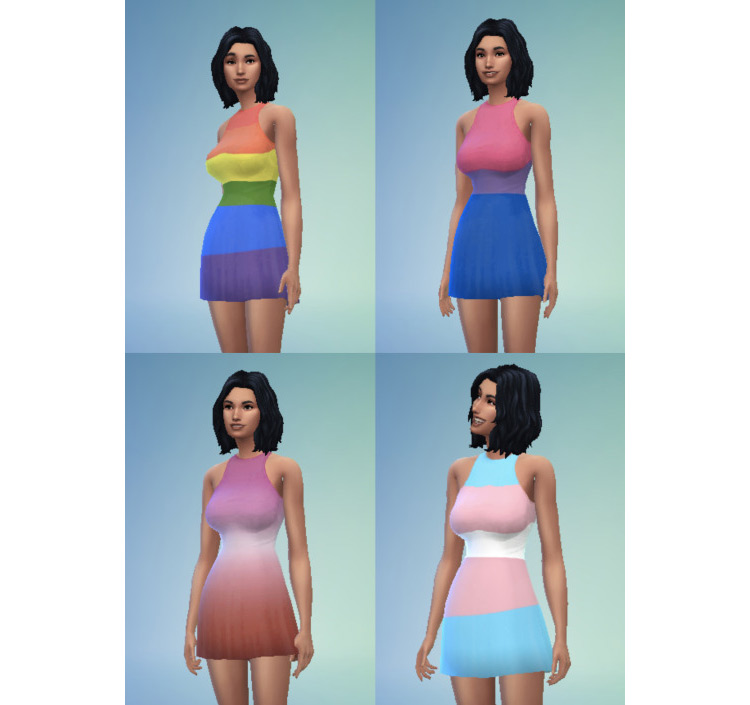 This equally versatile dress is very cute and youthful. The form-fitted design and mid-thigh length make it great for teens and young adults.
It's also another opportunity to put accessories and boots to good use.
24.

Bloom Ear Plugs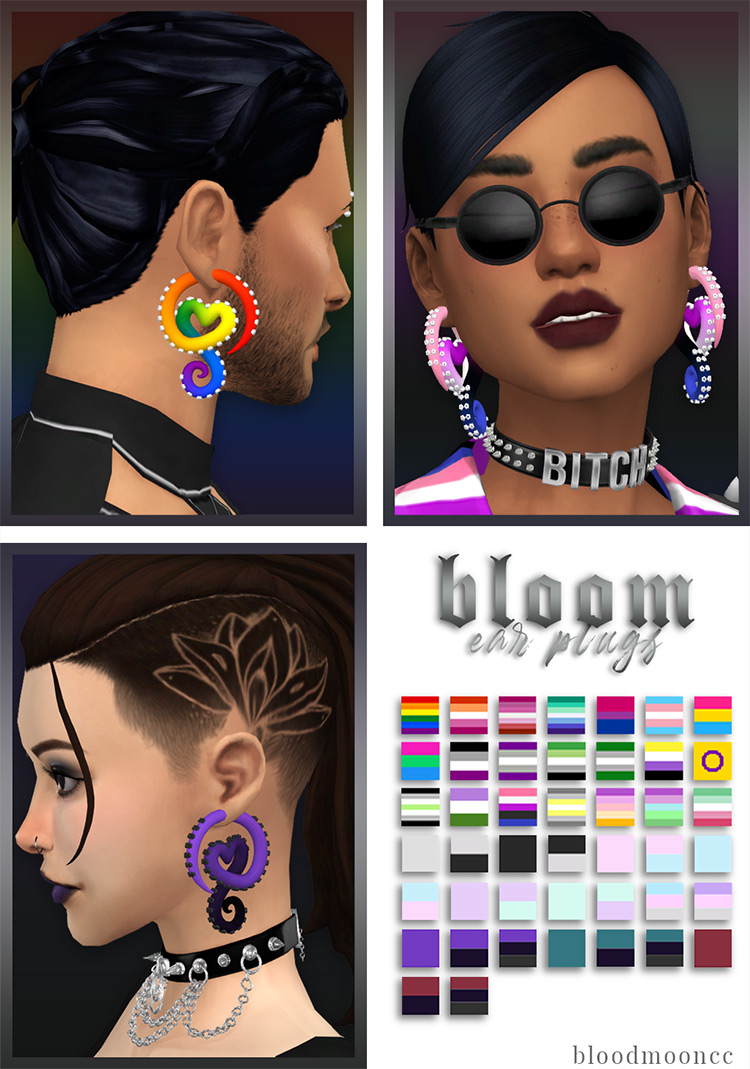 If you want your Sim to stand out and have their own style, then some totally unique earrings are just what you need.
These studded, twisting ear plugs are nothing short of extraordinary. I didn't even know stuff like this was possible in TS4!
25.

Rainbeard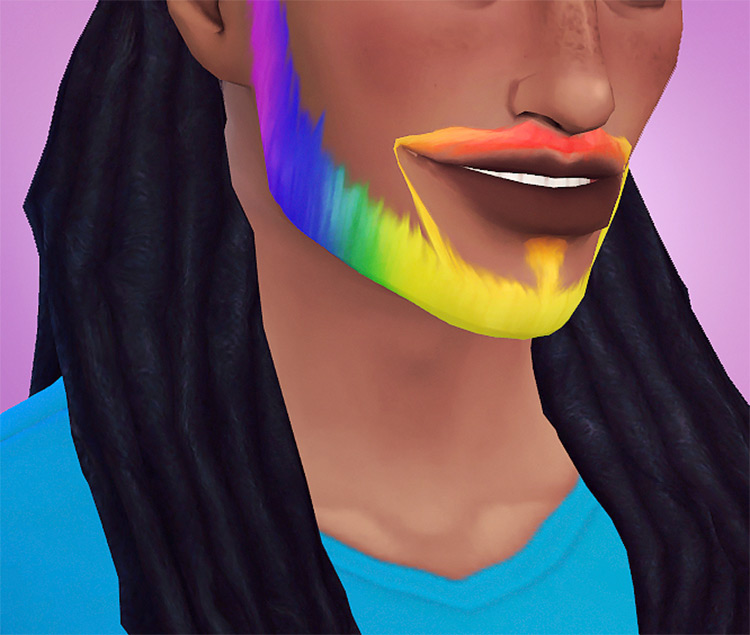 Some hair dye can really go a long way if you're celebrating something.
But a dyed beard? Um, that's next level.
Two base game beards and one from Get Together have been decked out with all the colors of the rainbow thanks to this Simmer.
26.

Show Your Stripes Shirt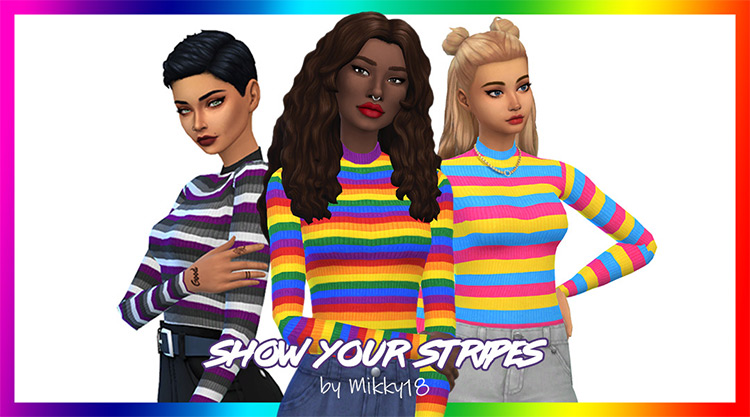 With such a distinct texture and long sleeves, this is the perfect top for your Sims to wear throughout the year.
You literally can't miss the stripes. They're what this is all about, and there's no better way to fly your colors.
27.

Pride Facepaint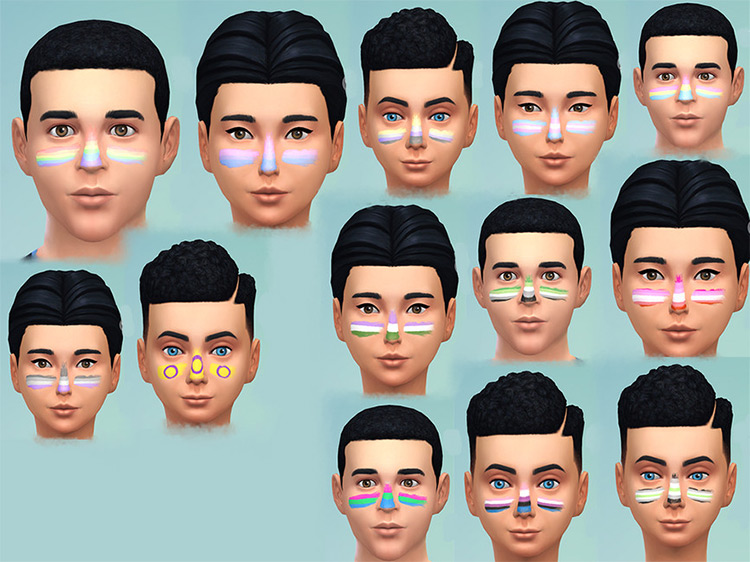 I think this is sunscreen in the base game but let's be real, facepaint is much more practical.
Just think of all the potential, from cute photo shoots to in-game celebrations. Anything is possible with Seasons!
But day to day, giving your Sim some Pride is as simple as applying this in CAS.
28.

Rainbow Accessory Bangs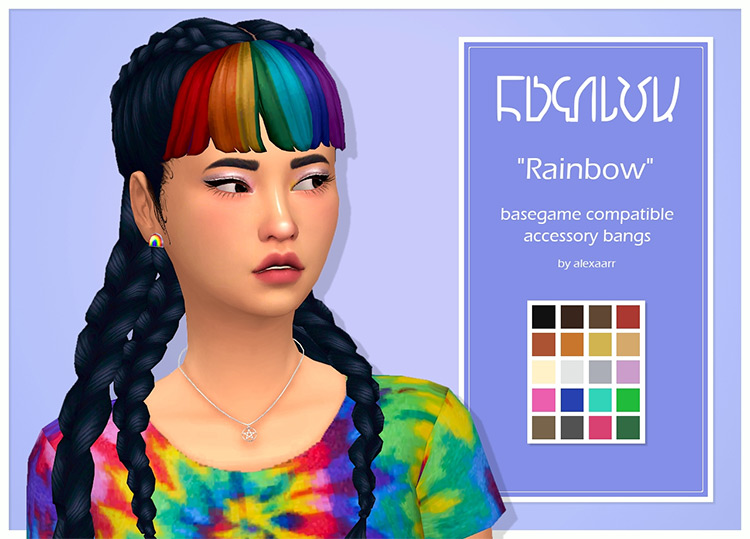 Obviously, hair is one of the most fun things to experience. It'll grow back, as we've all heard.
Well… not so much for Sims. That's why accessory bangs bring so many possibilities to the table.
This is already an amazing concept, but the rainbow color palette makes these bangs particularly iconic.
29.

Split Pride Shirt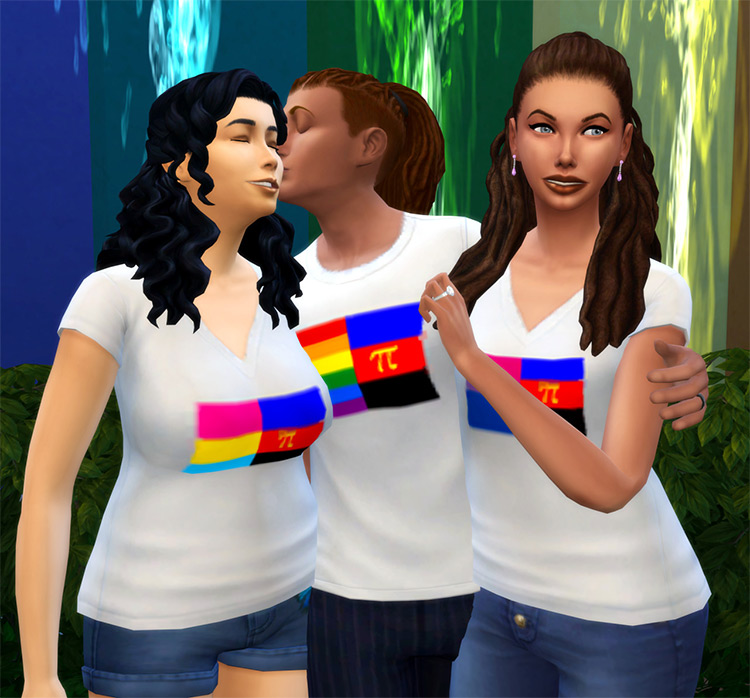 Pride doesn't have to be limited. That's just nonsense!
For your Sims who are gay and trans or aroace or any other combination of identities, this shirt goes halfsies on both flags.
Pretty genius, right? It brings even more personalization to the game.
30.

Gay Fieri Shirt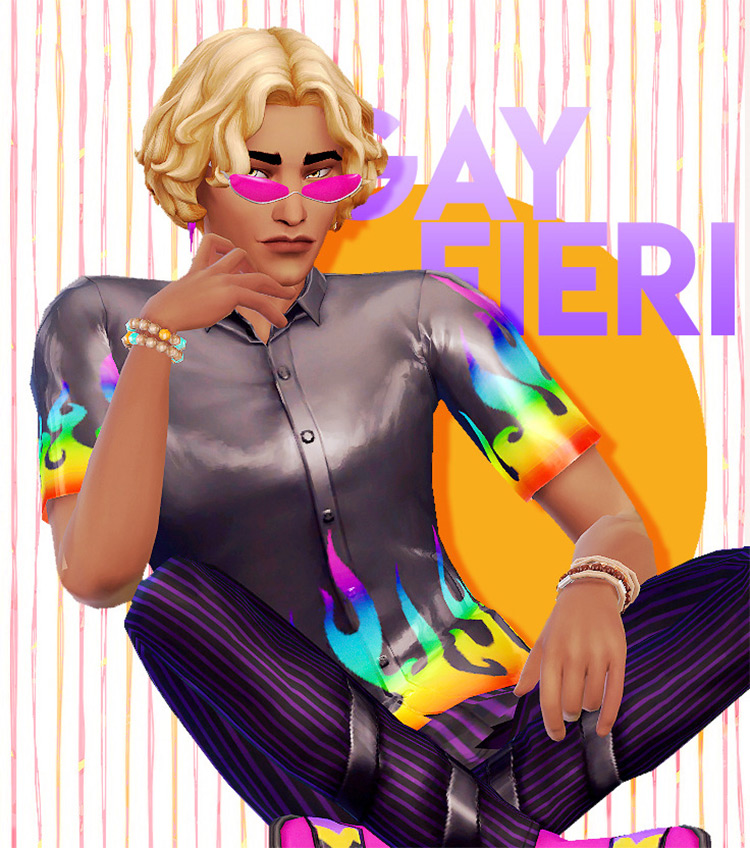 It's only right to go out with a bang.
And this shirt is a very interesting creation.
I mean, we have so much to take in here. Pride colored flames are already epic, but the shiny texture really steals the show.
And the handsome button up style? Already timeless!
Browse:
Lists
Maxis Match
The Sims 4
Video Games