Best Maxis Match Witch CC For The Sims 4 (All Free)
This post may contain affiliate links. If you buy something we may get a small commission at no extra cost to you. (Learn more).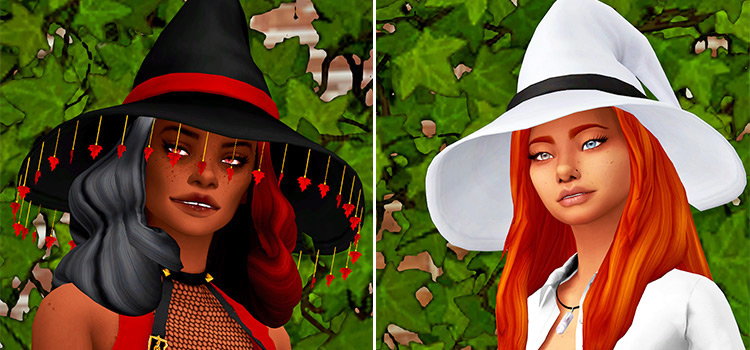 The term "witch" used to get a bad rep. Now, though?
They're seen as less "bad" and more "badass."
Horrible pun aside, I'm serious. People are fascinated with the concept of occult integration in modern society.
In the context of EA, we've got The Sims 4: Realm of Magic. Of course we're completely fine with the thought of a powerful Mistress of Mysticism (and/or the Dark Arts, depending on their alignment).
Whether you're looking to add onto your Spellcaster options with Realm of Magic, or you're just looking to build a bewitching Sim, here are some witch-themed CC that all fit perfectly into the Maxis Match style.
Most of these items are CAS goodies, but there's also some Build/Buy Mode items thrown in later in the list!
MM Witch CAS Items
1.

The Witch's Hat by okruee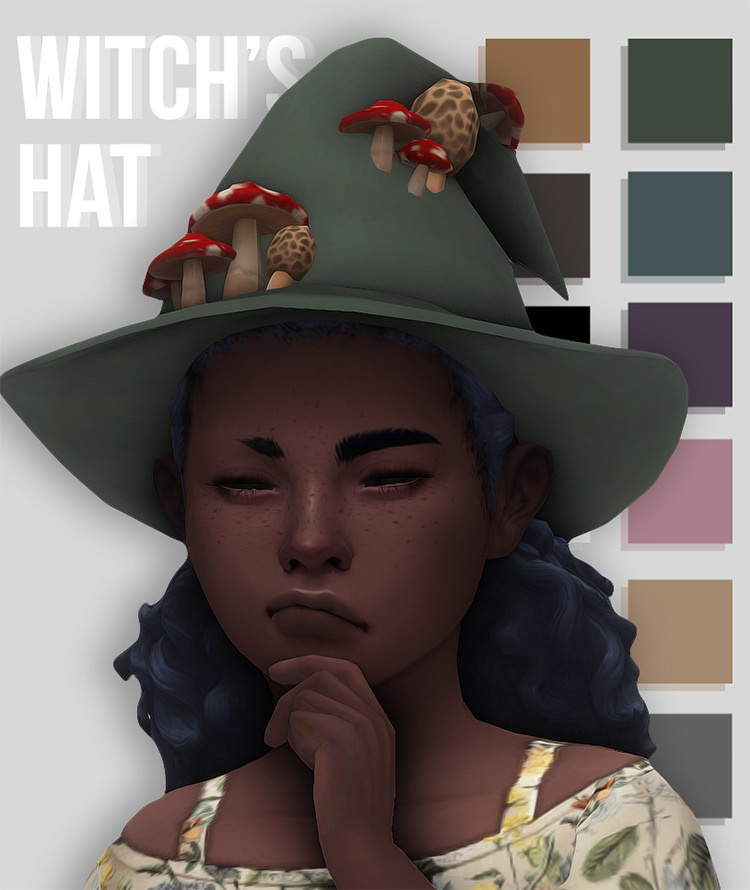 We have, for some reason, equated this conical, wide-brimmed hat with witches.
I can't be bothered to Google why this is so (yet), but I'm also not going to argue with it.
This hat silhouette is iconic, and no proper witch should be seen without one. Okruee's cute, mushroom-y version comes in soft, earthy colors!
2.

DIY Witch Hats by divadoom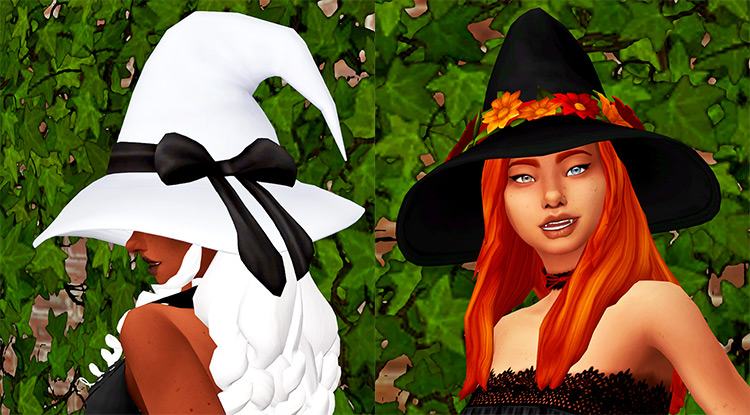 I know the name implies that you can probably make your own witch hat, but that's not the case. These hats come with their own preset style. Four of them, in fact!
And they all make for interesting modern witchy looks.
Check the creator's notes for additional info, because one of the hats in the set (the one with the flowers, I believe) clashes with other Face/Head accessories. Best to know beforehand to avoid CAS issues!
3.

Accessory Broom Part 1 Costumes by inabadromance
The broom is just as iconic as the hat.
And like the hat, I have no idea why we've equated flying brooms to witches. But there you go.
Give your witchy Sim the gift of transportation and friendliness with this beautiful broom accessory from inabadromance.
4.

Something Witchy This Way Comes (for Adult Sims) by pixeloasis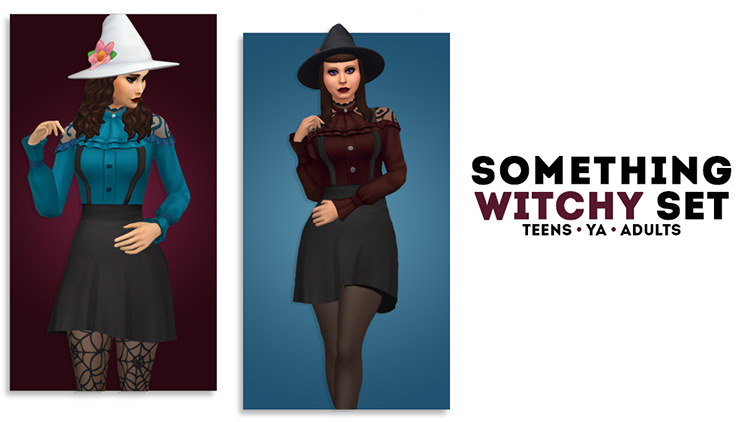 Hat, dress, and a gorgeous smoky eye plus dark lip.
What else does a modern witch need to complete their look? Honestly, this all-in-one set from pixeloasis makes for a great one-time download for when you just need your Sim to look the part ASAP.
The hat – that comes in seven solid swatches – even has a cute flower on the brim!
5.

Trillyke – Medusa Dress by Trillyke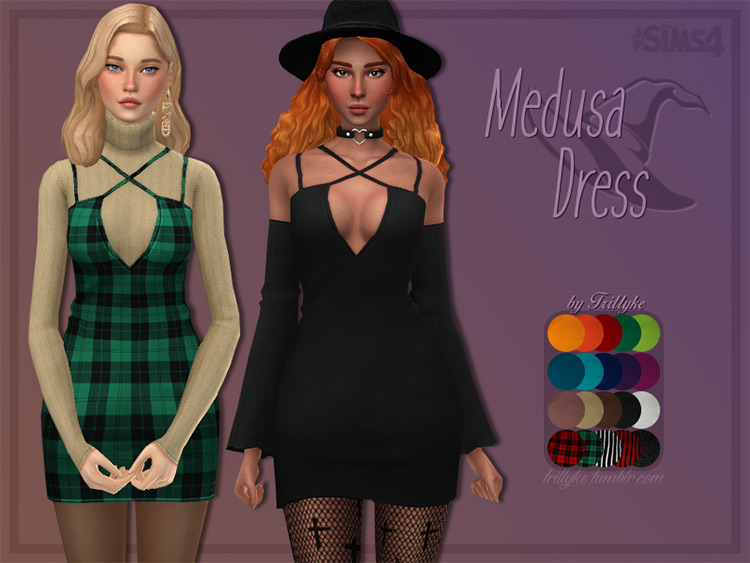 It may not say "witch" in the title, but the creator themselves describes this Medusa dress as a "witchy mini dress" (with a deep V-neckline), so. There you go.
It's certainly got an interesting shape to it, and the cutouts are undeniably stylish.
In bright colors and patterns, the dress looks like a cute party dress.
In solid dark shades (and paired with a witchy hat), it's unmistakably the garb of a modern dark mage (who probably still likes to party; no reason the dress can't be multipurpose).
6.

Morgana Hair + Cloak by Natalia-Auditore (Recolor by InfiniteRaptor)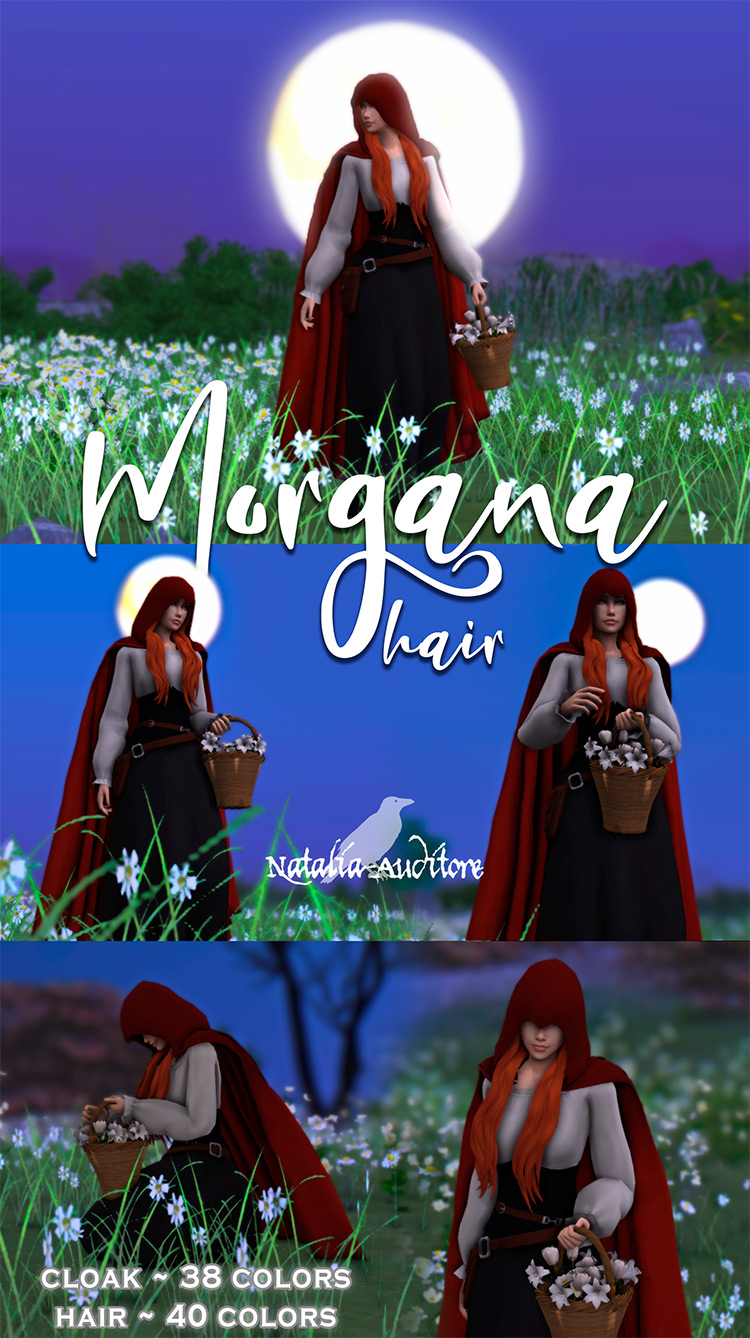 What would a list of witch content be without a reference to one of the most powerful and badass witches of legend, Morgan le Fay?
Long, fiery hair beneath a sinister hood and flowing cloak; the silhouette is unmistakable.
Give your Sim the same imposing aura with this hair + hood combo. And you can download InfiniteRaptor's recolor if you need more color options!
7.

Cornelia Hat by Joliebean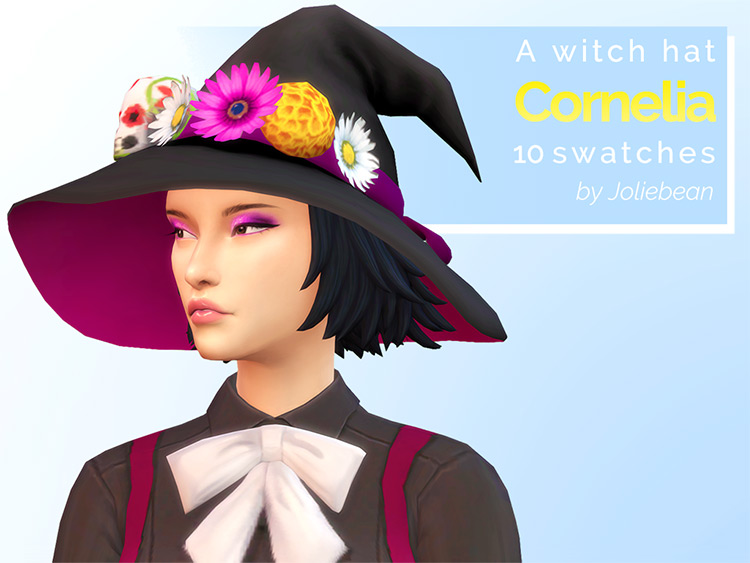 Ayt! One more witch hat, just for good measure.
This one's got a lot of flowers and mushrooms on it.
And I love that the inside's a different color than the exterior. Who ever said witch hats could only be black, coal, or dingy grey?
8.

Witch Markings by Ziearel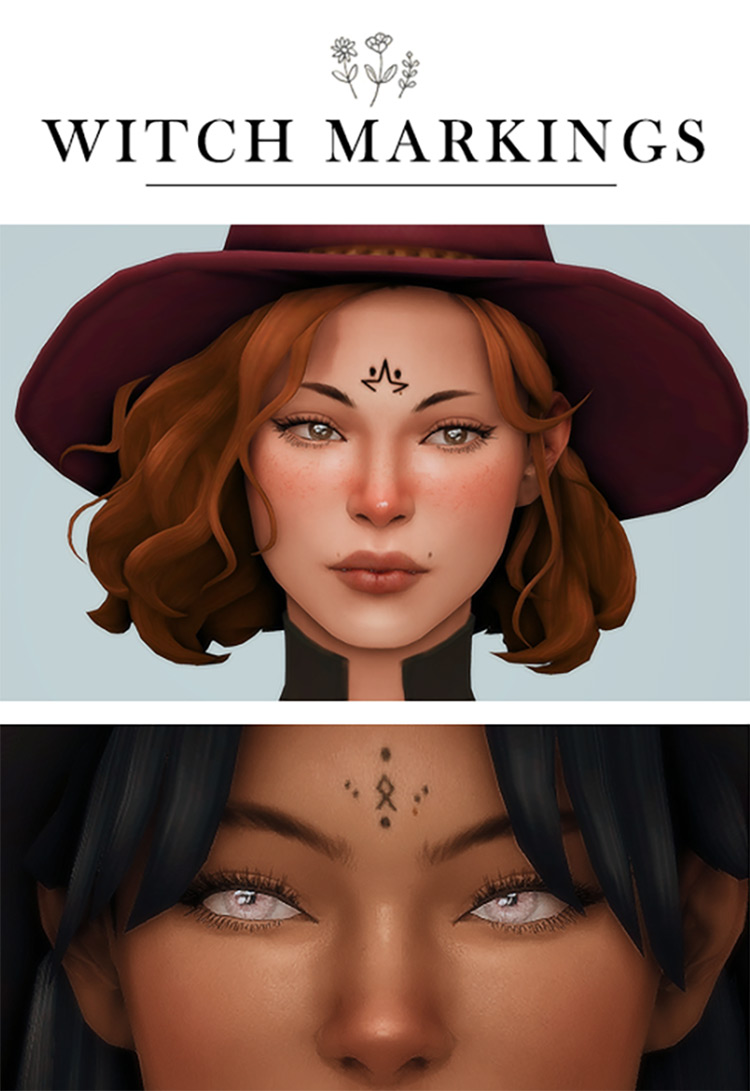 These delicate face tattoos by Ziearel are genuinely so pretty and so mesmerizing, I'm glad I found them.
The seven different designs don't look particularly esoteric, so trust me when I say you could repurpose these gorgeous, hand-painted sigils for other concepts (tribal warrior, divine crusader, chosen hero, etc.).
But in the context of a mistress of the arcane, these tattoos totally sell the story.
9.

The Star Tattoos by sugar owl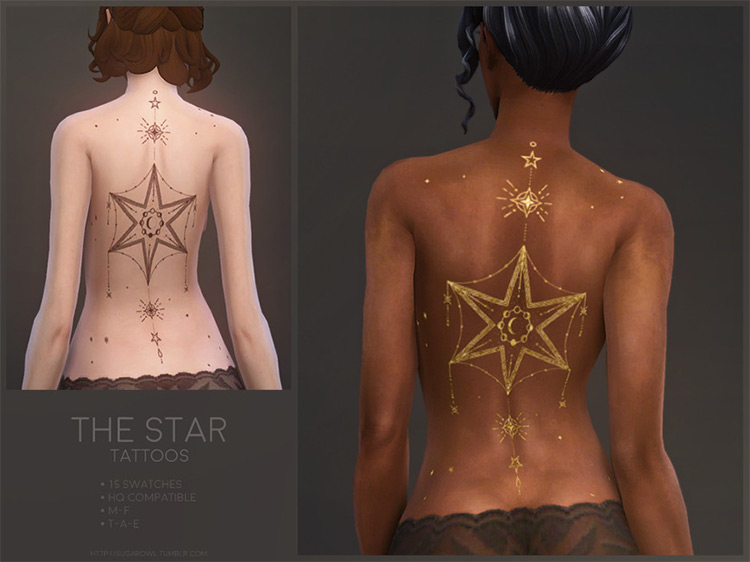 Just like Ziearel's Witch Markings tattoos, these beautiful golden star tattoos by sugar owl are intricate, delicate, and absolutely mesmerizing.
They definitely look like they're necessary for some intense magic session. Plus, honestly, they're just plain pretty!
10.

Coven Set – Simblreen 2020 Gift by Joliebean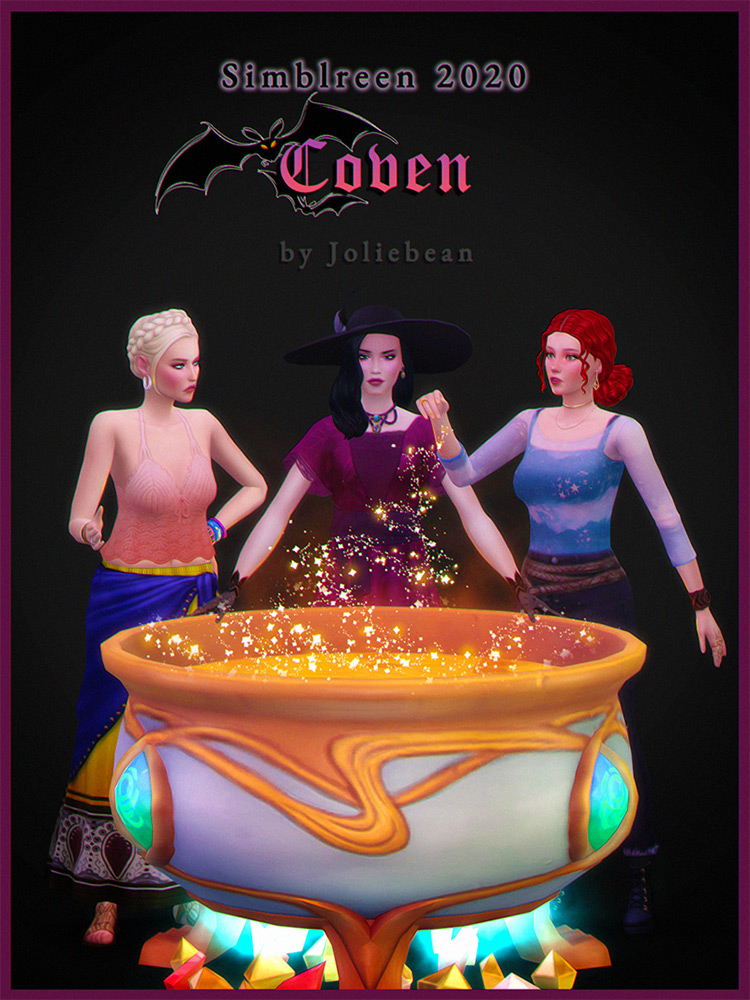 Every witch needs their coven.
After all, it's important that your Sim surrounds themselves with like-minded spellcasters and enchantresses who share their passion for the mystic, astrological, and arcane.
And for modern covens, Joliebean's CC pack will ensure you and your sisters look hella fashionable as you brew your potions and practice your incantations.
11.

Soft-Simmers Simblreen 2020 by soft-simmer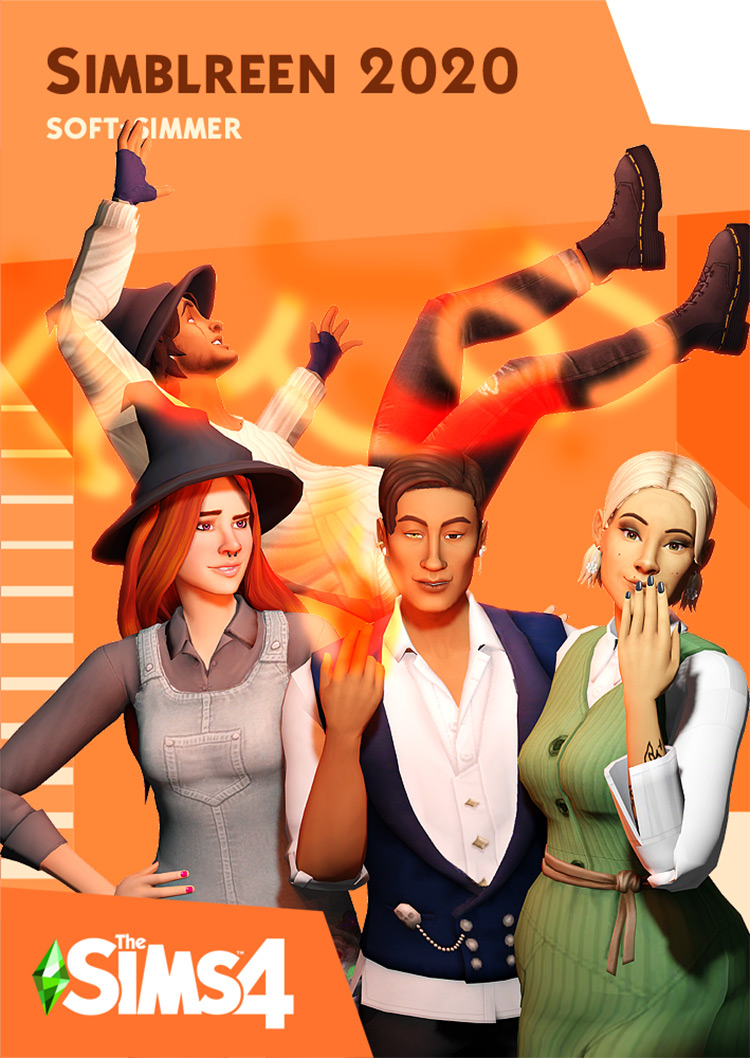 How about a nice, casual set of clothes for some modern witches n' warlocks?
There's nothing particularly sinister about them, save for the obvious witch hats, so feel free to let your Sim wander around the Olin button up or the Epona shortdress. Believe you me; their fashion won't give away their witchy status!
12.

Lilith Boots by Cooper322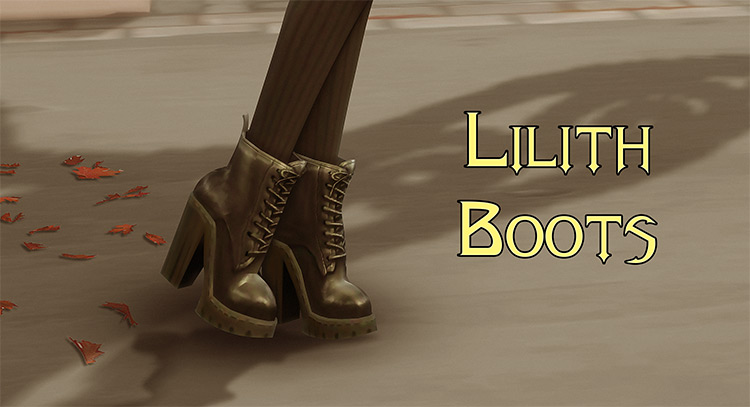 When I saw these boots, I immediately knew I had to include them.
They're clunky, they're stylish, and they definitely look like they belong to a modern-day spellcaster. Maybe it's the name. Maybe it's the lacing.
Either way, these beautiful boots are staying on this list.
13.

Lilith Eyeshadow by LadySimmer94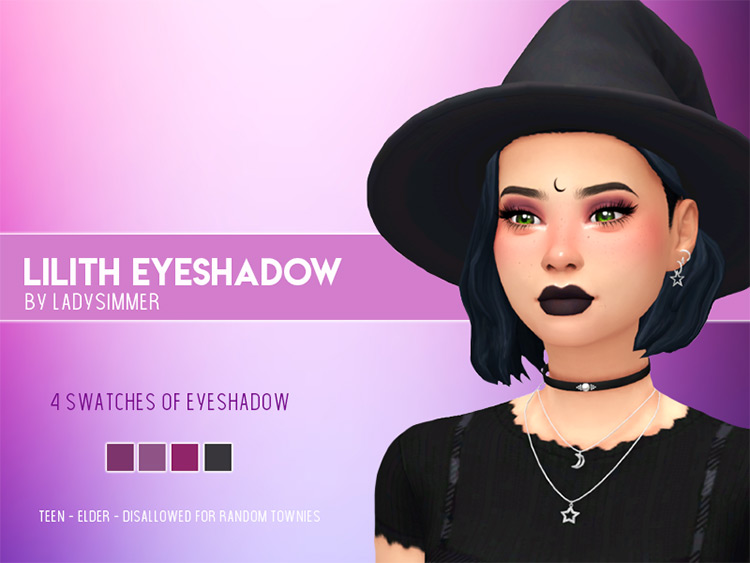 Is there a correlation between LadySimmer94's Lilith Eyeshadow and Cooper322's Lilith Boots? Can't say for certain.
All I know is, these two would work beautifully in a Witchy!Sim build, which is why I included them both.
14.

Witchy Dress by Simetery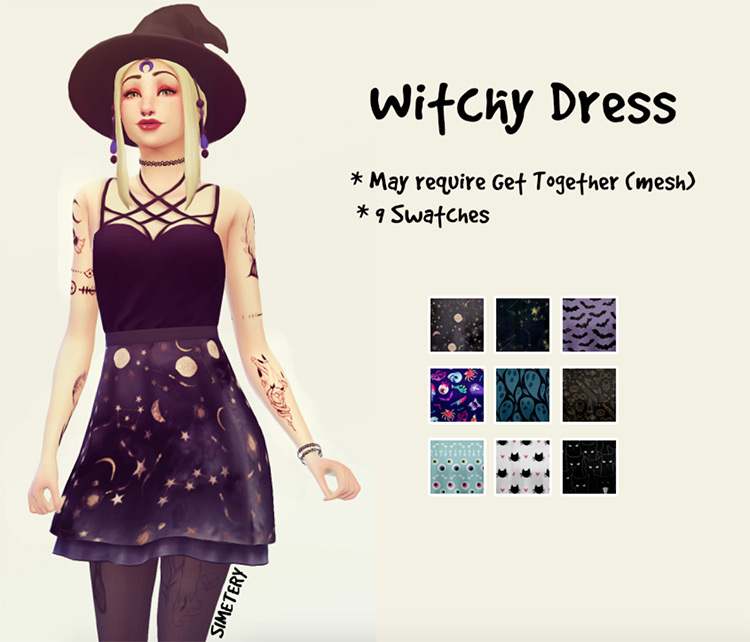 If you've got The Sims 4: Romantic Garden Stuff installed, I highly recommend you add this cute AF Witchy Dress to your Sim's wardrobe.
It's a short, layered little number with multiple straps for the top and really, really cute patterns for the skirt.
And true to the name of the dress, most of the skirt patterns follow a cutely spooky/celestial theme.
15.

Magic Sigils Acc by Natalia-Auditore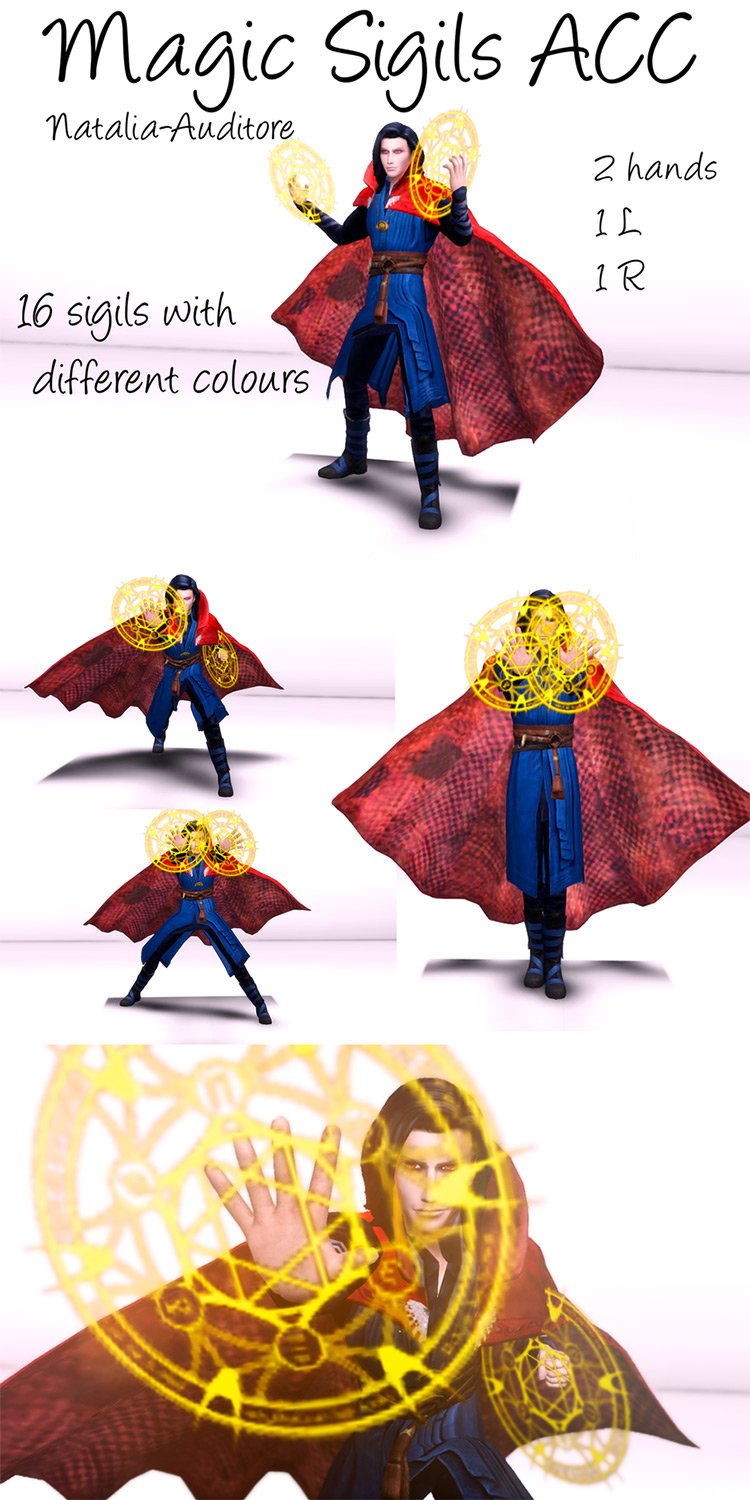 If you are at all familiar with Marvel's Dr. Strange (especially his MCU version), then you definitely know what these wearable Magic Sigil accessories by Natalia-Auditore were inspired by.
And even if your Sim isn't cosplaying Dr. Stephen Strange, you can still use these magic symbols to indicate some form of magical ability in your Male or Female witch.
16.

Mage Powers by Natalia-Auditore

Alternatively, you could also use these Mage Powers accessories by the same creator.
These aren't sigils so much as they are semi-translucent balls of raw power that – depending on the design – either float around your Sim, emanate from their hands, or surround them protectively.
Without poses and costumes, they look pretty funny.
But once you set the stage right, trust me; these little energy spheres can be really cool.
17.

Bad Witch – Expanded Collection by grimcookies/akalukery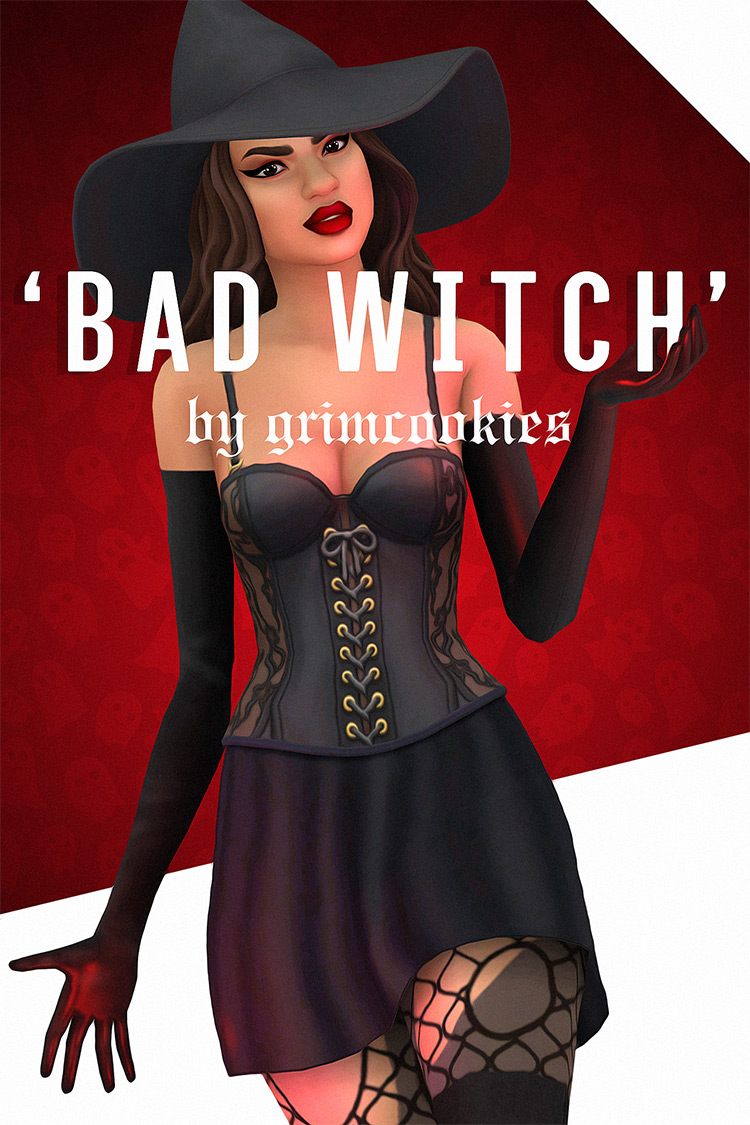 And we're back to modern versions of classic witchy garb!
Grimcookies' expanded CC set for October contains two new dresses, a custom witch hat (this one's really floppy!), and some makeup items to tie it all together.
Who doesn't like a quick grab-and-go set like this? So convenient!
18.

Séance: Witchy Top by matchmadeinmaxis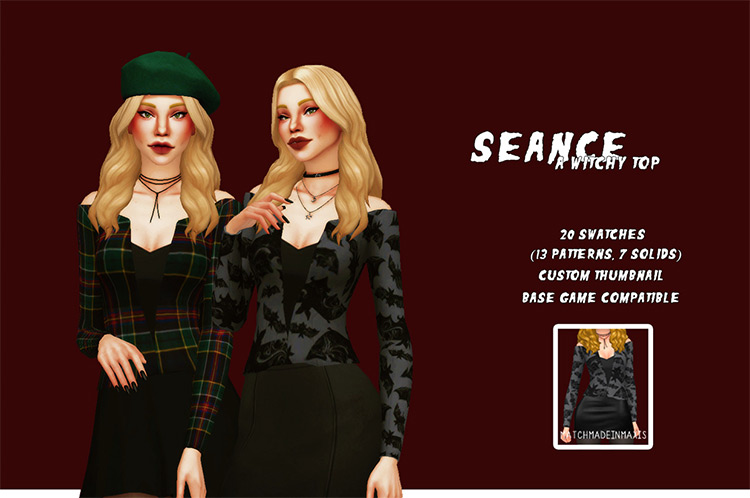 This stylish top looks like it belongs to the goth kid who went through a mad glow-up but retained their fashion preference.
It's dark, elegant, and really well-made. The preview photos show it being paired with skirts (for maximum witchy vibes, right?), but I promise it looks just as hot when paired with dark skinny jeans.
19.

Witchy Bodysuit – Tumblr Exclusive by Trillyke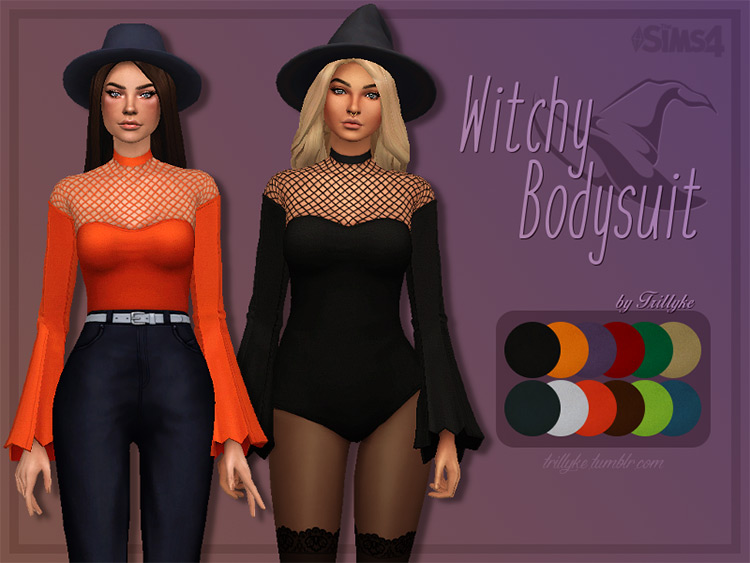 Another stylish top that screams classy goth.
There's just something about the fishnet and separated sleeves that does it for me. Honestly, even in bright orange, the top is bewitching.
There are twelve other shades you can try it in, and they're all – according to the owner – distinctly Halloween colors!
20.

Simblreen Collection by Saurus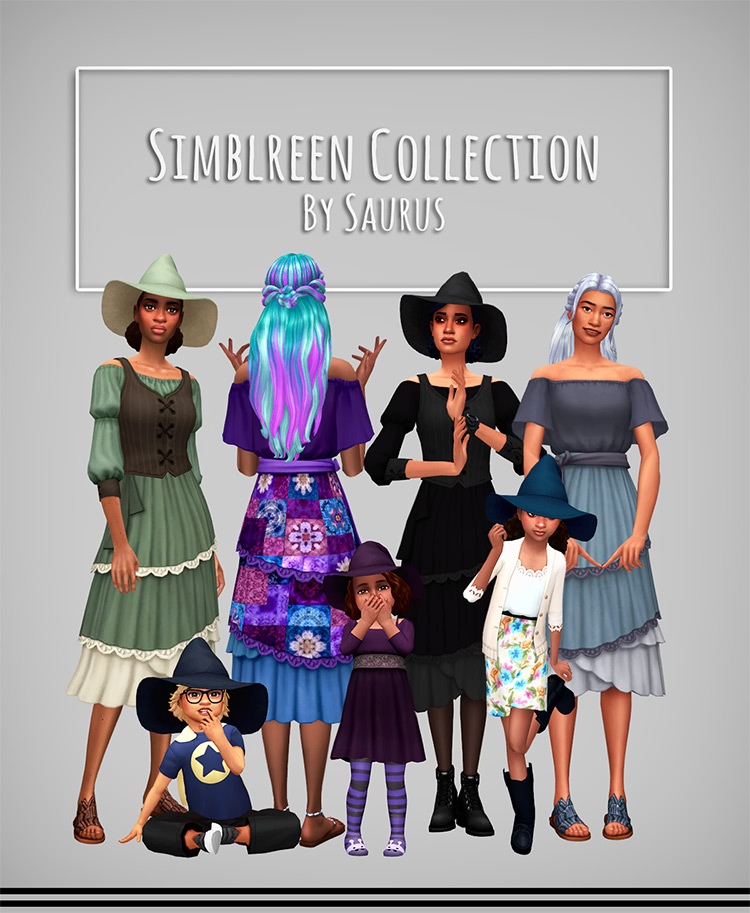 This CAS pack by Saurus contains four new items to suit a bewitching Sims family.
The most prevalent would be the Cowberry Hat. It comes in 30 swatches and is compatible with all ages. And it works for both Male and Female frames, too!
The other notable item in here is Saurus' Moonstone Hair, which is a gorgeous wavy masterpiece with braided details and a loose – but still intricate – bun.
As you can see from the preview photos, it is absolutely stunning in ombré swatches.
21.

Prudence Dress Long Version & Top Version by Cooper322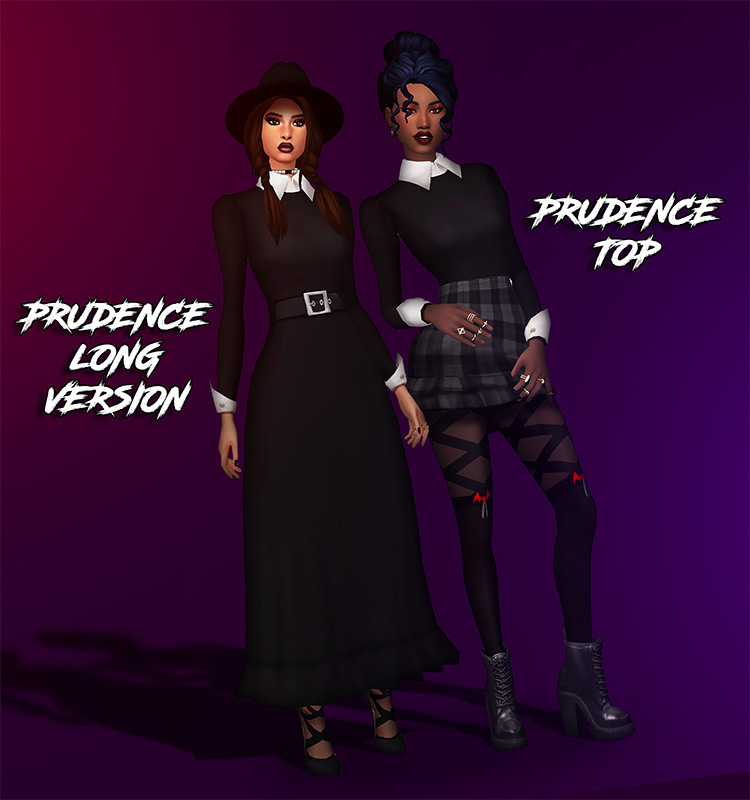 The design of this custom dress and top combo seems to lean more towards the "historically accurate" of a witch—especially in Colonial America in the 1500s.
The long black dress with the white collar is definitely a classic, but don't sleep on the Prudence top!
I love how it's so stylishly modern.
22.

Simblreen 2019 Collection by Nolan-Sims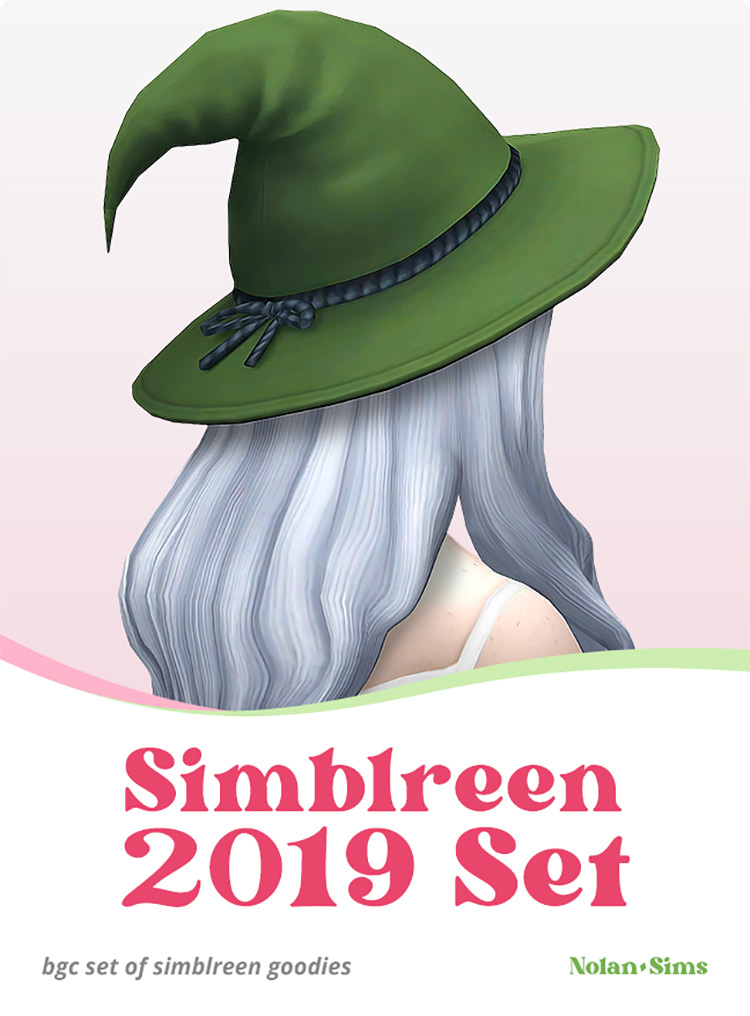 I promise, I'm not recommending another standalone hat!
I know what the preview photo looks like, but this hat is part of a set by Nolan-Sims.
The set in question contains quite a bit of other CAS items (i.e., earrings and shoes) useful for dressing up witches. It even has some cute Build/Buy stuff, like hanging herbs and framed illustrations (of what appear to be spell ingredients, no less!).
MM Witch Build & Buy Items
23.

Witchy Décor Set by tinywardens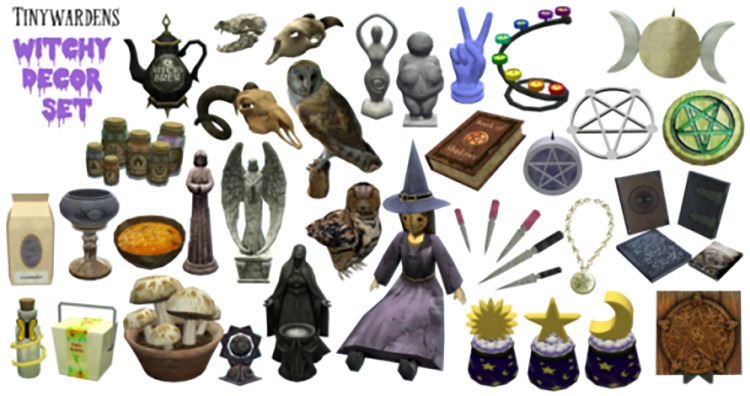 A pentagram-shaped candle holder, a pagan amulet, a stack of ancient, dusty tomes, and a suspicious growth of mushrooms in a clay pot.
These are just some of the delightfully dark-arts-themed clutter items you'll find in tinywardens' Witchy Décor CC set!
24.

Let's Have Some Brew… by helsoseira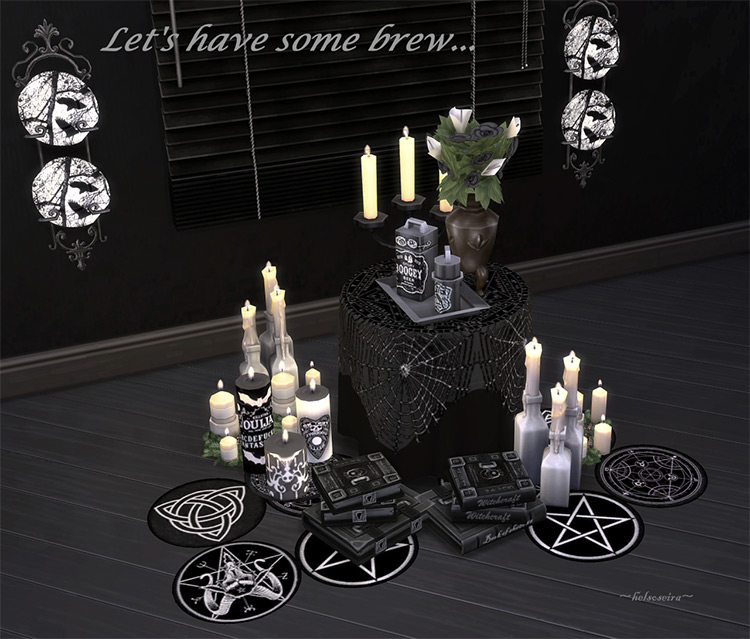 This awesome arcane set contains eight new meshes to help decorate a summoning scene, including a mysterious Book of Shadows and a couple of black, white, and pink Ouija Candles.
By themselves, the items seem pretty harmless.
But when grouped together like they are in the preview photos, they're definitely more than a little ominous.
25.

Bewitching Clutter – Simblreen Pt. 2 by kumikya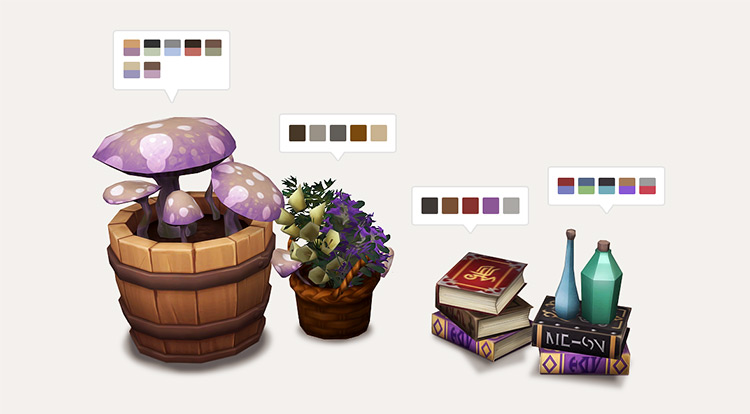 Honestly? If it wasn't for the name (and the slightly poisonous tinge to the mushrooms), the objects in this clutter pack would look totally innocent!
Nothing ominous about a bucket full of mushrooms and a basket full of unidentifiable herbs, right? Dunno how to explain the potions and the arcane books, though.
26.

New Witchy Pack Release by lolnyny's mods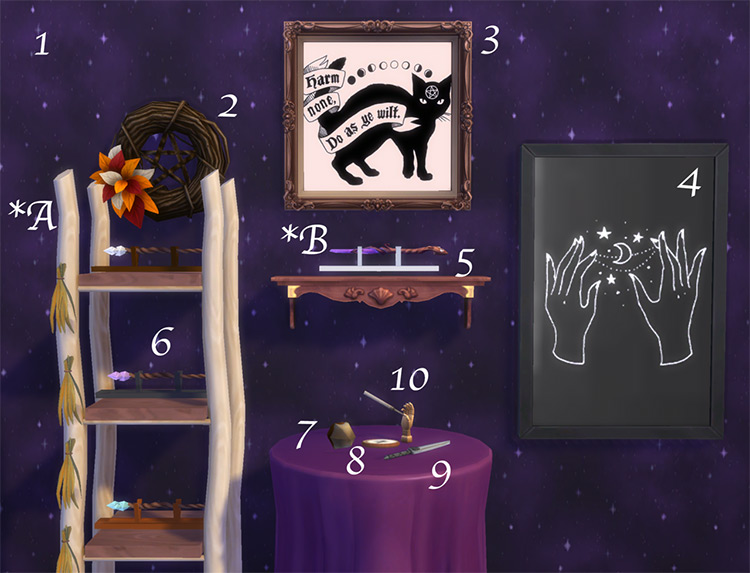 Now, if I'm reading the creator's profile right, these custom clutter items and accessories were designed by an actual practicing Pagan witch. Yay, authenticity!
Plus, this set is stuffed!
Wallpapers, pentacle wreaths, wands, and incense holders.
There's a lot to unpack here but, believe you me, it is so worth the effort.
27.

Hanging Effigies by linzlu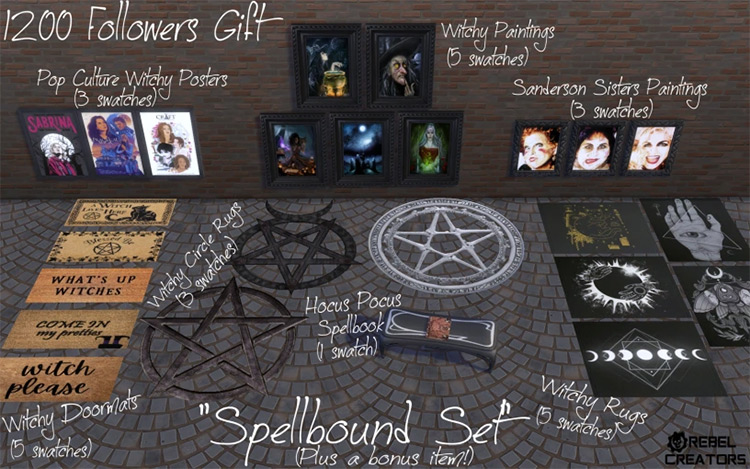 Not specifically for witches per se, but these hanging carvings look very much like the sort of charms and foci spellcasters would hang around their space.
Like maybe to amplify energy, increase protection, appease dark forces… that sort of thing.
Plus, three out of the five designs look like they use bones, so. I feel that's sufficiently dark-arts-y.
28.

Magic Sigils by Natalia-Auditore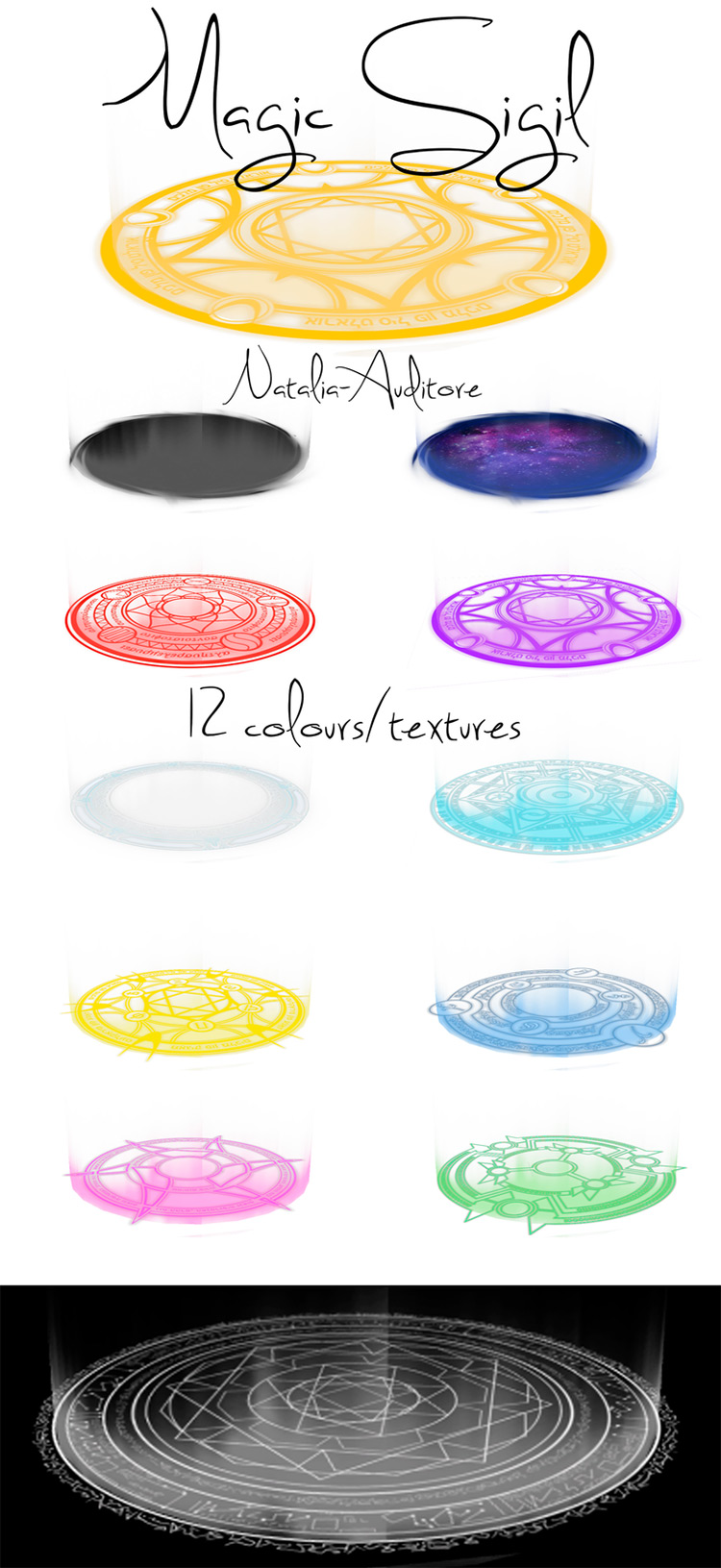 If the items in helsoseira's pack aren't enough to stage a full summoning, Natalia-Auditore's Magic Sigils should do the trick.
They're basically just circular rugs recolored to look like magic circles drawn on the floor (genius concept, right?), but you can't deny that they look hella cool.
Especially the ones that actually glow with their own light!
29.

Spellbound Clutter Set by brazenlotus
Don't let the simplicity of the preview photo fool you!
This Spellbound Clutter pack by brazenlotus actually contains several .package files of books, bottles, and crystal displays.
Not even exaggerating, I swear: there are like six .package files for books and three different .package files for bottles.
30.

Witchy Chemistry Tables by myls_simblr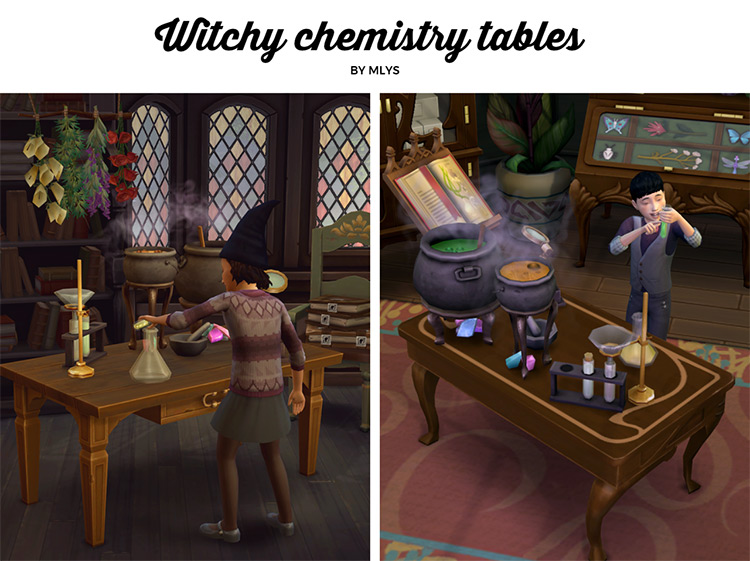 The creator makes a very good point about the Spellcaster occult state not being available for kids when Child Sims can create really powerful potions using the base game Chemistry table. Make it make sense.
Anyway, this recolor by myls_simblr creates the narrative that kids with the innate Spellcasting ability can at least craft potions at a proper potions table while waiting for their powers to kick in!
31.

Dark Arcane Kit by lumenniveus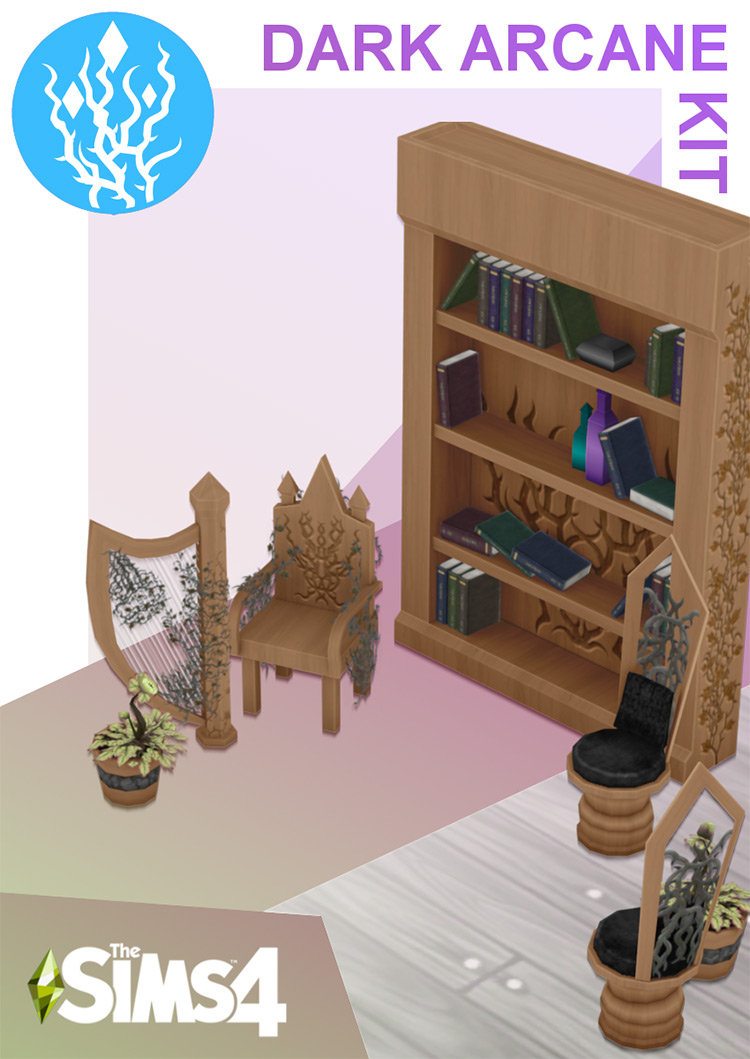 I highly recommend reading the creator's notes for this CC.
Not only is it incredibly informative (and will let you know what to expect before you download), it's also pretty entertaining.
I love their descriptions.
The items themselves? Pretty darn creative, too. I mean, re-flavoring a laptop to look like a usable Ouija board? Genius.
32.

Haunted House CC Pack by Nocturne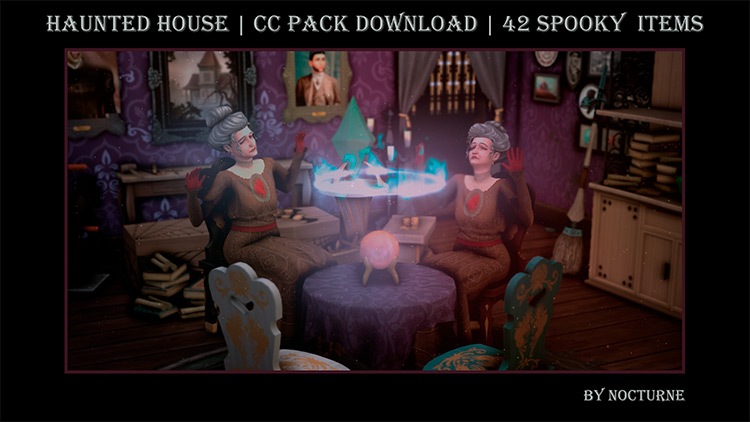 Some witches choose to get with the times and live in suburban homes, modern townhouses, and contemporary apartments.
Others are true purists who like to keep things classic.
After all, there's nothing wrong with a bit of spooky décor and possessed antiques! It gives the build a bit of character.
And did I mention that this pack contains 42 new meshes? Yeah, there's a lot to unpack.
Browse:
Lists
Maxis Match
The Sims 4
Video Games