Sims 4 CC: Best Maxis Match Girl's Tops (All Free)
This post may contain affiliate links. If you buy something we may get a small commission at no extra cost to you. (Learn more).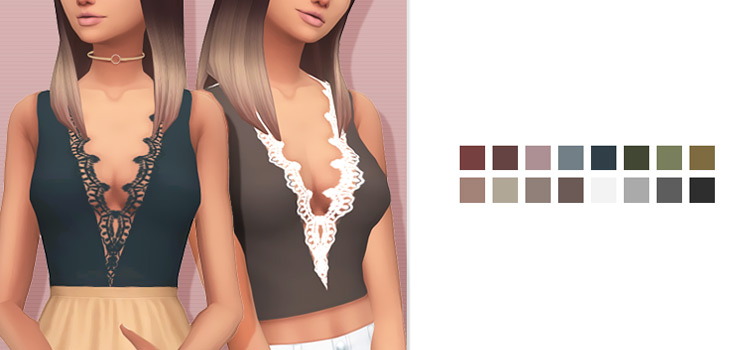 Perfectly curating a Sim's appearance is one of the main appeals of this game. That may seem a little shallow, but it's really not. Self-expression through fashion is definitely not a new concept, and The Sims 4 has got the best Create-A-Sim to date.
We've certainly come leaps and bounds from the days of The Sims 2 where shoes and bottoms were all one thing. Between official clothes that come with packs and all the CC online, there are more options out there than you'll ever fully be able to appreciate.
That's why we like curating these master lists for you Simmers out there.
Because there's a ton of great Maxis Math pieces out there – but sit takes a special combination of style and quality to be among the best.
Our focus this time is on tops & shirts for your female Sims (all Maxis Match, of course).
And that's still a lot! Since "tops" can include tees, tanks, blouses, sweaters, and more, and we've got all the best stuff right here.
1.

Sassy Tank Tops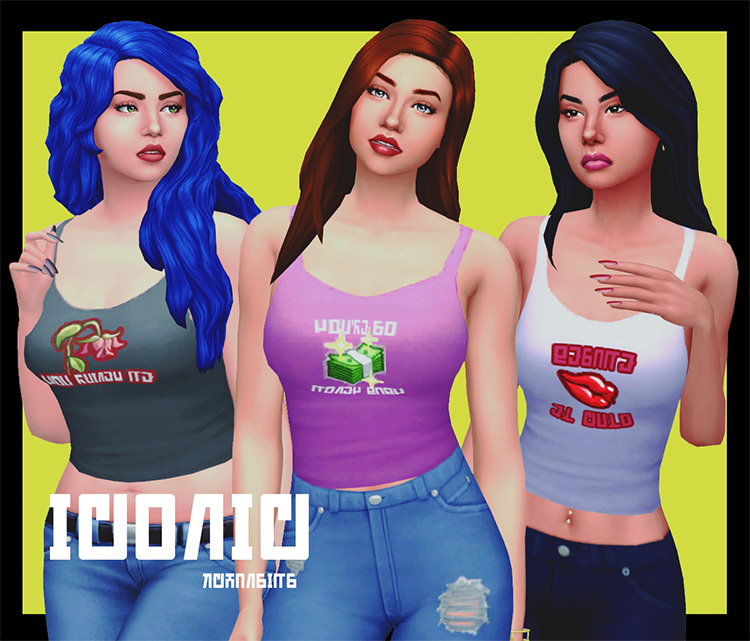 The simple brilliance of just taking a tank top and making it sassy… this is the reason I love custom content.
You probably won't ever see officially released tops with such random personality and spice, but Simmers know what the masses want… because we are the masses.
These are form-fitting tank tops which can be worn for any casual warm-weather occasion. Emphasis on "casual".
Remember, sass isn't appropriate when you're out to lunch with grandma.
I just love how fun these are, and they fit the game flawlessly thanks to the icons being straight from The Sims 4 itself, and thanks to the Simlish text.
2.

Horizon Boho Top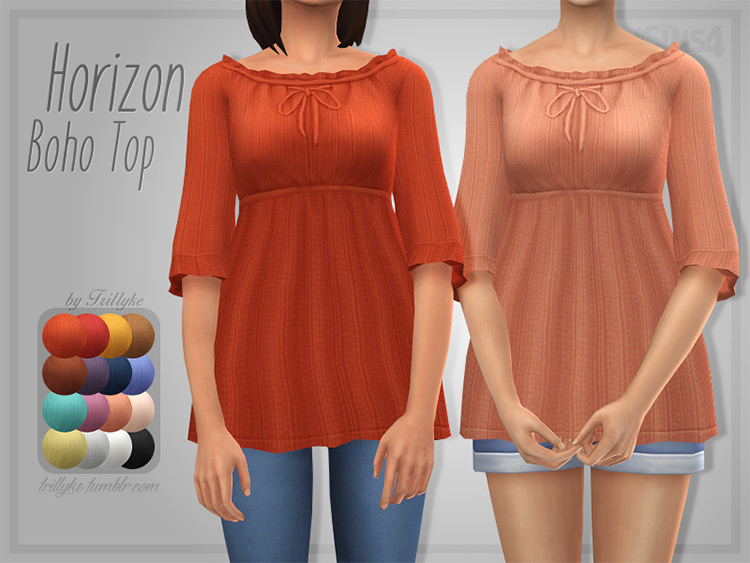 Boho fashion is a whole subgenre all of its own that I adore.
Even if you haven't devoted your own closet to the carefree, quirky looks that come under this title, chances are you have one or two items that fit the bill.
Retro prints and flowy designs dominate the boho way. And this is a more understated top that basically any Sim will look fantastic in.
It has the classic flared, 3/4 length sleeves as well as a slightly cinched waist and subtle bow at the top.
This is also longer than many girl's tops, adding to the carefree feel. All 16 of the swatches are solid neutral colors too, so you can pair these with a ton of pants, skirts, and shorts.
3.

French Sweater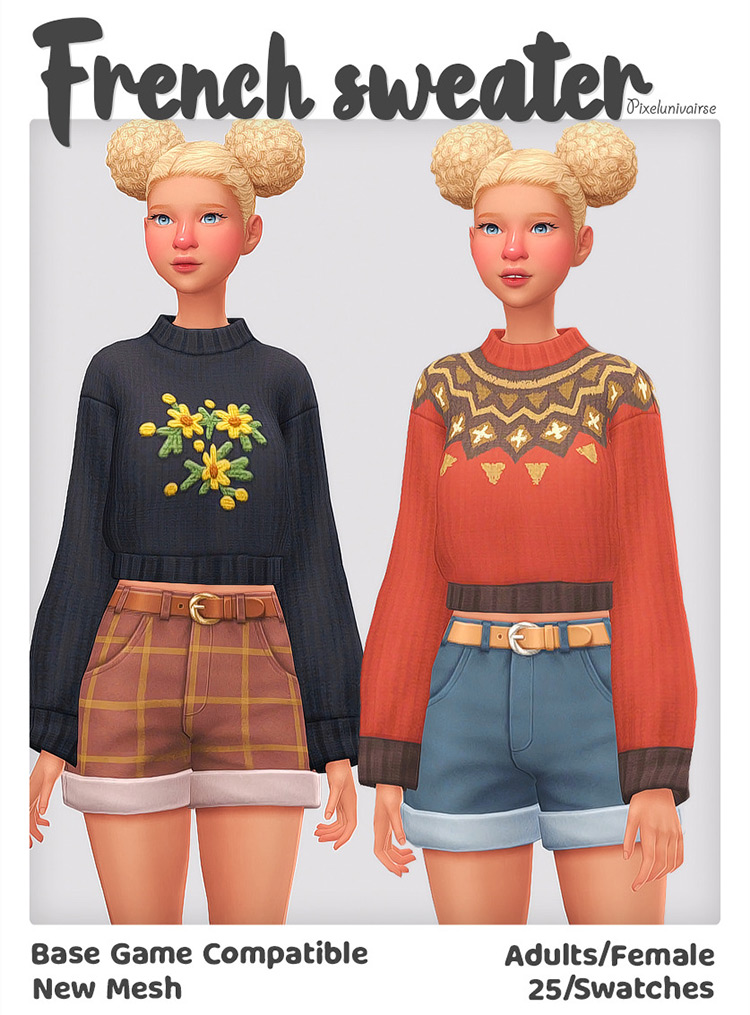 Nothing tops a comfy sweater.
That's a bold statement, I know, but I've contemplated moving to the Arctic Circle so I can wear them year round.
You don't have to be that extra for your Sims to rock sweaters, though. In this game, reality is whatever you say, so they can just have never ending fall and winter seasons if you want.
These will work if you're normal and just want to let things move naturally, too. That's totally an option as well, but like… these sweaters are so cool, you just may never want to give them up.
You'll get the aesthetic of baggy sweaters with a fashionable edge. The hems will actually just reach your Sim's waist, but depending on the bottoms you choose, that's not as dramatic of a cropped look as you may think.
It's not just cozy and thick, but the swatches are pretty incredible as well.
There are plenty of floral designs as well as geometric patterns included.
4.

Happy T-Shirt
You know what makes a Sim happy? T-shirts.
I know not everyone has Seasons, but if you do, that probably factors into the decisions you make in CAS.
Not only can what you have your Sim wear actually affect gameplay, but the aesthetic as well.
But most people wear t-shirts year around. They're generally thin enough to fit under any coat or jacket, and cool enough to be worn alone.
So not only are t-shirts the perfect neutral when it comes to the weather, but they're a wardrobe staple for good reason.
These are some awesome shirts to really broaden your options in CAS. The sleeves are a little bit longer than the average t-shirt, and it's slightly form-fitted, so this is a very modern top that'll give any Sim an advantage if you want them to look put together yet relaxed.
Each swatch is different as well, with three main types: striped, with Simlish text, and solid colors.
Any of them are great choices, as with most CC, you can't go wrong.
Simmers definitely have good taste.
5.

Everest Top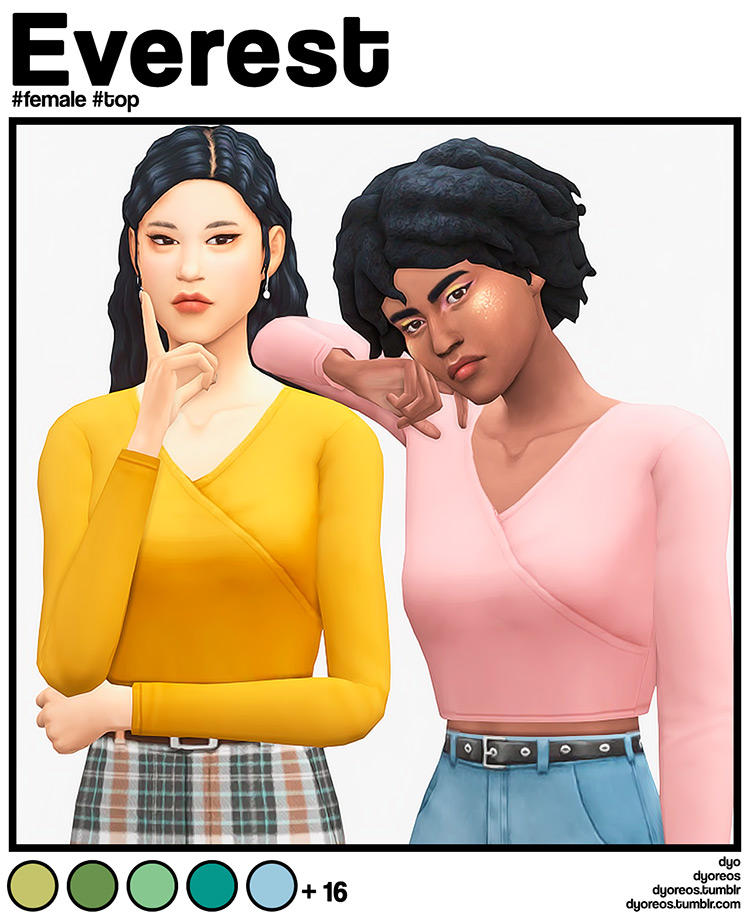 Giving your Sim a cute outfit doesn't have to feel as strenuous as climbing Mount Everest.
Okay, so no one has probably ever struggled THAT much in CAS, but I just love the names creators come up with for their CC.
It's a sign of this community's creativity, since I'd definitely just be like, "top #32."
This is a long sleeved crop top, and the overlapping design gives it an added bit of character.
As with most clothes, this CC is really what you make it.
The Everest Top can be part of a fun clubbing outfit, or part of a classy first date ensemble.
It all depends on the bottom and accessories – and that's exactly why custom pieces like this are so valuable.
They offer choices for our Sims just like we have to make for ourselves.
6.

Perennial Puff Blouse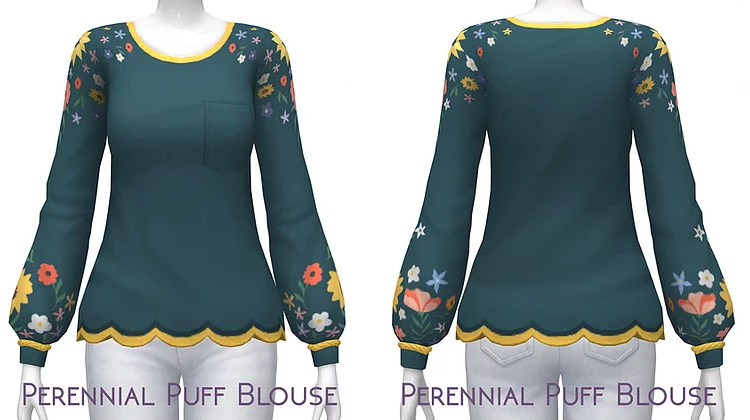 Flowers are beautiful in literally every form.
The real living plant versions are a sign that the cold days of winter are behind you.
As tattoos, flowers provide a lovely tribute to nature with endless room for personalization.
And they show up on wallpaper, dishes, and of course clothes as well. Because flowers take so many forms and colors, there's honestly nothing that isn't improved with a few flowers added on.
As for this blouse, Renorasims added all of the flora beauty you could hope for.
The shoulders and sleeves are covered in little daisies, sunflowers, poppies, and more, in all kinds of colors. Little green stems and leaves add a whimsical vibe.
This is an adorable top from the large pocket on the chest to the scalloped hem at the bottom. Every inch is wonderfully feminine and original.
7.

Sunny Long Sleeve Top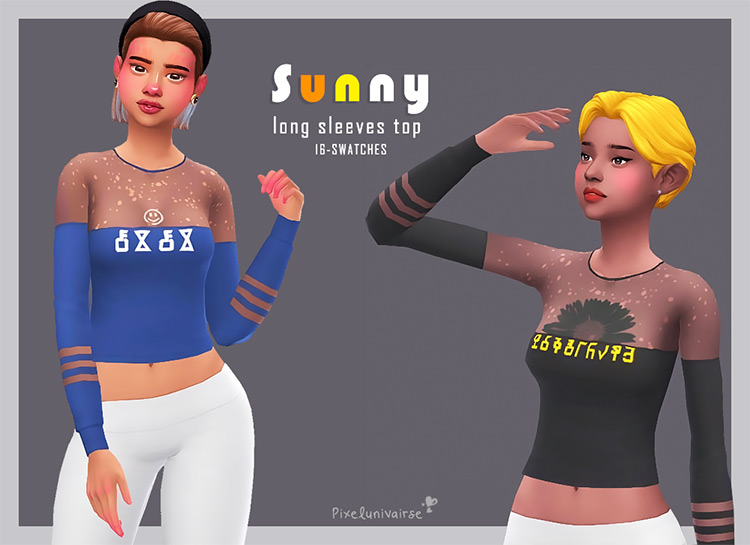 Seeing the way different types of materials can work together in fashion is always an adventure.
Some people have devoted their whole lives to experimenting and pushing the envelope, all in the name of self-expression.
Here's one top that is definitely reminiscent of the cutting edge & trendy clothes out there today.
The top and three stripes on the sleeves are sheer, while the rest is solid.
That's already pretty cool, right?
But Pixelunivairse didn't stop there.
Depending on the swatch, there are also designs and text as well, utilizing both fabric elements.
8.

Netwine Top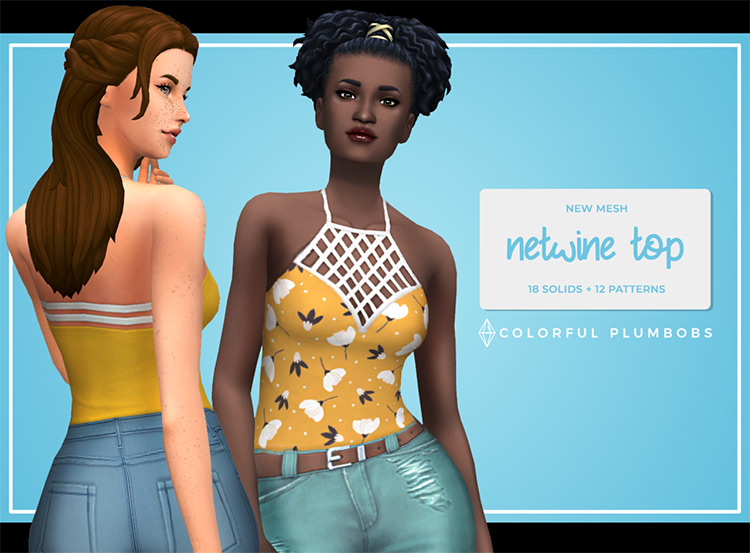 Everyone has been talking about their hopes for The Sims 5, even though I'm definitely not ready to give up The Sims 4. And while people can hope for an open world or cars, I've got my fingers crossed that eventually, there will be some system where every top can be tucked or untucked.
It's such a small detail that can completely change the vibe of an outfit.
Some shirts are meant to be tucked and some aren't. But it's so fun to experiment and you rarely get that opportunity in the game.
This is one example of how tucking can create a more polished look. These tank tops are fairly form-fitted and are just the right length to tuck into most jeans and shorts.
But beyond that, they just have a very unique design.
There's a crisscross pattern up top and with 30 total swatches that include both patterns and solids, you'll have no shortage of styles to choose from.
9.

Itty Tee Tucked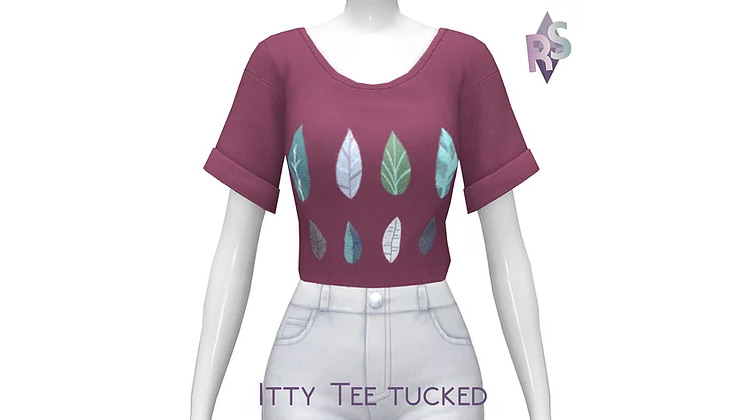 The tweaks that creators apply to Maxis clothes reminds me of how people can alter real life clothes.
With the right skill set, a top or dress can be completely reworked into something new.
That's kind of what Renorasims has done with that maxi dress from Tiny Living Stuff. As far as packs go, that one is my favorite for its additions to CAS – but that doesn't mean cool stuff can't still come from experimenting.
The dress is quite breezy anyway. So this is a nice touch, retaining the style and look while also allowing your Sim to wear pants.
As a result, this is a nice oversized tee with cuffed sleeves. And it's tucked!
So while some folks may be fine with baggy clothes being baggy, here we have the best of both worlds.
Yeah, it's oversized, but the tucked element really balances that out for a more refined look.
10.

All Business Tops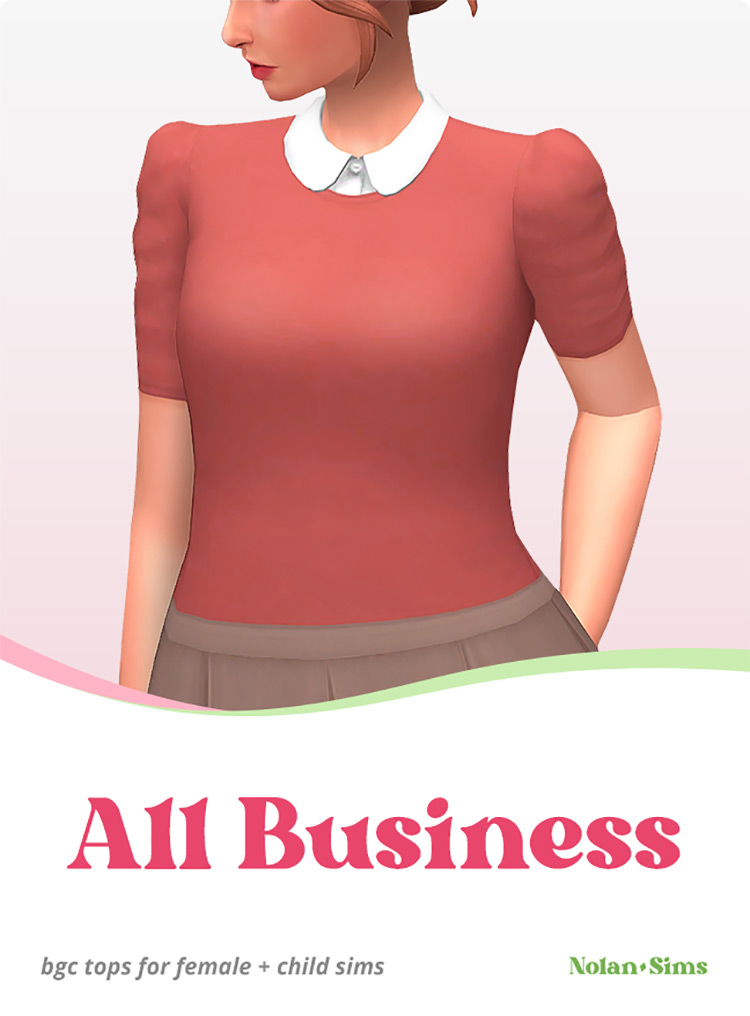 Some things just never change.
White collars like the ones on these shirts, fastened by a button, have been around for decades.
It's a very 1940s look, only nowadays it doesn't look quite as pilgrim-y and generally comes in more subtle designs. Nolan-Sims kept things simple here with that small collar perfectly offsetting the rest of the otherwise modern top.
Through and through, this is one classy creation.
These All Business Tops are very authentic, and there are 15 swatches for both adults and kids.
11.

Girl Boss Blouse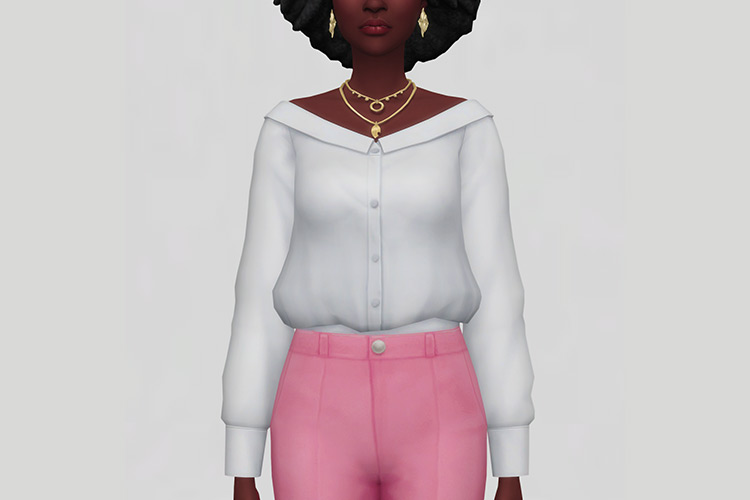 Being a "girl boss" isn't a title so much as a state of mind. It's all about confidence, independence, and keeping your head up even as others may try to drag you down.
That's always been my interpretation, anyway.
I guess if you really want to be a boss, you get to decide what it means, too.
But this is a great business casual top that's perfect for busy Sims.
She can wear this to an office job, out to the park after work, and around the house to play with her kids and it'll look great the whole time.
It's long sleeved with a steep collar that has a defined edge – but it's still modest, making it appropriate for most functions and occasions.
12.

Daisies Top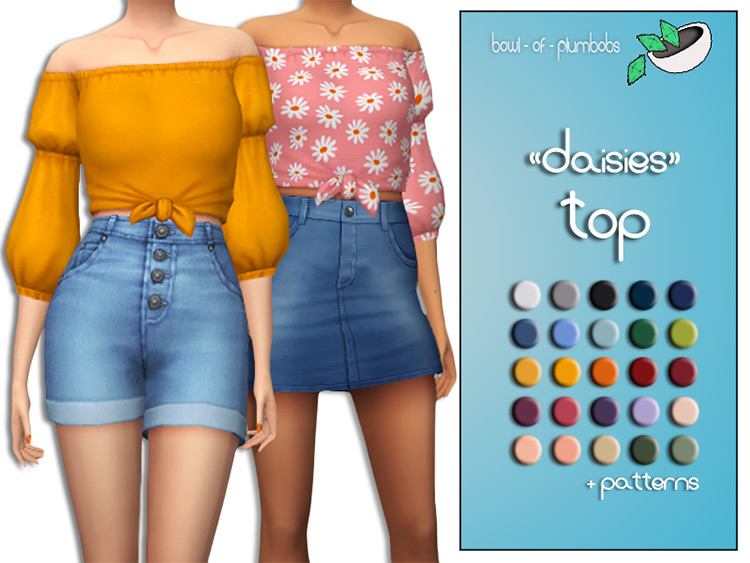 All of the different forms a top can take is rather fascinating.
Most of the time, people don't think about all of the considerations that must go into these pieces.
Every part matters, from the sleeves to the collar, and every facet can affect the end result… for better or worse.
There's not one bad part of this top, though.
It's really cute and trendy, with layered flare sleeves, an off-the-shoulder cut, and semi-fitting style.
The "tied up thingy" as creator Bowl Of Plumbobs called it is always an adorable little accessory, but it added an especially neat finish here.
You also won't have to worry about clipping with most pants, skirts, or shorts, since the length is really nice and gathered in the front.
13.

April Blouse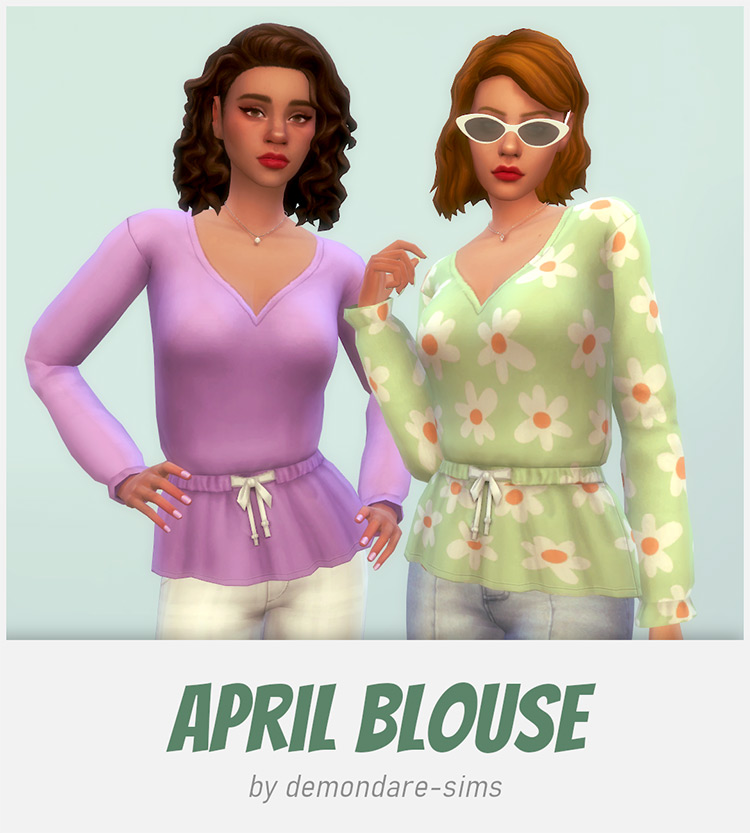 Here we have another lovely long-flowing blouse, this time from Demondare-sims.
Everyone knows how important texture is with clothing.
Itchy sweaters are practically their own subcategory of fashion, and soft ones are obviously preferred. Some stuff is silky smooth, and a lot of blouses are made of chiffon because of its sheer appearance.
But overall, cotton is surely the most widely used.
T-shirts, tank tops, and blouses alike are at their best with that breathable and easily customizable material.
This CC definitely has that same feel, with smooth lines and a bit of a ruffled effect at the bottom. It also has a little bow, completing the cinching around the middle.
14.

Sunny Summer Top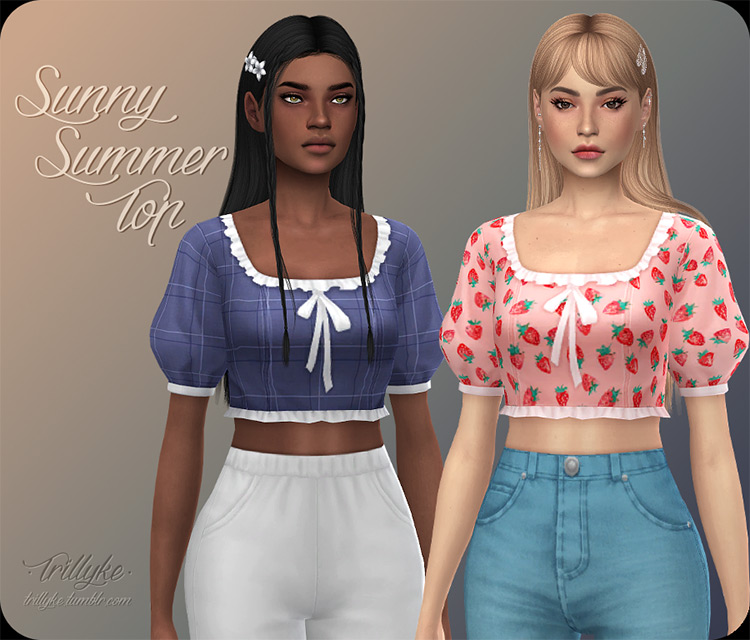 Crop tops just keep growing in popularity.
Some girls must be really disappointed when winter rolls around.
The fanfare makes sense, because they're basically the next best thing since basic t-shirts. They can have so many alterations and be customized just how the wearer wants.
And this CC is a really unique take on a classic design from Trillyke.
The top has a matching frilly white edging along the whole scoop-neck collar and the bottom hem. It contrasts fantastically against all 40 of the swatches.
Some patterns have strawberries, while others include plaid, geometric patterns, or dots, and there are even a few solid versions for you, too.
15.

Saoirse Peplum Blouse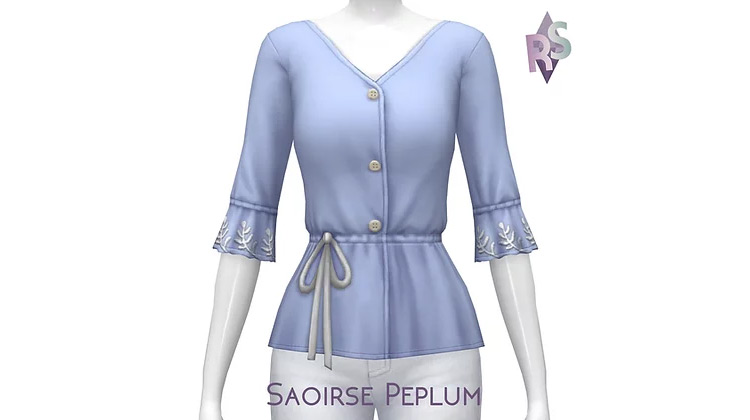 While tons of creators come up with their own meshes and make CC totally from scratch, a good percentage actually use official clothes as a base.
It's fun to see how many different ways people can interpret the new items we get with packs or updates.
Everything from minor tweaks to complete overhauls always come in the months that follow. And usually, no two are exactly the same.
This blouse is the result of Renorasims editing a dress that came with Eco Lifestyle, and it is as pretty as its name.
But don't fret if you don't have that pack.
Since this is an edit, it's base game compatible!
And there are several little details that make this such a beautiful top. Both the waist and arms have a subtle cinched design, and it's fastened with cute buttons.
The sleeves stand out too. Not only is the length unique, reaching your Sim's elbows, but the ends are a little flared and have a foliage design.
16.

Breezy Blooms Sweater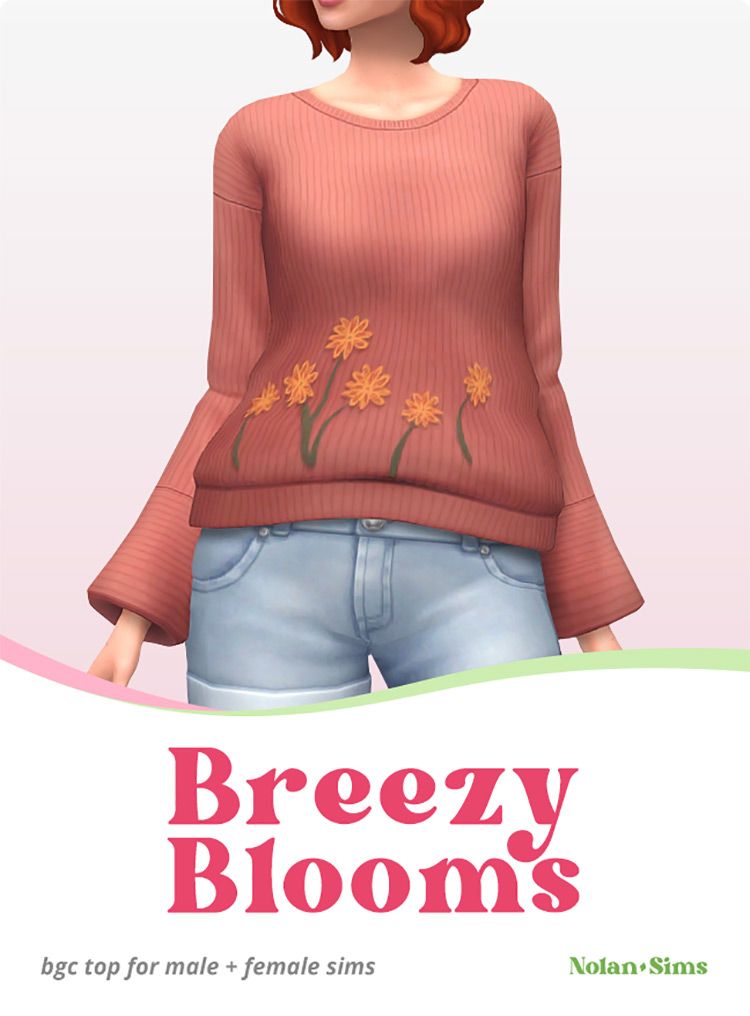 Flowers are often associated with spring and warm temps, or times when you generally don't need a sweater, in other words.
And yet they're one of the most popular designs to be on sweaters.
Because, as I've already established, they're awesome.
They've even better when embroidered – and that kind of design is accomplished well in this CC.
It's just a comfy sweater your gals are sure to love, even though it's just a little on the baggy side. It's still flattering to your Sim's shape, and several of the swatches don't include the flowers, so you can opt for a more basic top if you want.
17.

Luxury Sweater Recolor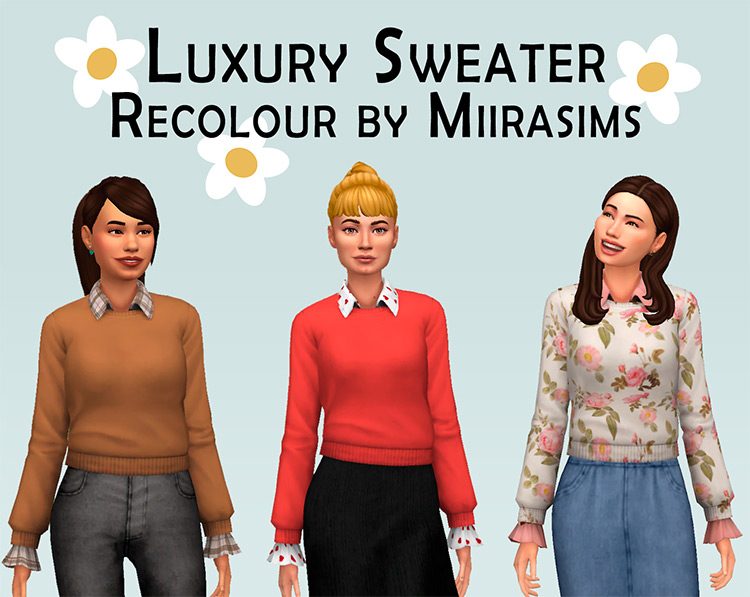 For some reason, putting a button up beneath a sweater is a total game changer. No pun intended, I don't just mean in The Sims 4, but in general. It completely changes the look of an outfit and adds something to it.
The base game version has a version of this, yes, but it's a little sloppy looking with the tails of the shirt hanging out and also only has a few swatches.
As the result of multiple Simmers' ingenuity, this is something fresh that you'll want to use for years to come.
Well-known creator Ridgeport started this as a simple April Fool's joke.
The original version has just one swatch, and is a replica of Princess Diana's iconic '80s "I'm a luxury" sweater.
Luxurious as that may be, MiiraSims saw the potential for an everyday top – and gave it 32 brand new swatches.
They cover quite a range for both the sweater and shirt beneath.
Patterns like plaid, polka dots, and florals are available in many variations, and there's also your typical sweater styles like solids and geometric prints.
18.

Myra Top
Chances are good that your own wardrobe has certain "basics" that you like to keep a decent supply of.
Exactly what that entails really depends on the person. But for most people that means a good stock of simple plain tops with little-to-no frills.
Maybe it's not the most thrilling thing in the world… but tops like that are great to let other parts of an outfit shine, or just to keep things simple.
Here we have something that will be great for all of those reasons and more.
It's off-the-shoulder with a slight elastic texture at the top… I mean, it's got to have some way to stay up, right?
Both the bottom and sleeves also have a subtle ruffled texture. And all 25 of the swatches are from the creator's very own Pudding Palette, which features numerous rich color tones.
19.

Polka Dot Peplum Top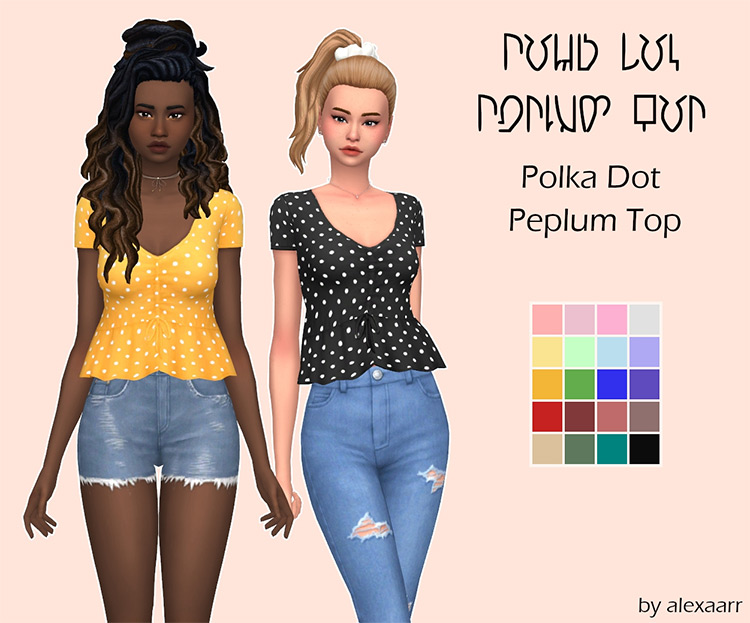 Apparently, "peplum" is an actual fashion term that refers to the gathered texture on blouses.
I had no idea, cause I thought it was just a name CC creators came up with – until I found multiple tops with peplum in the title.
You really do learn something every day!
But let's put my amazing discovery aside and talk about what an adorable top this is. It has a steep scoop neck and I don't know about you, but whenever I see that, I start thinking about all the necklaces my Sims can wear. Exciting!
The bottom is flared ever so slightly and the polka dot pattern, which is included in all 20 color swatches, just works really well for this type of top.
20.

The Thrifted Crop Tee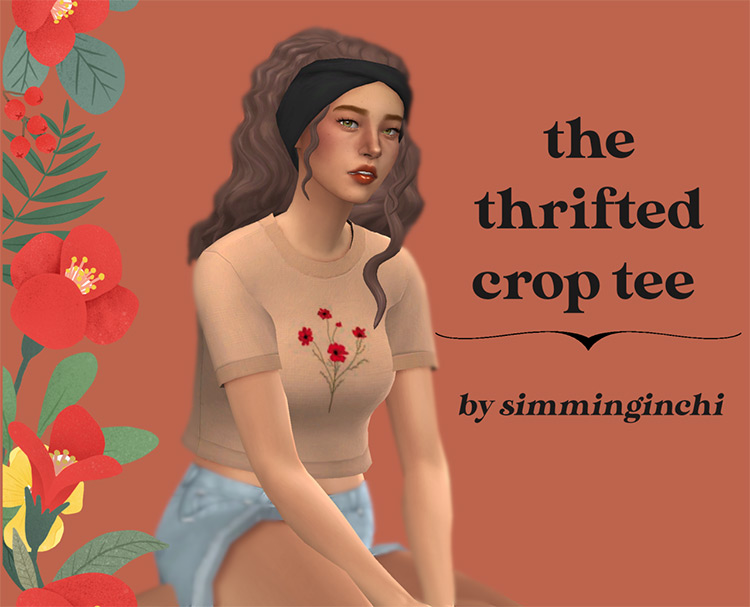 More people than ever are heading to the thrift stores to expand their wardrobe rather than big name stores or boutiques.
That may be partially for financial reasons, but it's also without a doubt because of the potential for thrifted treasures.
This is one of the few ways you can find authentically vintage clothes without breaking the bank.
Not only are they just super cool in general, but thrifted tees are also very in fashion right now.
These are just the type of thing tons of people would gleefully snatch off the rack. They're somewhat fitted, somewhat cropped, and have 18 swatches.
6 of those swatches have vintage patterns, and the rest come with that "pre-worn" look that everyone wants.
Nothing is more comfortable than a shirt from a thrift store. Because most of the time, it's already been broken in, and the satisfaction of finding something you love for a fraction of the price can't be beat.
Making a well-dressed cutie of a Sim is equally satisfying – and she'll look very chic in any version of this Maxis Match tee.
Browse:
Lists
Maxis Match
The Sims 4
Video Games