Sims 4 Pajamas CC: The Best Sleepwear For Your Sim
This post may contain affiliate links. If you buy something we may get a small commission at no extra cost to you. (Learn more).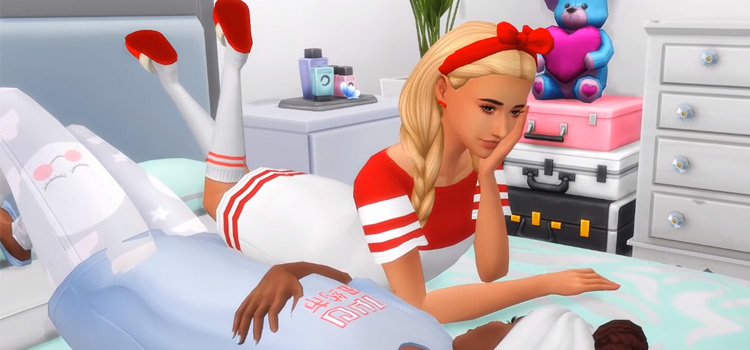 Maybe it's just me, but one of the parts I struggle with the most while creating a Sim is figuring out what the heck I want them to wear.
It always feels as though there's not enough options in the game. They're too boring, too frumpy, or too similar to the option right above it.
And then I remember, custom content exists!
Today let's take a look at some of the best sleepwear CC for The Sims 4 to make sure you're more than satisfied with how your Sim looks when they're heading off to bed.
15.

Pajama Set AF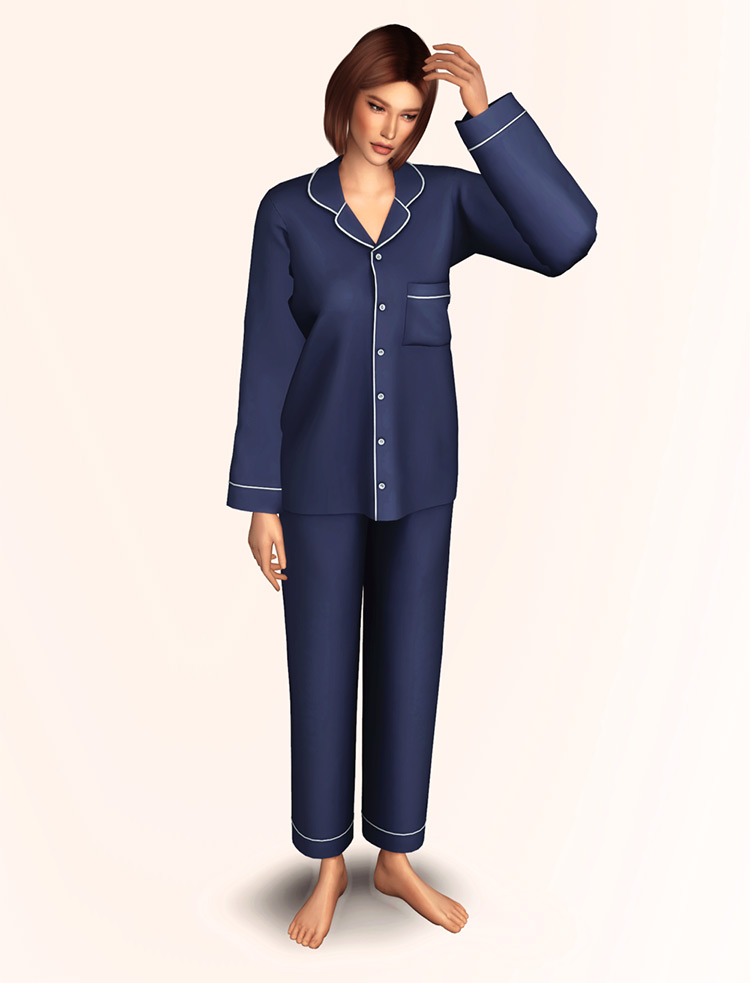 Pajamas don't always have to be over the top in order to be loved.
This set is classic and cute, making it a perfect choice for Sims of all ages.
Mom Sims? Absolutely.
Older Sims? Of course!
This set is versatile and stylish, and is a staple in anyone's collection of custom content.
14.

Oversized Shirts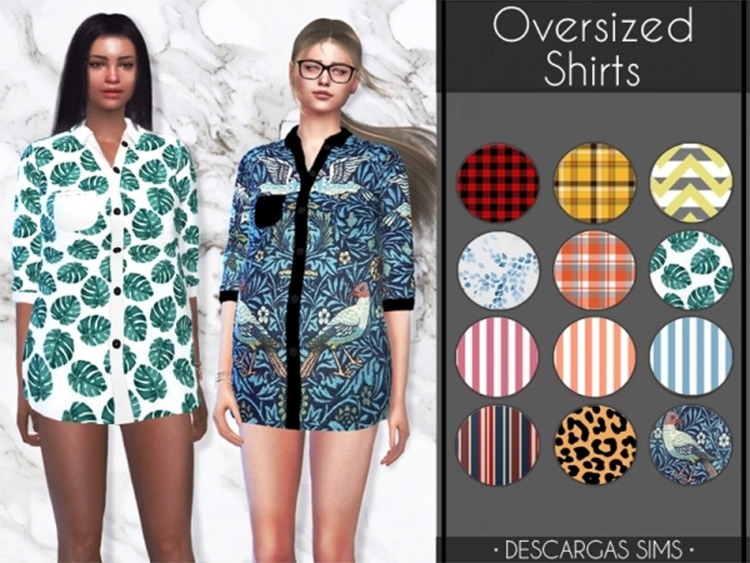 Before I had a computer that allowed for downloading custom content without making the game look like it ran on a 50s TV, I would always dress my Sims up in the oversized shirts.
That was their sleepwear. Don't get me wrong, they were alright.
But imagine if you could have the same style, except it's a thousand times cuter.
If that's exactly what you're looking for, look no further. This top not only has that classic look of your typical Sims content, but also comes in a variety of fun patterns, like monstera leaves, or even a design with birds!
13.

Two Piece Pajama Set3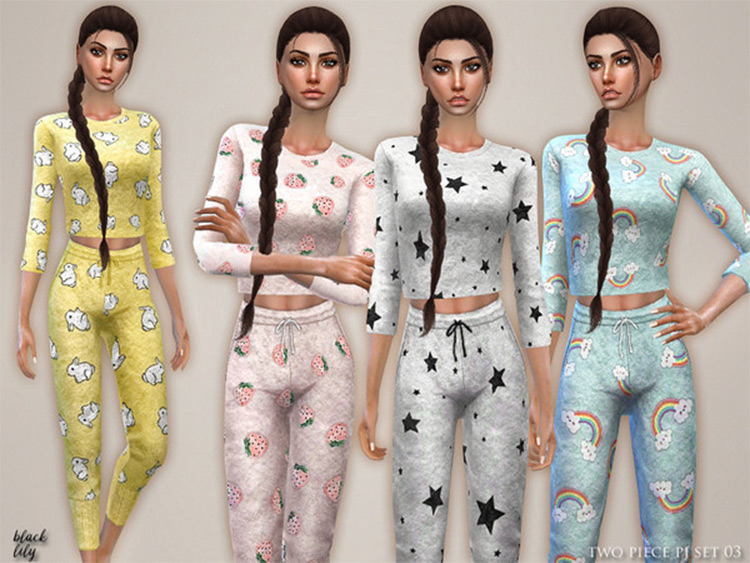 Everyone loves a classic pajama set.
So how about using one with a fun spin to it?
This CC pajama set comes in 4 different patterns, perfect for a Sim that may be more on the youthful side.
Invite a couple of your friends over, get dressed up in this comfy two piece set, and get your movie hangout pack ready.
Because this is basically sleepover attire just waiting for fun.
Add a cute pair of bunny slippers and you're good to go!
12.

Closed Nightgown by Rayne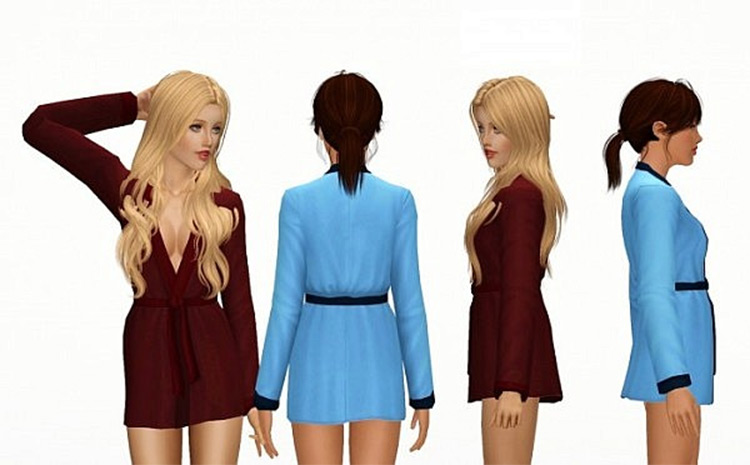 Robes aren't just for a spa day, but they sure give off a look that's relaxed and refreshed.
Exactly what you want for your Sim when they're getting ready to power down for the night.
Coming in sleep color options that make your Sim look stylish and classy at the end of the night, be sure to change into this CC after a pre-bedtime shower.
And make sure they look like a beauty guru before they climb into the sheets.
11.

Belaloallure Madison Pj's Rc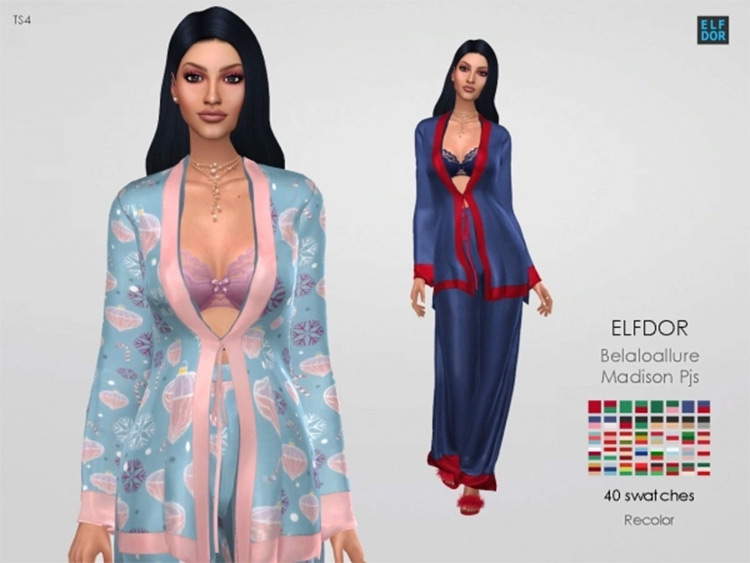 The Belaloallure Madison sleepwear set is a showstopper for any Sim that likes to feel luxurious and fancy.
Even if no one's around to see it.
Sleek and sexy with a subtle tie around the waist, this is a must-have for anyone that may have a Sim that wouldn't be caught dead wearing something that was anything less than perfect.
What makes this even better?
It comes in 40 different color/pattern options, ensuring you can keep this piece in your rotation forever and barely run out of something new.
10.

Short Pajamas By Eansims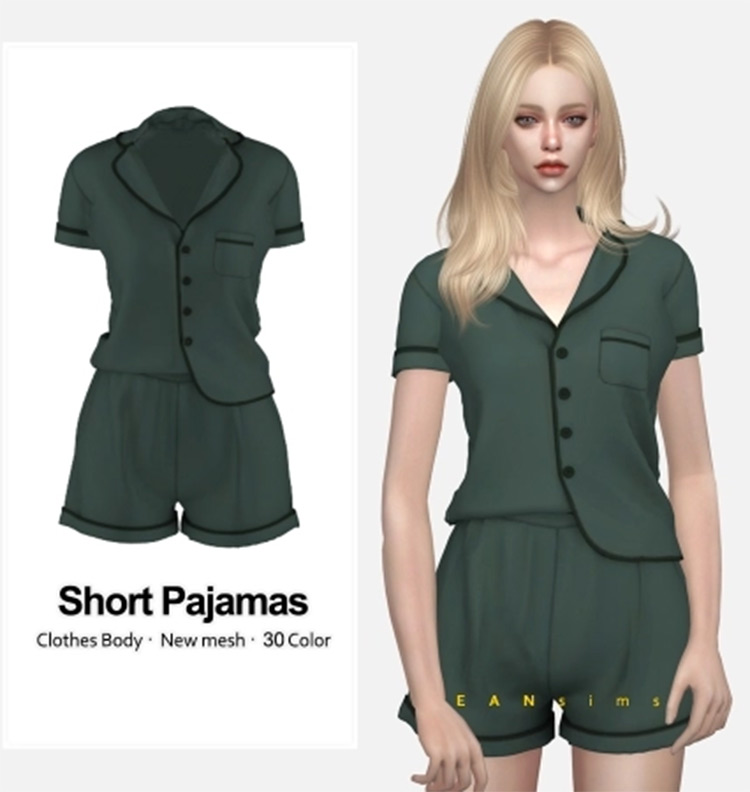 Need a good option when the seasons are changing in-game?
This short pajama set should do the trick.
What I like most about custom content is the amount of detail that gets put into these pieces by their creators.
Which is exactly what we have here.
Having the shirt slightly tucked into the shorts gives off an effortless feel, the "I just got out of bed" look is perfect for your gorgeous Sim.
And look at that cute bear print, how could you say no?
9.

Panda Pajama Set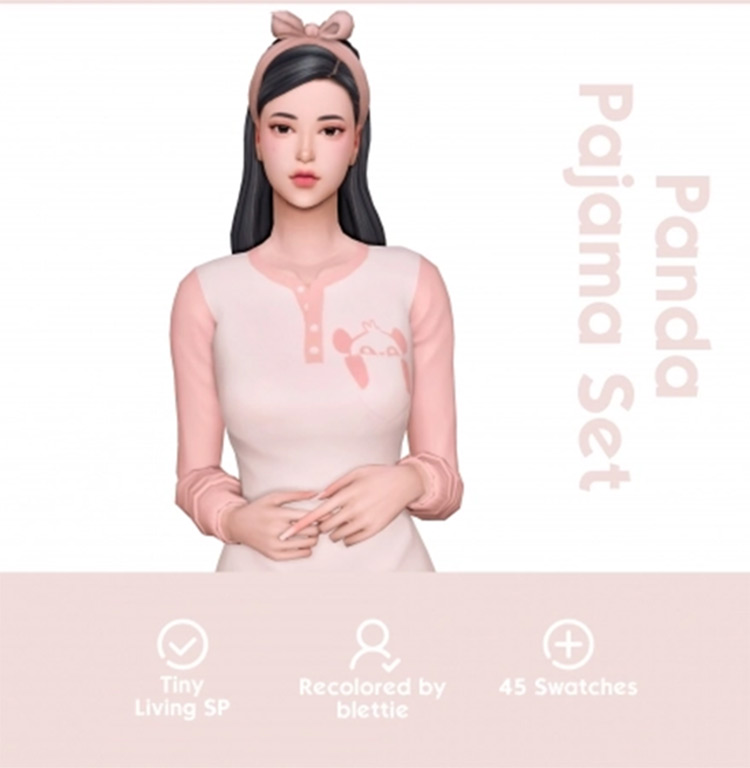 Now this might just be the cutest sleepwear set in this whole list- panda pajamas!
Pandas are one of the cutest and cuddly (looking) animals out there, it's just a fact.
Make sure to welcome these fuzzy friends into your bedroom and cuddle up with one peeping out of the shirt pocket. You won't be able to help but aww when you see your Sim dressed up in this.
8.

Female Robes 3 Assorted Prints
Not only is this robe a great option for sleepwear, it's also perfect for those mornings where your Sim takes a couple hours eating breakfast.
You know, no rush, no day job, that kinda feeling.
This robe CC keeps things simple. Three cute prints to choose from, with a more traditional, cozy feeling that robes usually bring.
To make things even cozier, throw this into your rotation around the fall and winter seasons. And make sure to turn the heat up a bit!
7.

Sailor Moon PJs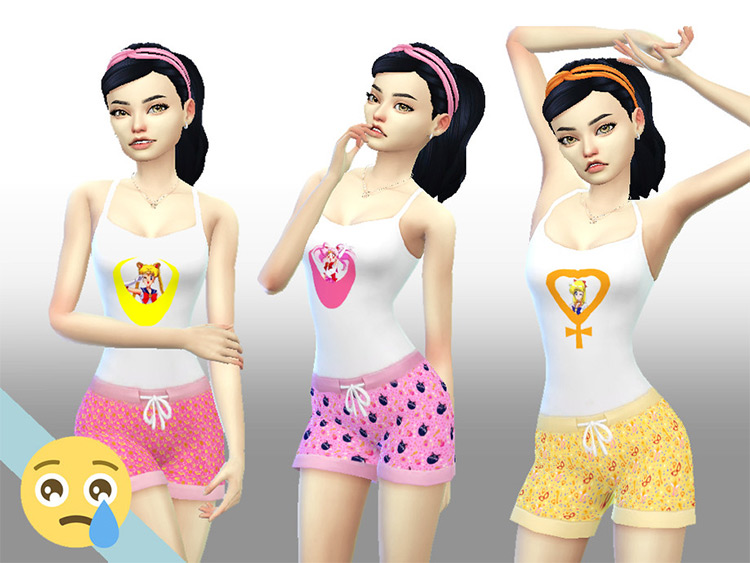 In the name of the moon, I'll make you go to sleep!
Who doesn't love sailor moon? A childhood favorite of mine (and adulthood, if we're being honest) combines with a cute short and tank set to make for a fantastic option for sleepwear.
Unfortunately, this set only comes with six different styles.
But regardless, this is still one that caught the attention of my heart. I'll definitely be choosing the Sailor Mars one! Who's your favorite guardian?
6.

Satin Sleep Dress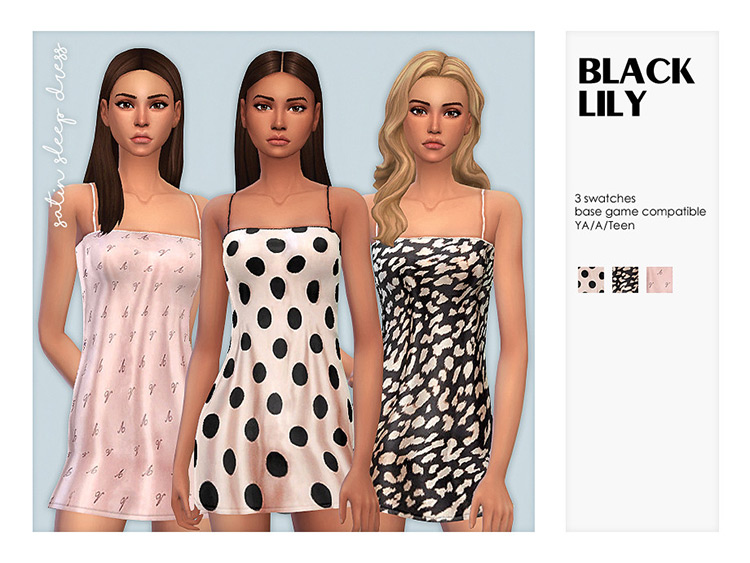 If you're looking for something that can fit different age groups, this satin sleep dress is the way to go.
It works for teens, young adults, and adults – making it a great option for your collection.
Especially so you don't have to crowd up your game with too many sleepwear options.
Not only that, but it's super cute!
The patterns combine with the pale pink shade for just a touch of glam at the end of the night.
5.

Pyjamas Set C181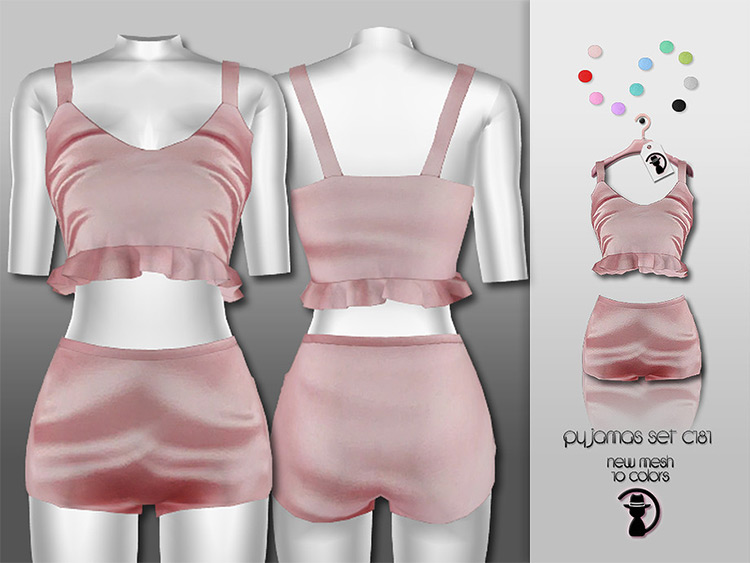 Continuing with different pajama sets using satin, this one gets extra points for being a truly full set.
Maybe it's just me, but I almost always love the look of shorts when it comes to picking out the perfect outfit when my Sims go to bed.
That being said, this CC set also incorporates a cute ruffled detail at the end of the top piece. And an even cuter rose gold tone.
This set is brilliant for the girly Sim in your household.
I'm sure that she'll end up sleeping well after she tries on this CC.
4.

Pinkfizzzzz's Bethany Summer Short PJs
Yet another set with a tank top and a pair of shorts, adding for more and more options.
Isn't your closet full by now?
The Bethany Summer Short PJ set has 20 different colors and patterns for you to choose from, so don't be afraid to mix it up a bit!
3.

Jake's PJs For Women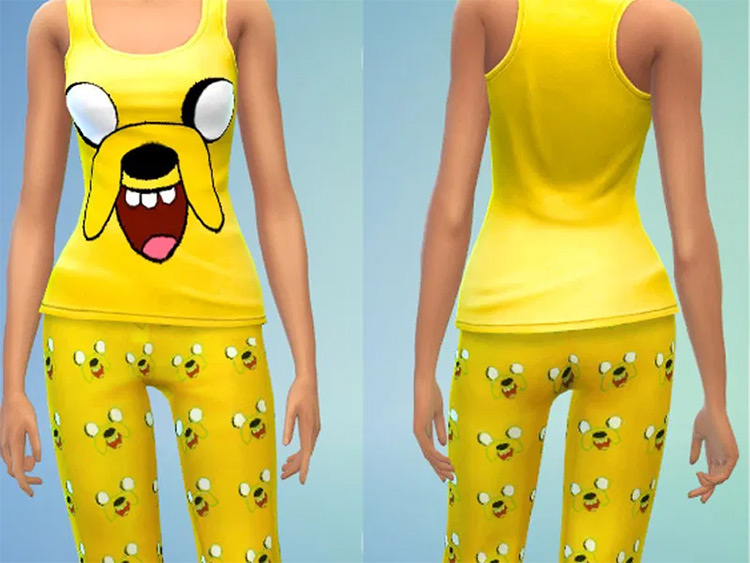 This one I'm a little bit biased on.
Adventure Time, along with The Sims, is one of my favorite things in the world.
For any other Adventure Time fans, this one is a must have.
Being able to bring the adventure into your sim's life, no matter the occasion, is always a good idea.
Come along with me, and make sure your Sim always has their magic dog companion!
2.

Teddy Bear Pajamas
A throwback!
These pajamas remind me of something you would have worn in the early 2000s.
Nothing says "I'm ready to hit the hay" quite like having a teddy bear on your pajamas.
I also love the cotton candy colors here, giving these PJs a fun and playful feel. Make sure you have your eye mask ready and you'll be prepped for a good night's sleep.
And if these are for the little one, maybe consider pairing them with a toy teddy bear.
1.

Algu Pajamas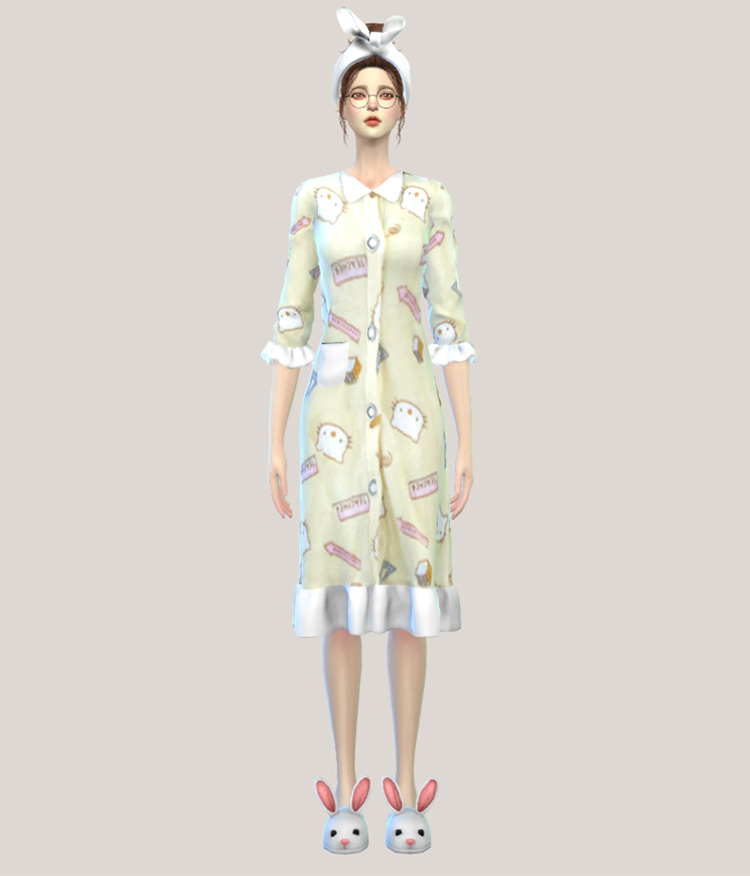 And at the top we have this absolutely adorable nightgown that I couldn't help but pick as my favorite.
Some of the things I love the most about this nightgown: all of the detailing surrounding the hem, the collar, and the cuffs of the sleeves, along with the adorable cartoon-like pattern.
Plus the pastel yellow color in the background, it all just works.
This one is an instant favorite, and I think your Sim will feel the same way too!
Browse:
Lists
The Sims 4
Video Games