Best Sims 4 Pergola & Gazebo CC (All Free)
This post may contain affiliate links. If you buy something we may get a small commission at no extra cost to you. (Learn more).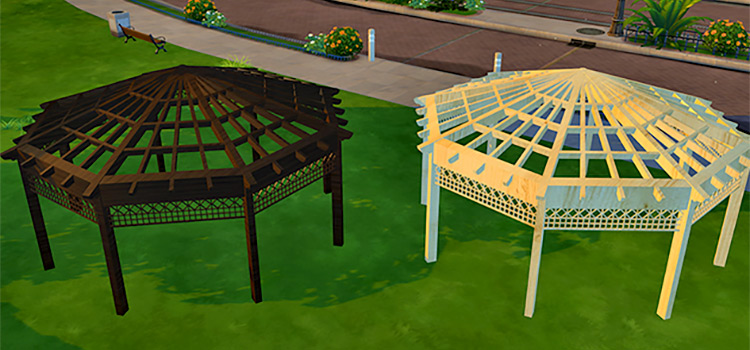 Spending time outside is always lovely.
If the weather is perfect, that is.
When it gets too hot or too sunny, even the most resilient of us want to go back inside, put the air-conditioning on, and hide.
It's a shame, though. If only there was a way the whole family could sit in their garden and not risk a sunburn…
Oh, wait – there is!
Pergolas and gazebos provide exactly that type of protection.
Now your Sims can hide under the roof and enjoy the fresh air, the chirping of the birds, and the smell of the flowers – all without having to worry about damaging their delicate skin.
1.

Larix Pergola by wondymoon
This pergola is super simple, and would look great in a public garden or a park.
It comes in 5 different color swatches and is part of a bigger picnic set which you can download here.
If you're designing a nice park for all your families and their pets to hang out in, this pergola is definitely something you should consider.
2.

DIY Modular Pergola by BuffSumm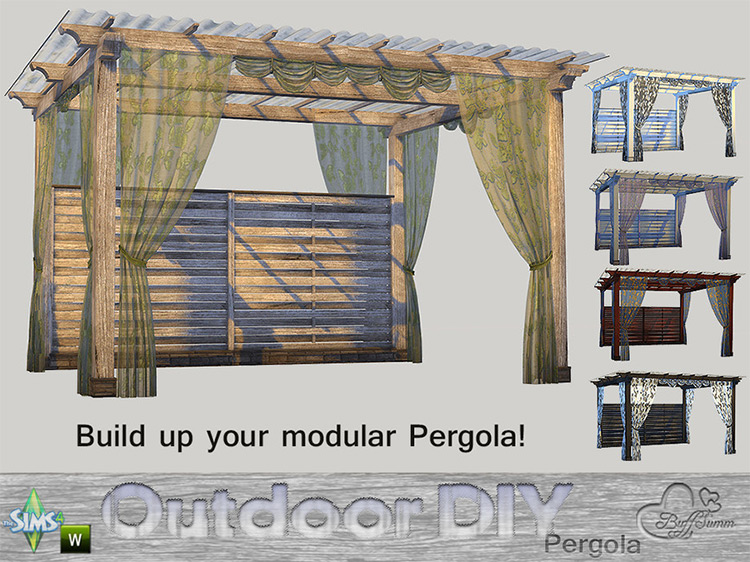 If you have that one Sim that just won't leave the woodworking table alone, look no further:
This DIY Modular Pergola is their next big project.
Instead of being the usual one-piece, place-it-and-you're-done item, this pergola comes in individual parts that you have to put together yourself.
Kind of like IKEA, but way more rugged.
This means that you can adjust the size of the pergola based on your needs.
Whether you're looking for something small and cozy, or something massive and majestic, this CC has you covered.
It looks good, too.
The euro palettes give the pergola a rustic vibe, while the curtains add a cute and gentle finishing touch. And there are 5 swatches available.
3.

Oasis Chic by Peacemaker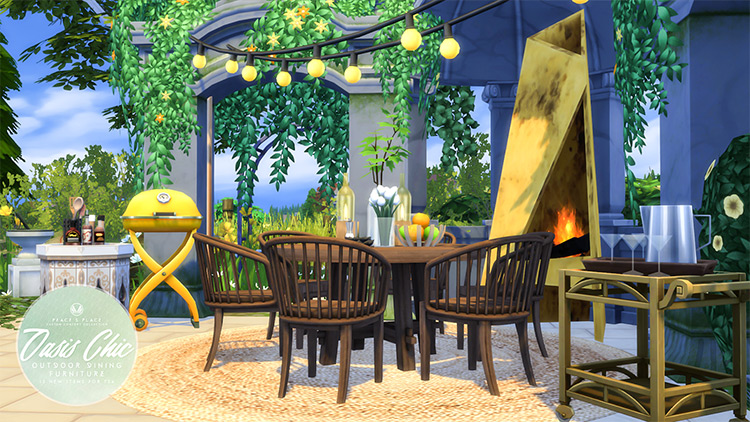 This gorgeous outdoor dining set features a lot of great items – including a stunning pergola.
It has this 'classic' feel, but it looks super sturdy and durable at the same time. It could definitely withstand any bad weather!
The pergola also has curtain slots, so you can attach any curtains of your choosing for extra protection from the sun.
Just put some tables under the roof and get the grill going.
It's the perfect setting for a fun summer BBQ.
4.

Contemporary Pergola by ddaengsims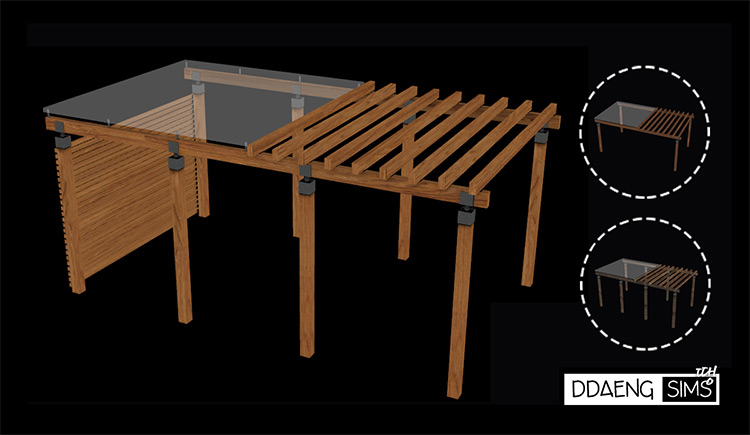 This one is for those of you looking for something that's not just practical, but also stylish.
This contemporary pergola comes in 3 versions – and each of those has 6 swatches available.
In particular, the roof probably catches your eye – the half glass, half planks design makes this into a proper statement piece.
If you've got that filthy-rich influencer Sim with a big house and money to spare, this should be their next purchase.
Think how cool their selfies would look with this pergola in the background.
5.

Moroccan Garden Set by so87g
Talk about extravagance!
This pergola is part of a charming Moroccan-inspired garden set.
And it looks super majestic. The different wood shapes give it some character, and the bright flowers really bring the whole thing together.
Plus don't even get me started on the two-layered decorative base. Astonishing.
If your Sims live in Oasis Spring and are looking for a way to brighten the place up a bit, this pergola might just do the trick.
6.

Pergola by DH4S
This one is a bit different – in a good way.
The half-roof design is not only visually interesting, but it also means that the whole pergola takes up less space.
If your Sims are looking for a way to hide in a shade but don't have the biggest garden in town, this could be the CC for them.
The flowers woven into the grid roof and the colorful curtains make for a striking overall image.
And this pergola comes in 3 different sizes, too – so you can truly make sure it fits your garden nicely.
7.

Armageddon 1 by kardofe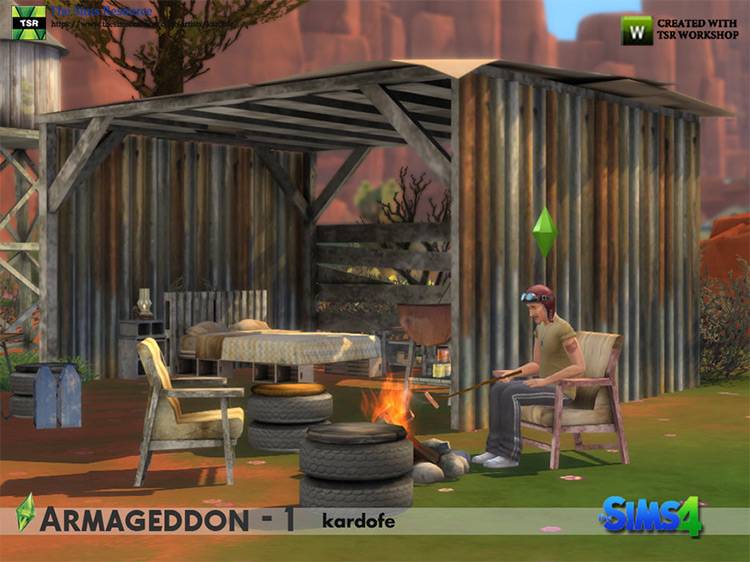 Did I say the last one was a bit different?
Well, this one is a lot different.
This pergola is part of a whole Armageddon-themed set. Really, in this universe, it's more of a house than just a pergola.
We all like to try different things when it comes to our gameplay. And if you've ever considered making your Sims live in a post-apocalyptic setting, then this CC set is a great way to get started.
Honestly, I think it looks kind of cozy. In a "let's do this for a day and then go back to central heating" type of way.
8.

Bioshock Infinite Gazebo by BigUglyHag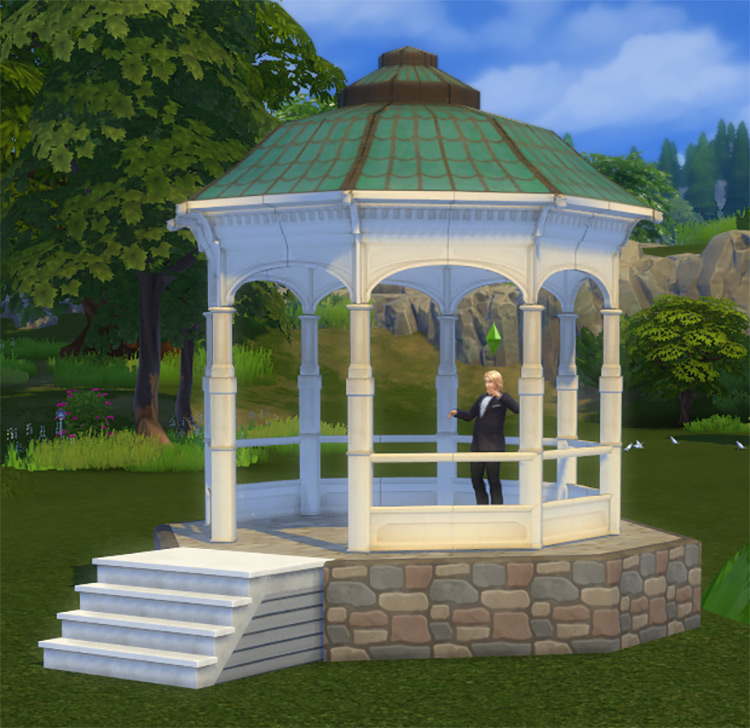 This custom gazebo is certainly something you'd find in a park rather than someone's garden.
Unless, of course, your Sims are all about that over-the-top vibe.
The design of this CC is very much a traditional gazebo – and there's nothing wrong with that.
Sometimes, we all just want something simple and effective.
It even works as a wedding arch, too.
All I keep thinking is it would be extremely romantic if your Sim was to propose here and then get married here, too.
Not that I'm trying to give you any ideas!
9.

Wood Gazebo by simtographies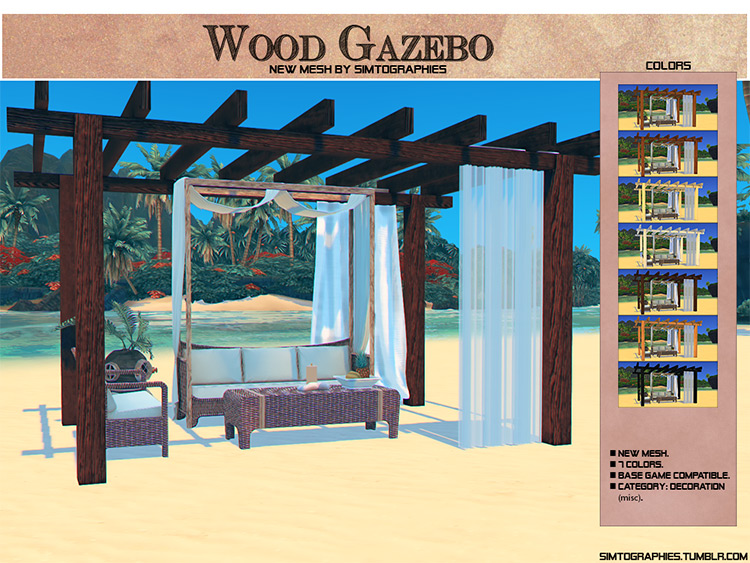 Okay, so maybe this one won't provide a ton of sun protection.
But it looks so good and elegant.
My favorite part is the white curtain – that's the type of decoration you see in holiday pictures and on expensive film sets.
If you've ever felt like making your Sims channel their inner Grace Kelly on holiday, you've come to the right place.
This one comes in 7 wood colors – but don't worry! They all have the white curtain.
10.

Outdoor Gazebo by Marco13
Finally, a good old gazebo.
Well, I say 'old'… What I actually mean is brand new, stunning, and envy-worthy.
I can see this gazebo in so many different places.
In the back garden of an enormous mansion.
In a cute little park in Brindleton Bay.
In the outside area of a luxurious wedding venue.
The options are endless.
It's just so pretty, and so intricately designed.
I mean, look at that lace-effect lining. Isn't it breathtaking?
This gazebo comes in six colors, including options such as pink and heavenly. What more could you possibly ask for?
Browse:
Lists
The Sims 4
Video Games