Cutest Custom Gowns For The Sims 4: Free CC & Mods
This post may contain affiliate links. If you buy something we may get a small commission at no extra cost to you. (Learn more).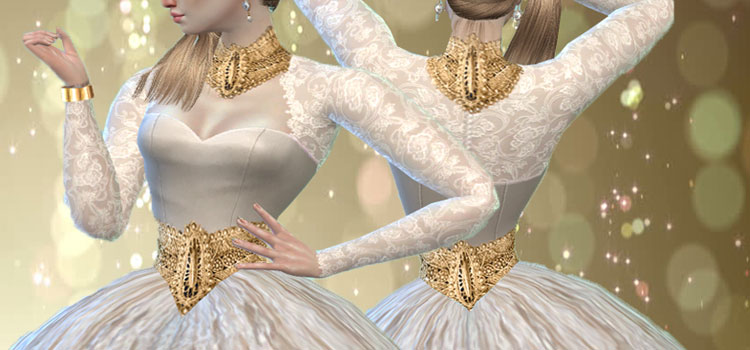 The Sims 4 is a place to live out your fantasies.
Granted, not all of us are able to leave the house in a fancy floor length gown… but in The Sims, anything is possible! (Except literally driving a car, but don't get me started on that).
Whether it's to a fancy party, or a trip to the park, here's our list of some of the cutest gowns to keep your sims looking gorgeous.
10.

Galaxy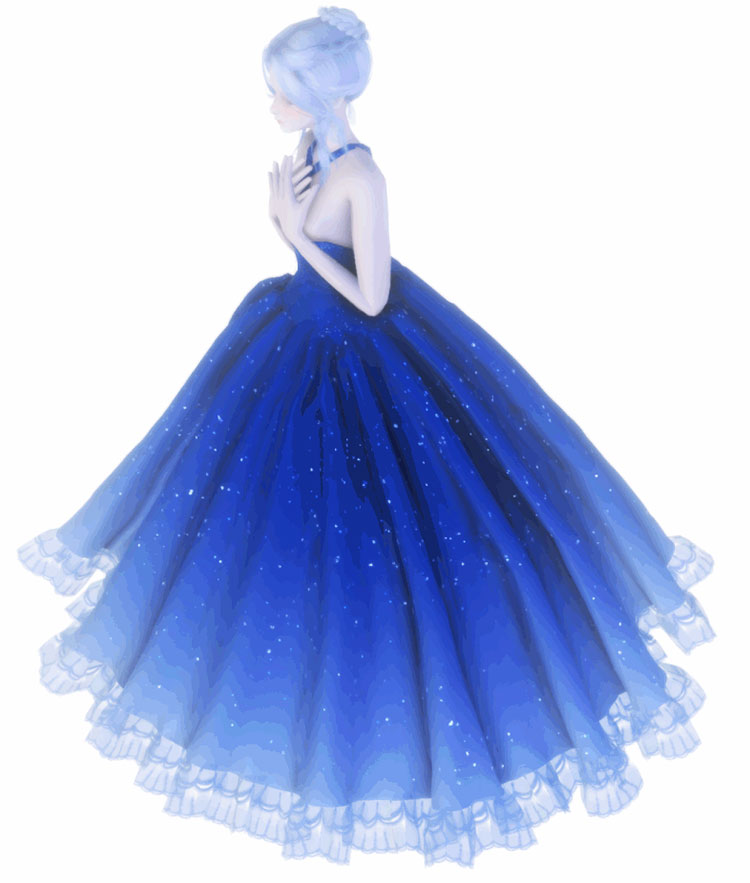 This stunning dress is both unique and extravagant!
With a simple crossover at the neckline and a petite and pretty bodice, the skirt on this dress truly pulls out all the stops to make this piece one-of-a-kind.
If you're giving this to a whimsical Sim, perhaps a famous spellcaster or a royal vampire, then I'm sure they'll love it.
Available in a variety of 8 different colors, this dress by ir7770 is a sparkling dream. Perfect for your very own Cinderella story.
9.

Peach Silk Gown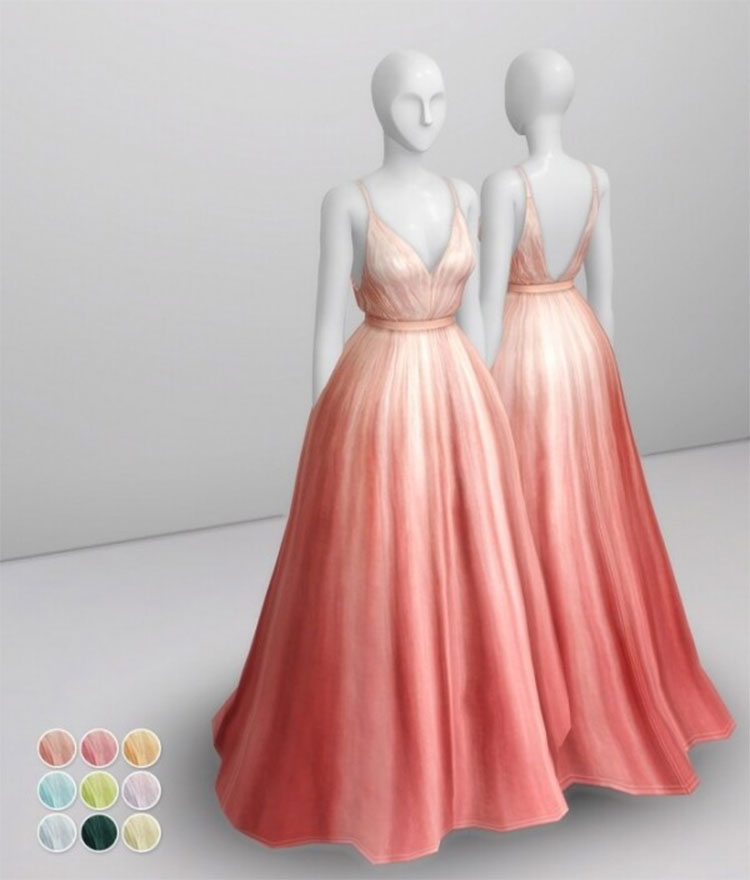 If your Sims need something to wear for love day, or maybe just for a garden party in summer, then this long silk peach gown by CC creator Rusty Nail is worth a try.
Available in 9 swatches, my personal favorites include the signature Peach colorway, as well as the stunning light green and a gentle white (for a summertime wedding on the beach, perhaps?)
This dress can also work for your younger sims no matter the occasion. And with a strappy low-cut bodice, it's both elegant and timeless.
8.

Valentine Gown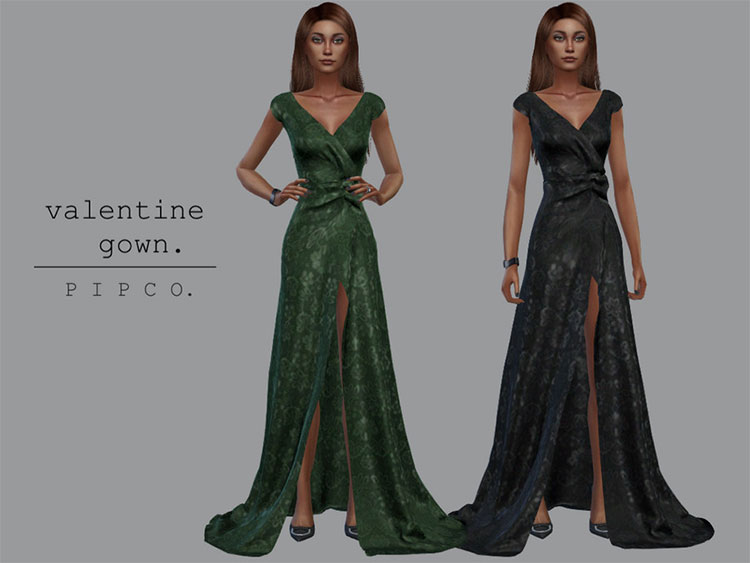 Personally, I was a little sad to see that the majority of the Vampire clothing made your sims look like they hadn't been shopping since the early 1900's.
They're Vampires. They don't age. What else would they be doing with their time than staying up-to-date with all the latest trends?
Well this gown by Pipco changes all of that.
It's a simple yet sophisticated dress, with a low-cut neckline and a dark and intricate design. A nice choice for any late evening gatherings at Uncle Vlad's house, while keeping your sims looking youthful and modern.
7.

Painting Dress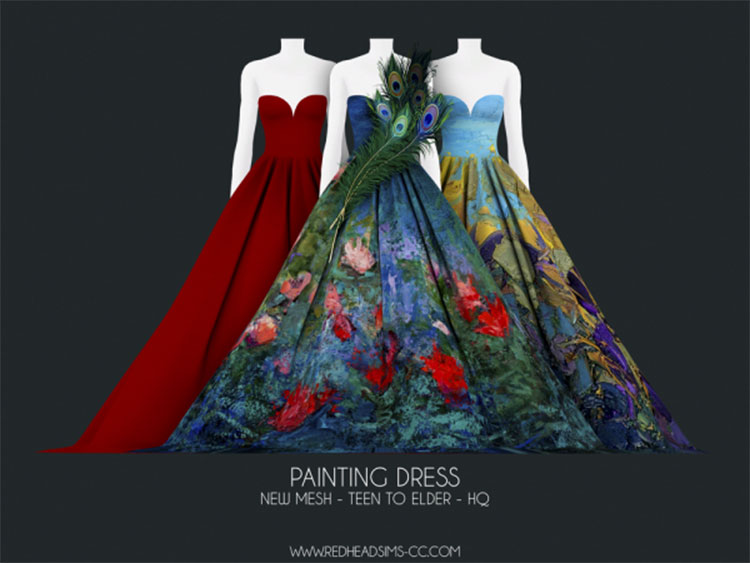 Only for the richest of rich sims who need to look red-carpet ready, this dress CC by Redheadsims comes in 3 different color swatches, all looking fabulous.
Two of the colorways are extremely unique. And true to the name, they appear as though you've just stepped out of a painting.
The third colorway way is a simple yet luxurious red. Which has us begging the question – why walk on the red carpet when you can be the red carpet?
6.

Ball Gown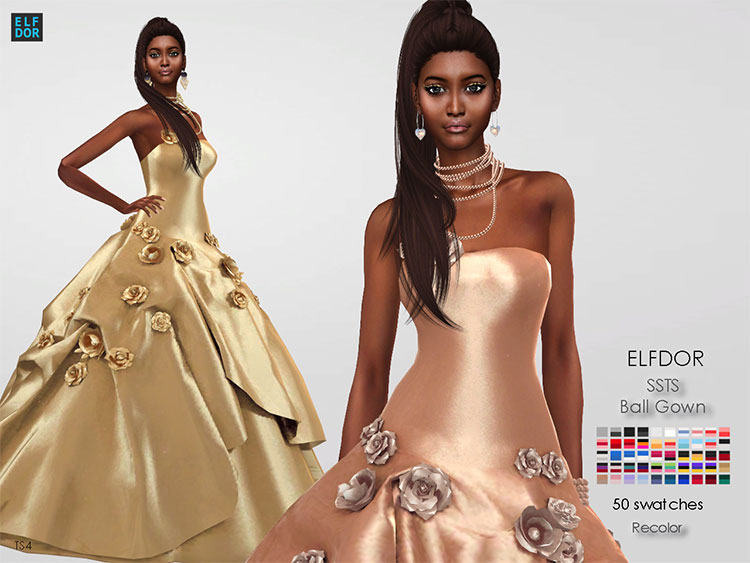 Gorgeous, long, silky, and beautifully detailed. This strapless dress by Elfdor is everything you want in a ball gown!
This dress super cute in design, with a classic cut and timeless floral design.
Plus it's available in 50 swatches, so there's sure to be a color to suit every Sim.
5.

Katinka Dress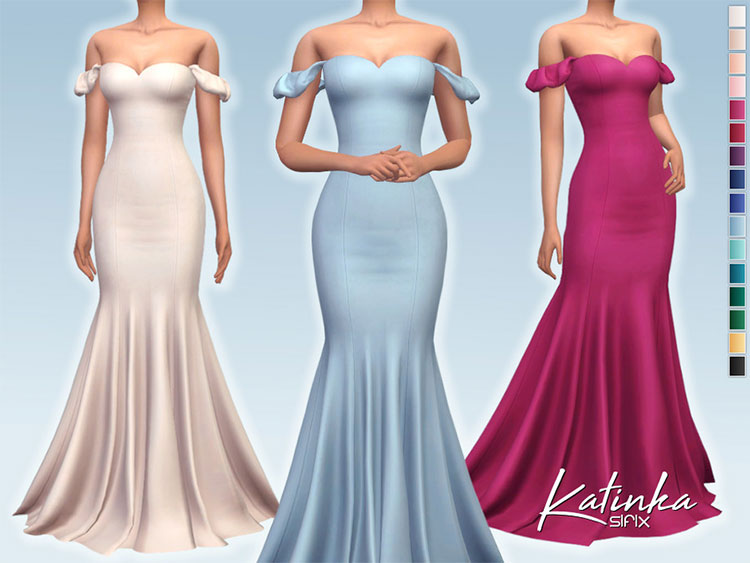 Not all Sims are the same. And their wardrobes shoudn't be either!
All too often I see CC dresses with the same strappy cut, plunging neckline, and revealing side slit up the skirt.
And as beautiful as those dresses are, some Sims just want something a little classier.
That's where this creation by Sifix comes in.
With an adorable Maxis-match design, 16 swatches, and classic fitted silhouette, this gown will fit into your game seamlessly. Doesn't matter if you have base-game only, or every expansion going!
4.

Lava Gown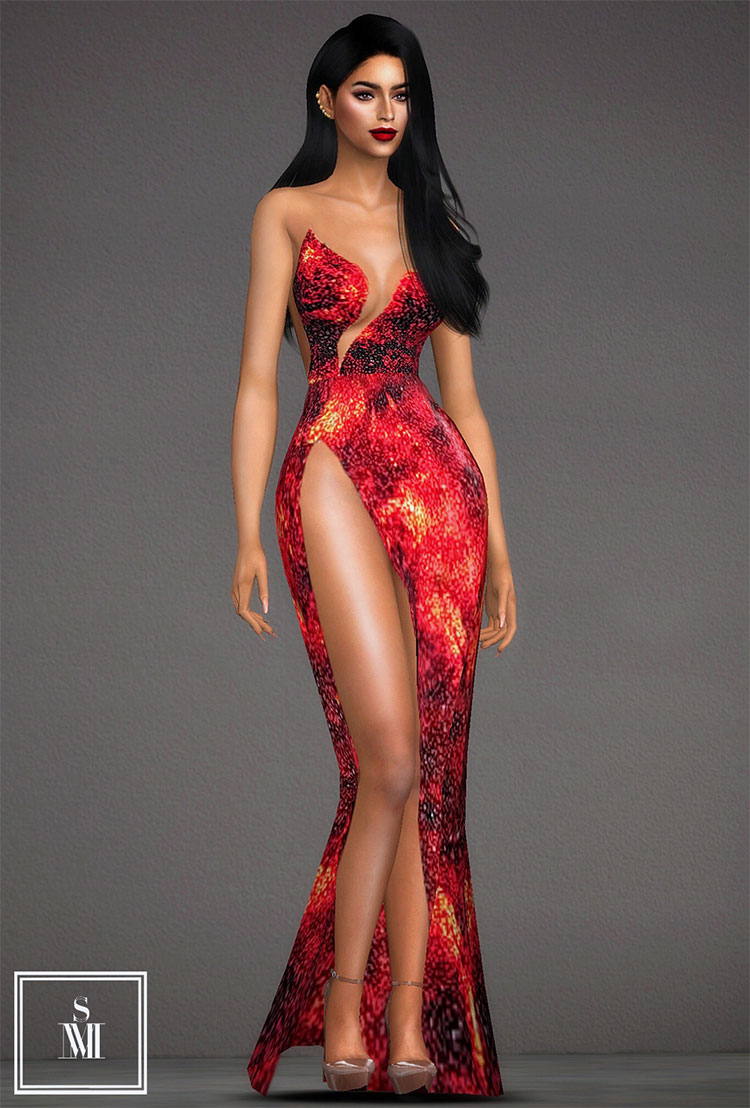 Wowee, this Lava inspired gown is hot stuff!
With such a gorgeous design, this stunning dress by MSSIMS is like nothing I've seen before.
The red, orange, and black color scheme, all paired with the revealing cut of the dress and intricate details makes for one smokin' hot look.
See what you could get away with by taking this baby out for a night on the town.
3.

Amanha Gown
If it's a classic sexy look for your Vampiress, or maybe your goth girl's 21st birthday party, look no further than this sultry floor length skin-tight design.
The Amanha Gown by CC creator Mably Story combines a modest look with some extra-sexy elements, such as cut-outs, a figure-hugging style, and mesh panels. All to keep your Sim looking like the tease she is!
Though this dress is somewhat exclusive, not just anyone could pull this look off.
At least it's availability in three different colors makes it a little more versatile. So even those Sims who prefer to wear a bright pop of color can also enjoy this dress!
2.

Rococo Gowns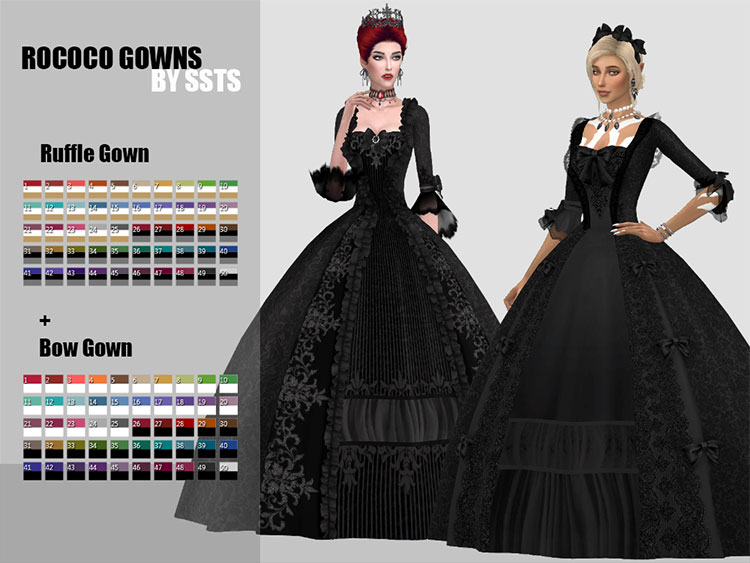 The Sims 4 is an amazing game. If it wasn't we wouldn't be reading this.
You can't deny, however, that there are certain things this game lacks. Such as cars and time travel.
But worry not! We can thank CC creators like SSTS, who created this beautiful gown that enable us to explore the fashion of different eras.
These stunning Rococo Gowns are perfect for any Simmers who want to step back in time and attend a fancy ball. I for one adore those big poofy ball gowns. And now your Sim can, too.
Available in two different styles, each with 50 swatches, the variety here means you could probably turn the whole town into 1760's Paris!
1.

Exantiz Gown
Mably Store is one of my personal favorite CC creators out there. And this dress is one of my absolute favorites, due to its daring nature.
I always feel as though many of the in-game gowns are a little too modest for some Sims.
So this barely-there bejewelled burgundy beauty is to die for!
The detailing on this dress doesn't cover much more than what it needs to. But that's part of its charm.
A brilliant dress for any red-carpet events or upper-class parties.
Browse:
Lists
The Sims 4
Video Games