Best Tights & Leggings CC For The Sims 4 (All Free)
This post may contain affiliate links. If you buy something we may get a small commission at no extra cost to you. (Learn more).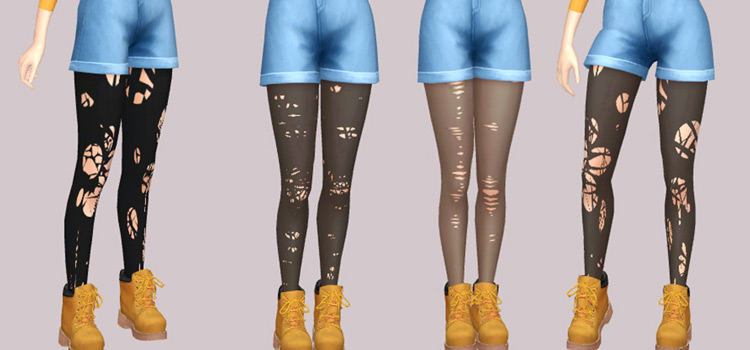 Only the best things withstand the test of time.
And this is especially true in the fashion world.
Just think about all of the things that have basically gone extinct, forever tied to one era as a fad. Shoulder pads, denim jumpsuits, parachute pants – they all have one thing in common, and that's the fact that they're all very dated.
But tights and leggings, on the other hand, have endured.
They've existed in some form for centuries and that's because of evolving fashion trends.
From modest items meant to be worn with dresses, up to fashion statements in their own right, leggings have had quite the journey.
And it's only right that your Sims get the chance to sport this kind of attire too, all with the help of this incredible custom content.
1.

Valkyrie Fishnet Set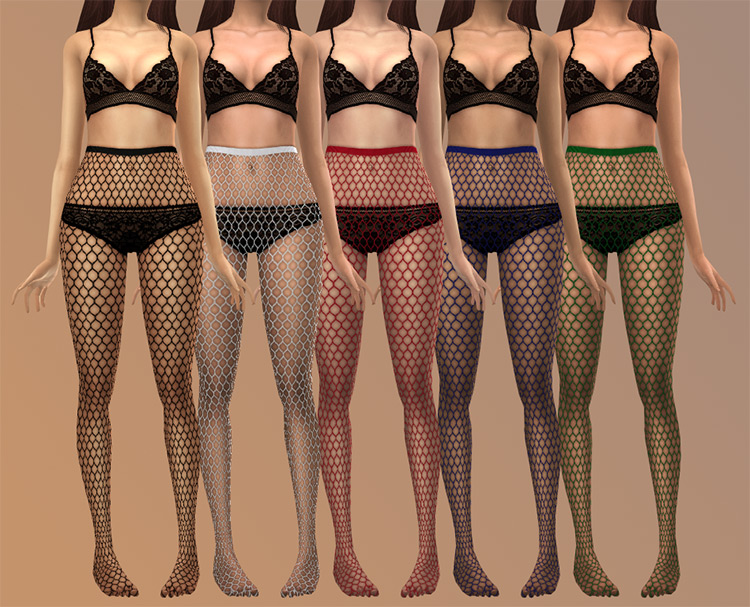 It's hard to say how long fishnets have been the go-to tights for girls who want a sexy or edgy look.
They're firmly a classic for any age or style.
Some people even use them simply as insulation during cold weather.
But for your Sims, I'm sure you'll just want them as part of an outfit.
These are available in ten swatches, and as such, will be a fantastic addition to basically anything.
Dresses, skirts, shorts – no matter the time of year or occasion, you can always count on fishnets.
2.

Punk Tights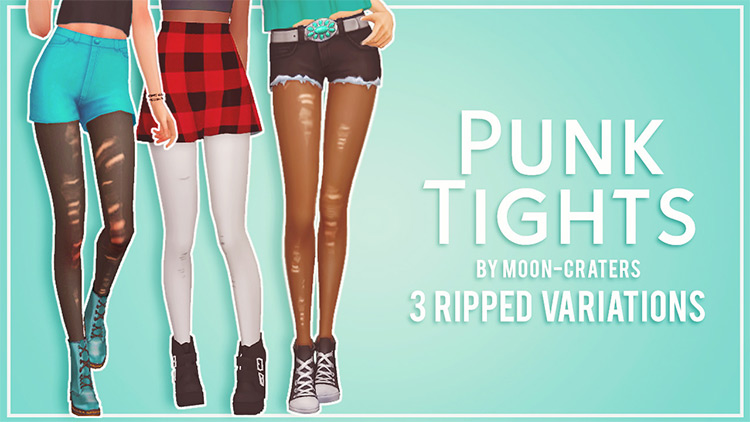 I'm actually curious when tights went from being worn by preppy girls dedicated to appearing "ladylike", to being a grunge favorite.
When they started to tear, maybe?
Or perhaps there was overlap all along.
I don't know, I'm all new to this.
One thing is for certain, and that's that these ripped tights from CC maker moon-creators will definitely help out a lot if you're going for a punk vibe.
Your Sim will no doubt be the cooliest & punk-iest one around.
There are three different types in this CC set, varying from a lot of rips to just a few.
3.

WOLO Fishnet Tights and Socks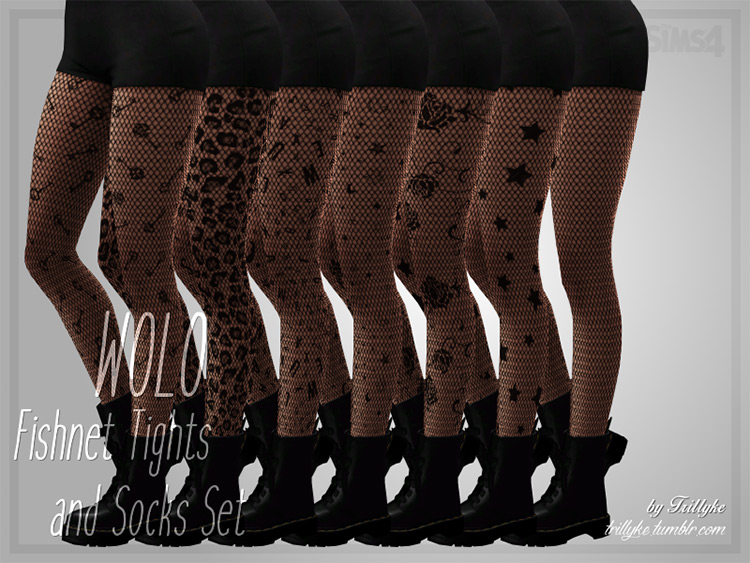 Trillyke has created fishnet stockings as well – but with a twist.
Almost like a superpower, honestly.
These feature some awesome patterns amongst the netting like keys, cheetah print, and roses – just to name a few!
Something so simple really adds a lot to these tights, and will be like a built-in personality booster for your Sim.
You can always tell when someone takes a lot of pride in their outfits and is a fashionista. And fishnets with cheetah print definitely make a statement!
There are also black socks included here separately, meant for you to mix and match as you please for ultimate styling and layering.
4.

Stars Tights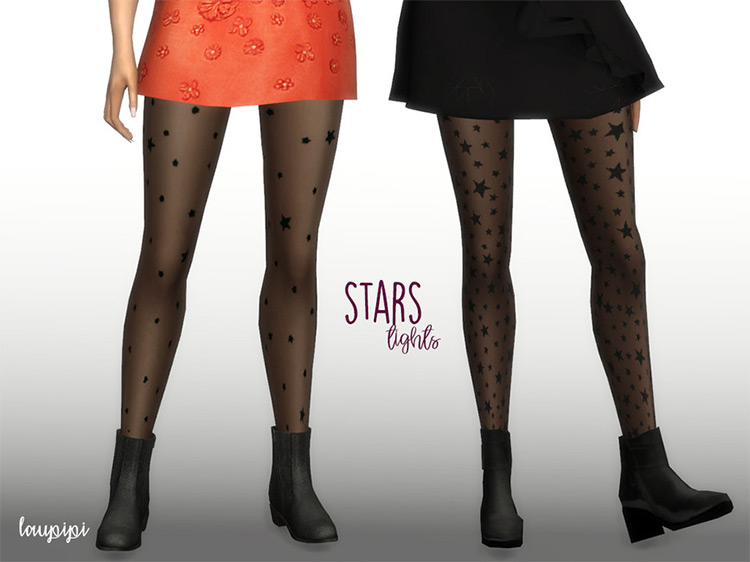 With these tights, you get a more sheer, pantyhose-like texture.
You just know your dog's toenail could put an end to these so quickly… but fortunately, your Sims won't have to deal with that.
Their dogs don't even have toenails.
Stars are such a great pattern choice on basically everything, too.
They're pretty, subtle, and simple whether they're on your wall, shirt, or of course, tights.
There are two styles here: one with a small, sparse design, while the other is fuller.
5.

Cute Tights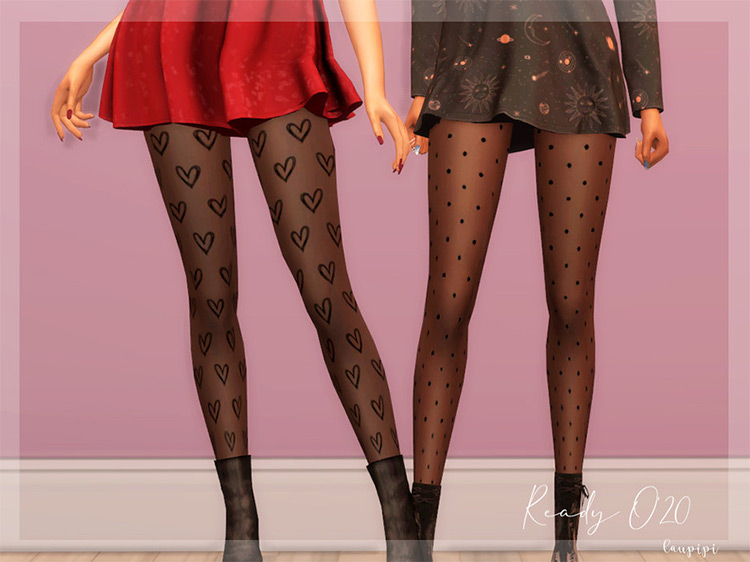 Sometimes, a creator is on point with their custom content's name – and this is one of those times.
These really are cute!
This CC is from the same creator as the star tights mentioned earlier, and these are also just as high-quality and detailed.
You get another two styles here, this time with sketched hearts and dots.
These tights are actually some of my personal favorites. Hearts and dots will be timeless forever, and for good reason.
6.

Black and White Tights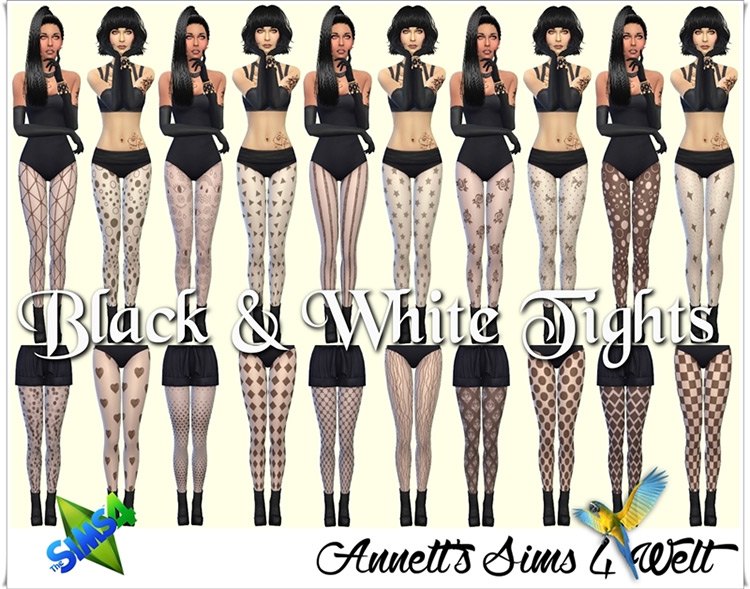 Combinations really are everything in life.
Peanut butter and jelly, ham and cheese, cinnamon and apple.
But at the same time, opposites attract.
Like black and white.
Okay, I'm not sure that's as coherent as I hoped, but you get the drift.
Pairing black and white doesn't always have the best results in fashion, but with these tights, it's a combo that just works.
There are tons of styles to choose from here, all in the aforementioned color scheme. Spots, checkers, stripes, stars, triangles, and many more.
By adding these to your mods folder, you're really expanding your CAS possibilities by a ton.
7.

Halle Tights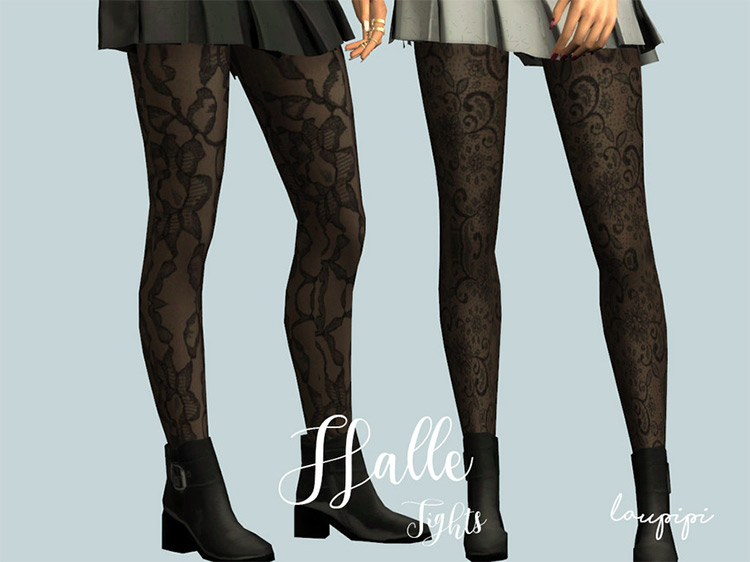 These dark, daring tights are sure to add an enigmatic flair to every Sim that wears them.
They're black, lacy, and somewhat abstract. Overall, the best word might be "saucy".
Eh, maybe not. It feels a little gross now that I've said it.
But these both really are beautiful swatches that will look fantastic with basically any bottom, or dress, in the game.
They just have all the right stuff to make them an instant classic.
And we know shoes can make or break an outfit as well, but the picture is all the proof you need that combat boots are made to be paired with tights!
8.

Ayla Leggings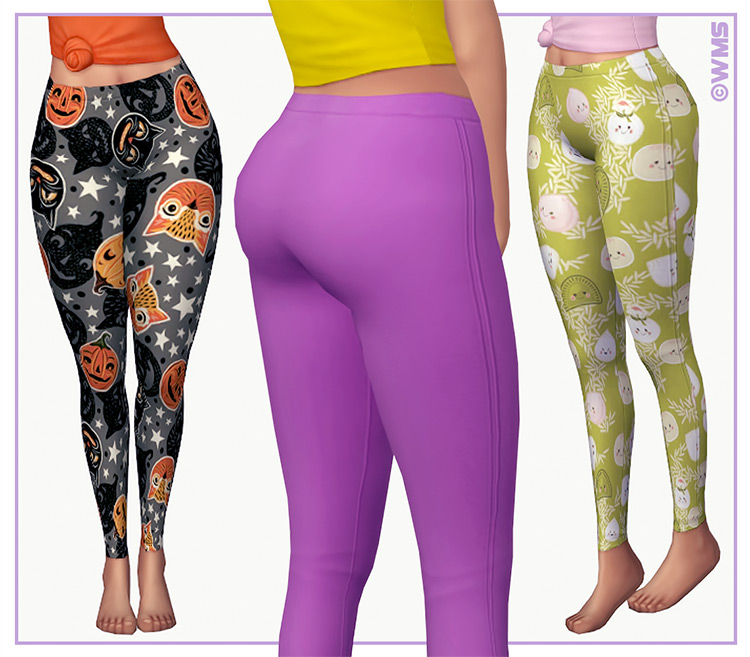 If you're just looking for a single simple type of leggings with a ton of options, then I'm afraid this is the end of the road.
Because there are a whopping 105 swatches here, which I think might be a record.
Each one is vastly different, yet equally stunning.
With fifty solid swatches of every shade of every color you could possibly want, you might not want to let your Sim wear real pants ever again.
Then, there are 25 swatches aptly dubbed "spoopy".
Those swatches (as you can imagine) consist of various cartoony Halloween patterns like eyeballs, skulls, and bats.
But that's not even scratching the surface!
And lastly, WildlyMinatureSandwiches also created 25 more cutesy patterns here too, which also live up to their name.
9.

Mermaid Leggings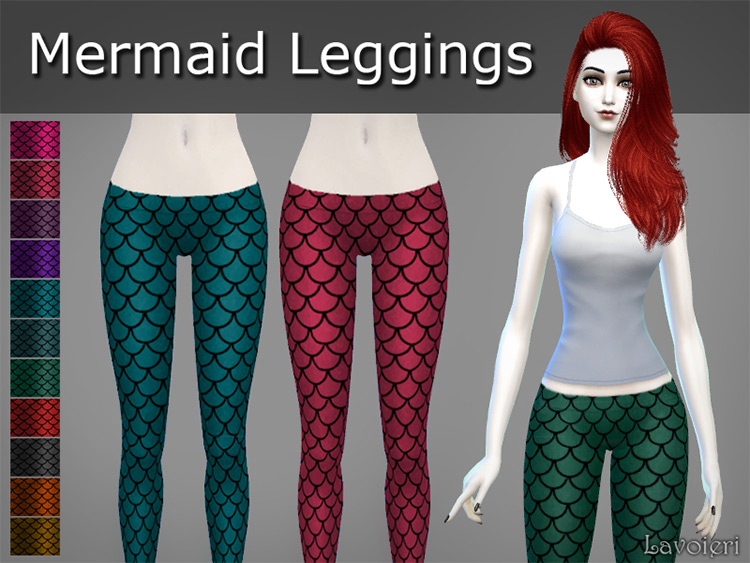 I think everyone has wanted to be a mermaid at one point in their life – or at least wanted ot meet one.
They're always portrayed as gorgeous and spend their days in a sparkling ocean full of sea creatures, free of the stressors and obligations of everyday life…
It's definitely the ideal way to live.
But until modern science figures out how to allow us to live in the ocean full time, we'll just have to occasionally indulge in mermaid-themed CC for The Sims 4.
The tail makes the mermaid – and has become a huge part of the appeal in recent years.
And these leggings capture that mystical look perfectly with a scaly pattern and many bright, metallic swatches.
10.

Cold Weather Tights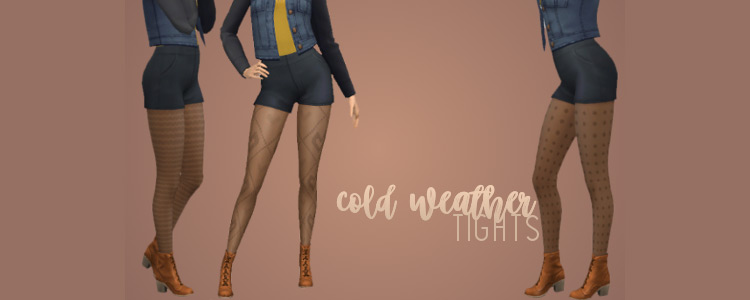 While tights really can be worn year-round, they look great with winter apparel.
Especially if you have Seasons, I can see these fitting right in with the coats, boots, and skirts.
I've always thought the developers must be from somewhere with a warm climate, because personally, I don't think I'd survive wearing a skirt and tights.
But there's no questioning what a good look it is.
And even if you don't have Seasons, these subtly designed tights will still look awesome.
11.

Women's Kitty Tights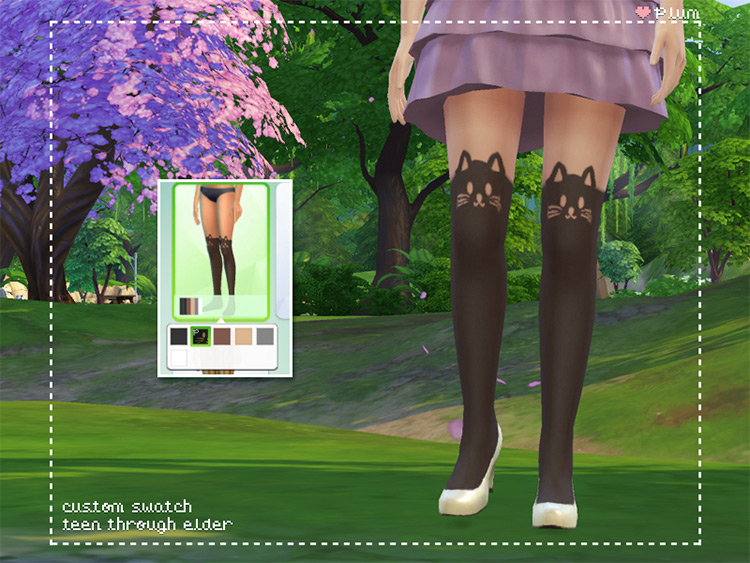 If you're a cat lover, then you know there will never be enough cat-themed items.
So these tights will be perfect for the cat lady in your game.
They're honestly so cool, and I hope I can find a real-life version.
Because who wouldn't want cats on their knees and paw print overlays on their feet?
Someone who doesn't like cats, I guess.
But we don't talk about those people.
For something so simple, it's amazing how cute these are, with a little whiskered face on the front of each leg and tails on the back.
12.

Stylish Pattern Leggings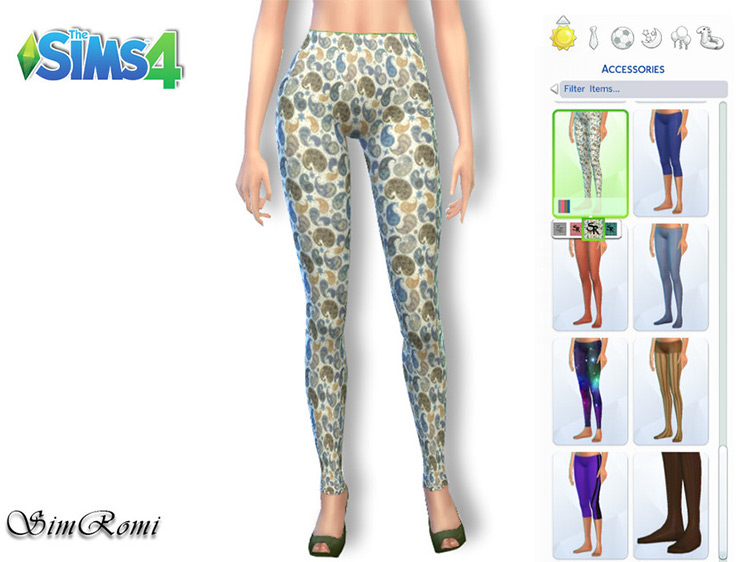 I know some people just see leggings as glorified pajama pants, but I disagree.
They can definitely be part of a nice outfit.
These ones from creator simromi are a perfect example.
And with this CC you'll get four equally pretty and fun swatches of paisley, squiggly lines, stripes, and a blue diamond design.
Despite what some people say, leggings totally are pants.
And even though they're categorized as an accessory most of the time in The Sims 4, you can easily get around that by having your Sim technically not wear bottoms.
Now that's a good lifehack. Just don't wear pants.
13.

Christmas Leggings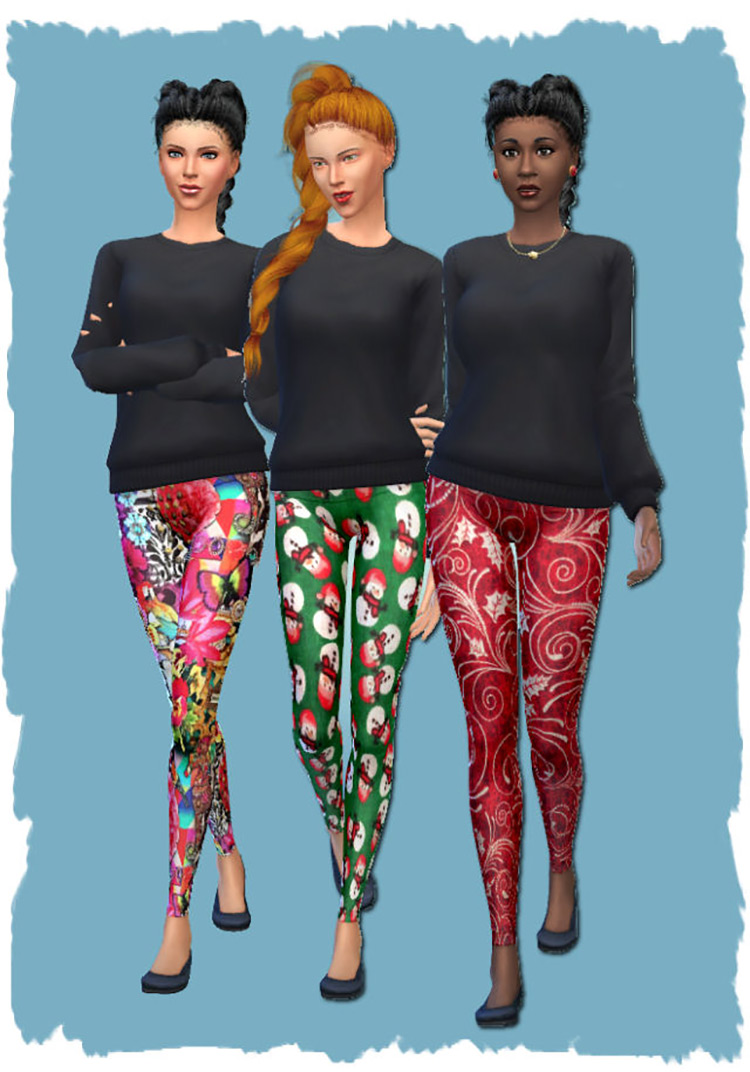 Probably 90% of the leggings I own are holiday themed.
It's just such a quick way to look festive, and leggings are always the making of a simple, comfortable outfit anyway.
Just throw on a sweater and some boots, and you're good to go!
It works the same way for your Sims.
Each swatch for these leggings is a lovely Christmas-y pattern.
Reindeer, stars, snowmen, snowflakes – all of your favorite holiday designs are here, in fitting color palettes.
14.

Tumblr-Themed Leggings Pack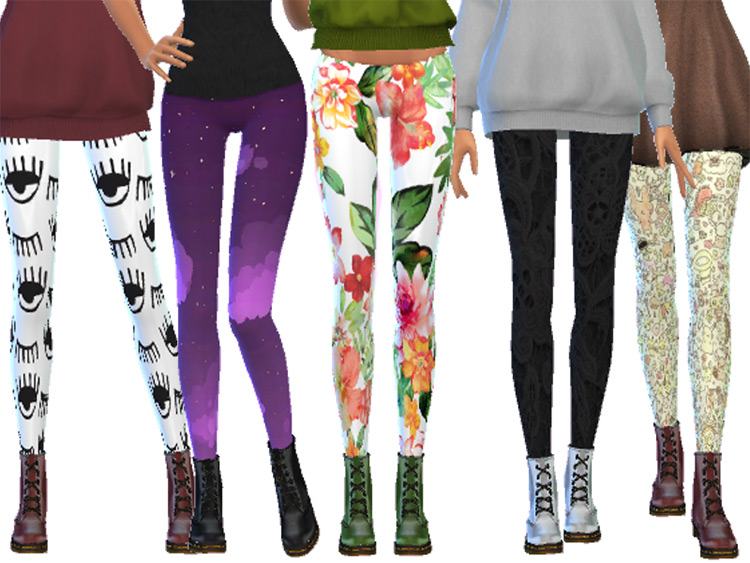 If you've ever been on Tumblr, then you probably know it basically has its own subculture.
Several of them, actually.
The word "aesthetic" comes up on there quite a bit.
Even if Simmers aren't as vocal about it, I think we're all just as concerned with our Sims being aesthetically pleasing.
And that won't be difficult at all with these custom leggings that feature some very Tumblr-esque patterns and designs.
There are 10 swatches here that'll probably become a regular part of your Sim's wardrobe, including diamonds, roses, and sky scenes, just to name a few.
And most of them have pastel colors that'll automatically make you a little happier! Pastels just have that effect.
15.

Flower Leggings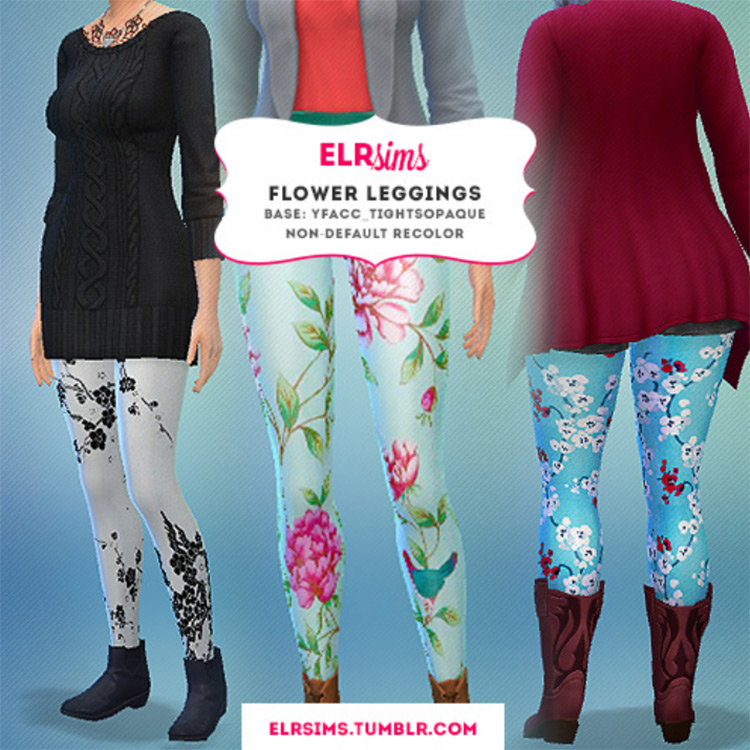 Flowers make everything better.
Walls, gardens, your legs.
And this recolor from ELRsims includes several floral swatches, incorporating various flowers and colors. They're gorgeous, and will definitely up your Sim's pants game.
Who wants jeans or sweatpants when you could have bright, pretty, flowery leggings?
Besides, everyone knows leggings are the most versatile of all bottoms. You can wear them to bed, the gym, the grocery store, and anywhere else without anyone batting an eye.
As someone who has attempted to exercise in jeans, it isn't fun.
Give me these leggings any day, for any occasion!
16.

Rosalina Leggings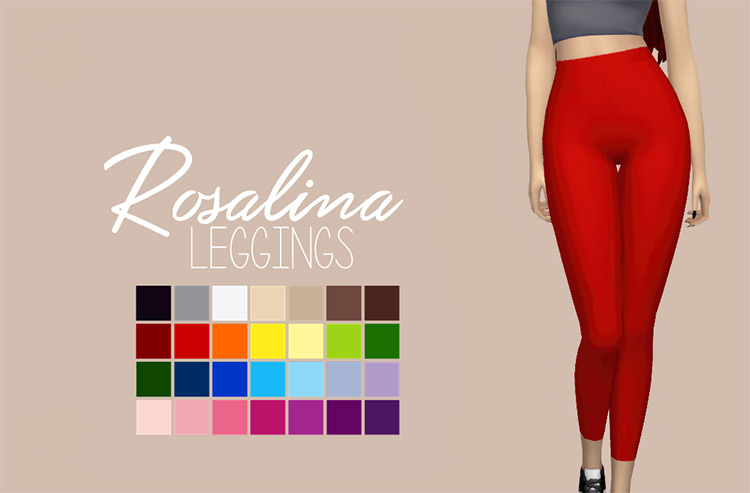 These high waisted leggings will be another versatile addition to your Sim's wardrobe.
Basic doesn't mean bad.
In fact, it's far from it.
Basics can be wardrobe staples – a little black dress, good jeans, and of course, leggings!
There are 28 solid swatches in this CC to fit all of your Sim's needs.
There's classic black, beige, white, as well as plenty of bright colors too.
Overall, you'll have a ton of possibilities with these leggings. Accessorizing your Sim and choosing their top will be really fun just because of the length.
Plus they're a little cropped at the ankle, and go well above the navel, so basically anything goes.
Crop tops, jackets, sweaters… nothing will look out of place paired with these!
17.

Aloha Leggings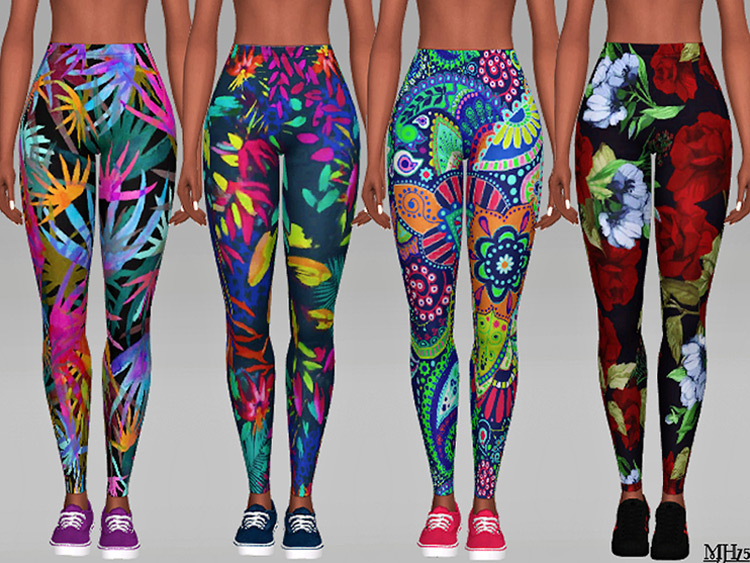 When it comes to colorful leggings, Margeh-75 has really gone all out.
These 10 swatches contain some of the brightest, trippiest, busiest designs you'll ever see in Sims CC.
And they're truly beautiful.
From tie-dye themes to big tropical flowers to psychedelic patterns and simple black roses, these leggings have it all.
No matter which you choose, they'll definitely add some upbeat & summery vibes to your game.
18.

Grunge Tights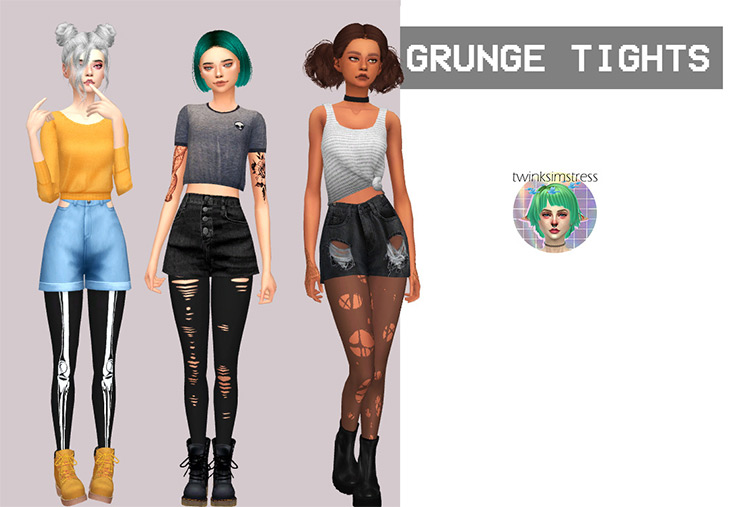 Grunge fashion appeals to many for its edgy, bold, and tough look.
It's characterized by rips, dark colors, and often some designs that are a little morbid.
Well, these tights fit all of the above.
These 20 swatches feature an assortment of stylish rips as well as skeleton overlays. They also come in several different shades, including black and gray, as well as the typical sheer brown.
19.

Animal Print Leggings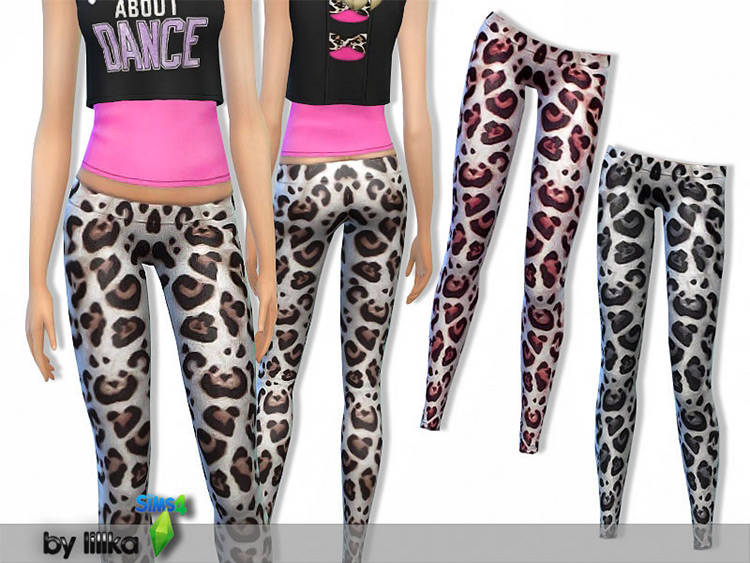 Animal print is always a sure way to spice up an outfit.
And with these leggings you get a choice of three colored leopard spots here: brown, pink, or gray.
The rosettes are large and cover most of the legging, but the background is white.
As many animal print patterns are already available in CAS, you could get really creative with mixing and matching.
That jacket with leopard print trim comes to mind – what a chic & sassy outfit that'll make!
Throw in some boots and your Sim really will be unstoppable.
20.

Pikachu Tights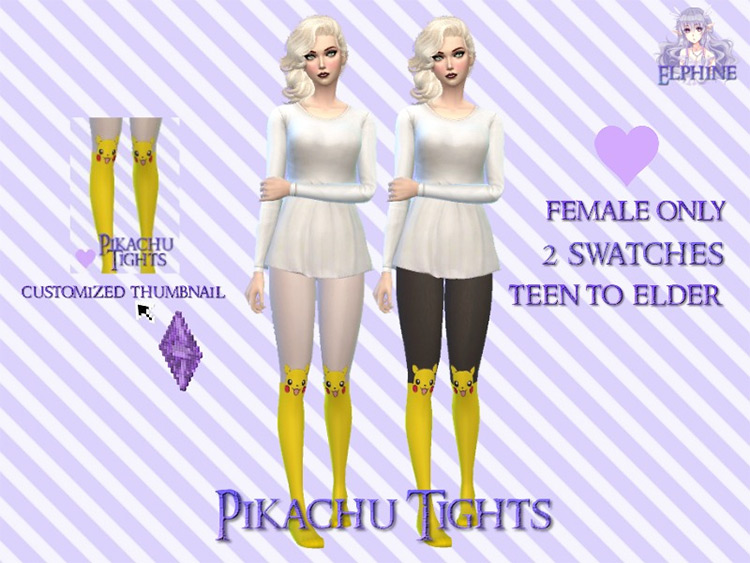 I'm pretty sure everyone loves Pikachu.
Even if you're clueless about Pokémon, this little guy is irresistible.
He stole everyone's hearts with that sweet face.
And now he'll steal your Sim's legs with his elongated body.
…uh, what?! That may have been an oversimplification.
These tights do feature Pikachu, making a good portion of them yellow, and his happy face will cover your Sim's knees.
Nothing here is as creepy as it sounded.
There's just an abundance of cuteness!
Browse:
Lists
The Sims 4
Video Games