Best Sims 4 Punk & Rock Star CC: Clothes, Hairstyles & More
This post may contain affiliate links. If you buy something we may get a small commission at no extra cost to you. (Learn more).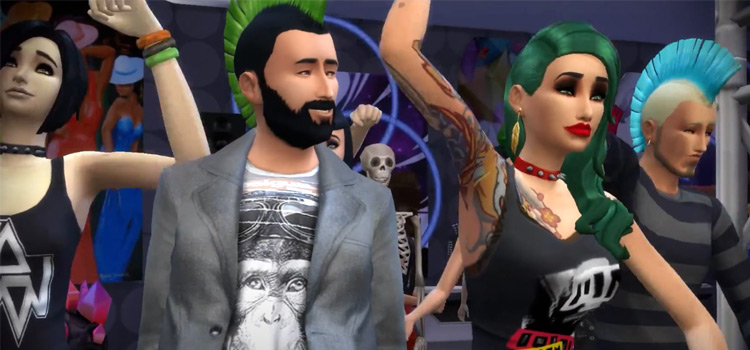 Everybody finds their inner self throughout their teenage years.
Maybe you were the star athlete, captain of the football team, super jock, and everything the ladies loved.
Or maybe you were the queen bee, Miss Popular, the constant party thrower and the fantasy of every guy around.
You could've been the gamer, the artsy girl, a hipster, or even better: the hippie.
While all these groups are still here today, I want to focus on one in particular: The Punk Rockers!
If you were one of those finding their inner grunge and just jamming to some rockin' tunes, this list of Sims 4 CC is sure to have something your digital friends will adore.
Let's check out some of the best hairstyles, clothes, accessories, and all types of CC that scream rocker.
Slick Punk Hair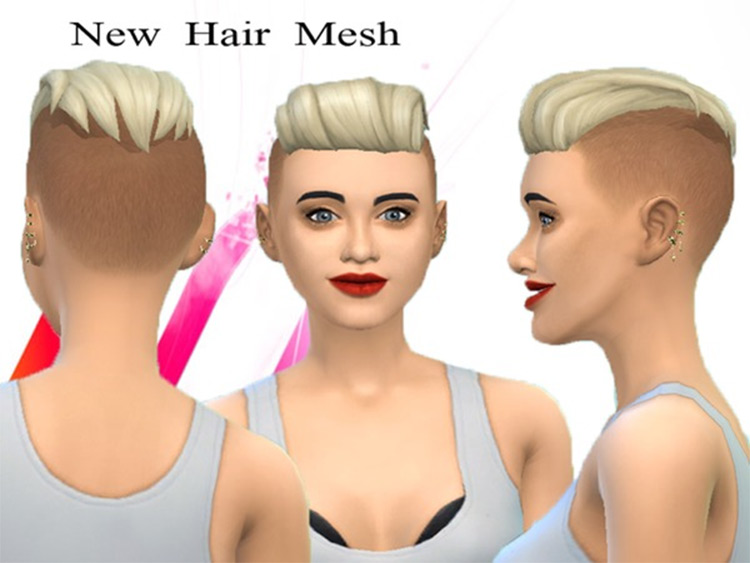 We're starting off hot with this hairstyle by Neissy.
This slicked-back look gives me 2016 Kristen Stewart vibes.
While she's went through a slew of short hairstyles before and after, this look resembles her Grace Jones cut. Which is actually one of my favorite hairstyles on her.
Maybe your secret agent Sim can take some style tips and become the next Charlie's Angels.
On Trend Rock Shirts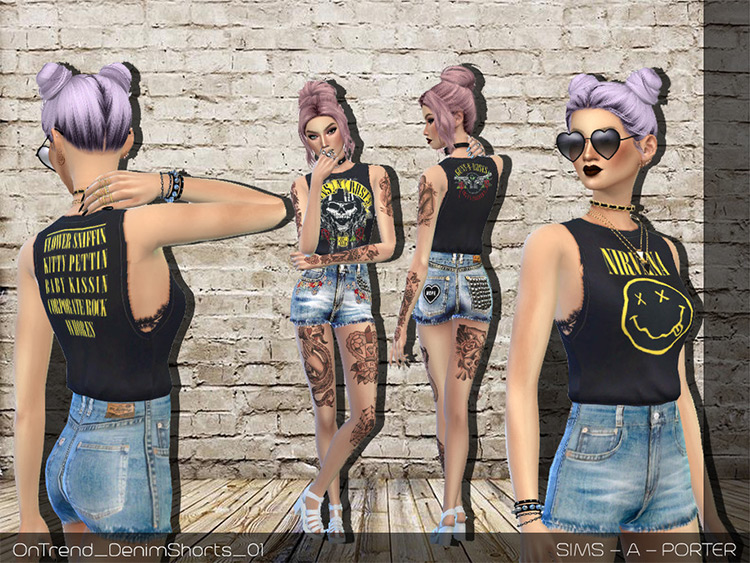 Everybody and their mother knows I'm a sucker for branded CC.
These On Trend shirts by Sims_A_Porter are no different. Sporting several bands across this saucy all-black cut-off tee is enough for me to make the list.
Bands include Nirvana, Led Zepplin, and Iron Maiden, among many others.
These brands definitely fall more towards those who love hard rock and heavy metal, rather than punk & grunge, but the design fits with all the above.
There's also a unique grey tee sporting the Ramones. Which is a cool add-in for a set mostly featuring only black tees!
Rock Legend Jeans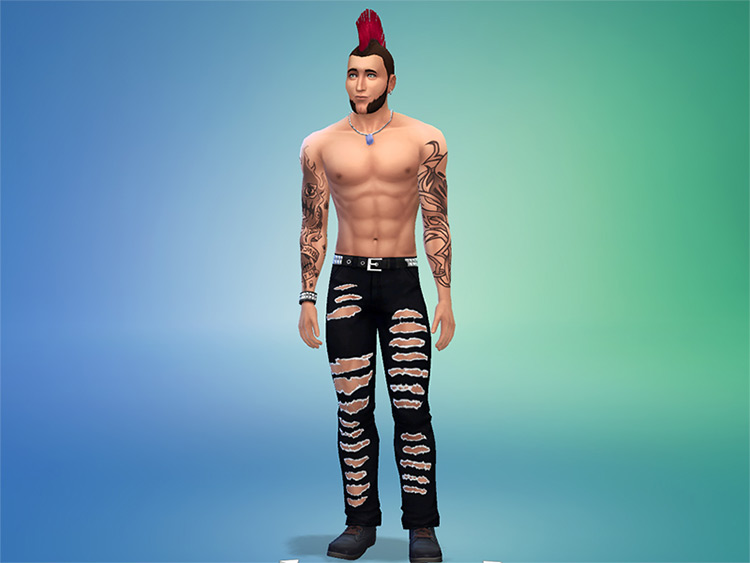 Nothing yells mid-90s grunge like a pair of jeans. Not just any jeans, though. Usually they have to be skinny and dark and probably ripped.
Actually most importantly, they have to be ripped.
EyeDye does all three and gives us a great pair of jeans to wear to the Sims concert.
Talk about being punk rock in a nutshell.
Pop Punk Eyeliner
Whether you Sim is a dude or dudette, makeup has always been a staple of the rock star.
In this case, we have this unique eyeliner CC done by brendonruine.
It features a winged look shadowed with all black, slowly forming into some glittery silver.
I guess you could call this is "eye-popping" to say the least!
Kijiko Kitten Hair
Yet another hairstyle to make the list comes from creator Helsoseira.
This long and messy look definitely fits the bill of anime meets punk rock.
While it's technically a male hairstyle, I feel like this look can also fit great on any female counterpart.
Kudos to Helso for having a hairstyle with some versatility to it.
Metal Spikes Cuffs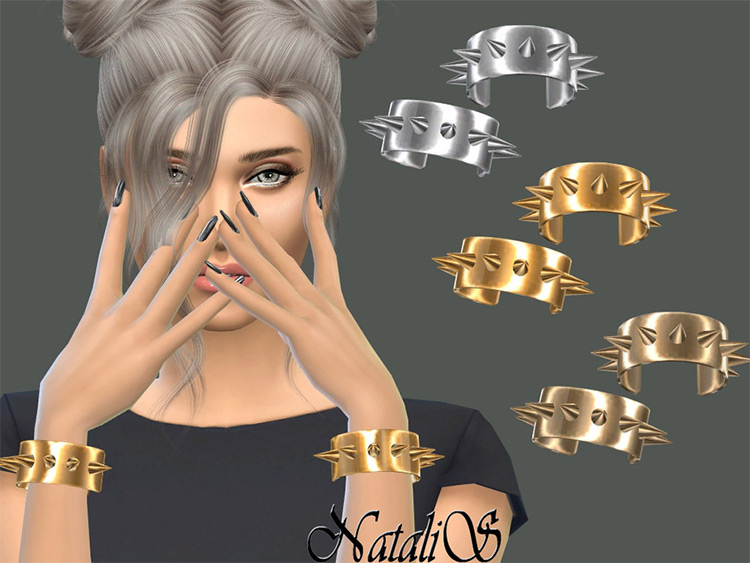 You knew eventually we had to make our way to the spikey stuff, and here we are.
Natalis does a wonderful job with the spiked cuffs that end up coming in the 3 Olympic medal colors.
While the bronze and gold look great, the silver cuffs are the definite winners for me.
I guess second place isn't always that bad.
Rock Not Dead Jacket
Rock most definitely ain't dead.
And with designs like this jacket, it won't be for a long time.
CatySix does an excellent job merging modern swag with vintage rock apparel.
The design is fitted and features a dope skull logo on the front side, very rock and roll.
Plus the vintage portion comes from the backside which features the slogan Rock ain't Dead, you are. Keep on rocking, my Sims.
Rock Bustier Tanks
Another set of branded cut-off tanks make our list, but this design by HeavySimmer lands some newfound appreciation.
For starters, the tee itself is a better fit for females.
And features 15 unique designs across 2 swatches, white and black.
It also features more unique bands such as Korn, Slipknot, Slayer, and Marilyn Manson. Some big names!
All these bands plus the cool design lands this CC set of branded clothes a very nice spot on this list.
Moon Choker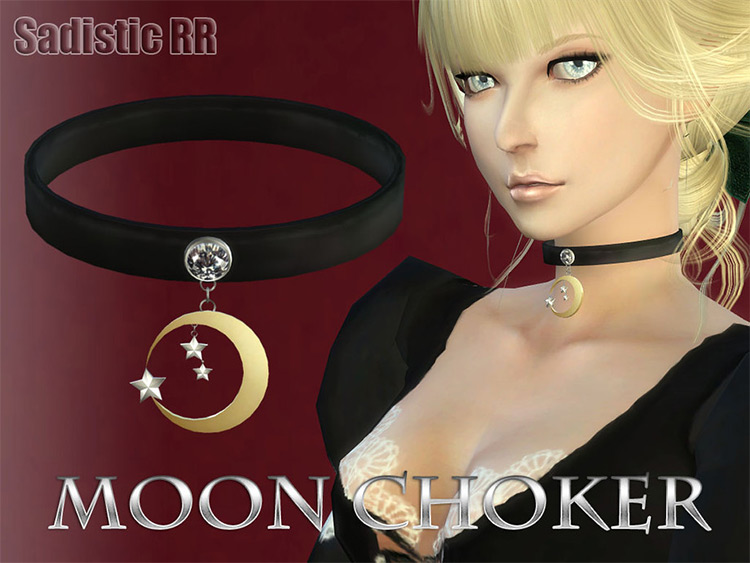 Our first choker to make the list is a unique one indeed.
Sadistic_RR pulls out all the stops and gives this simple yet very appealing moon choker.
A simple black brace with a dangling gold-ish moon and silver stars gives me a lot of Sailor Moon vibes.
It will go perfect with any of you punk Sims still looking to have a little classy flair in your wardrobe. And trust me, there's a lot of other chokers out there if you're willing to dig further into CC.
I can almost guarantee most of your girly Sims will be over the moon with this cute yet rocker-appropriate necklace.
Psychobilly Jacket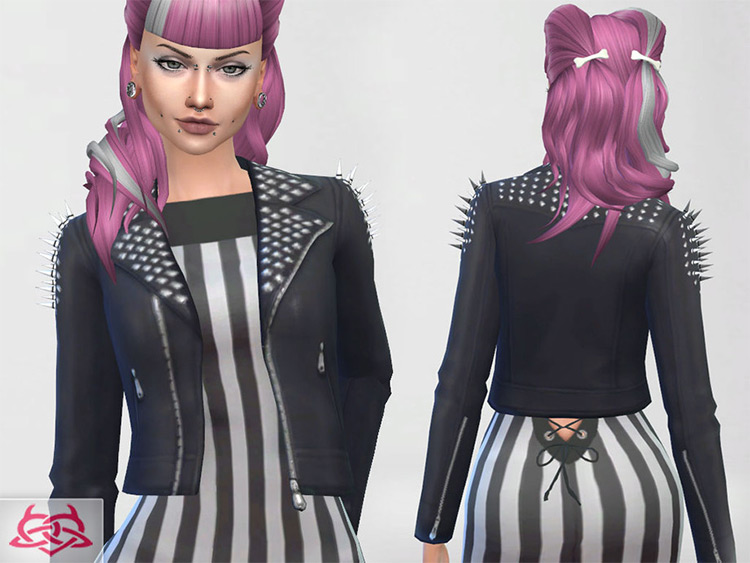 Next up we got the Psychobilly Jacket by Colores Urbanos.
This jacket CC comes in a sleek black design and is well detailed, with side zippers, shoulder spikes and squared rhinestones.
In terms of overall aesthetic, it's my favorite clothing piece on this list.
Keep in mind, though, you might want to avoid putting it on any Sim named Billy. It might drive them crazy.
And yes, I know it's referring to a music genre I just thought I'd be funny (which is never the case).
Night Vision Fringe Hair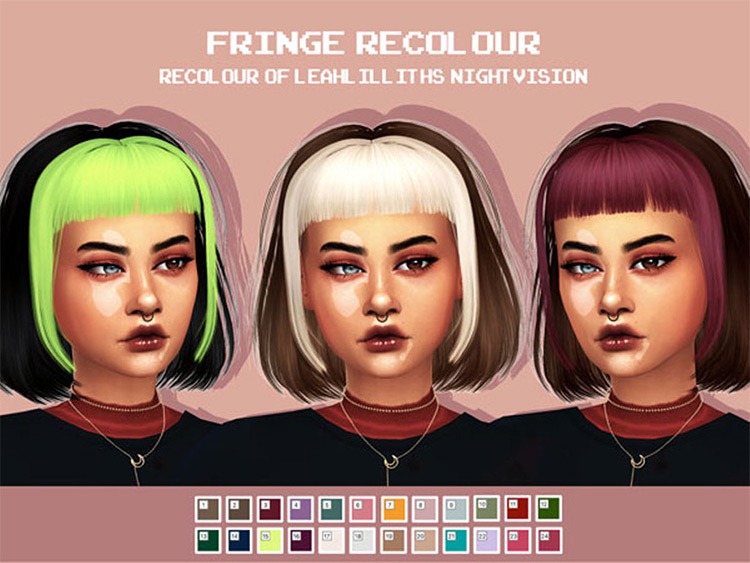 Wanna live on the edge? Then get with this fringe hair CC design by CosmicCC.
While there were two Night Vision designs, with one being the half & half hair color, I just thought the fringe look was a little more punk.
The first thing that comes to my mind is Billie Eilish's lime green fringe cut.
This hairdo is well detailed and comes in a whopping 24 different swatches, making it very easy to swap colors to keep your Sim's hairstyle fresh.
Goth Punk Garter Leggings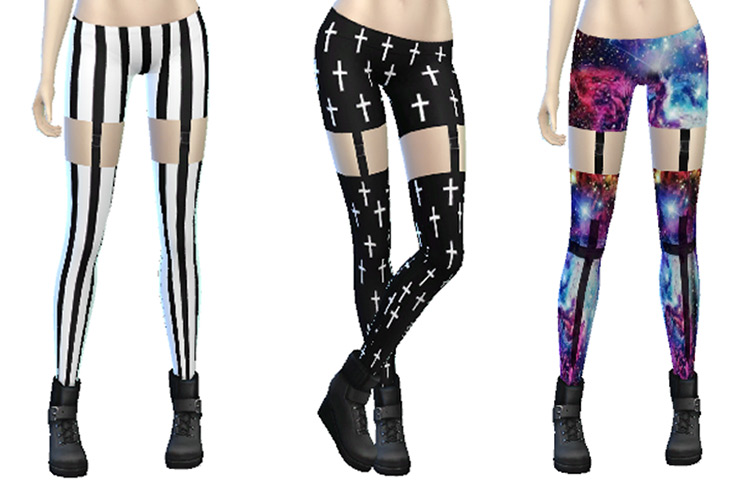 Next we have these garter leggings that definitely look rocker-ready, designed by ChubbyChipmunKz.
These are a re-design of the leggings including in the base game, so they might look familiar, and they come in 3 unique designs.
The zebra stripes and all-black with patterned crosses are wonderfully crafted.
But the galaxy mesh is my favorite of the bunch.
We've looked at various tops and jackets throughout this list, but now we have some suitable legwear to fulfill your gal's punk attire.
Playable Drum Set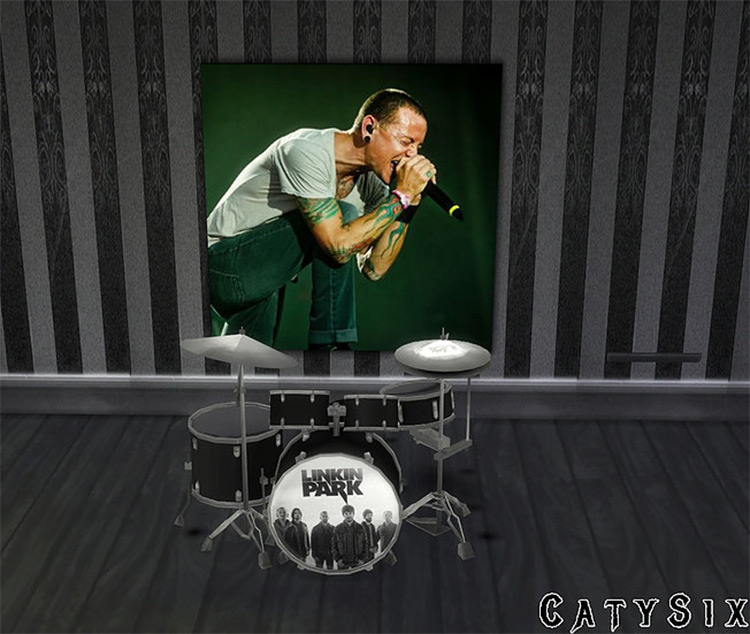 Bands are a huge part of the rock scene. Obvious, right?
Well there's no way we could've done a rock star list without listing the instruments that make someone a rock star.
Most of the time people relate to either the drummer or guitarist.
In this case, we're talking about drums with this awesome CC set by CatySix.
The drums come blacked out to really sell the hardcore vibes, and also feature brand logos on the bass drum.
The real kicker to this set is the drums are actually playable, making it a great addition to those Sims looking to start up a full on rock band.
Rock Star Poses + Ghoulish Guitar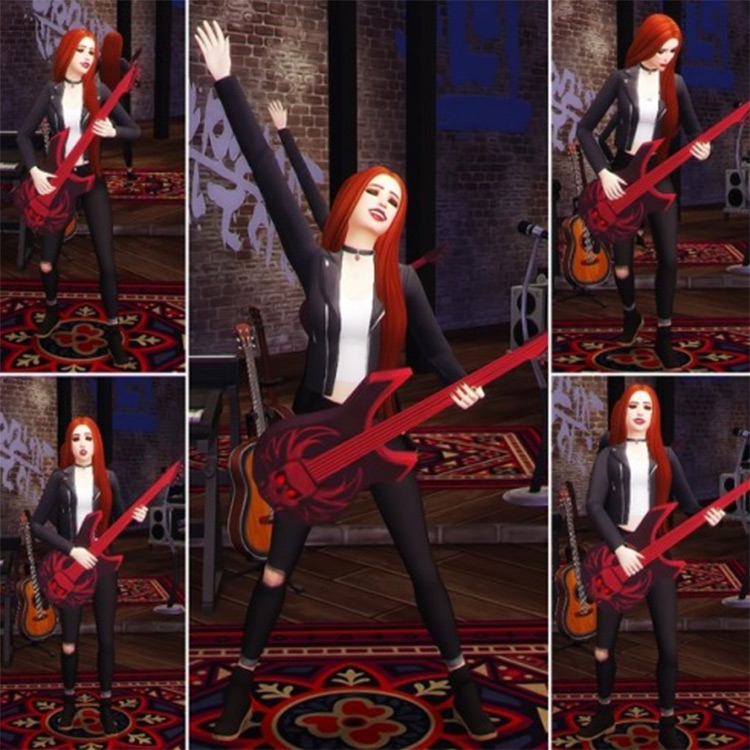 Like I said, the two things that define being a rock star has to be drums, or guitar.
We did drums, so let's cover some strings.
Atashi77 absolutely knocks it out of the park with 8 different swatches for her Ghoulish Guitar.
Not only is the guitar CC awesome, but it's not even the main attraction from this set.
The real reason it's on this list is the rock star poses included with this download.
This includes 15 different poses including the rock on hand signal, windmill strums, and jumping in the air. All of them are sick.
The unique poses along with the guitar designs definitely have this CC strumming its way into my list.
And really, this is a must-download for any Sims actually starting up their own band.
Undead Ahead Choker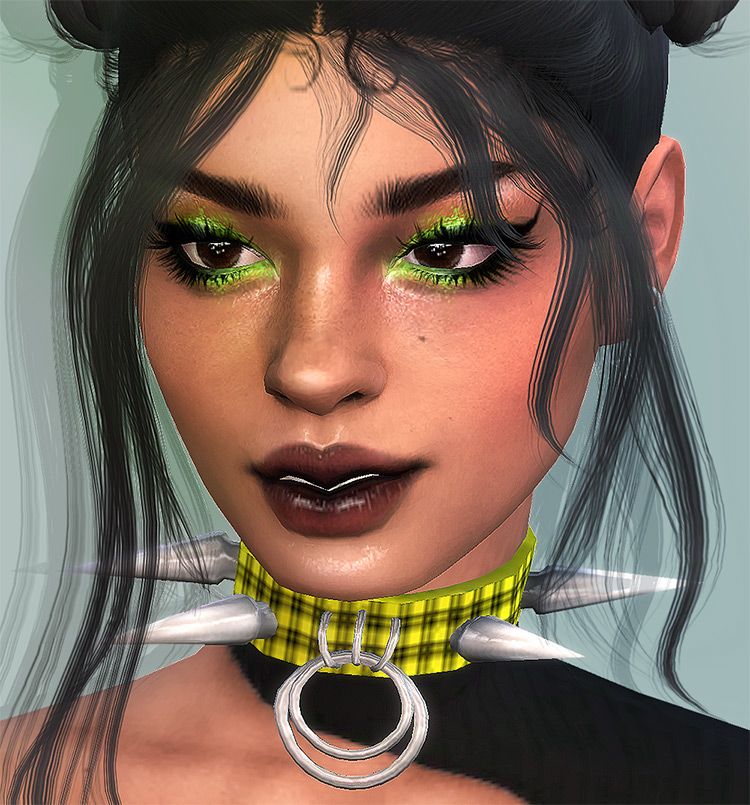 Honestly, I went back and forth with this item. It just rocks so hard, you know?
And while the poses offer more as a whole, the Undead Ahead Choker by EvellSims is such a hardcore representation of punk culture.
First of all, it's a choker. And secondly, it's the most detailed piece of CC on this whole list.
Each choker is matched with different color schemes using multiple patterns and colors. This equates to an outstanding 40 swatches, with all of them being uniquely different.
Whatever your style or taste is, there's something here for everyone.
Whether it's the checkered yellow design with silver spikes, or the all-black choker with lime green spikes and hot pink rings.
Guys and girls, young and old, all of our Sims can pull off a little rock n roll here.
Browse:
Lists
The Sims 4
Video Games