Sims 4 Video Game Clutter: The Ultimate List
This post may contain affiliate links. If you buy something we may get a small commission at no extra cost to you. (Learn more).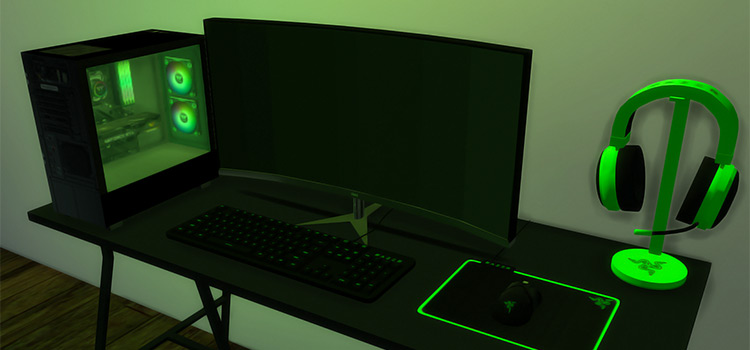 Hardcore gamers and video game enthusiasts, rejoice.
Your Sim's living space can now mimic your own IRL gaming area.
Gaming consoles and controllers? Multiple wires? Lots and lots (and lots) of tech scattered about? Novelty posters?
There are clutter packs for all that and more. Check out the list below!
1.

Nendoroids Box – Décor by Cherry On K-Pop
If you're familiar with Bobbleheads or FUNKO Pops!, then the concept of Nendoroids shouldn't be too alien.
These cute, palm-sized figurines – about 10cm tall – are based off of characters in movies, games, and animated shows.
This Nendoroid décor set contains 39 different swatches aka 39 individual characters.
A lot of gamers are perfectly fine with letting tiny versions of their favorite video game characters populate their desks. Your Sim should try it!
2.

Pokémon Plushies by wishelsims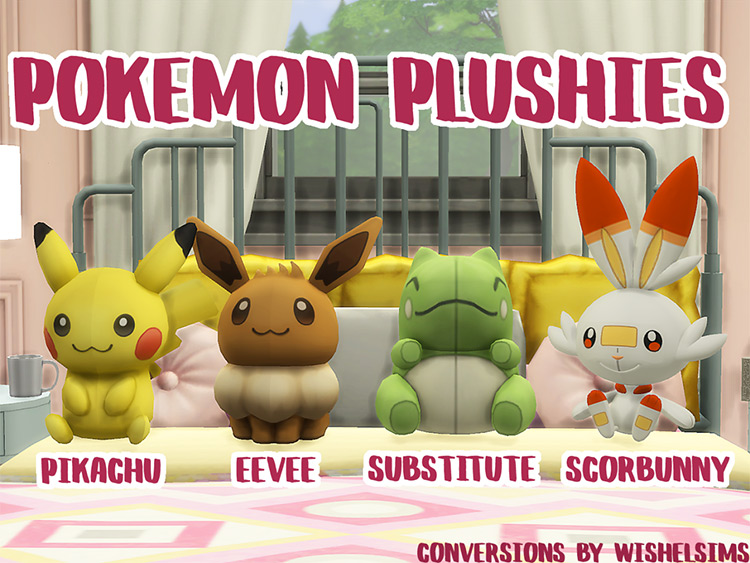 As one of the most popular franchises worldwide, Pokémon needs no introduction.
Whether you know it because of the games, the graphic novels, or the animated series, I'm confident you're familiar with these cuddly critters. Give your gamer!Sim some fluffy, pocket-sized company.
In this set you'll find a plushie for:
Pikachu
Eevee
Scorbunny
And the Substitute doll
3.

Nintendo Switch (Functional, Accessory & Decoration) by redheadsims-cc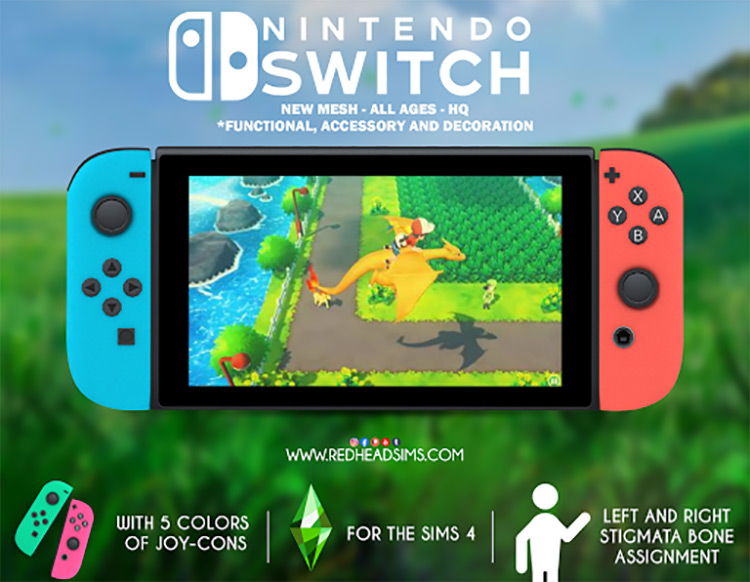 As someone who actually owns a Nintendo Switch, the sheer amount of items in this set is freaking impressive.
I seriously love the attention to detail!
Spare joy-cons, extra grips, the docket, the bare Switch tablet, etc. The creator even included the box, which is a nice touch.
If you're looking to literally clutter up your Sims' gaming space, this set'll do nicely. It's a great choice for any big Nintendo fans.
4.

Geek – Headphone Stand by Syboubou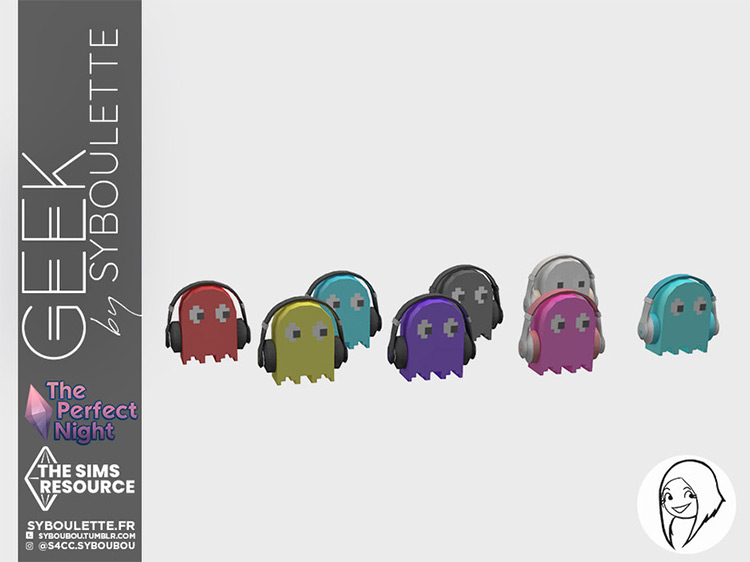 Who doesn't know Pac-Man? Who doesn't know the Pac-Man ghosts?
And who wouldn't want these pixelated little buggers haunting their gaming area? I would gladly buy several headphones if it means I can have these ghostly cuties cluttering up my room.
Your Sim deserves to have their own Blinky, Pinky, Inky, or Clyde on their desk, too!
5.

Geek – Game On Neon by Syboubou
This Game On wall light is from the same set as the Pac-Man headphone stand by Syboubou.
It's surprisingly bright, so I recommend dimming or removing any other lights around it so that you don't washout the walls.
There's also a Simlish version that you can download here.
6.

Set of Four Streamer Gear CCs by grimcookies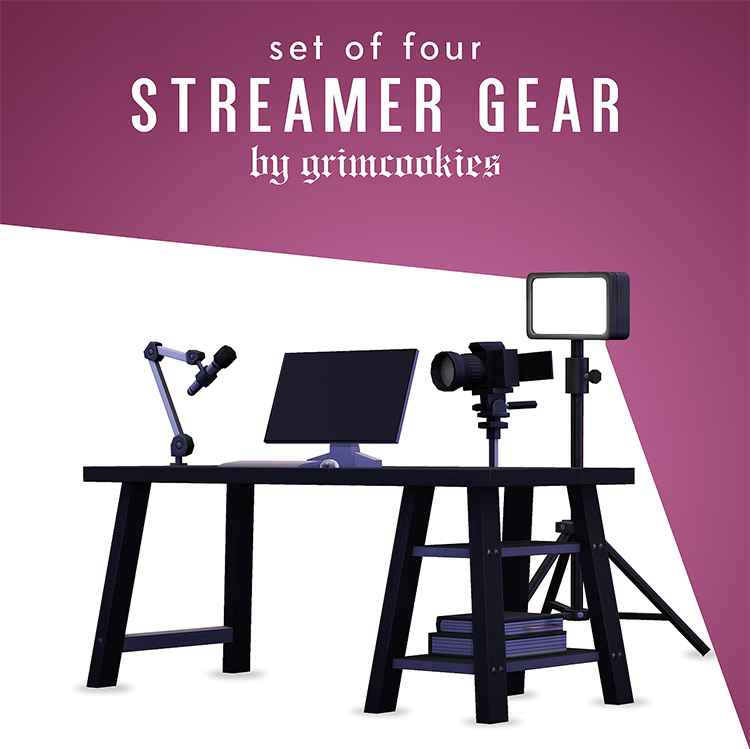 Not all streamers are gamers, and not all gamers are streamers. But oftentimes, those two occupations collide.
What do you get when that happens?
This awesome streamer gear set by grimcookies. It contains decorative and functional objects your Sim can use to broadcast their playthroughs, walkthroughs, speedruns, and collaborative play live to their audience! The desk mic and the camera are decorative, but they make the whole setup look authentic as heck!
7.

Beginnings PC Games 1 & 2 by kardofe
Just some must-have clutter for all gamer Sims — a stack (or several) of popular PC games!
The classics are represented: Halo, World of Warcraft, Call of Duty, and The Sims 3!
Version 2 (which you can download here) includes titles like Gears of War, Pro Evolution 6, and The Sims 3: Ambitions. It's a really clever and simple clutter item that makes a huge impact on the room's theme.
8.

BT21 Collection – a Collaboration by nucrests x simgguk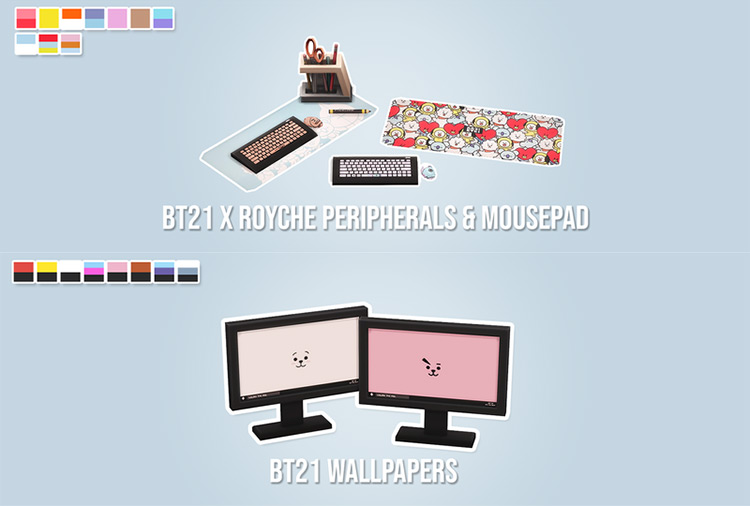 Because I find these BT21 critters adorable, I'm going to shamelessly recommend this collaboration between nucrests and simgguk.
However, it's not without its gamer-themed merits, I promise!
Your Sim can play PC games in style with the boldly branded BT21 x Royche peripherals!
You can find them all in the zipped file named '[NUKOOS] BT21 TWO Collection' (via the updated links).
9.

Oculus Quest 2 Set by SimmerKate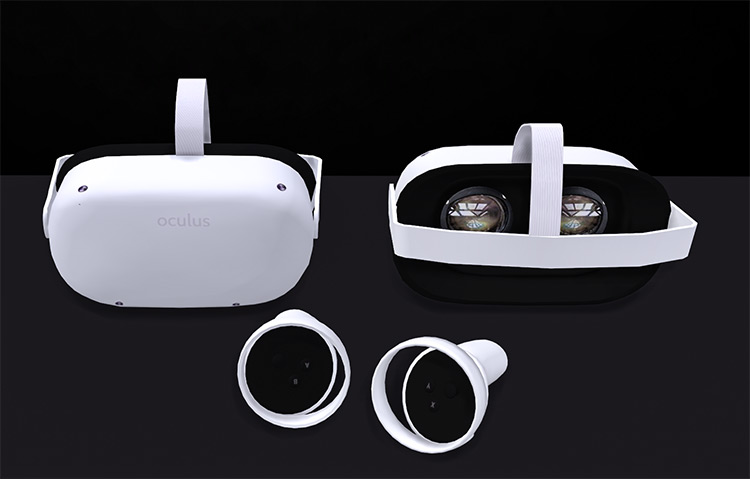 Let everyone know your Sim is keeping up with the latest gaming rigs with this snazzy virtual reality headset. It's purely decorative, but that's not an issue when the mesh looks this good.
It's also completely original, which means this set is 100% base game-compatible!
10.

Gamer Girl Set by SimmerKate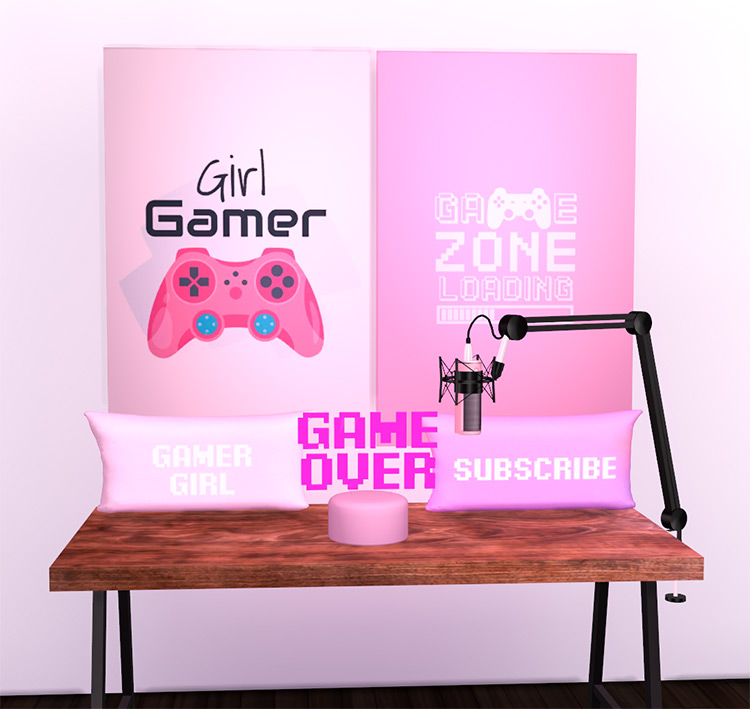 Got a Female Gamer Sim?
Then this deco set by SimmerKate is a must-have!
Six sassy posters, a really cute 'Game Over' desk light (that I lowkey also want IRL), a high-tech (non-functional) microphone, and a pile of cute pillows with gamer/streamer-related references and lingo.
It's a hefty CC set with an overarching theme and a handful of quality décor — with one cute and functional desk lamp. What's not to love?
11.

Witchy and Vaporwave Desk Mats by simdertalia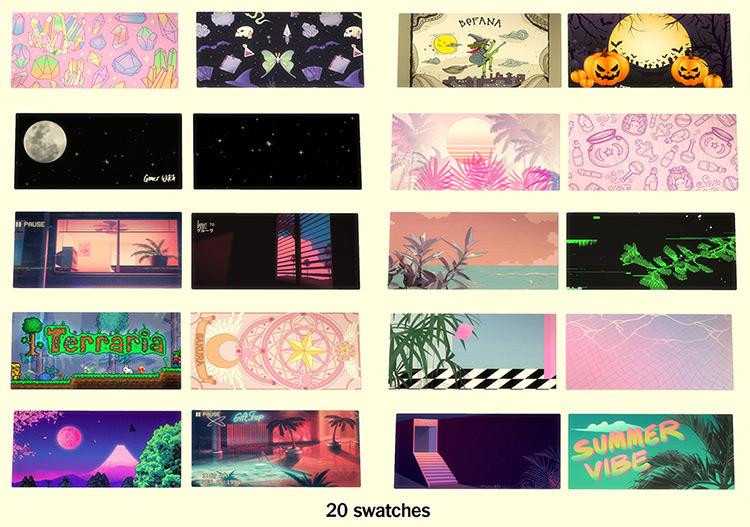 Keep your Sim's desk nice, clean, and colorful with desk mats from simdertalia.
Not exclusively for gamers, of course, but I know a lot of PC gamers who are particularly fussy about how their station looks. It doesn't hurt that the designs for this mesh are gorgeous!
12.

Xbox One Games & Consoles (Décor Clutter) by one billion pixels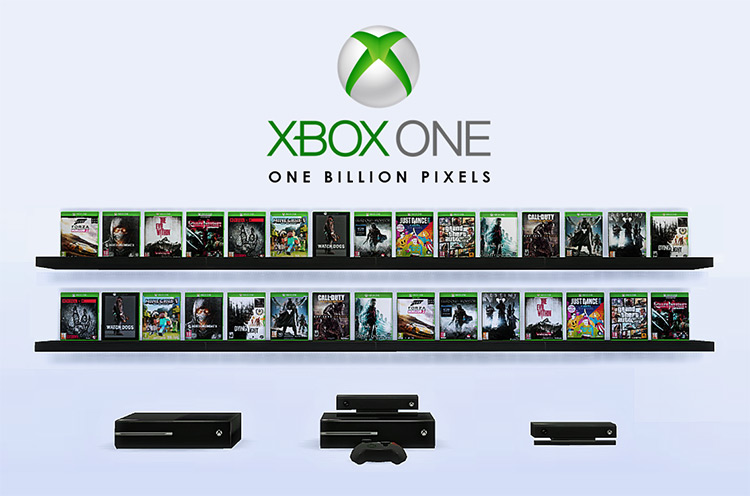 What to do if your Sim isn't a PC, Switch, or VR gamer?
Give 'em an Xbox One.
This (purely decorative) game console comes with fifteen games (aka swatches for the one game case mesh), a controller, and two design versions.
It's a hefty set that, by itself, would be enough to furnish the space of any hardcore gamer. Imagine this used along with the other clutter packs on this list.
13.

Xbox One Plus Package by Sim4fun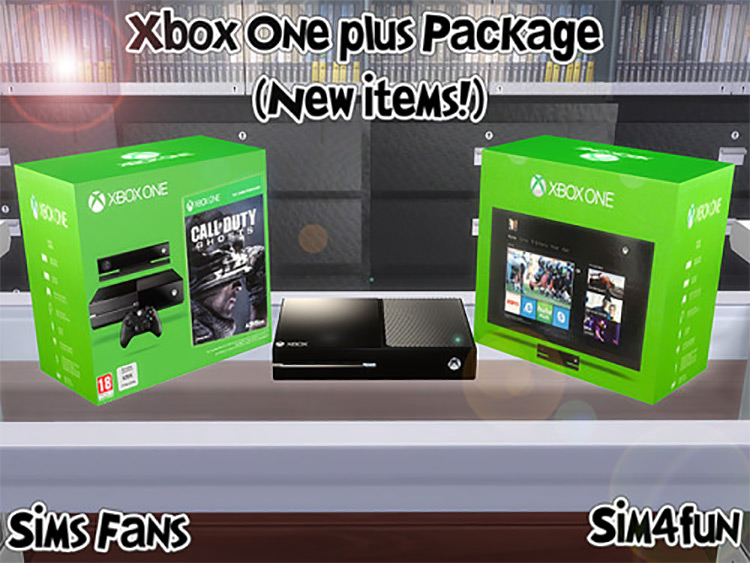 This Xbox One Plus Package set by Sim4fun contains a decorative Xbox One mesh similar to one billion pixels' Xbox pack.
It also contains the bright green box — which is what caught my eye in the first place. It gives the impression that the gamer!Sim, for whatever reason, kept the box! It makes for a pleasingly cluttered gaming space.
14.

Xbox Series X and Series S Gaming Consoles by mattmartinsm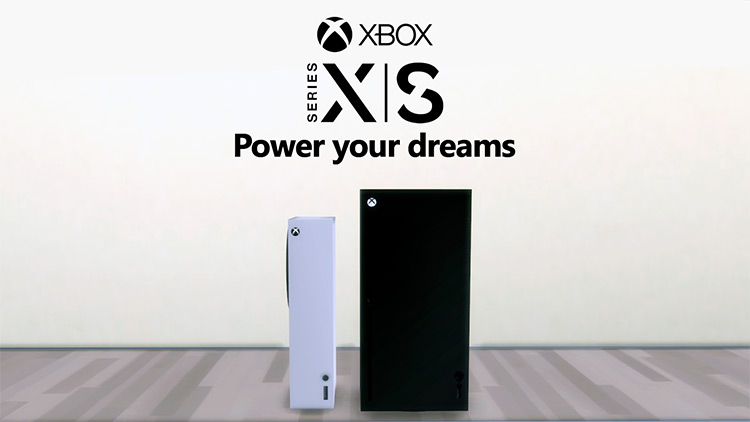 So I have no idea what this Xbox series is and I have no idea how in-demand it is.
The reason I'm recommending it?
It's got variations and designs.
Come on, it looks so sleek and classy in purple! Plus, that Minecraft swatch? Big fan.
And I'm sure your Sim is, too!
15.

Playstation 4 by Sim4fun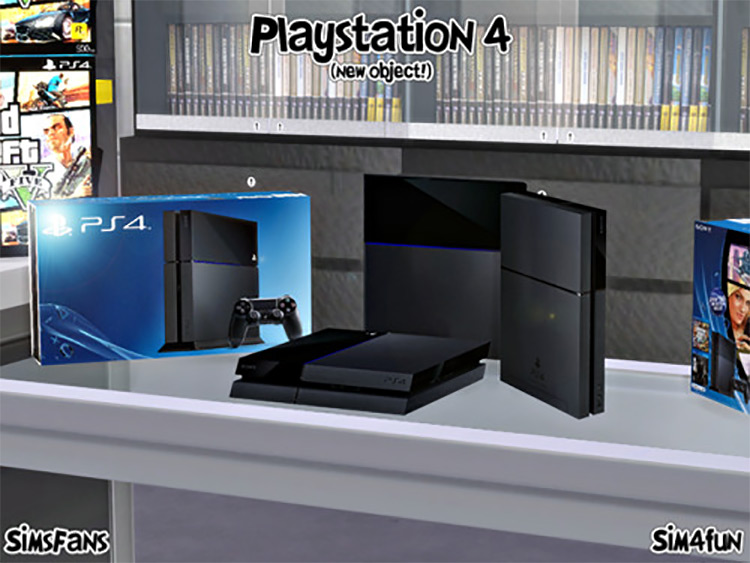 Not one for PC or Xbox One? That's okay.
Sim4fun also has a decorative Playstation 4 CC set for your Sim's workspace.
It doesn't come with its own controller or box (sadly), but it does have two variations: propped upright or laid flat.
As far as decorative clutter goes, this definitely cements your Sim's position as a gamer.
16.

NEIDEN Power Extension Socket by RightHearted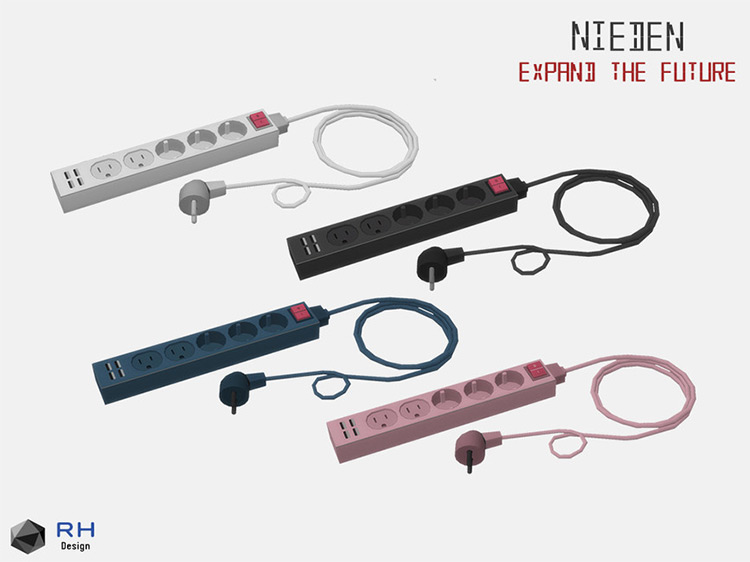 No, this isn't marketed as something video game-y. However! Gamers usually have a lot of gear they need to keep powered up.
Their games console would need one or two sockets. More if they've got several rigs hooked up. If they're a streamer, they'd need to keep their lights and audio equipment plugged in, too.
So it's not specifically for gamers, but I think a couple extension wires cluttering the floor would add so much dimension to a custom gaming room.
17.

Gaming Computer by Around the Sims 4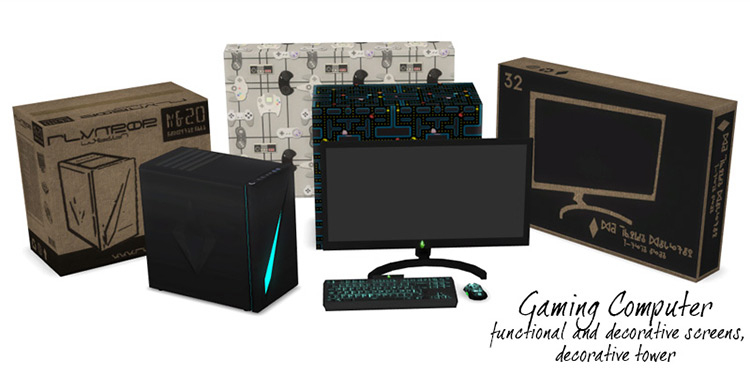 Like Sim4fun's Xbox One Plus Package set, I like how Around the Sims 4's Gaming Computer pack contains the mesh for the electronics and their boxes.
I mean, if you're talking video game clutter, a pile of huge, empty boxes from the computer store fits the bill perfectly, no?
18.

Gaming PC Set Up Collection by SimmerKate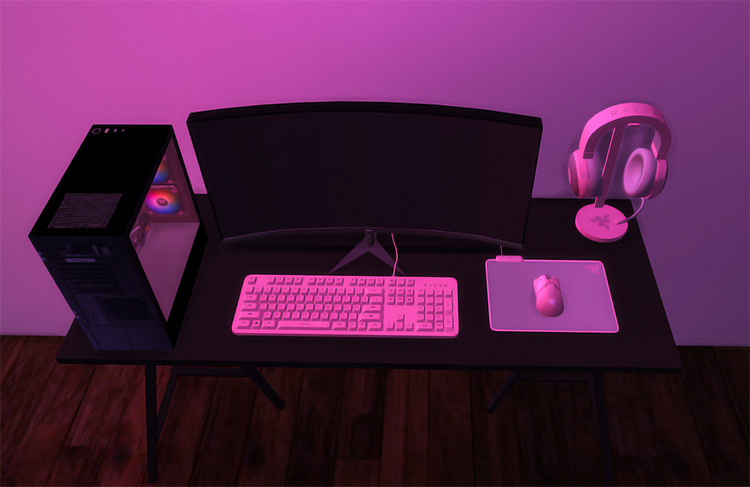 SimmerKate's gamer sets are basically one-stop shops for all things video-game related (in TS4).
On top of all the great goodies you can get from their Oculus and Gamer Girl packs, you can also get your Sim a computer monitor, a separate keyboard, a mouse (plus mouse pad), and a pair of Razer Kraken Headsets with their own stand.
There's also a custom gaming build in here that works as a light!
Once you place everything down on a desk? The aesthetic is real.
19.

Video Game Posters #2 by xWISPAx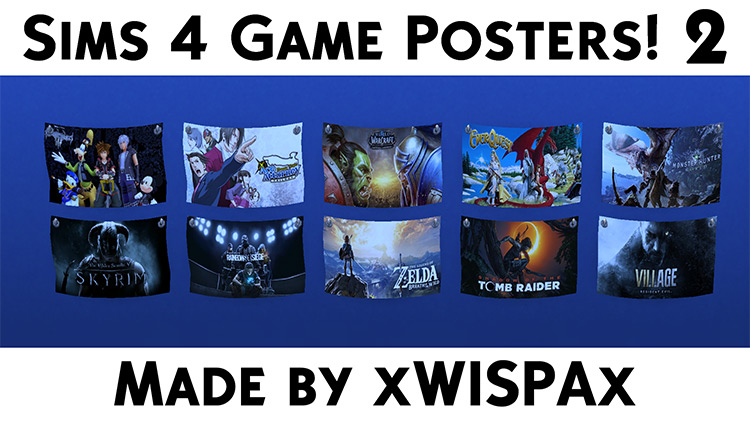 When you need clutter or wall décor, posters are the way to go.
Check out xWISPAx's set of twenty wall banners depicting popular video games. From The Elder Scrolls: Skyrim to Fortnite, I'm confident you'll find some (if not most!) of your favorite games in the swatches.
20.

Gaming Posters v1 by juanni84
If you're not digging the soft, floppy banner-like texture of xWISPAx's posters, maybe these slightly more structured Gaming Posters from juanni84 are more your speed.
They only have four designs, but those four designs are of wildly popular (and easily recognizable!) games.
So I think it'd suit a gamer's living space pretty nicely.
Browse:
Lists
The Sims 4
Video Games