Sims 4 Food Clutter CC Packs: The Ultimate List
This post may contain affiliate links. If you buy something we may get a small commission at no extra cost to you. (Learn more).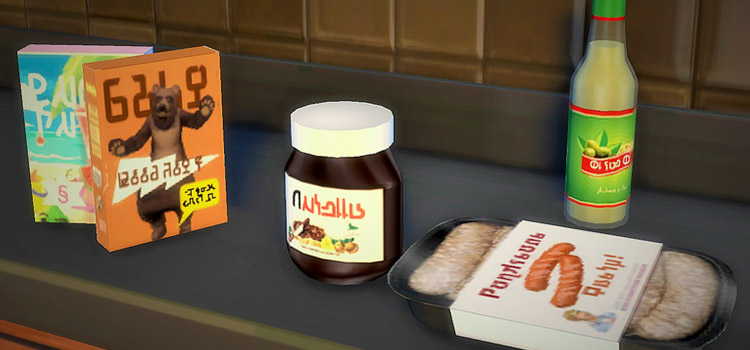 While food is a huge part of our everyday lives, it's a remarkably small part of The Sims.
For the most part, they just go over to the stove and in a Sim hour or two, out comes a meal.
Unless they start a fire first, of course.
But we all know there's so much more to it than that.
From food storage to prep, the necessary ingredients and items tend to fill our homes. And especially when it comes to kitchens, our Sims could all use a little more to fill up some space on the counters.
There's so much CC out there to do just that, so let's take a look at some of the best stuff to snag. Your kitchens will never have to look empty again!
1.

Breakfast Clutter
In real life, preparing and eating a balanced breakfast at home usually isn't a quick, neat process.
It usually results in a whole bunch of dishes and food spread out all over the kitchen.
So, how is it fair that our Sims can make a meal for eight people and not even make a mess?
They need to experience the clutter, too. And now they can with this set, with everything you could ever want, either in your Sims' house or your real one.
This is like the makings of those huge breakfasts you see people on TV eat. No one really has the energy or willpower to set out so many foods and ingredients every day, but they still make a home look cozy.
2.

Junk Food Haul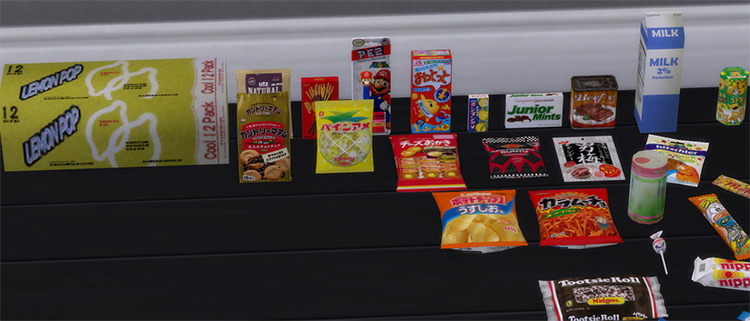 While this probably makes the health-conscious folks shudder, I'm sure there are plenty of my fellow junk food lovers out there who think this looks like a dream come true.
This set includes a ton of candy and snacks for you to clutter up any space you please.
There are 65 items in total, including recognizable brands from American culture as well as Japanese and German.
And you can use these in pretty much any room of your Sim's house.
Whether you'd like to create a pantry or just reflect reality a little more by not having food and drinks totally restricted to the refrigerator, there's plenty here to go around.
I for one always have some sort of snack on my nightstand for when I'm watching movies in bed – Sims deserve the same indulgence!
3.

Random Food & Drinks
The 'backyard BBQ' vibes here are just too strong to overlook.
These drinks, condiments, and big trays of food bring back fond memories of family gatherings in the summertime.
Since there's only so far you can really take cookouts in The Sims, so I think these will be perfect for filling in the gaps on your buffet table.
Even with that glitch that makes Sims try to grill food every five minutes, there never seems to be enough to truly get that barbecue feel, especially without drinks.
But all of the best soda brands are offered here, so you can even pick your favorite.
The red Solo cup, mandatory at all outdoor American functions, is included.
4.

Kitchen Clutter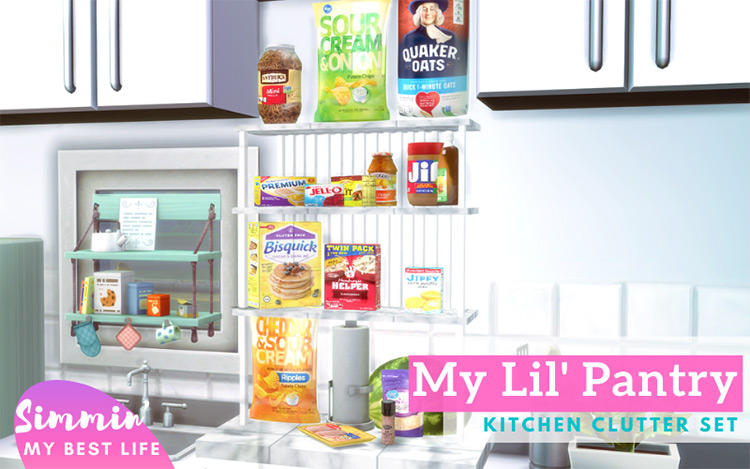 I have never been able to decide whether my own kitchen is too cluttered, or my Sim's kitchen is too bare.
I'm leaning towards the latter though.
These items offer a great alternative to the same old food we see, always courtesy of a Sim's cooking. Without CC, you can't really have ingredients or decorative food in the house.
But with this collection, you can place some typical household staples throughout the kitchen.
What house doesn't have peanut butter, seasonings, oatmeal, or chips?
I don't even like oatmeal. And yet, for some reason, still have some in my cabinet!
There are 22 things in total in this CC, including some pantry boxes with over two dozen swatches. So you can really load your Sims up on groceries.
5.

Chips & Salsa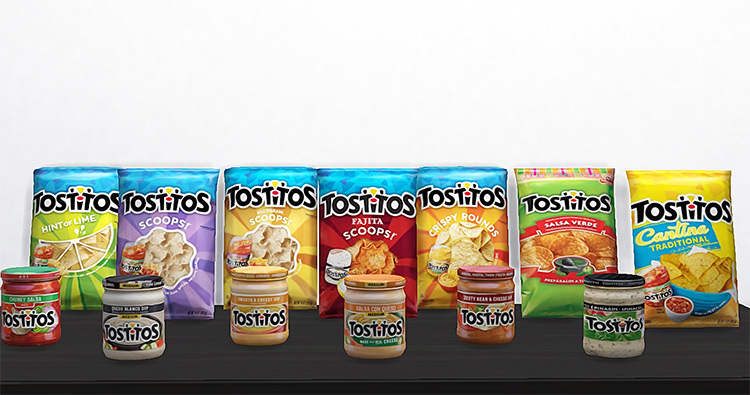 At last, the most simple and tasty snack known to man, can now also be known to Sims.
Sure, they can already prepare and eat chips & salsa – but is it Tostitos? Hmm? I think not!
This brand is highly recognizable for all the right reasons.
Such a simple thing has to be good to last, and Tostitos chips & salsa makes the perfect appetizer for any party or dinner. Heck, it alone can be dinner!
These bags and jars are available with all the best flavors, and the textures look great.
6.

Barbecue Clutter
Here we have everything you'll need to fully decorate your Sim's yard for a barbecue, as if the huge trays of food listed above aren't enough.
Let's be honest…they aren't.
If you're cooking outside, you've got to go big!
This clutter includes some of the stuff you're almost guaranteed to find at any barbecue, like corn on the cob, burgers, steaks, and a wide array of sauces.
7.

Decorative Clutter for Freezer or Grocery
Freezers, or ice boxes as they were called way back when, have to be one of the best inventions ever.
They have given us the ability to store delicacies like ice cream and frozen pizzas in our own homes.
You can have those same foods, available in several different swatches and styles, in your game now as well. Whether you'd like it to look as though your Sim has just unloaded some things from the freezer to cook or even build your own grocery store, these items couldn't look better.
8.

Biological Food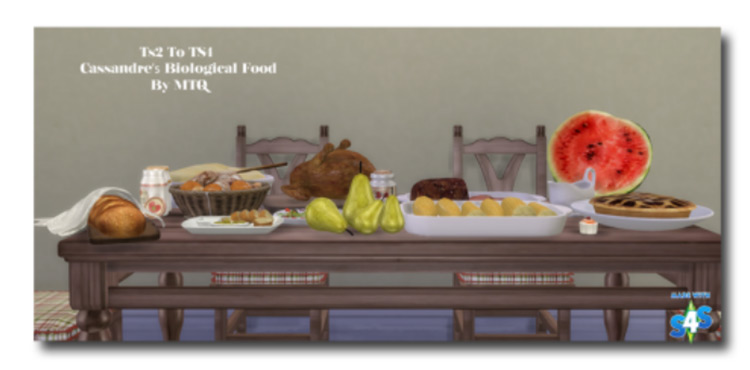 Now these are some great ways to broaden your Sim's meals.
If you get tired of trying to have dinner parties or holiday feasts with only one or two dishes on the table, then this is the CC set for you.
Sure, with a little more time and Simoleons, your Sims could (in theory) have some more dishes out.
But there really isn't anything in terms of side dishes, which are arguably the most delish part!
This set has a big bowl of mashed potatoes, platters of veggies and snacks, plus some fresh fruit.
There's even a gravy boat with gravy in it. Your Sims' dinner tables will never look bare again.
9.

Snacks Pack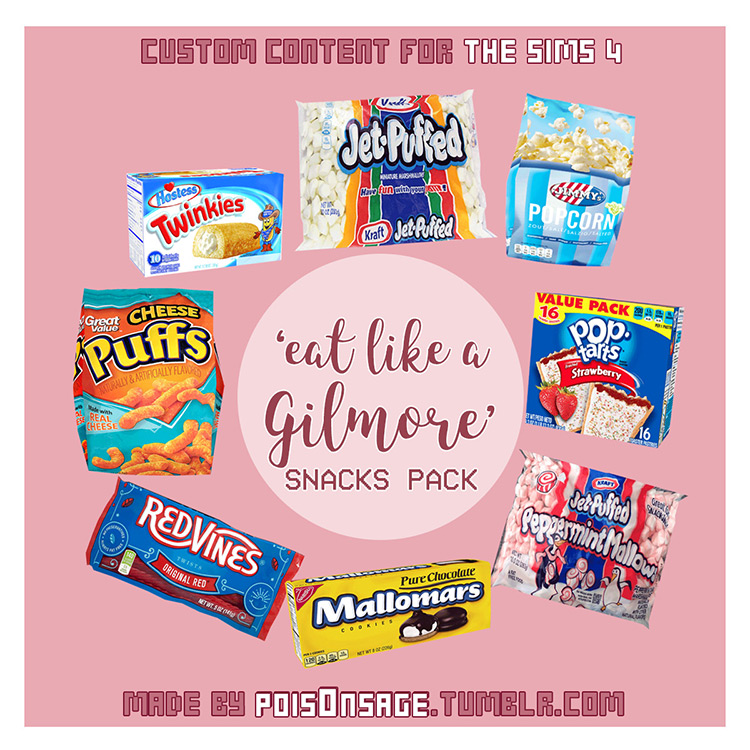 Ah, at last we've circled back around to the snacks.
This small pack includes the best of the most dangerous aisle at the grocery store.
From marshmallows to Pop-Tarts and even Mallomars, your Sims can now have some of the most delicious treats under their roof.
There are also Red Vines and Cheese Puffs included here, and of course, the legendary Twinkie.
It's tragic such an iconic part of our culture has been absent from the game for so long.
10.

Organic Jams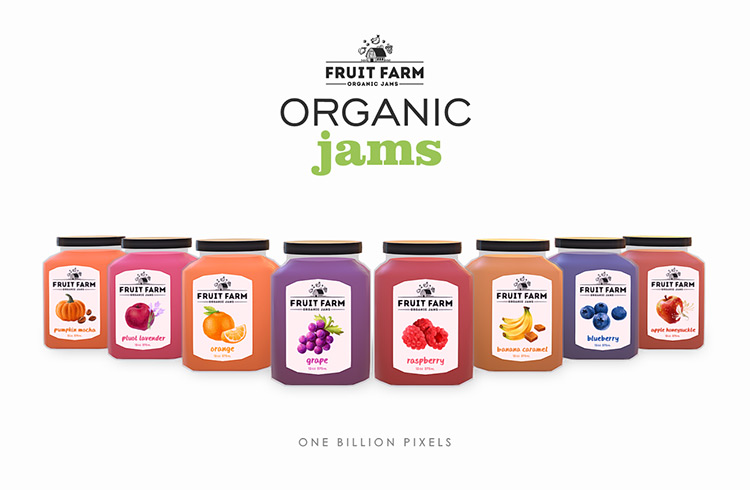 Who doesn't like a good organic jam?
Something about that natural fruity taste can be downright addicting.
Once you find a brand you like, it's tempting to try all their flavors, too. I'm sure your Sims would agree if they could, you know… taste.
These decorative jars will add a nice aesthetic to any kitchen.
The design of these is really cool, too. It's actually more detailed than most of the stuff we have in game – you can almost read the Nutrition Facts on the back!
But they're not so far from the game's style that they'll stick out, and that's a great balance.
11.

Hershey's Syrup
You can always count on Hershey's to bring the most delicious strong flavors, whether that's in a candy bar, or of course: syrup.
Liquifying the best flavors on earth to be used on ice cream or in drinks was pretty genius.
No ice cream sundae is complete without a squeeze from one of these bottles.
There are four options here, including all the stuff you probably already use and love – strawberry, chocolate, caramel, and even a 'milk booster', which I assume is for making your own chocolate milk at home.
That's one I've never seen before. But I sure want it now!
Our poor Sims are always stuck with plain regular milk. These are decorative, so they still will be. But it's nice to pretend.
12.

Misc Food Deco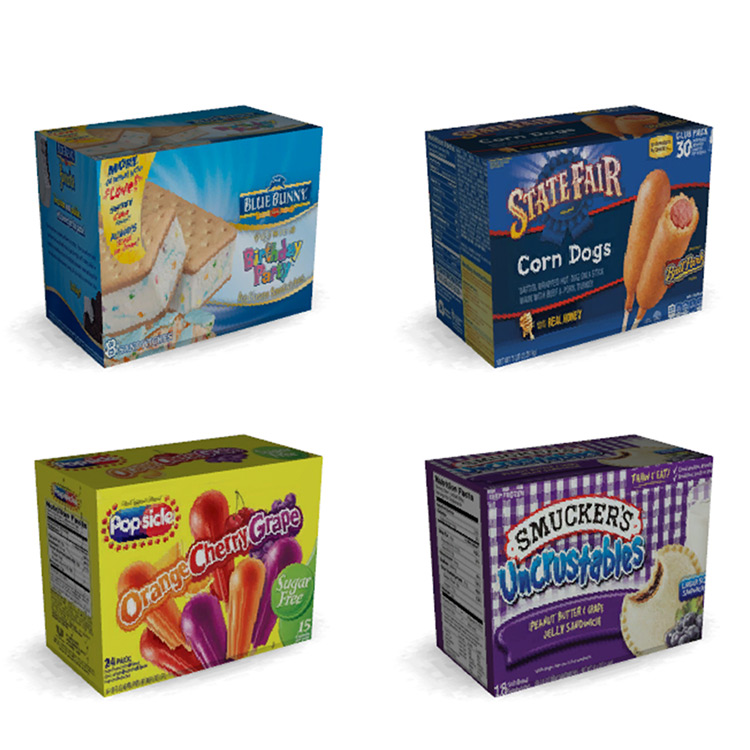 Have you ever noticed that almost all CC food items are insanely unhealthy?
Simmers know what's good. Maybe not for health, but for taste buds.
These items are some of the things you loved as a kid and probably still wouldn't turn down.
Corn dogs, ice cream sandwiches, popsicles, and PB&Js always make for a good day.
These boxes will be nice additions to any space dedicated to food, which there is a ton of potential for in The Sims.
With the right packs, you can even run a restaurant or shop. But of course, any house will benefit from corn dogs, too.
13.

Pasta Boxes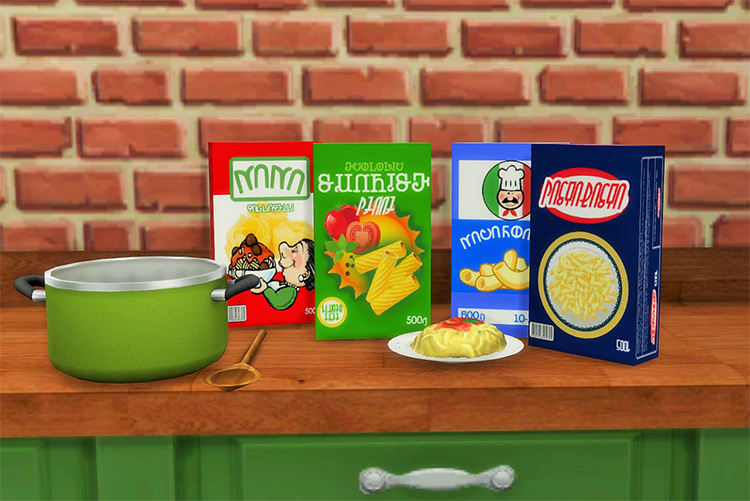 Maybe it's just me, but pasta is one thing that immediately sparks joy – even if it's still in the box.
I don't understand how a noodle can be so delicious in so many ways. But perhaps it's not for us mere mortals to question.
I think these boxes are extra fun since Sims actually do cook pasta, possibly more than anything else. Spaghetti, macaroni & cheese, minestrone, tuna casserole – they use the stuff almost as much as I do!
There are four swatches available, all in a Simlish style.
14.

Decor Donut Box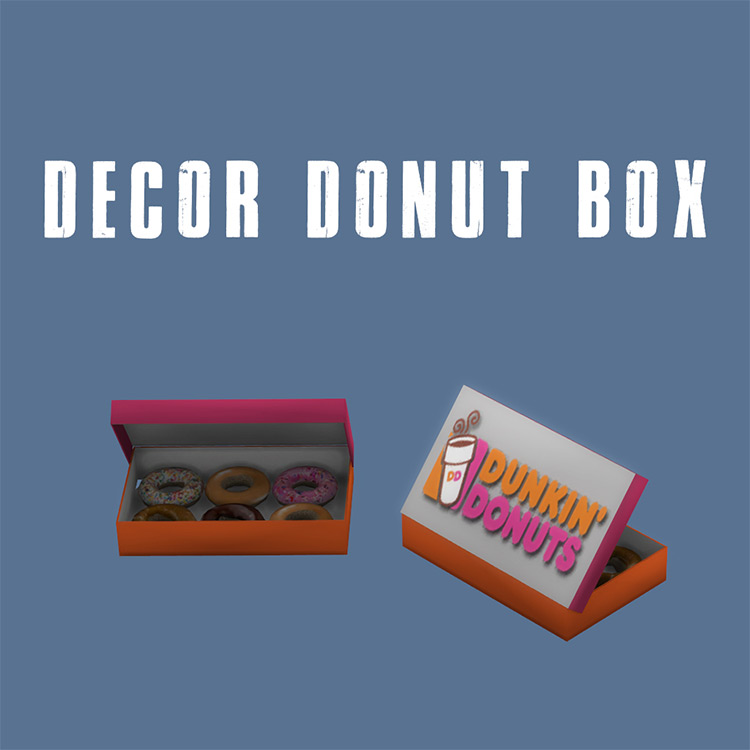 There's no better way to start a day than with a tasty, sugary, frosting-covered donut.
When you think about it, our poor Sims don't really have any indulgent options for breakfast.
Sure, there are pancakes. But nothing compares to a donut – especially from Dunkin' Donuts.
The brand is renowned and loved across America. So it makes sense someone has finally made them available to our Sims.
This decorative box in this CC is simple and sweet, containing six donuts with sprinkled or glazed designs.
15.

Thanksgiving Spread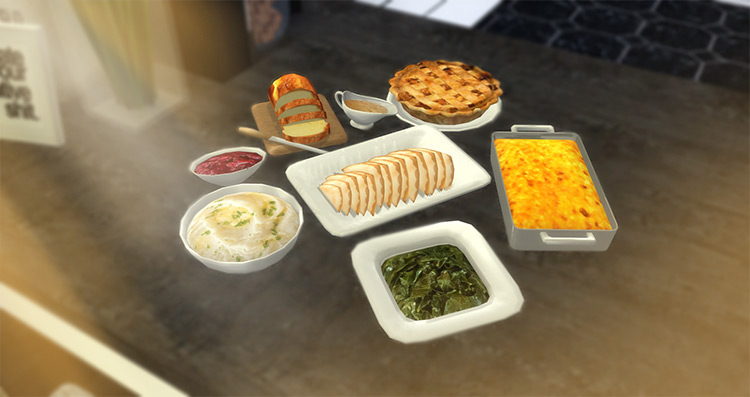 Thanksgiving, and its Sims 4 counterpart Harvestfest, revolve almost entirely around food.
We all know we're supposed to show gratitude. But hey, even the game makes a big deal out of preparing a Grand Meal.
The Grand Meal itself is honestly kind of a sad sight, though. It's just one plate of food.
Imagine going to Thanksgiving dinner and there is a single platter… yikes.
This spread will be a quick and easy way to beef up your Sim's dinner. Not literally, of course. No one has beef for Harvestfest.
Browse:
Lists
The Sims 4
Video Games