Sims 4: Best Wedding Poses CC & Mods Packs
This post may contain affiliate links. If you buy something we may get a small commission at no extra cost to you. (Learn more).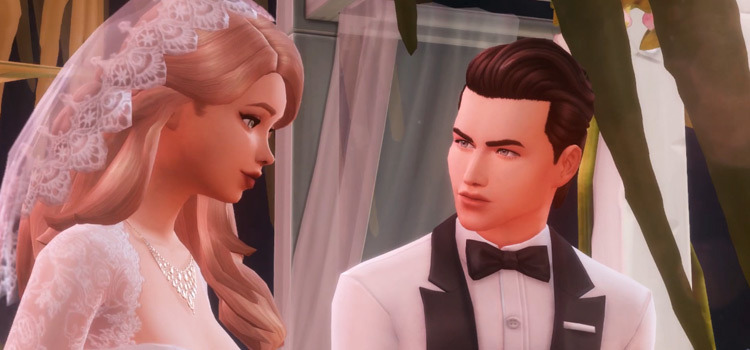 A wedding is full of meaningful moments that your Sims should remember for the rest of their lives… or at least until the after-party where everyone gets turnt!
After that, the whole day becomes a blur.
In The Sims, it's your job to capture all the milestones of your Sim's life. And that includes their wedding day, if you decide to get hitched.
Poses are perfect for snapshots like this. And while we've listed a bunch of custom TS4 pose packs before, this list is dedicated to wedding day poses.
Note that all of these poses need both the Pose Player and Teleport Any Sim mods.
10.

Wedding Preparation Pose Pack
Why can't we just have a fairy godmother who can make us gorgeous on our wedding day at one flick of the wrist?
The Wedding Preparation Pose Pack by kozhhhh contains four poses that documents a bride's road to that wedding glow up.
You're going to need three characters here: the bride, and two assistants.
The scenes depict all the big talks between the 3, probably about why the groom hasn't tried hard enough to prepare (a story familiar to all married couples).
9.

My Beautiful Girl! Pose Pack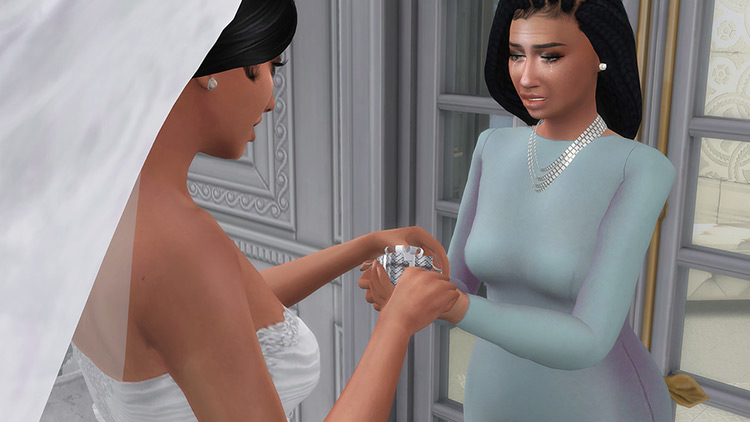 When a mother sees her daughter on her wedding day for the first time, waterworks are comin'!
That moment is the inspiration behind Brielle Sim's "My Beautiful Girl!" Pose Pack.
It has five poses that chronicle any Sim mother's tender moments that she shares with the bride.
One pose shows her mom giving a gift, and you can also find the download for the gift CC right at the link above.
8.

Groomsman Pose Pack
While a bride's preparation is full of heartfelt moments, you can expect the boys to be… well, boys!
Use Beto_ae0's Groomsman (Pose Pack) to capture the posse's shenanigans.
You get five playful poses, 3 of which need five characters and the others just need three characters.
These poses are sure to have you giggling while you flip through your wedding photo book in the future.
7.

Wedding Project Poses Sets
If you use your game as a storytelling companion, we got you covered.
Here's your complete romantic storytelling set, including the proposal too.
Get full coverage of your road to marriage!
This set includes four packs, all made by Flower Chamber:
Wedding portraits (including the proposal) with ten poses that you can blow up and hang in your Sim's home, five wedding preparation poses with the bride and the groom, two poses for your adorable flower boys and girls, and 13 poses for the actual wedding itself.
6.

Wedding Pose Pack III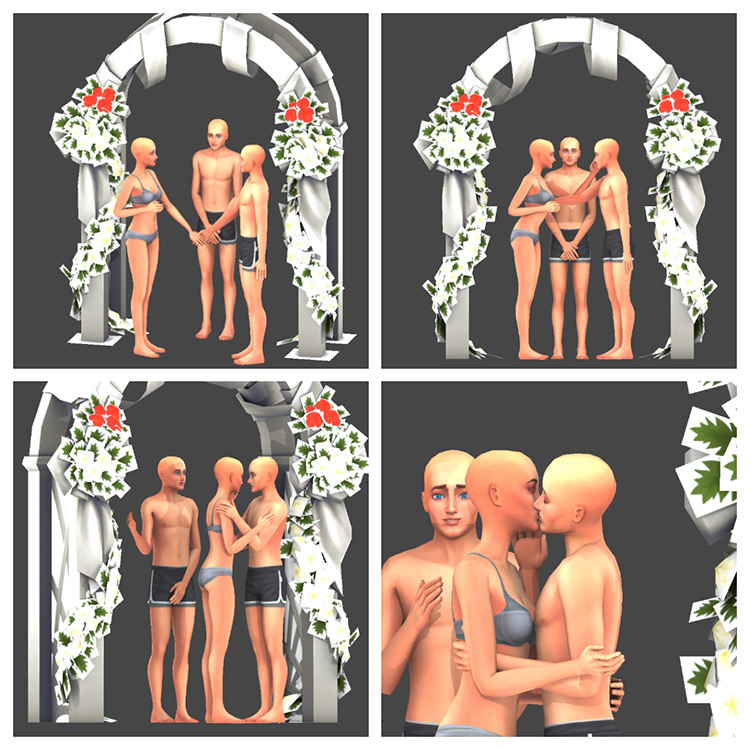 There are some weddings that enforce a no-photo rule for all their guests.
You wouldn't want your professional photos to capture a sea of phones, all documenting the event for the 'gram…
Or worse, people using your hashtag on social media for their selfies. The horror!
Get that no-photo vibe in-game by documenting only the key parts of the wedding.
Blog All The Love BR's Wedding Pose Pack includes four poses depicting the vows and the most important kiss of your lives (sorry, no dip kissing here).
You get one extra surprise pose set in this download that we'll let you find out for yourselves. Consider this our gift for your big day!
And this is just the 3rd version of the pack. Check out the rest of her poses if you want even more!
5.

Wedding Pose Pack
Everyone, especially the lovely couple, will agree that the kiss is the most anticipated part of wedding rites.
Never have I seen people more excited to see two people pucker up… except when their OTPs do it.
You can re-live the first few moments after the kiss using Beto_ae0's Wedding Pose Pack.
Here you get four couple poses, including the post-kiss bliss and the walk back down the aisle.
4.

Custom Wedding Animation Pose Pack
Take your storytelling further beyond just poses.
How about actual animation?
Create your own wedding video montage with Gaming Tweety's Custom Wedding Animation Pose Pack. Yes, this is a pretty crazy mod.
There is a paid version too (up on Patreon), but this free version includes the proposal, cake cutting, and the groom waiting down the aisle.
Now off you go to find the most cheesiest background music…
3.

Wedding Poses #2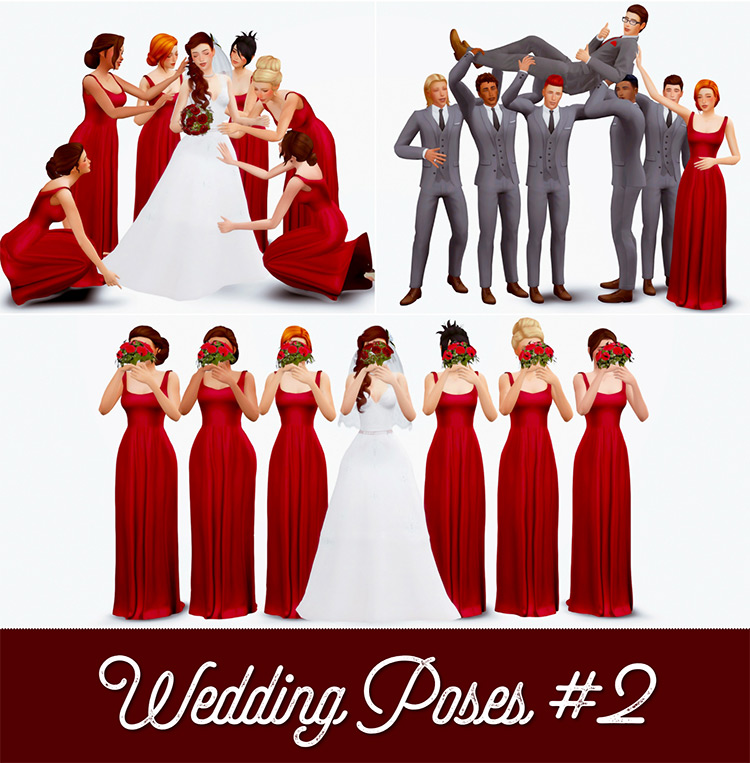 It's time to let a little bit loose before the wedding and have some fun with your entourage.
Atashi77's Wedding Poses #2, up for free on Patreon, has 3 group poses for seven of your Sims.
Two of thoses poses are for Team Bride: with 6 bridesmaids fixing the bride's look and the crew showing off their bouquets; and 1 with the boys carrying the groom up like a sacrifice to be thrown as an offering.
For this pose pack, aside from the Pose Player and Teleport mods, you also need bouquet CC (found in the description).
2.

Flower Toss Pose Pack
Here's a reception activity that rivals the Olympics in competitiveness.
This event scraped many knees. High heels have been broken. Flowers have been grabbed.
The Flower Toss Pose Pack by SSVitlans has 18 poses showing the high stakes flower toss in extreme detail!
We're happy to report that no one gets hurt in this version. Well, even if they did get hurt, they're Sims.
Don't forget to put your favorite Sim as your fourth bridesmaid here. Spoiler alert: she gets the bouquet!
1.

Wedding Portrait Poses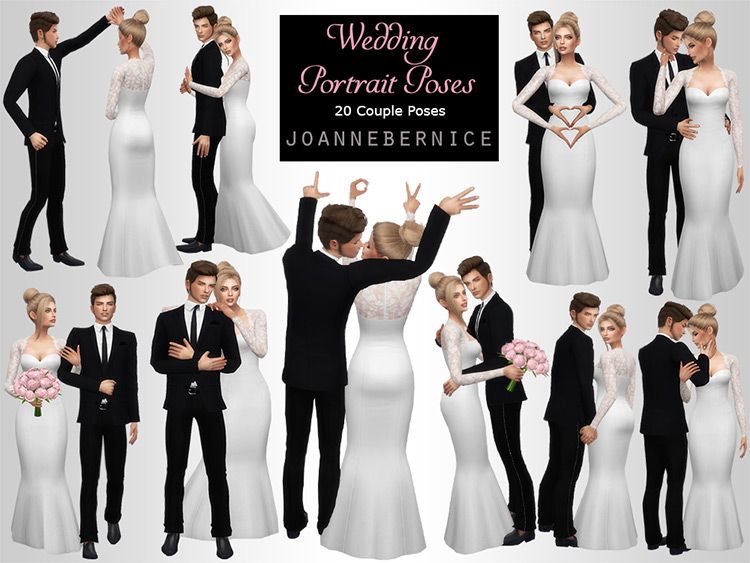 If there's one set of photos that you'll look at the most, it's definitely the wedding portraits.
These photos are the ones that could get hung on the walls, or the photos that could be uploaded onto Simstagram.
And these are definitely the photos your Sims will look at when they're older and say, "Dayum, we were so foine!"
This Wedding Portrait Poses set by JoanneBernice ranges from candid to posed, with ten variations in all.
And they even have custom-designed UI icons, so you'll have no problem finding them in-game.
Browse:
Lists
The Sims 4
Video Games