Best Skyrim Face Mask Mods (All Free To Download)
This post may contain affiliate links. If you buy something we may get a small commission at no extra cost to you. (Learn more).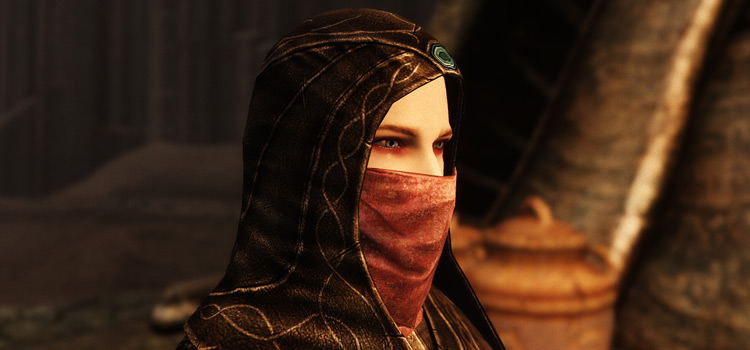 Some masks are fashionable as well as functional, and some are just fashionable because people don't care about function.
In the world of Skyrim, one can't be too careful between disease, the cold, and even the people around you.
So let's look over some of the best face mask mods available to in Skyrim.
1.

Face Masks of Skyrim
This is a basic but fully functional face mask in-game.
It comes in eight colors too, and is craftable by the player. Immersion is great, right?
It's also fully compatible with the beast races, so it fits all races perfectly without issue!
While not flashy or protective, this mask is a decent accessory for the purpose it serves. Whether you want to protect yourself from the elements, or to hide your identity, this mask will fulfill your needs.
2.

Sundracons Mask of Maru
Before "Face Masks of Skyrim", this mod was the go-to for that perfect lower-face covering.
Coming in both a hooded and hoodless option, this mask is fitting for both the health conscious and the mischievous alike.
The mod's namesake item does come enchanted for improved stats and such. But the half masks are unenchanted by default.
And just like the previous entry, this mod also works well with the beast races with minimal clipping or rendering issues.
One downside here is that it only comes in the standard black color. But for the more mischievous players out there, I that would be their color of choice!
3.

Petal Gasmask
Here we've got a mask for the most extreme of protections against the plagues of Skyrim.
This is actually an original model of a gas mask injected into Skyrim. And it looks brilliant.
It comes in four different colors and two styles of arcane flower. While a flower normally isn't the best replacement for a filter on anything, arguments could be made here…
But regardless, this mask does have a punkish style that could work well with more modern clothing mods.
Offering style and function with an arcane touch, this mask is good for the most protective (or paranoid) of players.
4.

Kye's Masked Helmets
Here's a mod that embellishes and builds upon the vanilla helmet in-game.
More specifically, this mod adds masks of the appropriate color to the fronts of the open-faced vanilla helmets – and allows them to be crafted and tempered.
The model of the face mask here is pulled from the mask offered on the Shrouded Armor set in-game. So you'll probably recognize it.
The Helm of Yngol and Hide Helmet look especially good with this detail. Plus this mask also works with the beast races as well!
I'll admit that it's just a simple detail added to some helmets to make them interesting… but still functional!
5.

Desert Dweller Hood
Desert Dweller Hood adds a uniquely colored variant of an Alik'r Hood, with the addition of a mask.
It's considered a light armor variant piece, meaning it can be crafted and tempered. However, despite this simple hood looking great with the mask, there's one drawback:
This version only works for male models and the mask will not show on female models.
The original creator was working on the issue, but has since moved to making mods for Skyrim SE under a different name. So try to keep an eye out for updates to this mod in case anyone else ports it over.
But if you have males in need of a unique hooded mask, this is one way to go.
Browse:
Lists
Skyrim
Video Games