Best Sims 4 Face Mask CC To Download (All Free)
This post may contain affiliate links. If you buy something we may get a small commission at no extra cost to you. (Learn more).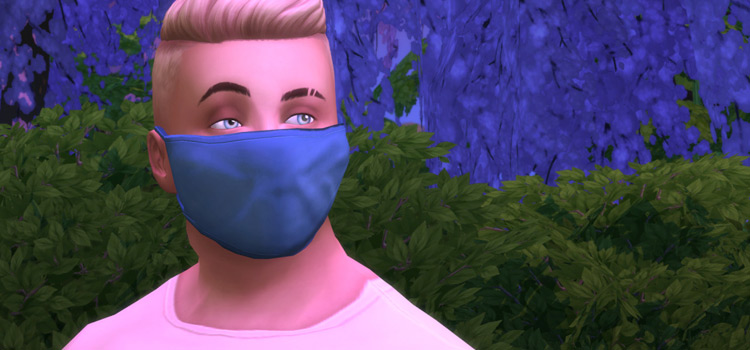 Face masks have become a norm in the everyday life these days.
With the rise of all this social distancing, masks are running thing through many places worldwide.
So it's only natural that custom content would make its way into The Sims that would reflect the real world.
And if you're looking for some more realism in your next session, this list offers some of the best face masks available.
Sadly we're going to refrain from what rapper Future says, and keep our masks on.
Kawaii Mask
Starting us off is this Kawaii mask by Luas_Sim.
It's a jam-packed mask CC set with 10 variations, which feature different designs and colors.
And there's different animation designs included too, like Morty's pout from Rick & Morty, along with some cute cat designs.
Loads of adorable designs in a high quality mask set.
What more could you ask for?
Half Ski Mask
This next mask covers your face and neck – great for cold winter days where you need to protect yourself from more than just getting sick.
You'll get 12 awesome colorways here, including a sweet lush pink.
And now your Sims can avoid the snow in style with this half ski mask.
Survivors Mask
Ready for zombie apocalypse-inspired masks?
Because CC creator SLUMS gives us some grungy masks in this pack.
The masks come in two styles: blood spattered or plain, with 6 unique swatches for both.
My favorite of the bunch is the blood spattered mask with the text "Lost Cause".
Really fitting for a zombie apocalypse, if you ask me.
Fandom Masks
Of course, we all want to support our favorite artists.
And these masks have some popular music acts on them – including Monsta X & BTS.
The design offers a simple black theme with a small logo centered of said artists. And could actually work well with some related kpop stuff.
Truly a win for Sims wanting to express their musical taste through a mask.
Toddler Face Mask
As we've heard many times, we gotta protect the kids too!
And these toddler masks for your little Sims are cute and adorable.
Creator Suzue gives us some cool choices here, including a camo look and a tongue out emoji look.
Some simple but great designs for those toddlers in your home.
Black Art Face Mask
This next mask is taking things up a notch with the animation design work.
We actually get lots of unique designs – 10 to be exact, over 2 styles.
The looks featured here include vampire teeth, a dog face, and a sabre-toothed smile, amongst others.
CC with a little more sass, and options available for Sims who want to change it up every so often.
Fandom Masks v2
This takes our earlier fandom list of masks, and turns it to a 100.
Yep, this custom set features a whopping 30+ musical acts adorned onto masks for your Sim to choose from, along with over 20 different color options.
A jam packed set with newer color tones makes this a win-win.
Time to safely jam out in style.
Paralyze Mask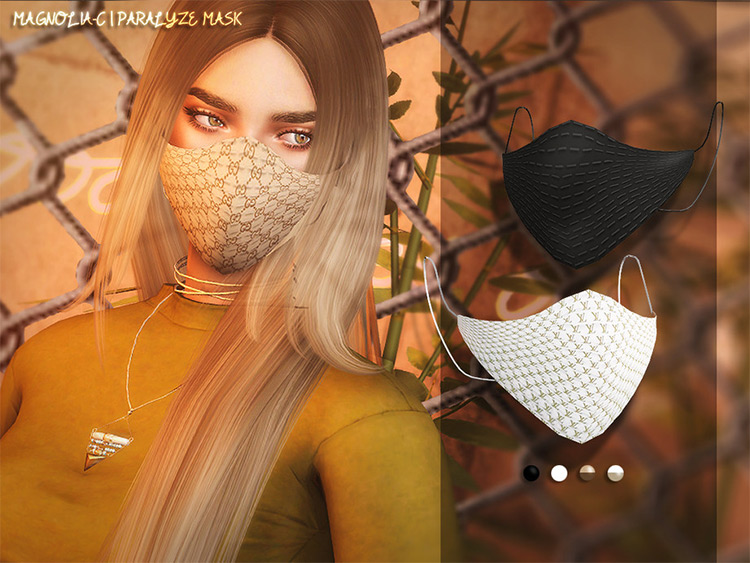 We've discussed a lot of cool logos and animations on masks so far.
And now we look at some other prominent mask designs.
This mask CC features a brownish crosschecked pattern, similar to the Louis Vuitton look. And it'd probably go nicely with other LV accessories.
It also features a suede black and white option, really making the mask itself a fashion statement.
Everybody Masks
We follow up with another stacked pack here, created by DaisyPixels.
This CC set includes masks for the whole family, meaning anyone from toddlers to elders can wear these.
And you'll find a total of 30 swatches, including animal patterns for the kids, and plainer looks for the adults.
Definitely a solid set if you want to get your custom-made masks all in one place for everybody.
Hunting Grounds Mask
EvellSims gives us this awesome fashion-friendly mask that's got some variety.
You'll find a few normal masks and patterned masks here, including a Venom teeth mask.
The real standout for this set is the necklace that hangs off the mask – similar to chains that hang from jeans sometimes.
This unique concept mixed with some cool mask patterns makes this CC a must for any fashion forward Sims out there.
Akumu Mask
Talking about incredible designs…
The brilliant quality makes this mask CC really stand out (big surprise it's made by Pralinesims!)
It also comes with a matte inspired look, something we haven't seen yet in here.
You'll find 10 masks in solid colors, while another 10 come in split versions of two colors.
I'd say the hot pink look is the real standout of this anime inspired mask set.
KDA Mask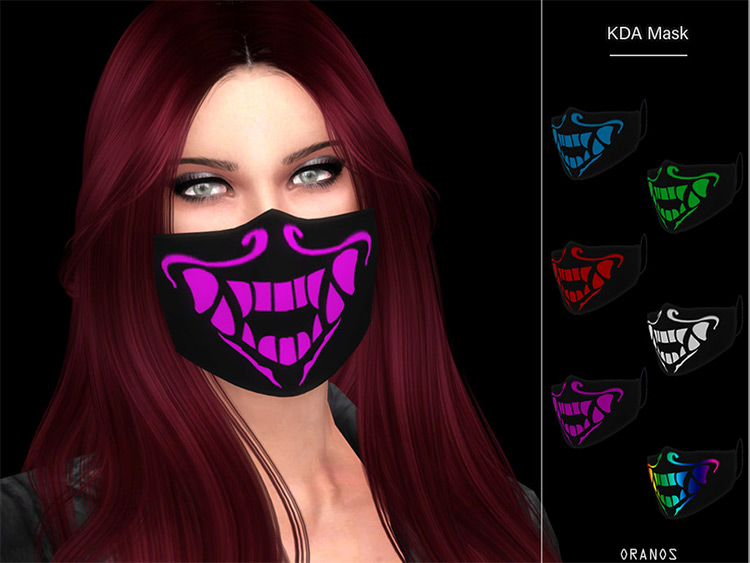 Yet another style is this KDA Mask CC, which might literally have your Sim grinning ear to ear.
While only featuring one design concept across 6 swatches, the design is so clean that it makes it one of the better looking masks on this list.
I mean, it's just such a treacherous grin. And while it features one glowing rainbow colorway, it looks absolutely stunning.
Surgical Masks w/ Patterns
Simple and straightforward, that's what makes these surgical mask-styled CCs stand out.
You get 10 patterns that all vary in color and design from each other.
This mask set really follows the whole "social distancing guidelines" by covering all of your Sim's nose as well.
There's a skull inspired mask among this set that definitely stands out from the others. Easily one of my favorites here.
But as a whole, this is just great variety with great designs.
Can't beat that.
Akuma Mask with Spikes
Another anime-inspired mask from Pralinesims.
Yet this one is definitely the most well-crafted mask on this list, or real close to it.
It's a matte mask featuring spikes on it, making your Sim feel like a ninja (or a weirdo, depending how well they can rock it).
With this CC you'll also get a whopping 60 color options, which all show variations of the mask itself, and the spikes.
My personal favorite is the half green/half purple mask featuring glimmering gold spikes.
Talk about your Sim needing a badass punk look…
Well in the mask department, look no further.
Browse:
Lists
The Sims 4
Video Games