Cool Statue Design Ideas For Animal Crossing: New Horizons
This post may contain affiliate links. If you buy something we may get a small commission at no extra cost to you. (Learn more).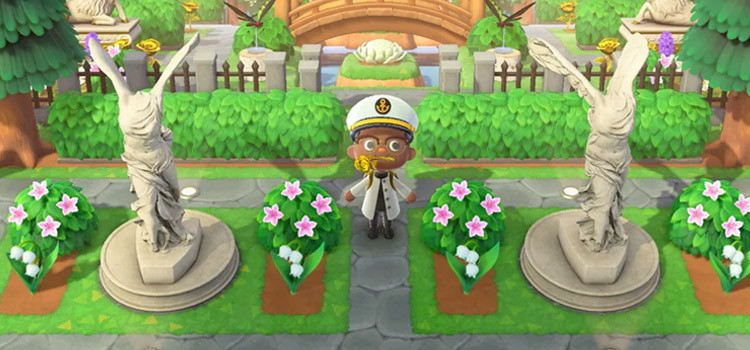 There are so many ways to get creative in New Horizons.
With lots of items and customization options, the possibilities are endless.
Players have been getting real creative with their statue designs, and there's so many out there!
So let's take a look at some of these ideas that can take your island to the next level. They're perfect if you've got a lot of fakes from Redd!
10.

Museum Entrance
Who said fake statues have no place in the museum?
Well now you could extend your exhibit to the outside with this amazing statue display located right near your museum entrance.
To make this, you can use a couple of Robust Statues at either side of your display, along with a Valiant statue in the middle.
Then add some rope fencing around the statues to give it that true exhibit feeling.
And just like that, you've found a fun new way to display your fake statues.
9.

Courtyard Statues
Try this amazing statue courtyard design to add a touch of elegance to your island.
You'll need to grab a custom tile design for your flooring, though. But once you grab it (or find one online) you're ready to go.
You can then add a bunch of hedges around the corners of your chosen area, and fill the inside with heaps of white roses and statues.
Place your favorite statue in the very middle to tie the whole look together.
8.

Statue Waterfall
Take your waterfalls to a whole new aesthetic with the ideas from this statue design.
Here's how you can make this for yourself:
First you'll need to build two levels of cliffs on your island, and add two giant waterfalls cascading down each one.
Be sure to add lots of flowering shrubs to the top of your waterfalls, along with plenty of flowers. And don't forget to add the Valiant statue right in the center of your waterfall.
If you're feeling a sense of pride with this build, that's to be expected.
You can also add some streetlamps and golden roses to complete the look.
7.

Fancy Music Area
Is your island truly complete without an outdoor music area?
How about adding it right near the Leaning Tower of Pisa?
To get started on this, lay down some stone flooring in a chosen area of your island. You can then begin to add a host of musical instruments all around.
Make sure that all of your instruments are the same color to fit with whatever color scheme you're going for. And you can also add matching streetlamps too.
Of course, finish the area with that Pisa statue and you're ready for the crowds.
6.

Statue of Liberty Design
Take your island to the big city with this awesome Statue of Liberty island idea.
You can create this design by first grabbing some simple panels and customizing them with your favorite skyscraper design – just to give it that true city vibe.
Be sure to dig out a huge lake, and leave a small island in the middle to place your Statue of Liberty.
Then add some benches, streetlights, and more statues to tie in with the theme.
Complete the look with some hedges around the outside.
5.

Dramatic Statue
Create the entrance of your dreams with this dramatic statue design.
You'll first need to build two tiers of cliffs at either side of entrance.
You can then decorate them with lots of flowers and mush lamps to give off a welcoming glow.
Then throw down a custom stone path between the cliffs, leading the way into your island.
To add to the effect, why not add two wedding pipe organs? You can even spin them around to give the impression of pillars.
And to complete the look, add a statue of your choice to the very middle.
Lots of candles also couldn't hurt!
4.

Moonlit Statue
This statue design has to be the perfect place to stargaze on a gorgeous evening!
To make this for yourself, you'll need to build two tiers of cliffs and create a huge waterfall running down between them.
Be sure to let the waterfall run down into a river, and you can create a small island in the middle of your river area to house your fancy statue.
Then decorate the whole area with lots of white flowers, nova lights, and a moon right in the center.
Finish by adding a statue of your choice on top of the Cliffside, and another statue in the center of the island to tie the whole look together.
3.

Orchard Entrance
Transform your orchard entrance with a couple classy statues.
For this design, you'll need an orchard.
And if you're looking for some orchard ideas we've also got you covered!
Then head to the entrance with some iron fencing, a couple of Valiant statues, and some shrubs.
Maybe build some cliffs surrounding your orchard, and you can then plant some shrubs on top to tie in with the theme.
Then add your iron fencing between the two cliffs and place your Valiant statues just in front to frame the entrance.
A photo-worthy entrance if I've ever seen one.
2.

Statue Palace
Bring your statues to life as they guard your very own island palace.
I'm sure we'd all love to live here, right?
To design a similar space on your own island, you'll need to get your hands on some custom designs for your palace walls. Once you have these you can start to customize a bunch of simple panels.
Then organize the panels on different cliff levels to give the illusion of palace walls.
Maybe even add a lighthouse behind the panels to act like a central tower.
Finish the idea by adding some Valiant statues, or really whatever you like..
1.

Zodiac Statue
Put your zodiac items to good use and create this fantastic statue waterfall feature on your island.
To create this awesome design for yourself, first you'll need to build yourself a small cliff area.
Then add a waterfall running over the edge.
You can decorate the clifftop (and the whole area) with lots of white and gold roses. But don't forget to add lots of zodiac items to drive up the astrology theme.
Finish the space by adding some candles, wedding pipe organs, and any statues that you like.
Browse:
Animal Crossing
Lists
Video Games