Minecraft Best Anime Mods & Modpacks (All Free)
This post may contain affiliate links. If you buy something we may get a small commission at no extra cost to you. (Learn more).
With a game like Minecraft, you shouldn't be surprised to find a ton of crossovers.
After all, the experience is about being able to do whatever you want. So let's say you're a fan of anime… wanna merge the two together?
Then you've stumbled onto the right corner of the Internet.
With this list, you'll find mods to help you control your favorite heroes from plenty of anime, both old and new. Let's prove that nothing is truly impossible when it comes to PC gaming.
Even flying in the sky and launching energy blasts in Minecraft with your beloved waifu? Yep, never stop dreaming boys.
10.

Anime Mod (Weapons)
Minecraft is where everything becomes possible, right?
So I wished to be able to use my favorite anime weapons, and my wish was certainly granted.
This mod is one of many awesome weapon mods for the game, but it's got a twist: lots of anime goodness.
Here you'll find tons of weapons taken from some popular shows like Sword Art Online, Soul Eater, Bleach, Kill La Kill and Naruto.
I wish the Berserk's Dragon Slayer sword could be included as well, but I understand why the modder skipped it… Minecraft would have become an Adults Only game at that point.
9.

Naruto Mod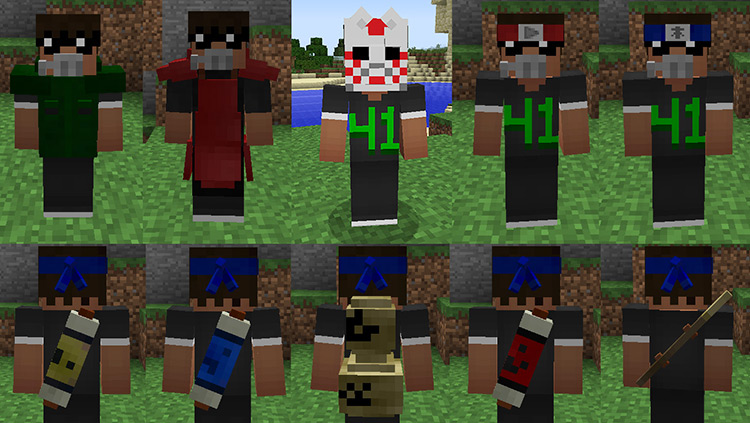 Time for some real ninja magic, folks!
Konohagakura has landed somewhere in Minecraft.
This Naruto mod is so simple it hurts, yet it's terrific for true fans of the series.
With this installed you'll get new items, new mobs, and new animations taken straight from the popular anime we all know and love.
Oh, and let's not forget about the many jutsus you'll be able to unleash on your enemies. They won't even know what hit them.
8.

Kenshiro Mod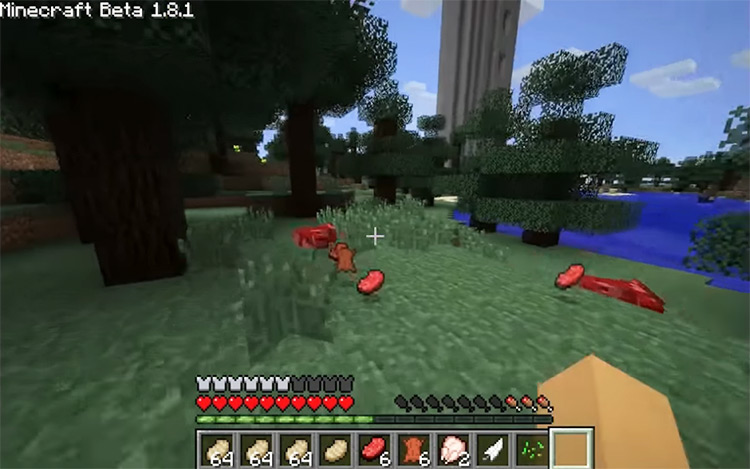 Hokuto no Ken, or Fist of the North Star for our localized anime lovers, has crossed over into the world of Minecraft.
It's all part of this lovely mod that introduces new abilities for your character, inspired by the only man in this world that's worthy of being called a Man: Kenshiro.
So bare your chest and unleash the secret techniques of the Hokuto school. Creepers and skeletons will turn into a bloody mess, even if they may not have any blood to begin with.
7.

One Block Man
No matter how powerful any mob can look, all you need to take one of them down is one single punch.
Just in case the message isn't loud and clear, One Block Man is a mod inspired by the extremely popular One Punch Man anime.
With it we get new armor that will grant you the ability to take down any mob with just one strike. Hey, you wanted an overpowered MC, right?
This mod also add mobs inspired by the anime, and you'll feel like you're indeed playing through an episode. Except way blockier.
6.

My Hero Academia Mod
Everyone is set to become quirky in Minecraft with the My Hero Academia Mod.
And if you're a fan of the show, you really won't need much to sell you on this.
I'll simply say that this mod introduces a fully-functional quirk system that lets you unlock 6 abilities per quirk as you level up, all while completing new quests and defeating bosses who are as quirky as you!
Not bad. Not bad at all.
Now we just need some BNHA skins and we're good to roll.
5.

AnimeColle Legacy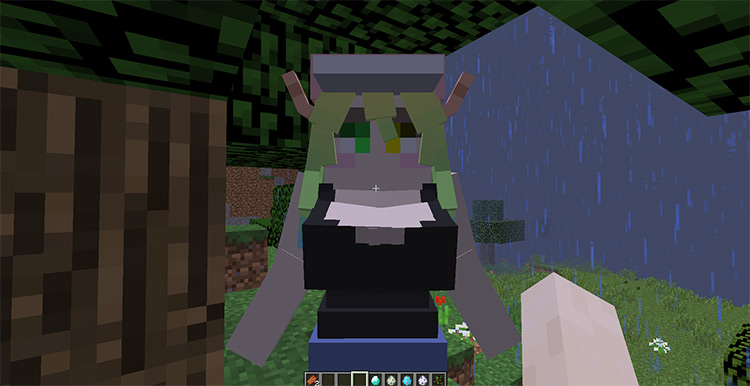 If you have an anime waifu, there's a good chance you can meet her in your Minecraft world. All thanks to the AnimeColle Legacy mod.
This introduces a lot of female characters from many different series like Kobayashi's Dragon Maid, Touhou Project, Fate/Grand Order, and Honkai Impact.
Once summoned, however, you'll have to use the companion contract to interact with them and confess your never ending love.
Love affairs can be so complicated, even in games!
4.

Persona 4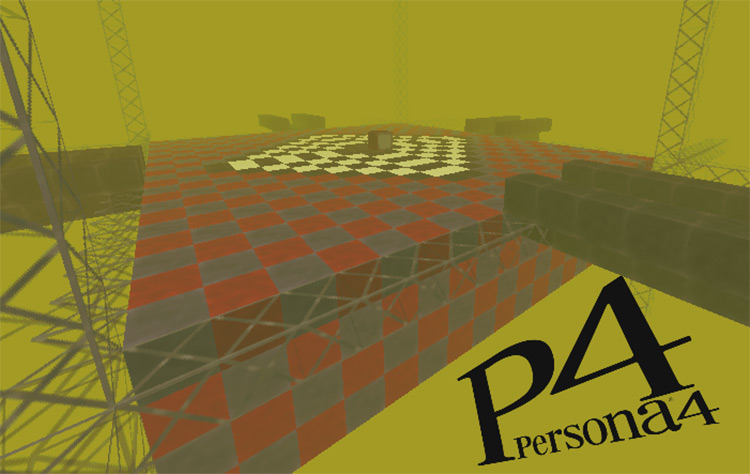 What do you mean Persona 4 is not an anime?
It certainly is, and now we've got it in Minecraft too.
This Persona 4 mod introduces a few elements from the popular entry in the series created by Atlus, and its anime adaptation. This includes tons of dangerous Shadows as mobs, new crafting recipes, and the ability to unleash Zio and Agi skills.
There's still no Persona summoning, so you'll have to make it out alive from the world inside the TV using only your powers this time. Best of luck.
3.

Mine Mine no Mi
Eating fruits makes you healthy.
Eating Devil's Fruits makes you strong. Incredibly strong.
Mine Mine no Mi introduces tons of new abilities inspired by One Piece, which I hope is a series we've all at least heard about.
Thanks to this mod you'll be able to stretch your limbs like Monkey D. Luffy, control the power of the elements with the Logia abilities, and unleash a lot of other extremely wacky abilities.
Which ones? Install this baby and find out.
2.

Dragon Block Super
Over nine thousand new features are included in the Dragon Block Super.
Well not quite. But I couldn't pass up the chance to meme as we're covering one of the most popular anime of all time.
Dragon Block Super for Minecraft gives us seven playable races lifted from the Dragon Ball universe. Meaning you can control Half-Saiyans, Saiyans, Androids, Namekians, and even Bio-Androids.
Plus you can learn special abilities through different skills trees, soar through the skies anywhere in your Minecraft world, and defeat any mobs with energy blasts and high-pitched anime screams!
Ah, the marvels of our modern age.
1.

Steve's Bizarre Adventures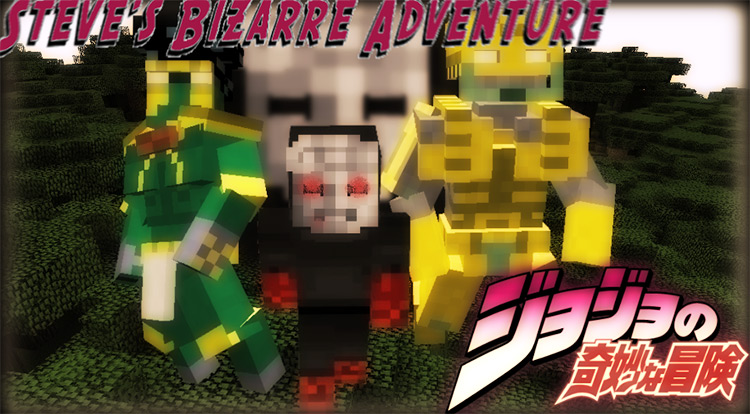 In Minecraft, as in life, you need to make a stand sometimes.
Or take a Stand, if you're familiar with Jojo's Bizarre Adventure.
This incredibly detailed mod adds a ton of new items into Minecraft, all inspired from the franchise created by Hirohiko Araki, as well as the iconic Stands that grant your character bonuses as well as special powers.
There's a lot to dive into here, so trust me: this thing could keep you busy for hours.
Now in the way of stands, there aren't so many compared to the ones seen in the manga and anime. But there's enough here to get JoJo fans excited to boot up Minecraft again.
Browse:
Lists
Minecraft
Video Games