The Best Minecraft Pajamas Skins (Boys + Girls)
This post may contain affiliate links. If you buy something we may get a small commission at no extra cost to you. (Learn more).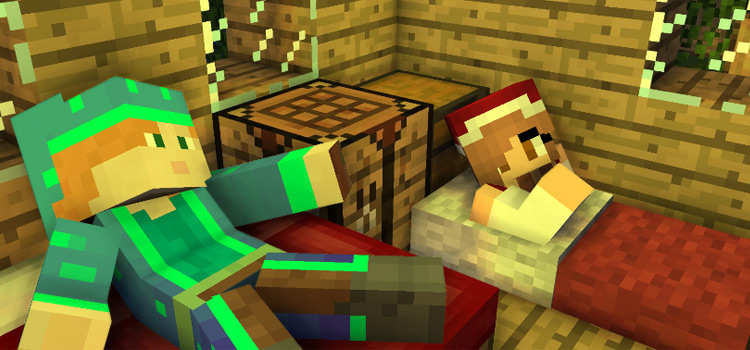 Pajamas – they're warm, they're comfy, and almost everyone wears them.
Whether they're licensed pajama sets, or just loose house clothes to lounge in, everyone enjoys pajamas.
So why can't we bring some of those looks into Minecraft?
Well with a bunch of custom skins, we absolutely can. So let's don our own pajamas and browse some options.
1.

Poached Egg Girl
Eggs are great – they're tasty, cheap, and one of the more versatile foods out there!
But to put an egg on a pajama top?
I suppose one can't have breakfast without eggs.
And this girl certainly seems like a fan, with her hyper pastel PJs with plaid pajama pants, bunny slippers, and that classic hooded shirt featuring a fried egg.
Just looking at this design makes me sleepy and hungry at the same time.
And this would be a great skin to play around with during the night – just watch out for creepers.
2.

Lavender Dream
I adore the color lavender, so this design won my heart from the start.
This young girl is wearing a set of adorable lavender pajamas decorated with a unicorn. What more could you want?
The clothes appear to be comfy and baggy, and she even has a matching eye mask and slippers to go with it all.
Which is fair – I know it's hard to sleep peacefully at night between clanking skeletons and moaning zombies.
3.

Steve Unicorn Pajamas
Steve had to get in on the pajama craze – and I adore his look.
For this skin you'll find Steve wearing a cute unicorn sleepshirt. Even better, the unicorn has a rainbow mane and a golden horn.
But you'll notice Steve's also in some comfy plaid pajama bottoms and bunny slippers, and wearing a flower accessory and bracelet…
He looks so cute and comfy!
I'm not sure where you'd use this skin, but I can only imagine what other players would think.
4.

Pajama Kakyoin
For anyone who's a fan of JoJo's Bizarre Adventures, here's one you might enjoy.
Kakyoin is dressed down and ready for a full night's rest after many misadventures. From his stylish red locks to the deep purple eyes, this boy is a doll to look at.
While not busting at the seams of his clothes (as is typical fashion for most JoJo characters), Kakyoin is still looking tight here.
One could almost expect him to body slam onto his bed for the night – or attempt to beat down a few skeletons before settling in.
But either way, if you're a JoJo fan, this is a must-have skin.
5.

Creeper Pajamas
For Minecraft fans who actually love mobs, this pajama skin set is perfect.
These pastel green PJs are the best choice to settle into after a long day of mining and building!
Featuring the face of the infamous Creeper mob on the front of this attire, it's fair to say this girl is clearly a fan.
And with her hair tied back in a bandana, she ready for whatever you have planned.
Just be sure that when you return home for the night that you close the door tight. Don't want any Creepers letting themselves in.
6.

Robe and Cap
For those looking for something more old-school, or maybe a skin taken out of a fantasy novel, this one's worth trying.
It features the classic Alex model dressed in matching blue and green robes and a cap.
Absolutely one of the more comfy designs in this whole list.
The colors work well here, and she looks like she could easily fit into any setting of Minecraft – despite how kooky it looks at first glance.
Hey, everyone has their preferences.
7.

Pajama Sam
We can't talk pajamas without bringing up the imaginative boy wonder from the 90s edutainment game series.
Pajama Sam is a beloved icon of the 90s computer age, and we can bring him into Minecraft all with this brilliant skin.
You'll see him wearing his signature blue pajamas, along with his Pajama Man mask and red blanket cape.
This sassy blue-skinned boy is more than willing to jump into the world of Minecraft – exploring every corner and solving any troubles along the way!
You might be too young to have ever played the original games, but with this skin you can bring the 90s back in full force.
8.

Rudolph Pajamas
For those of you desiring a more Christmas-y themed PJ skin, we've got you covered.
This skin's outfit is all red with plaid bottoms, reindeer slippers, and a shirt featuring the famous named reindeer himself.
Slap a Santa hat on and you'll be ready for the holidays!
9.

Pajama King
In every pajama kingdom, there must be a ruler.
Meet the Pajama King!
Dressed in the best pink and white pinstriped pajamas and simple brown slippers, this guy is the icon of comfort.
But with the gilded crown and sunglasses, he's also the icon of regal coolness.
Anyone wearing this crown probably also enjoys lounging in pillow forts, sipping from aged bottles of wine, and binging Netflix in a personal Minecraft home theater.
All hail to the king – the Pajama King!
10.

Spastic Pajamas
OK, this is probably the craziest skin on this list.
And it's absolutely brilliant.
These spastic pajamas are brightly colored and should incite arguments all around you, since every angle is different!
Green, red, yellow, and blue – anyone looking at you from different angles will never know any better… until they get a good look.
And despite the bright colors, this skin still looks comfy as heck.
11.

Santa Baby Pajamas
Jumping back onto the holiday train for a moment, this one is for the ladies out there.
This Santa Baby pajama outfit looks just as comfy as the others on this list.
From the off-shoulder white shirt to the red plaid bottom, this skin just exudes warmth.
And the additional Santa hat and bunny slippers add that nice touch of festivity and comfort!
The holidays come and go, but with this skin, you'll certainly be ready for Santa to visit 24/7. As long as it's not the Creeper Santa.
12.

Rainbow Dino Onesie
This one is cute and comfy looking… I mean come on, Rainbow Dino!
Onesies for adults have been a popular trend for a few years now. And this skin reminds me that it's not out of fashion just yet.
The gradient color of the suit itself and the hood hugging her head is just too cute. Plus her hands and feet are completely closed in warmth, and this design even has the back nubbies.
I would adore to own this onesie myself – but I'll settle for wearing it with pride in Minecraft.
13.

Crazy Pajama Party
Everyone has had a pajama day at school, right?
Well this is the one kid that took it too far.
Where do we start here?
The rainbow shirt… the pink plaid bottoms… the oversized sneaker slippers… and the cheap looking sunglasses.
Even the braided pigtails are out there.
If you were to define the term "Crazy Pajama Party", this skin would be the best image to use as a reference.
14.

Panda Onesie
Another onesie outfit, because onesies are love, onesies are life!
And this one depicts a cut panda.
From the coloration to the cute nubby ears and tail, these are the pajamas everyone wants.
Lounging in your Minecraft hut wearing this skin could make one forget about the dangerous mobs wandering around outside in the night. But you could still head out and traverse the world as you please.
It's multi-purpose!
15.

Pajama Boxers Boy
We all have that one friend. You know, the one that doesn't have official "pajamas".
They just throw on whatever they're comfortable sleeping in.
Most of the time that means going without pants.
If that fits your lifestyle, here's one skin you'll want for your collection.
This young man is wearing a shirt depicting a Minecraft grass block. However, he appears to be missing his lower garments – purposefully.
But at least he's wearing a pair of polka dot boxers. That's something, right?
If you have no shame to run around a server in just a shirt and undergarments, then here ya go.
I'll stick to my onesies, personally.
Browse:
Lists
Minecraft
Minecraft Skins
Video Games