Minecraft: Best Yellow-Colored Skins (Boys + Girls)
This post may contain affiliate links. If you buy something we may get a small commission at no extra cost to you. (Learn more).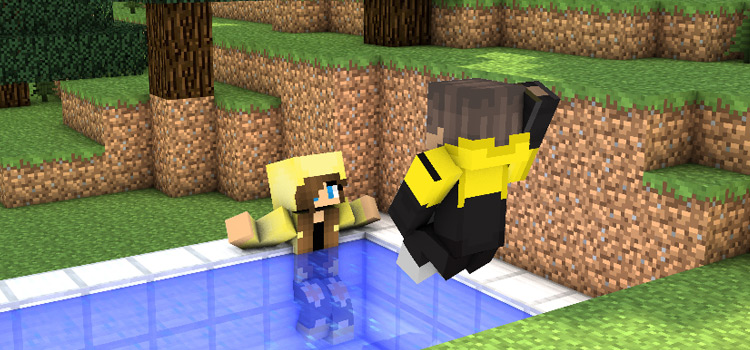 One of the most difficult decisions I've ever had to make came one fateful summer's day.
I was informed by my friends about a game we should play, so I went ahead and downloaded the app. I thought nothing much of it, but right away, I was asked what team out of three I wanted to be on: Mystic, Valor, or Instinct.
I didn't know much about Pokémon GO, but I did know I liked the color Yellow.
One choice was all it took for my friends to ridicule me about my selection, the weird and out of place third color.
Well I say no longer! No longer shall yellow be an underappreciated color, mocked by the likes of red and blue. I'm here to prove once and for all that yellow can look just as good (if not better).
And what's a great way to make that point? Minecraft skins.
1.

All Smiles (Girl)
The first skin on my list here manages to encapsulate everything about the color yellow that works so well.
Many Minecraft skins contain multitudes of bells and whistles, details upon details used to create depth and intrigue.
Creator morningblues's skin is almost like a response to those. The skin is plain, elegant, and bright.
It's not an elaborate costume or pop culture reference – but just a delightful and cute springtime outfit.
There's a reason this skin is called "All Smiles".
One look will have you beaming.
2.

Gold Crown
On the opposite end of the dressing spectrum is this heavily eboy-influenced Gold Crown skin by 505z.
Whereas the first skin on this list was breezy and bright, this skin is dark, heavy, and darn cool.
The highlight of this all-black, textured fit is the bright gold bulletproof vest. The contrasts between darks and lights make the skin pop, and that's before your eyes even look up to the bright bejeweled crown.
3.

Duck Girl
I wouldn't have guessed it before seeing this skin, but overalls look incredible in Minecraft.
This Duck Girl skin by Foxx is a testament to the brightness of the color yellow.
I genuinely can't tell what I like more: the red overalls with an adorable duck logo embroidered to it, or the yellow hoodie beneath the overalls that has another duck face on the actual hood part.
That's two duck faces on this skin.
It's too cute not to download.
4.

Yellow Steve
Steve always manages to somehow slip out of his default outfit and into some fancy new outfit. And it always seems to look good, too.
This Yellow Steve by Elperro is amazing. It's as simple as a skin can get really.
It's Steve, but in a yellow hoodie. It's everything I've ever wanted.
5.

Duck Hoodie Boy
If there's anything discovering some of the best yellow-colored skins has taught me, it's that turning the chicken yellow and making it a duck is about as cute as it gets.
This custom duck hoodie skin by 6596 rocks a perfect color palette between its yellows, oranges, and browns.
The look is so smooth and effortless, offering tons of nifty little details too.
Clearly this design was an exercise in putting love and care into a skin, and it shows.
6.

Yellow Heartz
"Yellow Heartz" is creator Ghoostik's name for this skin – which feels like the perfect intersection of all the other skins combined.
The yellow hoodie is fun and light, but the skin takes on plenty of cool edginess as well, with the tattered black pants and racing checkers along the sleeves.
This is a perfect example of why the color yellow is so great.
It's warm and welcoming design, while also cool and edgy.
In short, it's an outfit I wish I could wear.
7.

Bumblebee Vibes
Topping the list for outfits that I'd stop and shop for in real life is this skin by creator Yeelz.
Many of the skins on this list are cool outfits highlighting the color yellow that would turn heads in a second in your Minecraft Realm.
This skin, however, is just among the coolest outfits I've ever seen.
What's crazy is that this bumblebee-inspired look can be downloaded for free – but I'd still try to pay for it.
8.

The Onesie (Girl)
It's hard to be the cuteness and comfort of a onesie. Especially when that onesie is pixelated and bright yellow.
Not only is this skin cute beyond measure, but creator iMilkyy managed to add fine detailing like in the model's expertly wavy hair in ways that you just don't see anywhere else.
There's just something about the color and the looks of skins like this that bring some joy to your day.
9.

Bee Boy
The majority of these skins have featured modern outfits that would look good on anyone, on any day of the week.
But I want to return to the era of skins that started it all. There are no tricks or texturing to create the guise of rounded edges or three-dimensions.
This skin is pure, 2-D, intense yellow goodness.
And if you want one with a creeper on the back, check out this other skin. Man, that's as classic as Minecraft skins get.
In this day and age, vintage rules.
10.

Heart & Sweats
As soon as I say I want throwbacks, I throw it right back to another stylish modern look.
What can I say? The skin just looks too darn good!
Creator IMakeSkins has this casual modern look featuring a loose white shirt with yellow sweatpants.
A brief description really doesn't do it justice – because between the small detailing and the sheer swagger this skin exudes, I can't think of any skin that can better illustrate how amazing the color yellow can look.
Browse:
Lists
Minecraft
Minecraft Skins
Video Games