Sims 4 Ankle Boots CC & Mods: The Ultimate Collection
This post may contain affiliate links. If you buy something we may get a small commission at no extra cost to you. (Learn more).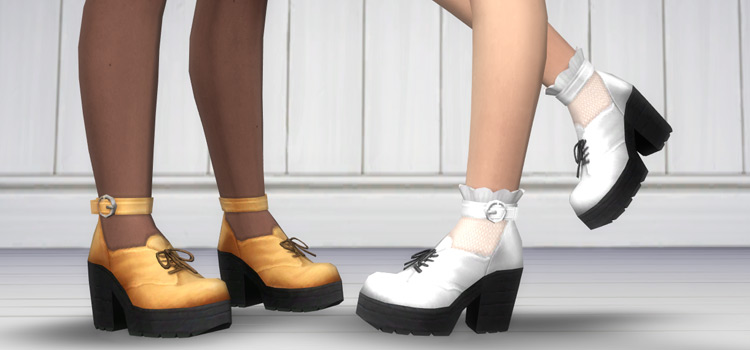 As many options are already available in the game, none of the categories in CAS narrow things down very much.
This collection is all about ankle boots, the middle ground of footwear.
They aren't quite as casual as sneakers, yet they can work for so many more things as opposed to snow or hiking boots.
And who knows? You may just find new ways to incorporate boots into your Sim's outfits with this variety of custom content.
1.

Gabriela Ankle Boots
As fantastic as Madlen's epic booties are, there's always a call for more swatches.
SiimplyJessica definitely delivered on that front, giving these a palette of 26 new colors.
2.

Chelsea Ankle Boots
The only purpose of Chelsea Boots is to look good, and they serve that purpose very well.
You're bound to love these for their simplicity and smoothness, no matter which version you go with. One has a flat sole while the other option has a small heel.
3.

Textured Leather Ankle Boots
These lace-up boots are some of the most highly-detailed footwear for Sims I've seen.
They practically look real!
Except in most real stores, finding such fun colors might be a little difficult.
4.

Studded Suede Ankle Boots
Something suede just seems so elegant. It's so cool, even Elvis sang about it.
With the relaxed look and dark swatches, your Sim will really look like a force to be reckoned with.
5.

Vintage Ankle Boots
These might not be quite as chic or glamorous as some other options, but they can still be a solid addition to your game.
I mean, these boots look like they came right from Agnes Crumblebottom's yard sale.
So as popular as thrifting is lately, that's honestly a win.
6.

Addison Belted Booties
The top of these bold boots is fastened fashionably with a belt, and the rest of the shoe has a ow-key appearance.
An interesting touch is that the creator made them compatible with shoe slider mods, which will allow you to change the height of the heel itself.
7.

Marisol Boots
Let's just say it:
The combination of such a great color scheme and the little bows on the side is genius, honestly.
From the slightly layered top to the ultra-sleek and smooth texture, these definitely seem like luxury footwear for Sims.
8.

Buckle Boots
You really get the best of both worlds with these buckle boots.
They have a ruggedness to them thanks to the three metal-toned buckles on the side, plus the feminine edge of the chunky block heel.
9.

Nobu Sock Boots
Boots with thick socks are a whole aesthetic, especially for autumn.
Well, here's an amazing shortcut…the socks are built in!
This will be perfect for outdoorsy Sims, as well as players who love putting together the perfect fall ensemble.
10.

Dusk Boots
Here we have some Doc Marten-esque boots that a lot of folks will absolutely adore.
Male and female Sims alike will be stunning with such a fantastic design, impressive texture, and over two dozen swatches.
11.

Ankle Boots for Kids & Toddlers (Cottage Living Required)
Every aspect of Cottage Living is just so cozy and adorable, making the content available to all ages is really a must.
The rubber boots that were previously only for adult Sims can now be worn by both toddlers and children, thanks to Simiracle's conversion.
12.

Cuffed Ankle Boot Recolors
Those chic base game boots are always a solid choice, but it's high time we expand beyond red, brown, and gray.
Simsperience's 14 new swatches have it all, including a couple of patterns.
You can even pick and choose which ones you want!
13.

Eris Ankle Booties
If you have Seasons, you know what limitations the weather can bring. It's always great when creators configure their stuff with that in mind, as this Simmer did!
Here are some more great recolors of an original mesh from Madle, and they'll look awesome with any outfit.
14.

Crush Ankle Strap Boots
For some chunky heels with an original twist, look no further.
The ankle strap gives them a modern flair, although they're pretty timeless overall.
15.

Steampunk Boots
What's not to like about Steampunk?
This distinct style blends together the best of the past with what we hope will be the best of the future.
Sims can rock unique creations like nobody's business, so these sturdy boots are sure to look great on whoever wears them.
16.

Amnesia Boots
Just by editing an existing al mesh, we have something totally new and different.
Simple and smooth, Trillyke's wedged ankle boots could be the perfect footwear for your Sim year-round.
17.

Arltos Shoes 67
These winter booties are insanely cute, and super well made.
The texture makes it clear just how soft they are.
And everyone knows the ideal boot is one that feels like a slipper.
18.

Veranka's Ankle Boots
Veranka brought the original boots down to size by making them ankle height. Now they aren't quite as bold and will make for some cool everyday wear.
The slim heels allow the vibrant colors to really stand out, whether you go with a neutral tone or one of the louder ones.
19.

Lace Up Ankle Boots
This is another edit of an EA mesh, and it's quite an impressive one.
By simply giving them a more defined heel and better laces, these base game boots have been transformed from hiking boots to something very fashionable.
20.

Tabi Ankle Boots
Just like in the real world, Sims fashion is always evolving and reflecting current trends.
And these Tabi Boots are very modern and fresh, offering an option unlike anything the game's ever seen.
Browse:
Lists
The Sims 4
Video Games