Sims 4 CC: Best Knee-High Socks & Knee-High Boots
This post may contain affiliate links. If you buy something we may get a small commission at no extra cost to you. (Learn more).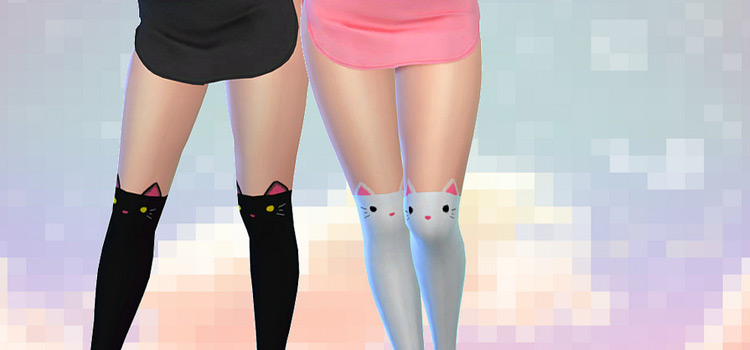 Any fashionista Sim should have at least one knee-high boots in her closet, reserved for those days when she needs an extra confidence boost or fashion flair.
Just put on a classic black knee-length boot and your Sim will be a hundred percent for anything, be it a date in the middle of winter, a hike to Granite Falls, or a mystery clue hunt around Strangerville.
On the other hand, knee-high socks feel more cutesy. But of course, our styles depend on our moods. So no matter your main aesthetic, you gotta have both in your wardrobe!
Well this huge list of CC should have a little bit of something for every Sim girl's dream outfit. Especially perfect to show off that zettai ryouiki.
20.

High-Top Boots Recolor by Saurus
We're starting this list strong with none other than a Converse-style knee-length boots by Saurus. How cool is that?
The white laces even go up to the knee, so it really gives you that Chuck Taylor sneakers look, while still giving off the usual glamor that boots have.
When you need comfy footwear but still want to stay on fleek, these shoes are the perfect choice.
I would choose this pair for my Sim if we're heading to Granite Falls. Gotta stay protected from those bugs while camping!
19.

Over Knee Socks by KikiSimLive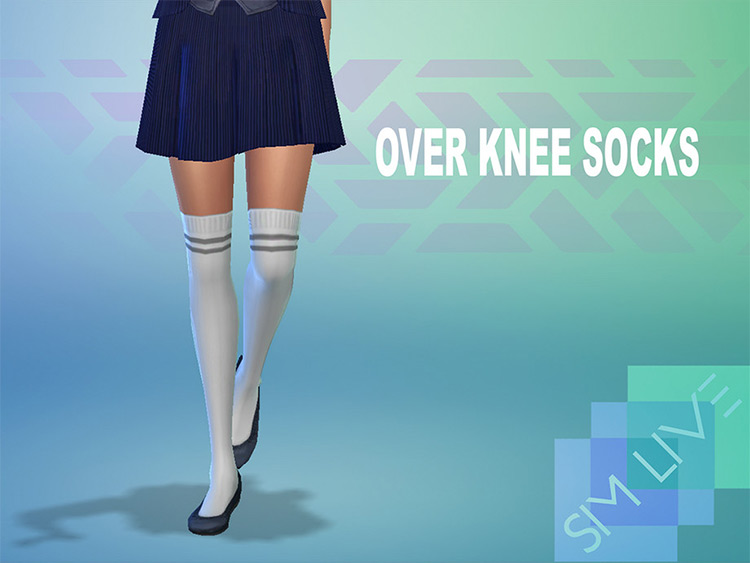 Simple and dainty, these over-the-knee socks by KikiSimLive offer a pretty addition to your Sim's OOTD.
Especially if you're thinking of having your Sim wear a cute miniskirt or a short dress. With these, you're going to have a chic fall look. And don't forget the beret!
18.

Thigh High Boots by Marigold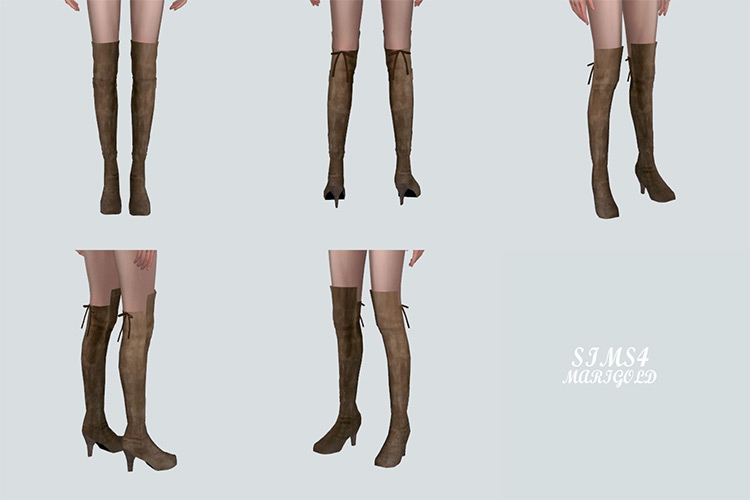 Some more over-the-knee boots by Marigold that are a simple, no-nonsense pair your Sim can wear for any errand.
Even if you just put on a lazy loose top or dress for a quick shop around Magnolia Promenade, or a brunch out with your friends, your Sim will look every bit the effortless fashionista.
For smart-casual events such as a trip to the gallery or a family gathering, you can pair these boots with a good pair of jeans and a sensible top.
This CC set will definitely not fail you: it includes 46 colors in total, so you can be sure you'll find a pair to match your style!
17.

Knee Highs Recolor by Moon-Craters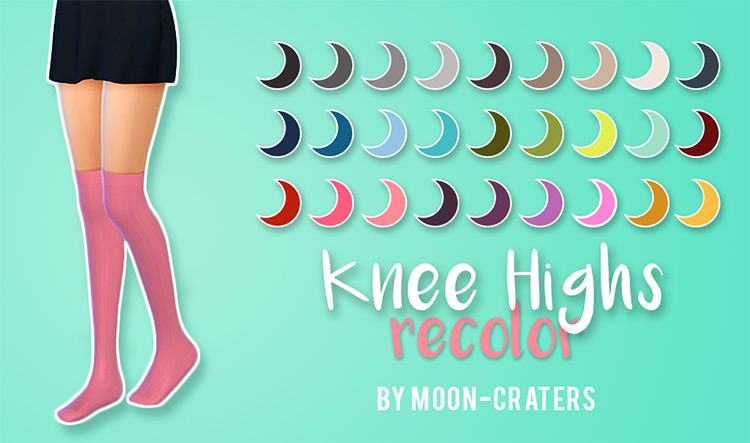 More Knee Highs, but specifically a recolor CC set by Moon-Craters. It gives you the complete basics, from black and grey neutrals to pastel pinks and violets.
Because of their simple design, you can wear these with rubber shoes for your gym day. Or with doll shoes for a casual walk out.
Or with some fluffy boots to keep you warm and toasty for the winter.
The cute outfit options are endless!
16.

HFF Suede High Boots by RedHeadSims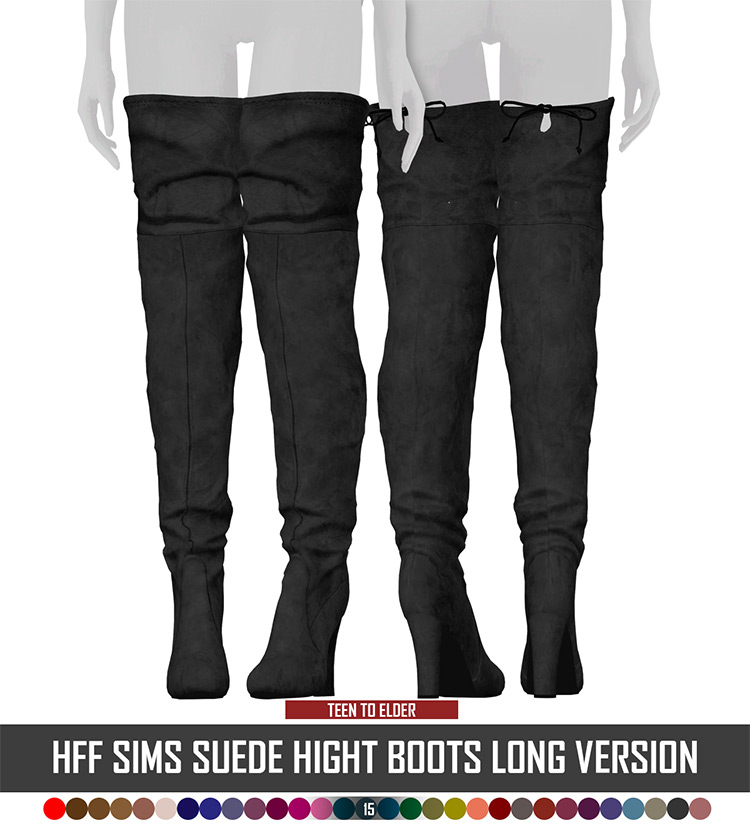 These are between the worlds of comfy and fashion, and if I see these in the department store I'll buy it right away!
The suede material makes this pair looks so look comfortable to wear. But the thick heels and overall details just scream 'vogue'.
While I'm featuring the knee-length version for this list, the pack also comes with a thigh-length version of the boots. So you can switch between versions whenever you feel like it. Definitely a versatile piece.
15.

Serebro Socks by Metens
Picture this: it's the Sunday brunch in Del Sol Valley's The Pinnacles, and you're invited to hang out with the rich and famous.
So you wear a modest polo shirt, a cute tennis skirt, and knee-length socks. Just to go with your white tennis shoes.
And you certainly look the part, lounging in the garden and chatting the afternoon away, right?
But what do you wear for the socks? Metens' Serebro Socks CC, of course!
The striped pattern makes your Sim look cute and classy at the same time. And you're ready to live in the upper eastside Gossip Girl life ala Blair Waldorf.
14.

Lilith Knee High Boots by Sentate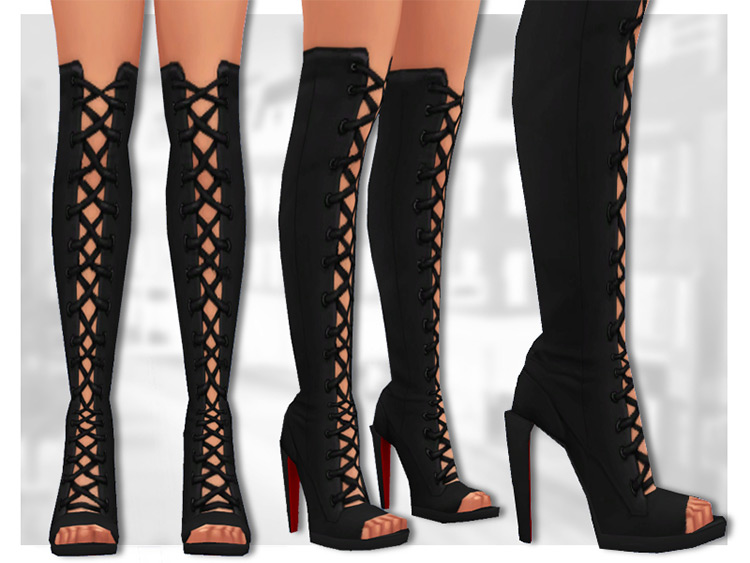 When your Sim steps into the club with Sentate's Lilith Knee High Boots, all eyes will be on her.
She didn't come to fool around, folks. She's here to party until the sun comes up.
This particular pair is so unique because it's effectively a hybrid of stilettos, boots, and gladiator shoes.
On top of that, the red bottoms add a tinge of glamor to the whole look.
Daunting even just from the first look, these boots are only for the most badass, most confident Sim lady out there.
13.

Neko Socks by Saruin
Adorable cats on cozy knee-length socks? Two words: cuteness overload.
Saruin's Neko Socks are the quirkiest and cutest socks in this list. And yep, it's also for adults – the adults who are young-at-heart, and the cat mommies who just can't get enough of the furry felines.
These socks will surely fit right in Brindleton Bay.
And hopefully they'll help attract more stray neighborhood cats for you to pet.
12.

Payne Boots by Sentate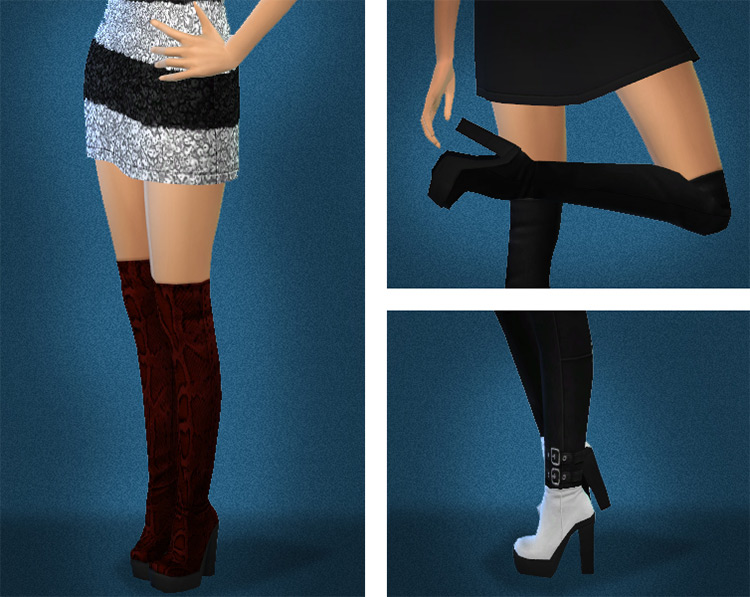 Sentate's Payne Boots CC is a bold fashion choice, with platform soles and thick heels.
Perfect for the days when you want your Sim to stand out from the crowd.
On top of that, these have a sexy snug fit around your Sim's ankles to her knees. So you really get that skin-tight effect.
Since it's a snug fit, this is best paired with mini skirts and short dresses. Use the black version with a short black dress, and your Sim will capture some bachelor's attention in no time. Be it in the club, at parties, or just about in any café.
11.

Striped Stockings by Kalewa-a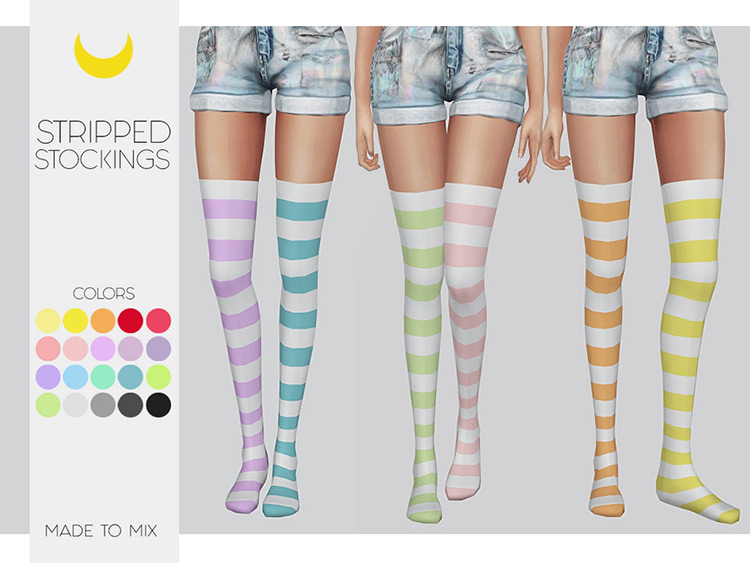 This one's definitely for the whimsical Sim who likes funny and quirky get-ups.
Kalewa-a's Striped Stockings CC gives you 20 fun swatches of knee-length socks. But each pair is mismatched with a different color, so your Sim can look cool and unique in any outfit.
I'd let my Sim wear this inside the house with pajama shorts, or outside the house for a casual meet up with friends!
10.

Madlen Mia Boots by Mj95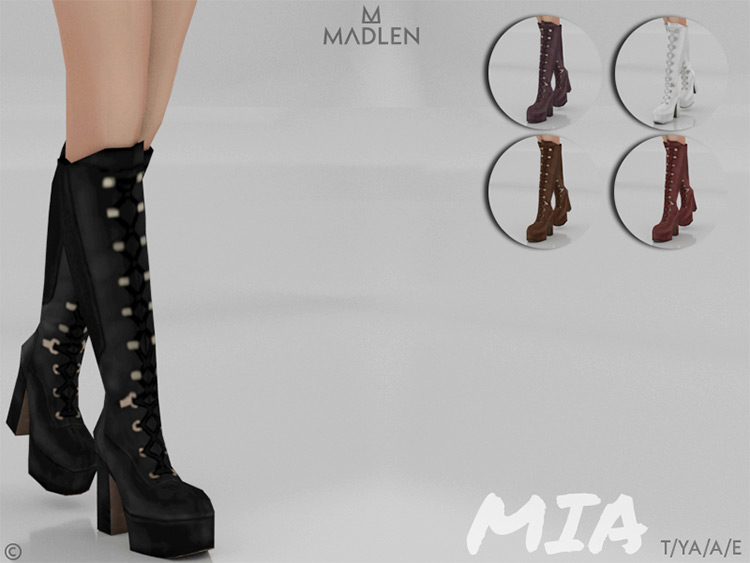 Mj95's Madlen Mia Boots are Paris Fashion Week worthy. With the heavy platform heels and edgy corset details, my word!
It's sure to be a showstopper at any party your Sim goes to.
If your Sim is an up-and-coming celebrity, a pair of these boots is essential to have in her closet.
For an evening out in Starlight Boulevard's Orchid A Go Go, these boots will make your Sim instantly fashion forward and picture ready.
With such a bold choice for footwear you'll be giving the paparazzi, fans, and the tabloids something to talk about!
9.

Madlen Rudy Boots by Mj95
With Mj95's Madlen Rudy Boots and these metallic heels + accents, your Sim will be the ultimate boss.
No one will dare cross you. Not with these boots' silver tips and spikes that look like they could cut glass.
But wait: is your Sim living the vampire life?
I bet these boots are perfect for her style. Pair with a long, dark-as-the-night coat and some bold makeup, and your Sim will be instantly revered and feared.
Or if your Sim is hoping to be the best spellcaster in Glimmerbrook, these boots can work too!
8.

Madlen Elizabeth Boots by Mj95
These Madlen Elizabeth Boots are for the demure and dainty Sim who wants to look good for a casual day out.
This CC set has seven different but easily matched colors, so whatever your wardrobe style is, you can always find a keeper in this pack.
Your Sim will look so pretty in the fall or winter with these boots around her roasties, paired with a chunky sweater and scarf.
Great option as footwear for a walk in the snow with a date.
7.

Christmas Pattern Socks Pack by Melisa Inci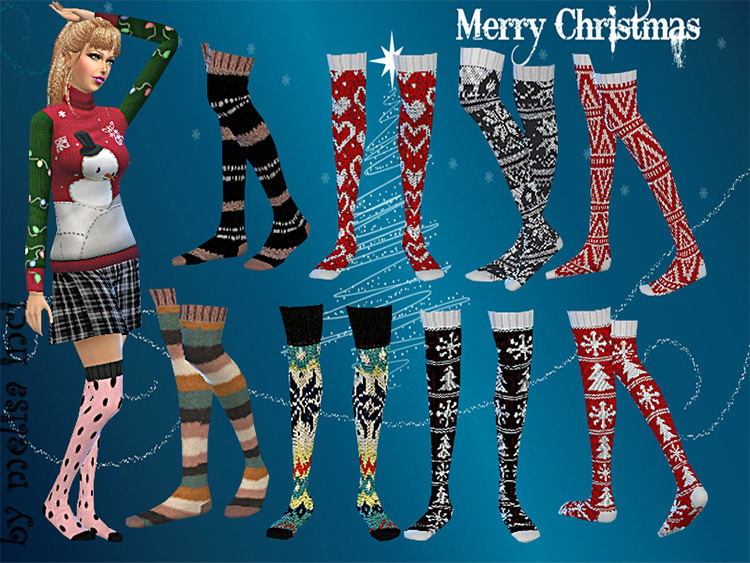 Socks aren't just meant to be hung on the fireplace during Christmas… I mean, Winterfest!
They're supposed to keep you cozy and warm. Plus they add a level of cuteness to your outfit.
If winter is fast approaching and you find yourself scrambling for some cute socks, check out this Christmas Pattern Socks Pack by Melisa, which has 12 colors and patterns you can wear all throughout the winter season.
The CC pack includes non-holiday socks too, like stripes and polka dots. And this set should make your Sim ready not just for winter, but for fall and spring as well. What a steal!
6.

Velvet Boots by Birba32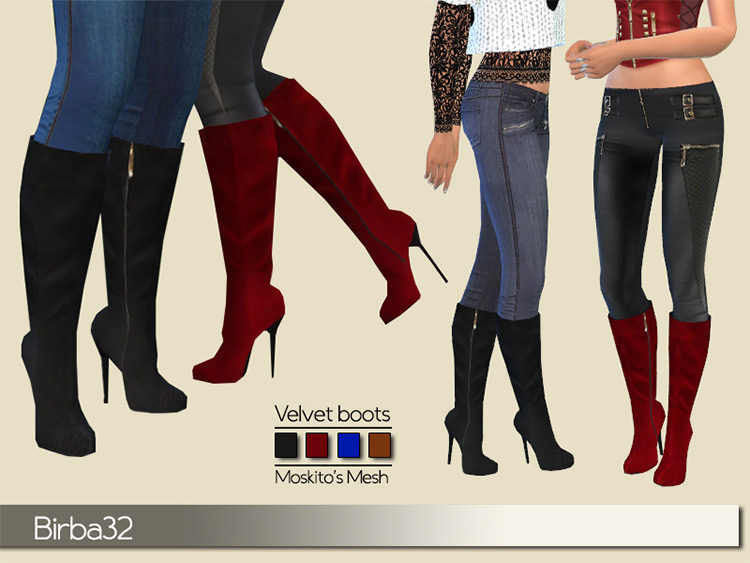 These velvet boots by Birba32 are so glamorous that you'll want your Sim to wear these anytime and anywhere.
And they definitely go well with anything, too!
Whether you're in the mood for pants, shorts, or skirts, these boots will elevate your whole outfit.
But to get the full view, the best option is some skinny jeans. So you can cleanly tuck them in!
If you need a glamorous but casual look for your stroll down Magnolia Promenade, try these boots with some skinny denim jeans and a basic white shirt.
5.

Lace Socks by Marigold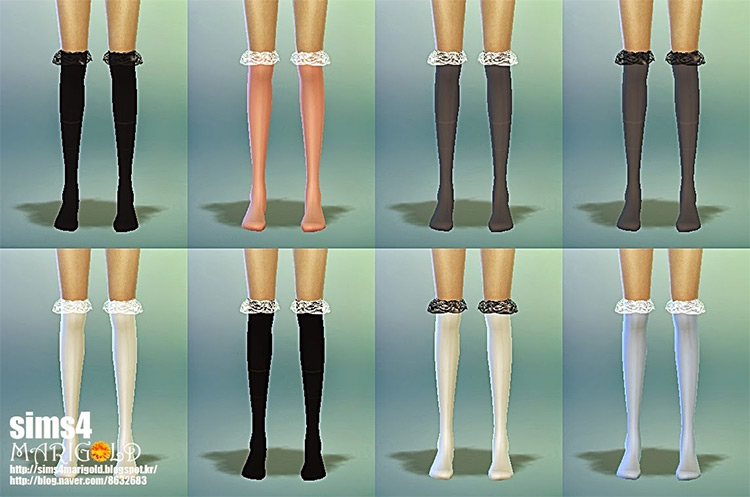 Who knew socks could be so fancy and formal?
Marigold's lace socks are for prim-and-proper Sims who like dressing elegantly.
The pack includes 4 different versions of the socks, as well as 8 classic shades of black, white, and pastel.
This is great to match for any formal events.
4.

Madlen Tony Boots by Mj95
These Madlen Tony Boots are the kind of boots you see in popular couture magazines like Vogue.
And for custom CC these certainly look expensive, with a geometric design, colorful patent leather, and stiletto heels.
If you like designer items and couture pieces, then these boots are for you!
Your Sim will look great in these wherever she plans to go for the day. But personally, I'd let my Sim wear 'em to work. Corporate footwear has never been more couture.
3.

Boot and Knit Sock Set by SimplyMorgan77
A must-have for the winter season.
Whatever your errands are for the chilly winter day, these are going to keep your Sim's feet warm and your Sim stylish.
I mean, the socks are designed to peek out from the top of the boots. Cute!
The CC includes 2 different styles in 12 different colors, and not just for your adult Sim, but for the children as well. We love a good bargain, don't we?
2.

Leather High Heel Boots by ShakeProductions
Snakeskin, sky high stilettos, and knee-high boots.
You're a total showstopper with ShakeProduction's sleek 488 Leather High Heel Boots.
And this CC set doesn't stop there!
It also includes 8 other leather colors which are just as gorgeous as the snakeskin version.
My ultimate favorite: the unique violet leather version.
You can wear it with just about anything: black dresses, white pants, denim skirts. Whatever you pair these boots, you're an instant star.
1.

Vetements x Reebok Sock Boots by Simstefani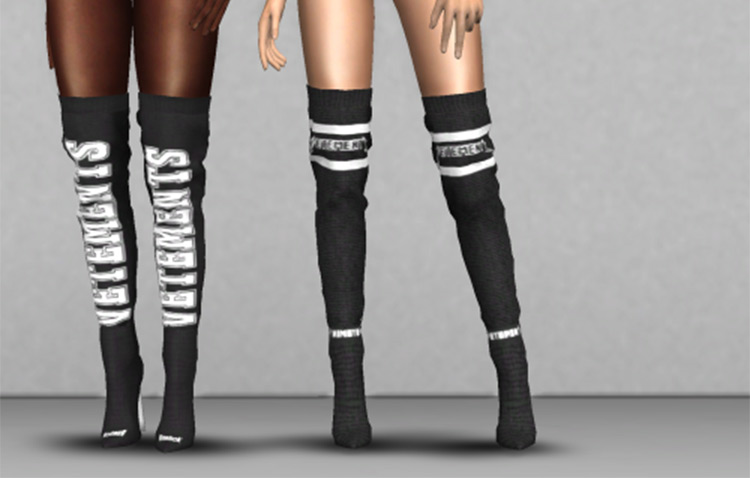 And for our number one pick? Simstefani's Vetements x Reebok sock boots.
Yep you read that right. There's such a thing as sock boots, and I have to admit, I'm loving the hip laid-back style of it.
It's a cool style and looks comfortable enough to wear even in the summer – can someone tell me where can I get some for myself?
And get this. The pack includes 23 total swatches, so you know you've gotta at least try it out.
It's gonna be a great addition to your Sim's wardrobe, trust me.
On the days where you feel your Sim doesn't have anything to wear, grab these boots and put on the shortest shorts you've got. Then let your Sim's hair loose for that effortless chic vibe.
Browse:
Lists
The Sims 4
Video Games