Sims 4 Basketball CC: Basketball Courts, Hoops & More
This post may contain affiliate links. If you buy something we may get a small commission at no extra cost to you. (Learn more).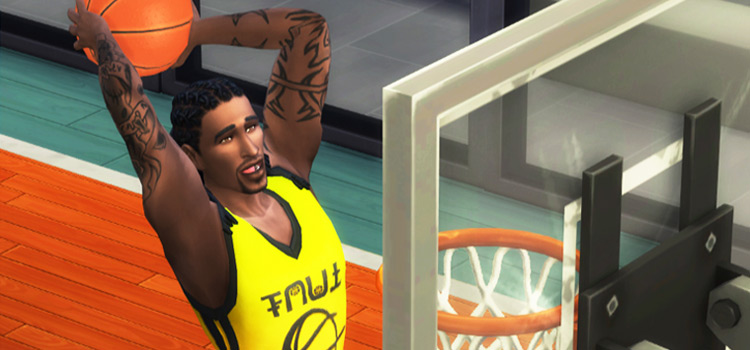 Basketball is one of the top sports in the world right now, and rightfully so.
Between Steph Curry's deep 3-pointers or Lebron's dunks, basketball is entertaining in lots of ways.
The Sims doesn't have too much basketball content, but we're here to fix that.
In this list we have some of the best CC for all you hoopers out there that want to make your Sims into the next Michael Jordan.
So let's get to hooping and show you some absolute slam dunk custom content for The Sims 4.
10.

Makeshift Basketball Hoop
Let's start off simple with a small basketball hoop posted on a cardboard backboard.
Great for your sims to play with friends in small spaces.
Not the traditional net, but it still gets the job done of putting the ball into a hoop.
Oh yeah, and the top portion of this is made of a toilet lid.
Talk about makeshift.
9.

Custom Color Jordans
We move on with Air Jordan himself in this CC.
Here you'll find a custom colored version of the popular Jordan shoes.
These are a Sims 3 conversion, and they come in a bold black lined out with amazing lava red.
If you wanna be the best, you got to wear the best.
Especially if you want to be Like Mike.
8.

Toddler Basketball Outfit
Want to get them started young?
Now you can with this toddler basketball outfit.
This CC is perfect for all your little Sim kids. And you can easily force them to like your favorite teams at a young age, how fun!
This CC features 7 different jersey outfits, including the Cleveland Cavaliers and Golden State Warriors.
7.

Aura Basketball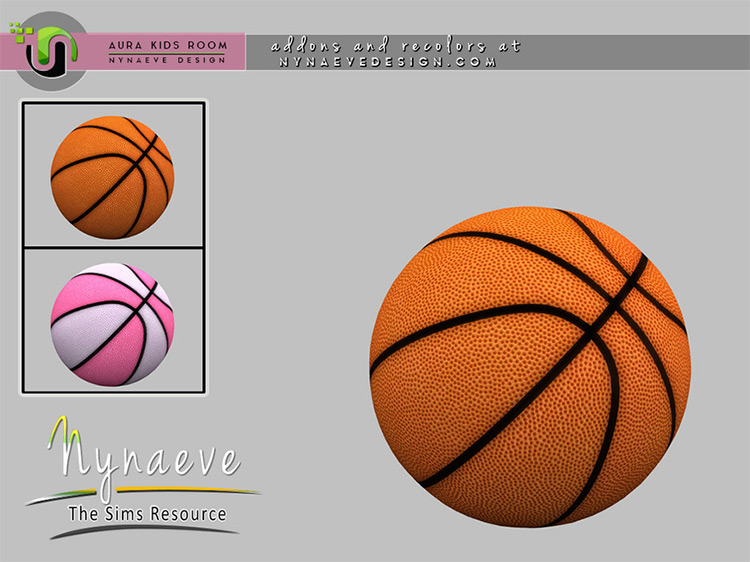 We can't play basketball without an actual basketball.
Enter this fun little CC.
This basketball comes in two swatches, one in the original orange, and another in a dark and light pink combination.
Get your Sims hooping now and get those skills up!
Ball hard or go home.
6.

Kobe Bryant High School Jersey
The late great Kobe Bryant is one of the most popular basketball players of all time.
And thanks to creator RJG811, your Sim can honor the legend by wearing his high school jersey.
The jersey comes in both maroon and white to fit your preference, to support the Black Mamba.
Mamba Forever.
5.

LeBron Nikes
We discussed Air Jordan shoes already, and now we look at what the king wears.
These shoes are designed with more realism and feature with similarities to the real LeBron Nikes, so this CC really stands out.
These sneakers come in 5 color schemes, but the original black is the clear winner for "best looking style" in my opinion.
And if you're looking for more Nike-branded CC, we've got you covered.
4.

Basketball Net
You can't shoot the ball into nothing.
So now we have a proper basketball net for your Sims to play with.
Sporting real mesh and iron unlike the makeshift one from earlier, this net is perfect to play in your Sim's backyard, or even in a large bedroom or indoor gym.
Simple, but effective.
And I'd consider this a must-have if you're trying to build a basketball court around your household.
Time to really start hooping.
3.

Retro Basketball Jerseys
Let's throw it back to the 90's here, when jerseys were super colorful and sometimes even corny.
Creator tiffybee gives us that old-school flair with a bunch of throwback jerseys in this CC set.
With lots of color and team options, including standouts like the Miami Heat or Los Angeles Lakers throwbacks, there's something here for everyone.
Definitely an awesome outfit for people who enjoy the older jerseys.
2.

Sports Field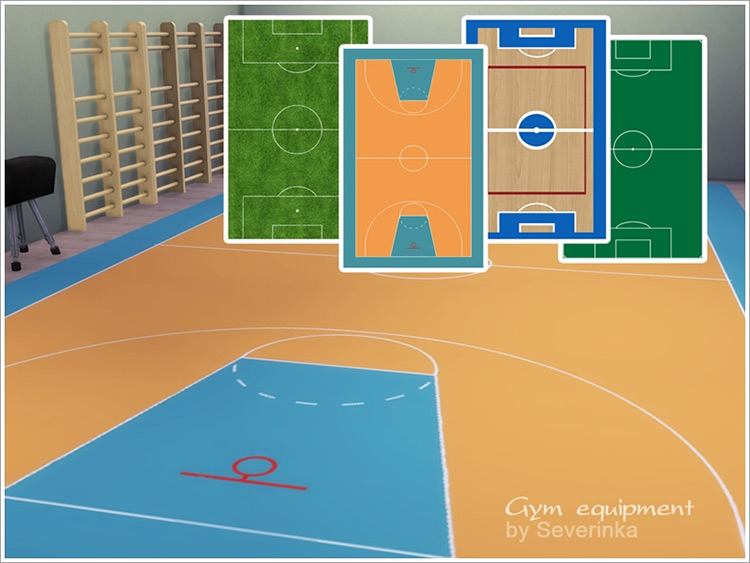 While this set by Severinka_ comes with 4 sport complexes, we're obviously going to focus on the basketball court.
With all the right baselines, out of bound marks, and a hardwood floor, this court is perfect to run local games.
Or maybe you could even create your own Sims basketball league.
And if you're rolling in the Simoleons, you could build a spot to add this into a large mansion or a local gym, making your Sims community even more basketball-friendly.
1.

Basketball Set Pack #1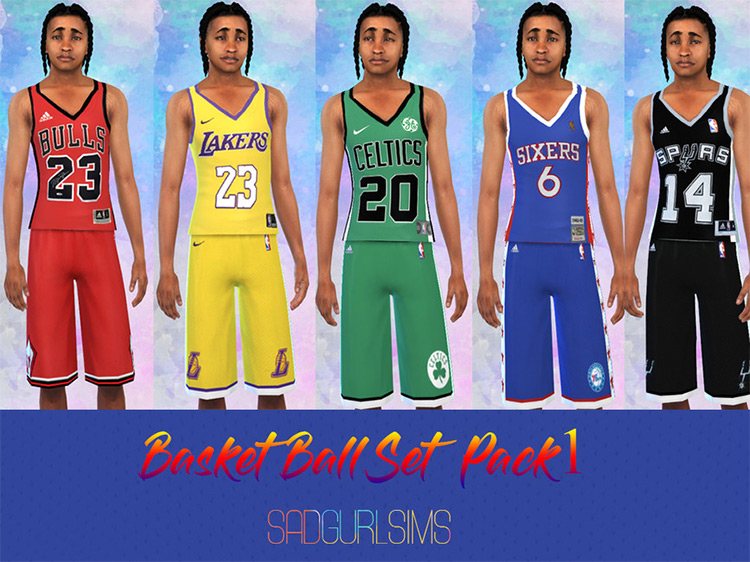 Another jersey pack here, this time with 5 team options for modern day designs.
The designs all feature names on the back, including stars such as Julius Erving or Lebron James.
Now your Sim can support your favorite team and talk smack to opposing fans in whatever jersey you like.
These could also be used to start up a league with some teams, applying jerseys to certain Sims on the same team.
Whatever you decide, this CC set has solid detail and provides a great way to bring real-life basketball into your Sim's world.
Browse:
Lists
The Sims 4
Video Games