Best Sims 4 Beach House Lots: The Ultimate Collection
This post may contain affiliate links. If you buy something we may get a small commission at no extra cost to you. (Learn more).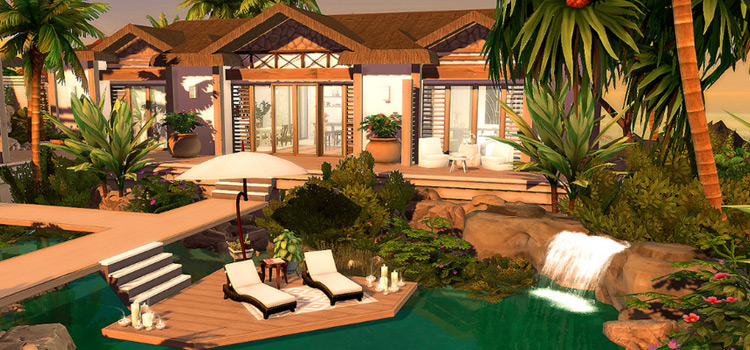 I've just had a brilliant idea.
You know what EA needs to add into The Sims? HGTV!
Think about it… this could be called Sim House and Garden Television, and our Simmys could learn how to garden, learn how to increase their handiness skill, and could even add to their painting skills as well! It would be great, wouldn't it?
Okay, if any of you reading this are CC creators, then I give you full permission to take this idea and run with it.
Another thing it could have? The ability for your Sims to find a new house as well!
Here we're going to be filming (okay, we're going to need to use our imagination here) the very first episode of Beachfront Bargain Hunt: Sulani edition!
And these are some of the best beach house options for your Sims, whether they're looking for a new home or just a vacation spot. There's something here for everyone!
1.

Hobart's Hideaway by Moonlightowles
Are you looking for a great fixer up opportunity? Do you have an eye for business?
Well if so, this could be the chance of a lifetime for your Sim.
Once upon a time, Hobart's Hideaway was the best of the best. But it's now a bit rundown.
So it could be yours for the low price of §125, 067! It's listed as a bar lot type, so you could keep it as a bar or you could renovate and move right in.
2.

Lagoon Beach Hut by MychQQQ
If you're looking for a bit of an easier turnkey option, then this Lagoon Beach Hut might be the one to check out.
This beautiful home was built right on top of the water. And it's a two-bedroom, two bathrooms, a patio, barbeque, and even a gazebo!
The views are phenomenal, and it would make for a great forever-home or even as a vacation spot. It's a bargain right now for §153,272.
3.

Sulani Family Home by Summerr Plays
If you're on the hunt for a large family home, then this one could be a winner.
This beautiful beachside house has five bedrooms, three bathrooms, and plenty of inside and outside space for the whole fam.
My favorite part of this lot is the glass deck, that allows you to see right down into the ocean.
4.

Sulani Beach Villa by Sarina_Sims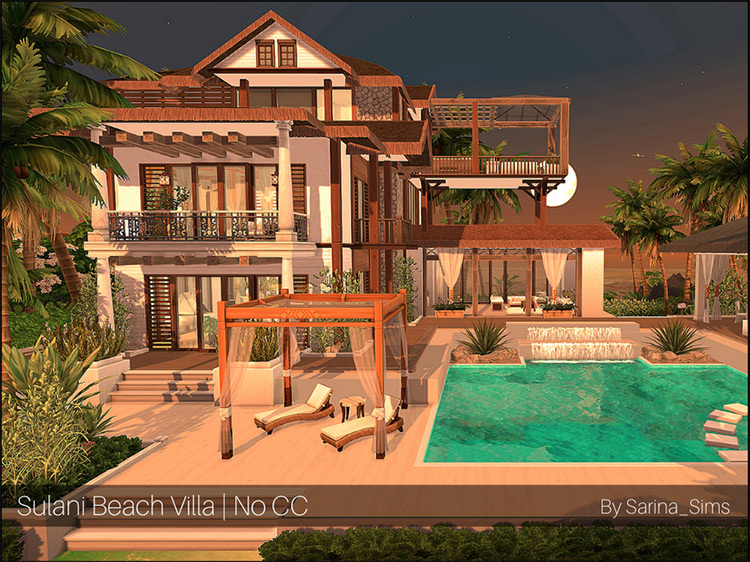 Now let's say you're looking for a more of a rustic home. Well maybe this villa by Sarina_Sims could be worth a try.
This one isn't beach front. But it has a beautiful pool with a waterfall that could take your breath away!
It also has two bedrooms and three bathrooms, and features an incredible balcony with a whirpool.
This lot is also CC-free, so it's quick to install and your Sims can move right on in.
5.

Small Beach House by Mini Simmer
If you're in the mood for a smaller home, or even a small vacation home, this lot is gonna be right up your alley.
This beach house by Mini_Simmer is only a one bedroom, one bathroom, but the living area has plenty of space. And it also comes with a nice outdoor seating area!
This also comes with a gorgeous beach view and a large balcony.
It has a cute exterior, and is almost like a mix between a cottage and a beach house.
6.

Sea View Villa by Sarina_Sims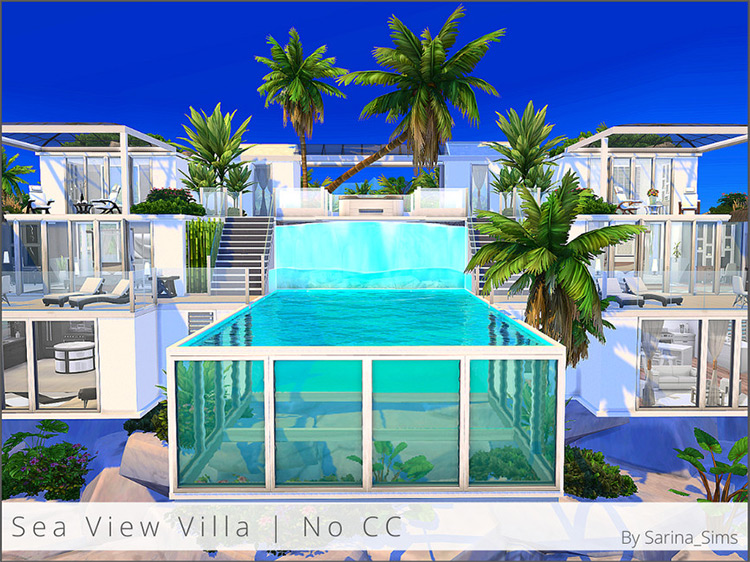 Do you have Sim families made up of different personalities?
Does that make it hard to decide what kind of home you want them to live in?
Well if that's the case, you've found everything you need right in this list.
This large modern home has two bedrooms and two bathrooms, along with multiple seating areas inside and outside. It's almost split in half style-wise, with the left side being a more modern minimal feel, while the right side is bright and beachy.
It also has the most spectacular infinity pool that reaches out over the ocean – and also a waterfall.
7.

Floating Beauty by MychQQQ
If you aren't too worried about the number of bedrooms (and are also looking for a bargain) then you Sims will feel right at home in this beach house.
It's a one bed, one bath, with a pool, patio, and barbeque area.
This has a very modern design outside, and with the size of the stilts that it's on, it looks like it's floating on the water!
It also has a lot of great options for entertainment on the inside, with a huge TV.
8.

Mini Beach Bungalow by Praline Sims
Do your Sims ever just need some getaway time?
Maybe you need a place for a Honeymoon, or just a romantic vacay…
Well this mini bungalow is a really nice home for just that!
It's situated on a nice lot in Sulani. And it appears to be floating on the beautiful blue water!
You'll have plenty of room outside for seating, but also enough spots inside to hang out too.
9.

Pool House by GenkaiHaretsu
Let's say you want the ability to live in a beach house, but you're just really keen on staying in Newcrest.
Well, have I got the place for you!
This house features the nicest pool that I have ever seen. In fact, it's so nice that the house is built into the pool. And you can see right under the water from inside the house.
Crazy, right?
It's also a large home with five bedrooms, four bathrooms, and amazing furnishings and views. What's not to love?
10.

Yasha by Rirann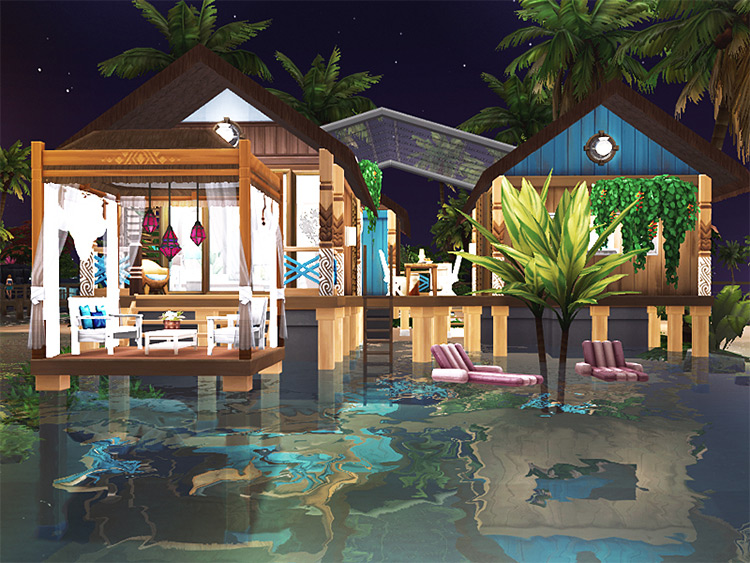 This one would be the perfect spot for a small family, or maybe even a single Sim family.
It has a nice bedroom, one bathroom, and outside dining area (with a bar), a hot tub, and a patio.
I can already see this place lit up with a beach party, for sure!
11.

Generations Home by Mini Simmer
Now here's a lot for the whole family.
This huge five-bedroom, four-bathroom home has rooms for everyone. It features a large kitchen, great living room, and even a laundry room.
(We all know how much sand gets into our clothes at the beach, right?)
And one of the best areas of this home is the incredible patio that sits over the water.
It even has a nice fire pit and plenty of seating if friends come to visit. Really, this whole lot is filled with endless things to do. So your Sims won't ever be bored!
12.

Beach Container by Praline Sims
Now this one is special.
While most of the other lots here are CC-free, this Beach Container home by Praline Sims does have CC in it.
But it's a few extra clicks to get this downloaded, so not biggie. Especially if you're already used to using CC.
It has a unique design made entirely of shipping containers. Not sure if that's a positive feature, but yeah… and it features nice views, a pool, and a lot of seating spots.
13.

Mama Green by Dasie2
Are you looking for a more eco-friendly beach house option?
If so, Mama Green is here for you!
This gorgeous Sulani home features two bedrooms, two bathrooms, a large living and kitchen area, plus a few terraces, and is surrounded by a garden!
Get your green thumbs out and enjoy that ocean air.
14.

Caribbean Villa by Sarina_Sims
This Caribbean Villa is just absolutely incredible.
It could work as a family home, or possibly for a bachelor (or bachelorette) Sim that just wants to hang out with some friends.
This lot has a natural pool with a waterfall, so that's a big plus.
But the design is totally open living in concept and design. And it has a beautiful pond area with a platform patio.
This really lends itself to a lot of outside living, but it still comes with two bedrooms and three bathrooms. We all gotta sleep somewhere, right?
15.

Tropical Tiny House Resort by Sarina_Sims
I've saved the best for last here, with a truly tropical beach house lot.
If your Sims are looking for a change in lifestyle, then this tiny resort might be just what they need.
The lot features three tiny homes and a restaurant, so you could live and work all in the same space.
It has a really pretty waterfall, a lot of seating on the patio, and an outdoor bar area too.
But if you don't want to own & operate a restaurant, you could turn that space into a large kitchen area. Plus you could even invite some roommates to start living with you in the tiny homes!
All of the homes on this lot have one bedroom each.
But there's plenty of communal living areas as well, so there's lots of fun to go around.
Browse:
Lists
The Sims 4
Video Games