Sims 4 Dance Clothes CC: Club Dancing, Aerobic Dance & More
This post may contain affiliate links. If you buy something we may get a small commission at no extra cost to you. (Learn more).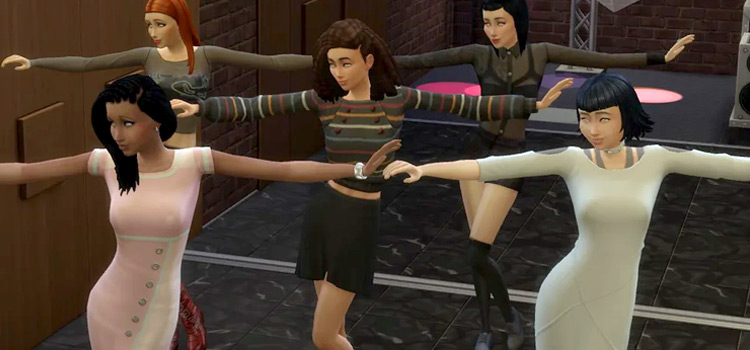 Everyone loves to dance!
And our Sims probably enjoy nights out as much as the rest of us, dancing for hours to your favorite tunes.
And in this list we'll dig into some of the best stuff to wear during these dance-a-thons.
Let's boogie.
Checkered Crop Top Outfit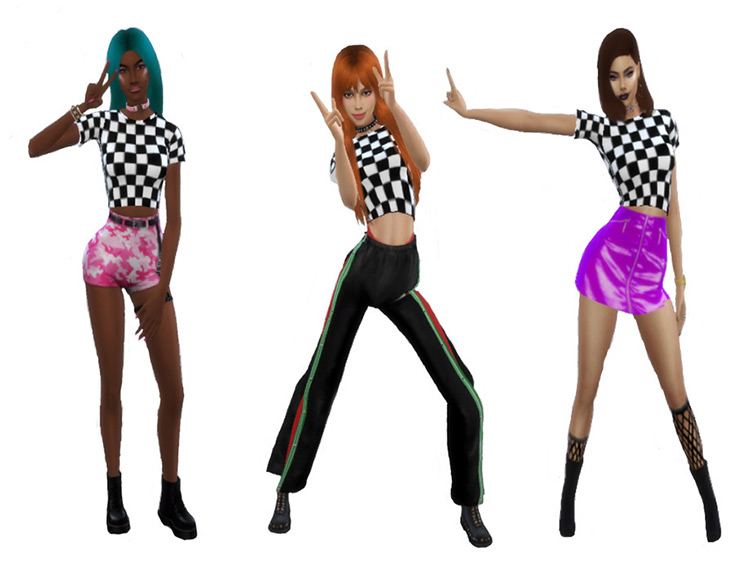 Our first item is both fierce and sassy.
Kateadia brings us this bold checkered crop top with 3 different bottoms to choose from. And the outfit looks incredible.
Choose between pink camo jean shorts, black track pants, or my personal standout: the fuchsia leather skirt.
All these combos are perfect to dance the night away to some house or techno music.
Belly Dancing Top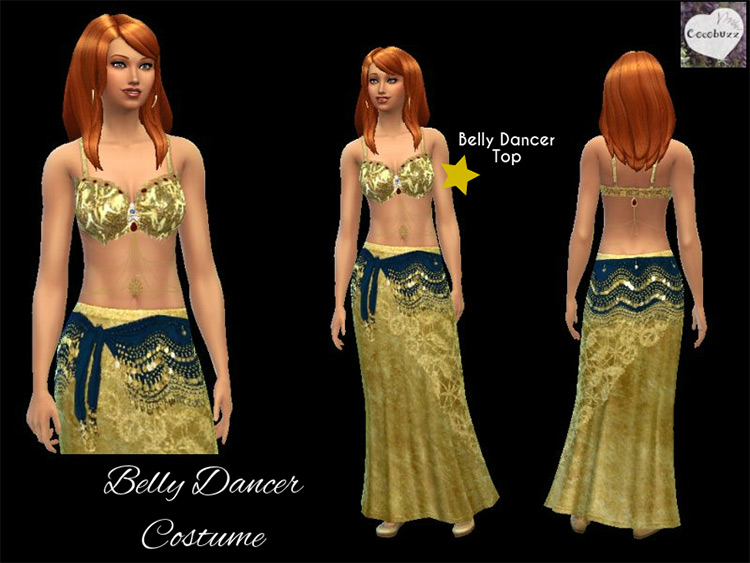 Akon would love this particular outfit.
A belly dancer's top that's beautifully glittered in all gold.
All with gold chains, gold sequins, feathers, and even an all-gold lace.
Not everything that glitters is gold.
But this piece sure is.
Thriller Multipack
We couldn't make a dancing themed list without including one of the smoothest dancers of all-time, Michael Jackson.
This thriller CC set by xdbogoss85 gives us many different outfits from the music video.
Not only that, but it includes his famous red blazer jacket, along with all the blazers from his tour.
This set is jampacked with over 25 unique MJ looks, including masks and zombie makeup as well.
Get your Sim into this attire and make sure they learn how to moonwalk the right way!
Disco Dress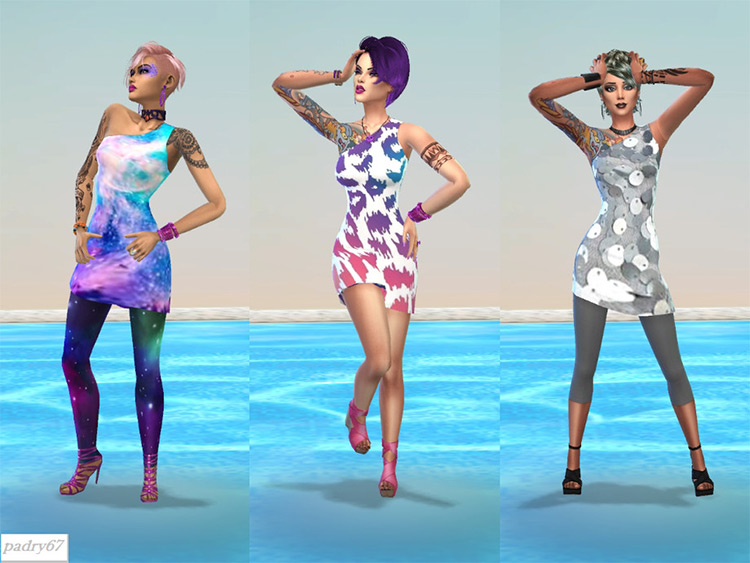 And here we've got a vibrant disco dress by padry97.
Grab this CC for 3 very distinct looks, my personal favorite being the glitchy rainbow splatter across the dress.
An excellent choice for vibing for a long night out doing disco, or being at one of the fancier clubs in your Sim's town.
This dress is really perfect for many different nights, and great for moving those hips on the dancefloor.
Club Dress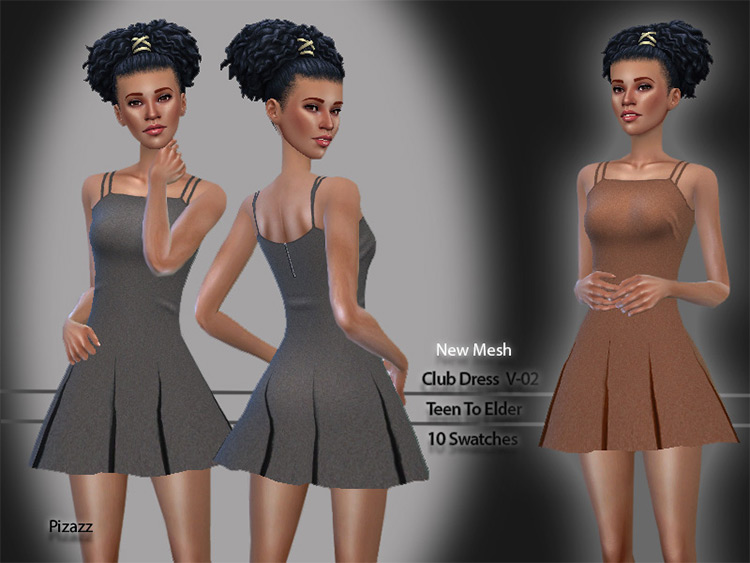 For something a little more on the elegant side, I could see this dress being used for a ballroom dance (to great effect, might I add).
With this CC you'll get 2 amazing swatches for a short cut dress with a gorgeous design.
As great as this dress is for a ballroom setting, I can still see girls dancing their hearts out in it at the nightclub.
The Sims 1 "Disco Jacket" Conversion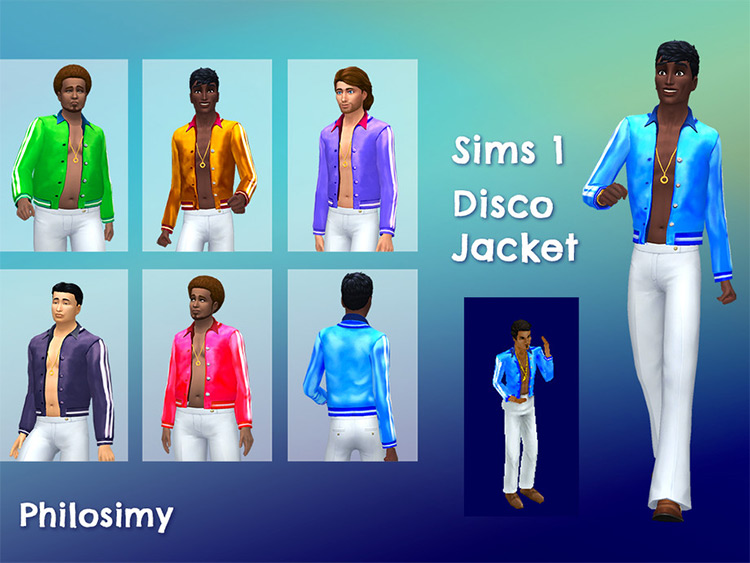 For any of your OG Sims fans that remember this jacket, you can now wear it in The Sims 4.
Funky, hip, and giving us some 70's flair all in one jacket.
In this CC set you'll get 6 unique swatches, including a flashy sky blue and sizzling hot pink.
Give some retro swag to your Sims today with this awesome CC set.
You never know if they'll pick up the disco fever.
Dolce and Gabbana Inspired Suit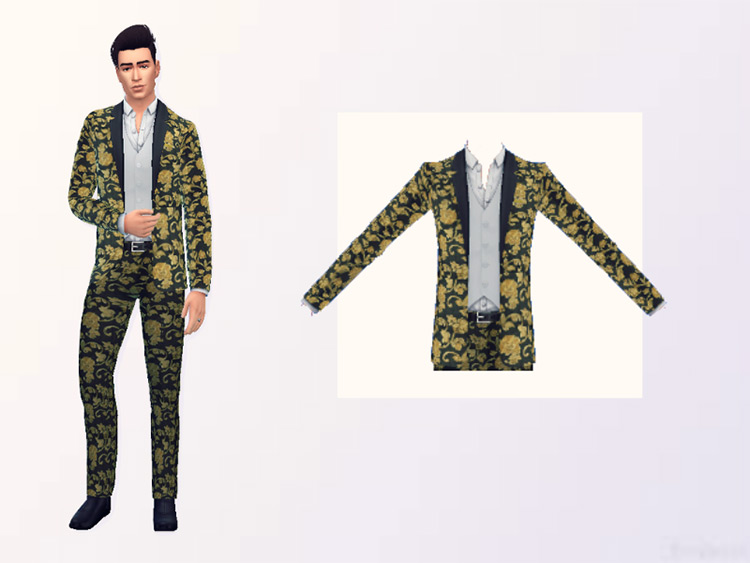 For you upper-end club folk, this suit is the way to go.
Dancing with some style and sense can definitely make you stand out. And this D&G inspired suit does just that.
Creator oldfxshioned gives us a large golden floral pattern that's plastered throughout this whole suit.
Finishing the look with a grey suit shirt is perfection. And you've now got a suit that just screams 'money'.
I can definitely seem some groovy spins on the dance floor from any Sims donning this piece. They'll probably get a few interested glances, too.
Ballroom Tuxedo
Flashy and sophisticated – that's what we're going for here.
This look should be given to the king of the ballroom. Someone with a classical sense with moving their feet and directing a dance.
As a tightly fitted tux, this is clearly for the male Sims out there.
And it comes with a shortened suit jacket to give off some royal flair.
Not only would I not want to challenge the person wearing this in the ballroom, but I feel like they would sweep anyone off their feet in a slow dance as well.
A round of applause to Bruxel for creating such an elegant tuxedo.
Exotic Dancer Clothes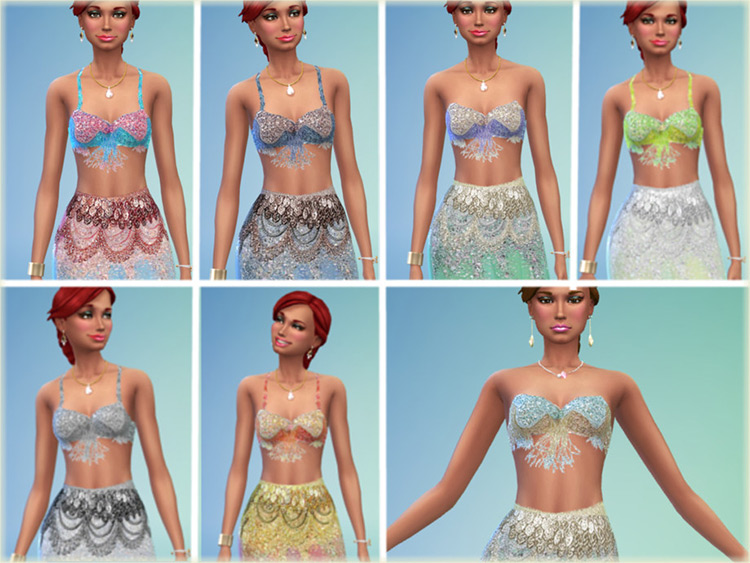 Here's another piece for our belly dancing lovers, this time featuring the whole outfit.
Coming in both a top and bottom piece, this CC item features a whopping 16 different designs.
Colors range from silver to gold to teal, and this set has every color scheme you could imagine.
So now everyone can sit back and watch some belly dancing, and look absolutely bedazzling while doing it.
Dancing Skinny Jumpsuit
You definitely have to be a confident one to rock this outfit on a night out.
With a single leg and single shoulder strap on the opposite side, this outfit definitely shows some skin.
But even with that, the 3 designs included in this CC by Paogae are just fantastic.
You'll find a leopard print pattern, dark blue swirls, and a lava pattern of orange ember; all looks that are equally as eye popping.
If you want to turn heads while having enough freedom to hit any dance move you want, this is the outfit to nab.
Browse:
Lists
The Sims 4
Video Games