Best Sims 4 Dimples CC For Guys & Girls
This post may contain affiliate links. If you buy something we may get a small commission at no extra cost to you. (Learn more).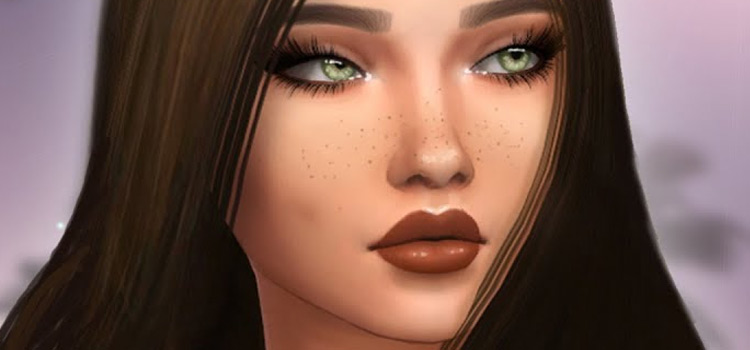 No one can deny that dimples have become the hallmark of cuteness.
Celebrities like Miranda Kerr and Harry Styles have had fans swoon over them thanks to their deep-set pairs, which definitely add a certain sweet charm to their features.
So it's perfectly natural for you to want your Sims to have their own set of dimples. Who wouldn't want their Sim to be effortlessly adorable at first glance?
Luckily, CC's are here to give your Sims the dimples they deserve, for free! A few clicks is all you need to give your Sim the best-looking dimpled cheeks out there.
10.

Dimples by Sevenhills
If you've always loved deep cheek dimples, this CC is going to be a great start.
These dimples by Sevenhills are at just the right height and depth, and everyone's going to love them on your Sim.
Plus, these are easily visible and adds a whole lot of sweetness to your Sim's smile. Great for guys and gals alike.
9.

Dimples N03 by Pralinesims
Aside from cheek dimples, you can go for a pair of dimples that's much closer to the mouth… like this CC by Pralinesims.
This will give your Sim a more unique appearance, while still achieving that overall charming vibe.
This pack actually includes three different dimples and five different lip contours, so it's definitely a steal. Any selection from this pack will surely give your Sim a better and sweeter smile.
And you better not forget adding these features before your Sim goes on their next date!
8.

Dimples N05 by by Pralinesims
Now here's another lower cheek dimple set and it's much like the previous one.
But the shadows in this CC appear much deeper. That'll give your Sim a more natural look, like they were just born gorgeous.
Although small, these dimples just make your Sim's face come to life. Especially if paired with a great lip color.
7.

Sweet Dimples by CCTS4
True to its name, these Sweet Dimples CC by CCTS4 will award your Sim with a more irresistible smile.
Your Sim's million-dollar smile, paired with these dimples, will take centerstage at any party. And though you're not the host (most likely) you'll be stealing all the spotlight!
Don your hair up in a neat bun, too. You don't want anything covering up these sweet dimples.
6.

Dimples N02 by Pralinesims
Here we have another entry from Pralinesims, and yes, more pretty lower cheek dimples for us to choose from.
These are placed perfectly just at the corners of the mouth, so they look much like adorable laugh lines on both sides.
And they add such an easygoing vibe to your Sim's facial features.
This is a great CC to use when you want to be the neighborhood fresh cutie who everyone just wants to get to know.
5.

Dimples N04 by Pralinesims
Now these dimples are for the easygoing Sim with a cheerful trait. Since these will accentuate any smile in the best way.
Your Sim loves to smile, right?
This set also has three different dimples, so you can take your pick depending on your mood!
But of course, if you want to be an instant head turner, go for the deepest dimple of the three, since it's going to be the most visible.
4.

Dimples V2 by SamanthaGump
This set by SamanthaGump is exactly what you call a collection.
There are 15 variations included here, and they're all that you could ever need.
There's high cheek dimples, subtle ones, laugh lines, then there are deep-set ones that can make your Sim's cheekbones look more defined.
So if you're not sure what type of dimples to put on your Sim, you should download this pack and try them all out. Guaranteed to like something here.
3.

Aurion Dimples N07 by Pralinesims
It's Pralinesim's fifth entry on this list, and it's no wonder why.
Most dimple CC's by Pralinesims look so realistic compared to others, especially these soft and demure Aurion Dimples.
Plus in a single pack you're offered not just one, but at least three different styles.
And this pack boasts a staggering 60 variations to choose from.
Who knew there could be so many dimple features?
2.

Oh So Sweet Dimples by Shinasims
Oh So Sweet Dimples by Shinasims are the dimples to try out for any age and gender.
This is because this particular CC blends so well with any Sim's face and cheeks, and it has subtle shadows that can highlight your Sim's best facial features too.
There are 5 swatches included here, so what more can we ask for?
1.

Dimples 1 by KatVerseCC
The super awesome dimples to end all dimples have arrived.
This set by KatVerseCC will no doubt turn heads wherever your Sim may go.
These look so realistic, and it's definitely thanks to the fact that there are 12 swatches for different skin tones included in this pack.
From any angle, your Sim will be photogenic and ready to smile for the camera.
Sooner or later, they'll rise to stardom for their stunning looks. I mean, your Sim wants to be a celebrity right? Gotta have celeb-style dimples for that.
Browse:
Lists
The Sims 4
Video Games