Best Sims 4 Moles CC (For Guys & Girls)
This post may contain affiliate links. If you buy something we may get a small commission at no extra cost to you. (Learn more).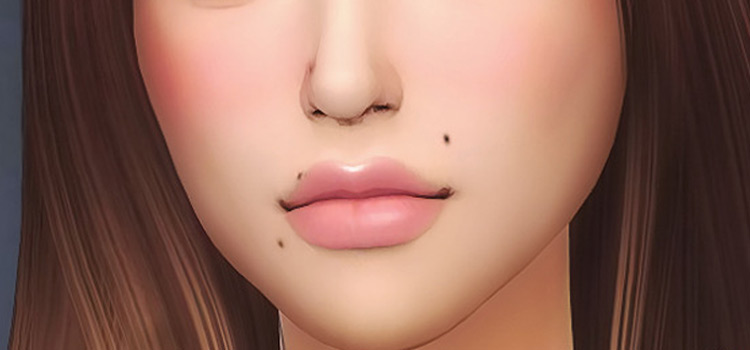 The level of customization we have for The Sims is pretty darn good.
Sure, we don't have a color wheel for hair anymore. But do we really need vomit-green locks?
In terms of making our Sims look perfect, or exactly like us, sometimes the game can leave something to be desired. Specifically in the details.
Now, The Sims 4 does have a variety of mole options. But they're just not all the kind of moles people actually have – heck some of them don't even look natural!
Well I did a little digging for some of the best moles in the custom content creator community (wow, that's a mouthful!), and compiled the coolest ones into this list for you here. Your search for the perfect mole detailing is over!
10.

Moles Collection
This CC set of mole collections by Primal Sims looks both stunning and unique.
They come in a variety of swatches, so they're complimentary to your Sim's skin tones. And they come in a variety of designs so each of your Sims have the ultra-realistic features of unique markings, just as real people do.
After all, it is a life simulator!
9.

Freckles and Moles v1
This fantastic CC set by witch-hammers combines a distinct Maxis-match look along with subtle tones to create the perfect skin details to use with both alpha and Maxis-match Sims!
Composed of a selection of different moles and freckles, this CC set adds some distinct designs to your game.
No matter which aesthetic you like to play with, this has plenty to dig through.
8.

Subtle Freckles and Moles v2
Similar to the other pack, we've got a good mix of freckles and moles here.
Granted we do have a freckles CC list, but this pack offers a really unique combination of freckles and moles, for both the face and the body.
This cute creation by the talented WildlyminiatureSandwich is a solid pick for all Sims!
With the distinct Maxis-match design, these details are made to blend right into your game. Even if you're not an avid CC user.
7.

Moles N01
Here's a sleek set of moles by content creator -Merci-, which brings us 3 distinct moles for a very distinguished look.
With somewhat large & dark moles placed beautifully besides the eyes and lips, these creations are perfect for any Sims who may want to stand out from the crowd.
So no matter if you're just a stylish wannabe or a famous actor, these moles are sure to make you stand out from the crowd.
6.

Set of 4 Moles N2
Subtle yet stylish, these moles are great for both helping your Sims stand out, and keeping their looks natural at the same time.
Designed by CC creator MartyP, this set of moles can be used individually anywhere you like.
Or if you want to go all out, you can use all moles together for a more distinct look. Very distinct.
5.

Moles (Golden Age Kit)
It's true that in real life, different people have different moles. And a different amount of moles too.
The same can't always be said for our Sims. With The Sims, you're lucky if they even have one!
Well with this gorgeous set of moles by creator soloriya, you can shake things up and design a Sim with so many skin details that you won't even be able to count them!
Created as part of the 'Golden age kit', these moles are available to download alongside a lipstick CC, and mouth corners and wrinkles. So now even your oldest Sims can look stunning with moles.
4.

Set of 5 moles N1
Not everyone has moles that stand out.
Some moles are subtle and others are basically not even noticeable.
Well The Sims 4 doesn't seem to realize that yet.
So this CC set by talented creator MartyP fixes that little problem.
Consisting of 5 different super cute moles which can be mixed and matched to create the perfect look, this set is a godsend for those who don't want to stand out, but still want some of these little dark skin specks.
3.

Cabsim Moles!
What a name, right?
This is actually the first CC creation from cabsim, and it's really darn good.
Now I don't often give my Sims moles, mostly because it's just a pain deciding where to put them and which look better. But with this set that's not a problem!
This CC set includes a selection of 15 different swatches, and the ability to mix and match your moles, so you can design your Sim's features down to the tiniest details.
2.

Sunshineblur Body Moles
When you think of using moles as a way to add realistic detail to your Sims, you may at first think of facial moles.
Obviously that's the part of your Sims you see most often. So why not decorate that, right?
But if you want to take it one step further, these body moles by Kinderkate are worth a try!
There's plenty of times when your Sims might undress (or at least – partially undress) be it to go to bed or to go swimming. And they often have their body out & on display (especially male sims)
Well if you're an avid user of Mods (and old enough!) you may also be familiar with Wicked Whims and um… well… if that's you, you might be seeing a little more of your Sim's bodies than most of us!
That being said, this gorgeous selection of moles for your Sims' backs just fits the bill. And they add some much-needed detailing too.
1.

Molecular (52 mix-n-match moles)
Now this amazing set by fanaskher contains an astounding 52 different facial moles to mix and match to your heart's content!
Wowza.
Not every person has one distinct mole on their face. Plenty of people have multiple, and so should your Sims!
This CC set allows you to combine all these facial moles any which way you like. So you can spend a ton of time in Create-A-Sim to get each of your Sim's best features exactly how you want them.
Browse:
Lists
The Sims 4
Video Games