The Sims 4: Best Ripped Jeans CC (For Guys & Girls)
This post may contain affiliate links. If you buy something we may get a small commission at no extra cost to you. (Learn more).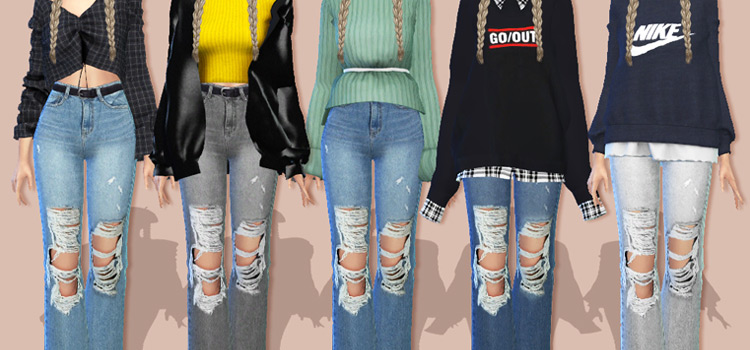 For this list, we're looking into a '90s fashion staple that had its ups and downs: ripped jeans.
The way this modern wardrobe essential looks is pretty self-explanatory: pants with noticeable rips that looked like Wolverine cut through them.
When not overly distressed, ripped jeans are truly godsent, since they can be worn at any event or occasion you have in mind. Well, mostly any event.
In honor of this grungy legacy, here are the best ripped jeans CC for your Sims to rock out wearing!
For Guys
10.

Denim Jeans
I bet Levi Strauss, the creator of jeans, never imagined wear and tear to become trendy.
Jeans were supposed to be a durable piece of clothing for workers. Now manufacturers are purposefully tearing jeans to actual shreds.
Whether you think this style is pretty stupid or not, you can't deny the fact that this CC by Kotcat isn't so bad to look at.
Squeeze your Sims into these tight-fitting skinny jeans that would make anyone conscious of missing leg day.
9.

Take Off Pants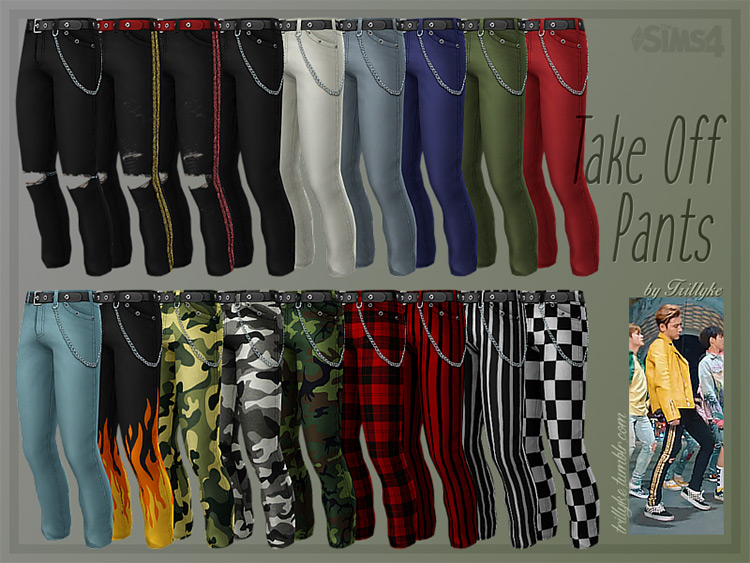 If there's one music genre that is borderline obsessed in ripped jeans, it's K-pop.
Seeing male K-pop idols in ripped jeans are as common as crop tops on women. And surprisingly, guys tend to pull it off way better than us ladies.
It might be the long legs or the more defined knee muscles, but there's no mistaking that Korean men are born to wear them.
Try out these Take Off Pants on your Sim and look as charismatic as a K-pop superstar!
8.

Bom Pom Jeans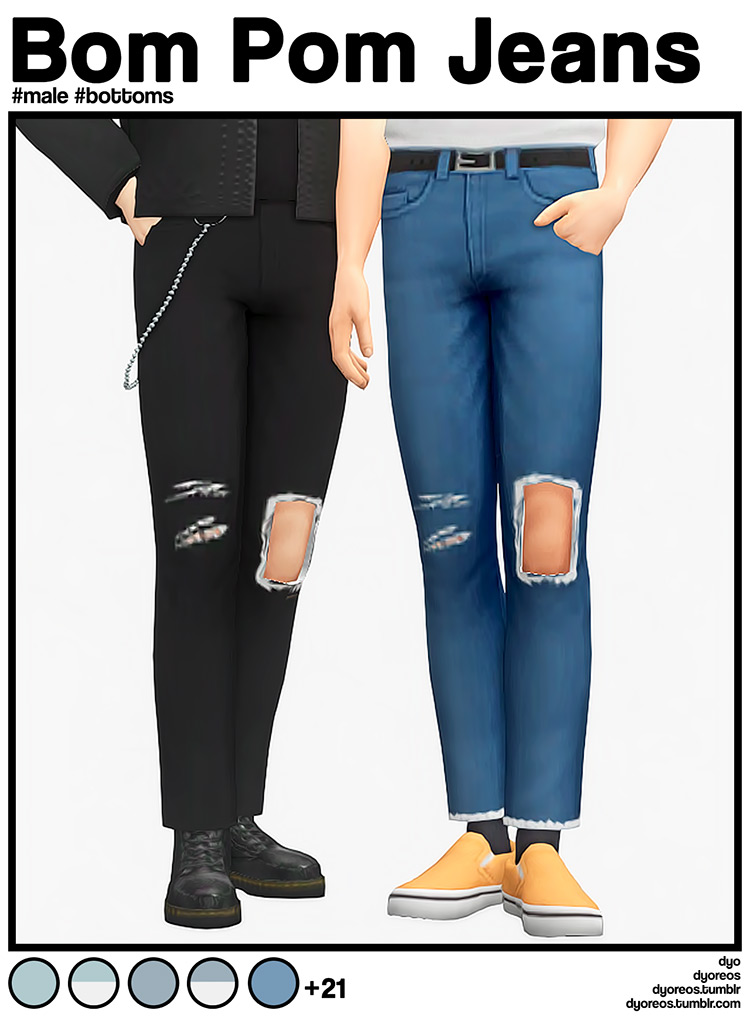 When it comes to ripped jeans, balance is key.
If you go too crazy with it, you run the risk of looking like you fell off a skateboard one too many times.
The trick is to find the perfect balance between classy and grungy.
To give you a better idea, check out Waekey's Bom Pom Jeans.
With one hole on the left knee and two horizontal cuts on the right, these jeans manage to look both sleek and authentically worn.
And with 26 swatches to choose from, this CC is a must-have for stylish male Sims.
7.

Destroyed Pants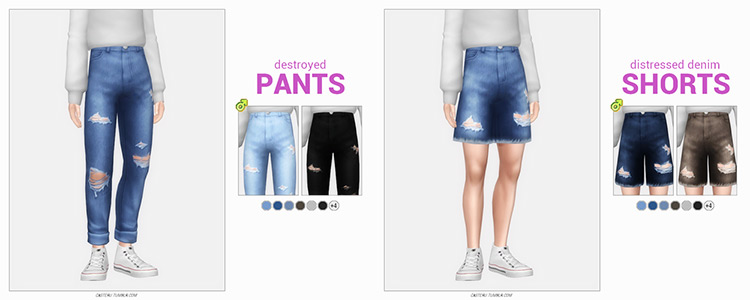 If there's one style of jeans that can complement anyone, it's boyfriend jeans.
This CC by casteru is a good example of just how flexible this style is on any gender.
And with those artistically placed rips, you've got yourself a fashionable pair of jeans that can match any top you can get your hands on.
My opinion might not matter to the rest of the patriarchy, but know this – boyfriend jeans look hella cute on you guys.
For Girls
6.

Trash Jeans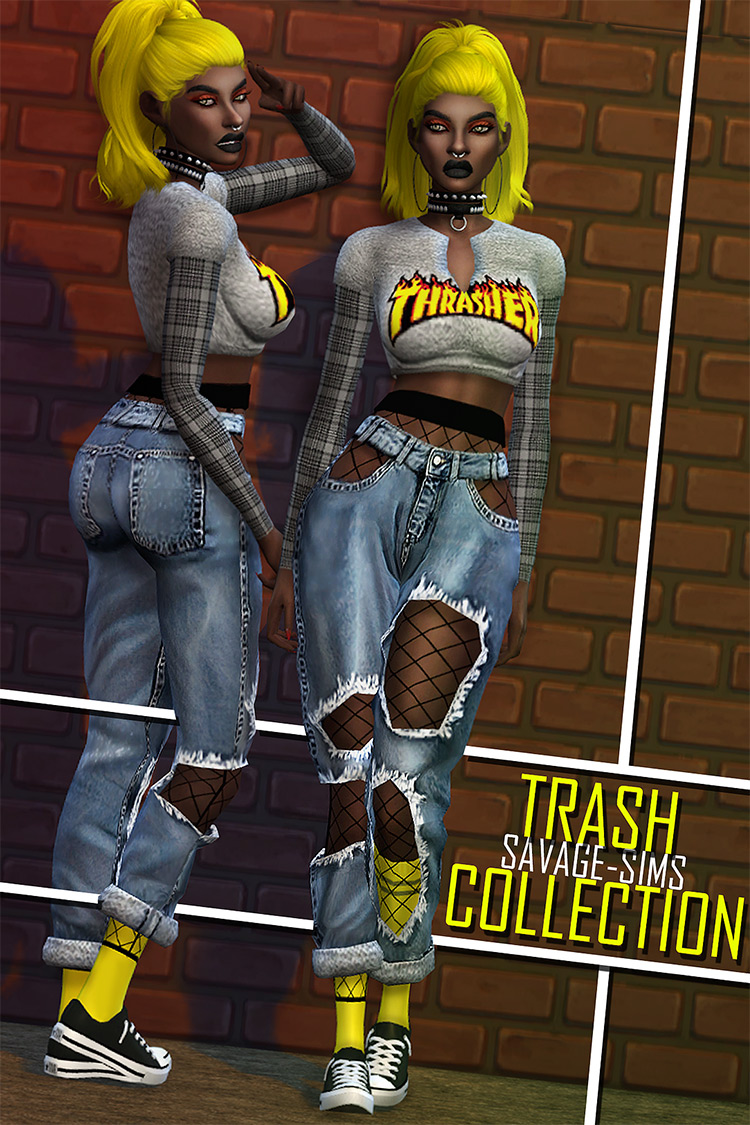 The Savage Sims lets you relive the glory days of your punk and emo phase with the Trash Collection ripped jeans!
With bits of ravaged denim clinging on for dear life, it's easy to imagine that these jeans have seen their fair share of mosh pits.
Paired with the top of your choice, this is the antidote to all those store-bought ripped jeans that try too hard to look legit.
Add your own flavor of teenage rebellion with 26 swatches for the top and 35 swatches for the jeans.
Now all you need are SkullCandy headphones and tickets to Warped Tour.
5.

Knee Rip Jeans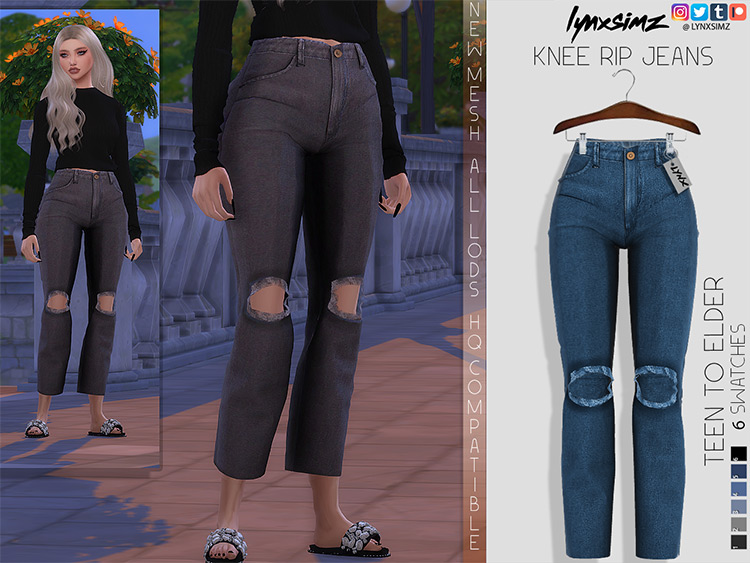 Somewhere along the baffling road of fashion, two gaping pant holes became trendy enough to be considered normal.
Having the knees as a fashion statement can be a head-scratcher at first, but this CC by lynxsimz is a welcome addition to my Sim's casual chic lookbook.
Get an effortlessly cozy look with these cropped jeans which come in 6 swatches that you could easily pair up with anything!
4.

Straight Cut Distressed Jeans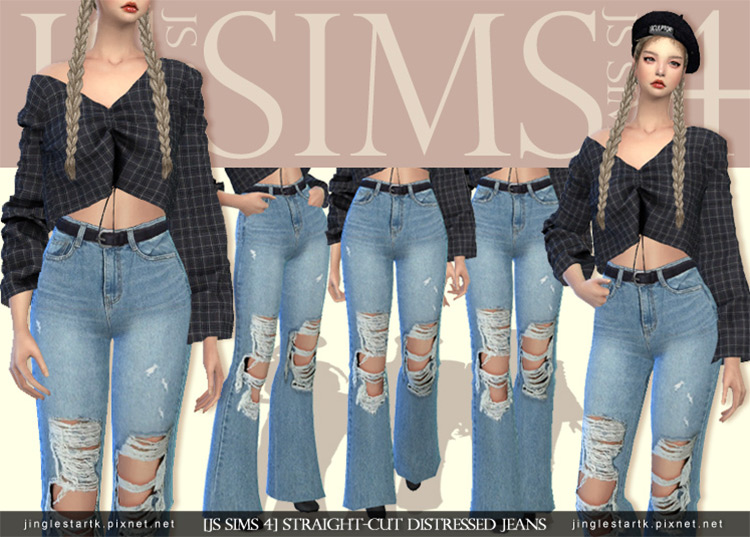 There are good ripped jeans, and then there's this.
Thankfully, these Straight Cut Distressed jeans from JS SIMS are far from the insanity of that example link.
Even though your Sim's trousers are literally ripped to shreds from mid-thigh to the knee, you can still see that it accomplishes its job of keeping 80% of the legs covered.
Most importantly, it's unique enough that your Sims would be able to enjoy being called a trendsetter!
3.

Two-tone Ankle Jeans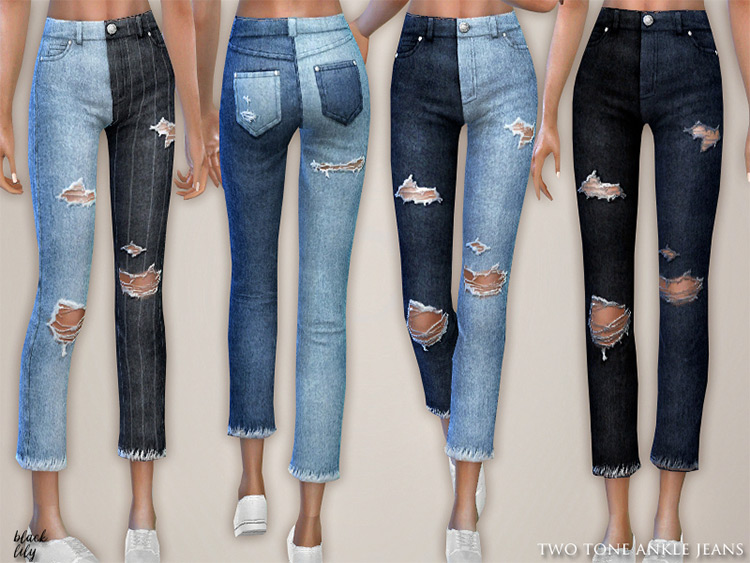 These Two-tone Ankle Jeans can definitely make a boomer think "what the hell is going on?"
In their eyes, this CC probably looks like Two-Face created a clothing line to antagonize Batman.
In the eyes of a true fashionista, this is something that could be the next best thing in fashion (even with the rips and tears that look like a rat gnawed on it out of boredom).
Don't believe me? Then ask a supermodel.
2.

Fillmore Ripped Pants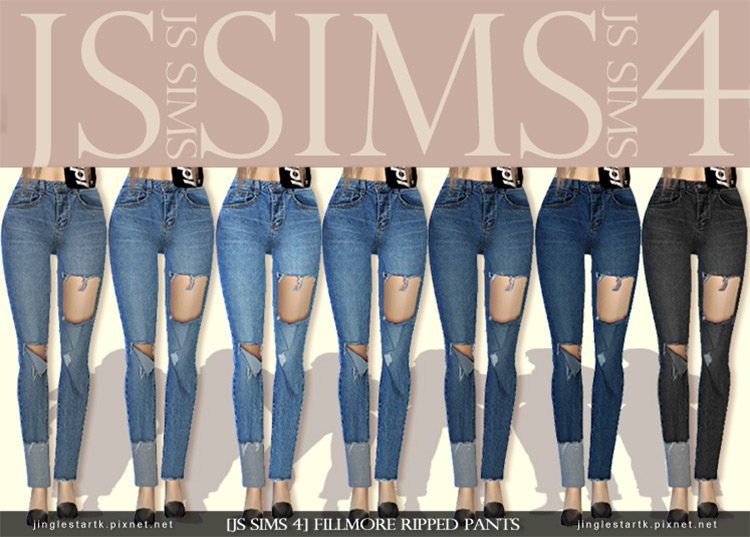 There's a sizable cut-out on these pants.
But at least it's not a denim thong, crotchless pants, or some other form of monstrosity that came out of a drawing board.
JM SIMS' Fillmore Ripped Pants is not that hard to mix and match with everything else.
But if you're gonna have that much left thigh exposed, then you best avoid too much time under the sun.
Why?
Well, having a solid square-sized sunburn is not something I would enjoy seeing or feeling after a fun day out.
1.

Aloise Jeans
When it comes to being comfortable and stylish, there's nothing quite like boyfriend jeans.
The loose, cuffed, and laid-back style is the antithesis of suffocating skinnies and insufferable jeggings.
Add on strategically placed rips and you got yourself a new best friend to cherish forever.
With 8 swatches available, this CC will do all the legwork to keep your Sim's fashion reputation afloat.
Browse:
Lists
The Sims 4
Video Games