Sims 4 High Waisted CC: Jeans, Shorts & Skirts To Download
This post may contain affiliate links. If you buy something we may get a small commission at no extra cost to you. (Learn more).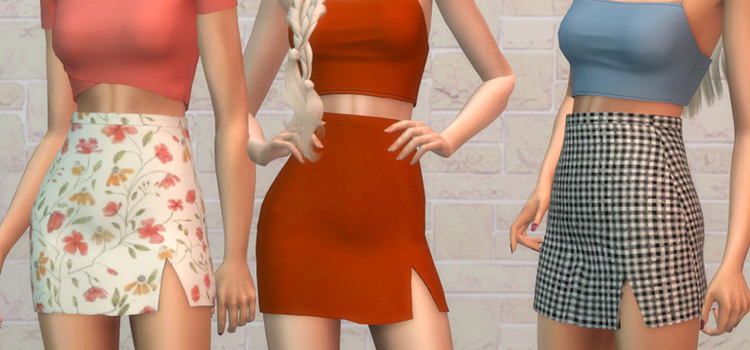 Who doesn't love dressing up their sims? As an avid sims player and lady, I love fashion in The Sims 4.
With hundreds of wardrobe items to choose from, sometimes I find myself spending way too much time planning my sims outfits.
From finding the best jeans to match her top, to choosing the best skirt that would look good with her shoes—there are just so many options in the game.
And despite the infinite options we have, there are still moments when I can't find the perfect item to complete her OOTD.
Thankfully modders know just what I want. So for all of you who want that high-waisted look, I've searched & organized the best CCs so they're right at your fingertips.
Here are my top picks:
15.

Skinny-Fit High Waist Jeans
The only skinny jeans you'd want your sim to wear day after day.
These skin-tight high-waist jeans made by creator Saliwa are simply adorable.
Stylish, sexy, and they've got that vintage wash we're all obsessed with.
It can also effortlessly match with almost any top in your wardrobe. Whether you want your sim to rock a casual-cool vibe, or attend those late-night dance parties in the Von Haunt Estate, these are the perfect jeans to wear.
14.

Exposed Button Denim Jeans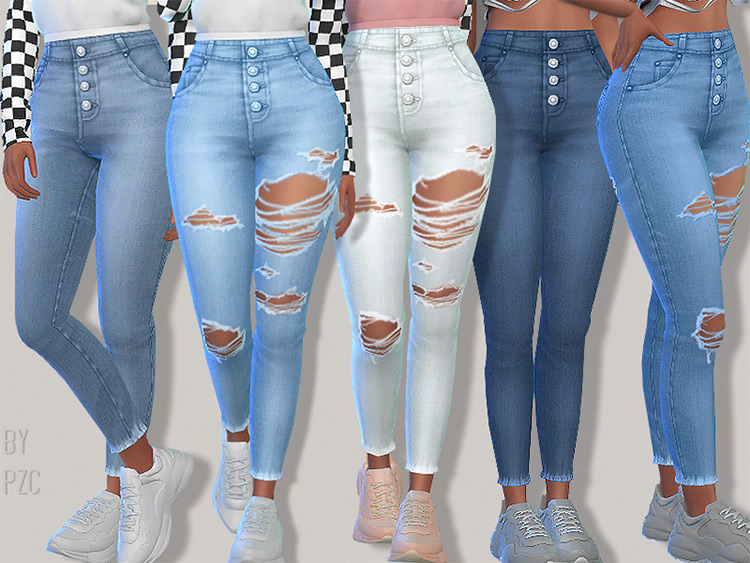 Make studying or throwing a kegger a lot more fun with these exposed button denim jeans.
Made by Pinkzombiecupcakes, these jeans are just denim perfection.
Plus this nails the university look: trendy, comfortable, chill.
Truly the CC you'll be wearing if you want to win your club's approval.
Grab these jeans in 65 swatches and in both regular and ripped options.
Note this pack works best if you have the Discover University Expansion Pack.
13.

Super High-Waisted Jeans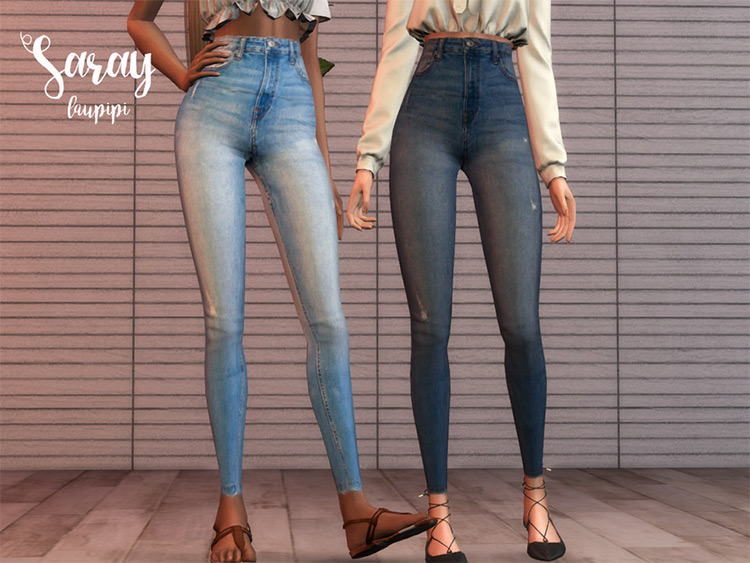 How high can your high-waisted jeans go?
These *super cute* and super high-waisted jeans are the perfect thing to wear on a casual first date, or when you're vibing at the park playing chess with your neighbors.
Created by ShakeProductions 236, these jeans will look cute no matter what you pair with.
You can wear them with heels, boots, or some cute loafers.
They just look so comfortable and stylish, you'll probably buy two pairs if you found some in real life. I know I would!
12.

Skinny High-Waisted Jeans
Denim trends may come and go, but one thing's consistent: we'll forever be fans of leg-hugging high-waisted jeans.
Another masterpiece from ShakeProductions, these are an all-time fashionista favorite.
These high-waisted jeans are so flattering, they make your sim look effortlessly sexy. Plus the skinny style accentuates every beautiful curve of your sim's frame, so you need not hop on the treadmill just to get that fit you want.
What to pair with these jeans?
I recommend ankle boots or sneakers. Whatever fits your sim-style the most.
11.

Nasty Girl Black Denim Jeans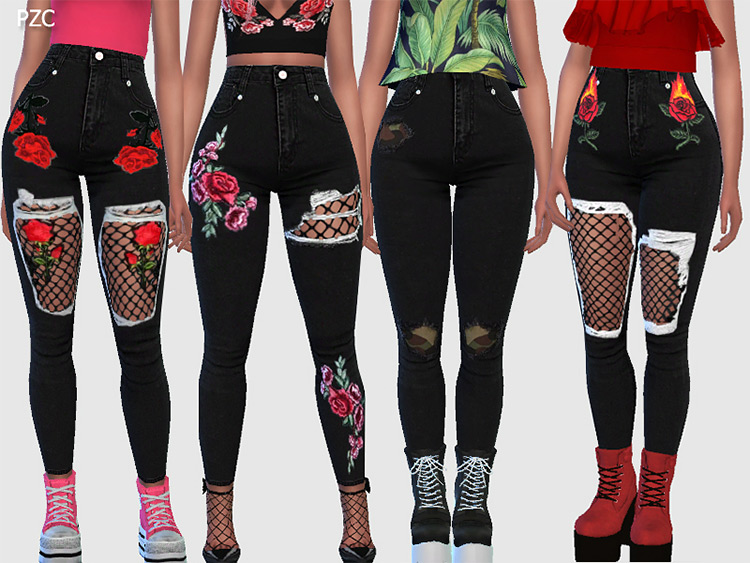 For your sims loving and living the goth life, these black denim jeans are a sure hit.
Made by creator pinkzombiecupcakes, these cool yet naughty jeans are the perfect outfit option for a high-waisted darker style.
These are available in a couple of designs including the fishnet black jeans, patched denim jeans, and embroidered ones.
10.

Button Sailor Shorts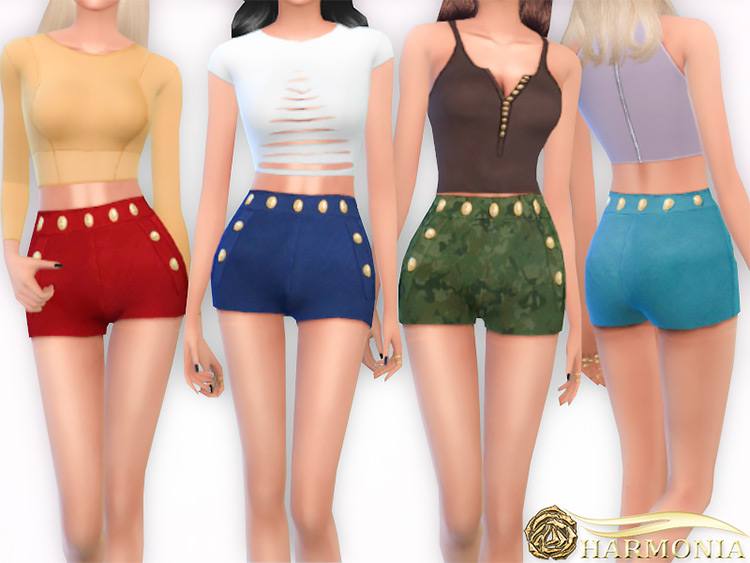 Show off your sim's fantastic legs with these fashionable high waisted button sailor shorts by Harmonia.
This casual pair of shorts would be perfect for lazy summer afternoons spent by the beach, or getting ice cream with friends.
Complete your outfit with a slouchy T-shirt or a cool casual top and you'll surely be the most sleek-yet-casually dressed among all your sim friends.
9.

High Waisted Denim Shorts
For all you denim-loving fashion simmers, these high waisted shorts are the best out there.
Made by creator Black Lily, the shorts come in four denim colors that will match almost any cool T-shirt or crop tops in the game.
Wear these if your sim is feeling flirty and ready to woohoo—promise, she won't get rejected.
8.

High Waisted Shorts with Prints
Denim shorts are forever a summer staple.
They're comfortable, cute, and the perfect item to wear on a hot and humid day.
So take a break from your long flowy dresses or loungewear, and try these high waisted denim shorts with prints from creator Cleotopia instead!
If your sim wants to show off their long pretty legs, these itty-bitty denim leg-huggers are a great pick.
Plus they have so many washes and prints to choose from (the floral one is my favorite).
7.

Summer Elegant Shorts With Belt
Show some skin and still look classy with these elegant high-waisted summer shorts, another great piece from creator pinkzombiecupcakes.
If you're not into the cut-off designs and those booty-baring denim bottoms, this is your next best option.
These come in 42 colors and can be found under both hot and cold weather wear.
6.

Matilde – High Waisted Shorts
As much as we love denim shorts, these loose and flowy shorts just feel more summery.
Made by creator laupipi, these make wonderful cover ups for afternoons by the pool.
Whether your sim is the kind who simply loves splashing around the water, or who'd rather sit in a lounge chair while sipping a salty llama, these shorts are the best.
Pair 'em up with a matching straw hat and cute sandals and you're ready for San Myshuno's biggest pool penthouse party.
5.

High-Waisted Skirt
Never underestimate a classic denim skirt.
Especially if you're looking for a not-so-formal, not-so-casual look for your sim's first date.
Another beauty from ShakeProductions, this high-waisted skirt CC is everything you could ask for on a first date outfit.
I also love the brown belt with these skirts, the neutral color makes it easy to mix & match between any items in your wardrobe.
These skirts exude elegance without being too formal. Complete the look with an off-shoulder top and heels.
4.

Room Shaker Skirt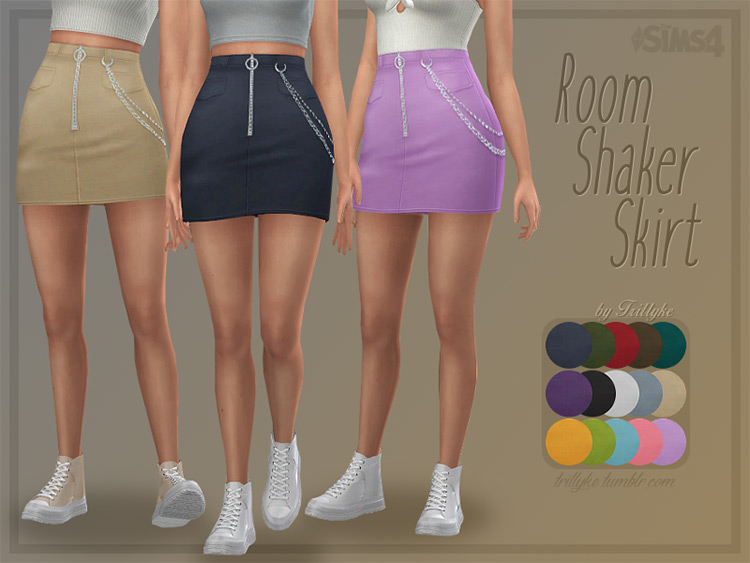 Skirts are a necessity in any female wardrobe.
And this one is hard to beat.
Introducing the room shaker skirt by creator Trillyke.
This CC comes in 15 beautiful color swatches, and this skirt can be paired to almost any kind of top.
The broad color choices are just incredible for repeat wear too.
From dark denim blue to pastel pink and yellow, this skirt is absolutely next on "to wear" list.
3.

Attaboy Skirt
Ruffles are everywhere right now.
And gosh darnit, I'm so into this Attaboy skirt. Is there anything cuter than these high-waisted miniskirts?
With this CC you'll get a few colors, but the skirt includes a flattering ruffle hem that makes for a cute and preppy casual everyday wear for your sims.
All from creator Trillyke, this skirt CC comes in 20 color swatches to play with.
Perfect for mixing and matching items when you're just not sure what to wear out.
2.

Nagore High-Waisted Skirt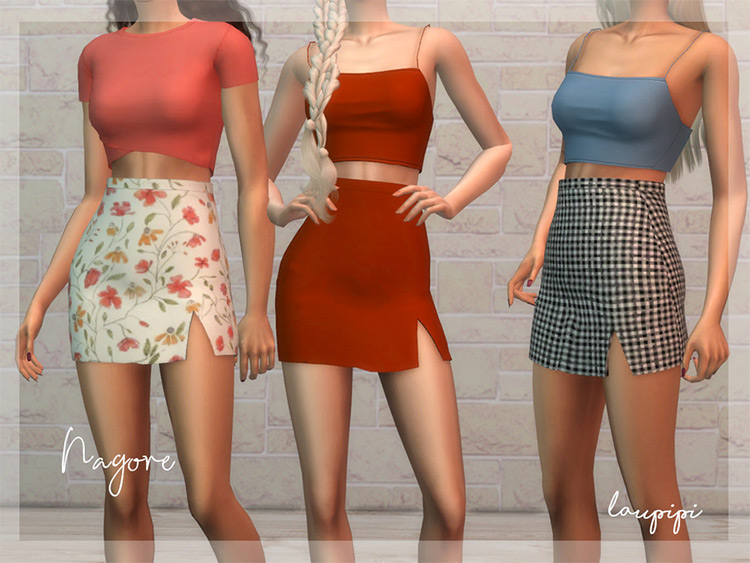 Add more color to your sim's spring wardrobe with the Nagore High-Waisted Skirt.
This high-waisted skirt from creator laupipi comes in 20 super cute colors, all easy to match with that high-waisted look!
With a great figure-hugging style, this piece perfectly accentuates your curves and gives more attention to long legs.
If you want to wear something edgy while still maintaining your classy feminine vibe, this skirt has your name all over it. Er, your sim's name.
1.

Floral Winter Pattern Skirt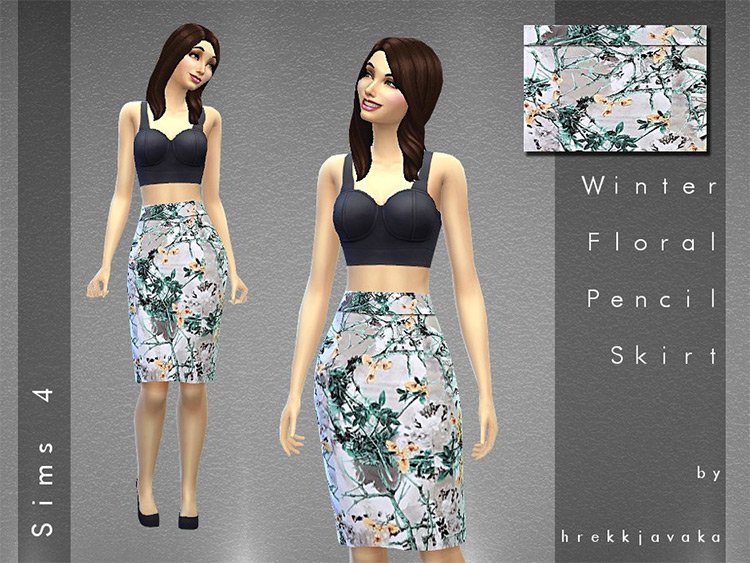 Unlike most floral skirts, this doesn't look too tacky, too casual, or too beachy.
The delicate floral pattern is just right to create an interesting detail.
It isn't too vibrant or too summery, but it still absolutely stands out. Making it a great floral skirt with that added high-waisted style.
So if your sim loves schmoozing with celebrities and frequenting elegant parties, this skirt should be your go-to wear. Maybe even an outfit to wear with you to the next office party.
Fashion tip: mix this skirt with a pair of black heels for a more sophisticated look.
Browse:
Lists
The Sims 4
Video Games