Sims 4 CC: Maxis Match Bikinis & Swimwear (Girls + Guys)
This post may contain affiliate links. If you buy something we may get a small commission at no extra cost to you. (Learn more).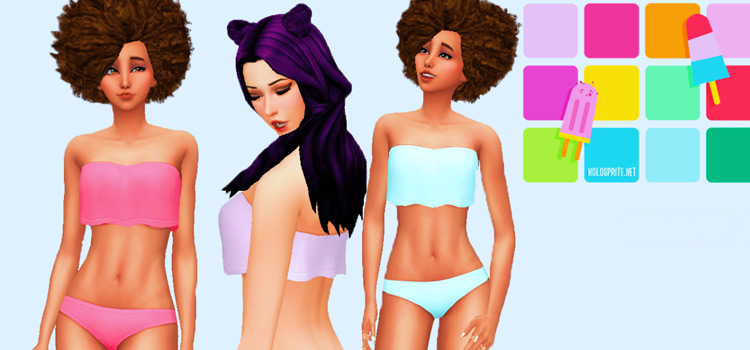 If you're going swimming in public, you've got to have something to wear. Except for in areas that specify otherwise, of course.
But Sims don't have that.
So giving them a good swimwear outfit is crucial.
No one wants to go out in a bikini that just isn't "them".
Custom content is here to help expand your options far beyond what's already in the game – and for this list we're focusing on just Maxis Match swimsuits.
1.

Sunny Swimsuit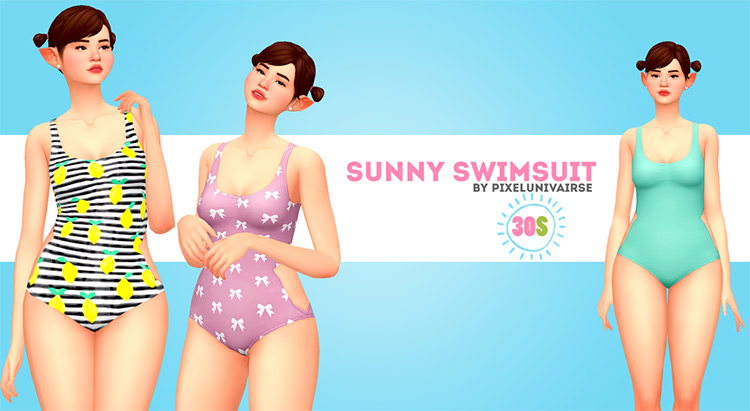 This fun one piece was literally made for sunny days by the pool.
It's right there in the name and everything.
It's a standard design with the tank top straps, though the cutout portions near the hips offer a more unique feel.
2.

Fruit Bikini
Fruit and warm weather go hand in hand.
It just so happens that watermelon and oranges are pretty cute, too.
Both of those fruits and more are featured on these recolored base game bikinis. The style is the same, but now we have 10 brand new trendy options.
3.

Artie Swimsuit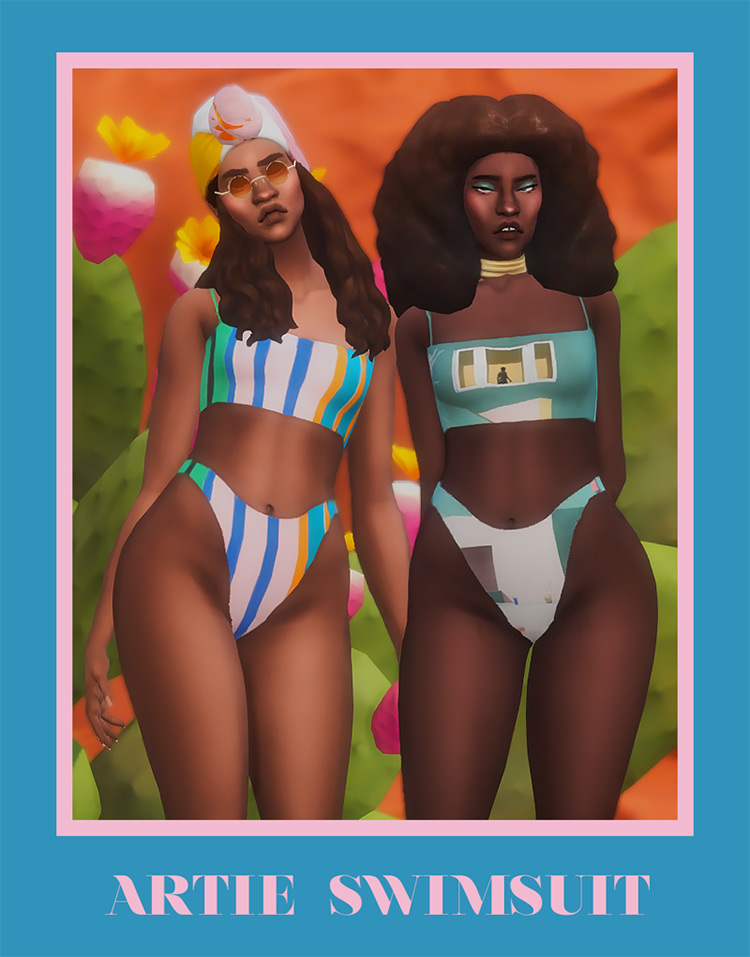 Speaking of trendy, retro is where it's at right now. What goes around comes around, and '90s fashion is definitely making a comeback.
The inspiration is clear through the graphics and colors. It's definitely an original option for your Sims, thanks to the combo of high-cut bottoms and spaghetti strap top.
4.

Plain Bikini Set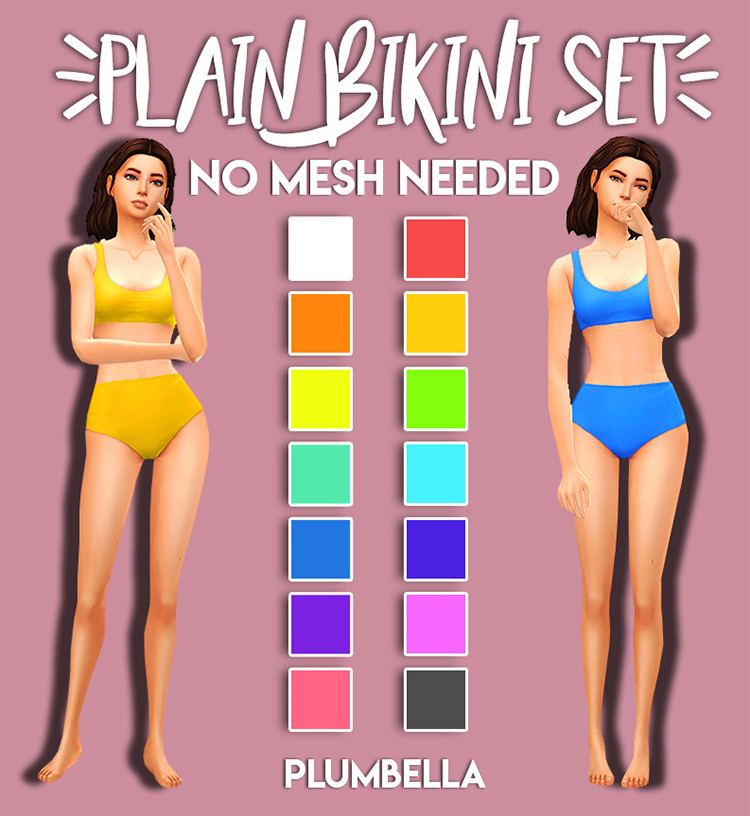 Sometimes, solid colors are all you need.
Plumbella offers a solid array of colors for this two-piece in all sorts of bright shades.
It'll be super easy to create a whole look with a plain foundation. Go crazy with accessories like jewelry, sunhats, and sunglasses!
5.

80s Bathing Suit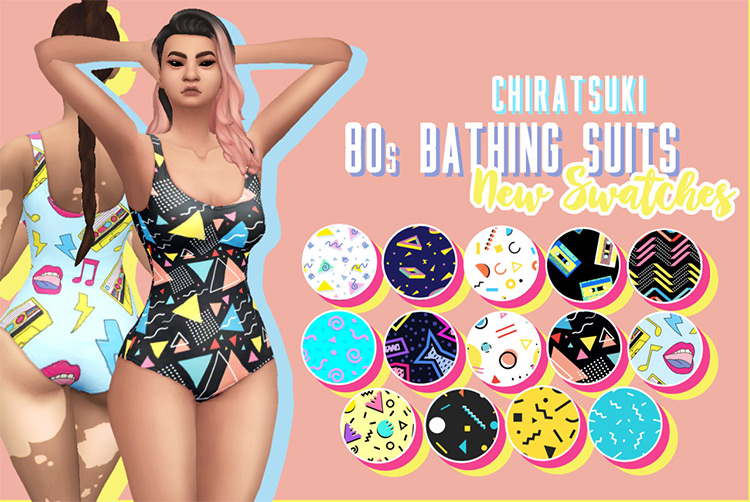 Whether the '80s or '90s are reigning supreme in the fashion world right now is a toss up.
But strikingly busy patterns and neons really never go out of style anyway.
All 14 of these swatches are a blast from the past, and not one inch of this bathing suit is left out.
6.

Vintage Swimwear Recolors & Conversions
Although this type of swimsuit was popular a whole century ago, they honestly don't seem that out of place now.
This Simmer has given them plenty of fun colors they definitely didn't have in the 1920s, and they're even available to male Sims of all ages.
7.

Silene Bikini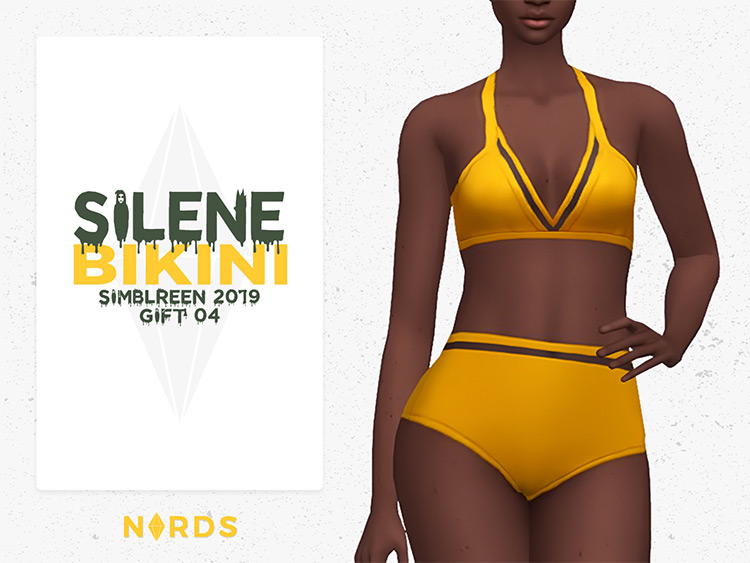 Floral patterns, geometric prints, and koi fish make up these 28 swatches, amongst other things.
The halter neck top and high-waisted bottoms make for a very flattering bikini that'll look fantastic on any Sim. This is definitely one addition to your game you'll be happy to use more than once.
8.

Heatwave Bikini
Swimwear is the only socially acceptable way to be scantily clad in public.
And because of that, it's the ultimate attire for hot weather.
The knotted design of this bikini is super cute, and the mixed-and-matched color palette of pastels is just gorgeous.
9.

Coco Swimsuit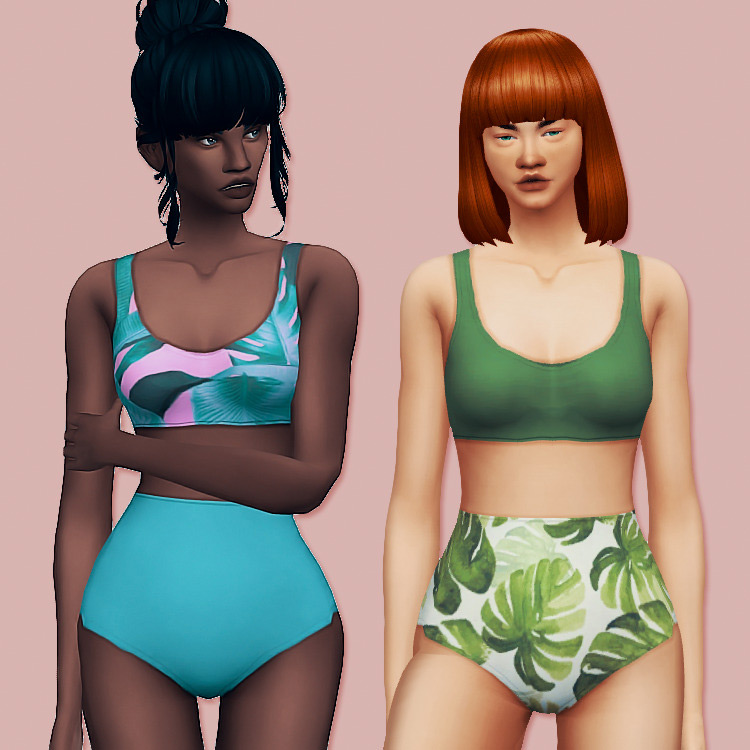 Here's another option to mix things up, with solid neutrals and vibrant tropical prints.
You can fully embrace the jungle vibe by matching these separated two pieces, or go for a more nuanced look by just using the pattern on one part.
10.

Layered Swimwear v1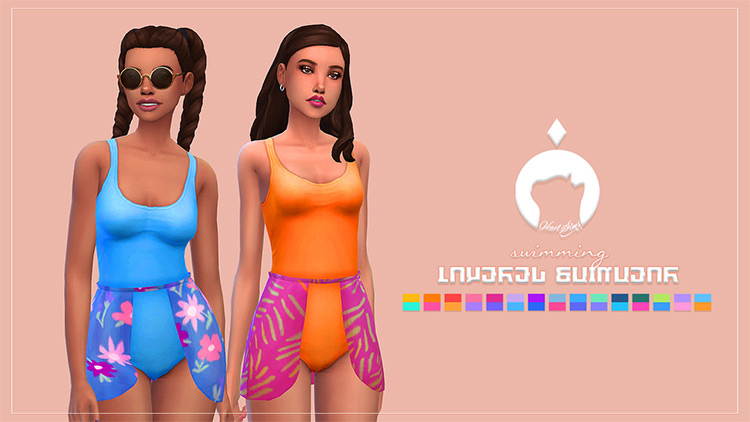 This CC is great for any players who prefer more modest clothing options.
When it comes to swimwear, that can be hard to achieve, but this layered one piece is just perfect.
In any case, these swatches are some of the most colorful you'll find. Each one is a sight to behold!
11.

Trunk Funk Male Swimsuit
Going in another direction slightly away from modesty, these custom swimming trunks leave very little to the imagination.
It's got a very shiny texture which brings out every color really well. This is sure to be the star of your male Sim's swimwear, since it's all they've got!
12.

Some Junk in the Trunks and Surfs Up! Boardshorts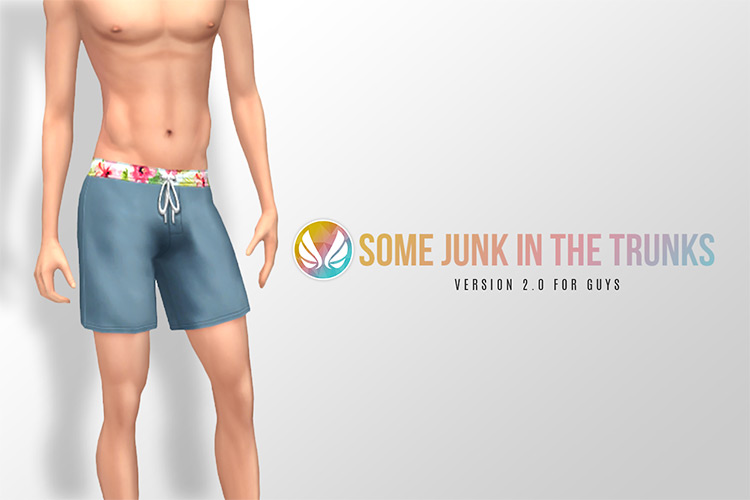 This two-for-one release from Peacemaker can really expand your Sim's wardrobe.
First up, we have the classic swim trunks, with their flattering mid-thigh length and abundance of distinct swatches.
Then there are the longer but equally cool boardshorts, which feature some very modern, vivid patterns.
13.

Beach Themed Swim Trunks for Boys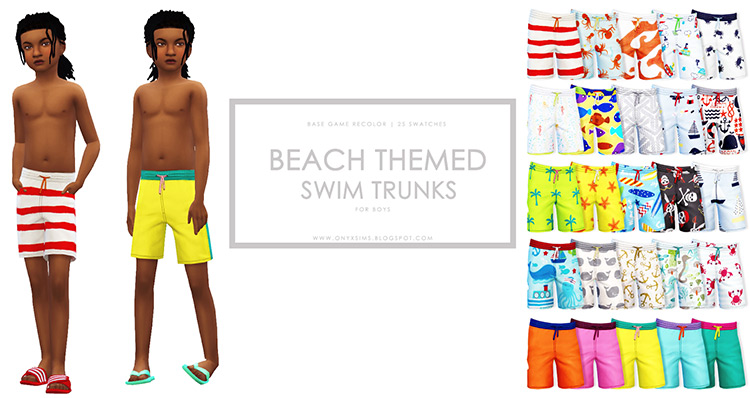 Sim children have really got to up their game when it comes to swimwear.
Fortunately, CC can do just that.
Here's something just for boys, and it's definitely refreshing to have something new to choose from. They include some really fun patterns like sea creatures and pirates.
14.

Swim Trunks for Toddlers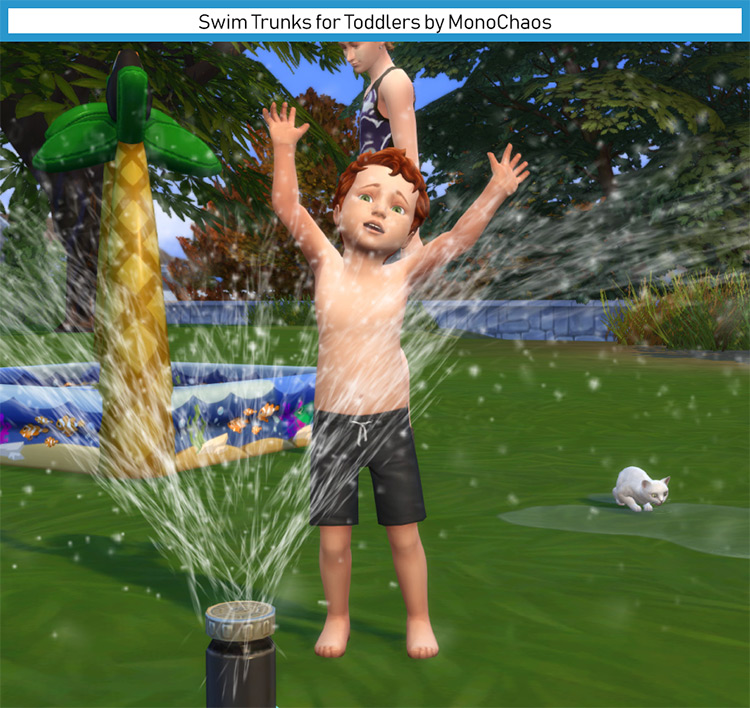 Through this edit, the toddler swim trunks from Seasons have been made base game compatible, with a bunch of new options.
They're so basic – but that's also why they're so great.
Toddlers don't need anything fancy, just something they like.
15.

Big Island Mike Swimming Trunks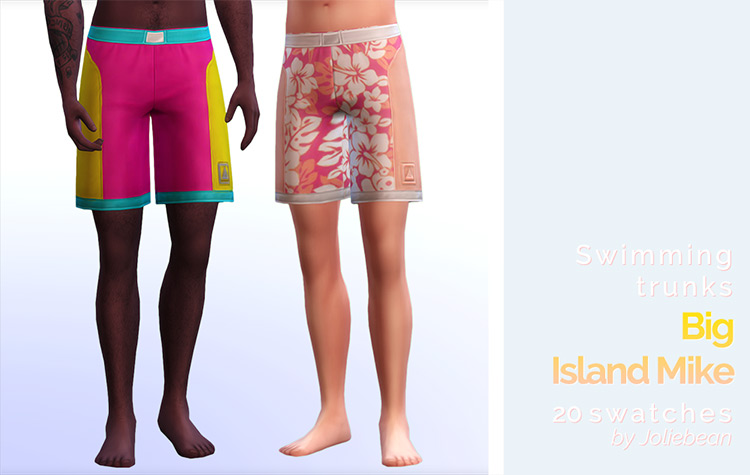 Since men's swimwear is almost always focused on trunks, different designs and color palettes is all that can make them stand out.
Well, Joliebean has got no shortage of that available here. These have tons of neons as well as some more chill floral prints.
16.

Color Block Bikini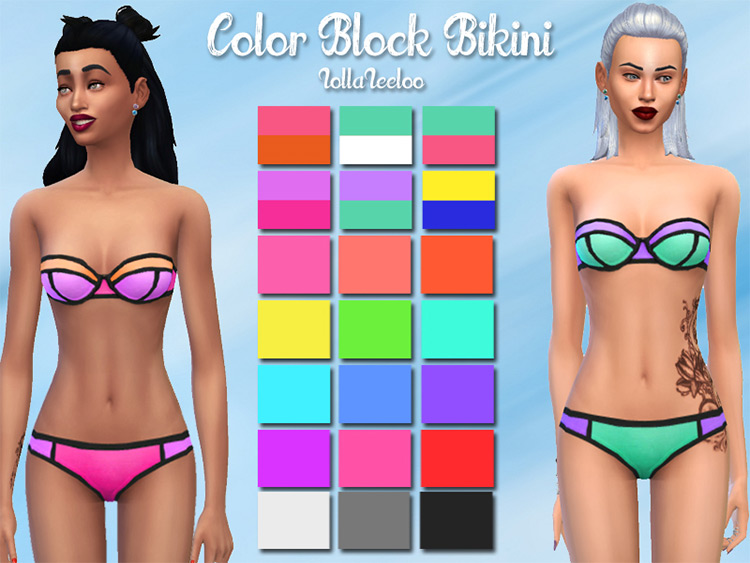 Striking neon colors are the star of the show again here, though this time they're offset nicely by some black borders.
21 total swatches provide a range of different hues and shades, all of which are perfect for summer.
17.

Swimm Collection
Here's a great way to add more options for Sims both young and old.
For those who just don't seem like the type to go with a typical bikini, Streenee now has 9 much more modest outfits.
Each piece can be downloaded individually, or you can grab the whole collection.
18.

Swimm Collection II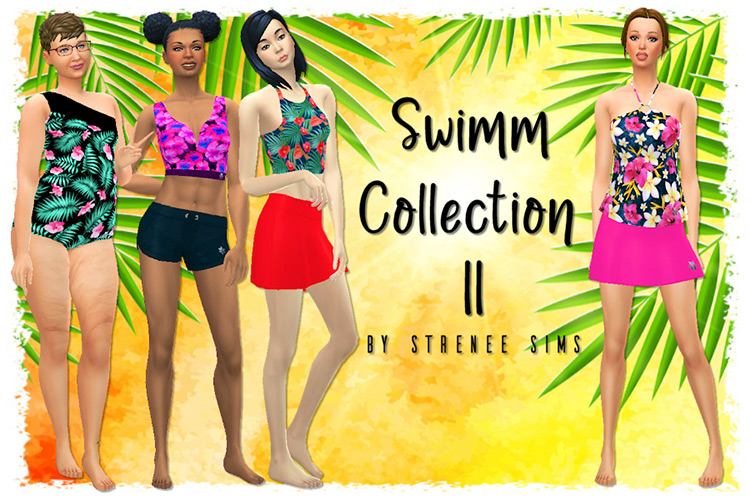 Streenee brings us even more totally original, gorgeous bathing suits.
Dazzling tropical prints with bright flowers and tropical leaves dominate this incredible release, but you can still find plenty of solid options if more low key looks are your thing.
19.

Mom-Daughter Matching Swimsuits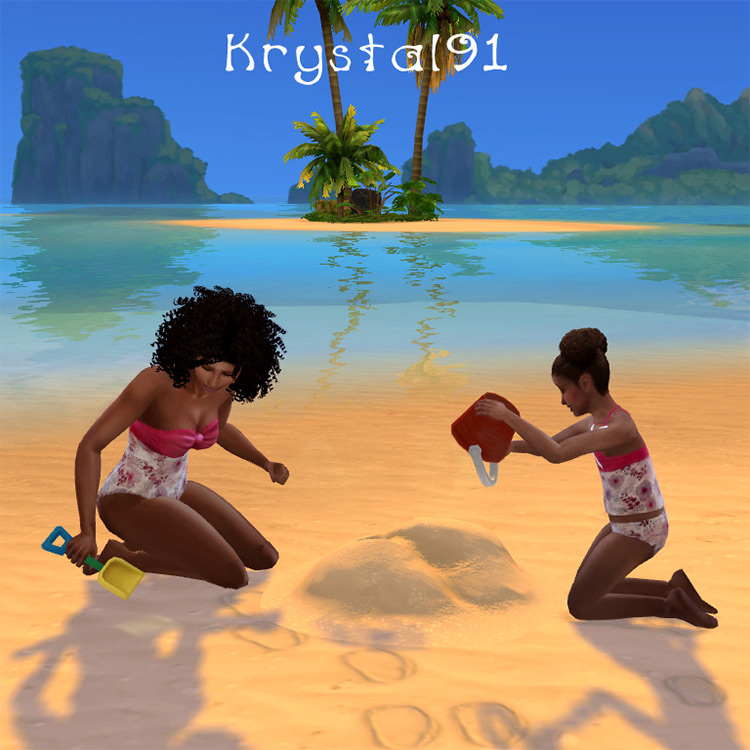 Your Sims will have plenty of reason to bring out the camera thanks to this set.
What's more adorable than parents and kids matching? Almost nothing, unless the pets are in on it too!
The style of these swimsuits may differ, but they call come with the same 10 swatches.
20.

Swimsuit Pack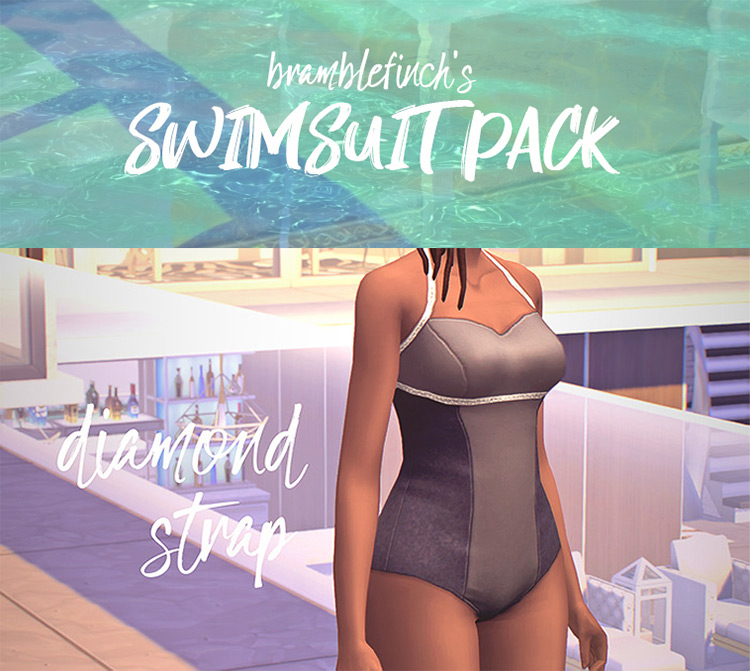 This is one set you've got to see to believe, just because it's so versatile.
Bramblefinch has covered all the bases.
You'll find a chic laced-up one piece, a stunningly sparkly bathing suit, a vintage bikini, and much more.
Whatever your style may be, this pack is sure to have something for your Sim.
21.

Viola Swimsuit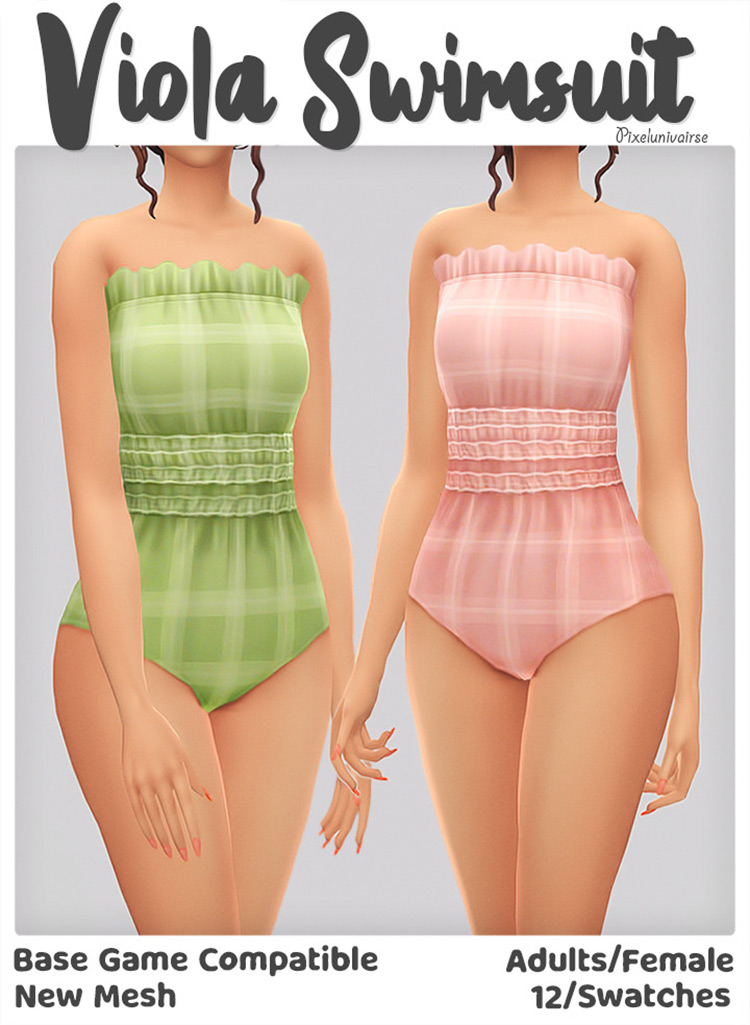 This one-piece has a unique look thanks not just to the ruffles, but the pastel gingham design as well.
The texture here is really fantastic, especially around the middle. There's nothing not to like, and it's very original!
22.

High Waisted Bikini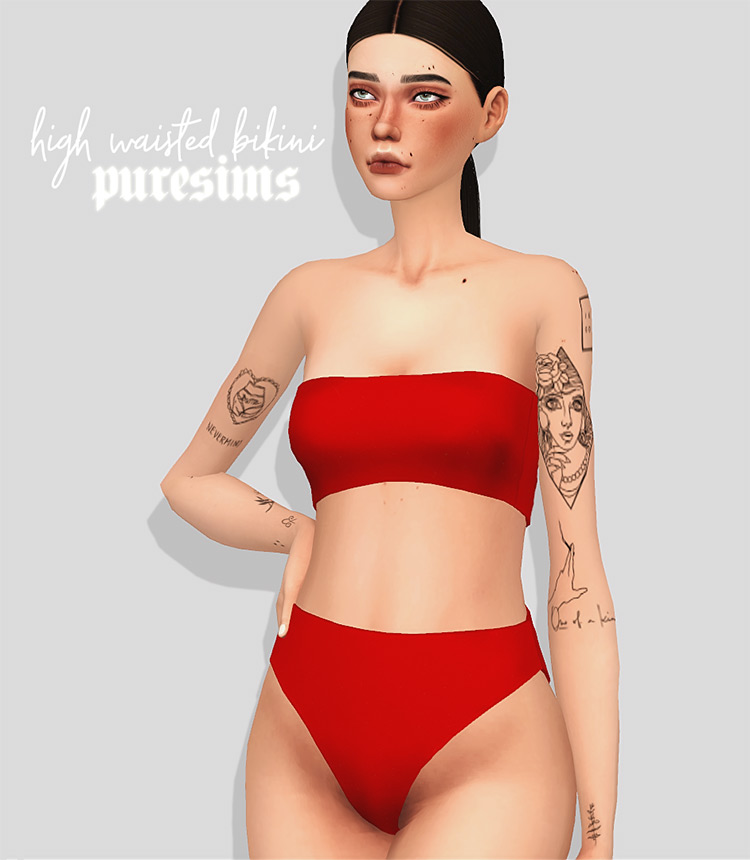 High-waisted bottoms and a tube top round out this very saucy style.
Each of the 5 swatches are distinct in the way such bold colors really bring this outfit together. It's smooth, simple, and no doubt stunning on any Sim.
23.

Tropical Swimsuit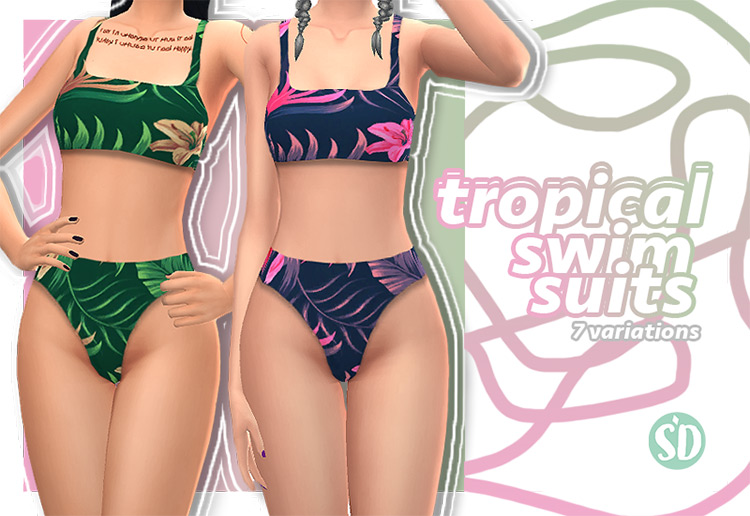 Tropical themes and swimming go together like pools and water.
Not the best analogy, but you get the idea. No bikini is worse for wear due to some lovely palm leaves and pretty flowers.
All 7 of these swatches feature those, with an array of bold color combos.
24.

Always Sunny Bikini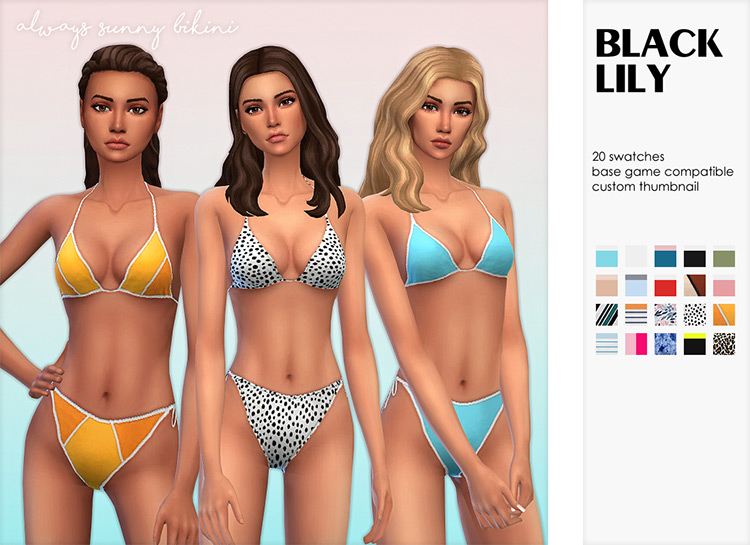 Black Lily's string bikinis are rather minimal in form, but all of the different prints, colors, and designs really make a statement.
As they say, if you've got it, flaunt it.
Sims of all sizes can take the world by storm thanks to this stylish ensemble consisting of high-waisted bottoms and a simple top.
25.

Heat Wave Swimsuit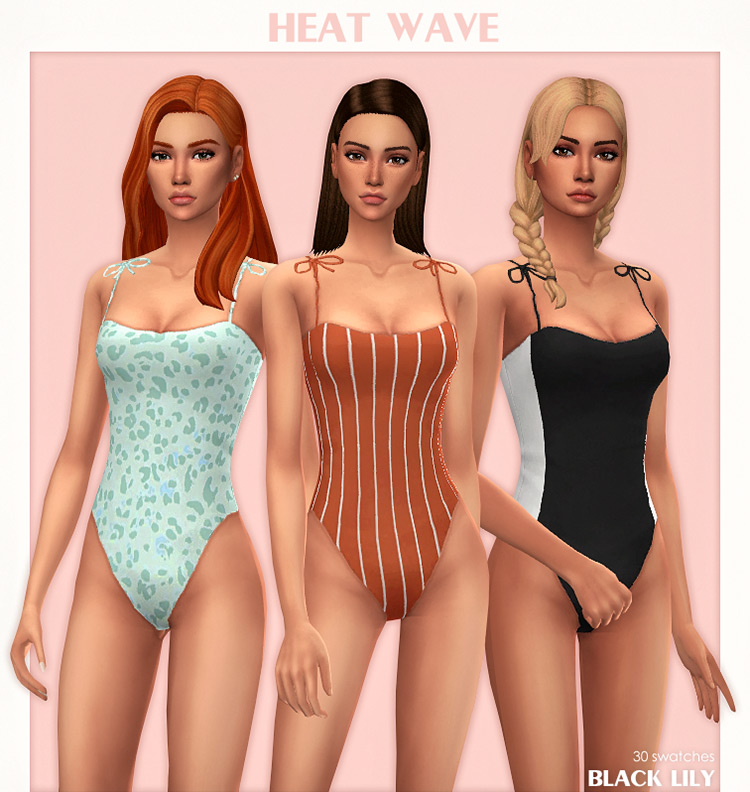 Although bikinis offer a lot of versatility, one-pieces can be just as fun.
Creators tend to go above and beyond with swatches and that's definitely the case here. You'll have 30 options including animal print, plus your standard solids and stripes.
26.

Shirley Swimsuit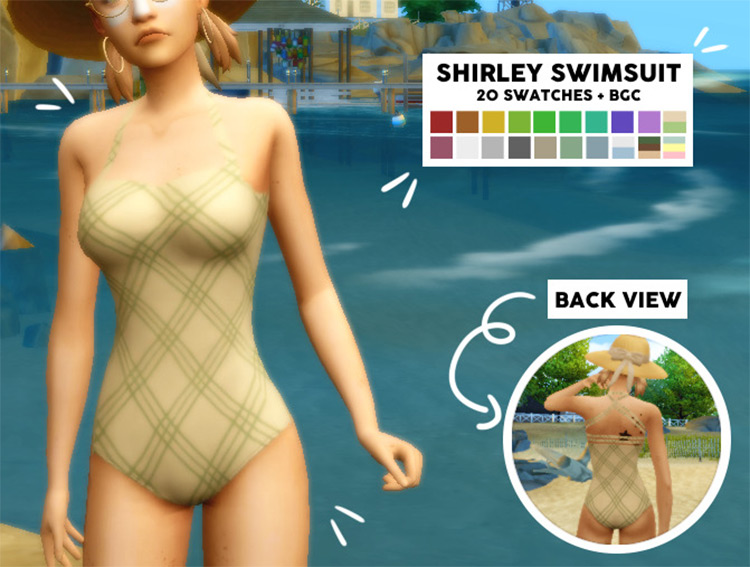 Here we have another one-piece, although it's got some interesting stuff going on with the straps to set it apart.
In the front it seems like a basic over-the-shoulder design, but in the back, the thin straps are doubled up and criss-crossing.
27.

Jungle Babe Swimsuit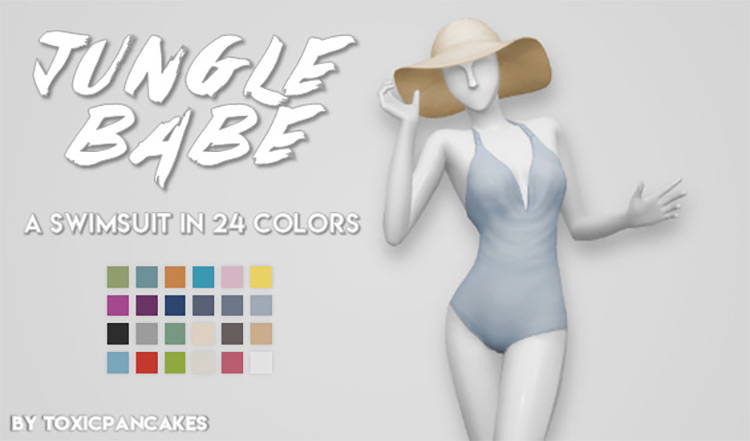 This is another great example of how innovative Simmers can be.
ToxicPancakes worked on magic on a top from Jungle Adventure, and voila, it's now a swimsuit available to all.
It's really well done, as evidenced by the subtle shadowing and natural wrinkles.
28.

Maxis Match Swimsuits Set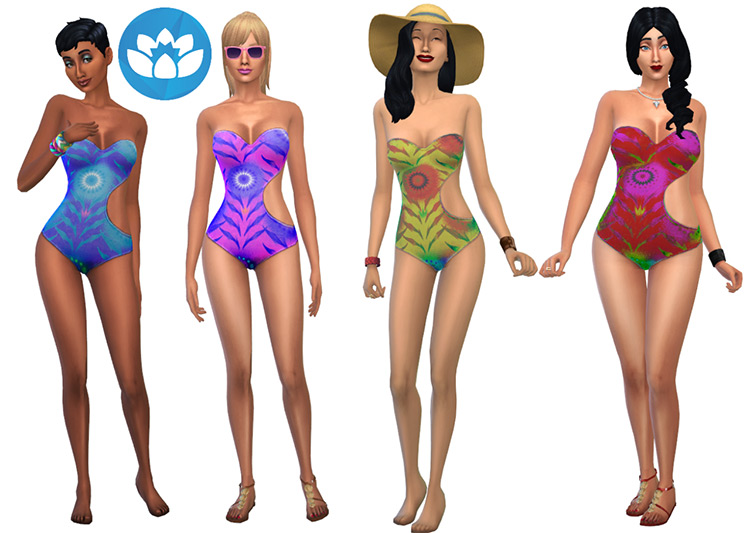 In this two-for-one set, the trippy bathing suit with cutout sides requires Spa Day.
These bright colors make the designs stand out very strong.
The second option has made one of the base game suits considerably more fabulous thanks to the addition of colorful sequins. They're just dazzling!
29.

Neoprene Swimsuit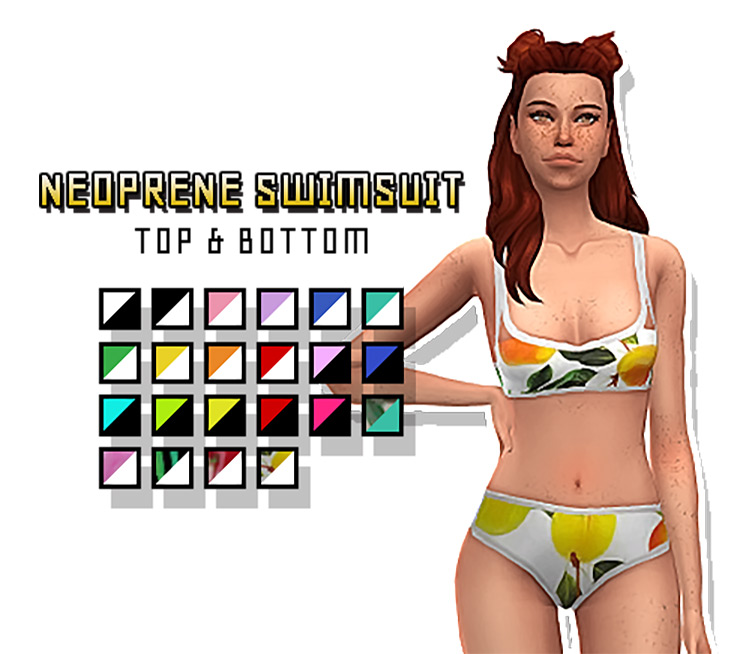 In the best way, this CC set is kind of like underwear.
It could honestly double as sleepwear or workout clothes, which just speaks to what a casual vibe they have.
Over two dozen swatches are included, five trendy patterns. This is another one that can work great for teens, adults, and elders.
30.

Deep Sea Bikinis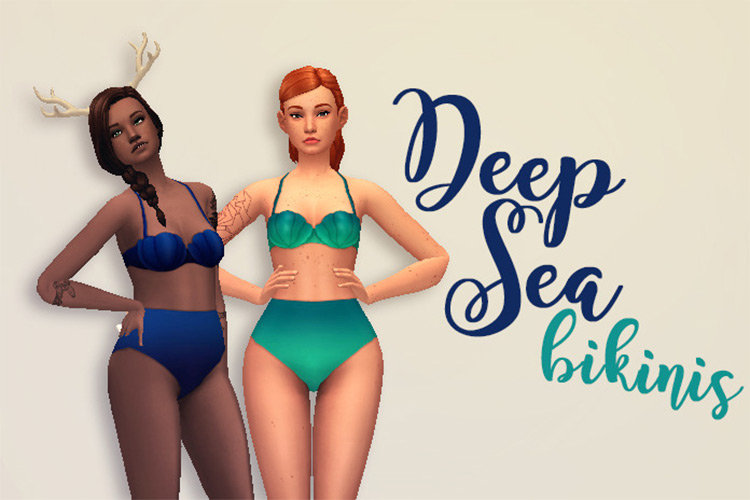 A seashell bikini top is pretty hard to beat.
Now you can bring the beauty and mysterious allure of the mermaid life to your Sim without full commitment.
No need to eat kelp and develop a tail when you can just stick to a gorgeous, brilliantly recolored bikini.
31.

Swim Trunk Recolors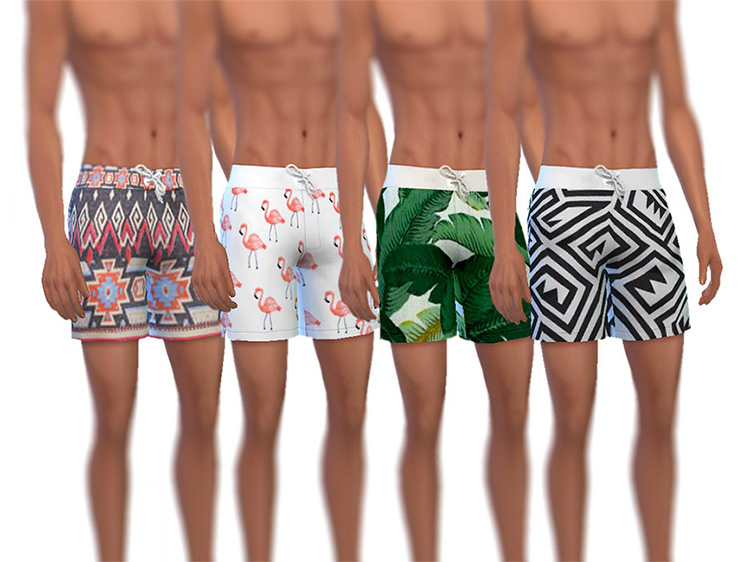 These 8 recolors definitely bring a fresh twist to the base game trunks.
Several new neon shades are available, plus totally original patterns, too. Where else will you find flamingos and aztec prints besides CC?!
It's these little details that can really add a personalized touch to your Sims.
32.

"Can You Knot" Swimsuit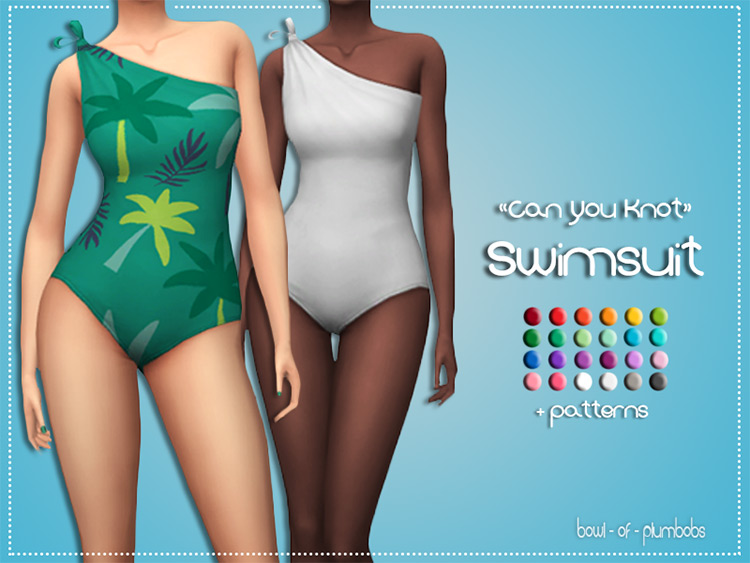 This asymmetrical bathing suit is a completely unique creation not just because of the way one shoulder is left bare.
The small knot on the lone strap is a cute detail as well.
More material means more room for awesome designs, and Bowl Of Plumbobs definitely took advantage of that. You'll have 30 different choices in all.
33.

Ruffle Bikini with Bow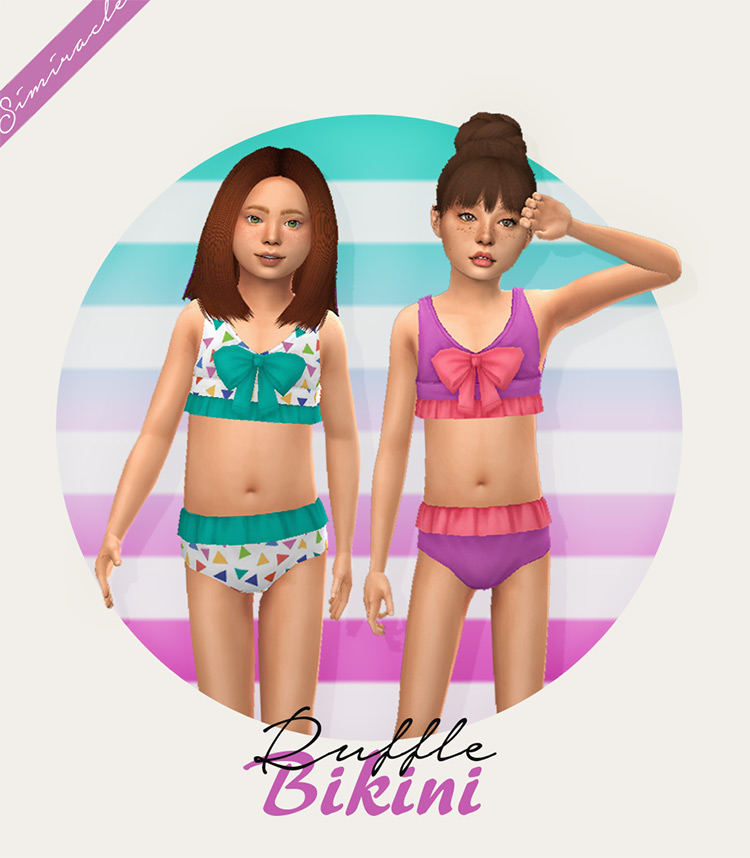 This may just take the cake for the most swatches, since there are a mindblowing 92 in total!
It's safe to say anything you could possibly want can be found here.
Your Sim's kiddos will be looking pretty as a picture at the pool in this adorable, frilly two-piece.
34.

Focus Swimsuit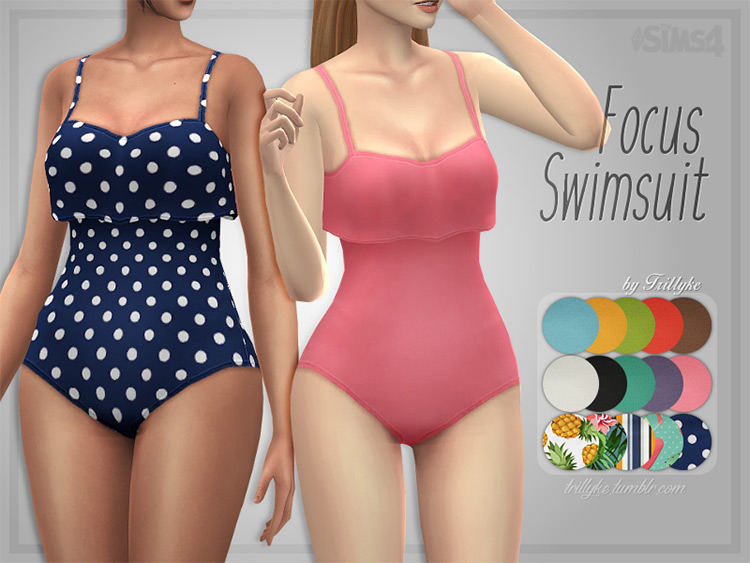 Trillyke's layered bathing suit has a simple, classic design, with plenty of fitting options to choose from.
Polka dots on swimwear are timeless, no doubt about it!
For something you can use Sim after Sim, look no further. It's such a solid addition to the game, it'll easily become a standard part of your CAS choices.
35.

Tia Summer Swimsuit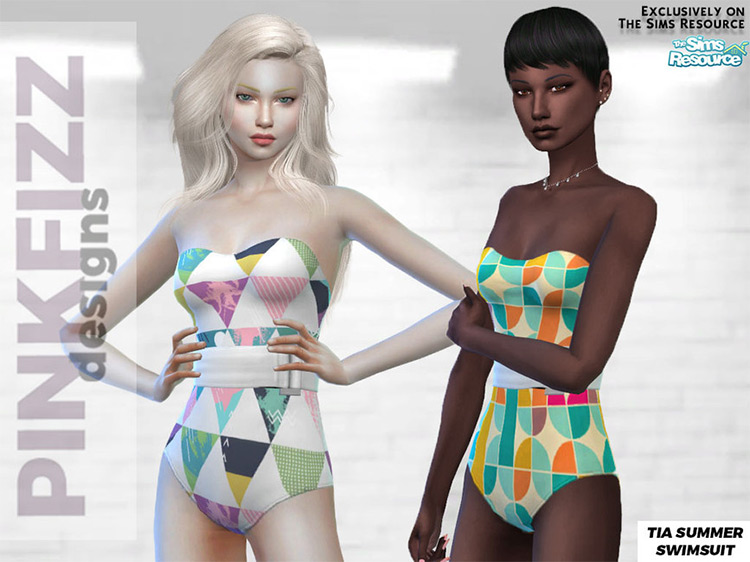 Some very intense geometric patterns and crazy bright colors are combined perfectly on this swimsuit.
Throw in the belt, and it's just an amazing one-piece that's completely original.
Thanks to the strapless design, it'll be easy to keep the busy look going by adding on some accessories.
And while the preview photo can seem like alpha CC, the actual swimsuits can definitely hit the Maxis Match aesthetic too.
Browse:
Lists
Maxis Match
The Sims 4
Video Games