Sims 4 CC: Best Maxis Match Winter Clothes (Guys + Girls)
This post may contain affiliate links. If you buy something we may get a small commission at no extra cost to you. (Learn more).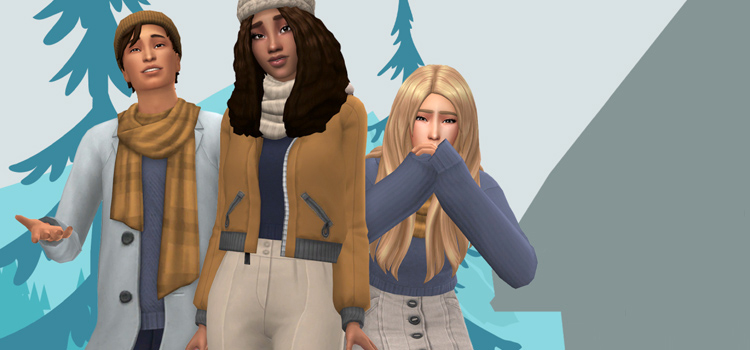 Weather is the driving force behind so many decisions, from our daily plans to what we wear.
A snowstorm can be awesome if you can hunker down at home and play The Sims… but if you have to venture out past your mailbox, it's good to have the right clothes.
And it's the same thing for our Sims.
If you have Seasons, it can be the difference between life and death. That's not something you want to learn the hard way in the middle of a legacy.
But if you want some custom content attire for the wintry months, here's our top recommendations from around the web – all 100% Maxis-Match.
1.

Winter Wear Stuff
Clearly the need for good winter clothes has been around for a long time, because WyattSims dropped this pack before Seasons was even available.
Even in a land where weather doesn't exist like The Sims 4 base game, you can't go wrong with some cute jackets and hats.
This CC stuff pack has all that and more – for guys and girls alike.
If you do indeed have Seasons, then all of this has been updated so it's compatible. But you don't need the pack to enjoy any of these awesome additions.
There are 24 items in total here, and so many of them stand out that it's hard to play favorites.
Guys tend to get left out a little bit among the Sims community. But here, they have ample options, including classy peacoats, fun vests, and cozy-looking sweaters.
Girls get several new jackets and sweaters, as well and the accessory gloves, hats, and scarf are available to everyone.
2.

Comfy Shearling Boots
Just like in real life, sometimes all it takes is one item to spur inspiration for an entire outfit. Or maybe even several of them.
These boots are so cute. And as soon as I saw them, I was envisioning them paired with tights, a skirt, and a puffy coat.
And if you ever have doubts about the sheer genius behind CC, this creator made these by combining base game boots and a hat from Seasons.
Their Imagination Skill is maxed out, obviously.
I would've never guessed the shearling part was a hat because it looks so right, to put it simply. This may not be the way Ugg does it, but it works!
3.

Zest Jacket
Due to the modest selection in CAS, it's hard to give Sims an original look.
Chances are, there will be townies wearing the same thing, or perhaps your Sim's own extended relatives will wind up with the same exact coat and boots – just because it was randomly generated.
So much for individualism, right?
Most custom content is disabled for random, meaning the only Sims that'll be wearing it are the ones you want to.
And this modern yet stylish jacket is a great choice for chilly days.
There's a small portion on the chest with a quilted design and the mock turtleneck layer beneath adds even more sophistication.
4.

Knitted Earmuffs
Earmuffs just don't get the love they deserve nowadays.
I honestly can't remember the last time I saw them for sale, and I don't see a whole lot of people wearing them, either.
But maybe The Sims 4 can be what brings them back into style.
They're still a classic part of winter fashion, though beanies are often a more popular choice.
All that said, earmuffs are still adorable and cozy.
The knit texture here is perfect on these, and each swatch is a treasure in and of itself.
Your typical neutral shades are included, but also a few holiday-themed ones with little trees and deer.
5.

Winter Wear Stuff Gloves Recolor
Seasons is one of those must-have packs, in my opinion.
Whenever I see a player new to The Sims 4 asking which of the many packs they should go for first, Seasons is always my recommendation.
I mean, what's a life simulator without weather?
As you can expect, every aspect of your Sim's day to day lives are affected by Seasons. It really rounds out their lives more, especially with the holidays.
I basically have no complaints… except when it comes to the gloves. Yikes.
They look a little like they're painted on and just don't seem like they'd be warm enough or durable for essential winter tasks like making snowballs.
And beyond functionality, the more options for gloves, the better!
These recolors expand upon the wool gloves from the fanmade Winter Wear Stuff Pack. As lovely as they are, most Simmers will agree we can never have enough new swatches. T
This Simmer (Daenerysstubborn) added a whopping 55 brand new swatches with essentially every color you could want using WildlyMinatureSandwich's palette.
6.

Camo Puffer Jackets For The Family
Some families are peacoat people, and others are camo puffer people.
Everyone deserves to have their own preferred style represented in The Sims 4.
Which is good, since there's something particularly homey about this set. Perhaps it's that everyone in your Sim's family can have their own coat.
All the way from toddlers to elders, male or female, there's a version available for everybody.
For women, the jacket is a bit lighter whereas the men's version seems a little bulkier. Maybe I'm just seeing things, but personally I like the small differences like that.
The kiddos get essentially the same jackets as the adults, just downsized, and who can complain about that?
Now the possibilities for precious family matching moments are endless.
7.

Mlys' Woolen Scarf (Recolored)
Scarves in TS4 are usually only available if they're connected to another piece of clothing, such as a sweater or coat.
But that's the beauty of custom content: things get turned into accessories, and rightfully so.
MLys created the long bulky scarf we've all always wanted, then Puderosasims gave it a ton of new swatches from WildlyMinatureSandwich's Unnaturals palette.
Yes, that means you can match these with the recolored Wool Gloves listed above!
I don't know if the prospect of matching accessories is as exciting for anyone else as it is for me, but this is definitely a perk of recolors.
This scarf alone is something to rave over just on its appearance, though.
MLys did a fantastic job of making it appear natural and not as clunky as when a scarf is attached to a top.
It's thick and wraps snugly around a Sim's neck… which sounds a little bit like it's an anaconda or something, but I mean in a cozy way, not a "squeeze the life out of them" way. Just so we're clear.
8.

Mr & Mrs Winter Set
Mr & Mrs sets may come as towels, mugs, or pillows… but there's nothing better than clothes for Sims.
It can take some effort to make one well-dressed Sim, let alone two or more.
This CC gets right to the point, offering fashionable choices for both masculine and feminine Sims.
Joliebean captured the durable yet rugged design of a duffle coat perfectly, complete with the unique fastenings.
If those things have an actual name, I don't know it. They just look like tiny tusks looped through rope. You know them when you see them, and they're super classy.
The Mrs. Winter coat is equally chic.
There's a big bow at the bottom as well as a slightly ruffled design.
It's cinched at the waist which always brings out a feminine flair.
9.

Hollyless Hat
Father Winter is not Santa Claus.
He's the general holiday figure in TS4 that we all need, so everyone around the world can have fun with their Sims during Winterfest.
You may think Father Winter's fuzzy hat is as connected to him as a red hat with a white ball is to Santa Claus – but that's not the case.
With the decorative holly removed, it just becomes a unique accessory.
Now your Sims can wear this without looking like one of Father Winter's helpers.
It comes with 20 swatches total so you can integrate this into any Cold Weather outfit effortlessly.
10.

Urbane Trench Coat
Trench coats have been the ultimate long men's coat for generations.
There's something inherently dramatic about them in the best way.
And this Urbane Trench Coat Set brings a few options – with all of the variety you'll need.
One option has a hoodie underneath, which adds a great casual element. This outfit is very modern, ideal for your young and fashionable dudes.
The second version includes a denim shirt, and I mean, what else is there to say?
Denim improves pretty much everything except maybe underwear. I haven't tested that though, so even that can't be said definitively.
For the third and final version, a turtleneck is the inner layer.
And that suits the trenchcoat very well, solidifying the sophisticated vibe even more.
11.

Unisex Winter Boots
The base game has some good stuff – but everything needs a refresh from time to time.
Most of the swatches for boots are very sensible, dark tones. Sure they're neutral enough that they'll go with anything, but that's no fun.
You've likely seen these boots a hundred times or more, but never quite like this.
Maimouth has given them a makeover with an updated palette of pink, blue, green, and even yellow.
I've never seen real winter boots with these options IRL – and that's tragic.
Because the colors are beautiful, especially the way they contrast against the black treads and trim.
These are also one of the few items in the game that are unisex. So pretty boots for everyone!
It's a shame more winter gear isn't made with such originality in mind.
12.

Christmas Sweatshirts
A big part of the widespread love for winter is partially thanks to the holiday season.
It's a time of joy, family, and friends, and remembering what's important as the year comes to a close.
That's how it should be, anyway.
In The Sims, attempts at all that sentimental stuff usually results in fires and fights – but aesthetically pleasing clothes will get us through.
These simple sweaters come in the standard Christmas colors of red and green, and have lovely appliques on the front like a snowman, reindeer, penguin, and more.
It's always great to have more festive attire.
13.

Ugly Hanukkah Sweaters
The holiday season means different things to different people.
You should be free to include what's important to you in your game, whether you have Seasons or not.
And that'll be easier and more fun than ever with these Ugly Hanukkah Sweaters.
At a glance it's clear that a lot of work went into this CC – and it really paid off, because they're absolutely glorious.
Whether you prefer your Sim's clothes to be in Simlish or want to see the words in English, there are options for both here.
The turtleneck style has a very convincing scratchy wool texture, and awesome patterns that include sacred symbols of the Jewish religion and culture.
The funny thing is, I usually don't find "ugly" sweaters ugly at all.
I've never been sure if everyone feels that way and it's part of the joke, or what. But these are very charming – and a fun way to include some content for Jewish Sims.
14.

The Moll's Coat
Do you ever get the sudden impossible-to-ignore urge to dress your Sim like she's a 1920s gangster's wife?
Then this is the coat you've been looking for!
Okay, so I don't know how many players want to bring that exact scenario into their Sim's lives… but no time period was quite as extravagant with outerwear as the Roaring Twenties.
Everything about the attire was very extra, honestly.
And it's hard not to love this simple coat.
The furry cuffs and collar really offset the basic design. But don't worry, no animals were harmed in the making of this elegant blast from the past.
Back in the day, someone wearing this was definitely the real deal. Only those from the upper echelons of society could afford such a luxurious coat.
Now all these years later, your Sim can stand out from the rest and bring a classic back into fashion.
15.

Warm Cardigans (Male)
Here are some cool yet bulky cardigans just for the guys.
Well, they're only cool in the sense that they're good and stylish… There's no doubt they're very warm. It must be like wearing a blanket!
I've always loved the texture of these things.
You can easily see the knit stitches and something about that makes it seem extra comfy. The pockets also look like they'd be very practical.
If Sims didn't already have an almost bottomless inventory, they could definitely store a phone, journal, and a few seed packets in there.
The colors Rope used suit these very well. The palette mostly consists of neutral winter tones such as blue, gray, and brown but there are some that pop a little more, like pink and green.
And we've even got another whole list full of cardigans if you want more CC to scroll through.
16.

Bernard Boots
Winter footwear can feel overly complicated at times.
You have to consider what kind of weather your region has, and the importance of things like insulation and good treads.
But you don't want to be stuck wearing something ugly that clashes with all your outfits either.
Madlen's Bernard Boots are timeless and simple.
They're a taller type of ankle boot that'll keep your Sim protected from the elements, even if they're trudging through snow drifts to get to work.
It's such a little thing, but I really do like the tread details as well.
What these 7 swatches may lack in abundance, they make up for in quality.
Each color opens up a world of possibilities for new cold weather outfits and female Sims of all ages can wear them.
17.

First Snow Dress
There's nothing quite like someone's first snow.
Sims even get a moodlet for it.
Watching those gorgeous flakes drift down is almost like magic.
That's the same feeling this knitted winter dress elicits.
It may seem a little short for cold weather – but when your Sim's indoors, she'll be the star.
The texture here seems very soft, and the furry hood adds even more of a luxurious feel.
Also, this is another CC item that's disabled for random. So when you dress your Sim in this it's guaranteed to be something unique to her.
18.

TS3 to TS4 Jackets
I'm not sure when puffer jackets became popular, but they've changed the world forever – or at least winter fashion.
They're a wardrobe staple now the same as beanies and t-shirts.
You can see proof of that in action with this CC conversion set.
Sims both male and female of all ages can have their own jackets to choose from. In appropriate sizing, of course.
Ill-fitting hand-me-downs aren't available quite yet.
These have been flawlessly converted from The Sims 3, and it's impossible to tell they're not an original creation just for The Sims 4.
The stitching and fabric details are fantastic. Just as high quality as you'd expect from official content.
Plus each version is slightly different.
While the coat is the same, men have a shirt underneath, and women wear a turtleneck.
And for the children and toddlers, the swatches are downright adorable consisting of animal-themed prints and bright patterns.
19.

Comfy Pullover
Sweaters are honestly the ultimate casual top.
They come in about a million different styles and can be worn with everything from jeans and sweats to shorts and skirts.
Sometimes you can get adventurous in CAS, but just for the sake of simplicity, it's a good idea to give your Sims a few solid everyday outfits.
Just like we all have our go-to pieces for a last minute dinner or night out with friends, our Sims don't have to be dressed up every single day.
Peacemaker's Comfy Pullover looks casual and dapper simultaneously.
The sweater & shirt beneath balance each other out really nicely, so it doesn't look too fancy or sloppy.
It'll be fitted just right for any Sim – and once again, this creator has outdone themself with the swatches. A huge range of colors are included, whether you like dark shades or brighter earth tones.
20.

Sentate's Kourtney Sweater Dress (Recolored)
There's no better time to rock a stylishly baggy sweater dress than the dead of winter.
And especially for Sims, it's easy to accessorize.
You can really use this to its fullest by experimenting with different leggings and necklaces, perhaps even some cute CC scarves.
Sentate's original design is simple, inspired by Kim Kardashian's trendsetting sweater dress from a few years back. The design is very smooth, which is extra impressive considering this is a brand new mesh.
The original swatches stick to more muted, basic colors while Purrsephone's recolors here get a little more adventurous with various shades of blue, green, and purple.
Plus we've also got a big list of sweater dresses if you'd wanna browse more styles.
21.

Vintage Jacket CC
After a certain point, everything old and outdated becomes new again.
In other words, unless you were there for it the first time around, it's brand new to you anyways.
This jacket from Alexaarr has a sort of late '70s, early '80s thing going on. And yet any Sim today can wear it and look trendy and fashionable.
It's basically the original puffer jacket, just more subtle.
Even the colors are satisfyingly retro – but not so much that it'll throw you off to see them on a current Sim.
The waist-length design is really great too, adding a laidback element to any Sim that wears it.
22.

Utility Overalls
Nothing beats overalls when it comes to comfort and function in one package.
They provide a layer of insulation, protecting your Sim from the harsh elements, while allowing them to maintain their mobility as well.
Anyone from a snowy region knows the struggle of getting all bundled up, and then trying to do anything remotely active. A sweater and heavy coat combo, snow pants, and accessories can really become cumbersome.
But overalls will let your Sim do it all.
In a flash, they can go from shoveling their walkway to making snow angels with their kids.
And let's be real: these just look really good.
It's another brilliant usage of the trendy clothes from Discover University, and there can never be too many creations built off that!
23.

Romcom Coat For Men
Here's another coat for the guys, and this one will instantly make them at least three times more handsome.
It's totally statistically proven. Don't ask for sources though.
The original version was just for children, and I never gave it a second look.
But now its true potential has been found since Joliebean resized it for adults.
What do children need four pockets for, anyhow?
Only adults need something this cool. It's just as good for a winter date to the neighborhood ice skating rink as it is for general everyday wear – and you can't ask for much more with men's fashion in The Sims 4.
24.

Don't Care Sweater
Winter may be fun and exciting at first, but as the months drag on, those cold days can really bring a person down.
Everything is withered and brown.
Squirrels and birds are out there fighting for their lives, hoping they don't starve. And the weather is seldom nice enough to do outdoor activities.
It's not all pretty Christmas lights and snowy fields.
…but the clothes are so darn cute!
That's the real cure for wintertime sadness, new clothes! Whether for you or your Sims, putting together new outfits is a great way to get out of a bored slump.
What NaturalSimmster created here isn't just sweaters, but sweaters layered with shirts beneath.
Plus these have some pretty wild patterns and designs too – like busy floral and fruit prints.
These are just a little on the oversized side of things, so your Sim will look comfortably and stylishly carefree.
25.

Sherlock Long Coat
We've already seen one trench coat in this collection. But Joliebean really kicks things up a notch with here.
It's actually one of the longest trench coats you can have in the game.
Sims are lucky they're all the same height because in real life, some folks definitely wouldn't be able to wear this without it trailing behind them like Queen Elizabeth's coronation gown.
Yes, it really is that dramatic. And it's downright majestic.
This one reaches nearly to your Sim's ankles. And maybe it's a little stereotypical, but I'd have to assume anyone wearing this is basically a genius.
Naming it after Sherlock totally makes sense.
The 8 swatches here mostly feature dark neutral colors that perfectly compliment the coat.
26.

Cozy Pajamas (Male)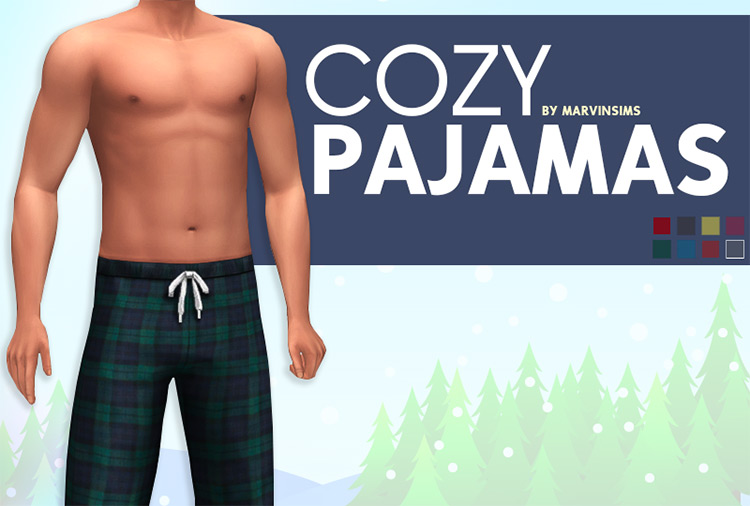 Dressing with the weather in mind is obviously important during the day – but how about when it's bedtime?
Some people are fine wearing the same tank top and shorts all year round with a fan running full blast to boot.
For those of us who don't self-regulate our body temperature like reptiles, sleepwear has to be seasonally appropriate too.
This is very easy for guys, and anyone else who likes a nice pair of flannel pajama pants.
They must be the most popular style ever – the coziness doesn't just come from the soft fabric, but from the way the striped, plaid prints make you feel inside.
Really, it's a thing!
Just looking at this CC makes me envious of Sims, because they can have 8 wonderful, quality, comfy pairs of pants in one go – at no cost too.
27.

Caroline Coat
This is not your run of the mill everyday jacket.
The Caroline Coat was inspired by some of the classiest ladies that have ever walked among us.
Jackie Kennedy embodied style and grace for one generation, and now the Duchess of Cambridge is doing it for another.
Women across the world are envious of Kate Middleton's impeccable taste and expansive wardrobe.
And with this coat, you can definitively bring some real-world charm and sophistication into your game.
It'll reach almost to the knee, which is a great vintage touch, and the gold buttons on the front do wonders to break up the otherwise solid-colored coat.
28.

Strawberry Skirt
Many women dread the winter months because it seems like there's no option but to resign your clothes options to being frumpy, boring, and limiting until spring.
That doesn't have to be the case though.
The Sims 4 kind of tries to force this with Seasons, where most of the options for bottoms are just the bulkiest snow pants ever. Sure, it provides protection from the cold – but they definitely aren't flattering.
Well your Sim can maintain some femininity with this midi skirt from Trillyke.
Boho fashion has a heavy emphasis on minimalism – and that's definitely a plus here.
There's only one button fastening it, and the solid swatches just add to the carefree spirit that's inherent to anything boho.
29.

Teddy Coat
The Sims has come a long way with texters.
In the beginning, there wasn't much variety. It's easy to tell most clothes from the base game and older packs are supposed to be cotton or silk.
But there's been a massive shift in recent years. New textures are being introduced to CAS with stunning detail.
The rubber boots that came with Cottage Living were even more realistic than the ones from Seasons!
Discover University gave us this incredible fleece coat possible, although thanks to Renorasims' tweaks, it's now available for the base game.
She worked her content creator magic and transformed it from an outfit to a top.
It looks like someone took the warmest blanket and sewed on sleeves, pockets, and a hood. That's a dream come true!
30.

Winter Maternity Tunic
Pregnancy is generally a short period for Sims – but it's still pretty rough on them.
By the third and final day, their backs are practically concave. A beautiful but difficult process is condensed rather chaotically for The Sim 4.
Unlike past games, Sims no longer automatically change into a predetermined outfit when they're expecting.
That was always a bummer in The Sims 3, since usually it was the most boring, unflattering clothes available.
So your Sims can basically wear anything they want through their pregnancy – although that doesn't mean you can't indulge in some realism and give them maternity clothes.
They're made for comfort, and to show off that wonderful baby bump!
Here's a custom-made tunic from StreneeSims that's just the thing for your expectant Sim mothers.
The long sleeves make it great for cold weather. And the fabric is nice and loose, with several fun swatches to wade through.
Browse:
Lists
Maxis Match
The Sims 4
Video Games